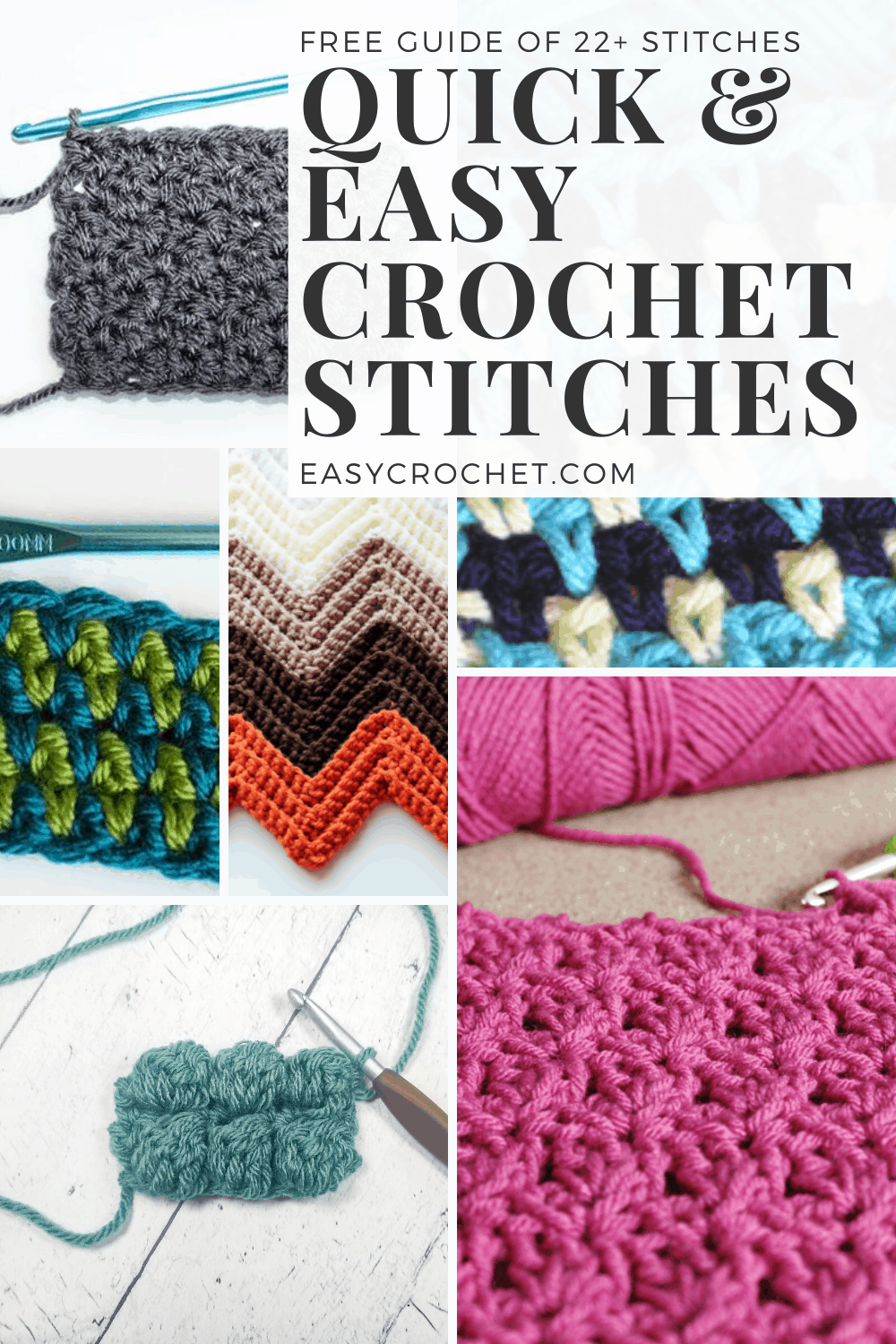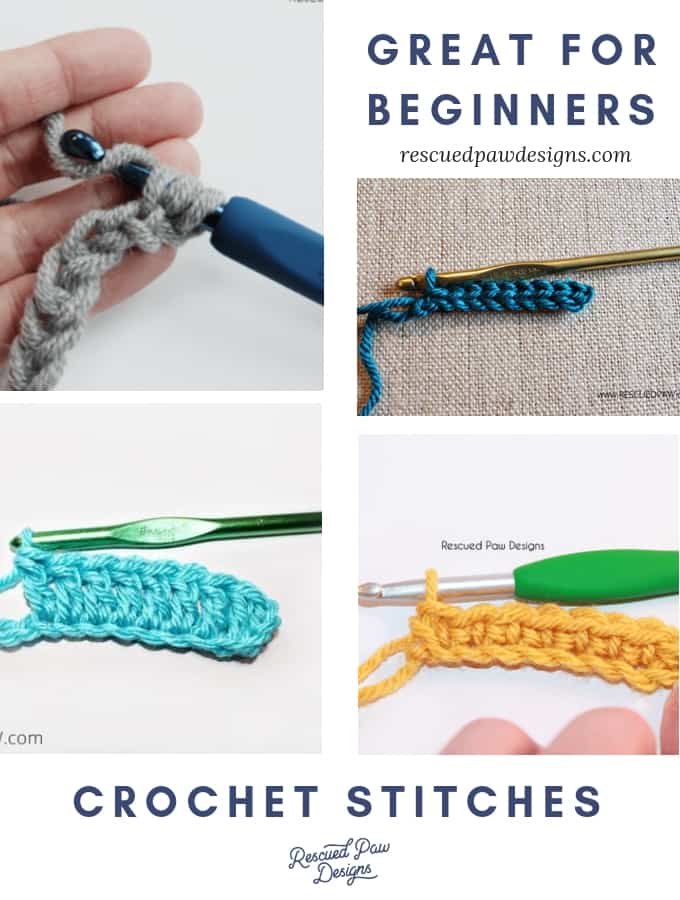 Are you new to crochet? Are you wanting to learn some fun new but simple stitches? Well, this list of basic, must-learn, easy crochet stitches will definitely help you to jumpstart your crochet journey!
In this tutorial, you will find 22 (+ more) of my favorite, unique, crochet stitches. This collection of basic stitches as well as more advanced stitches are great tutorials for everyone, from beginners to crochet experts, or even those who just want a refresher. You'll want to keep this crochet stitch guide handy for the next time you are looking for a stitch to use in your next crochet pattern.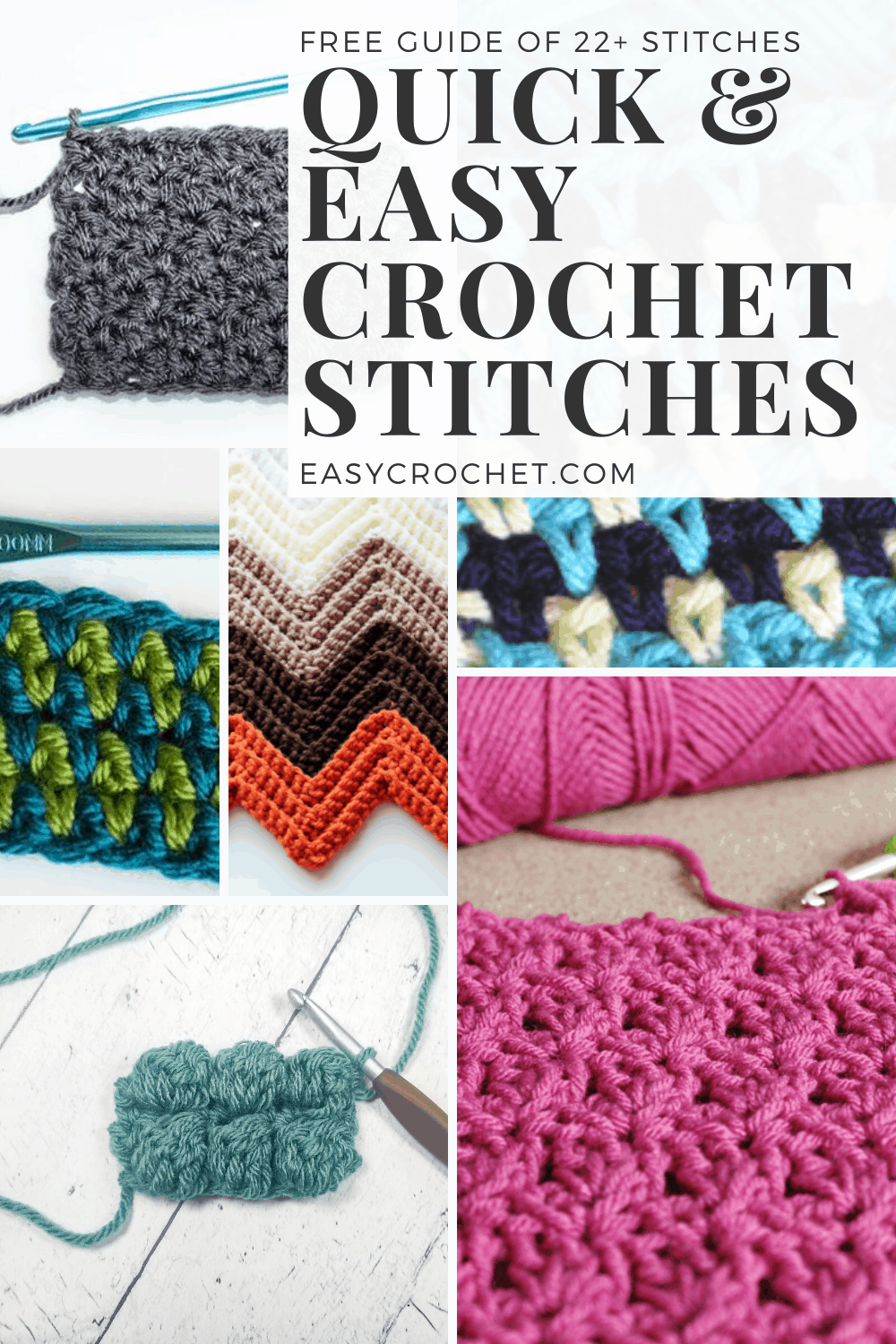 You will learn how to make these easy stitches with our exclusive step-by-step tutorials, which also includes many videos. You will have these must-learn stitches mastered in no time at all!
Once you have mastered these basic crochet stitches, you will feel confident and might even try a crochet pattern with one, or two, of these stitches.
While there is a good deal of crochet pattern options to choose from to try your newly mastered stitches, I would suggest the…
After you have gotten the hang of all the different kinds of crochet stitches, you will be able to expand the types of patterns that you choose for your crochet projects.
The crochet stitches outlined below are perfect for beginners or even someone who would like a little refresher. I promise that you will be able to make so many kinds of projects, like scarves, blankets, and baby blankets, once you master these stitches.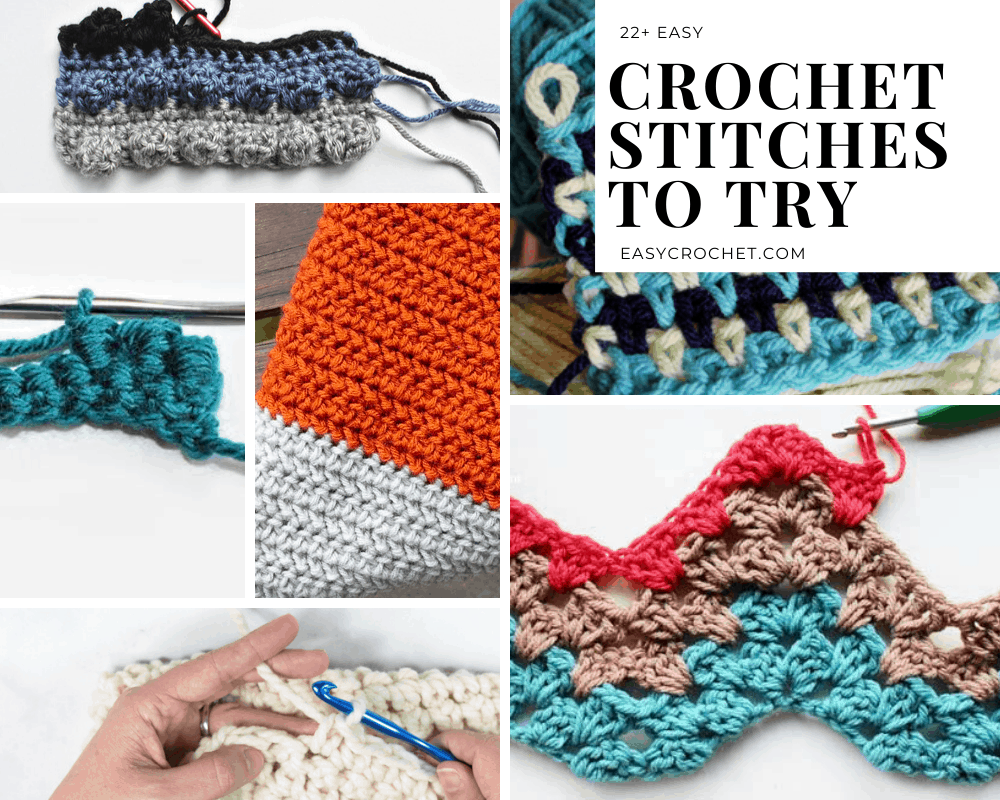 After you review the crochet stitch tutorials below, you will be ready to take on almost any beginner level project. The type of stitch becomes more complex as you work through the list of crochet stitches in this tutorial. There may even be some stitches that will challenge you.
While there is a good deal of crochet stitch patterns out there, this tutorial highlights some of the best crochet stitches (and some of my favorite crochet stitches too!). From simple crochet stitches to the more complicated ones, this tutorial will help you to gain a solid base of knowledge for a variety of stitches that will help on your crochet journey, expand your knowledge of different crochet techniques and future projects.
Now, let's begin the tutorial for these 22+ crochet stitches. We hope that you enjoy learning, or refreshing your knowledge, about these stitches!
Basic Easy Crochet Stitches
Are you new to crochet? Then, use the crochet stitch pictures below as well as links to start your crochet journey. These stitches are simple to learn and will provide a good foundation for your crochet skills as a new crocheter. I hope you enjoy this list of crochet stitches and find a new one that you like.
---
---
---
---
---
---
---
Advanced Crochet Stitches
The stitches below use combinations of basic stitches to create a unique crochet stitches and combos. Move on to these more complex stitches once you have the beginner crochet stitches mastered.
---
---
---
---
---
---
---
---
---
---
---
---
---
---
---
---
---
---
---
Crochet Stitch Tutorial Videos
These crochet stitch tutorial videos can be used for extra visual help so you can learn at your own pace.
---
Bobble Stitch Video
---
Single Crochet Stitch Video Lesson
Chain Stitch Video Lesson

I hope you enjoyed this list of all the different crochet stitches, and you can find even more free crochet stitch pattern video tutorials on the Easy Crochet YouTube Channel.
More Crochet Stitches To Learn
Here are some other unique and different crochet stitches. Some are more complex than others, but you can have fun learning them all!
Crochet Blanket Patterns
Here are some Crochet Blanket patterns if you'd like to try your hand at making some crochet blankets and crochet baby blankets with the stitches you've just learned:
Wow! That was a lot of easy crochet stitches to learn!
Now that you've had a chance to look over this complete list of all the beginner to advanced crochet stitches you will be ready to tackle any crochet pattern! I also wanted to mention that you will see many of these stitches in my projects and patterns.
I'd also love for you to join the private Easy Crochet Club Facebook Group, which is hosted by me. It is super fun and full of encouraging fiber artists!