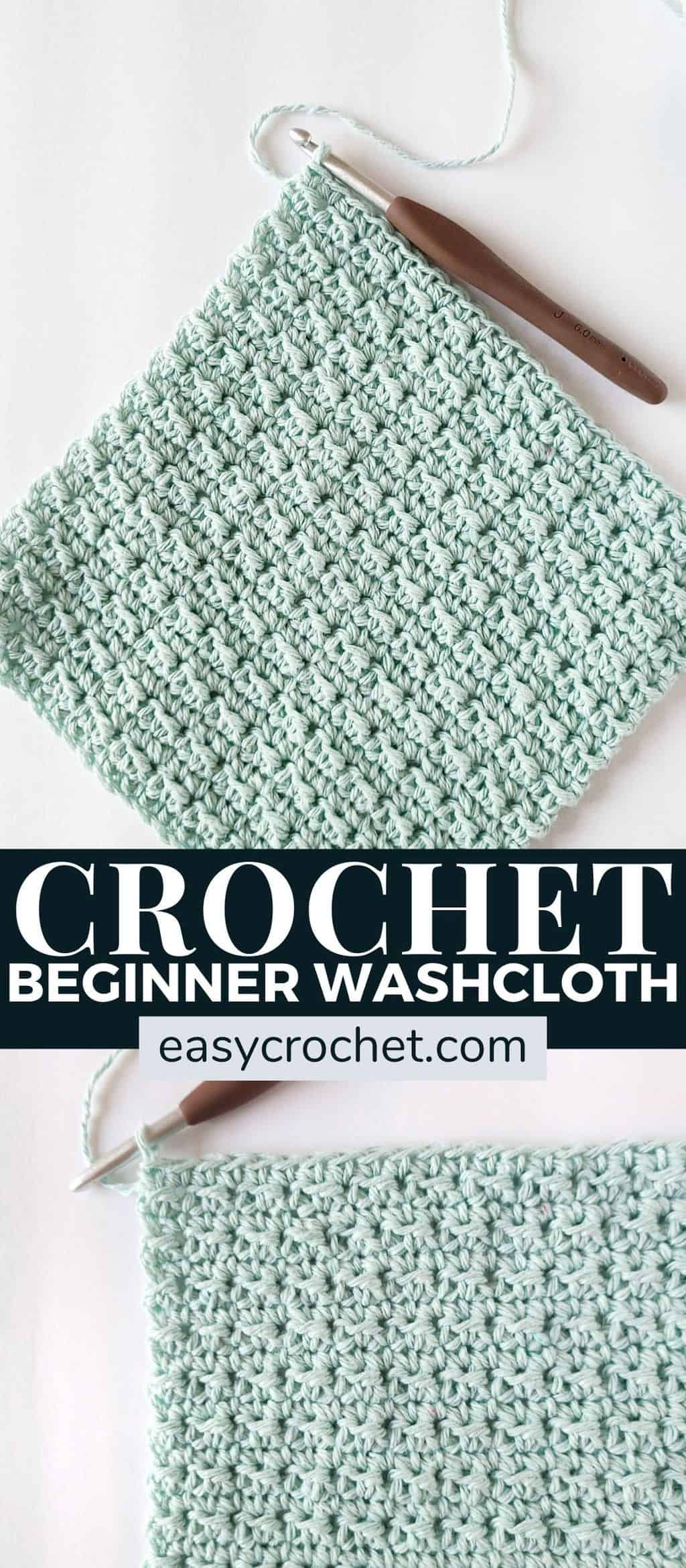 Are you looking for an easy to crochet washcloth pattern? This beginner-friendly wash cloth design is just that. It uses basic crochet stitches, works up fast and creates a textured washcloth pattern that is great for cleaning dishes!
I promise even if you are newer to crochet you can make this washcloth pretty easily. Ready to make this simple design?
Find the free crochet washcloth pattern below to get started crocheting today.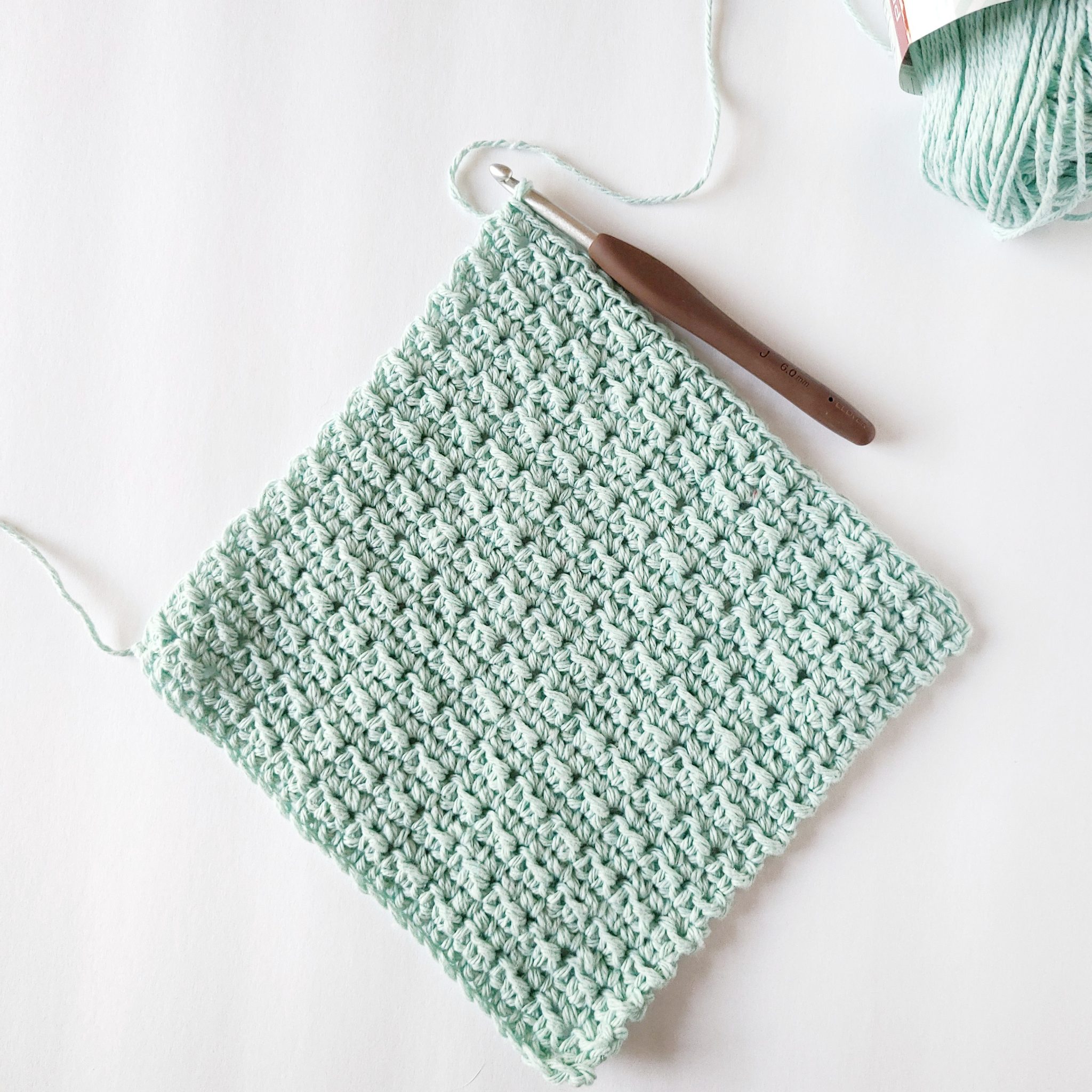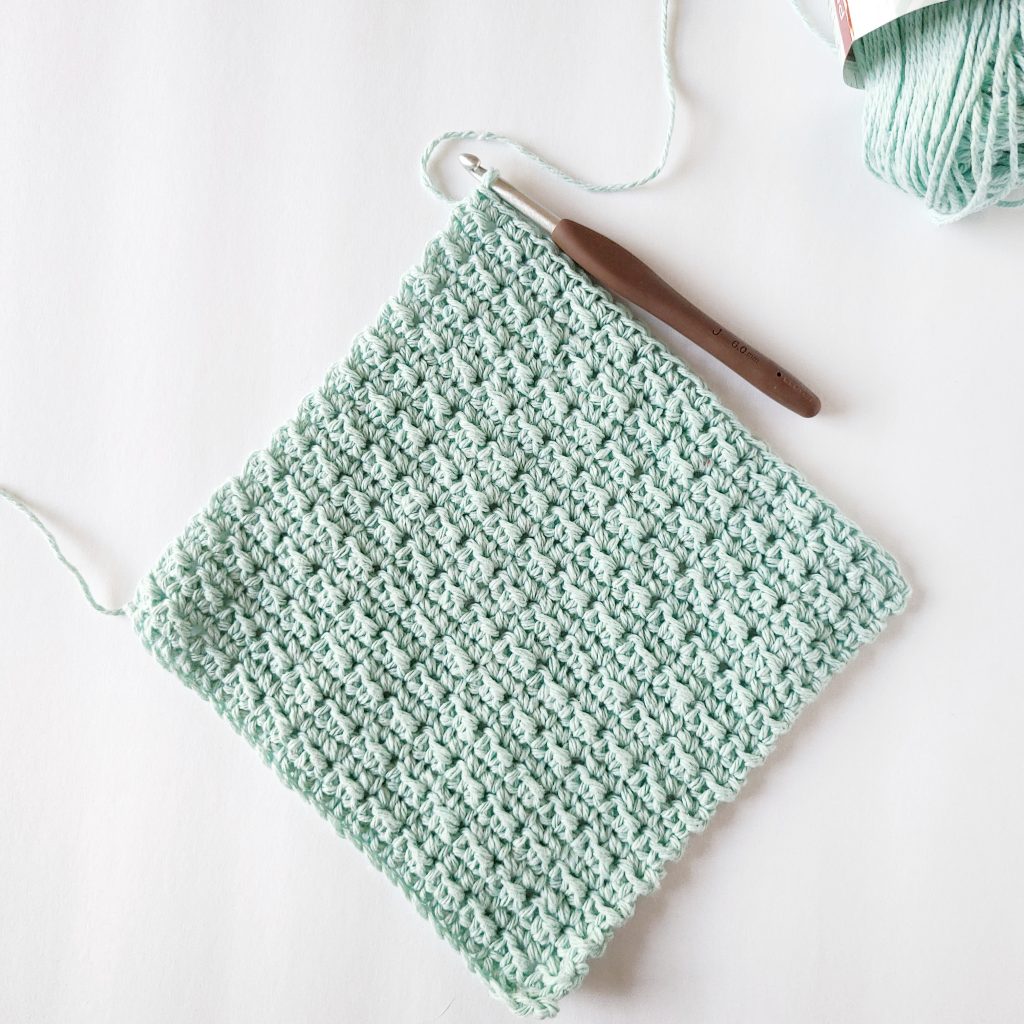 How to Crochet a Washcloth
Crocheting a washcloth is easy! Promise. Most of the time crochet washcloths are designed in a square shape but other shapes can be found from time to time. For example, I designed a crochet bunny washcloth pattern in the shape of the Easter bunny which was fun to make for kids during the holiday.
The size of a washcloth can vary, but they are usually crocheted back and forth to create a small square. You will find that most washcloth patterns are easy enough to crochet but can range from beginner level to more advanced. Don't get discouraged with the more advanced dish rag patterns quite yet because since dishcloths are such a small crochet project they are usually doable for any skill level.
I love crocheting washcloths, and they are my kids favorite to use at shower time and I even use them for my dogs when I am giving them a bath. Yep! They are great for canine family members too! Since we all like to use these washcloths it means I am usually crocheting these a couple of times a year to keep up with the daily use of them with three kids & my dogs.
Like I mentioned earlier this wash cloth pattern is easy, great for beginners and works up fast. Before we get start looking over the pattern let's talk about the crochet stitches you'll need to know and the yarn you'll want to use.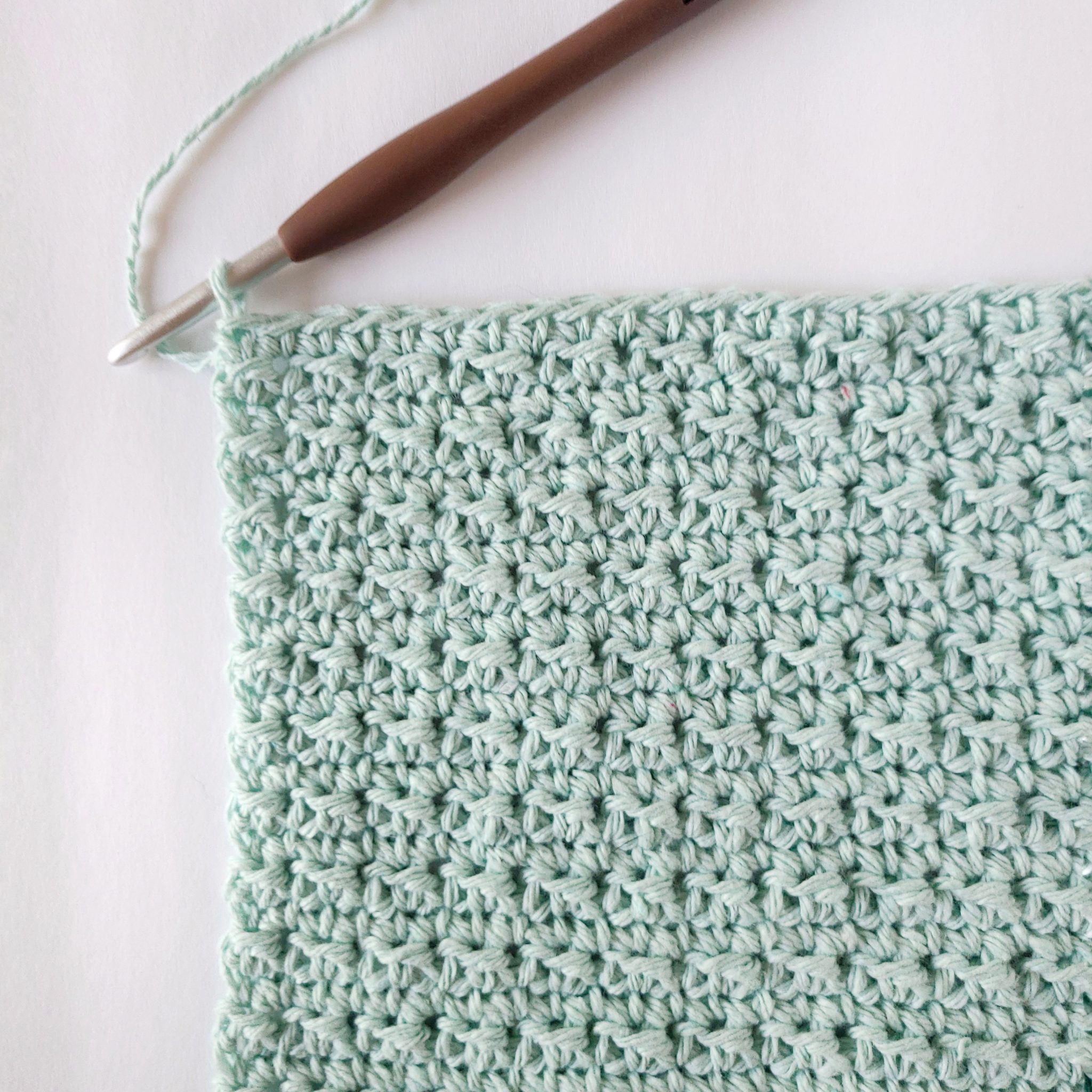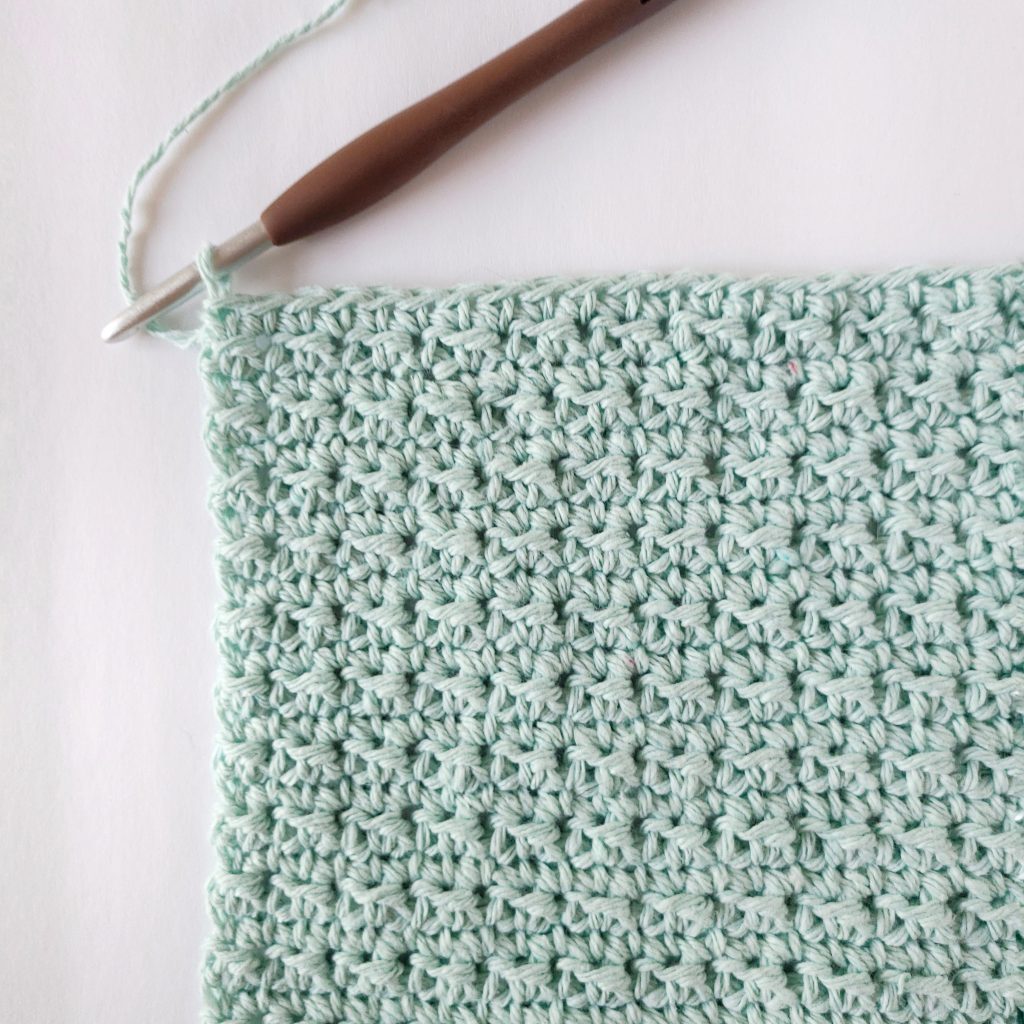 Crochet Stitches for a Washcloth
This easy crochet washcloth uses only two basic crochet stitches to create a bumpy texture which is perfect for a shower or bath. First you will need to know how to single crochet. The single crochet stitch or sc abbreviated is usually the first stitch that a beginner-crocheter learns when they are first starting.
Secondly, you will need to know how to half double crochet to make this washcloth. The half double crochet stitch or (hdc) is another easy stitch that is simple to master. Learn more about each crochet stitch below, so you can make your new favorite crochet washcloth pattern!
The Stitches in this Washcloth
Single Crochet (sc):
Insert a hook from front to back in the second chain from the hook or designated stitch
Bring the yarn over (YO) the hook and pull the yarn back through the chain from back to front (2 loops on hook).
YO and pull through both loops on the hook.
Half Double Crochet (hdc):
YO (yarn over) Insert hook from front to back of the designated stitch, YO the hook and pick up a loop.
YO the hook and pull back through all three loops on the hook.
I crocheted my washcloth with a starting chain of 26 and crocheted 27 rows to make about a six-inch by six-inch square. You can change the size of your washcloth by using a starting chain in any even number and crocheting any number of rows.
If you make it bigger you will not need any extra yarn because the size shown uses less than a skein so you could probably get two to three washcloths out of one ball of yarn no matter the size.
Scroll on down to learn more about the yarn you'll want to use.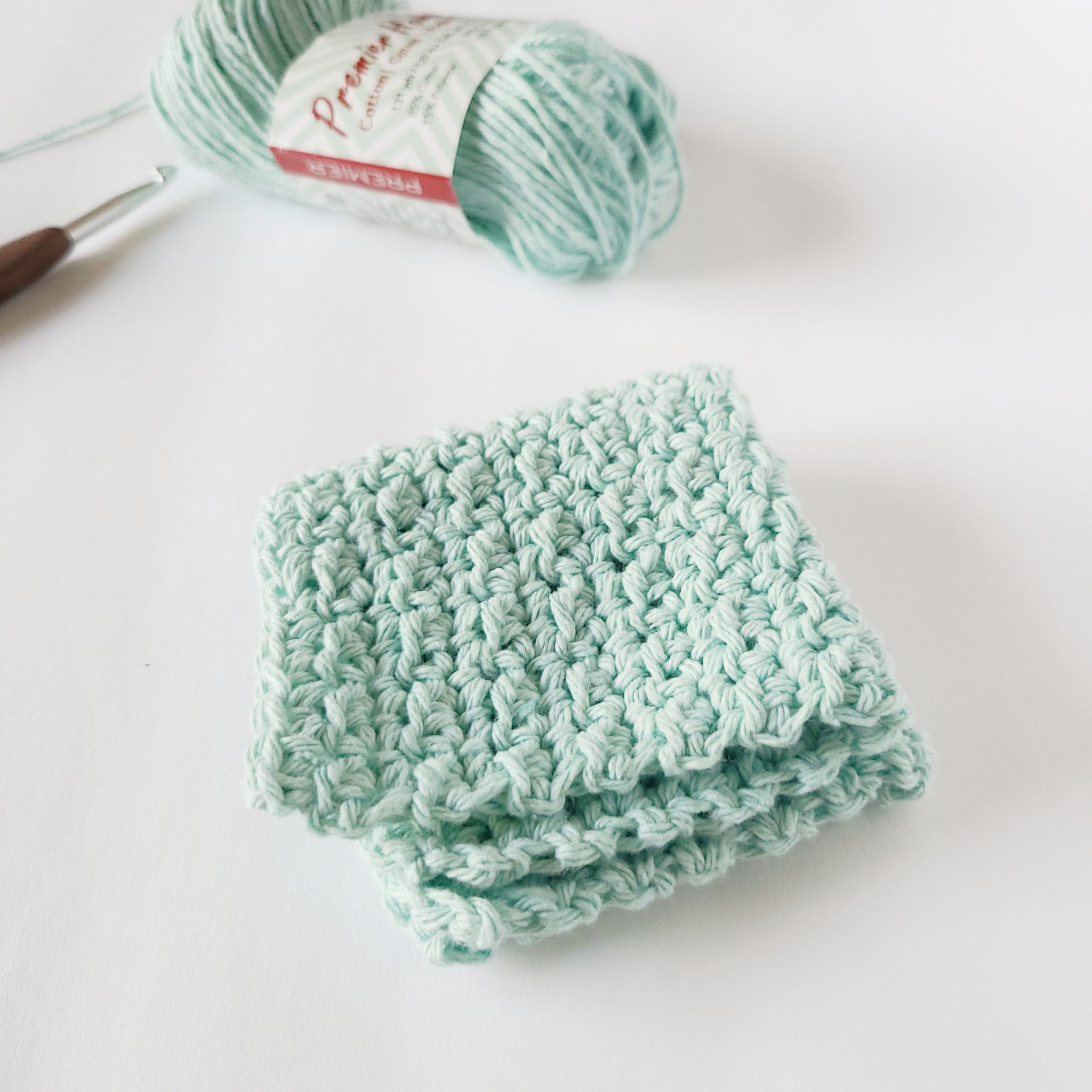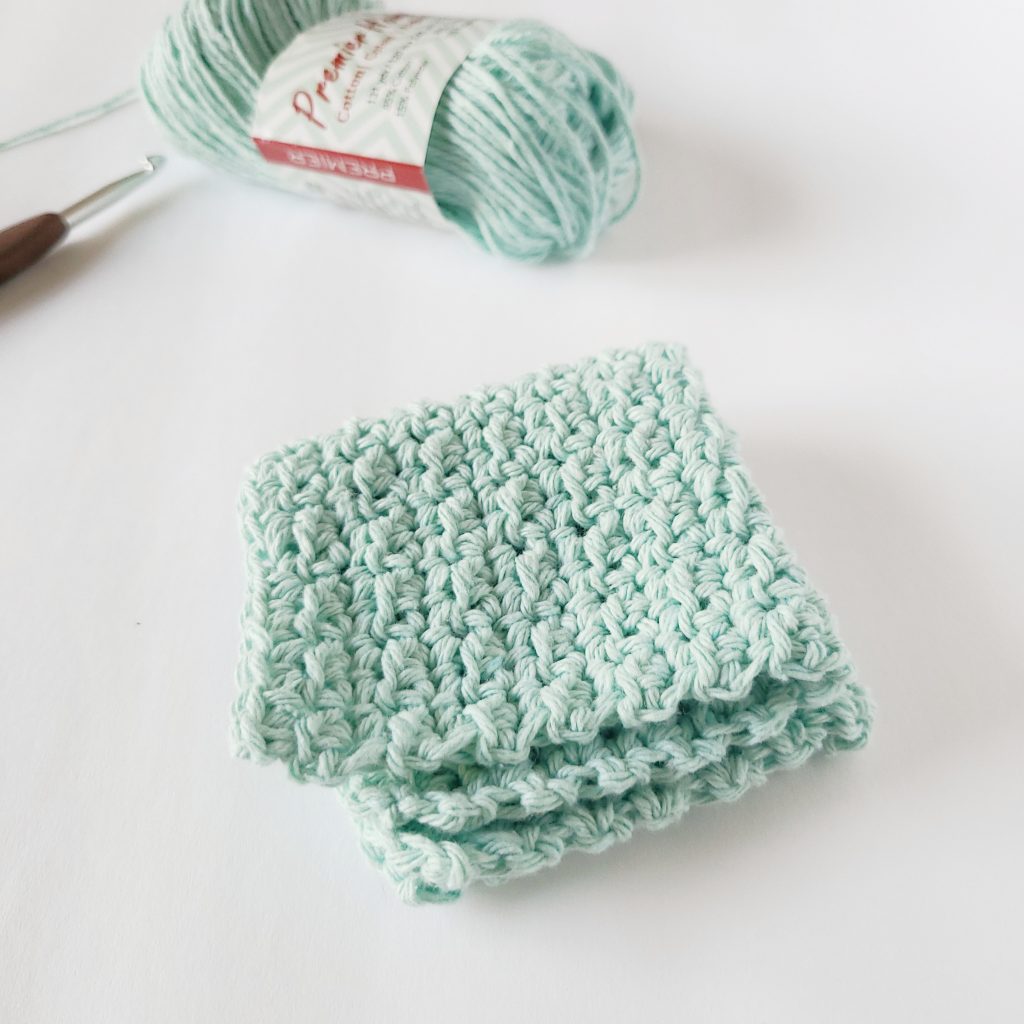 The Yarn For a Washcloth
For me, the best type of yarn to use when crocheting a dishcloth is cotton yarn. Cotton is durable, cleans easily and will last for many years. For this design, I used Premier Home which is an 85% cotton & 15% polyester blend in the color Pastel Blue.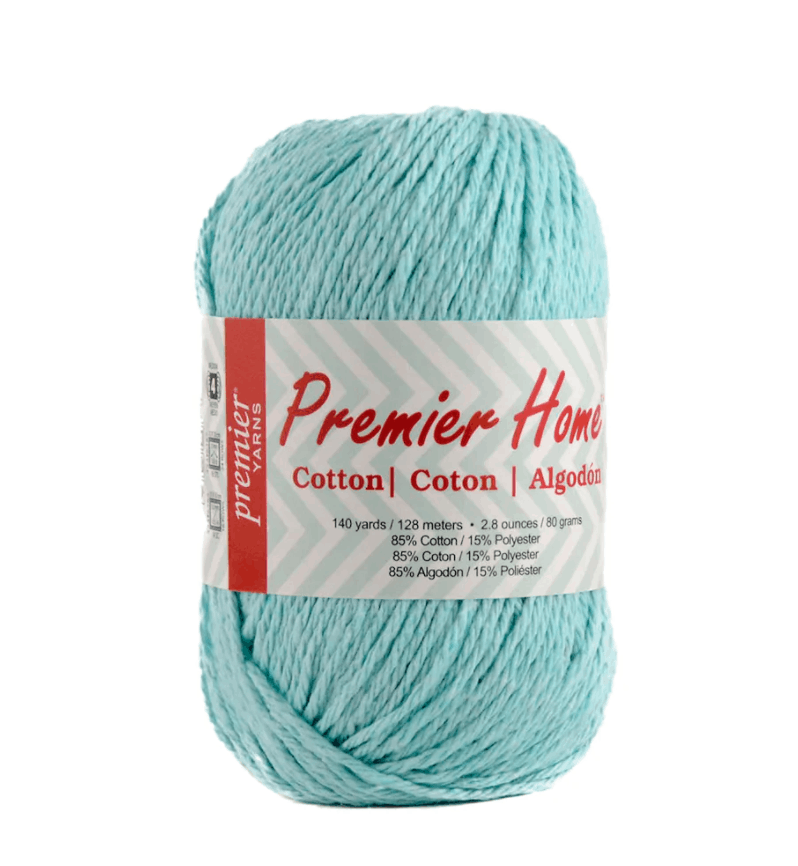 If you'd prefer a different color Premier Home yarn has many colors to choose from which means you can make a washcloth that is unique to you in one or many colors of your choice. Or you can create a fun color palette for the person you are making them for.
If you want to learn more than check out the cotton blend yarn below so you can be on your way to making a cotton crochet washcloth!
Now that you know what stitches you'll need to know, all about the yarn and the basics on what we'll be crocheting you can get started on this textured crochet washcloth pattern!
Remember, take your time, read the pattern thoroughly and practice as much as you can.
Enjoy!
Easy Beginner Crochet Washcloth Pattern
Skill Level: Basic
Materials
Size J 6 mm crochet hook (or any hook size to get the correct size)
Premier Home Yarn less than 40 yards or any four weight cotton or cotton blend yarn
Yarn needle
Scissors
Finished Size
approximently a 6′" x 6″ square
Notes
All Easy Crochet patterns are written in standard US terms.
Gauge is not critical to this washcloth pattern.
If you'd like to change the size of these wash rags chain any even number.
The Pattern
Ch 26
Row 1: In the second ch from the hook sc, sc into each ch across, turn. (25)
Row 2: Ch 1, in the first st hdc, sc into the next st, *hdc into the next, sc into the next st, rep from * across ending with 1 hdc in the last st, turn.
Row 3: Ch 1, in the first st sc, sc into every st across, turn.
Row 4 – 27: Rep rows 2 & 3
Finishing: Fasten off, weave in loose ends with a yarn needle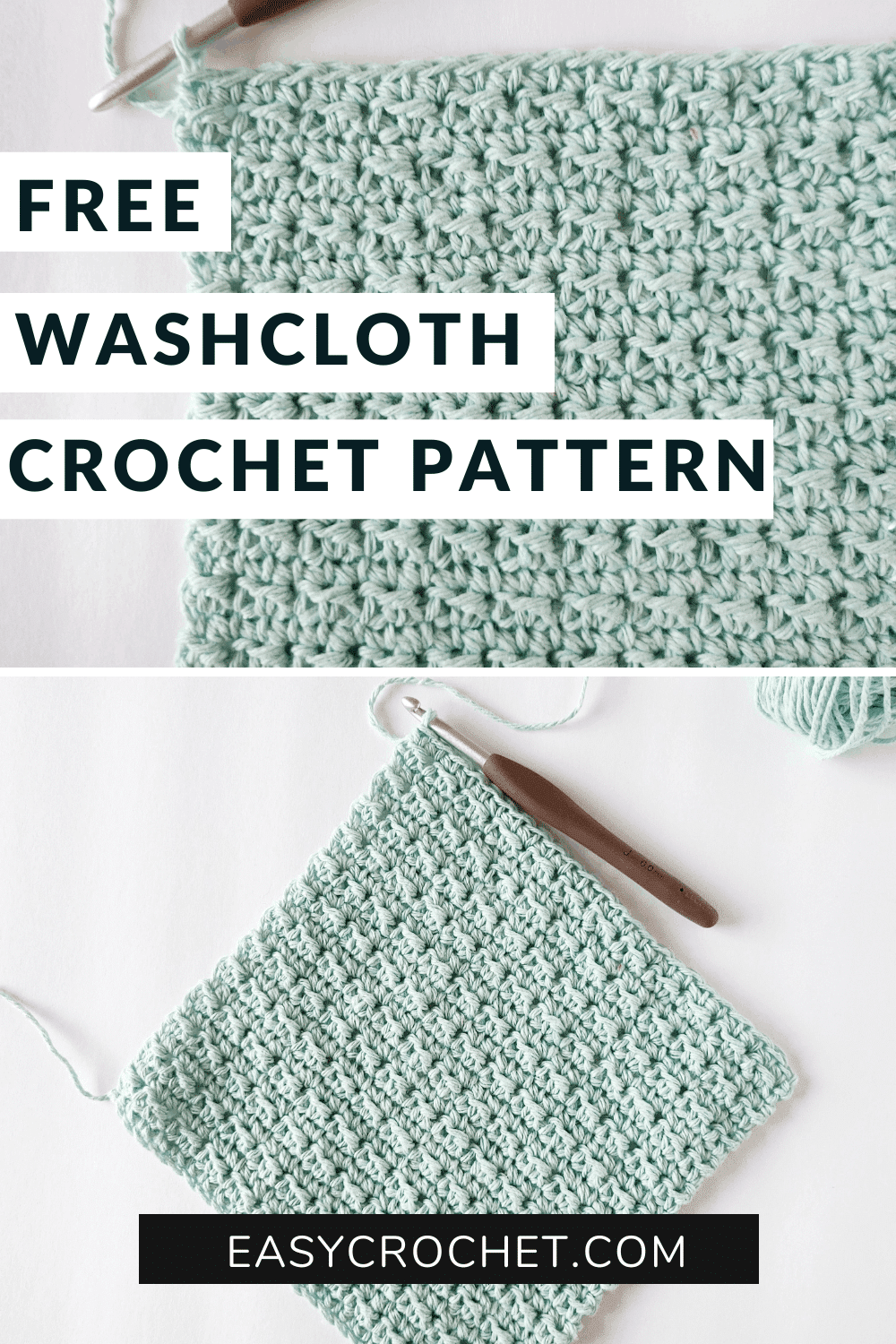 More Free Crochet Patterns for the Home