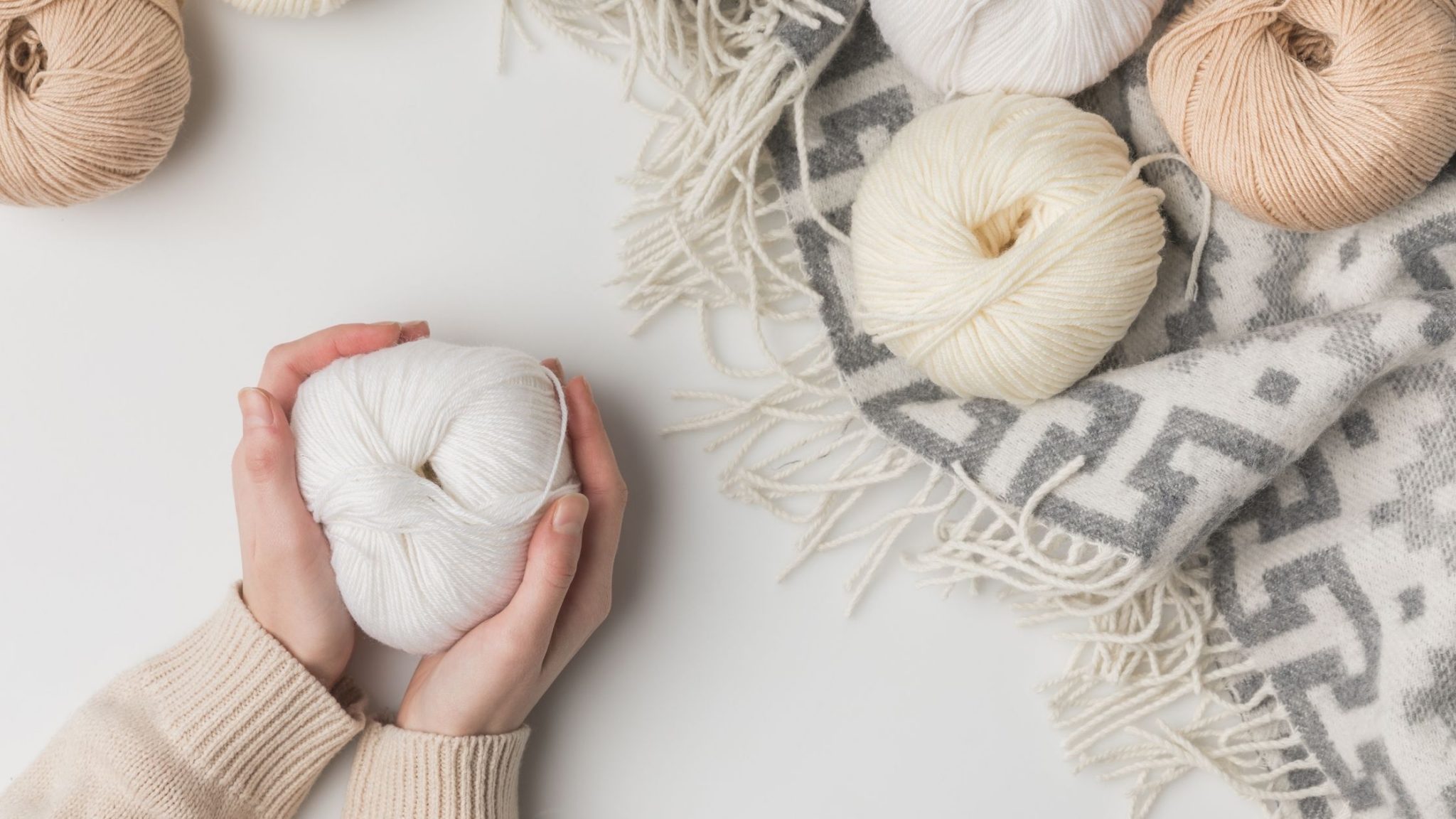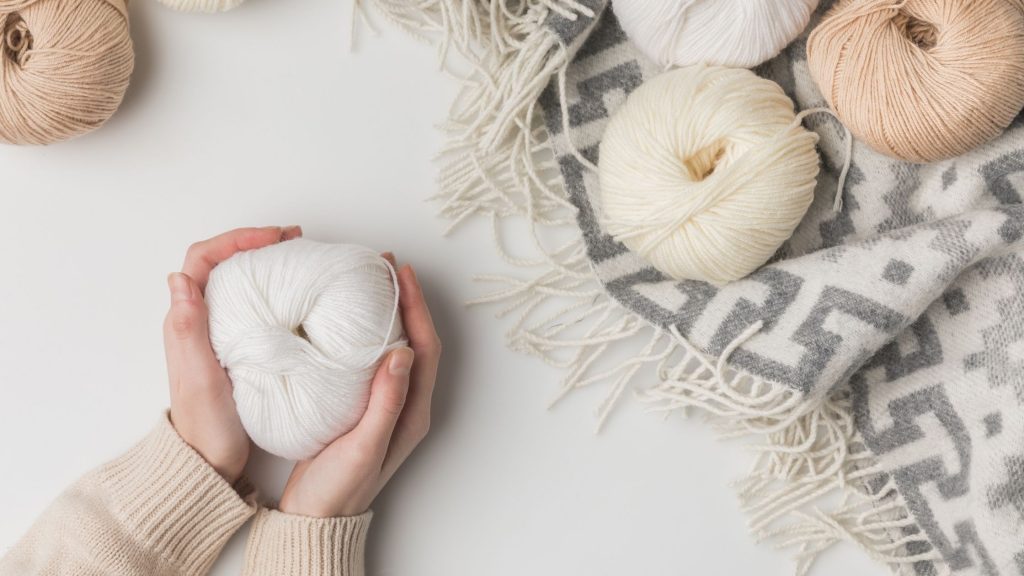 There are many types of yarn that you can choose from when you are crafting with yarn be it crocheting, knitting & more. Yarn can be made of different fibers and textures, as shown below.
When you are crocheting a project it is essential to make sure you are picking the right yarn for the type of project you are making. For example, if you crochet an acrylic potholder it will melt once it comes in contact with heat, so you will need to use 100% cotton instead, so it will hold up to the heat. This is just one instance of why knowing about all the different types of yarn is important.
Scroll on down to learn about the fibers yarn can be made in such as animal, plant based and acrylics. All yarns are a different since they can be spun and mixed with different properties to create a unique blend as well as different weights of yarn. You can look at the list below as well as a more detailed explanation.
What are the Different Types of Yarn?
Merino Wool
Wool
Alpaca
Bamboo
Fabric
Acrylic
Cotton
Cotton Threads
Natural/ Acrylic Blends
Learn even more about each fiber that is used to make yarn below.
Types of Yarn Fibers
---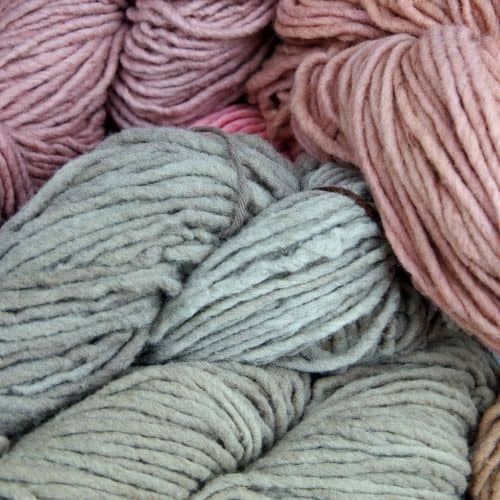 Merino Wool
Merino wool is from merino sheep and is one of the softest wools. It is perfect for any type of project that will be next to the skin such as scarves, mittens, hats and sweaters.
Two popular merino yarns are LB Collection® Superwash Merino Yarn from Lionbrand and Swish Worsted from Knitpicks.
Merino wool is a washable wool, and able to withstand machine washing easily, so it's perfect for everyday wear.
---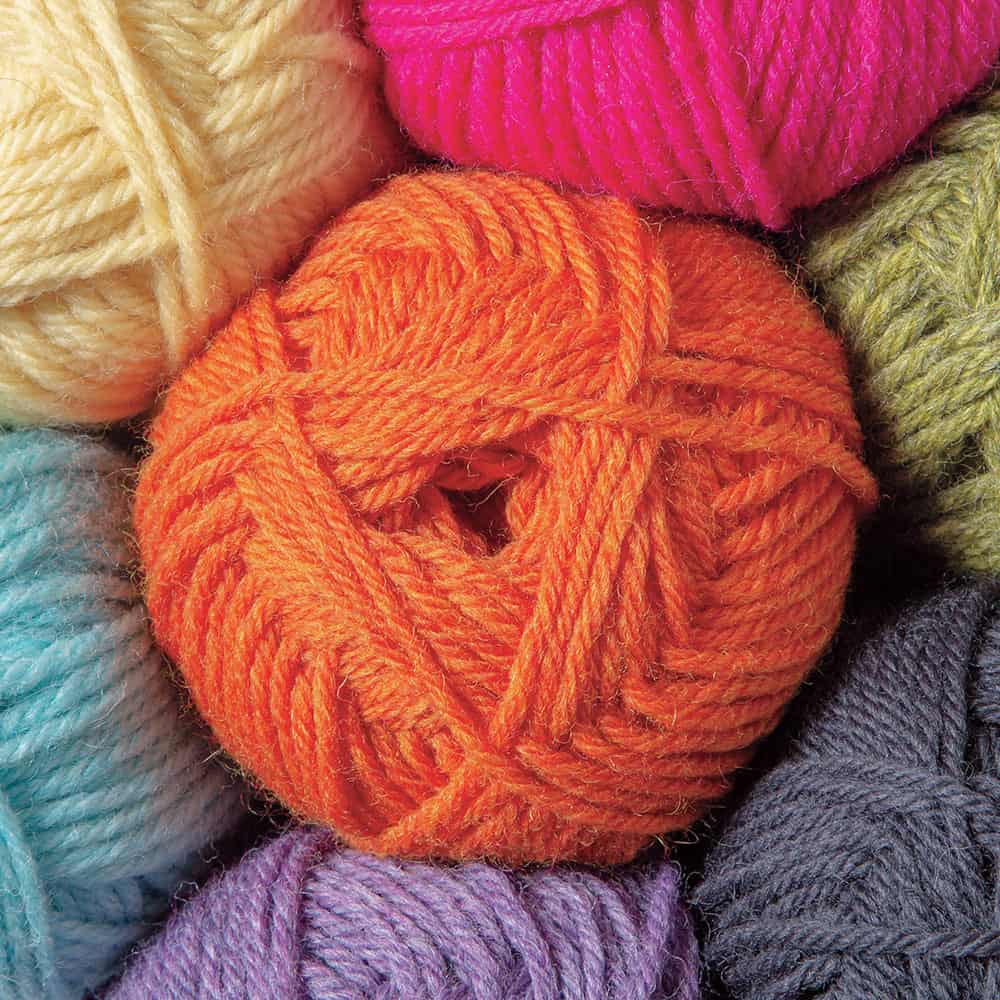 Wool
Wool yarn is made with the hair of sheep. Wool is warm as well as durable during use. It makes great sweaters, hats, scarves and gloves. Some wool is rough or itchy at first but gets softer with washing. It can be easily blended with other fibers or used as 100% pure wool.
Two of the more popular wool yarns are Lion Brand Fisherman's Wool and Wool of the Andes from Knit Picks.
---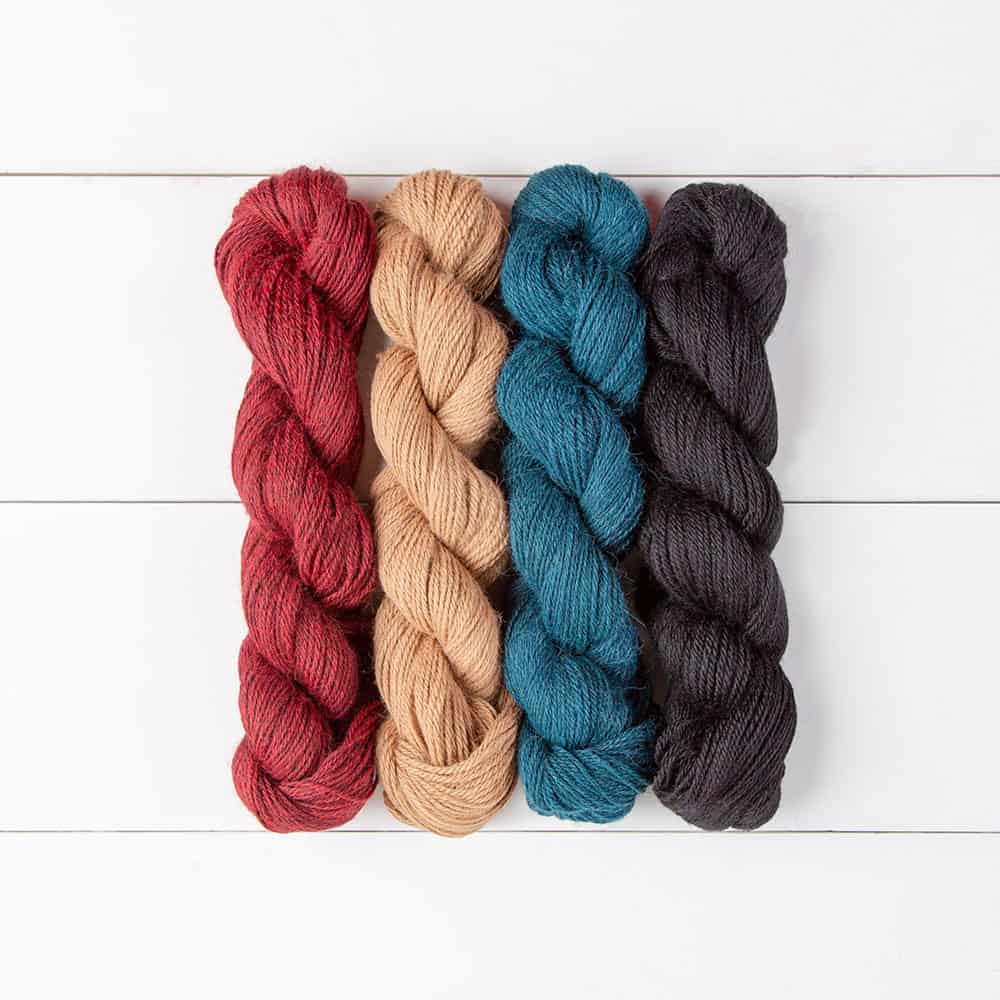 Alpaca
Alpaca yarn is made with the hair from an Alpaca. This fiber is cozy and has a luxurious feel to it which makes it perfect for anything you create that will be close to the skin. It is one of the warmest fibers available and can also be blended with other fibers easily.
Two of the more popular Alpaca yarns are Simply Alpaca from KnitPicks and Sugar Bush Nanaimo Yarn Alpaca Blend.
---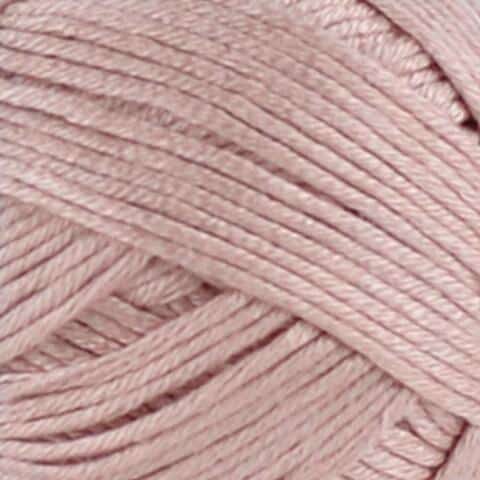 Bamboo
Bamboo yarn is made from bamboo plants and can be harvested without killing the plant which means it is eco-friendly. It is made from bamboo grass that has been extracted into cellulose and then spun into a silky smooth yarn
This fiber is sheen and lightweight which makes it great for Spring & Summer projects. The bamboos fibers are naturally silky soft and smooth – which makes the yarn incredibly soft for shawls, cardigans and more. It is often blended with other fibers for more texture and variety.
A favorite Bamboo yarn is Truboo Yarn from Lionbrand.
---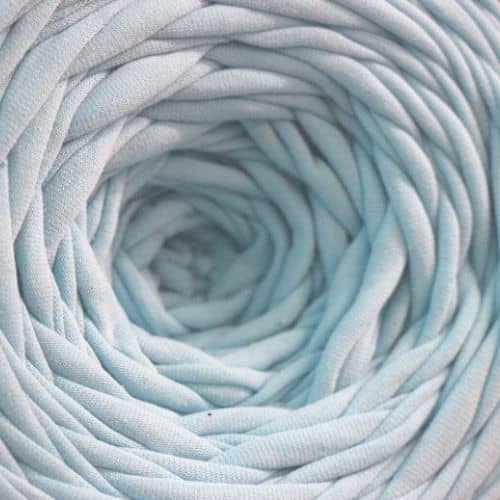 Fabric / T-Shirt
Fabric and or T-shirt yarn can be bought or made yourself using old cotton t-shirts or fabric scraps. Since this yarn will vary depending on the fabric it was made with you will need to test out different crochet hooks to see which one would work best.
A favorite fabric yarn is Bernat Maker from Yarnspirations or if you'd prefer the DIY route take a look at this tutorial on how to make t-shirt yarn.
---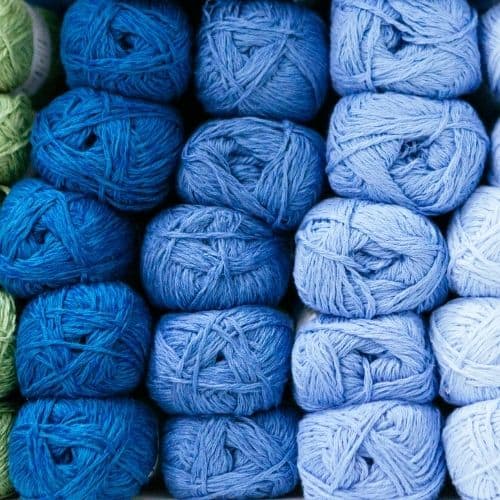 Acrylic
One of the most common yarn fibers you can find is Acrylic. Acrylic is made with chemicals such as petroleum which means it is a fossil fuel-based fiber. Learn more about how acrylic fiber is made and see if it is a good choice for you.
Since acrylic fiber is easily produced it means it is inexpensive. You can find this yarn at most stores without any trouble. A few easy to find ones are Red Heart Soft and Red Heart Super Saver both of which are budget friendly.
---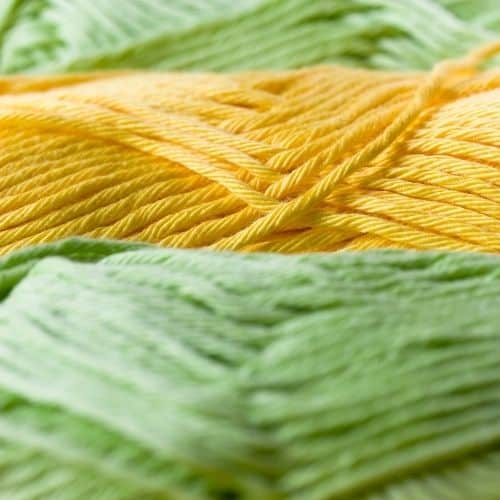 Cotton
Cotton yarn is 100% cotton and can is perfect to use for washcloths, dishcloths and anything that will require durability.
A couple of favorites of cotton yarns are 24/7 Cotton by Lionbrand and Lily Sugar'n Cream yarn by Yarnspirations both of which are easy to find online and in store.
---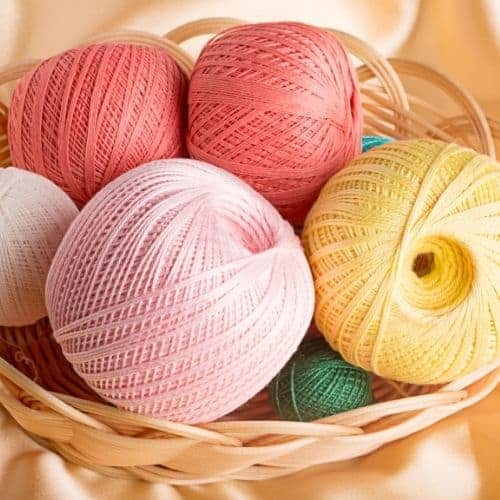 Cotton Threads
Cotton thread fiber is usually used for lace projects and filet crochet patterns. It is a superfine 1 weight yarn that is inexpensive and can be found at most local craft stores.
A favorite cotton thread Aunt Lydia's Classic Cotton Thread that is available from most local craft stores and online.
---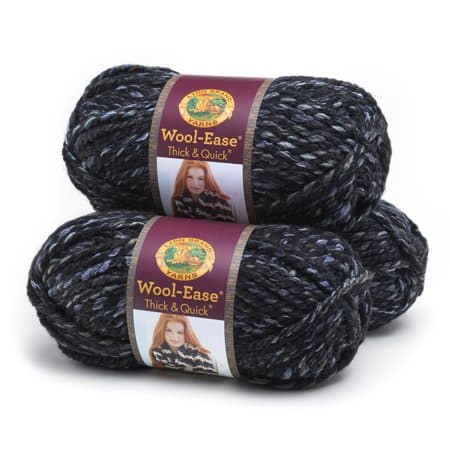 Natural / Acrylic Mixes
A natural acrylic fiber blends is great to use in projects such as socks and gloves. The blend of fiber makes it durable and easy to wash!
A good example of this type of yarn is Wool-Ease Thick & Quick from Lion Brand. It consists of a 20% wool and 80% acrylic mix.
---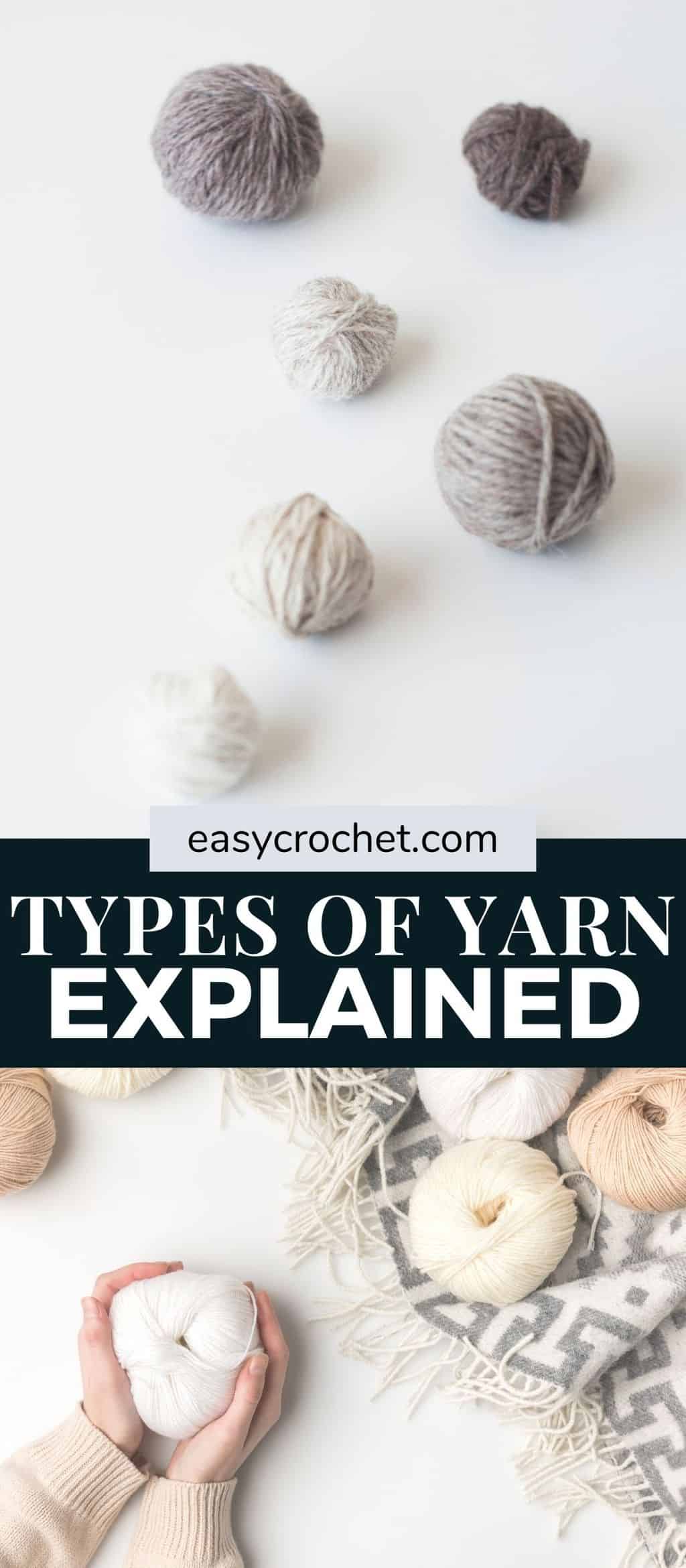 Now that you know about all the different types of yarn you can crochet or knit with why not make something? Check out a few of my favorite patterns below.
Free Crochet Patterns
Free Knit Patterns