Different Types of Yarn: Explained
There are many types of yarn that you can choose from when you are crafting with yarn, be it crocheting, knitting & more. Yarn can be made of different fibers, weights and textures, as shown below.
When you are crocheting a project, it is essential to make sure you are picking the right yarn for the type of project you are making. For example, if you crochet an acrylic potholder it will melt once it comes in contact with heat, so you will need to use 100% cotton instead, so it will hold up to the heat. This is just one instance of why knowing about all the different types of yarn is important.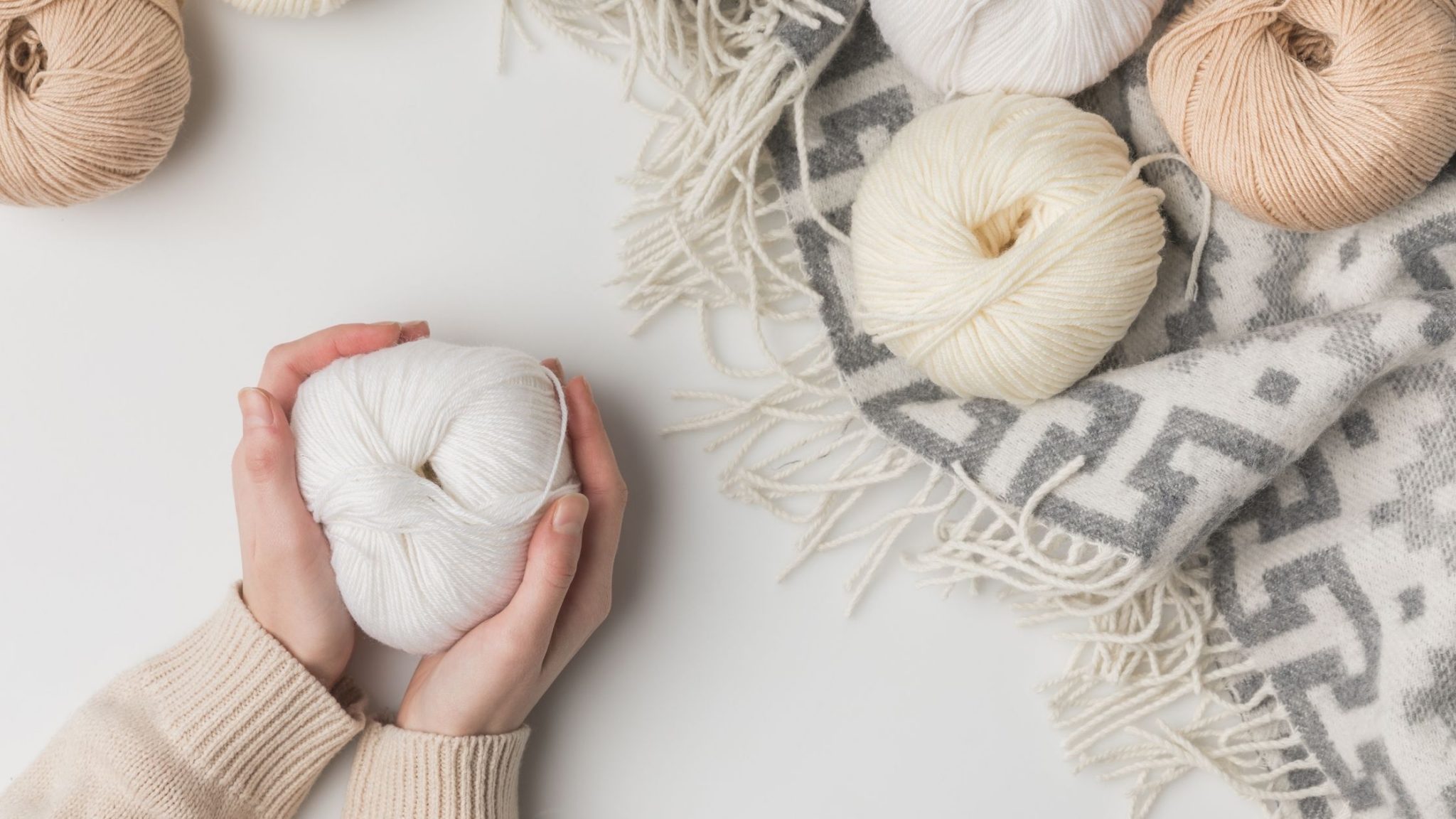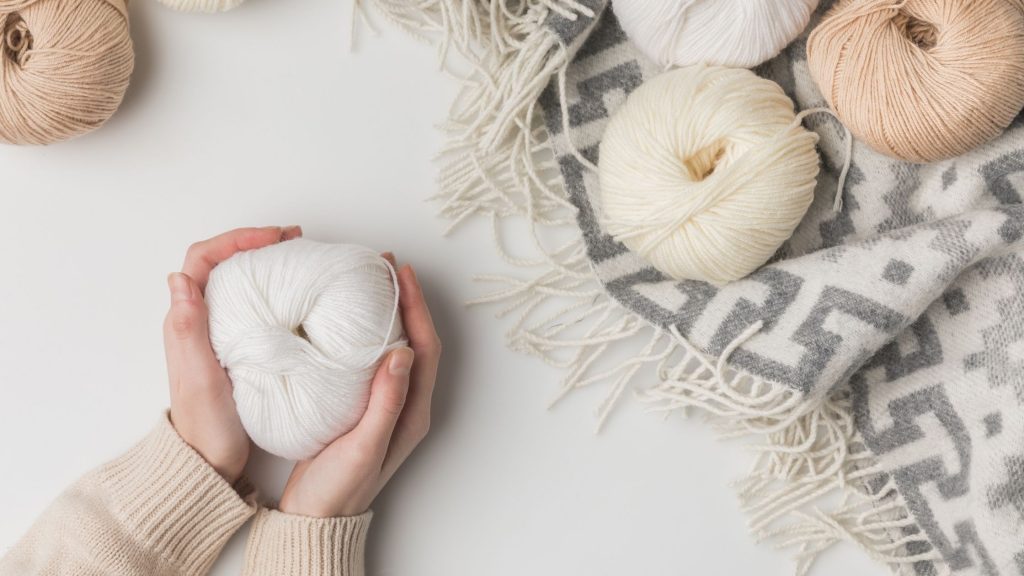 Scroll on down to learn about the types of fibers yarn can be made in such as animal, plant based and acrylics. All yarns are a different since they can be spun and mixed with different properties to create a unique blend as well as different weights of yarn. You can look at the list below as well as a more detailed explanation.
What are the Different Types of Yarn Fibers?
Most yarn fibers can be broken down into two categories: natural and manufactured.
Natural fibers come from animals such as sheep or alpacas or are plant derived, such as cotton or bamboo.
Manufactured fibers are those that are made up of various plastics. These plastics can range from the very common acrylic, to polyester, rayon or nylon. These yarns are easy to care for, including hassle-free washing and drying requirements.
There are also blended yarns that include a bit of both natural and manufactured. One of the more commonly found blended yarns is the acrylic & cotton blend. How much of each is up to the brand and manufacturer of the yarn, but they can range anywhere from 90/10 acrylic or 90/10 cotton.
Blended yarns are popular because they get to take advantage of each of the qualities of the different materials.
Merino Wool
Wool
Alpaca
Bamboo
Fabric
Acrylic
Cotton
Cotton Threads
Blends
Types of Yarn Weights
Yarn thickness is used to determine the weight of the yarn. Use the yarn types chart below as a guide to determine what yarn weight needs to be used according to what the crochet pattern asks for. The yarn weights explained below are based on the CYC Standard weight System.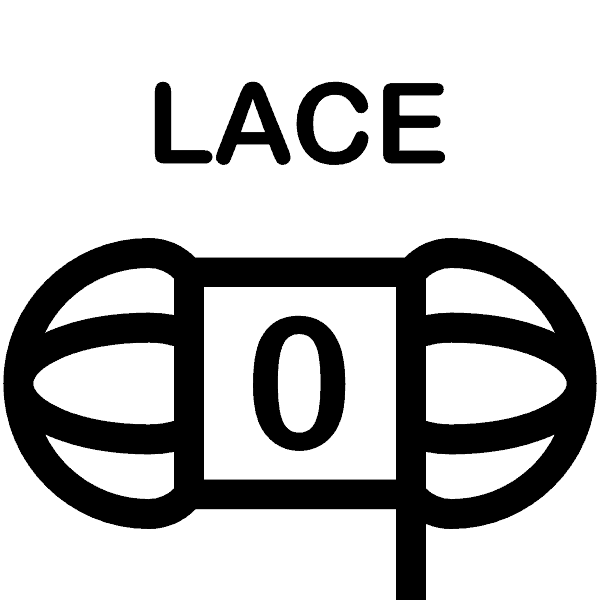 Weight #0 or Lace includes yarn type fingering 10-count crochet thread. This weight of yarn is usually crocheted using the US hook size of 6/7/8 (steel) and B-1 of regular. The metric equivalent is 1.6-1.4 mm for steel and the regular metric hook size of 2.25 mm.
---
---
---
---
---
---
---
---
Types of Yarn Fibers
Learn even more about each fiber that is used to make yarn below.
---
---
---
---
---
---
---
---
---
Common Questions About Yarn Types
What is the Softest Type of Yarn?
With so many fibers to chose from, picking the softest yarn can be tough. You can find many acrylic yarns that are extremely soft such as Feels Like Butta by Lionbrand as well as natural fibers as well. Take a look at this post about the softest yarns, so you can pick your favorite yarn.
What Type of Yarn Should I use for Hot Pads?
When crocheting a hot pad, dishcloth or anything that may be exposed to high heat you should always use a 100% cotton yarn. A cotton yarn I recommend is Lily Sugar'n Cream by Yarnspirations which is perfect to use for washcloths, dishcloths and hot pads!
What Type of Yarn is Best for Crocheting Blankets?
A nice, sturdy plus soft yarn is important when deciding what one to use for blankets. I put together a post of some of the softest yarns for blankets that you can use to determine which yarn will be the best for your blanket project.
Now that you know about all the different types of yarn you can crochet or knit with why not make something? Check out a few of my favorite patterns below.
Free Crochet Patterns
Free Knit Patterns