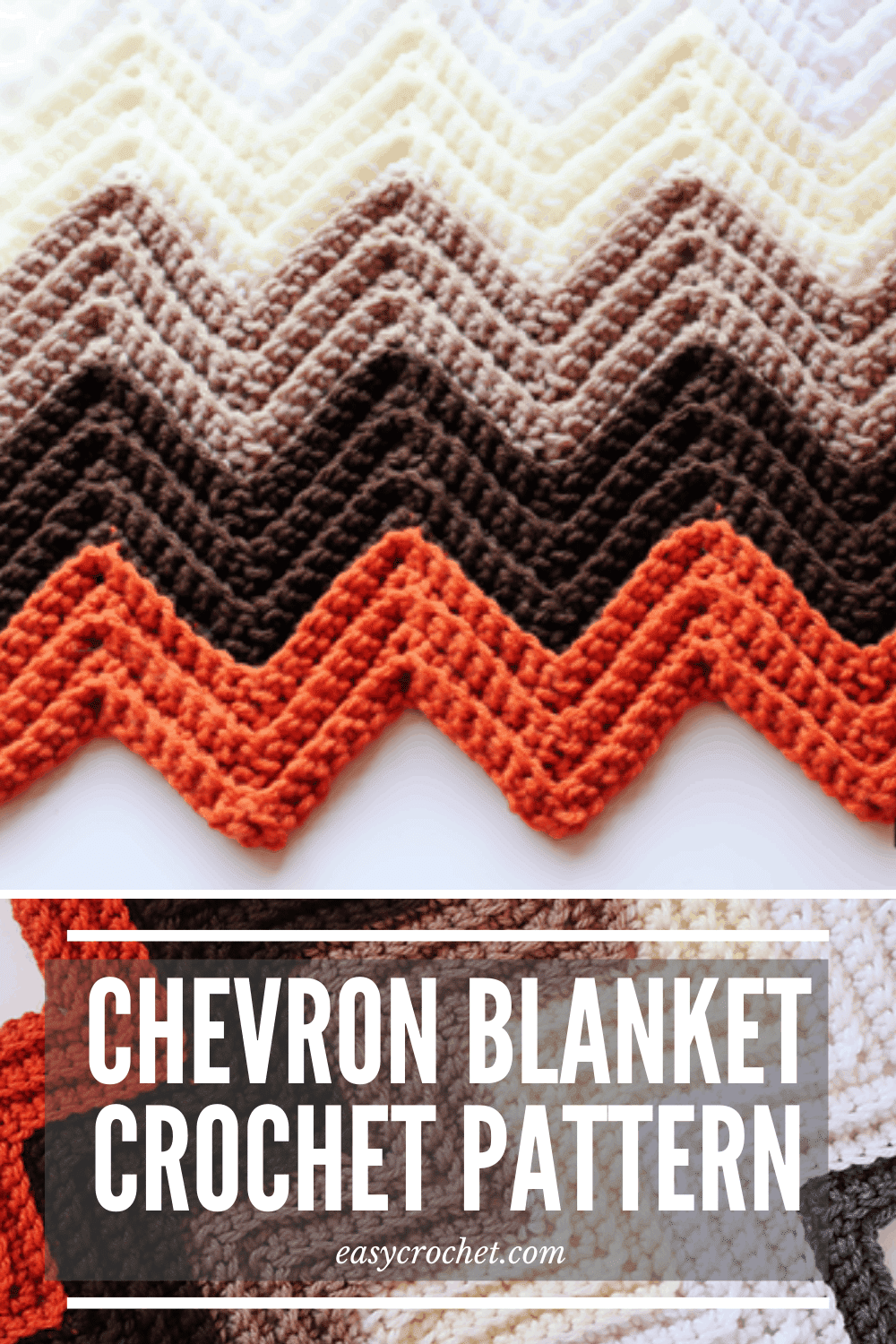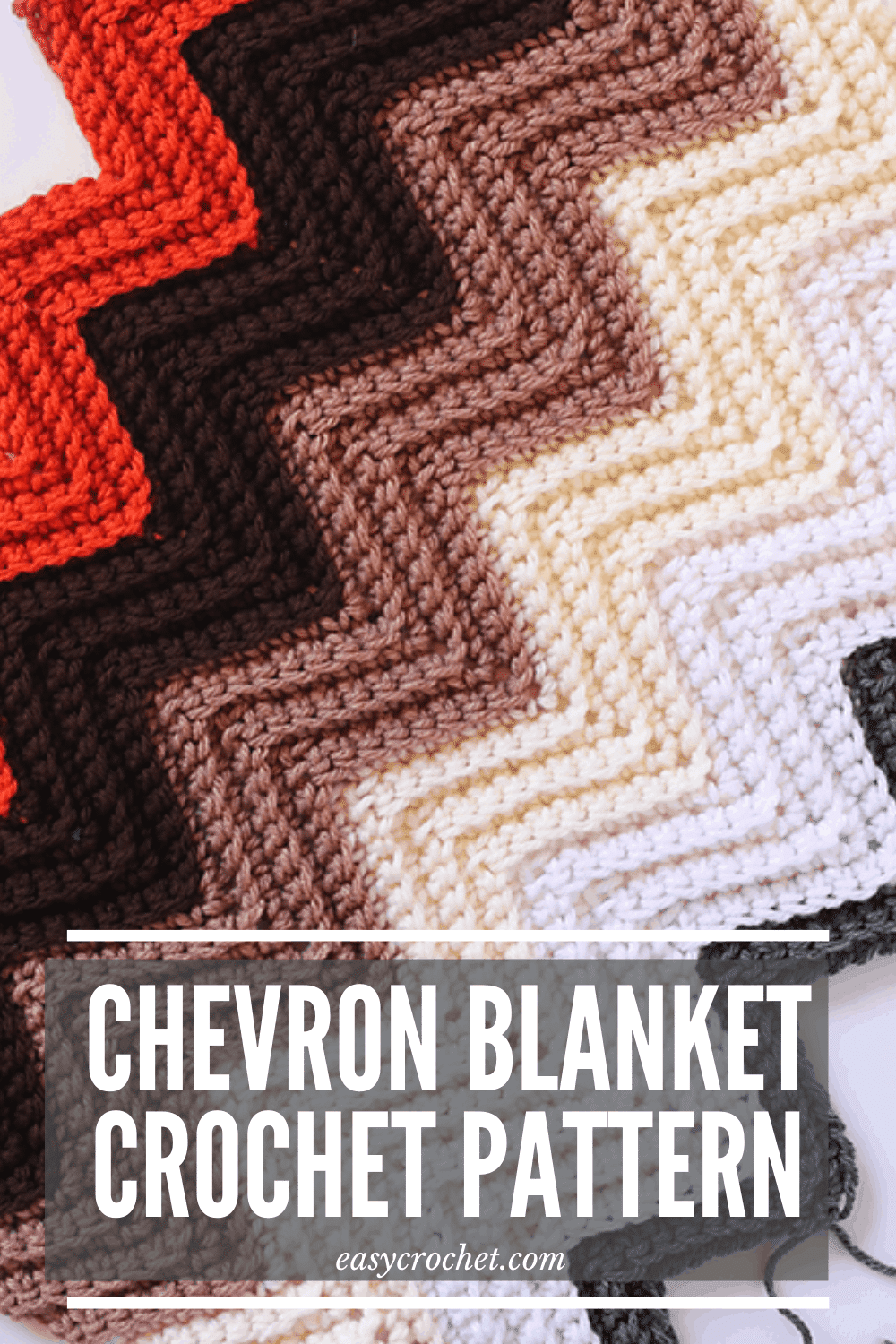 Learn how to make a 70s style easy chevron crochet pattern today with the free chevron blanket tutorial below!
If you can single crochet, then you can make this blanket in no time at all! Read on down to get started so that you can start enjoying this simple chevron pattern.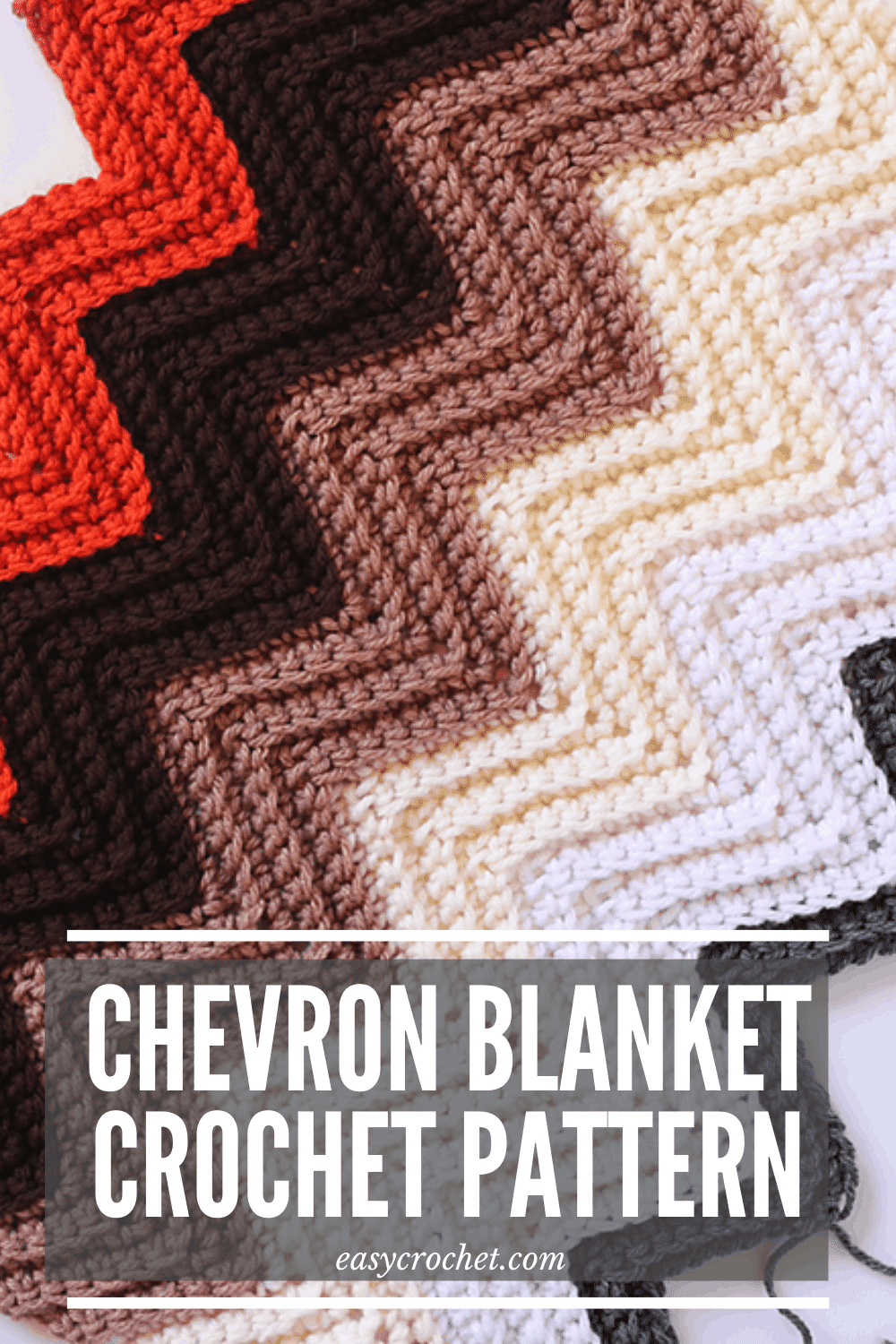 If you love chevron crochet designs, then you should also try my neutral chevron pattern, chevron dishcloth pattern or browse eight of my chevron pattern favorites.
I am so excited for you to try this chevron design! It is so fun to work up, is a really easy project and looks fantastic as a blanket!
Happy Crocheting!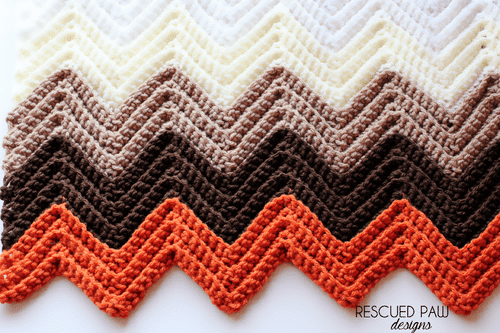 This Single Crochet Chevron Blanket Pattern is a Must-Have!
The main reason I LOVE this blanket is that it is made with a simple beginner-friendly stitch.… the single crochet! The single crochet stitch is a basic stitch that is super easy to master which makes learning a chevron pattern like this as easy as pie!
Since this single stitch crochet chevron pattern is so easy to learn it is excellent for a new (or veteran) crocheter looking to try something a little different. You will love it, promise!
The simple stitch (not to mention single crochet) repeat is one that I promise you can master in no time at all! It is designed almost like my other pattern the Crochet Chevron Neutral Blanket Pattern, which is another excellent and easy to learn chevron pattern if you are in the mood to make more chevron blankets.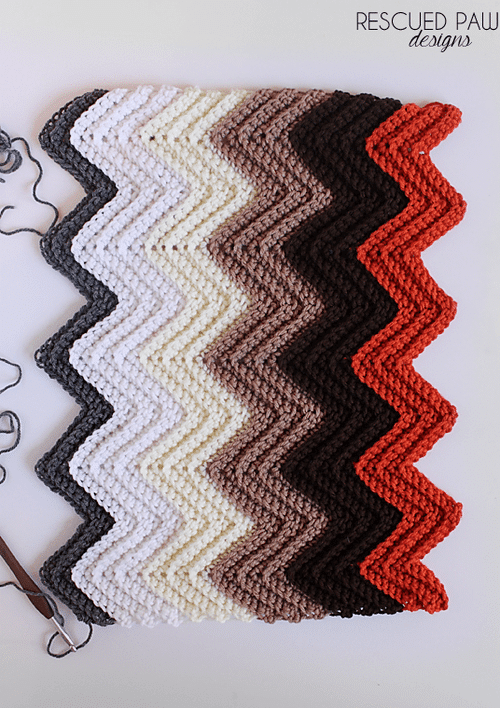 The Yarn That's Perfect for This Chevron Blanket
For this chevron patterned blanket, I used the Impeccable Yarn brand from Michael's. To get similar results to my design use worsted weight acrylic yarn in desired colors of your choice. I recommend Vanna's Choice as a great alternative.
Shop here to find your favorite color.
This yarn is fantastic. It holds up well to my kids' daily antics and washes beautifully. If you cannot find Vanna's Choice, we would suggest Caron Simply Soft, which is a beautiful yarn with fantastic drape!
I don't think you'll be disappointed with either. Vanna's Choice just so happens to be my favorite acrylic yarn to use for all of my blankets.
This Crochet Ripple Afghan is Worked up in the Back Loop
For this single crochet blanket, we will be crocheting in just the back loop of each stitch, which will create an excellent ridged texture. The back loop is easy to find on a stitch.
If you are looking at a stitch from the top and see the two loops, you will want to work into the one furthest away from you (AKA the back loop!).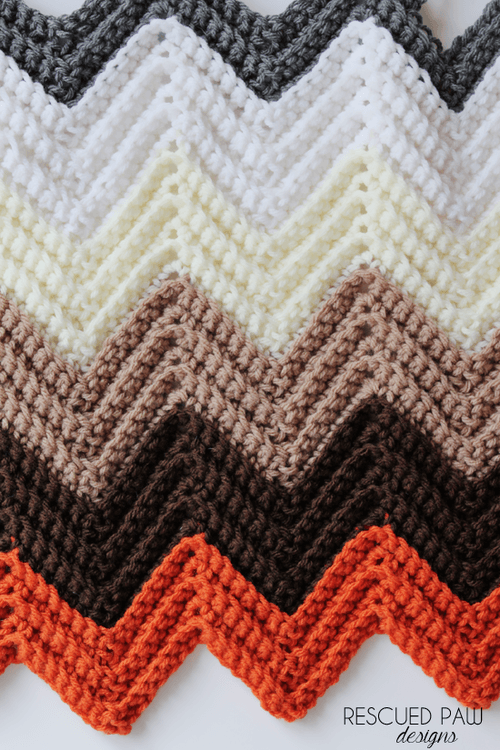 How to Change the Size of a Chevron Blanket
You will need to use a starting chain in a multiple of seventeen to start, then chain an additional fifteen to whatever length starting chain you picked to start your blanket.
It is the perfect blanket to customize to just the size you need!
You can use this blanket sizes chart to get a perfect size for your chevron blanket every time!
A Chevron Blanket is Great for Beginners
I recommend for beginner crocheters to give this chevron blanket pattern a try (and these blankets too) because of the simple single crochet stitches that are throughout. This pattern is the perfect beginner project.
To spice it up I added a bit of texture by crocheting only in the back loop of every stitch, which creates a ridge and gives the blanket a bit more character. It's a win, win.
Ready to Start on This Ripple Blanket Pattern?
Read on down for the free chevron stitch tutorial or as some may say "zigzag stitch" to get started on your blanket today!
I can't wait to see all your finished chevron patterned projects!
Single Crochet Blanket Chevron Pattern
Skill Level: Easy
Materials
Any yarn (I used a worsted weight four yarn): Amount of yarn needed will vary with the weight used, size of the blanket, etc.
Crochet hook: Choose whatever size the yarn recommends on the yarn label
Yarn needle: To weave in ends at the end of your project
Scissors
Notes
Sc2tog: Single Crochet two Together
Sc: Single Crochet
Written in standard US terms
I recommend counting then recounting your stitches for each row. It is very easy to skip or add a stitch with a chevron pattern design.
Pattern Steps
BEGINNING CHAIN: Chain a multiple of 17 then chain an additional 15.
ROW 1: 1 Sc in 2nd chain from hook, 1 Sc in each of next 5 chains, 3 Sc in next chain ,1 Sc in each of next 7 chains, * skip 2 chains, 1 Sc in next 7 chains, 3 Sc in next chain, 1 Sc in of next 7 chains, repeat from * across until you reach the end of the row. Turn
ROW 2: Working in back loops only (see picture) and throughout the rest of the pattern.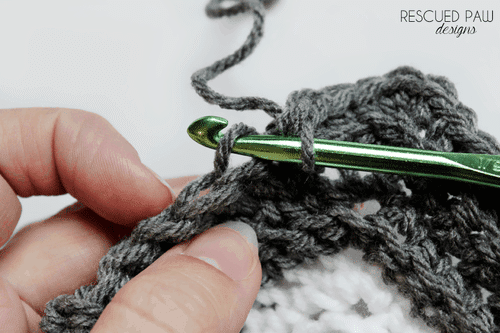 ROW 2 continued: Chain 1, skip the first stitch, sc2tog
Learn how to sc2tog below
How to Single Crochet Together
Pick up a loop in each of the two stitches you will be crocheting together, yarn over, and draw through all 3 loops on hook.
pick up a loop
pick up another loop in the next stitch
you will now have three loops on the hook
yarn over and draw through all the loops on the hook
The Pattern Continued
ROW 2 continued: 1 Sc in next 5 stitches, 3 Sc in next stitch, * 1 Sc in next 7 stitches, skip next 2 Sc. 1 Sc in each of the next 7 stitches. 3 Sc in next stitch, repeat from * across until you reach last 7 stitches. 1 Sc in the next 5 stitches. Sc2tog in the last 2 stitches, turn.
ROW 3: Ch1, sc2tog, 1 Sc in next 5 stitches, 3 Sc in next stitch, * 1 Sc in next 7 stitches, skip next 2 Sc. 1 Sc in each of the next 7 stitches. 3 Sc in next stitch, repeat from * across until you reach last 7 stitches. 1 Sc in the next 5 stitches. Sc2tog in the last 2 stitches, turn.
Finishing: Repeat row three (3) for the pattern.

If you decide to make a blanket with this chevron pattern and need help with changing colors, check out my tutorial on how to change yarn colors in crochet.
I hope you enjoyed this single crochet chevron blanket pattern. If you have any questions, please feel free to ask in the comments below or on our Facebook Community.
PS: If you'd like to try a chunkier but similar version of this pattern I'd suggest checking out my Chunky Chevron Blanket Pattern!
You May Also Like These Other Chevron Patterns