Beginner's 4-Week Crochet Class
This is my free 4-week class that teaches someone how to crochet. There is no prior knowledge of crochet required! This free masterclass was specifically designed for those that have never crocheted before.
This online crochet class is 100% free, and accessible to everyone. While we break it down into 28 different classes (1 per day for 4 weeks), you can follow along at your own pace, no matter the speed.
There is a printable below that can be used to mark off the online crochet classes as you finish them. Whether this free crochet course takes you 5 days or 50, you should be able to crochet like a pro by the end of it!
Course Details
| | |
| --- | --- |
| Price: | 100% Free |
| For: | Anyone who has never crocheted before |
| Total Time Needed: | 15 – 18 hours |
Course Worksheet
Use this form to get the printable worksheet that can be used to follow along with our online crochet lessons. It will help you keep track of where you are in the coursework, and will give you a place to take notes as you learn to crochet.
Instructions
Download the worksheet above. It will help you keep track of your progress.
Bookmark this page. This way you can easily come back to it over the following weeks.
Click on the specific day's button below. Start with "Day 1". This will open a popup with specific lessons.
Read the article, watch the videos (if one exists for that lesson), then practice what it's trying to teach you. Once you feel comfortable with that lesson, come back to this page and move on to the next lesson and/or day.
By the end of this crochet masterclass, you should have mastered all the crochet skills needed to do just about every basic and easy crochet pattern from me or any other designer you can find.
Supercharge Your Learning!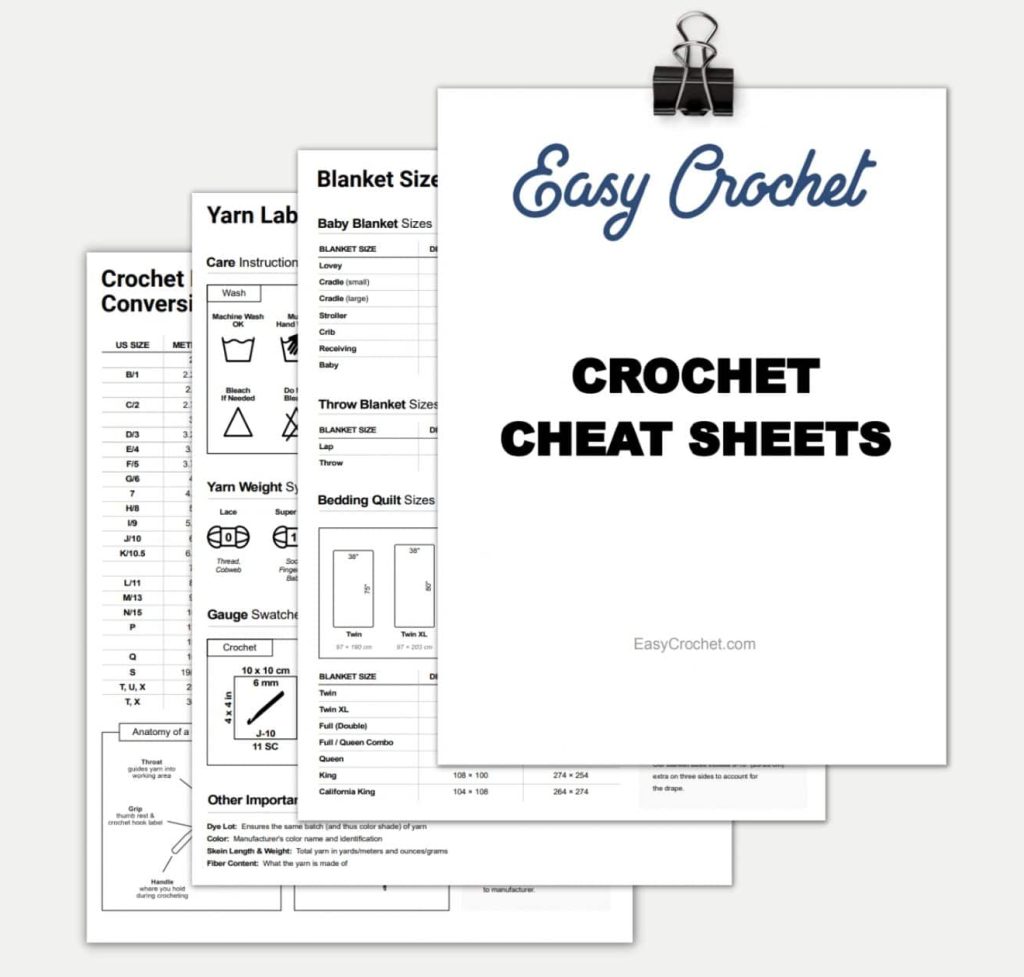 Our 13-page cheat sheet booklet is just what you need! Packed with valuable tips, techniques, detailed sizes, and helpful advice, this comprehensive guide is essential for any level of crocheter.
Course
Finally, here is the course. Follow along with the worksheet above, and move along at your own pace through these crochet lessons. Good luck!
Week 1
Time Needed: 3 hours, 15 minutes
In the first week of this course, there will be more reading than doing. The first half of the week works on building up your understanding of what crochet is, its terminology, and the supplies you'll use. During the last two crochet classes, we attempt the two most basic stitches available.
---
Week 2
Time Needed: 3 hours, 30 minutes
In week two, you are going to learn the rest of the basic crochet stitches, then learn what gauge is, and why it is important. Finally, we'll finish up with how to weave in the loose ends of yarn in a project, along with a recap of what you learned over the last 14 days.
---
Week 3
Time Needed: 3 hours, 45 minutes
Learning how to shape a project with increasing and decreasing the number of stitches kicks off the crochet classes in week three. These are essential skills for making anything that isn't a perfect square (think a tapered hat). Next, you'll learn how to create a magic circle and the techniques to change colors mid-project. Next, we prepare you to take on your very first crochet pattern: the classic granny square.
---
Week 4
Time Needed: 5-8 hours
During the last week in our course, we start by making a washcloth from a pattern to see how much you retained from last time. We then touch on a couple of the more complicated stitches, then finish with a blanket pattern that uses a lot of what you've learned over the last 4 weeks.