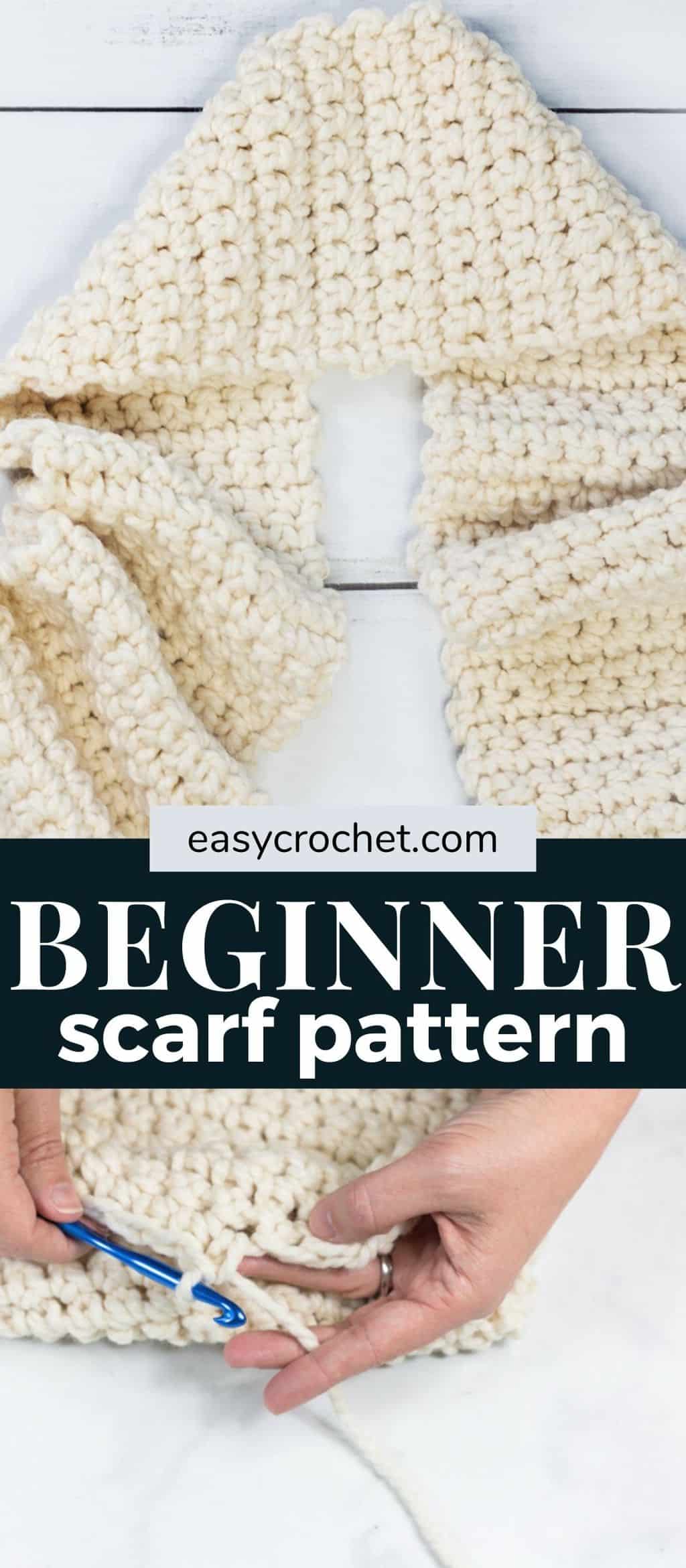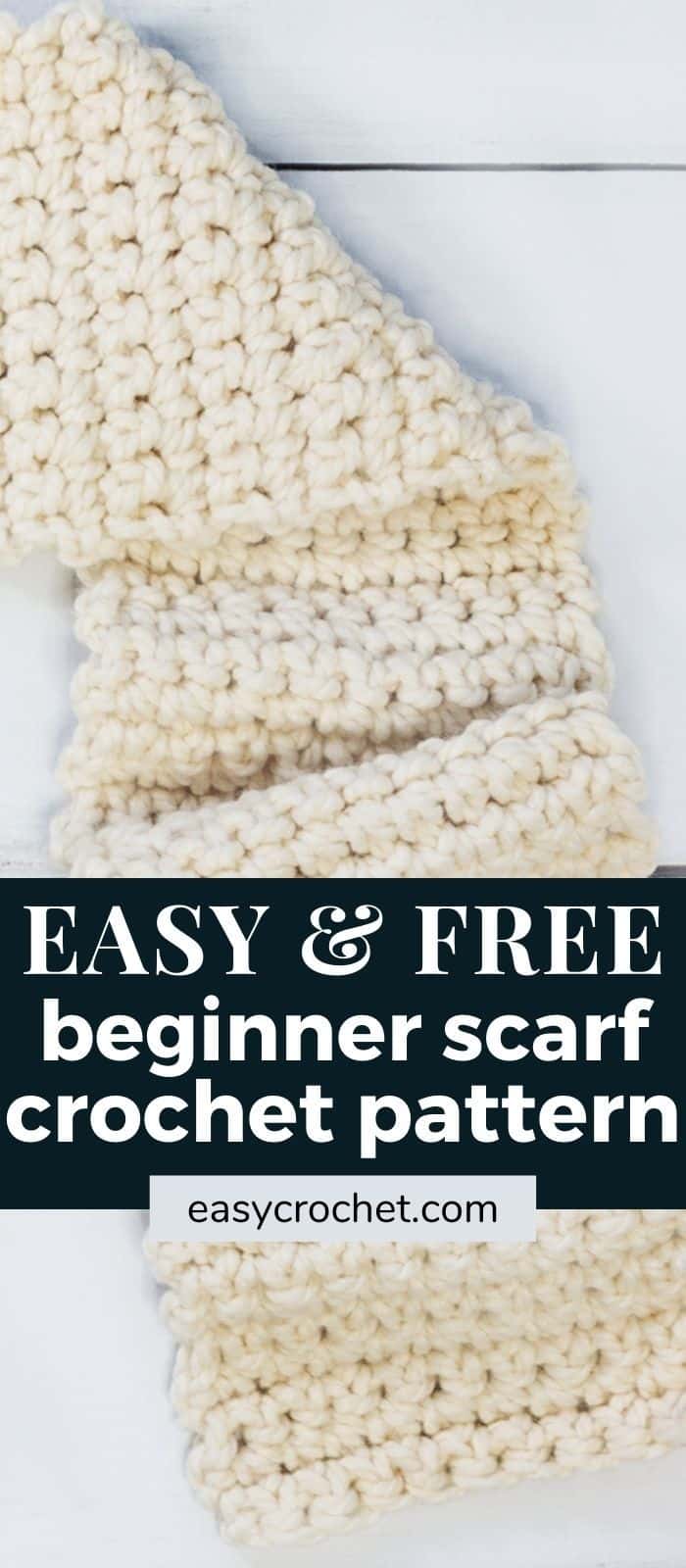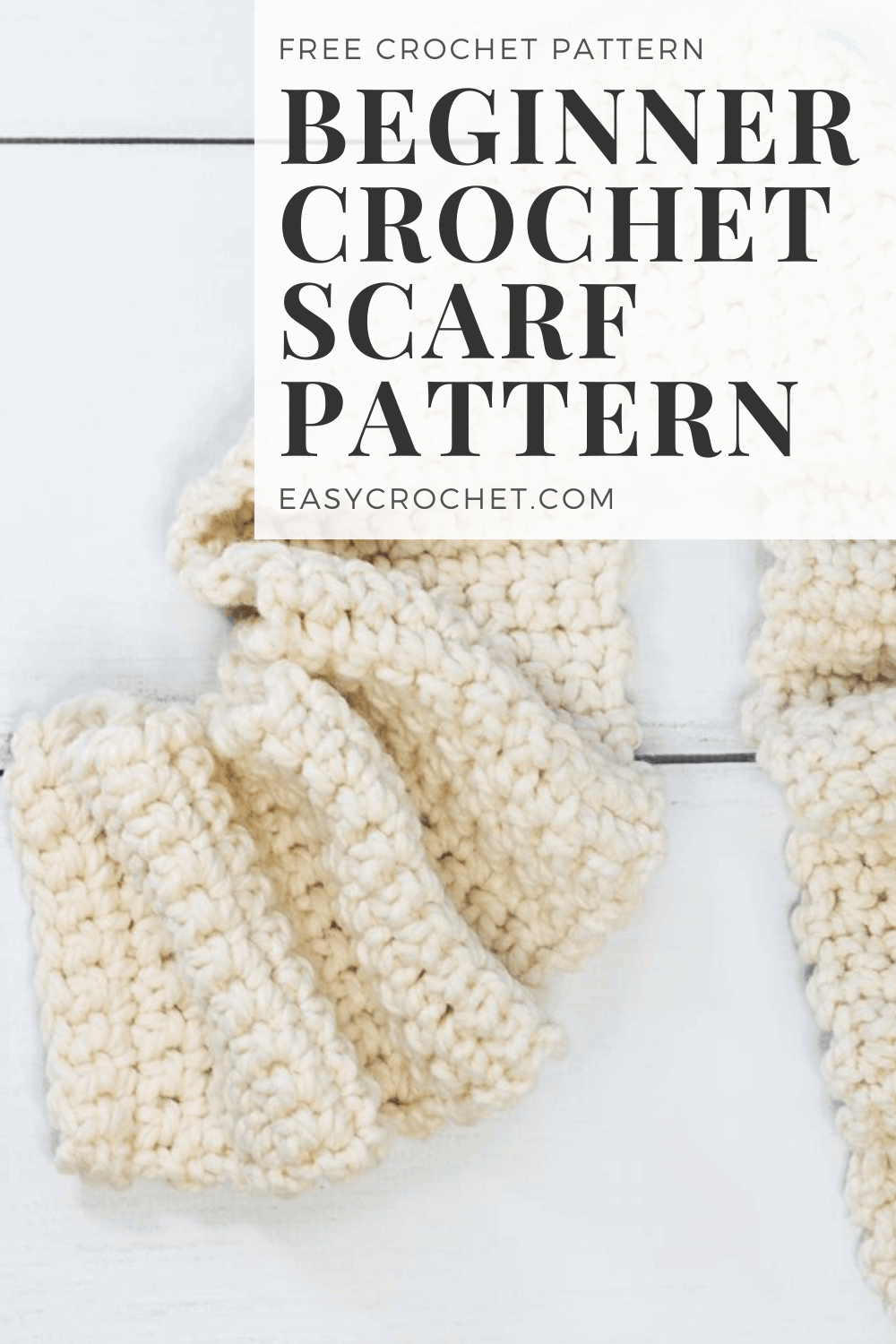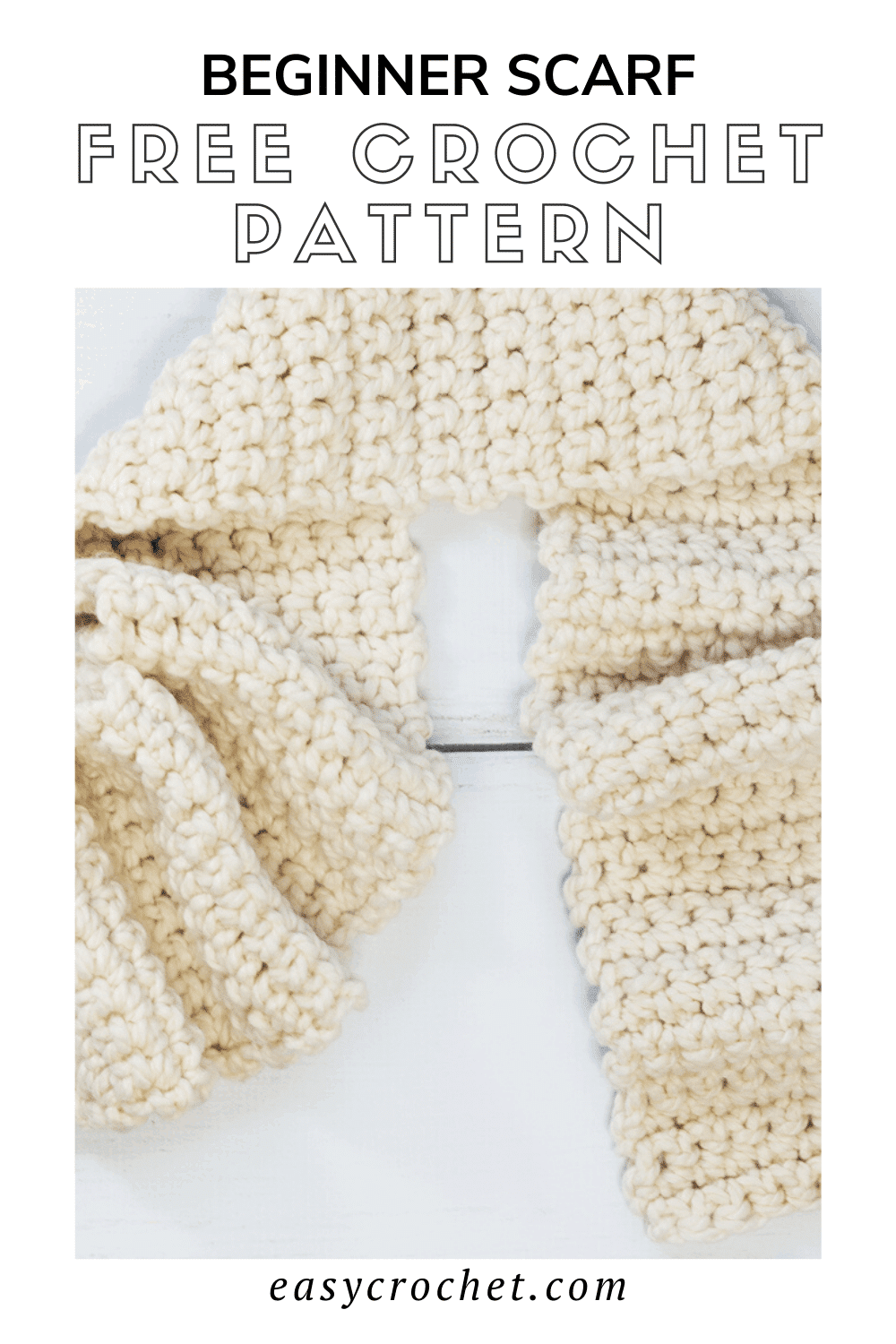 Are you new to crochet? Are you looking for a great first project? If so, you've come to the right place to learn all about crocheting a scarf.
I can help you learn how to crochet a scarf with the pattern below! The pattern is easy to get the hang of, it uses one simple stitch and works up fast.
I am so excited for you to learn this simple beginner-friendly pattern! Read on down to find the free crochet scarf pattern. Happy Crocheting!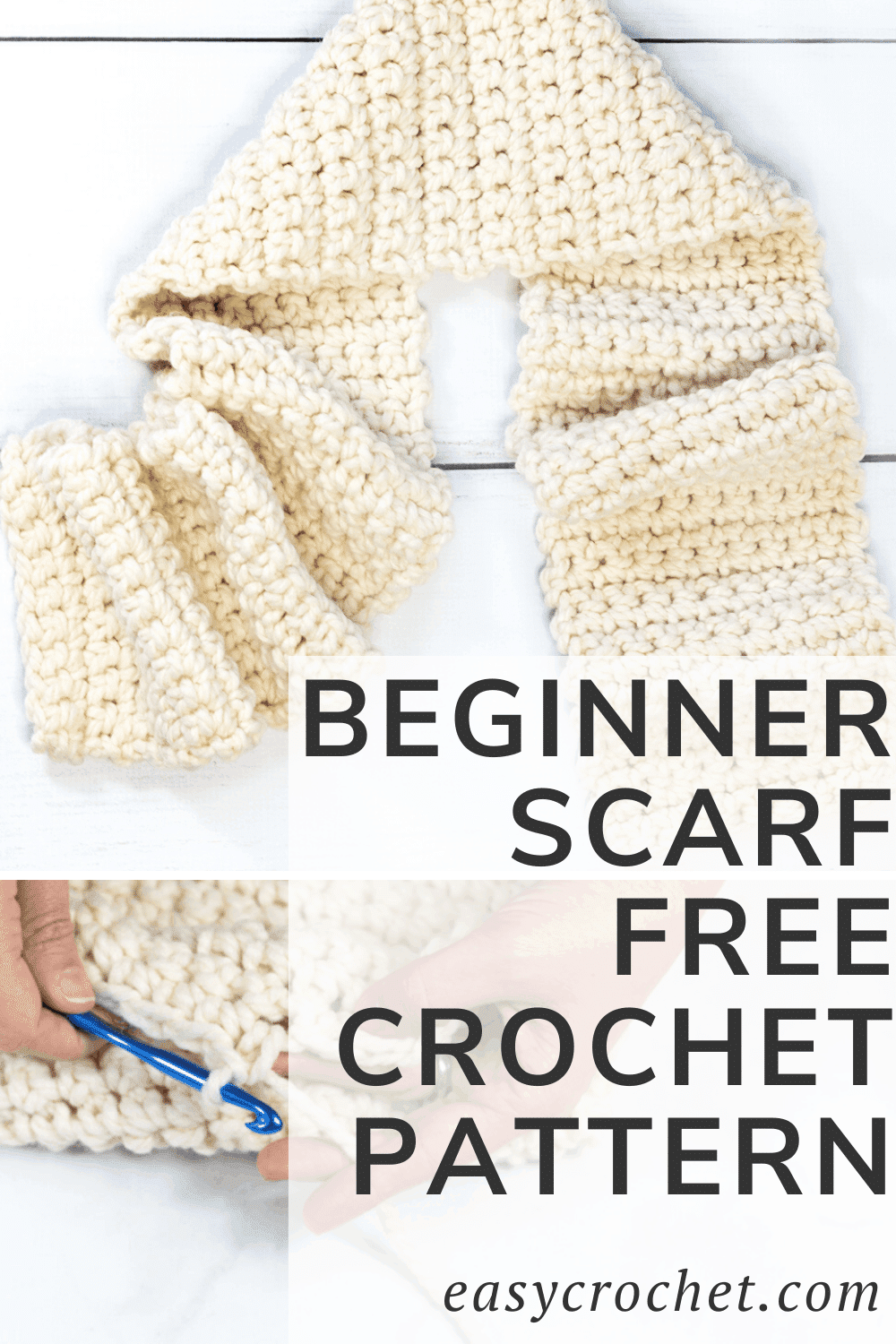 How to Crochet a Scarf for Absolute Beginners
To learn how to crochet this beginner-friendly scarf, you will need to be familiar with two of my guides!
One is a beginner guide which help explain basic crochet stitches and the next is a crochet abbreviation guide that explains common abbreviations you'll see in crochet patterns.
Learn more about each of the crochet basics I mentioned above in the crochet guides below!
Tips & Tutorials for Beginner Crocheters
Use Only The Single Crochet Stitch for This Scarf
This crochet scarf is excellent for new crocheters because it uses a single stitch! The single crochet! This stitch is simple to get the hang of and to help out I've listed some tutorials for you below to get acquainted with the stitch.
Stitch Tutorials for Beginners
Once you master the single crochet, then you are ready to make your scarf! But first, let's learn about the yarn that you'll need to have handy to make this scarf.
Keep on scrolling new crochet friends!
The Yarn That You'll Need for This Easy Scarf Pattern
For this easy, crochet scarf, I highly suggest using Lion Brand Wool-Ease Thick & Quick. It is made up of 80% wool and 20% acrylic which means it is extra warm.
It is also considered a super bulky six yarn which means that is so cozy and makes any pattern work up superfast! Be sure to check out the super bulky six yarn link above if you are unsure of what that size yarn is.
You'll soon find out when you crochet with chunky yarn like the WET&Q I used it will work up a little faster which is great for a beginner-crocheter.
Plus, I want to avoid forgetting to mention all the wonderful and stunning colors it is available in.

Check the yarn line out if you get a chance so you can see what I mean. Explore Wool-Ease Thick & Quick.
Do you want to crochet another simple pattern? Make this beginner pattern the crochet bathmat using just single crochets too!!
Ready to Get Started on Your New Scarf?
If you have your hook, yarn and this pattern handy, then you are good to go! Scroll on down to find the full FREE scarf pattern that is great for new crocheters to make.
I can't wait to see the outcome!
If you have any questions at all about this pattern, please feel free to ask me via email or connect with me on social media.
Happy Scarf Making!
The Beginner Crochet Scarf Pattern
Skill Level: Basic
Crochet Abbreviations
Be sure to check out the crochet abbreviation list for beginners
CH = chain stitch
SC = single crochet
ST(s) = stitch(es)
Size
Gauge: 7 SC's = 4 inches
Finished Size: Approximately a 6.5" width X 58" length
Materials Needed
Notes
Written in standard US terms
The Scarf Pattern Steps
Foundation Row: With bulky yarn CH 11.
Row 1: To begin the next row CH 1, in the second CH from the hook SC, SC once in every CH across (10)
Row 2: To start row 2 CH 1, turn your work around, SC in the first ST (not the CH 1), SC once in every ST across. (10)
To finish row 3-101: Repeat row 2. (10)
Finishing up the scarf: After row 101 fasten off the yarn with scissors and weave in loose yarn ends throughout the scarf with a yarn needle.
Expert Tip: Make sure gauge is correct for a perfectly shaped piece.

You've finished your crocheted scarf! See, I told you that you could do it! If you'd like to save this for later in case you want to make it again be sure to pin it to your Pinterest board.
Do you want more easy crochet scarf patterns to make? Try the One-Hour Cowl or the Fab Fall Scarf too!
Explore the free scarf patterns below which all range in skill level, color and types of stitches used! Enjoy.