Crochet hooks come in many sizes and types. They are always referenced in either the US or Metric sizes. Below I've created a handy crochet comparison chart that lists crochet hooks in both US and metric sizes and how to convert one from the other. Scroll down to take a look at the crochet hook chart!
Crochet Patterns by Hook Size
All of our free crochet patterns are tagged with the hook size they use. If you are looking for a crochet pattern to use with a specific hook size, check out our archives below.
What is a Crochet Hook?
First, if you are new to crocheting, a crochet hook is a handheld tool that helps create stitches with yarn. Crochet hooks come in many different sizes and varieties.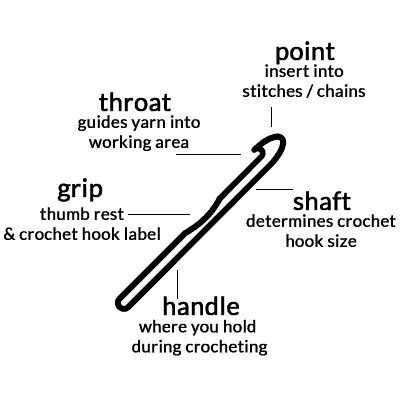 US and Metric Crochet Hook Sizes
The diameter of a hook shaft determines the size of the hook and the size of the stitches that are made. Hook sizes are measured in millimeters and are available from as small as 2 mm to 20 mm or bigger!
The usual rule of thumb is the bigger or thicker the yarn the bigger size hook you will need. Hooks can be labeled with US sizes or metric sizes so this chart is a great reference for comparison.
Clover is my favorite set of all the common hook sizes. You can buy it on Amazon pretty cheaply:
Since they are many manufacturers of hooks, please take the time to check the size of the hook and your gauge when crocheting a pattern. The difference in sizes in hooks and manufacturers is one of the good reasons to have our chart in arms reach!
All Crochet Hook Sizes
Here we show you all the US sizes of hooks, and their Metric equivalent.
| US Size | Metric Size |
| --- | --- |
| B/1 | 2.25 mm |
| C/2 | 2.5 mm , 2.75 mm |
| D/3 | 3 mm, 3.25 mm |
| E/4 | 3.5 mm |
| F/5 | 3.75 mm, 4 mm |
| G/6 | 4 mm, 4.25 mm |
| 7 | 4.5 mm |
| H/8 | 5 mm |
| I/9 | 5.5 mm |
| J/10 | 6 mm |
| K/10.5 | 6.5 mm, 7 mm |
| L/11 | 8 mm |
| M/N/13 | 9 mm |
| N/P/15 | 10 mm |
| P/Q | 15 mm |
| Q | 16 mm |
| S | 19 mm |
Get a Copy of our Crochet Hook Size Chart
Enter your email address below to download our "Crochet Hook Sizes Chart" reference chart. This chart will come in handy when you are trying to convert US hook sizes to Metric (or vice versa).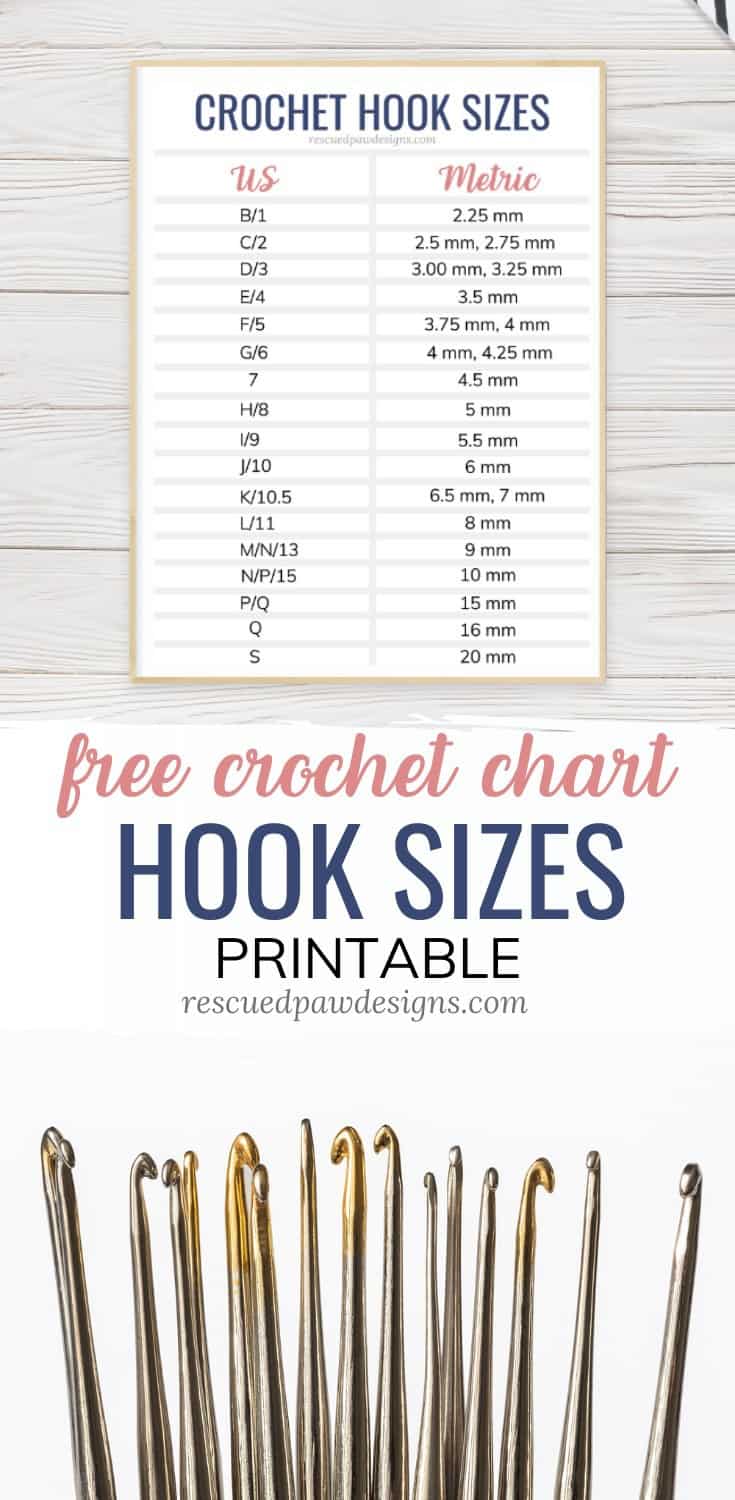 Happy Crocheting!
Recent Posts