Crochet Hook Sizes Chart, Types, and Comparisons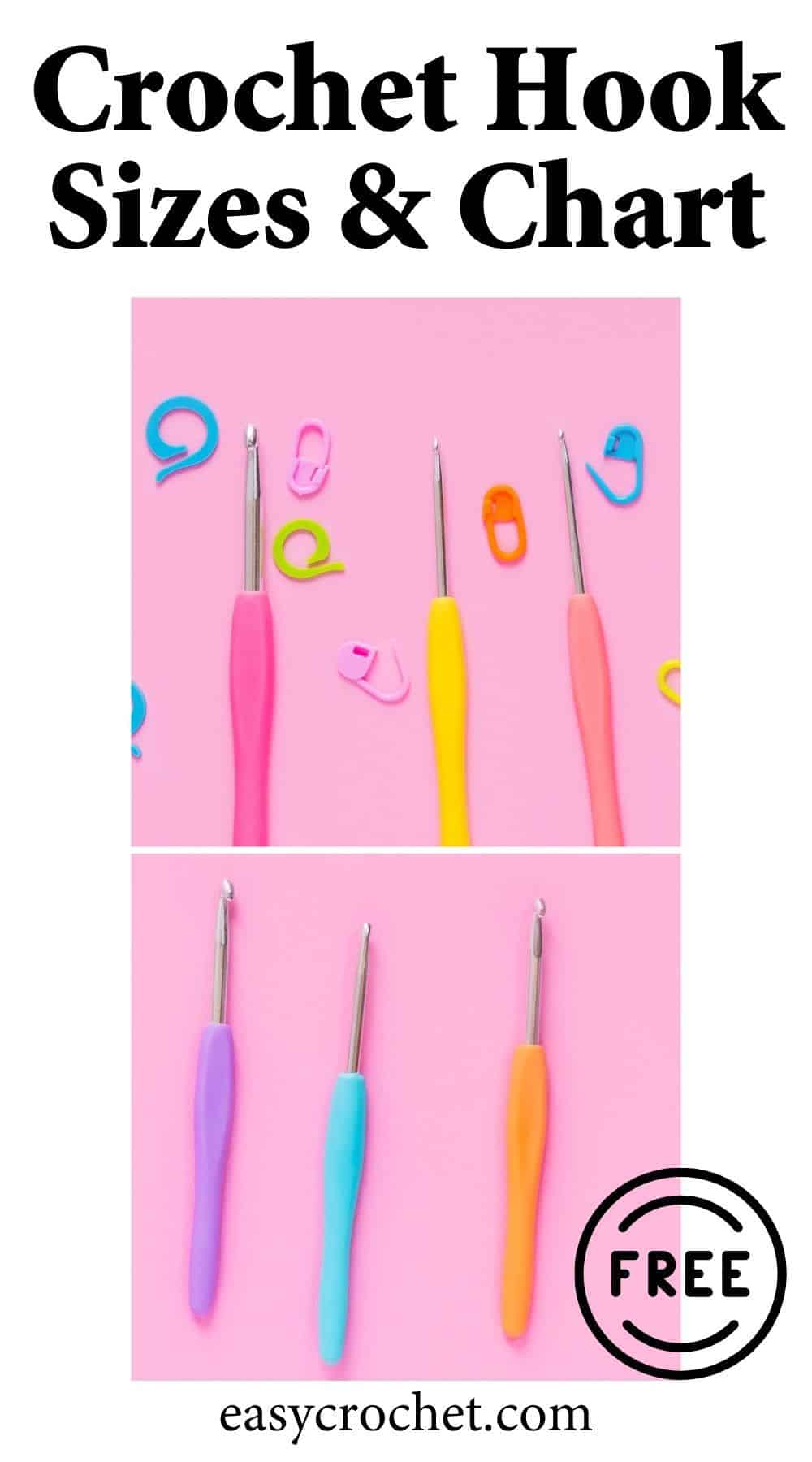 As a beginner crocheter, it is important to understand crochet hooks, the different hook sizes and being about to choose the correct size crochet hook for a pattern.
So, if you have ever wondered about how to pick the right size crochet hook or about the sizes of a crochet hook, then this post will help! Learn all about crochet hook sizes, crochet hook types and how to find patterns to use a certain hook size on with our crochet hook sizes chart and guide below.
Plus, get a free crochet hook conversion chart printable as a bonus to take with you on the go!
What is a Crochet Hook?
First, if you are new to crocheting, a crochet hook is a handheld tool that helps create crochet stitches (loops of yarn) with yarn. Crochet hooks come in many sizes, and are made of different materials and varieties. Hooks are one of the first crochet supplies along with yarn you will want to get.
Most sizes of crochet hooks are labeled on the thumb area of the hook, which is actually the diameter of the shaft of the hook in mm. Occasionally, you may hear them referred to as a crochet needle, but they are actually called crochet hooks.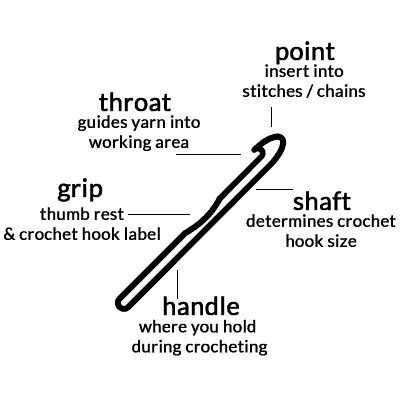 Anatomy of a Crochet Hook:
Throat – The part of the hook that guides yarn into the working area of the project.
Point – Insert this part of the crochet hook into chains and stitches.
Grip – This part includes the thumb rest and the label indicating which size the hook is.
Shaft – This part of the crochet hook determines the hook size. The size of the shaft determines the size of the yarn loops.
Handle – This is where you hold the hook while you crochet.
Take a look at the image above that shows all the parts of a crochet hook and what they are used for during crocheting.
Crochet Needles
Above, we mentioned that sometimes crochet hooks are wrongly referred to as needles. However, needles do have their place in crochet too.
Crochet needles are used to weave in the ends of the yarn after you've reached the end of your project, the end of a skein, or a color change. These needles are larger and bulkier than the sewing needles we are all familiar with.
Furthermore, while not crochet related, sometimes knitting needles are confused with their crochet hook equivalent.
Knitting needles are long – sometimes upwards of 10 inches – and are made from either aluminum, wood, or plastic. They also come in different sizes with standard millimeter designations, just like crochet hooks.
Crochet Hook Styles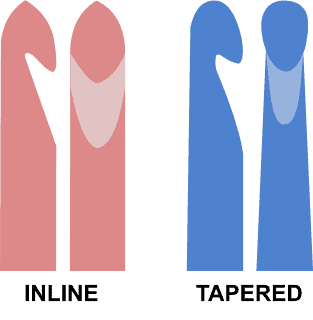 There are two types of crochet hooks. One with a tapered point, and another with a straight point that is the same size of the shaft.
Inline (or Straight) Crochet Hooks: These types of hooks have a deeper throat and are pointier tip with a flatter thumb rest that, according to some, can help with tension and gauge in patterns.
Tapered Crochet Hooks: These crochet hooks a rounded point with a tapered throat and a longer shaft length.

Inline hooks have the point in line with the shaft, while tapered hooks will have their point not inline with the shaft. On a tapered hook, the point can be either above or below the shaft's "line".
Inline hooks help create more evenly sized and smoother crochet stitches. Tapered hooks usually work better with yarns that easily split due to their rounded head.
Which Crochet Hook Style Is Best?
As a beginner, it will probably be easier for you to learn with an inline hook, since I find it easier to pull it through the thread loops.
However, the style of hook you ultimately decide to use will depend on your personal preference. Most crocheters will actually try both styles out to see what they like the best.
Crochet hooks also may have a rubber grip or larger handle, which makes them ergonomic. Ergonomic crochet hooks help crocheters with arthritis and sore hand to crochet longer and with better tension.
What Size Crochet Hook Do I Need?
Crochet hooks come in many sizes and types. Crochet hooks are labeled according to size. They are always referenced in either the US or Metric sizes, which you can learn more about below in with our sizes of crochet hooks conversion chart.
Learning about different crochet hook sizes will help you as a crocheter determine what size crochet hook is best for a pattern, as well as what type of hook is best to use. You can use these methods below to help decide which hook size is best for the project you are working on.
Yarn Label: The yarn label usually recommends what hook size to use, as well as gives you the fiber content and yarn weight. Most labels have a section that outlines what hook size to use in metric and us crochet hook sizes, as well as the gauge.
Gauge Swatch: A gauge swatch is also a good way to determine what hook size is best. Most labels like mentioned above have the gauge swatch listed.

You can work up the swatch with the recommended hook and crochet stitches to see if the hook size works for you. If it is too big, use a smaller hook, and if it is too small, use a larger hook.

Pattern: The crochet pattern you wish to work should have the correct hook size listed. If it doesn't the best thing to do is to contact the designer about the crochet hook sizing.
Below, I've created a handy crochet hook comparison chart that lists the standard crochet hook sizes in both US and metric sizes and how to convert one from the other. Scroll down to take a look at the crochet hook size chart!
Crochet Hook Materials & Types
Crochet hooks are made in a variety of different materials. The hook that works best for you is a personal preference and will always vary from crocheter-to-crocheter.
Let's learn about the different types of crochet hook materials and types of hooks that are available below.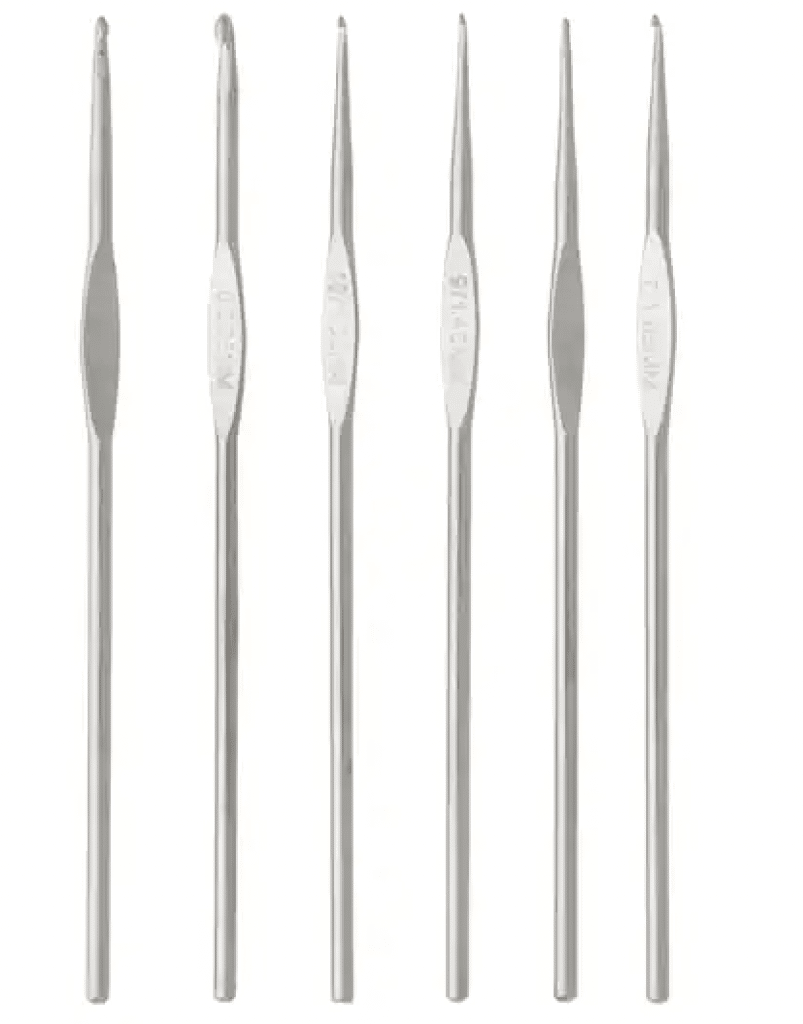 Steel Crochet Hooks
Steel crochet hooks – or lace hooks or thread crochet hooks – are great for crocheting with thread or very fine yarn. Steel hooks are perfect to use with lace weight yarn used to make doilies, for example. Furthermore, steel hooks are the smallest hook sizes available.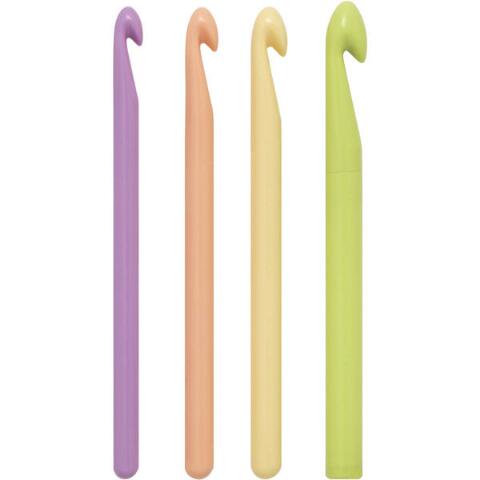 Plastic Crochet Hooks
Plastic hooks (or Resin crochet hooks) are usually found in the B-S (2.25-20 mm) size range. These types of hooks are the cheapest to buy, but may not last as long as other varieties.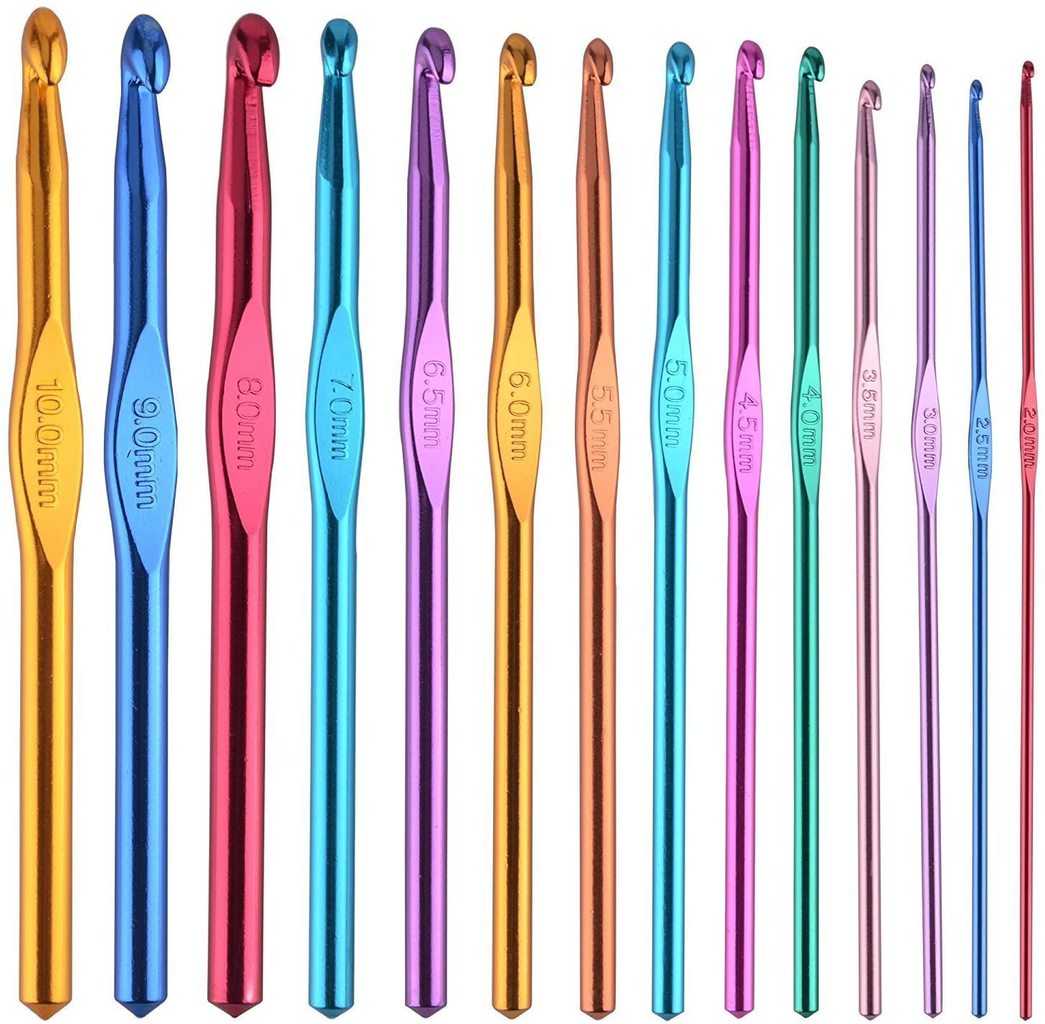 Aluminum Crochet Hooks
Aluminum crochet hooks are in the same sizes as their plastic cousins, and are widely available and can be found very inexpensively. These hooks are great for beginners and are the crochet hook material most commonly used. Brands include the brands Susan Bates and Boye.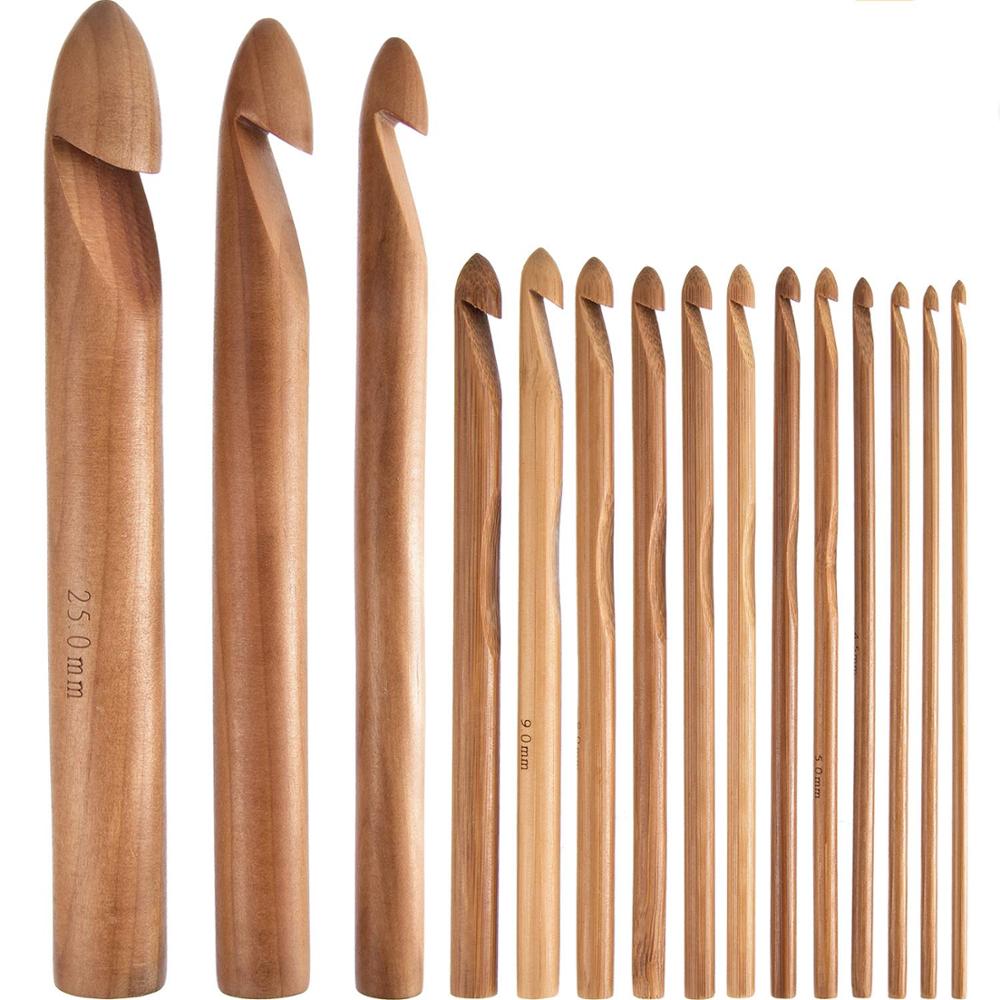 Wooden Crochet Hooks
Crochet hooks that are made from hardwood (maple), softwood (pine) or bamboo can be hand-carved and/or painted. While smaller sizes are available, you will more typically find them as jumbo size hooks – 16mm or larger.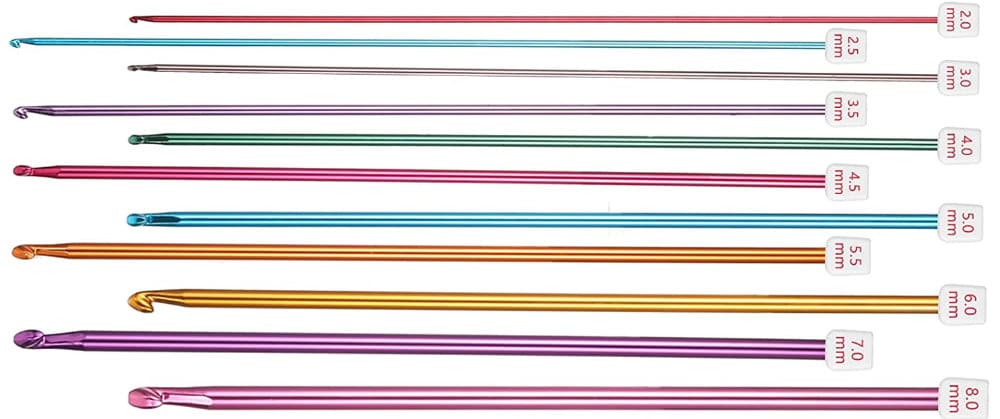 Tunisian Hook
Tunisian crochet hooks also known as an Afghan hook, these long crochet hooks are used by keeping the yarn on the hook the entire time while crocheting. Tunisian hooks are longer than a regular crochet hook so that it can hold many stitches. The hook can be straight and double ended, or have a flexible cord with a stopper or another hook at the end. Learn more about Tunisian Crochet.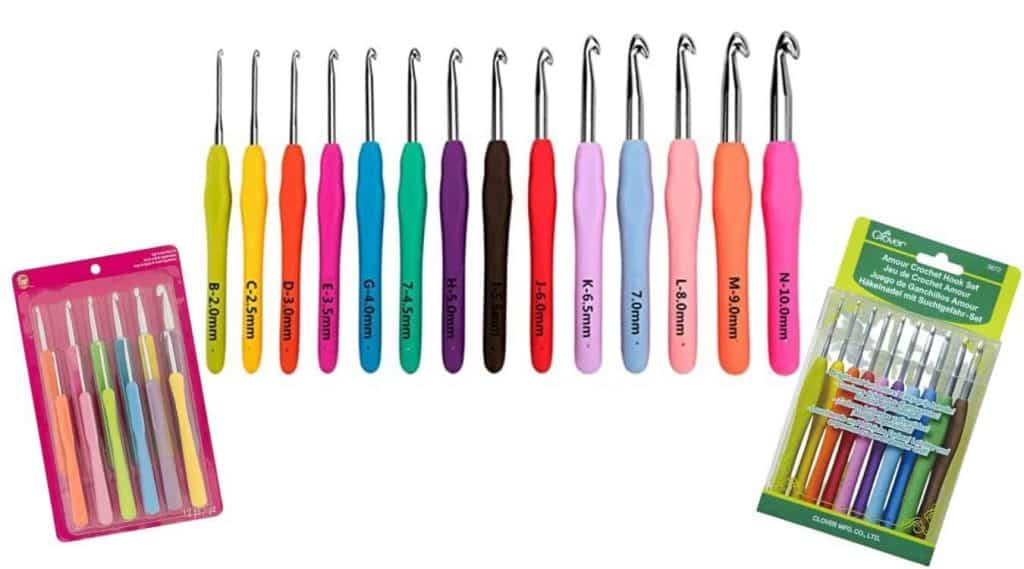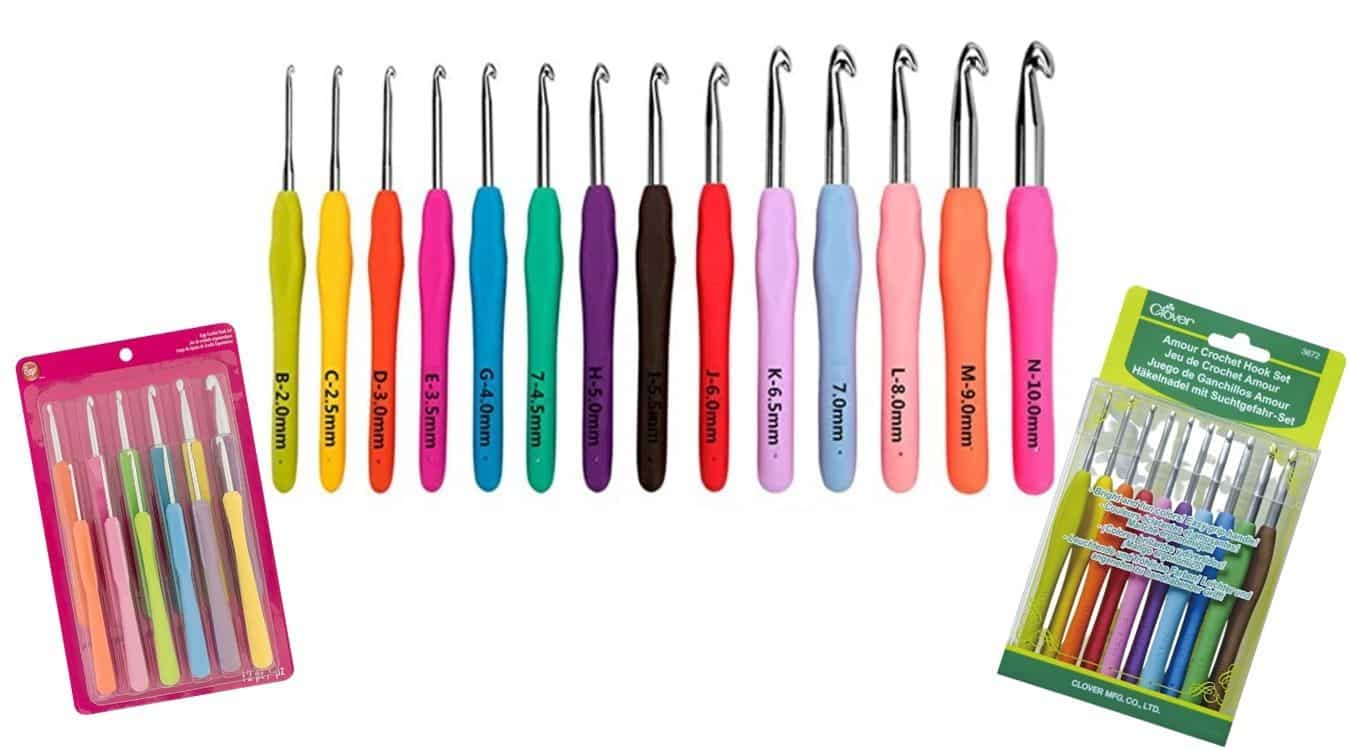 Ergonomic Crochet Hooks
Ergonomic hooks come in the regular and most commonly used sizes, and are designed to reduce strain on a hand when crocheting with their larger and shaped handle. Brands include Clover, Furls and Tulip.
Popular Crochet Hook Brands
There are too many manufacturers of crochet hooks to list here. However, certain brands are known for their strengths or materials, so we wanted to provide you with a comprehensive list of some of the best hook sets on the market today.

Best: Tulip
Tulip is my go-to crochet hook brand. The ETIMO product line has an ergonomic rubber handle and has a hook that is made from a quality aluminum. The hook also features a polished finish that does not flake or chip.
This set also comes with a case and set of scissors. While on the slightly more expensive side of crochet hooks, I feel this brand and product line is well worth the price.
Mid-Range: Clover
Clover hooks are one of my favorite brands as well. The brightly colored ergonomic handles are fun and easy on the hands while crocheting.
This particular crochet hook set has 10 different sizes, ranging from 2.25mm to 6mm.

Budget: Susan Bates
Susan Bates makes quality aluminum hooks that are no-frills that are inexpensive. These basic crochet hooks are perfect for beginners.
This brightly colored hook set features 6 different sizes, ranging from F to K. The price of these hooks is unbeatable, and Susan Bates is a brand that can be trusted. It has been in business for decades and has recently been purchased by the Yarnspirations parent company.
Crochet Hook Sizes
As mentioned before, the diameter of a hook shaft determines the size of the hook and the size of the stitches that are made. Hook sizes are measured in millimeters and are available from as small as 2 mm to 20 mm or larger!
The usual rule of thumb is the bigger or thicker the yarn, the bigger size hook you will need. Hooks can be labeled with US sizes or metric sizes, so this chart is a great reference for comparison.
In the conversion chart below, we list the much more common EU Metric size as well as the older UK size. The UK sizes are being phased out, and are only really used in older crochet patterns anymore.
Since they are many manufacturers of hooks, please take the time to check the size of the hook and your gauge when crocheting a pattern. The difference in sizes in hooks and manufacturers is one of the good reasons to have our chart in arm's reach, so you'll always have the correct crochet hook size!
US vs. UK Crochet Hook Size Conversion
Here we created a table of all the US crochet hook sizes, and their Metric and older UK equivalents. Use this table to get familiar with other terms for the same hook size, or use it as a hook conversion chart if you come across a pattern that is not written in US or Metric terms.
Oddly enough, some sizes may actually vary by hook manufacturer. You will see this more and more as the size of the crochet hook grows. Take a look at our crochet hook size charts below showing the number sizes, letter sizes and mm sizes.
| US Size | EU Metric Size | Old UK Size |
| --- | --- | --- |
| | 2 mm | 14 |
| B/1 | 2.25 mm | |
| | 2.5 | 12 |
| C/2 | 2.75 mm | |
| | 3 mm | 10 |
| D/3 | 3.25 mm | 11 |
| E/4 | 3.5 mm | 9 |
| F/5 | 3.75 mm | |
| G/6 | 4 mm | 8 |
| 7 | 4.5 mm | 7 |
| H/8 | 5 mm | 6 |
| I/9 | 5.5 mm | 5 |
| J/10 | 6 mm | 4 |
| K/10.5 | 6.5 mm | 3 |
| | 7 mm | 2 |
| L/11 | 8 mm | |
| M/13 | 9 mm | |
| N/15 | 10 mm | |
| P | 12 mm | |
| Q (16 mm) | 15 mm | |
| Q | 16 mm | |
| S (19 mm) | 20 mm | |
US & UK Crochet Hook Size Chart
Steel Crochet Hook Sizes
Usually used for crochet threads and lightweight yarns such as Superfine #1 or Fine #2 yarn weights. These metal hooks numbers size decreases when the diameter increases, which is opposite the way regular crochet hook sizes run.
As with regular crochet hooks, there are manufacturer-based variations in steel crochet hooks numbering. We all wish they would keep to a standard, but they don't.
Here in an infuriating example of this. A Susan Bates 3.25 mm steel hook is called a size #0, while a Clover 1.75 mm steel hook is also referred to as a size 0. It is because of differences like this that the table below seems mixed up at times… but alas, it is not.
| Metric Size | U.S. Size |
| --- | --- |
| 3.50 mm | 00 |
| 3.25 mm | 0 |
| 2.75 mm | 1 |
| 2.70 mm | 00 |
| 2.55 mm | 0 |
| 2.35 mm | 1 |
| 2.25 mm | 2 |
| 2.20 mm | 2 |
| 2.10 mm | 3 |
| 2 mm | 4 |
| 1.90 mm | 5 |
| 1.80 mm | 6 |
| 1.75 mm | 4/0 |
| 1.70 mm | 5 |
| 1.65 mm | 7 |
| 1.60 mm | 6 |
| 1.50 mm | 8/7/2 |
| 1.40 mm | 9/8 |
| 1.30 mm | 10 |
| 1.25 mm | 9/4 |
| 1.15 mm | 10 |
| 1.10 mm | 11 |
| 1.05 mm | 11 |
| 1 mm | 12/6 |
| 0.95 mm | 13 |
| 0.90 mm | 14/8 |
| 0.85 mm | 13 |
| 0.75 mm | 14/10 |
| 0.60 mm | 12 |
Crochet Steel Hook Size Chart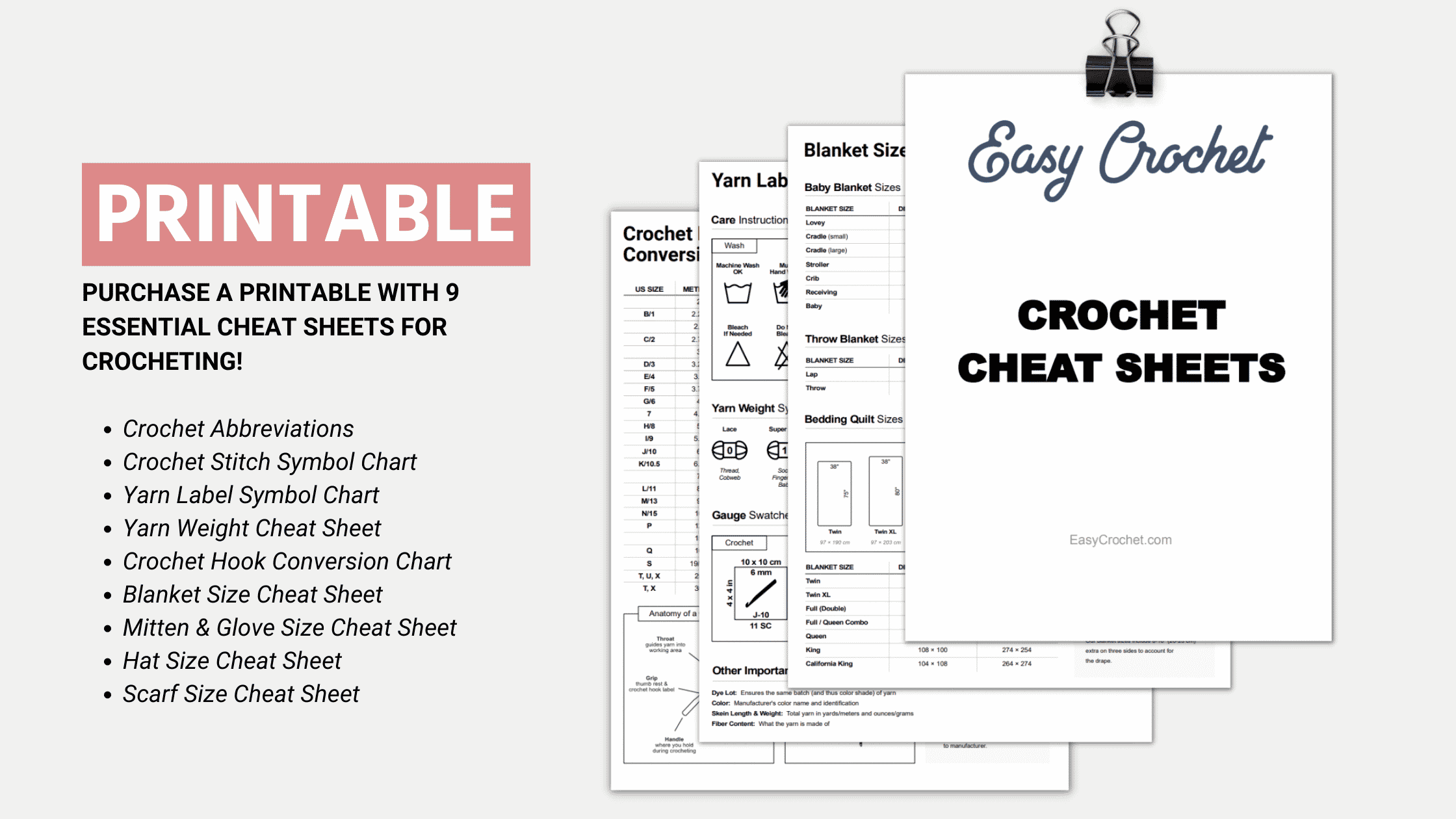 How to Determine A Hook's Size
The easiest way to determine the size of a crochet hook is to look for the printed size on the shaft of the hook. The shaft of the hook will usually have both the metric and US sizes stamped somewhere on it.
However, some custom or expensive hooks don't always have these labels—so how else can you tell?
A Hook Gauge Tool
A hook gauge tool is one of the simplest ways, but it requires you to have it in your supply closet. A hook gauge tool is a small plastic or metal card with holes that match the most popular crochet hook and/or knitting needle sizes. This specific tool is also useful for measuring your 4″x4″ swatch gauges.
Measure the Hook
A crochet hook's size is determined by the diameter of its shaft. If you have a tool that allows you to measure down to the quarter-millimeter accurately, this can be an option for you. However, most don't have anything like that, so this isn't the best or most accurate option.
Crochet Patterns by Hook Size
All of our free crochet patterns are tagged with the hook size they use. If you are looking for a crochet pattern to use with a specific hook size, browse through our archives below.
Crochet hook sizes and yarn weight will be listed in the sidebar of each pattern (on desktop) and below the post on mobile.
Common Crochet Hook Questions for Beginners
What are the Best Crochet Hooks for Beginners?
The best crochet hooks for beginners are usually the sizes H/8 5 mm, I/9 5.5 mm and the J/10 6 mm crochet hooks. These hook sizes are the perfect size to get started with learning how to crochet for beginners.

How Do You Know What Size Crochet Hook to Use?
Most crochet patterns will tell you what crochet hook size to use in the pattern.
When looking for the hook size in a pattern, search for the materials used or the note section to find which crochet hook is recommended. Occasionally, you may need to change the hook size used to reach the gauge the pattern calls for.
What is The Most Commonly Used Crochet Hook Size?
The most common size is a H/8 5 mm crochet hook. It is the perfect size to make crochet projects like blankets, scarves and more with since it is not too small and not too large.
What Size is a G Crochet Hook?
A G/6 is a 4 mm crochet hook most commonly, but can be a 4.25 mm, such as with the brand Boye. A G crochet hook is considered an 8 in UK & standard Canadian crochet hook sizes charts.
What Letter is a 2.75 mm Crochet Hook?
A 2.75 mm crotchet hook is considered a C/2 in US hook sizes and is best for superfine weight yarn.
What is a Size P Crochet Hook Conversion?
A size P crochet hook in the US is most commonly a 15 mm hook in metric terms. But some crochet hook manufacturers label P crochet hooks as 10 mm, so keep that in mind when crochet hook shopping, so you pick the right size crochet hook.
What is a Size 3.00 mm Equivalent to in a US Size?
A 3.00 mm crochet hook is a D/3 size crochet hook in the US. Some companies may use a D size label on a 3.25 mm crochet hook, too.
What Size is a 12 Crochet Hook?
A size 12 crochet hook is a Canadian / UK size that is equivalent to a 2.5 mm or C/2 in the US.
What Size is an F Crochet Hook?
An F-5 crochet hook is 3.75 mm.
What is a Size H Crochet Hook?
A size H-8 crochet hook is 5 mm.
How Can I Measure a Crochet Hook that doesn't have a size?
You can use a knitting and crochet tool called a swatch ruler and needle gauge. It uses notches to determine the size of your crochet hook. The hook gauge tool has sizes of crochet hooks listed in metric, US, and standard Japanese sizes which will help determine which crochet hook to use.

---
More Crochet Guides
I hope you enjoyed this crochet hook guide and learned all you need to start crocheting a pattern. If you have any questions or want to learn more about crochet, be sure to check out some of my other crochet beginner guides below.
Happy Crocheting!