11 Free C2C Crochet Graphgan Patterns
Corner-to-Corner (C2C) crocheting is a technique that works rows on a diagonal, usually changing out colors according to a chart or graph.
These types of patterns will always come with the graph if there is a shape design in the middle of it. However, some C2C patterns are more basic and feature one stitch and color, rendering the need for a graph useless.
Crochet patterns utilizing the C2C method are unique and look different from patterns worked up in standard rows. The diagonal look not only gives it a non-standard look and feel, but also allows you to take advantage of color changes and detailed patterns in a unique and fun way.
Learn more about C2C crochet and graphgans below!
What is Corner to Corner (C2C) Crochet?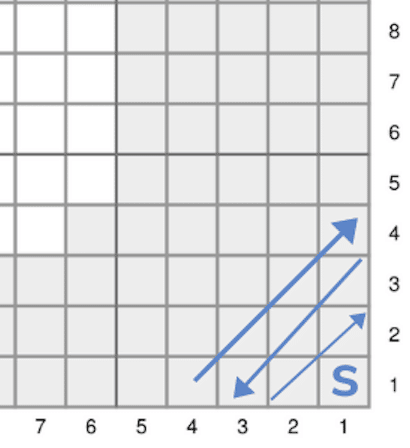 The C2C crochet stitch is a pretty basic concept. As the steps below describe, you follow along with a grid-like pattern in a diagonal row.
You consistently increase your way through the pattern, until you reach the middle, at which point you decrease at the same rate until the end. This is commonly done starting from the lower-right corner, finally finishing in the top-left corner.
The blocks of crochet are slip stitched to three — chain spaces from the previous row.
The increases are made until the width that is wanted is obtained.
After this, the project is decreased back down.
Crochet graphgan patterns can use just about all the yarn types that are available. Just about every yarn can be used to create graphghans.
Where Do The C2C Graphs Come From?
This is a good question. No one manually uses a ruler to draw a grid, then individually assigns each cell with a stitch and color. I use an online tool called StitchFiddle to help take away some harder aspects of creating a C2C pattern. Many times, all you'll need to follow a graphgan pattern is the diagram – no written instructions needed!
With this tool, you upload an image, then adjust each cell with the click of a mouse to alter its stitch and/or color.
However, getting the colors and stitches right is only half the battle. To get the size right, I use my C2C blanket calculator. This ensures that my number of cells combined with my gauge creates a blanket of the correct size.
Graphgans?
The term "graphgan" refers to a blanket – or afghan – that is crocheted using the corner-to-corner method. Since C2C technique uses a graph, and it is being used to make an afghan, the marriage of these two terms created a new one: Graphgan.
This fun term is actually found spelled several different ways across the web. Graphigan, Graphghan and Graphgan all are the same thing.
Anyway, now that you know where this term came from and what it means, let's move on to finding some fun graphgan crochet patterns.
My Recent C2C Graphgan Patterns
Recently, I created two crochet graphghan patterns using the corner-to-corner method, and I am (pun intended) hooked. I love this method, but the key is keeping track of where you are in the grid.
I print the image of the graph, then mark each cell off with a pencil/pen/marker as I get it done. The sheet becomes a real mess towards the end, but it is essential at keeping me on track. Without it, I'd never be able to correctly create the shape inside.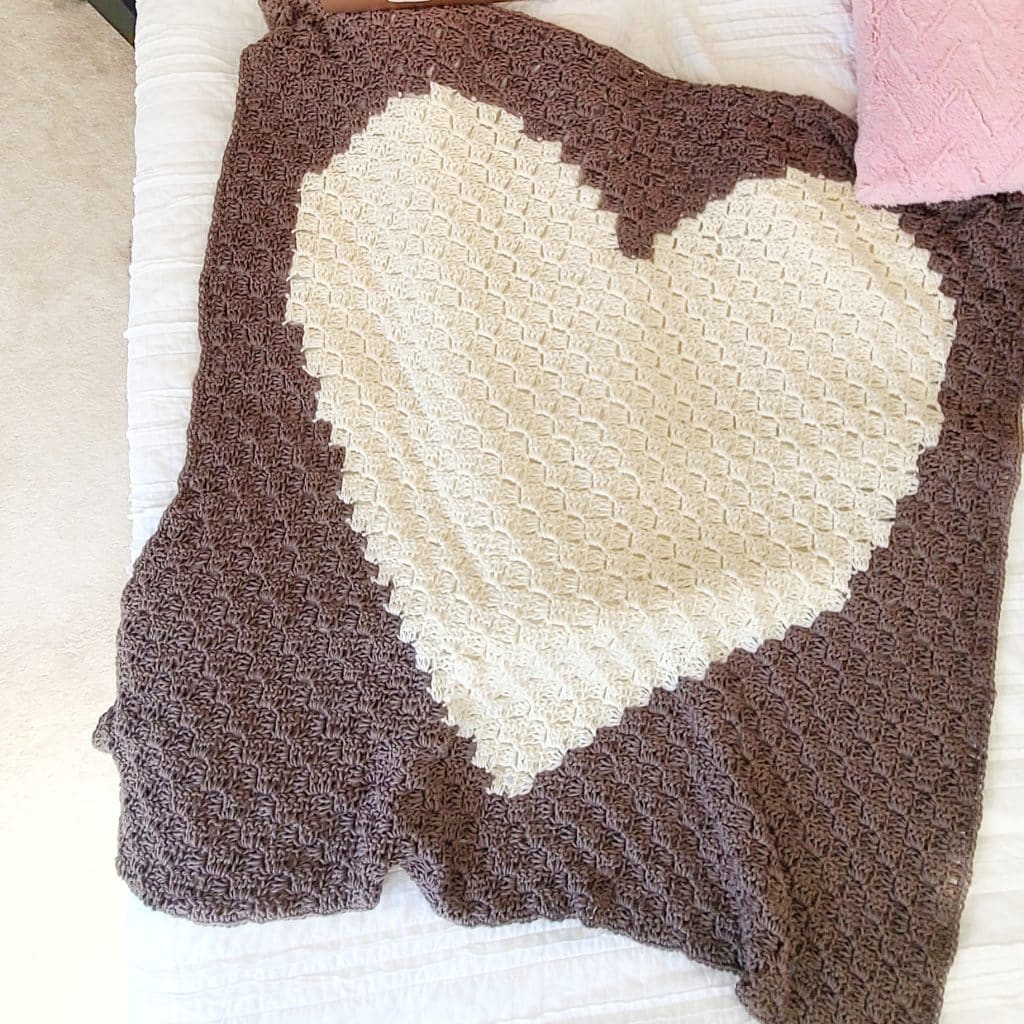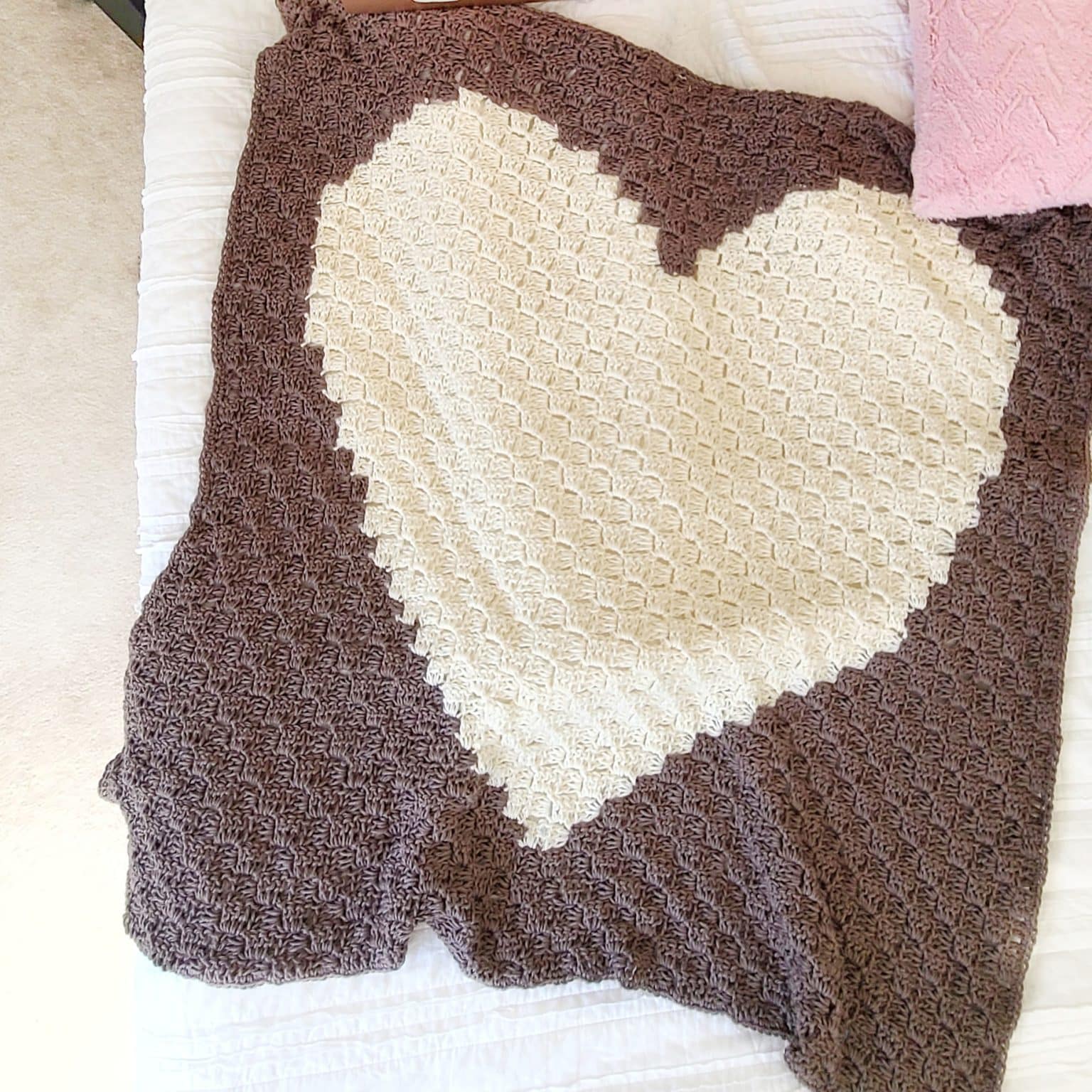 Heart C2C Baby Blanket
Designer: EasyCrochet
This square baby blanket uses Lion Brand Comfy Cotton Blend yarn and has an enormous heart smack-dab in the middle of it. This blanket exclusively uses the double crochet stitch, and has such a fun and unique texture.
---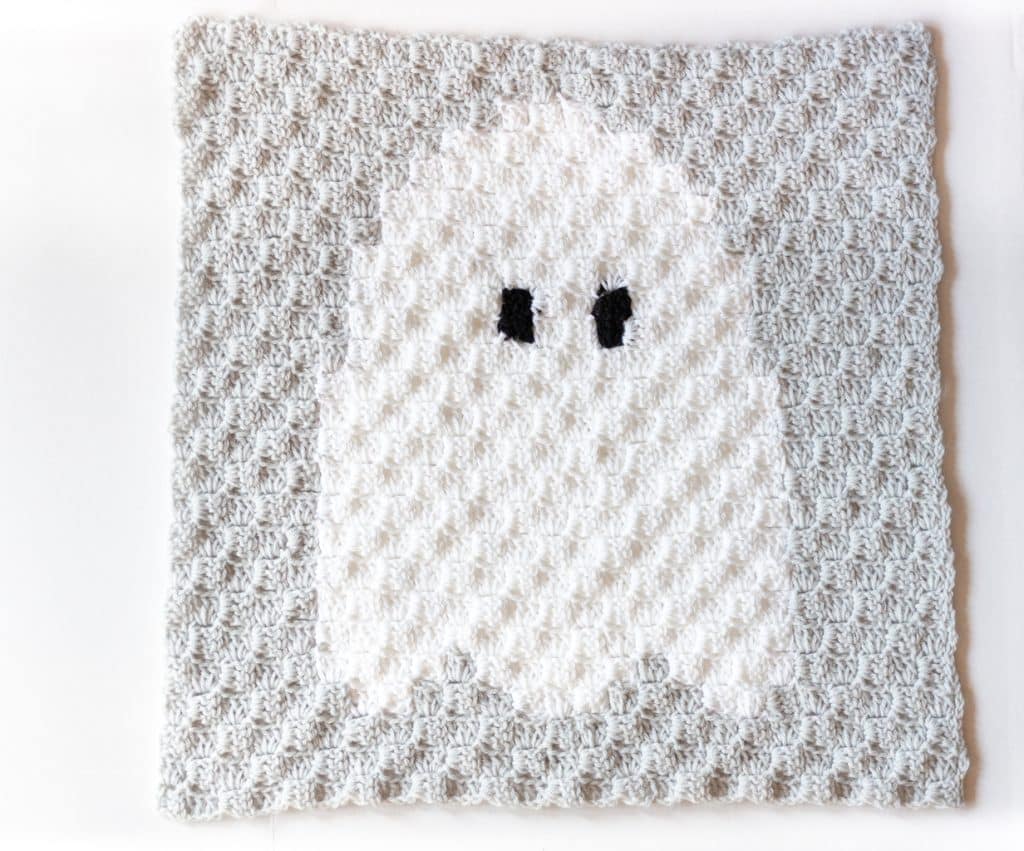 Ghost C2C Blanket
Designer: EasyCrochet
In this square C2C baby blanket, I use the chain and double crochet stitches along with only three colors to create a fun Halloween-themed blanket. This crochet pattern uses medium weight yarn to help quickly speed this blanket's creation along.
Other Free C2C Graphgan Patterns
We've scoured the web and search some of our favorite crochet designers to find other awesome (and free!) C2C graphigan or blanket patterns.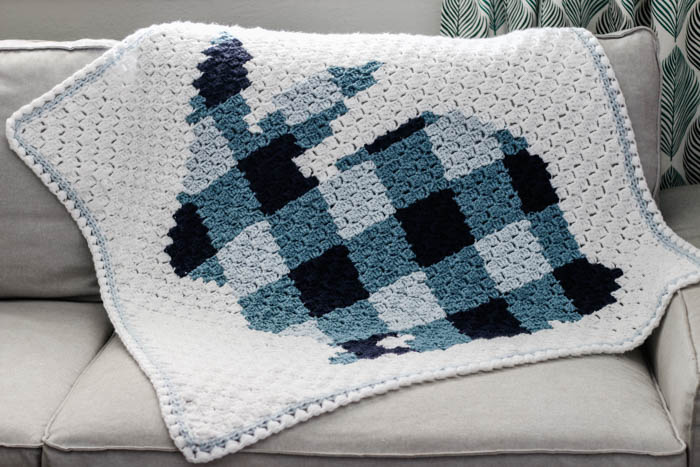 C2C Bunny Blanket
Designer: Make and Do Crew
This plaid C2C blanket featuring a bunny is available for free in one size, but you can easily purchase the PDF to get four different variations. This pattern uses Vanna's Choice yarn, so it is an extremely affordable yet beautiful crochet pattern.
---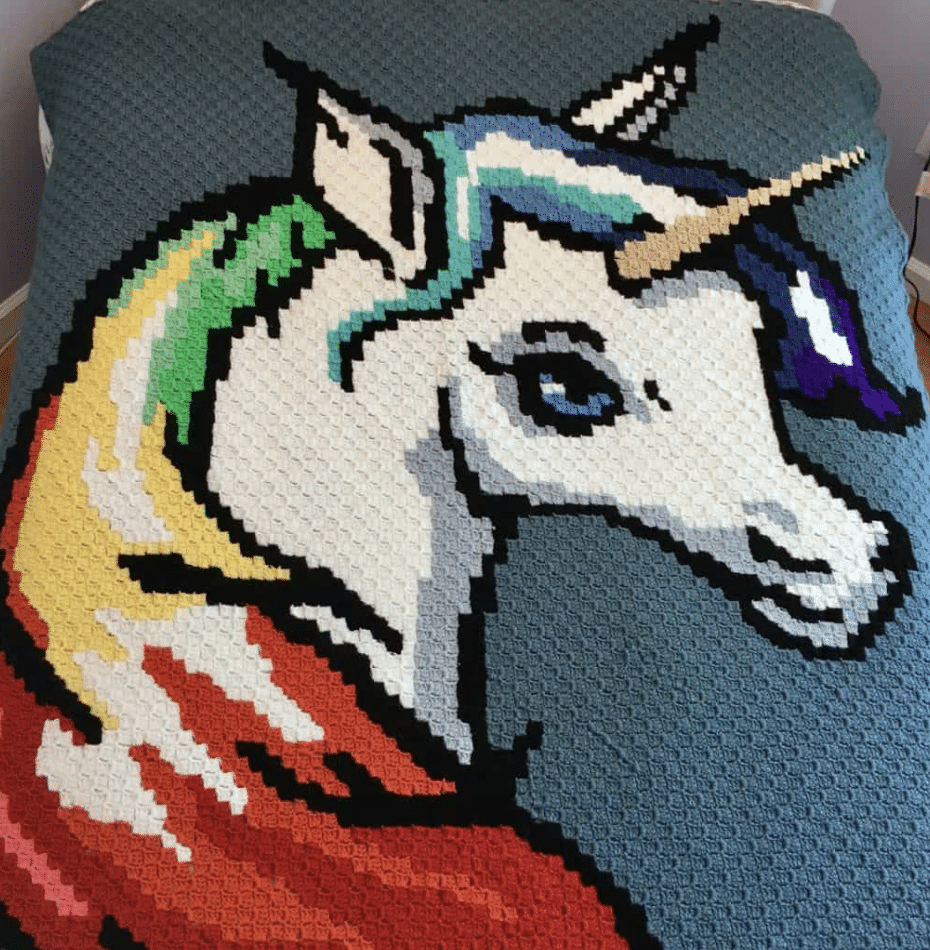 Rainbow Unicorn C2C Blanket
Designer: Stardust Gold Crochet
This unicorn crochet graphghan pattern comes in three different sizes using medium #4 weight yarn. It is worked up using only a single crochet or Tunisian crochet simple stitch, so the only part that is complex here is following what part of the grid you are on!
---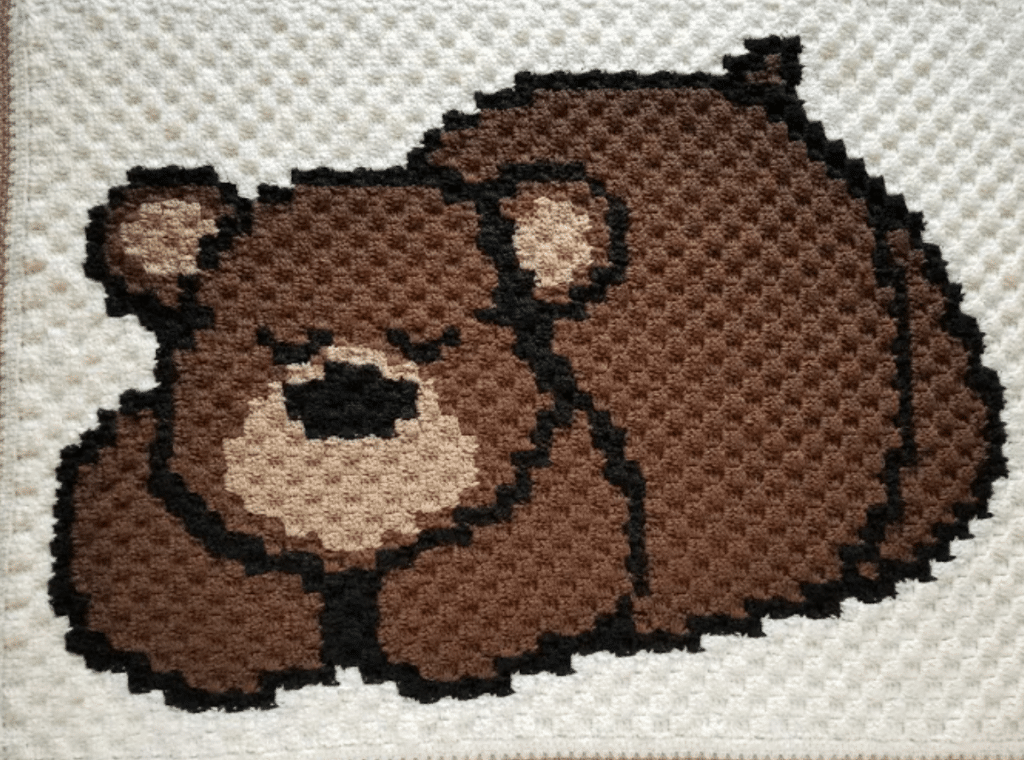 Sleepy Bear C2C Graphgan
Designer: Highland Hickory Designs
Erica's first ever C2C blanket features a cute sleeping bear inset in the middle of this 35″ x 27″ blanket. It uses Baby Bee Sweet Delight light #3 weight yarn in 4 different colors.
---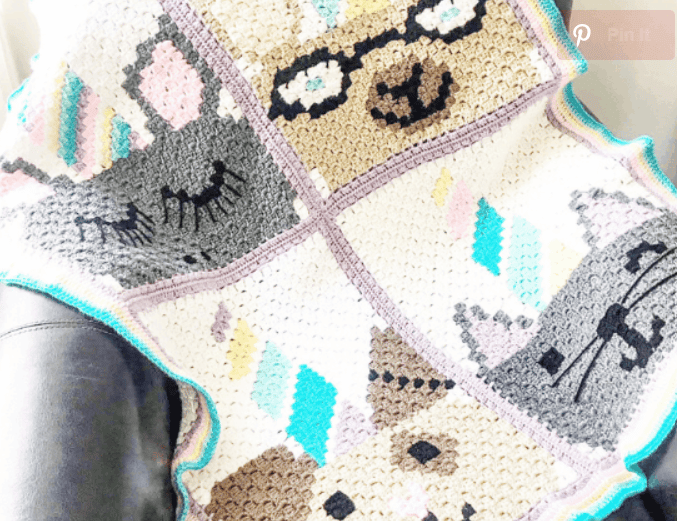 Unicorn Character Graphgan
Designer: Loveable Loops
This true graphgan measures approximately 34″ x 46″ and is made up of four different mini-graphs, which are then stitched together. This free pattern uses Red Heart Super Saver yarn.
---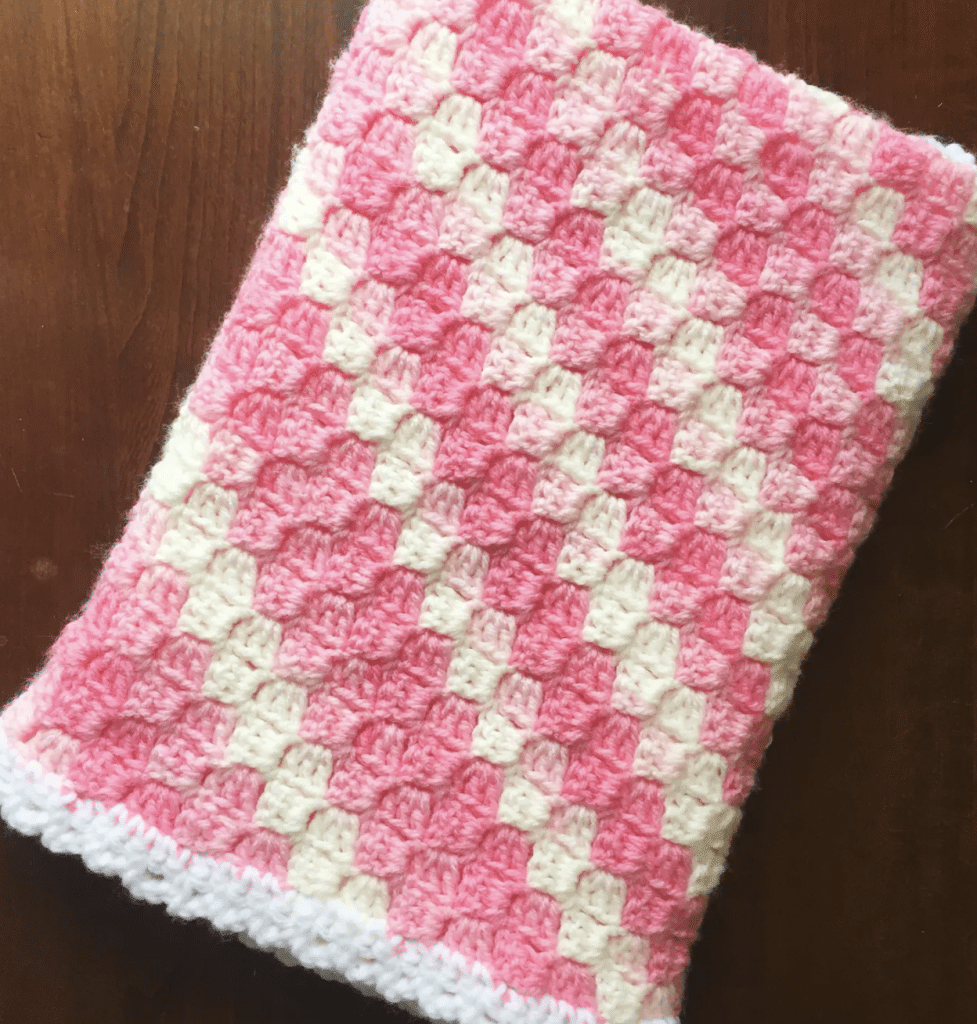 Designer: Em's Fiber Arts
Measuring 26″ x 26″ and using two skeins of Lion Brand Ice Cream yarn, this baby blanket is worked in a C2C pattern, but does not have a distinct shape in the middle. The diagonal lines make for a beautiful and unique graphgan.
---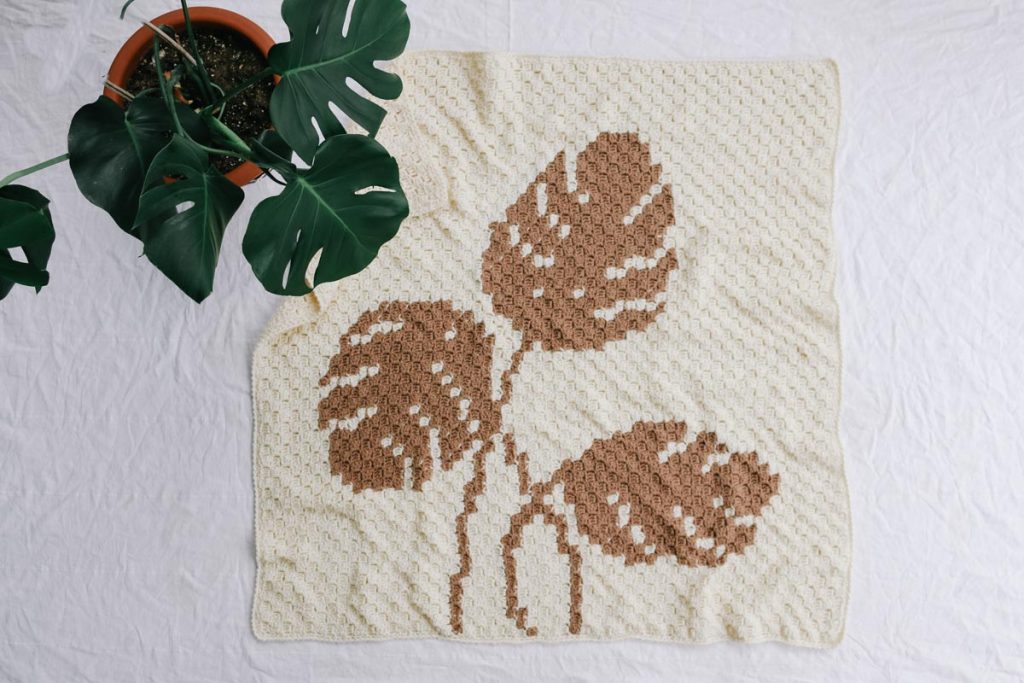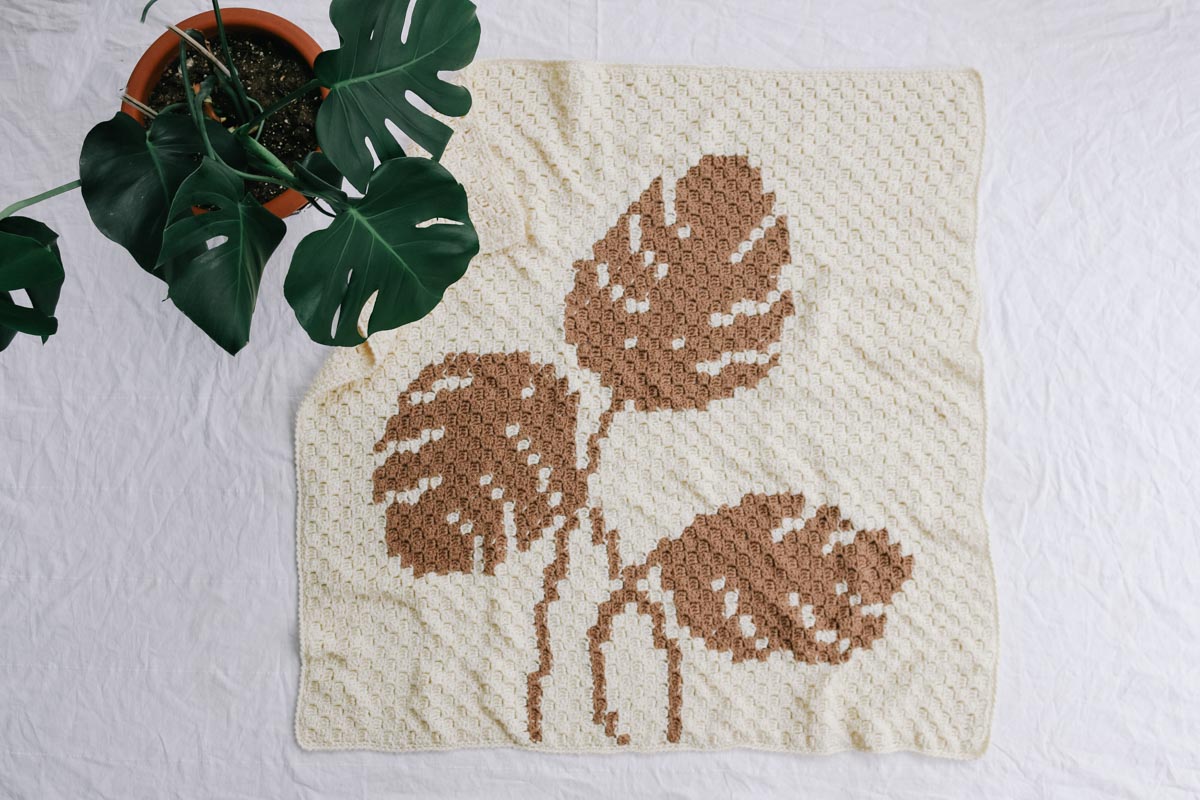 C2C Crochet Tropical Leaf Blanket
Designer: Make and Do Crew
Working up in only two colors of Lion Brand's Basic Stitch yarn, this pattern features the iconic monstera leaves in the middle. This C2C crochet blanket will lend a fresh, modern style to any room.
---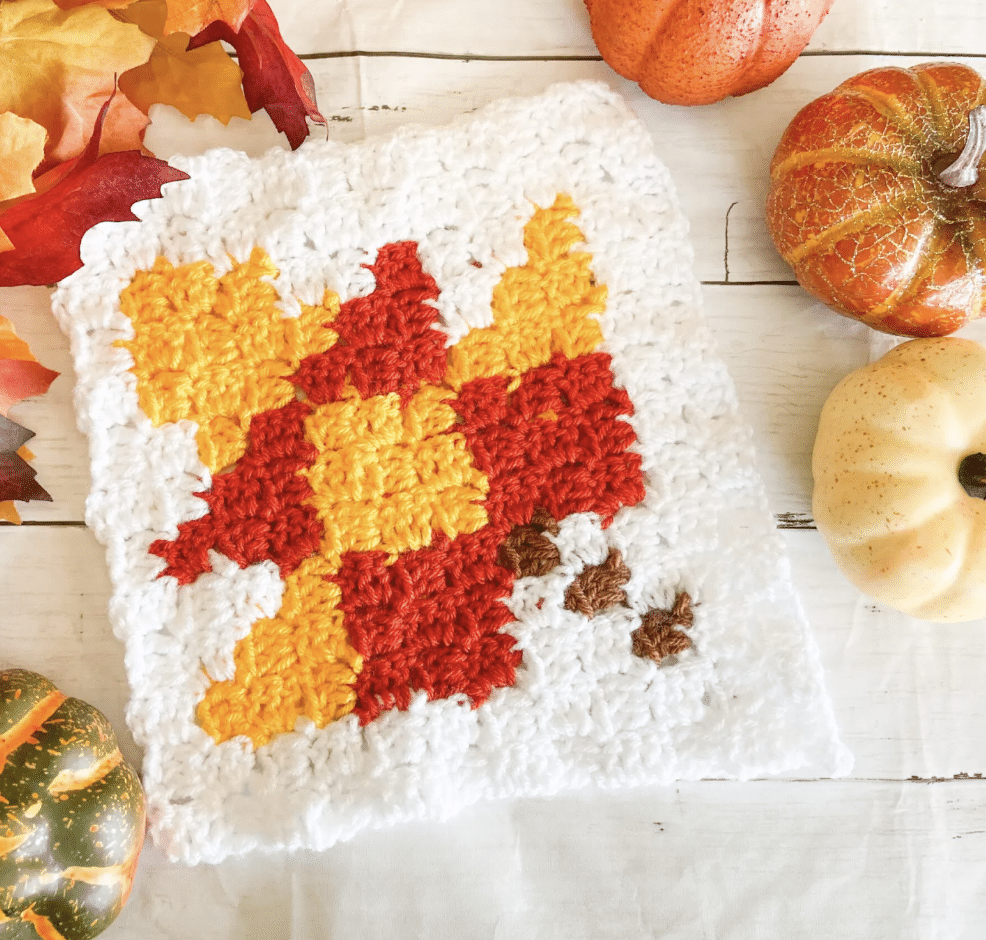 C2C Crochet Fall Leaf Graphgan
Designer: E'Claire Makery
Using We Crochet's Brava Worsted Yarn and a 6 mm hook, this fall-themed graphgan is 9.6" x 10.4" wide, but can likely be altered to become a larger blanket with a little work.
---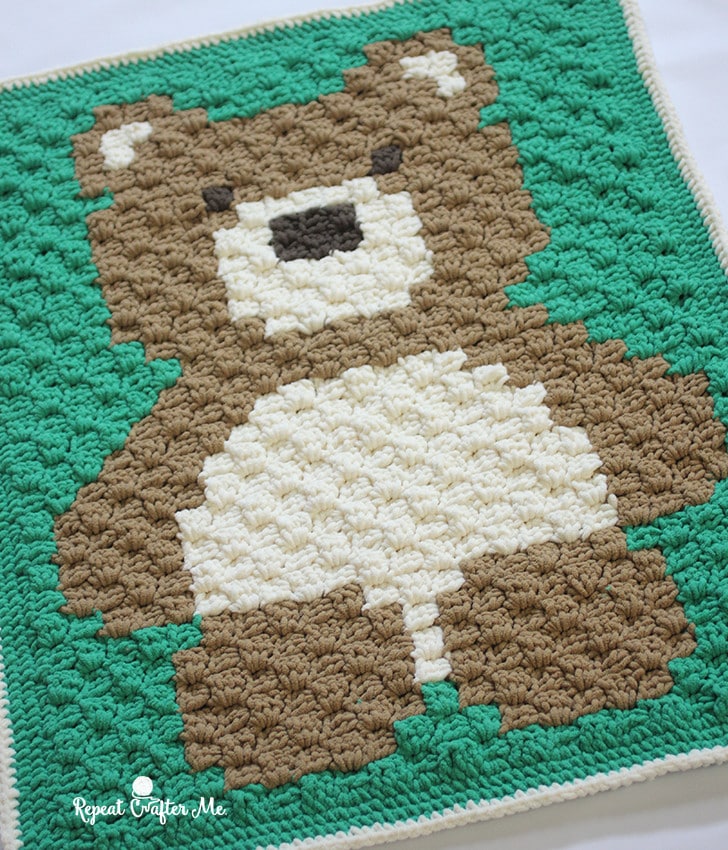 C2C Teddy Bear Graphgan
Designer: Repeat Crafter Me
This teddy bear blanket uses the bulky Bernat Blanket Big Ball and Brights yarns to combine into this adorable graphgan. A video tutorial is available for this free pattern as well.
---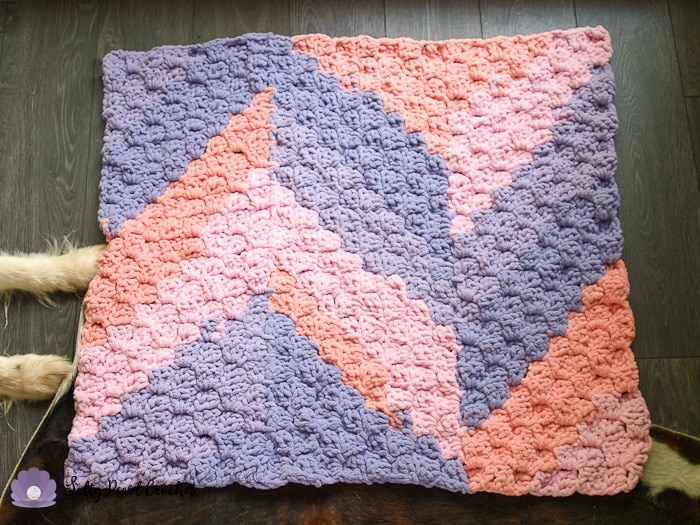 Naomi's C2C Baby Blanket
Designer: Salty Pearl Crochet
This baby blanket's style mimics a chevron pattern slightly, but with a C2C twist. The finished blanket measures 38"x 32" and uses super bulky weight yarn.
---
More Crochet Afghans + Blankets You May Like
Share on Pinterest to Crochet Later
Use the images below to pin to Pinterest, so you can make one of these C2C graphgans at any time.
Follow along with on there too since we always share new free patterns as well as crochet stitches and tutorials too.