Learn How to Single Crochet (sc) for Beginners
If you are new to crochet and would like to learn how to single crochet, this how to single crochet for beginners post will help! The single crochet stitch is one of the most important and widely used stitches in crochet.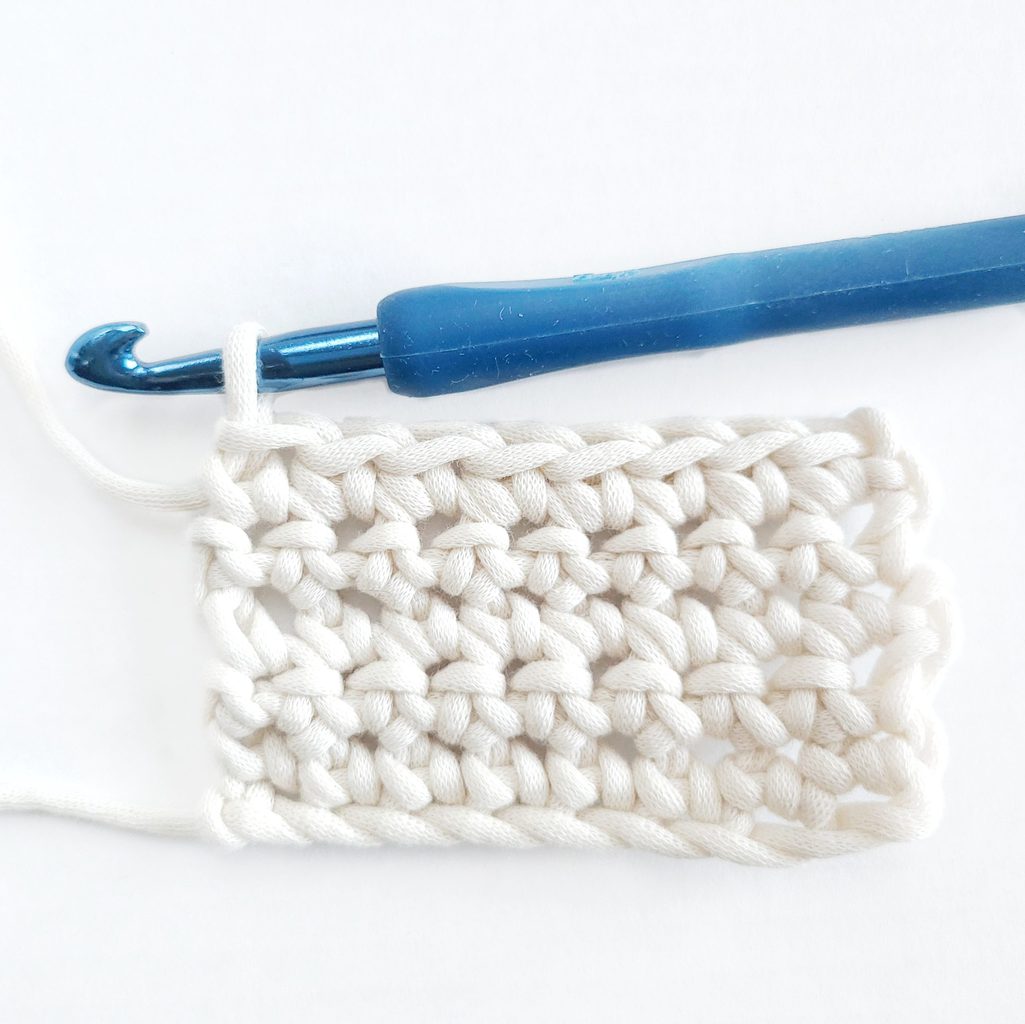 What is a Single Crochet?
The single crochet is a basic crochet stitch which is the shortest of all the stitches. It is the shortest because when compared to a half double crochet or a double crochet, it is smaller due to the way the stitch is worked.
As a beginner, you will need to learn the single crochet stitch to crochet just about anything, and it is usually one of the first learned when people start crocheting.
Single Crochet: A Beginner Stitch
The single crochet is one of the basic crochet stitches that every beginner crocheter will need to know. It is the shortest and most basic of all crochet stitches. This tutorial is the first in our series of how to learn the most basic of all crochet stitches.
You can learn the single crochet stitch today! Read on down for the full, FREE single crochet tutorial to get started!
Other Ways a Single Crochet is Known
Often, you may come across the single crochet stitch referenced a few different ways.
Abbreviation
Many times you'll see the single crochet stitch abbreviated as (sc) or used in a stitch chart as a symbol.
Abbreviations such as (sc) are commonly used to shorten crochet patterns and make them more succinct and compact. In the pattern tutorial below, we will use other abbreviations as well, so look over our abbreviations' page to familiarize yourself with all the most common ones before starting.
Symbol
A symbol diagrams or stitch chart are another way to show how to make a crochet pattern. Stitch chart crochet pattern can be uses alone as the sole pattern or as a companion to a written pattern.
A single crochet symbol looks like either an "X" or "+" (plus sign) in stitch diagram charts.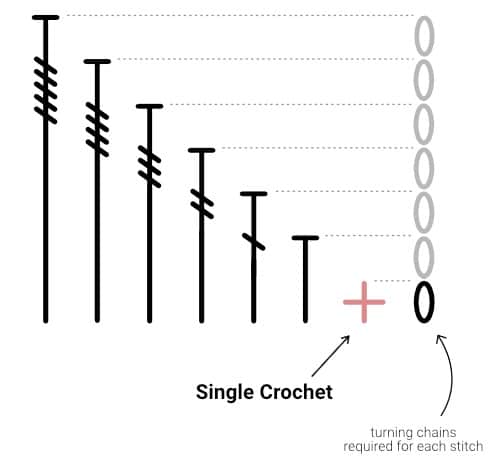 The single crochet stitch is about half the height of a half double crochet stitch. It is taller than the slip stitch.
Once you learn the single crochet stitch, be sure to check out my other stitch tutorials too! Be sure to try our half double crochet and the double crochet lessons as well!
Tools You'll Need to Start the Single Crochet
To start learning how to crochet the single crochet stitch, you will need just a couple of crochet supplies to begin. Make sure you have some yarn (any weight will work) and a corresponding crochet hook size to the yarn you are using.
Yarn: Any yarn weight will work. I am using Bernat Maker Home Dec, which is a five weight yarn.
Crochet Hook: A crochet hook size that corresponds to the one recommended on the yarn label. I am using an L- 8 mm crochet hook.

Single Crochet (SC) Stitch Type
The single crochet stitch creates a closed stitch design which is perfect for all types of projects such as blankets (the single crochet chevron blanket is my favorite!), scarves and amigurumi. Below you will find a few pointers on what type of yarn is best to use with the single crochet.
The denseness of a single crochet fabric will depend on the type of fiber that is used. For example, if you use a bamboo yarn with the single crochet stitch, you will get a finished piece with a beautiful drape which is great for a sweater or shawl.
And on the other hand, a fiber like 100% cotton will give a more dense piece with much less give, which is great for washcloths or dishcloths.
Now that you know the basics of a single crochet stitch, scroll on down to find a full photo tutorial with each step shown clearly.
The Single Crochet Tutorial
Skill Level: Basic
Materials Needed
Any yarn will work. I used the Bernat Maker Home Dec, which is a bulky weight #5 yarn.
A crochet hook. Please note: the size of hook is dependent on the weight of yarn you have chosen. A bulky weight yarn can use a crochet hook from a 6.5 mm (K-10.5), 8 mm (L-11) or a 9 mm (M/N-13) hook size depending on the yarn.
Scissors

Crochet Abbreviations
ch = chain
st = stitch
yo = yarn over (when yarn goes over the crochet hook)
sc = single crochet
rep = repeat
Notes
Written in standard US terms
Read over the tutorial once or twice, then begin to work up the single crochet stitch. I suggest that people who are just beginning to learn crochet go over this tutorial a few times until you get the hang of it.
Remember: you are not perfect, so it may not look exactly like my picture at first, but keep trying. You will eventually get the hang of the single crochet stitch… faster than you might think.
Single Crochet Stitch Tutorial
How to Single Crochet into a Foundation Chain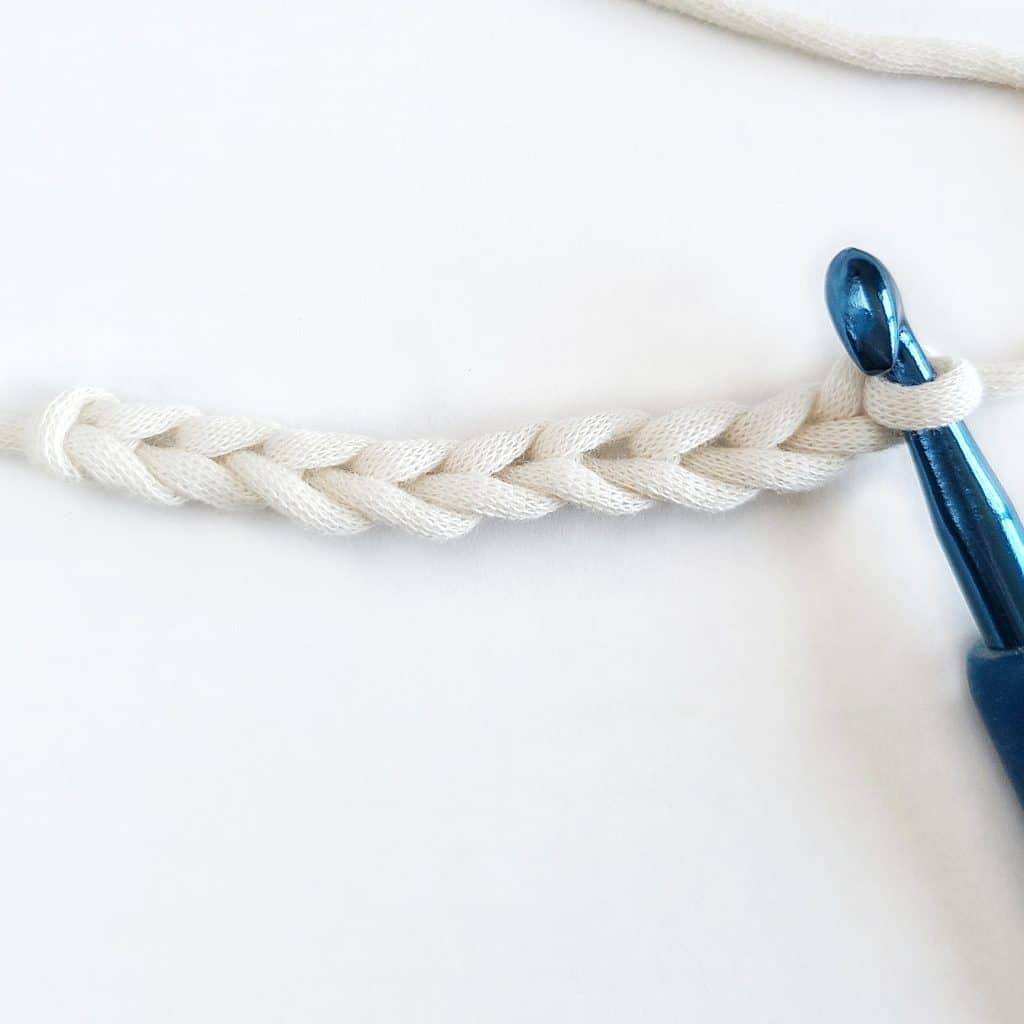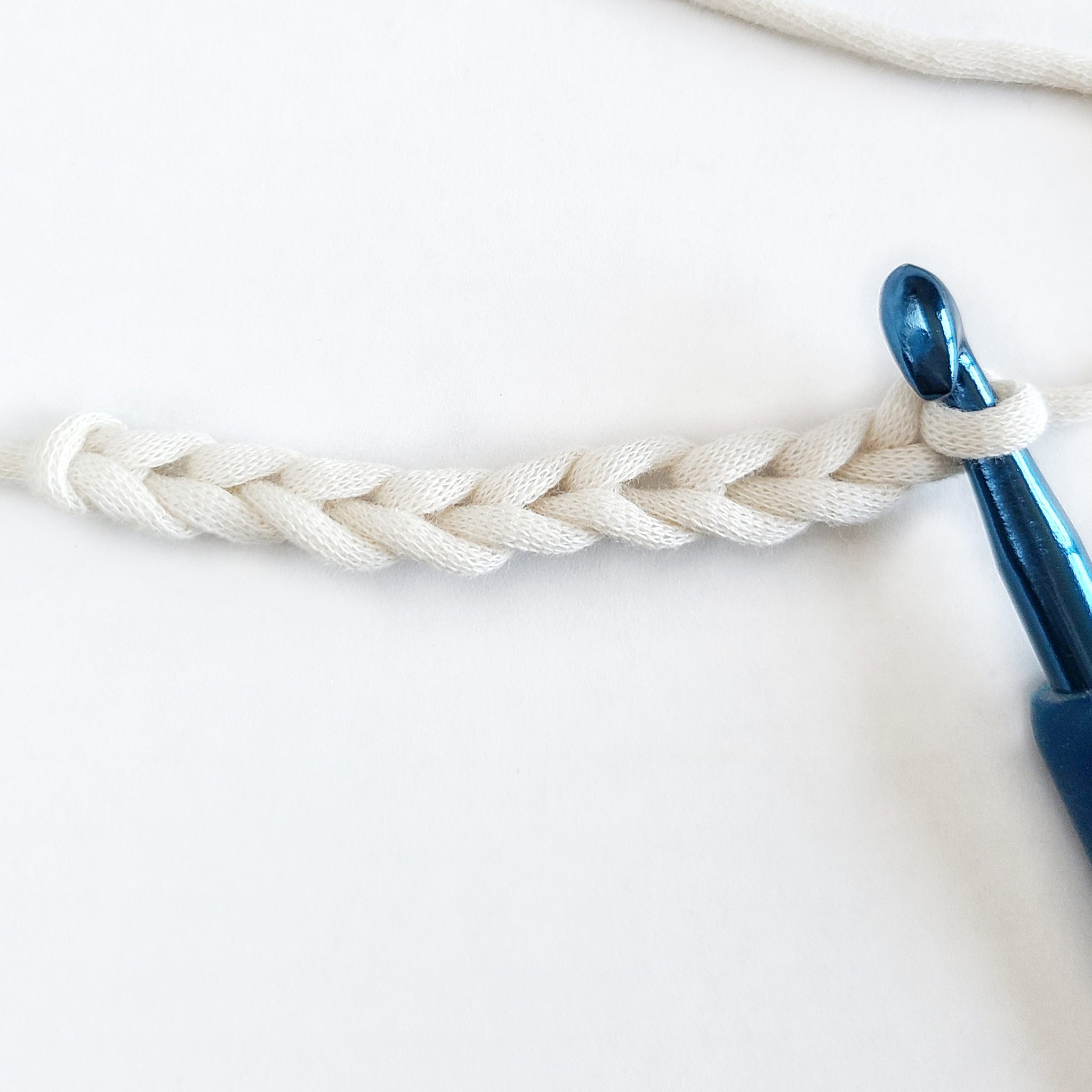 Step 1
Make a slip knot and ch (yo, pull back yarn through the loop) a total of 9 chs for your foundation chain/row.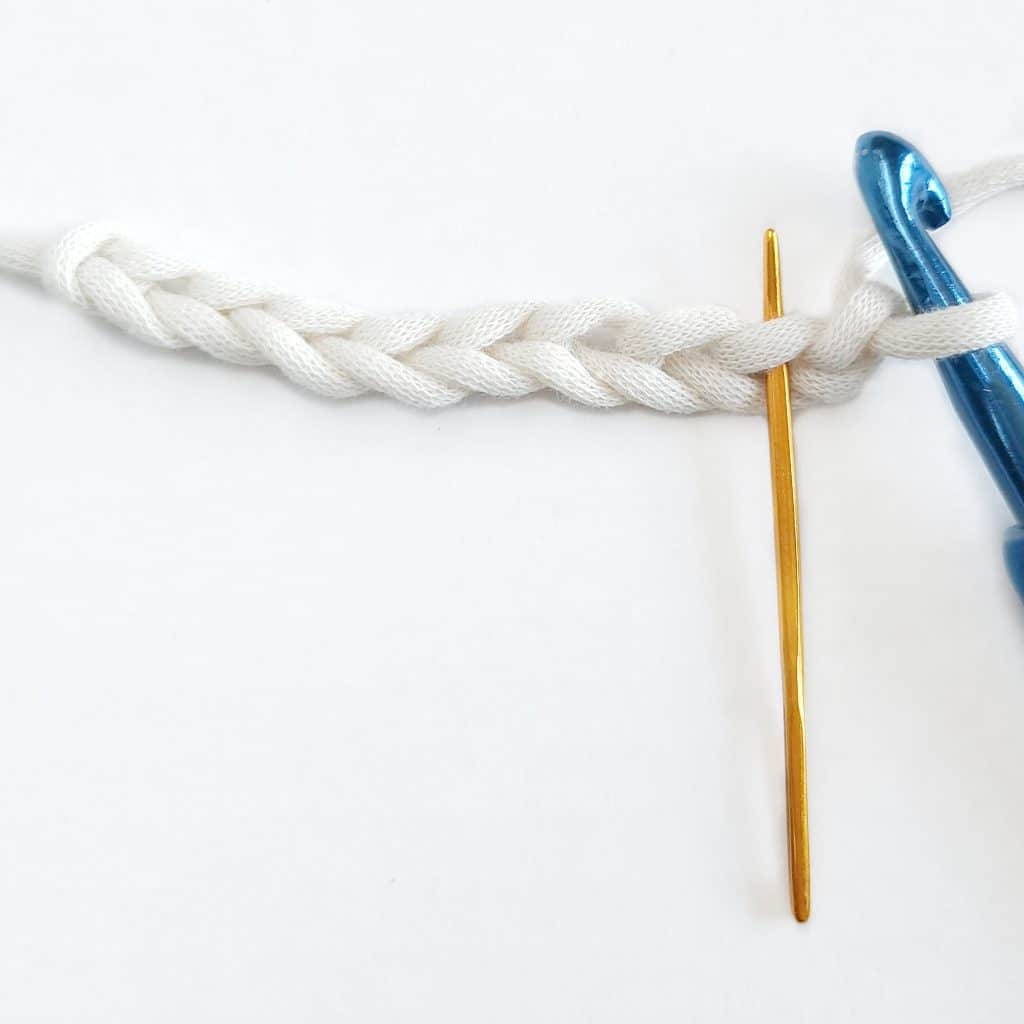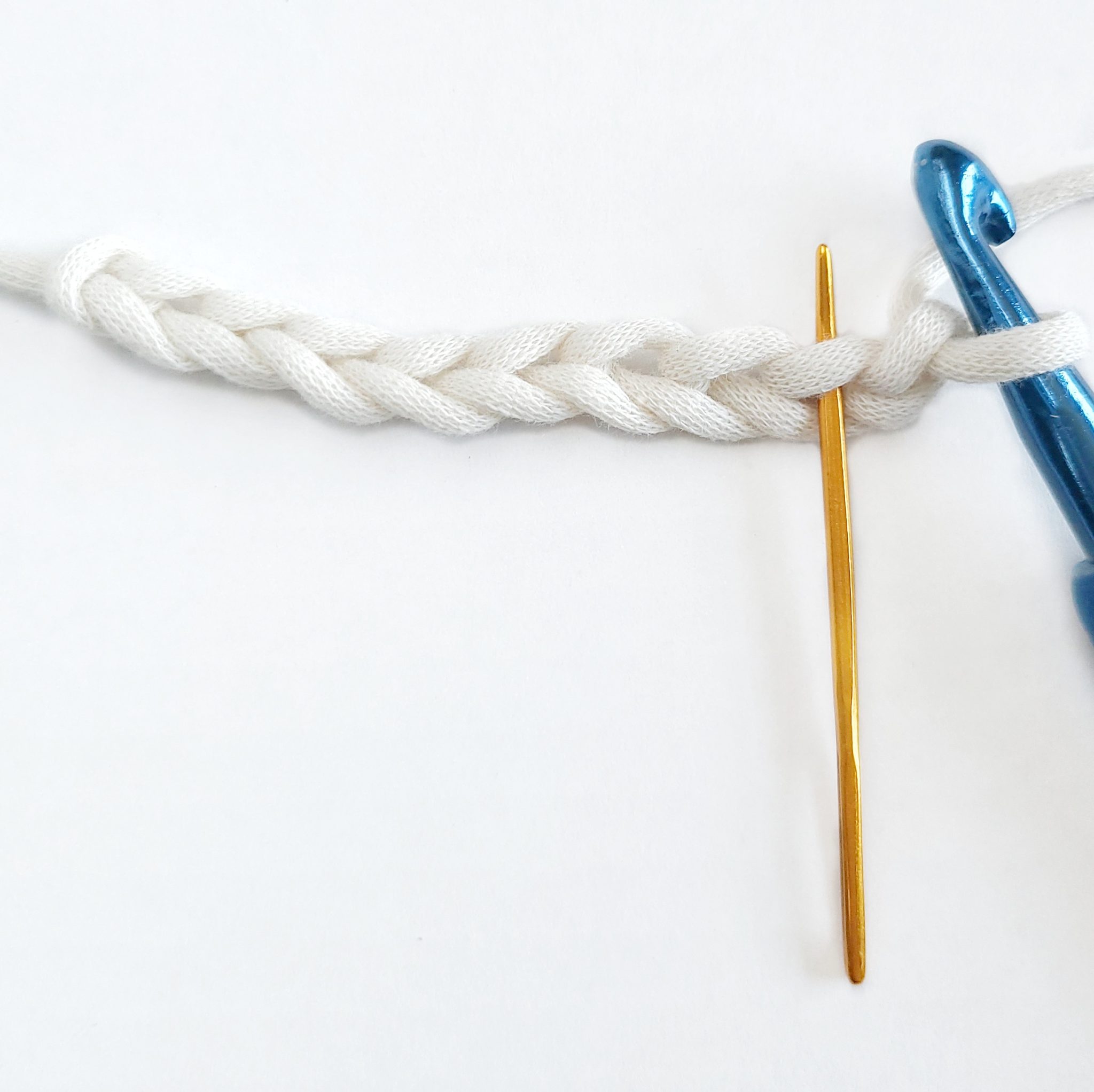 Step 2
Locate the second ch from the hook.
Tip: You will never work in the first chain from the crochet hook unless a pattern specifically directs you to do so.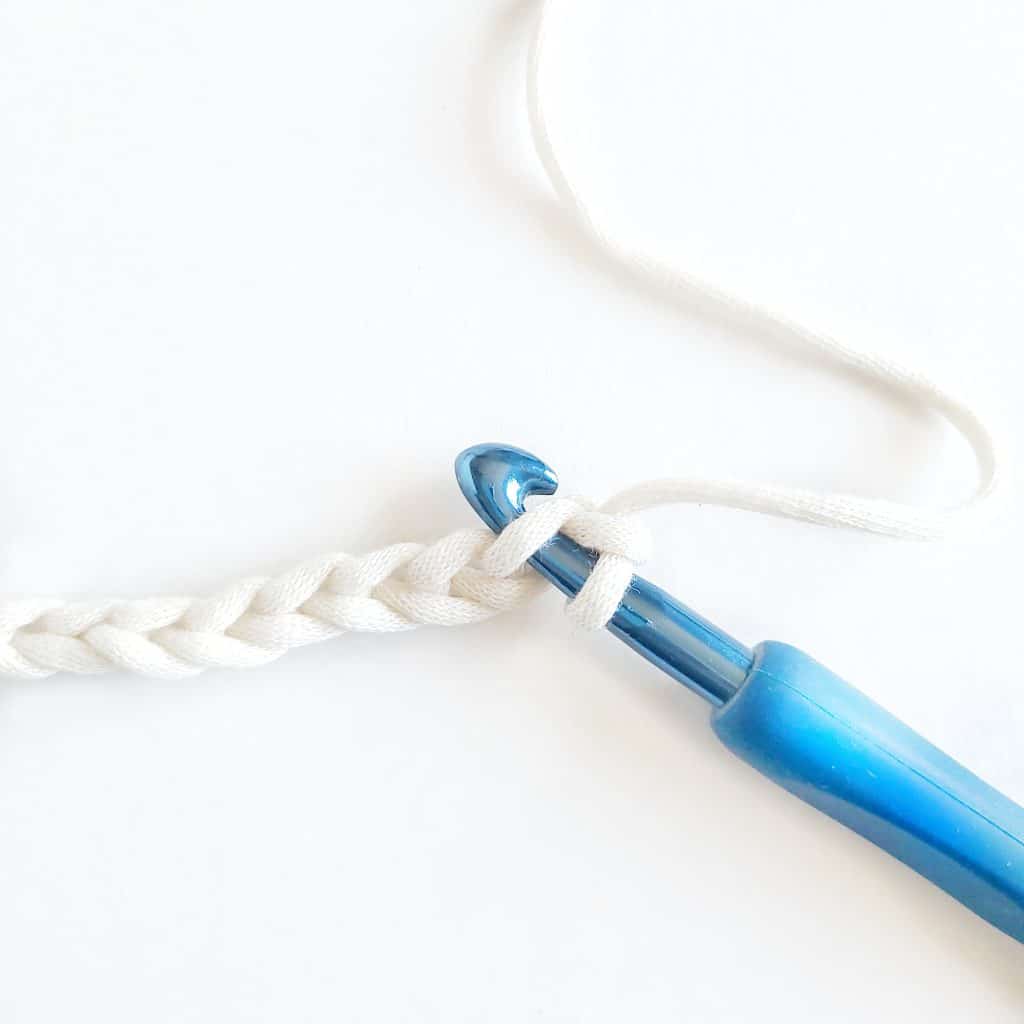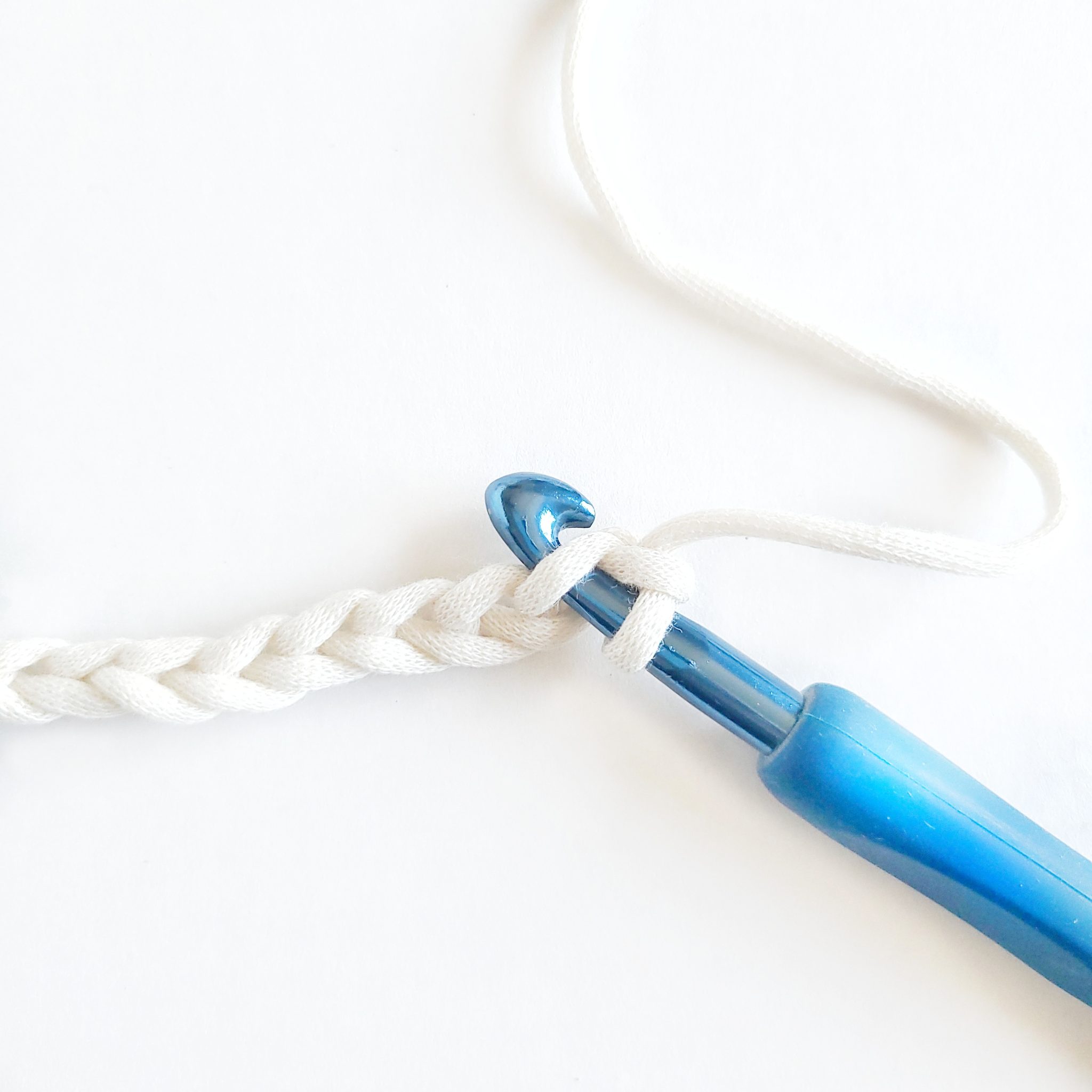 Step 3
Insert the hook into the ch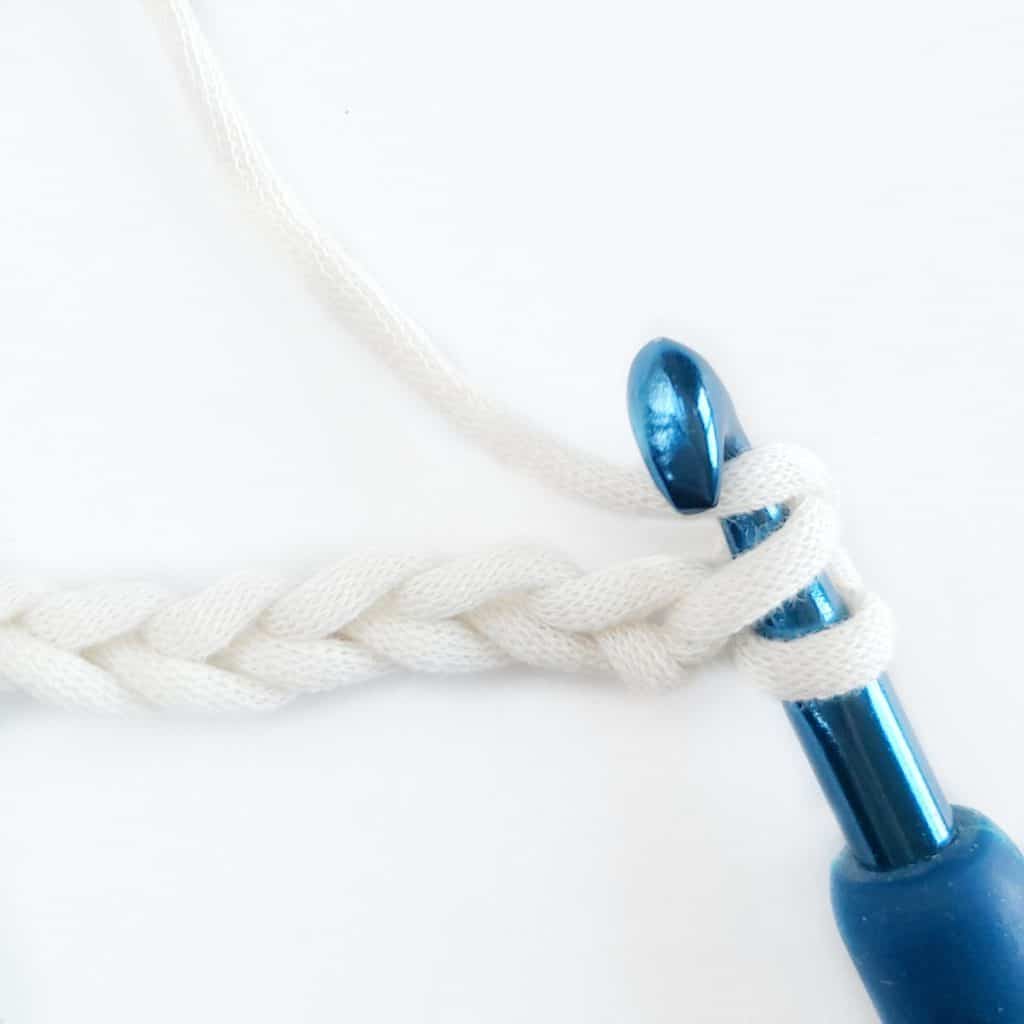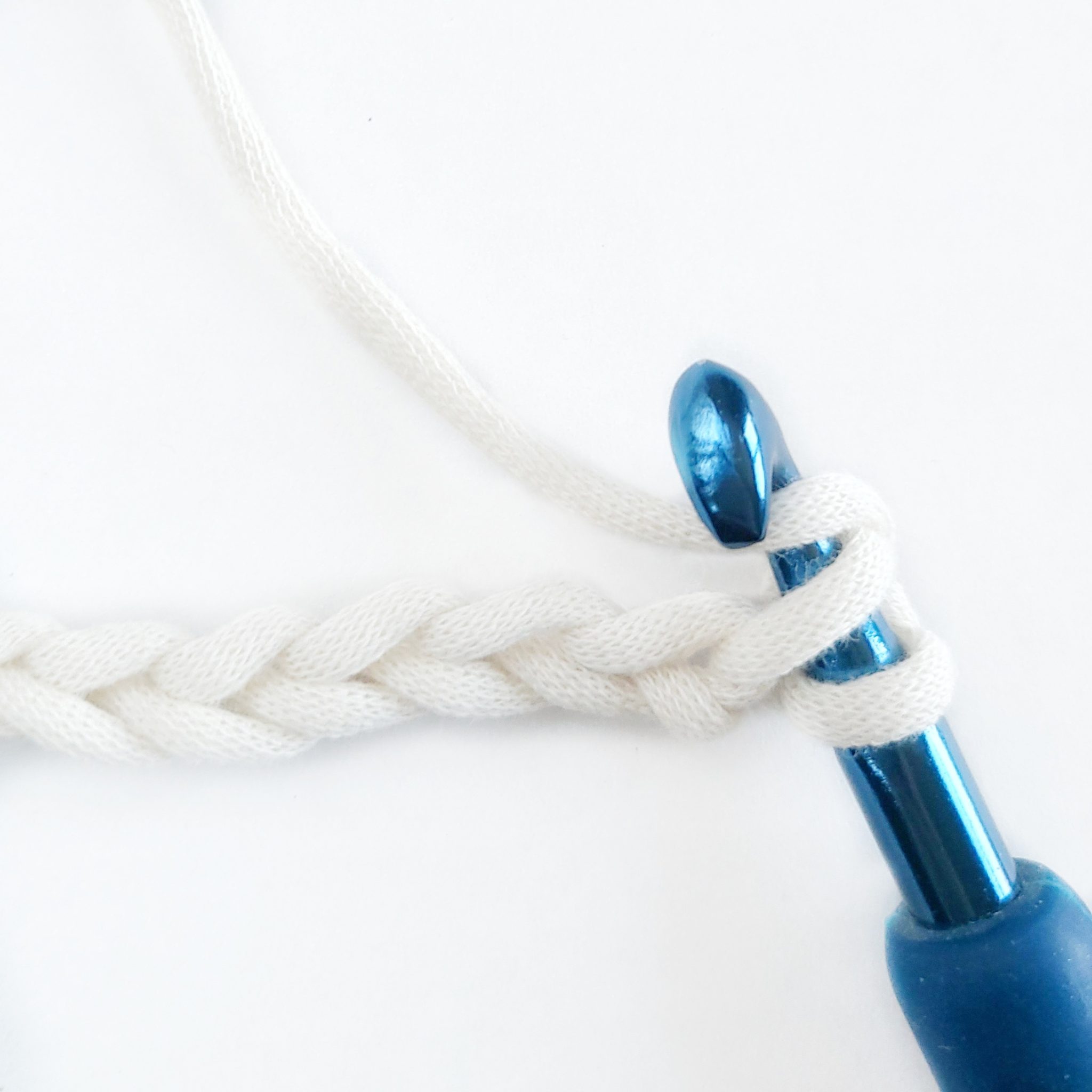 Step 4
Yo or wrap the yarn over the hook.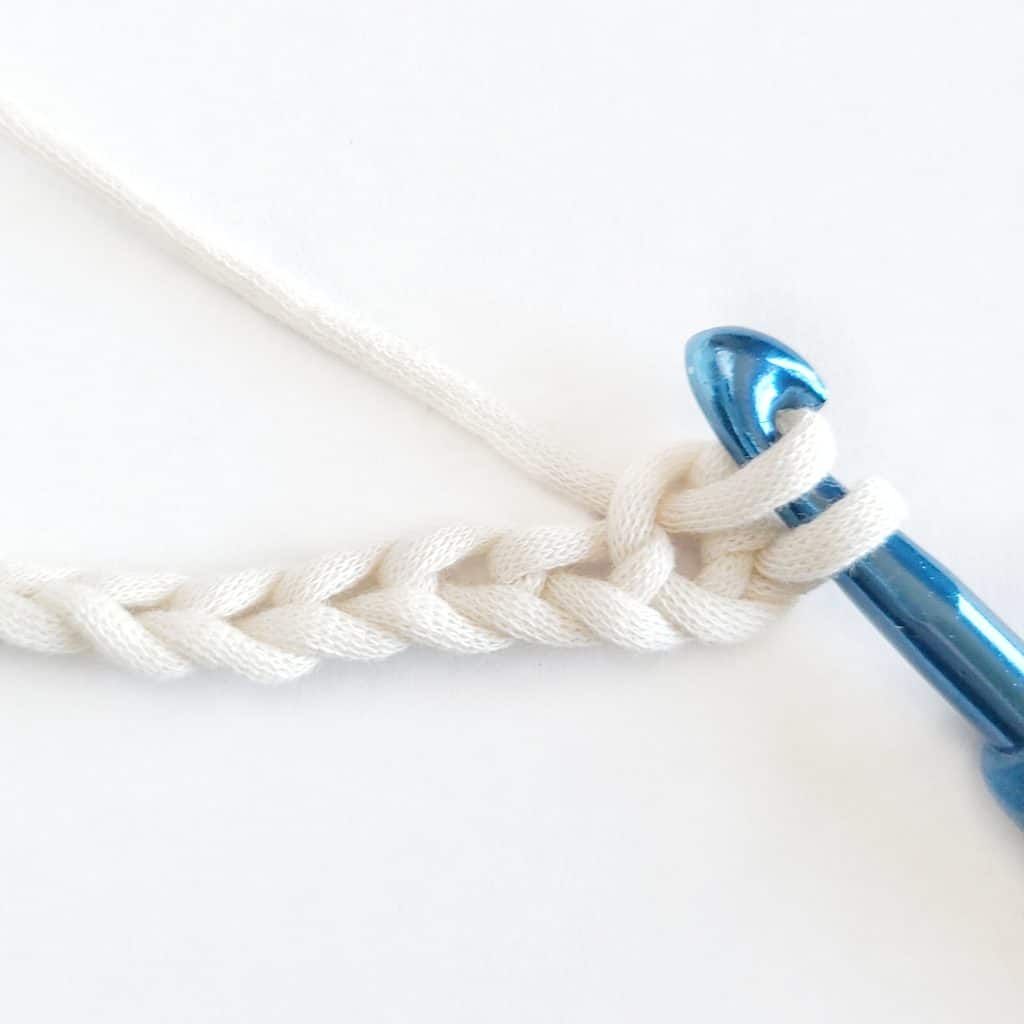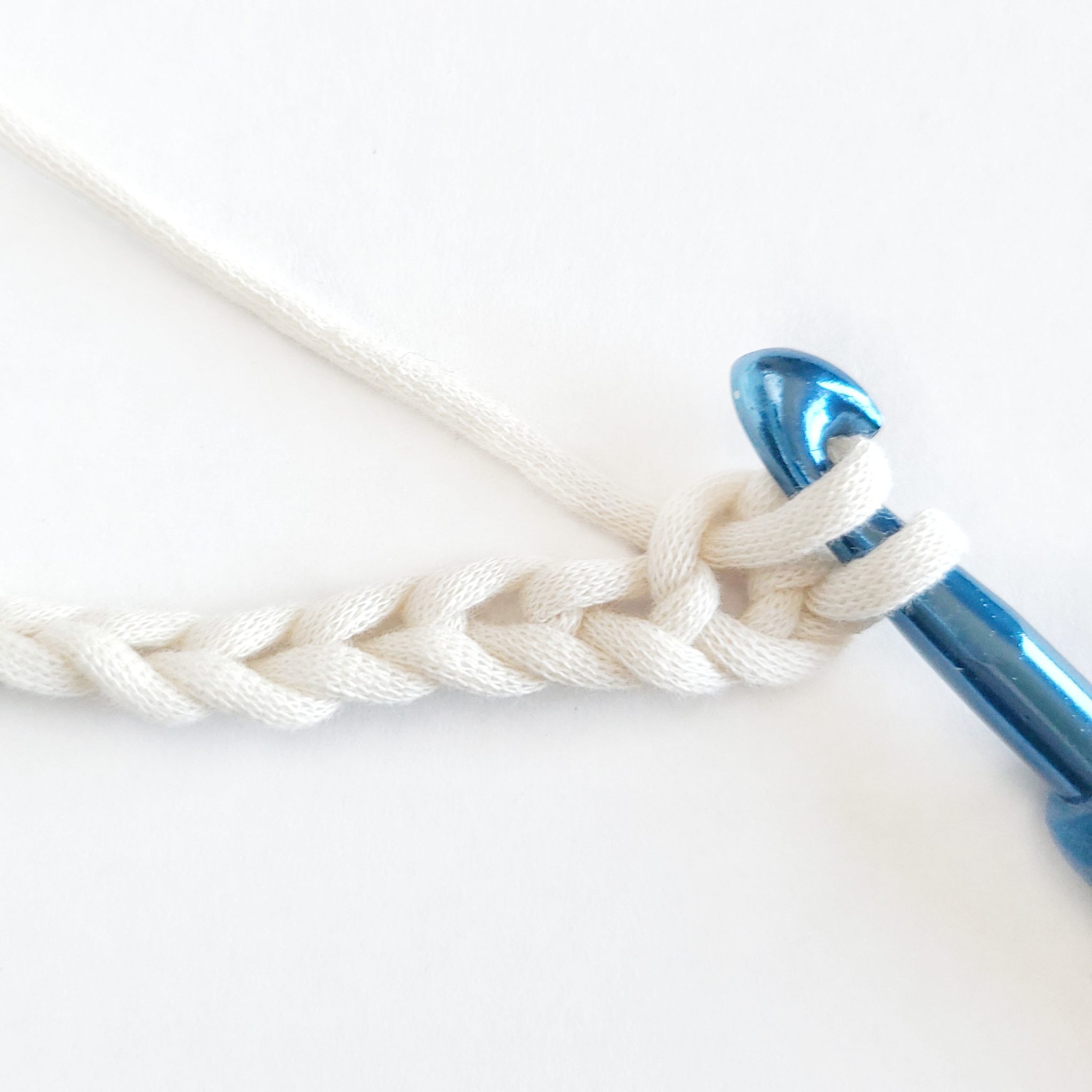 Step 5
Pull the yarn back through the st you just worked through. Draw up a loop on the crochet hook for a total of two loops.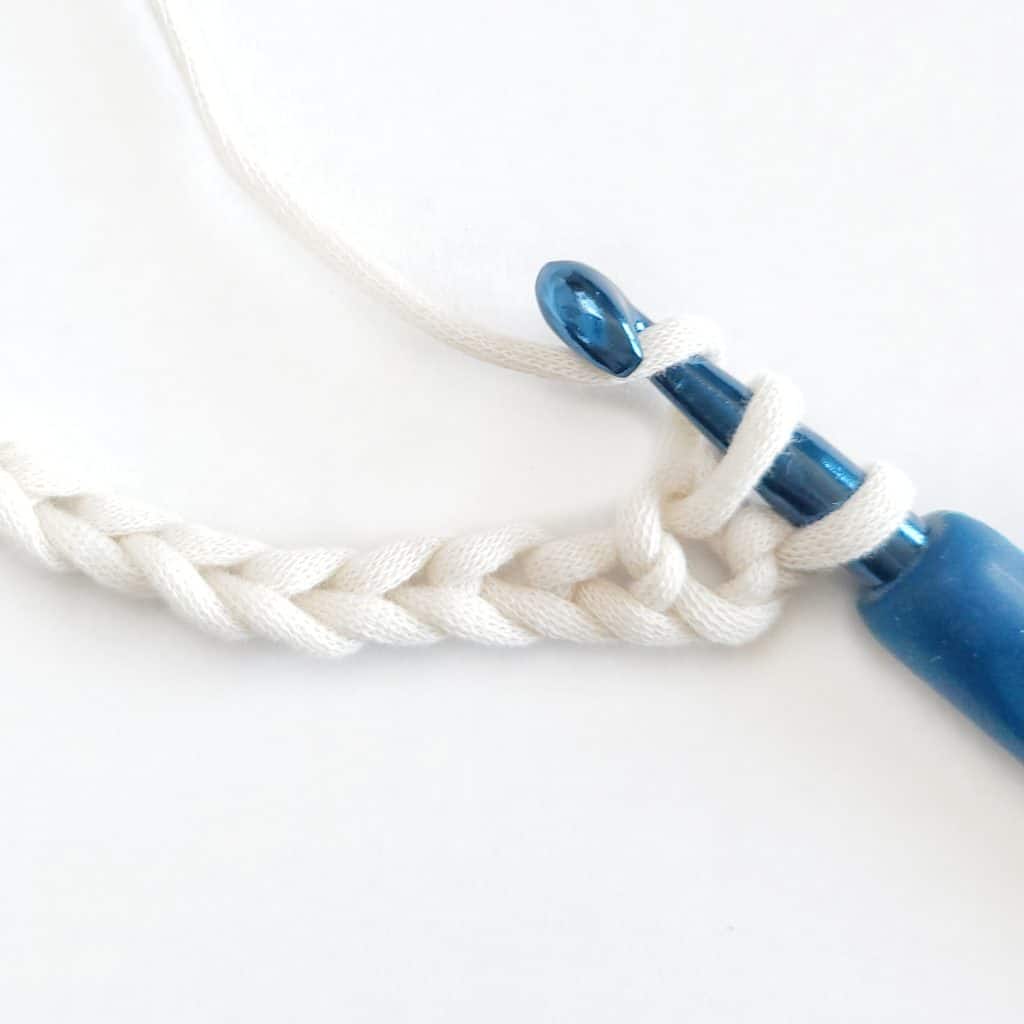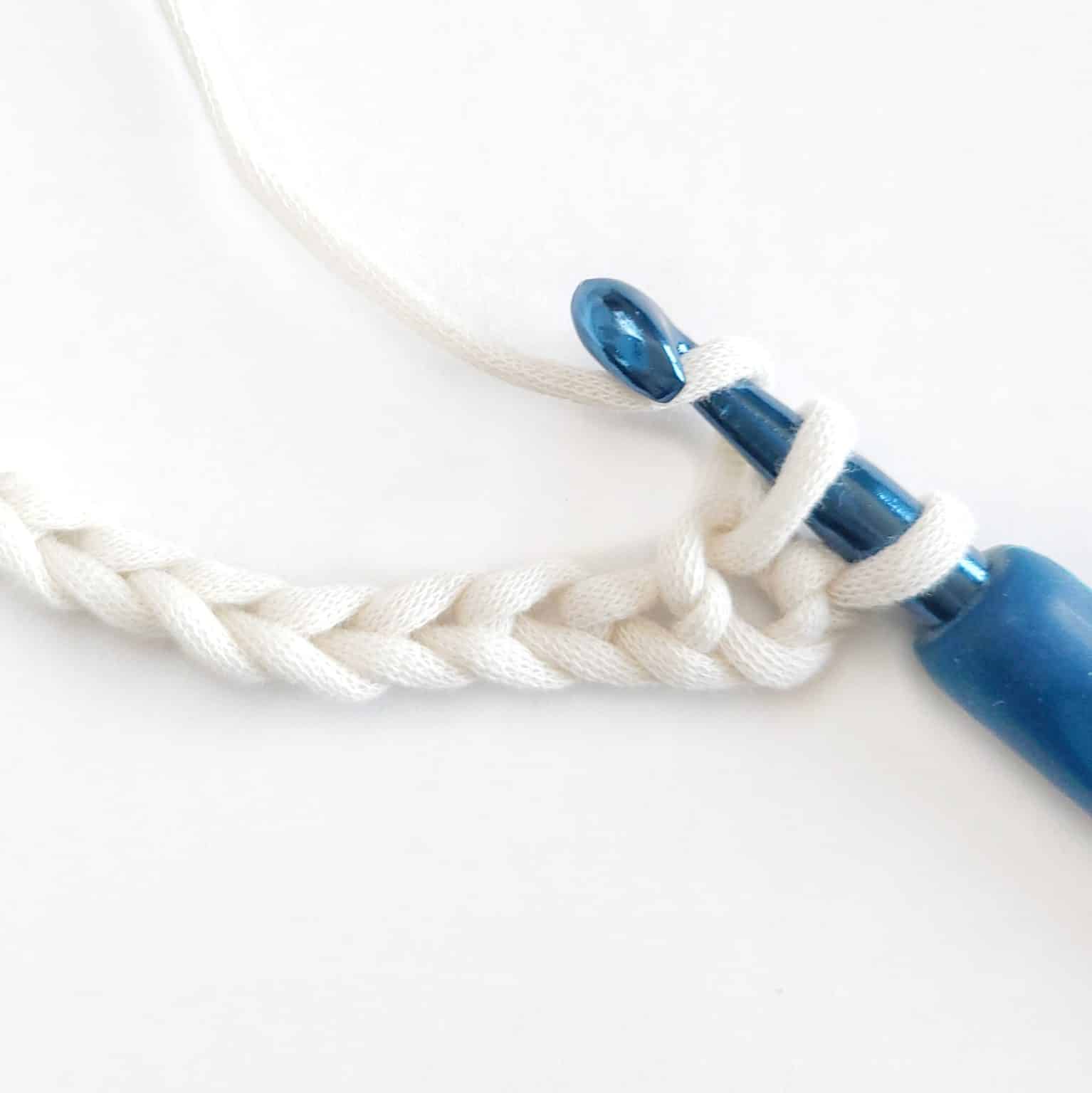 Step 6
Yo or grab the yarn with the crochet hook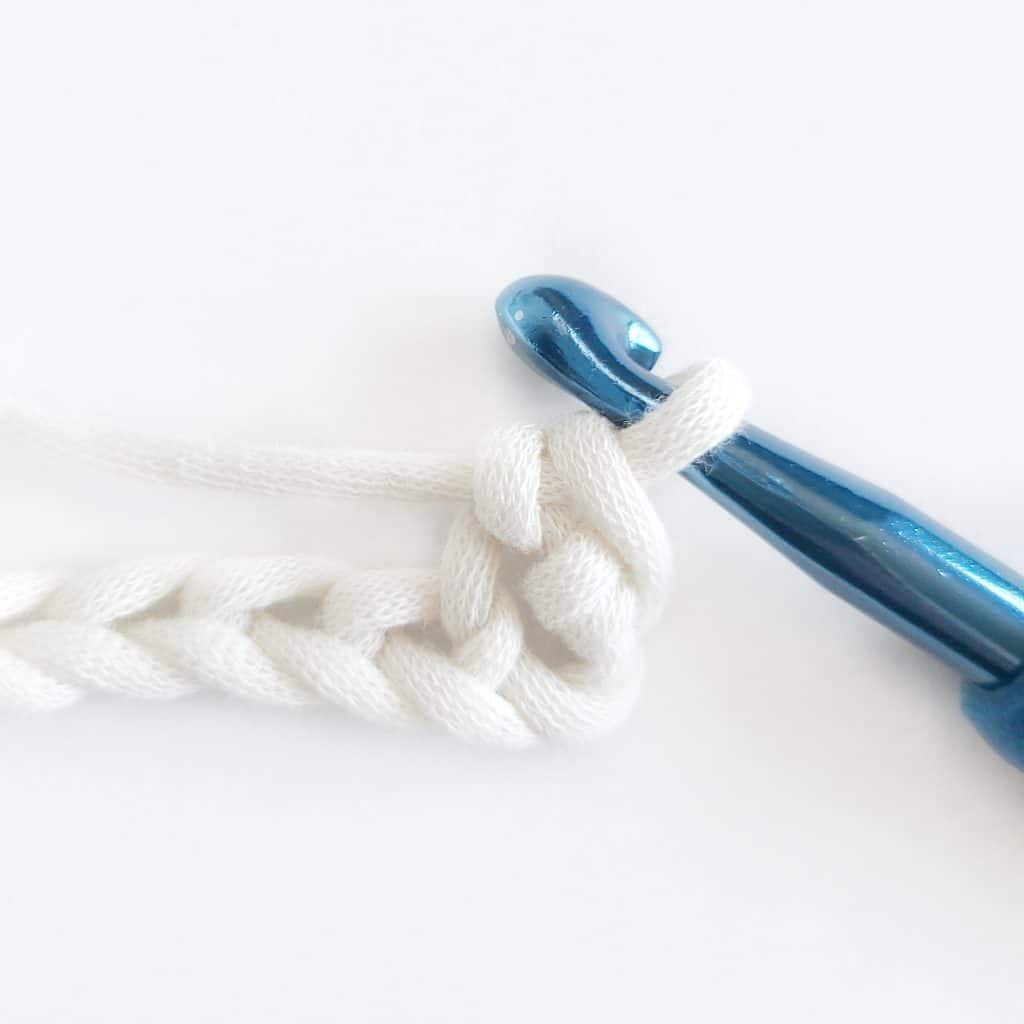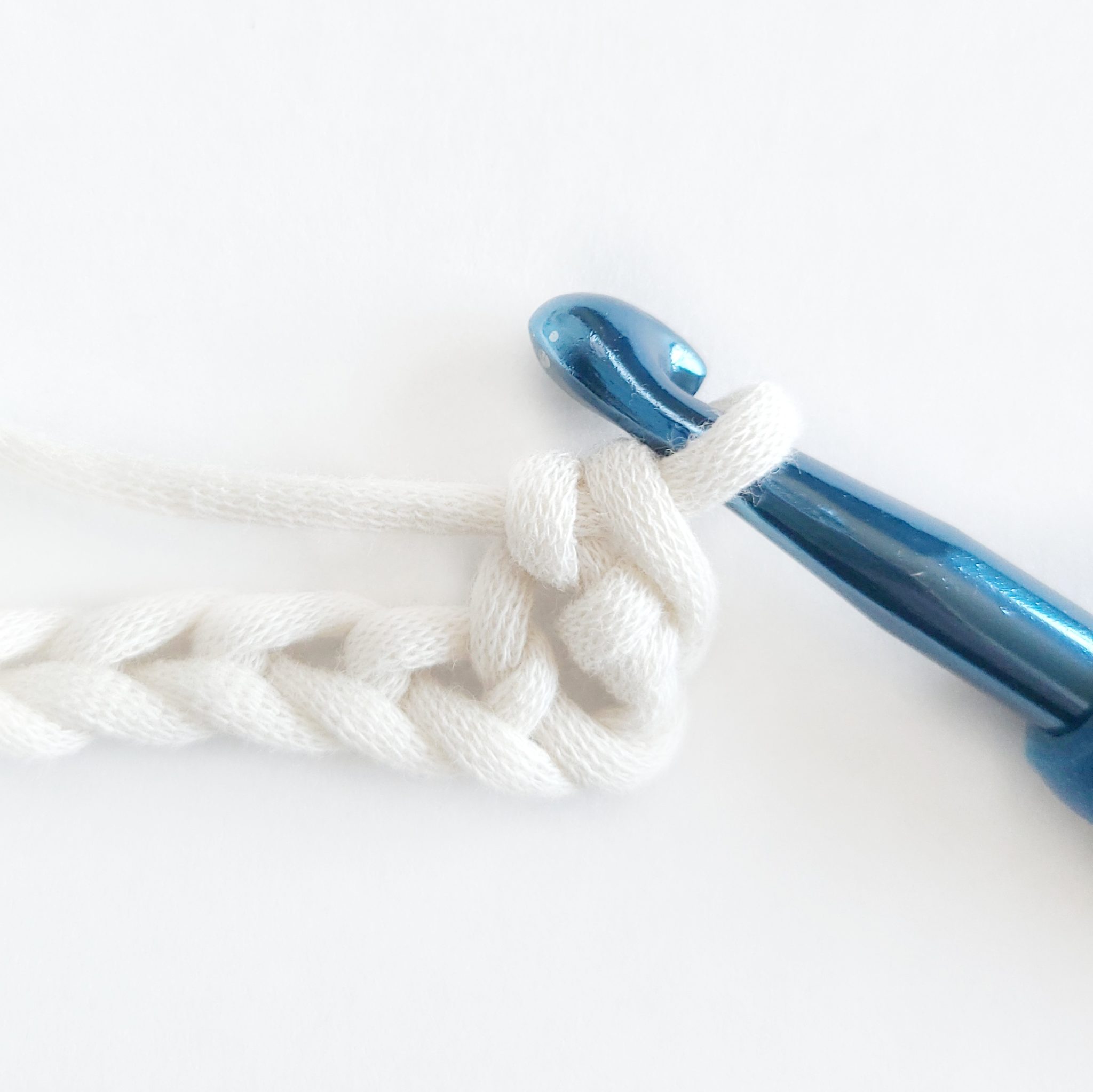 Step 7
Pull yarn back through both loops on hook. One single crochet stitch is completed!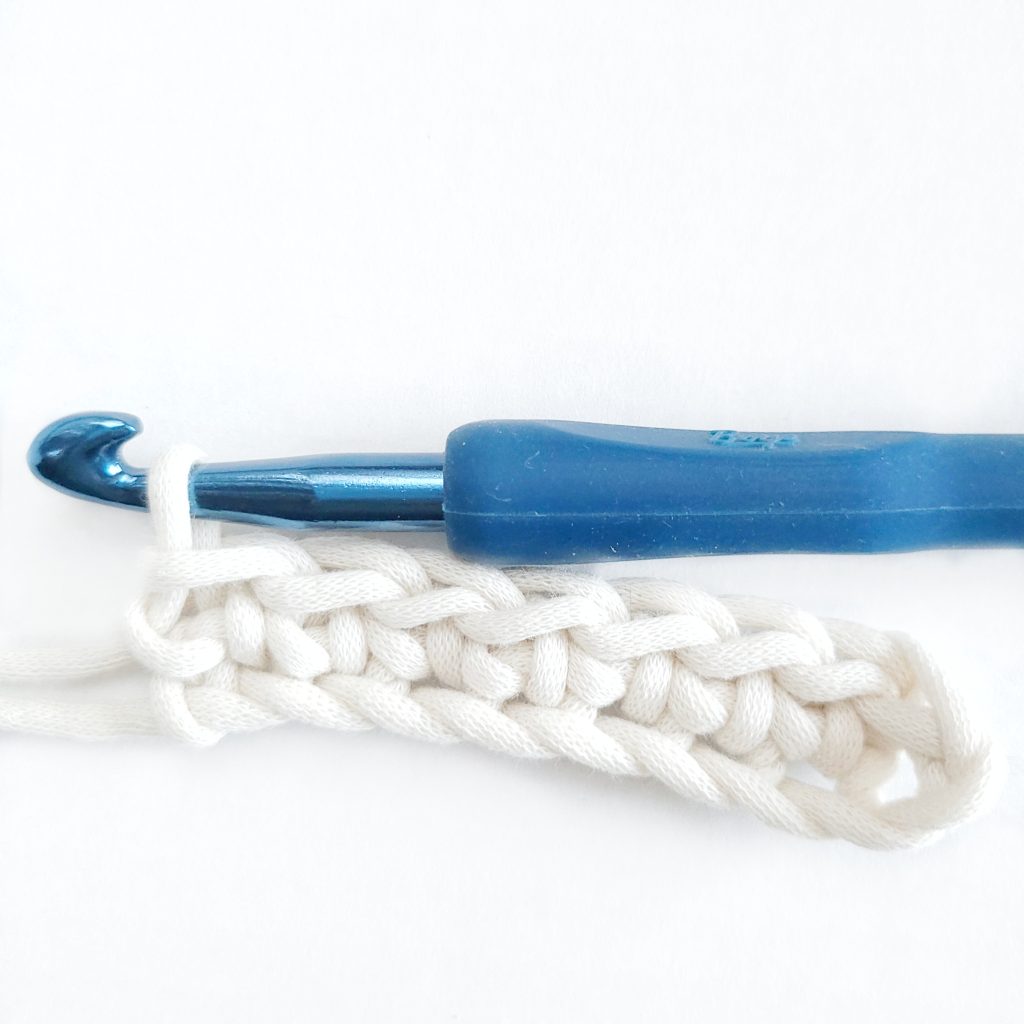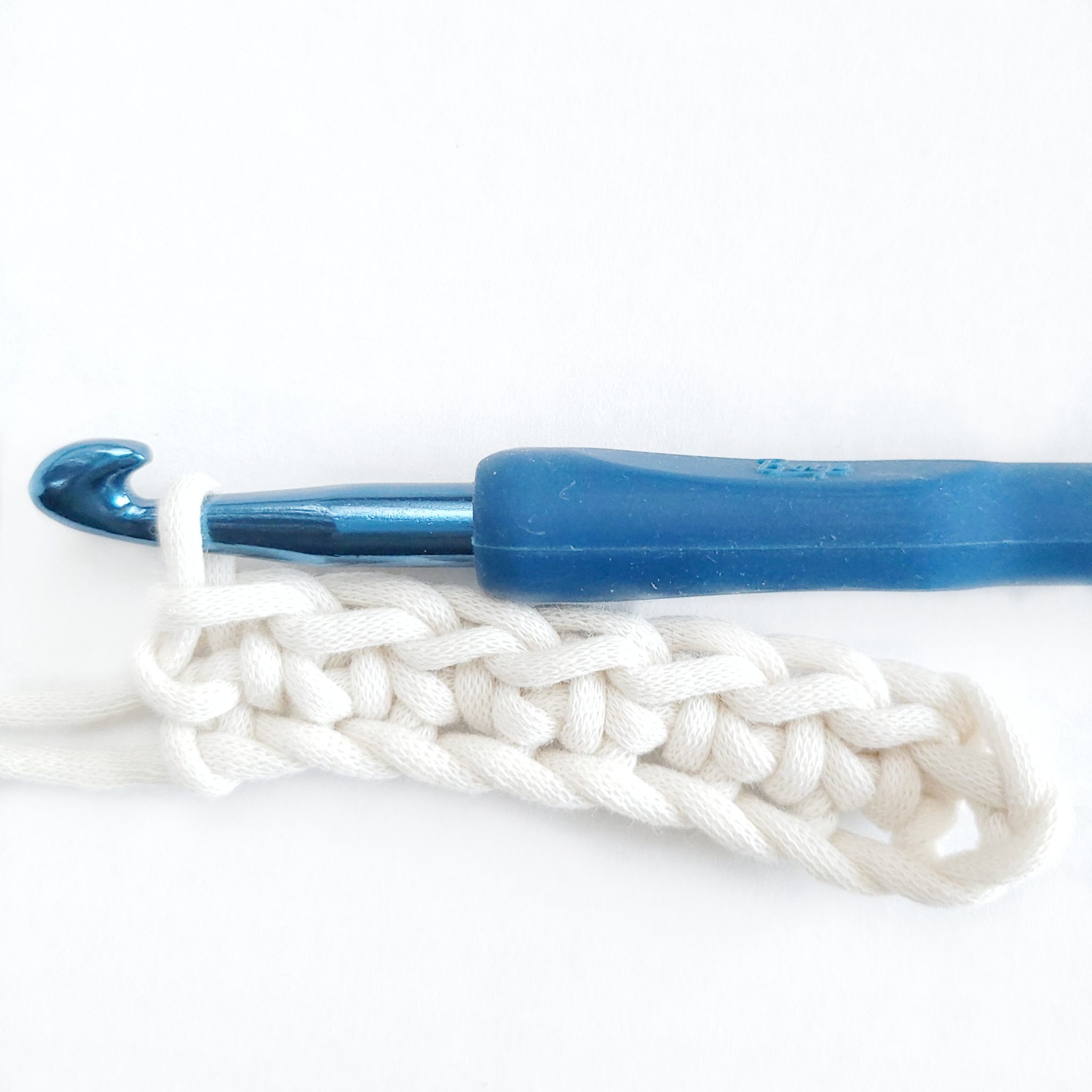 Step 8
Finish the first row by inserting the crochet hook into the next ch. Rep steps 3-7 until you reach the end of the row (always inserting hook into the next chain after a single crochet is completed) for a total of 8 single crochet stitches.
How to Single Crochet into a Row
To do a second row chain 1 and insert hook into second chain from hook through both loops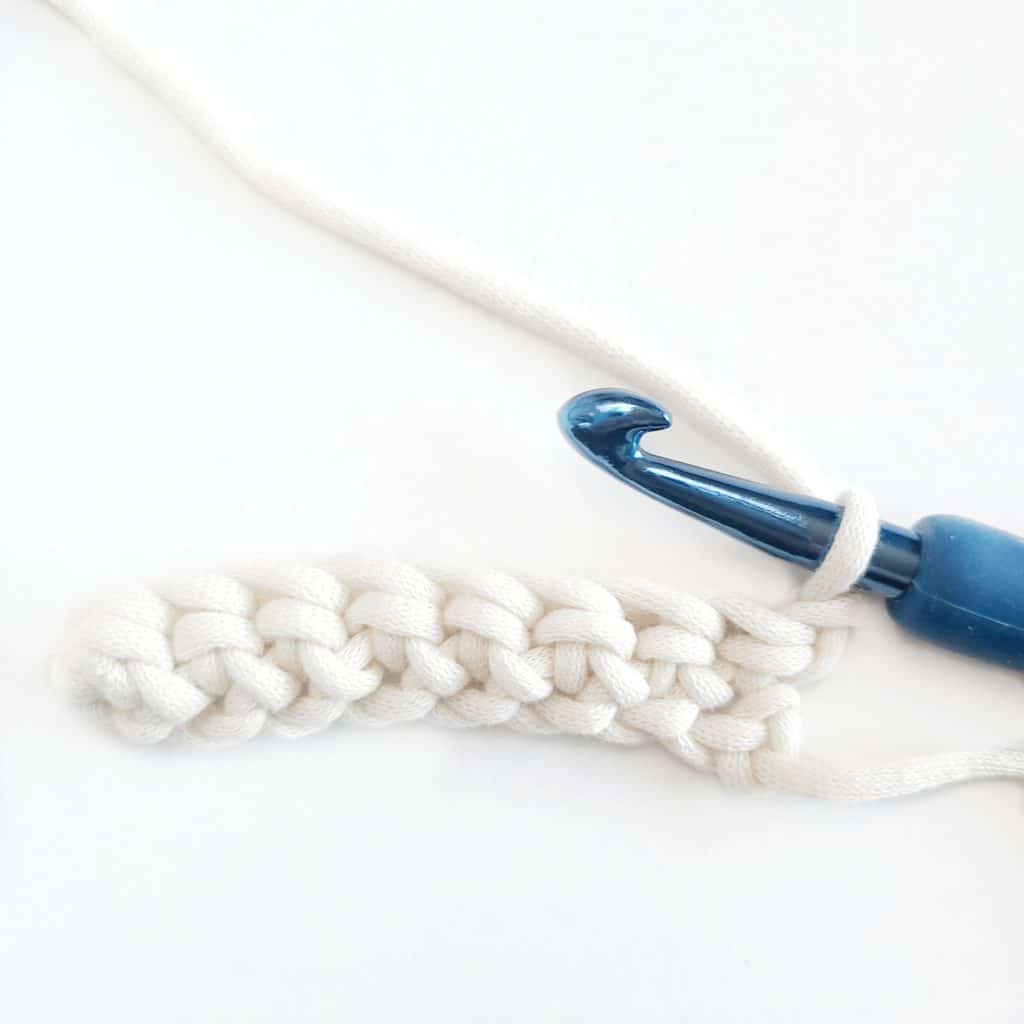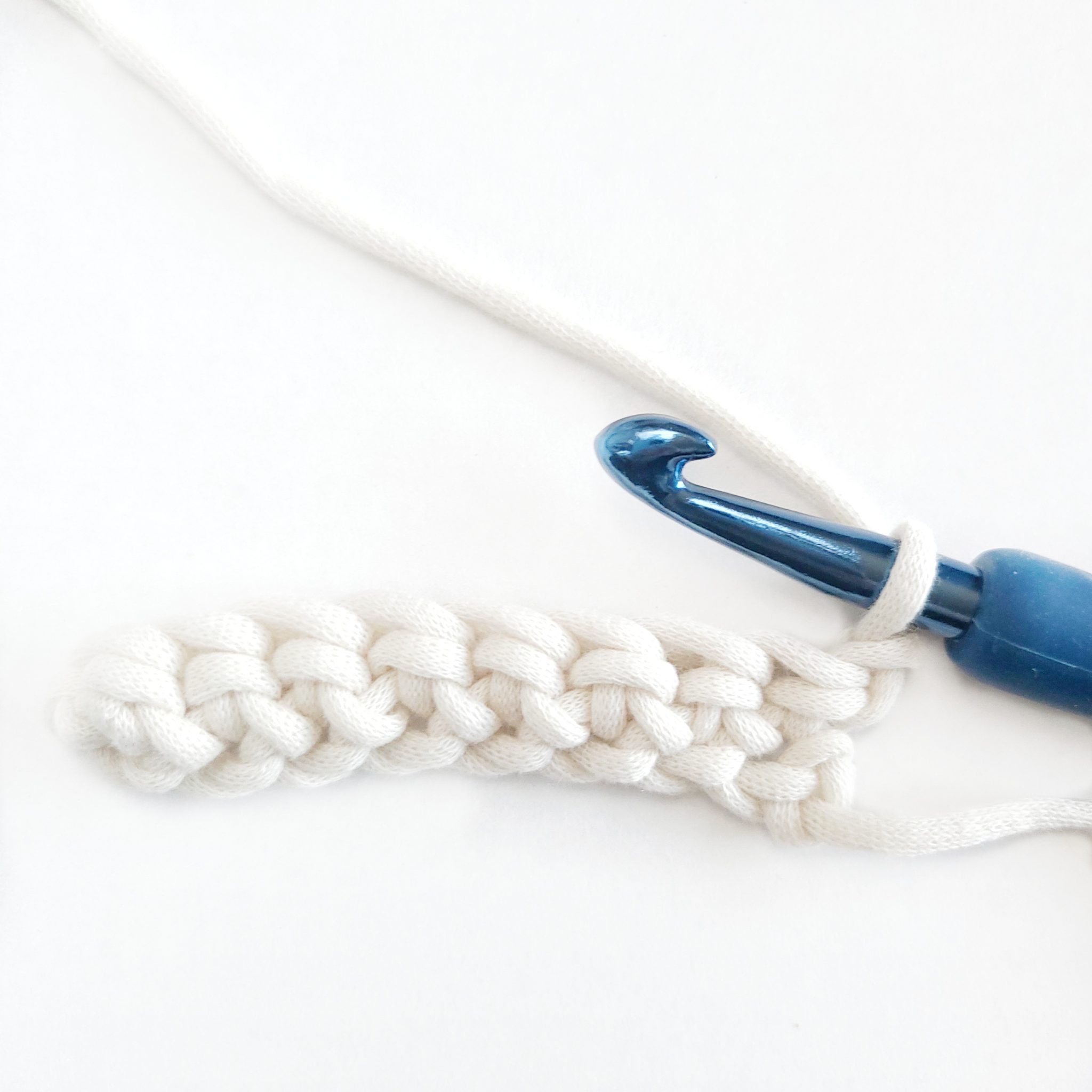 Step 9
To start the second row, Ch 1 and turn your work.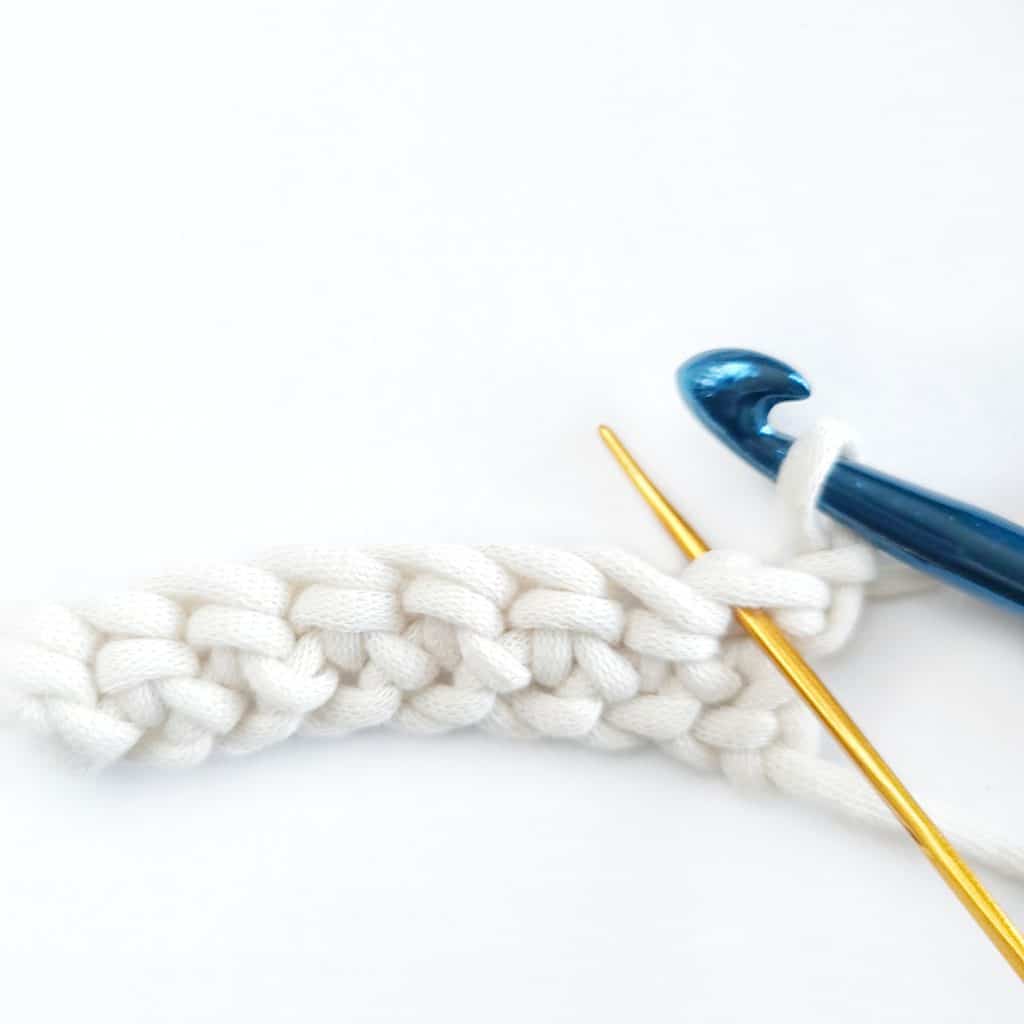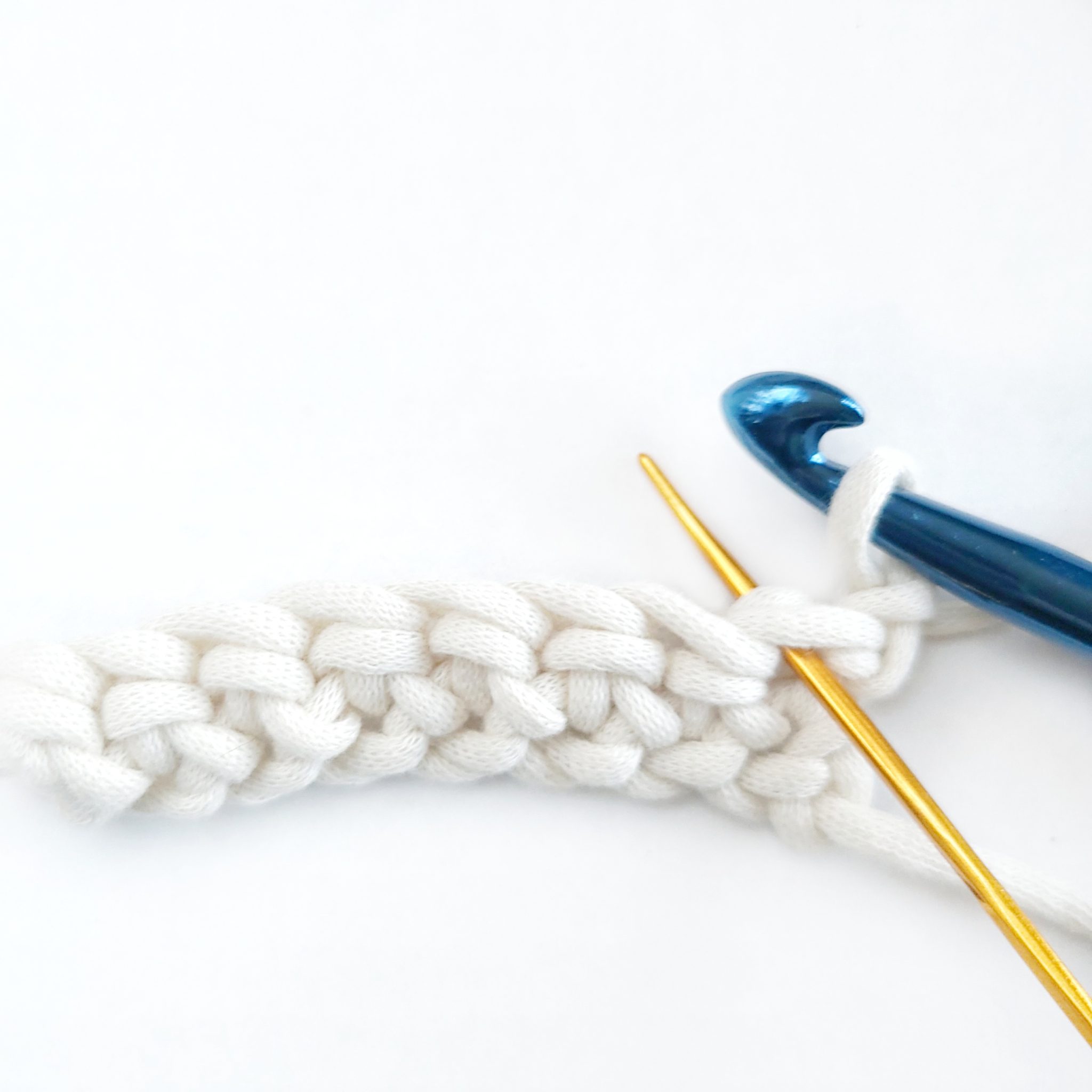 Step 10
Locate the top of the first single crochet (not the chain 1)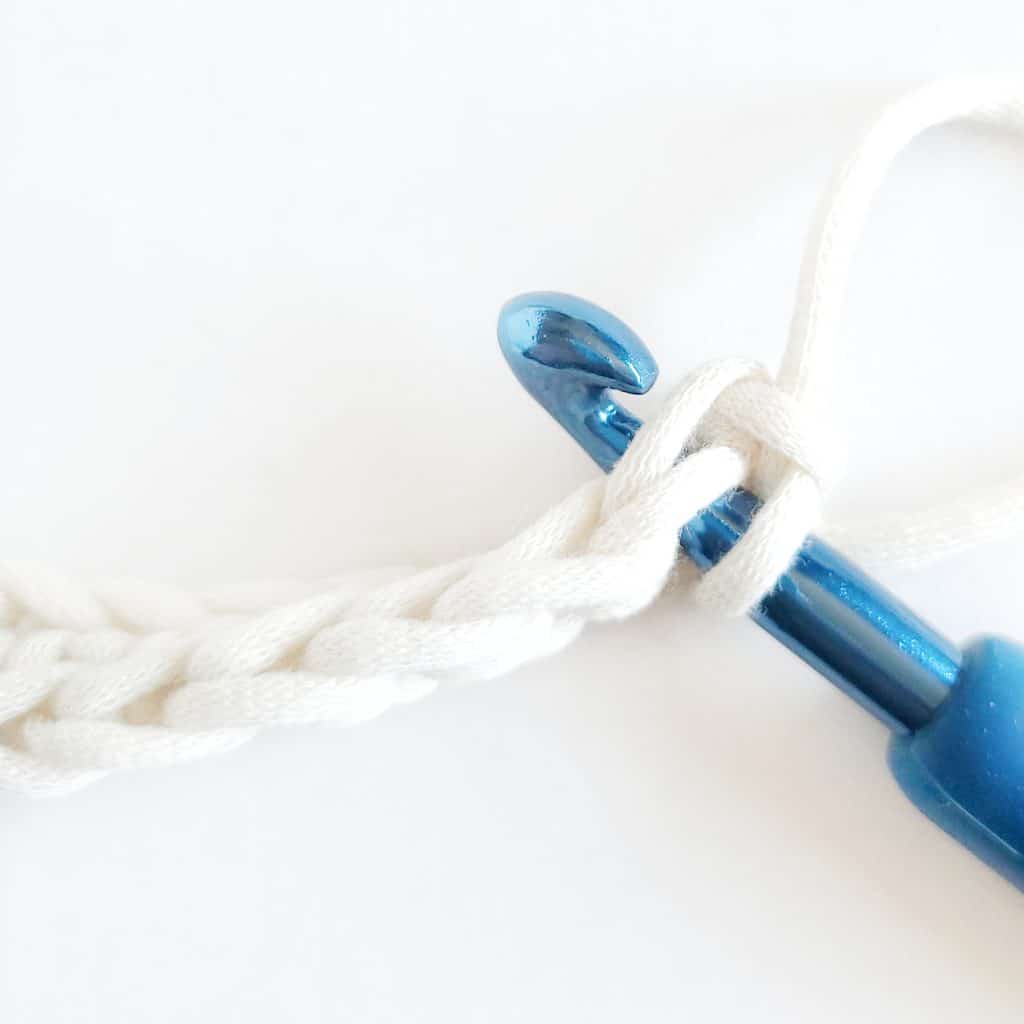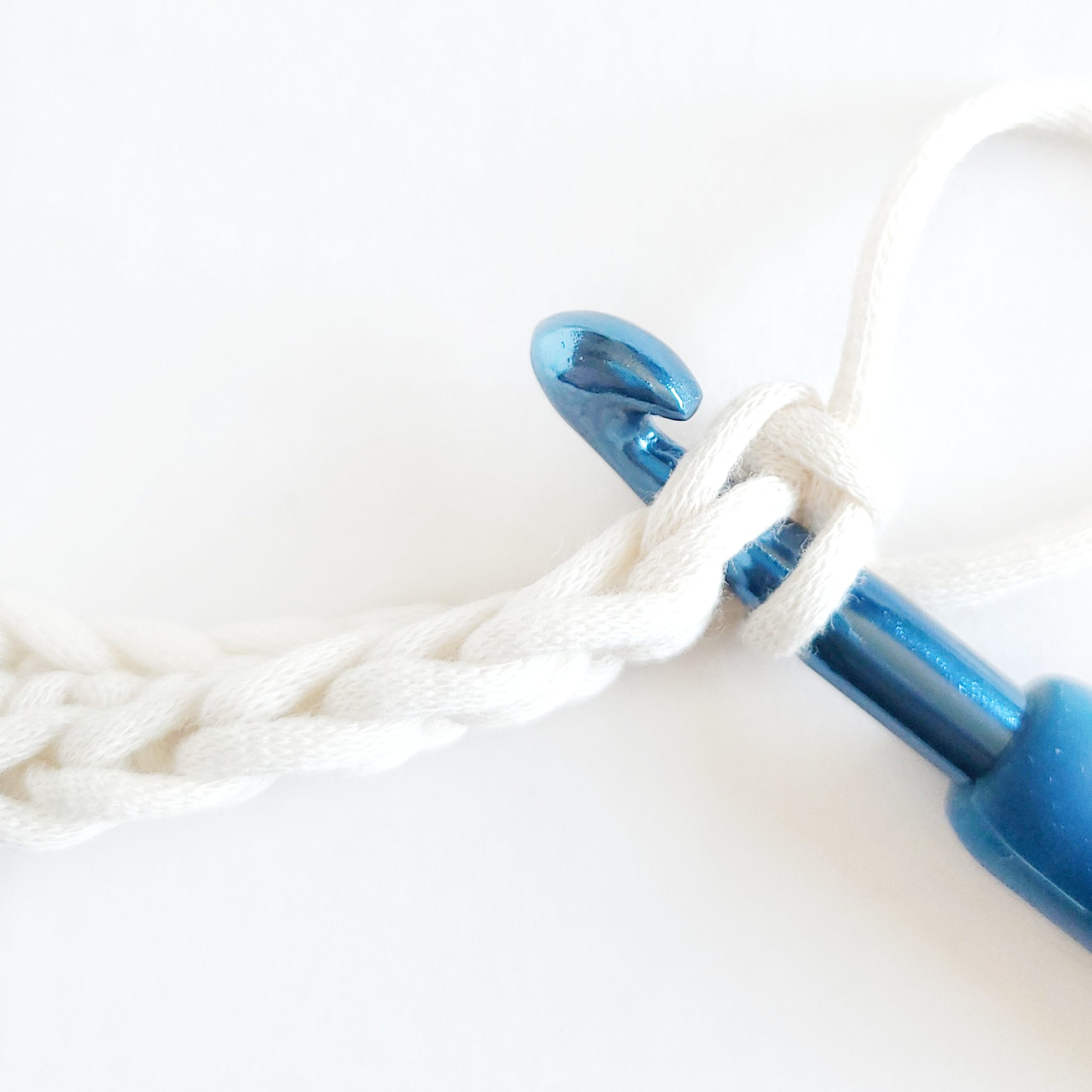 Step 11
Insert hook through both loops (looks like a V).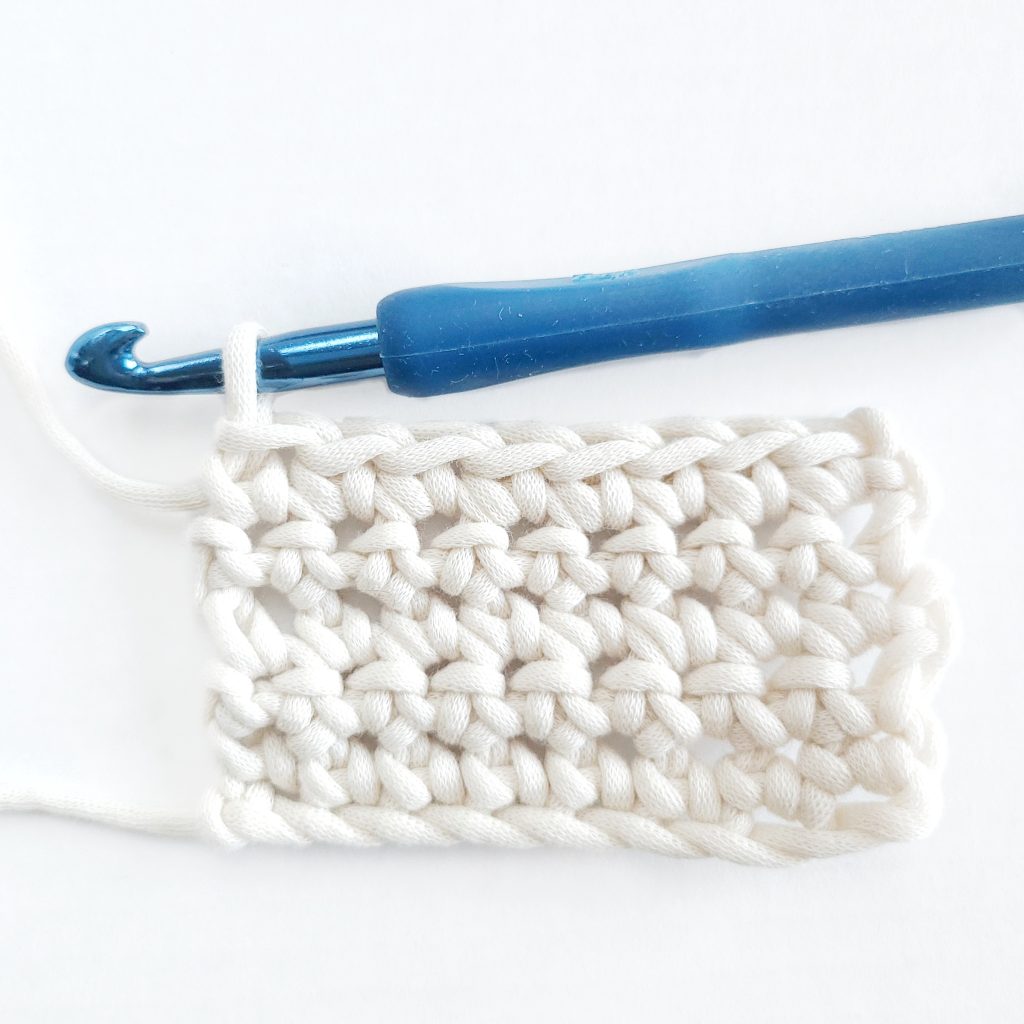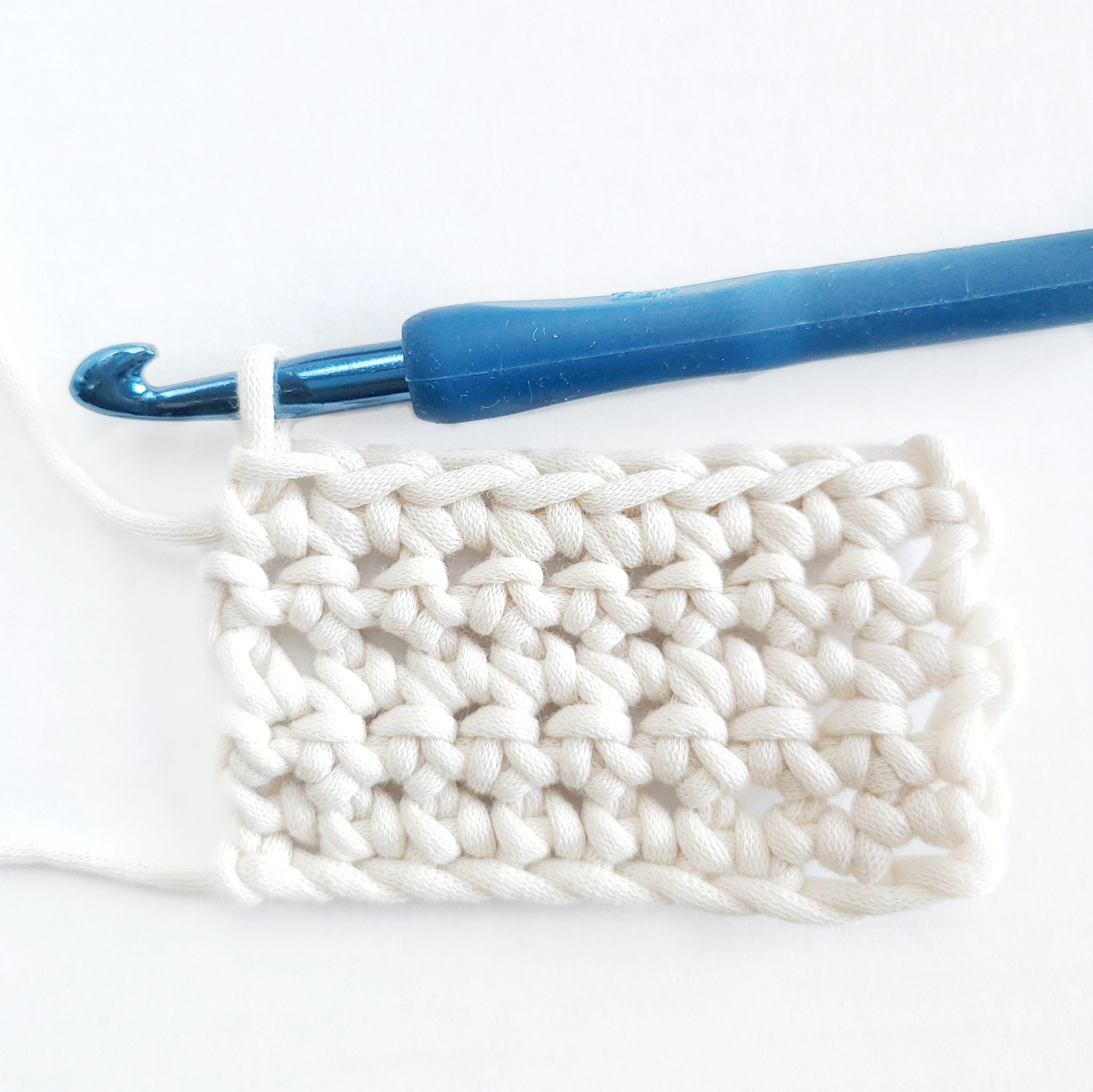 Step 12
Rep steps 4-7 to make a Single crochet. Follow along with step 8 to complete the second row.
Remember, if you would like to make more rows, you need to always chain 1 and turn your work before starting a new row of single crochets.
Single Crochet Video Tutorial

That's It – You've Learned the Single Crochet Stitch!
You are welcome to go back over this again to get the hang of this fun and beginner's stitch. I promise you will be crocheting up projects in no time at all. Many blankets, scarves and more that all use the single crochet stitch!
Once you think you have got the hang of this stitch, then you may be ready to try my Simple Color Blocked Crochet Blanket Pattern or one of the many other single crochet patterns we offer.
Thanks for stopping by! If you have any questions about how to do the single crochet stitch, please feel free to leave a comment below.
Share this on Pinterest to Crochet Later
Use the images below to pin to Pinterest, so you can make learn the single crochet stitch at any time. Follow along with on there too since we always share new free patterns as well as crochet stitches and tutorials too.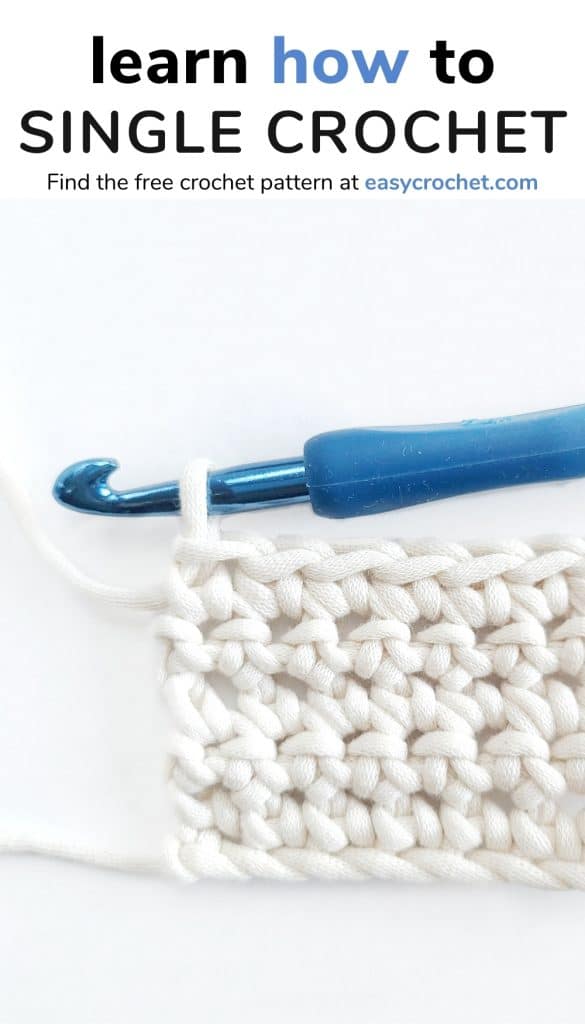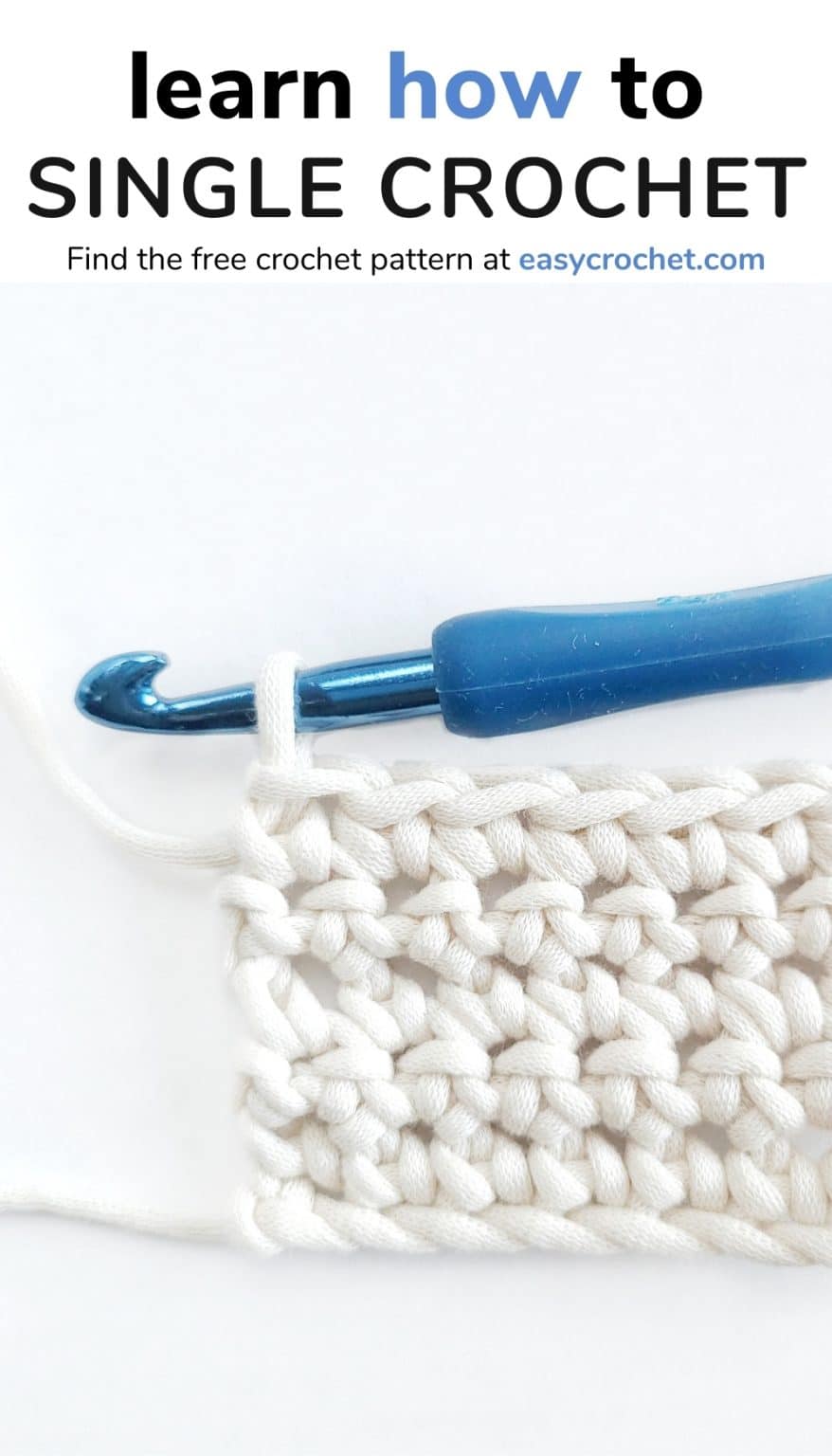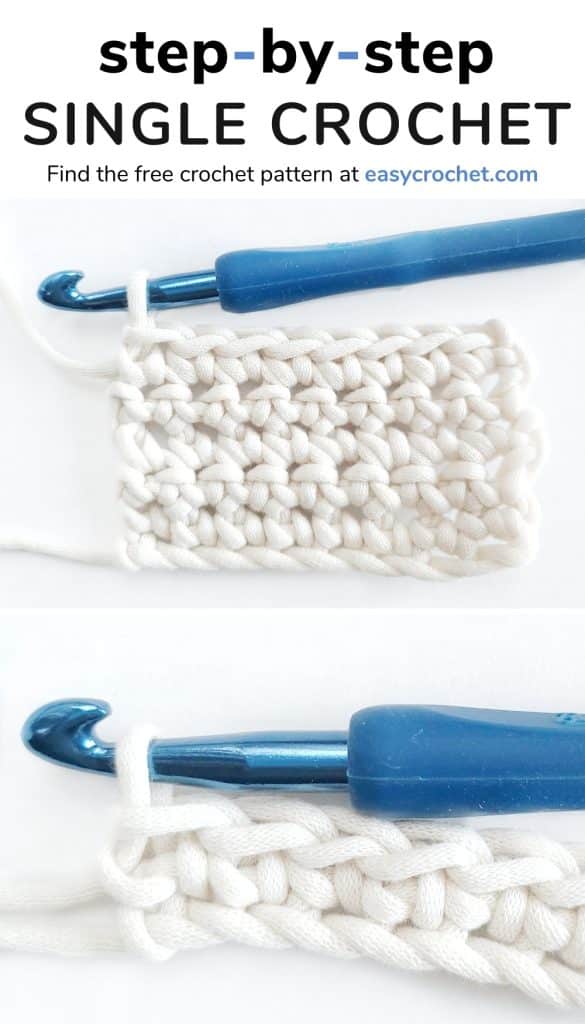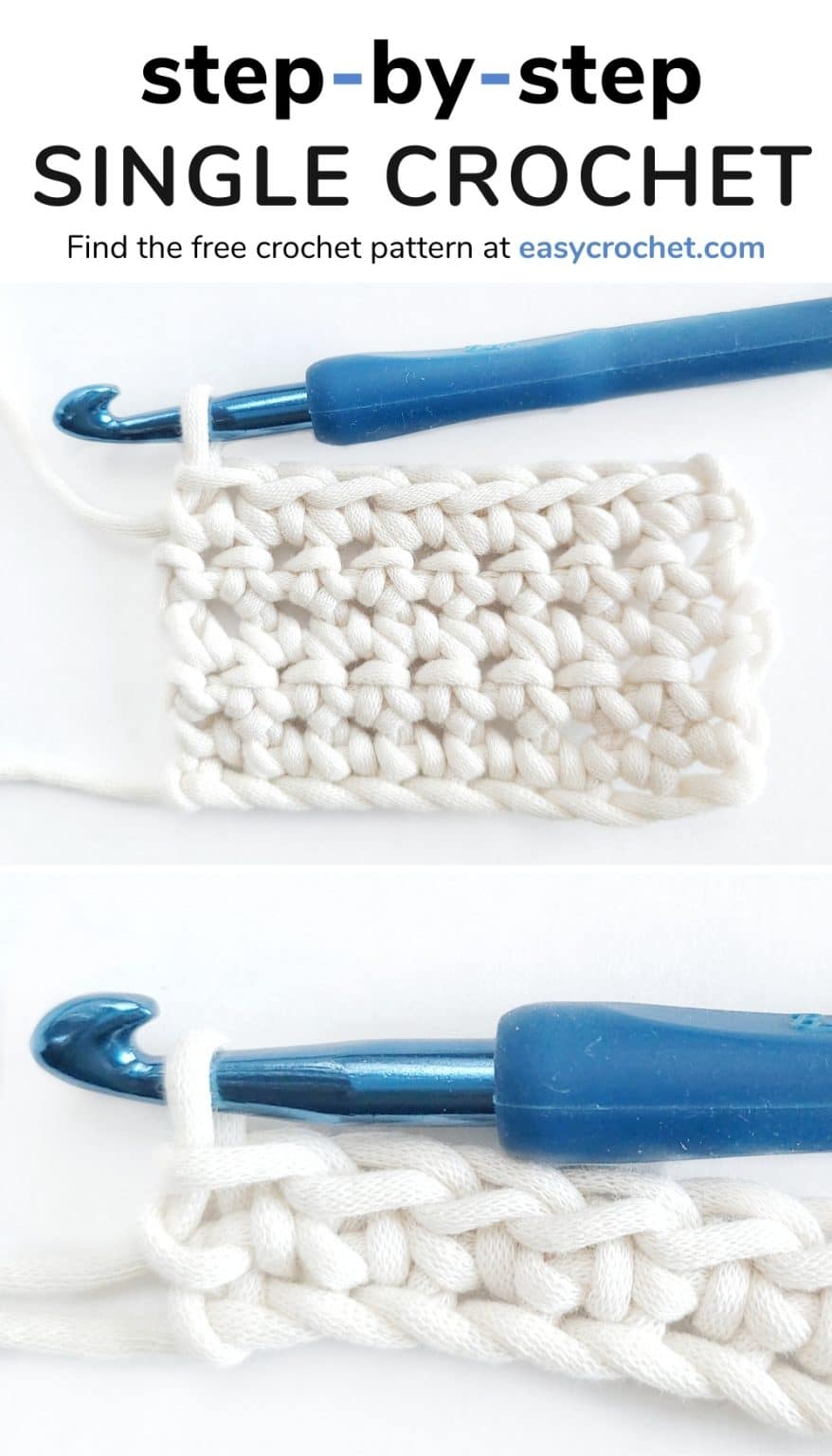 More Crochet Stitches to Learn