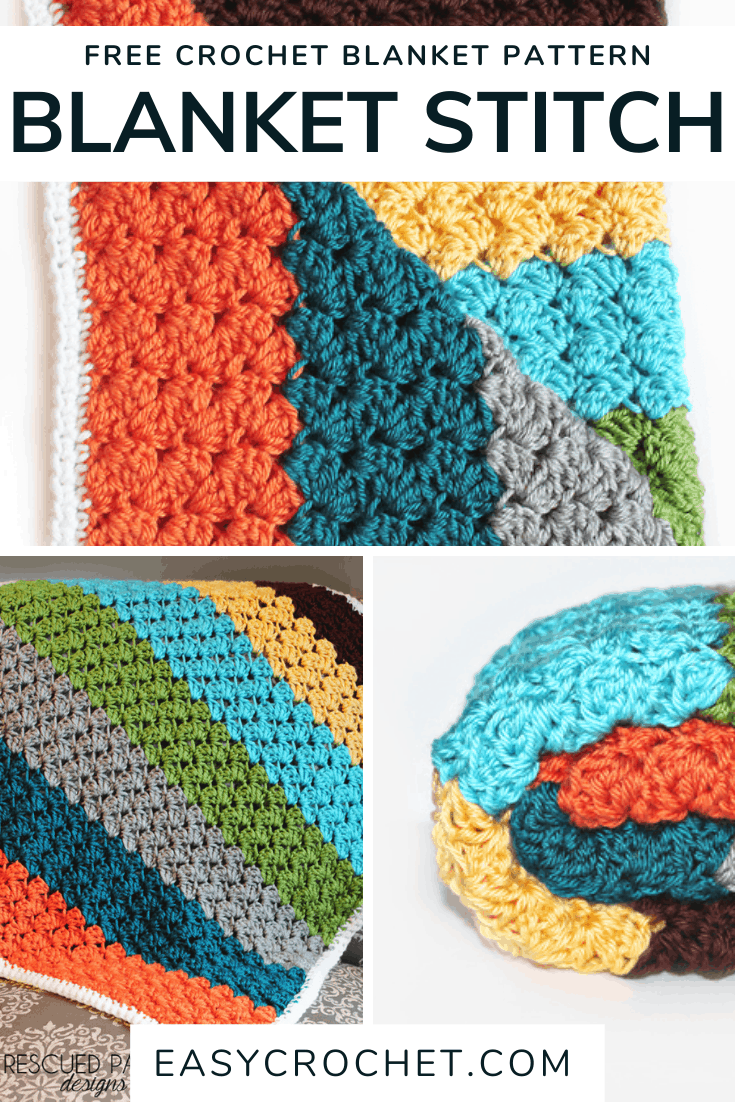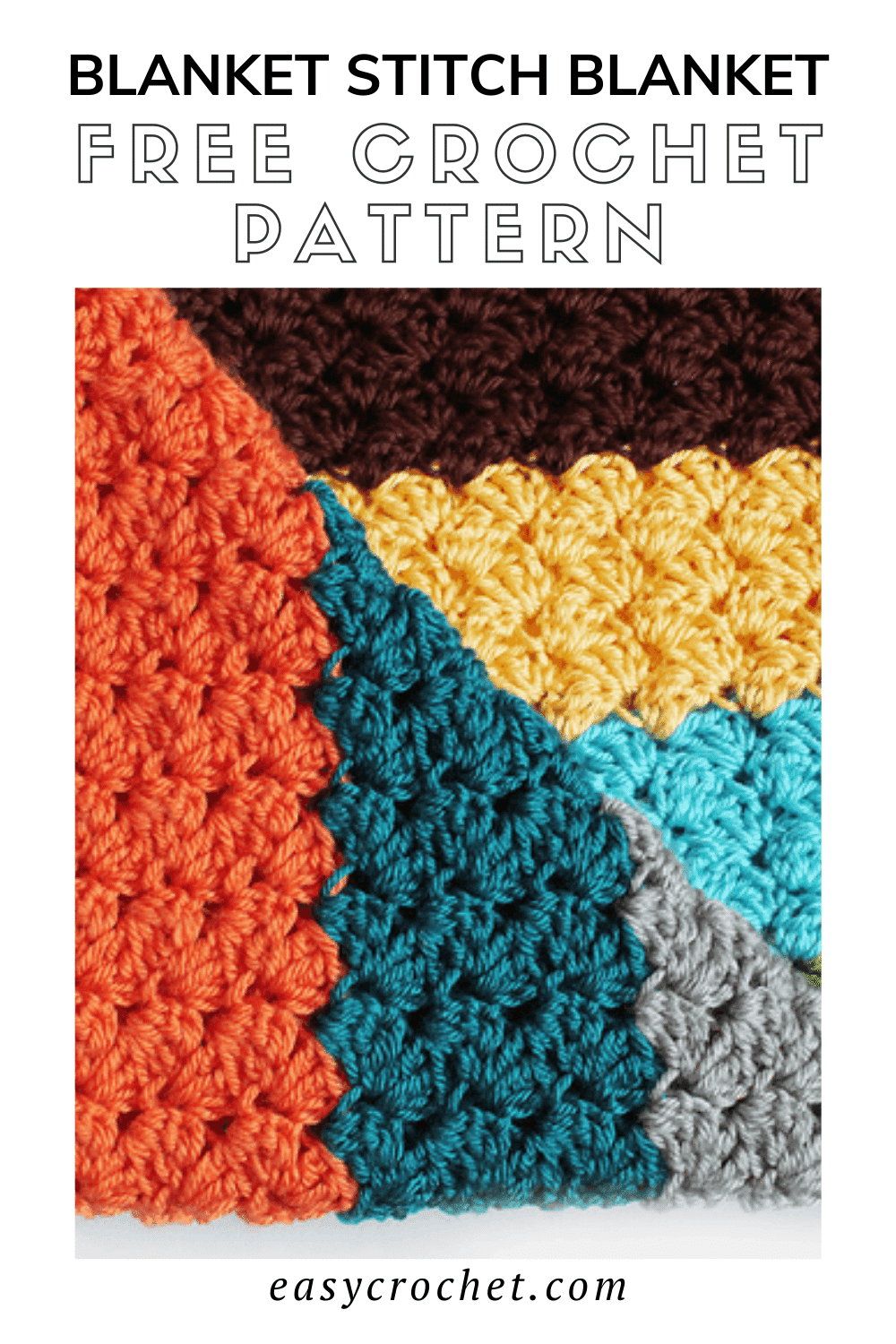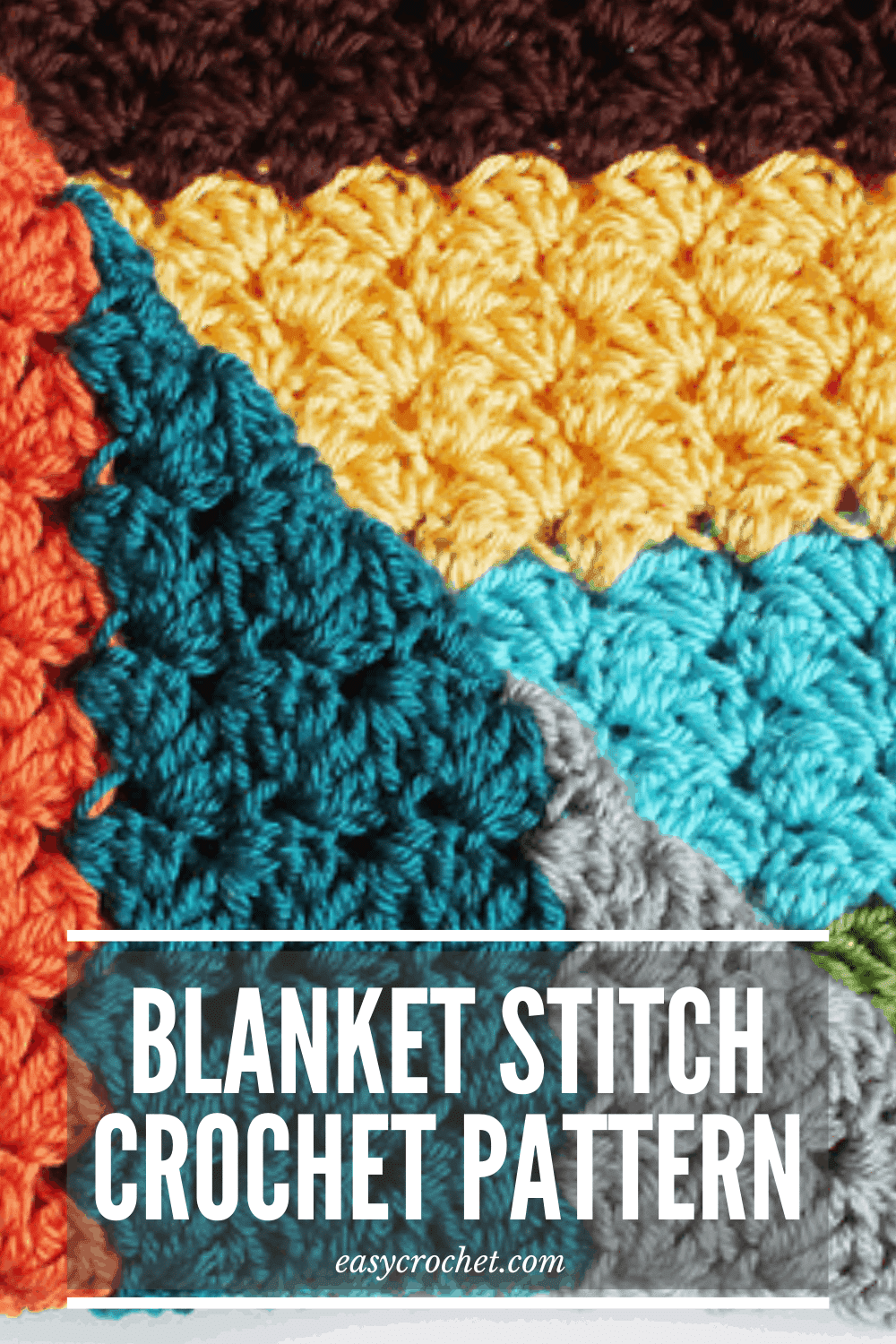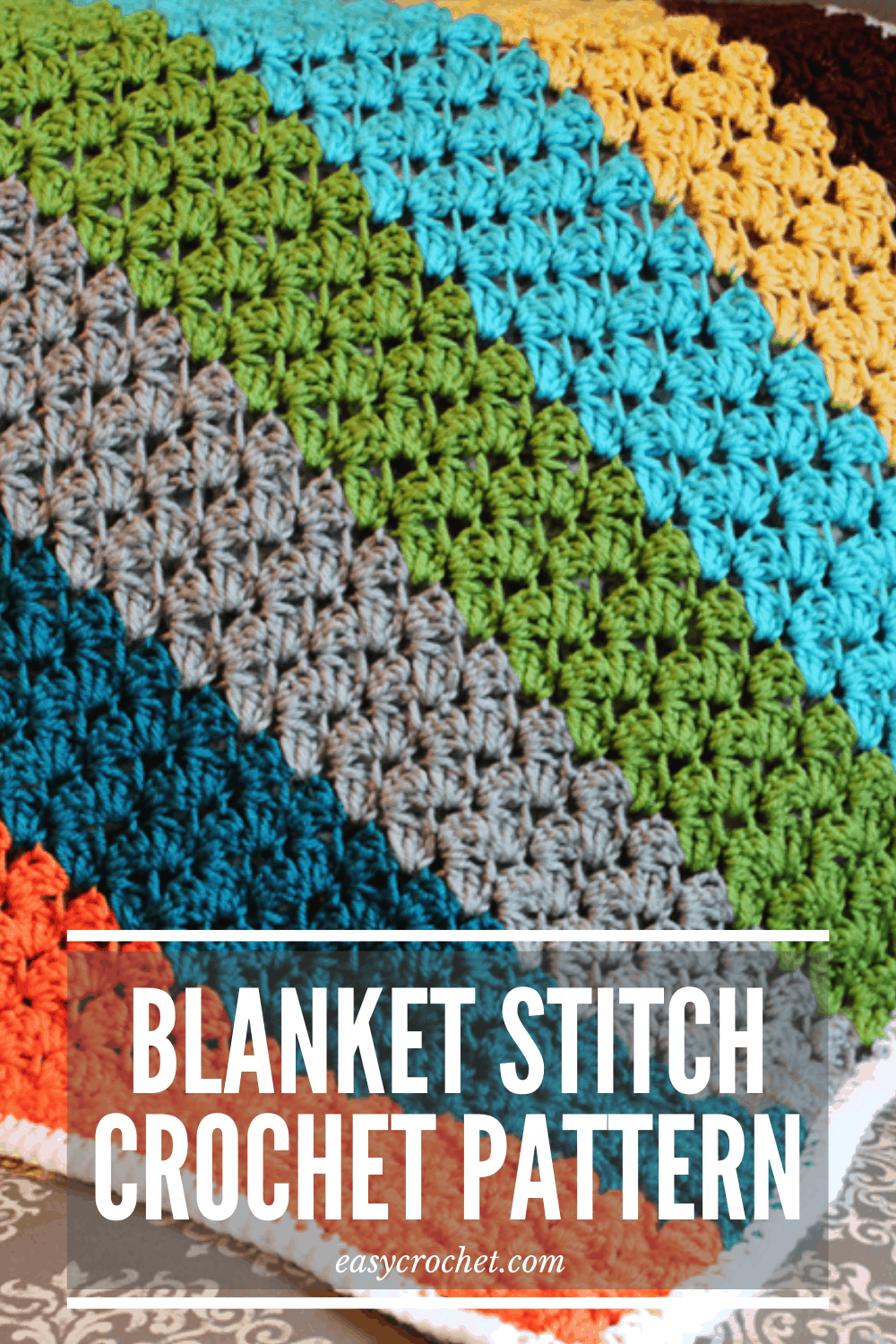 Learn how to crochet the blanket stitch today with this free crochet tutorial and blanket pattern! This blanket crochet stitch is fun, quick and easy to learn. You can even crochet a blanket stitch baby blanket too once you master this simple stitch!
Promise!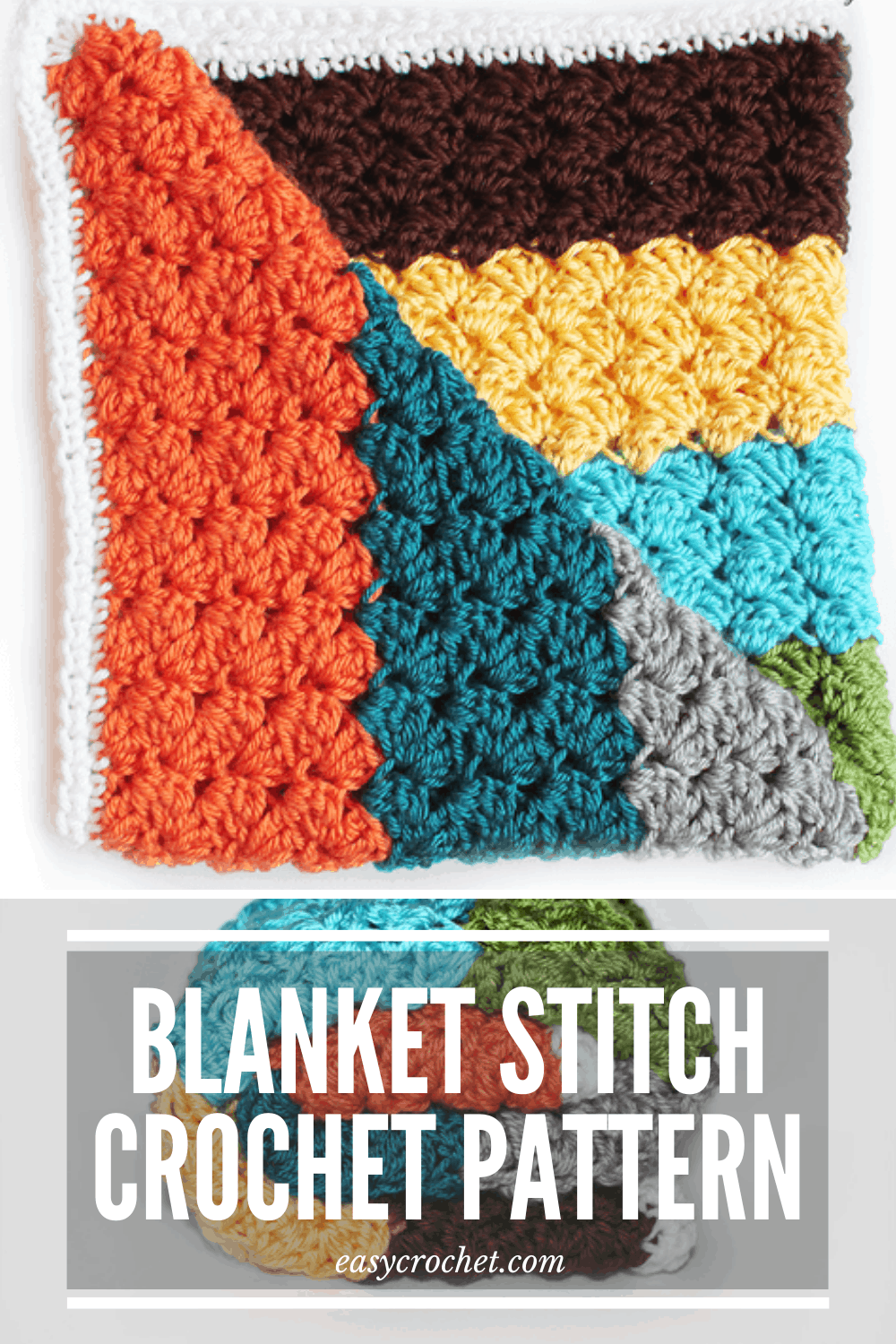 Are you looking for more free crochet blanket patterns? Explore the crochet pattern archives for inspiration.
I can't wait to see your blankets finished!
Happy Blanket Making!
This Blanket Is Quick to Learn & Works up Fast Too!
The blanket stitch is an easy crochet stitch to learn. Promise! This stitch makes it easy to crochet a baby blanket up in no time at all. And not mention it creates a beautiful textured stitch that is unique to other crochet blanket stitches out there.
Crochet stitches for blankets that work best are usually the simple ones! This easy blanket stitch crochet design uses a combination of double crochet and single crochet stitches to create a pretty stitch for any crochet project. It is one of the best crochet stitches for baby blankets. Hands down!
Ready to learn how to crochet the blanket stitch? Read on down for the easy step by step crochet pattern!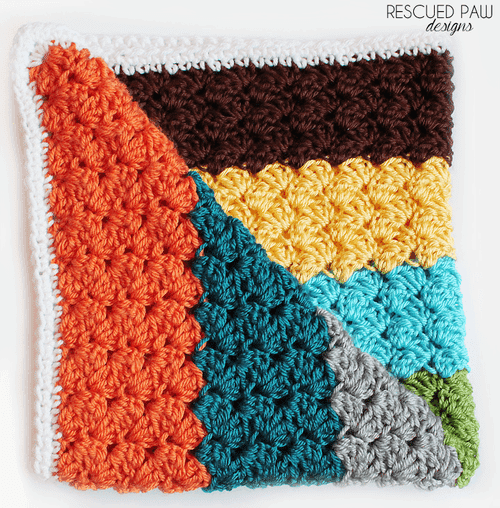 This blanket is designed to be a small baby blanket or lap throw, which makes it the perfect go-to project to use up extra yarn. I had a lot of leftover yarn (which I am willing to bet you do too!) from past projects, so I decided to use all different brands to create a fun, unique baby blanket. Learn more about the yarn below.
The Yarn
For this blanket, I mostly used Red Heart Soft Yarn. Red Heart Soft is a worsted weight four yarn and is amazingly soft as the name suggests. I also used a few different colors of Caron Simply Soft.
If you wanted to get a similar look, I'd suggest these two yarns. It has a beautiful almost shiny look to it which makes the blanket look even better in my opinion. You'll love it! Promise.
If you don't have that yarn handy, any worsted weight yarns such as Lion Brand Vanna's Choice or Caron Simply Soft will work just as well.
The colors in this blanket lends themselves being unisex and is perfect to use as a baby shower gift! If you are ready to make this baby blanket read on down for the full, FREE pattern using the crochet blanket stitch tutorial! I hope you enjoy this free blanket stitch crochet tutorial and…
Happy Crocheting Friends!
Easy Crochet Blanket Stitch Crochet Pattern
Skill Level: Easy
Materials
Medium Worsted Weight Yarn (size 4) I used
Red Heart Soft Yarn in Light Gray Heather, Teal, Tangerine, Turquoise, Chocolate & Guacamole and Caron Simply Soft in Sunshine.
Yarn Needle
Notes
Gauge is not important
Written in US Terms
How To Change The Size
To change the size chain a multiple of 3 to the desired length and continue with the written pattern. Use this blanket chart for guidance.
How to Change Colors
You can do one solid color instead of changing colors if you prefer.
How to change colors in crochet tutorial can be found here.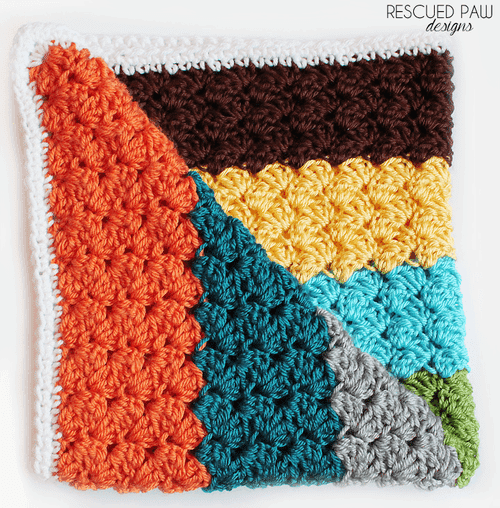 ---
Extra Information
SELLING: You may sell items made from patterns on Easy Crochet unless otherwise stated. If you choose to sell items made from this pattern, please link it back to me at www.easycrochet.com for credit. Please do not use my pictures to sell your items.
TRANSLATIONS: Please do not post a translation of my pattern(s) anywhere. If you would like to help make a translation I would be happy to publish it on Easy Crochet with a link and full credit to your blog. For further questions, please email [email protected]
PLEASE DO NOT COPY, SHARE (a link is OK), ADJUST OR RESELL MY PATTERNS
---
Simple Crochet Blanket Stitch Pattern Steps
Foundation: Chain 66 (see how to make it bigger or smaller above)
Row 1: Make 2 Double Crochets in 3rd Chain from Hook, Skip 2 Chains, Make 1 Single Crochet & 2 Double Crochets in the next Chain, *Skip 2 Chains, 1 Single Crochet, 2 Double Crochets in the same Chain, Repeat from * to the end of the row. Make sure to end with 1 Single Crochet in the last chain, turn.
Row 2: Chain 2, Make 2 Double Crochets in first Single Crochet (from the previous row), * Skip next 2 Double Crochets, Make 1 Single Crochet & 2 Double Crochets in next Single Crochet, Repeat from * until end of row. End with 1 Single Crochet in the top of the last turning chain, turn.
Row 2 -77: Repeat Row 2. Fasten off and weave in loose ends with a yarn needle.
Border: Attach color you have chosen for the border in a corner by doing *3 single crochets, continue along the edge evenly single crocheting until you reached the next corner. Repeat * until you reach the starting corner. It i is very important to make sure to do 3 Single Crochets in every corner and attach the last Single Crochet of border with a slip stitch.

My final blanket measured approximately 23 x 27 inches. I hope you enjoy making this blanket stitch blanket crochet pattern as much as I did!
Don't forget when you are finished making your blankets to share them with me on Instagram with the hashtag #EasyCrochet. I can't wait to see all your crochet blanket stitch patterns!
If you have any questions, feel free to ask! I am more than happy to assist in any way possible.
You May Also Like…