Crochet Blanket Stitch Pattern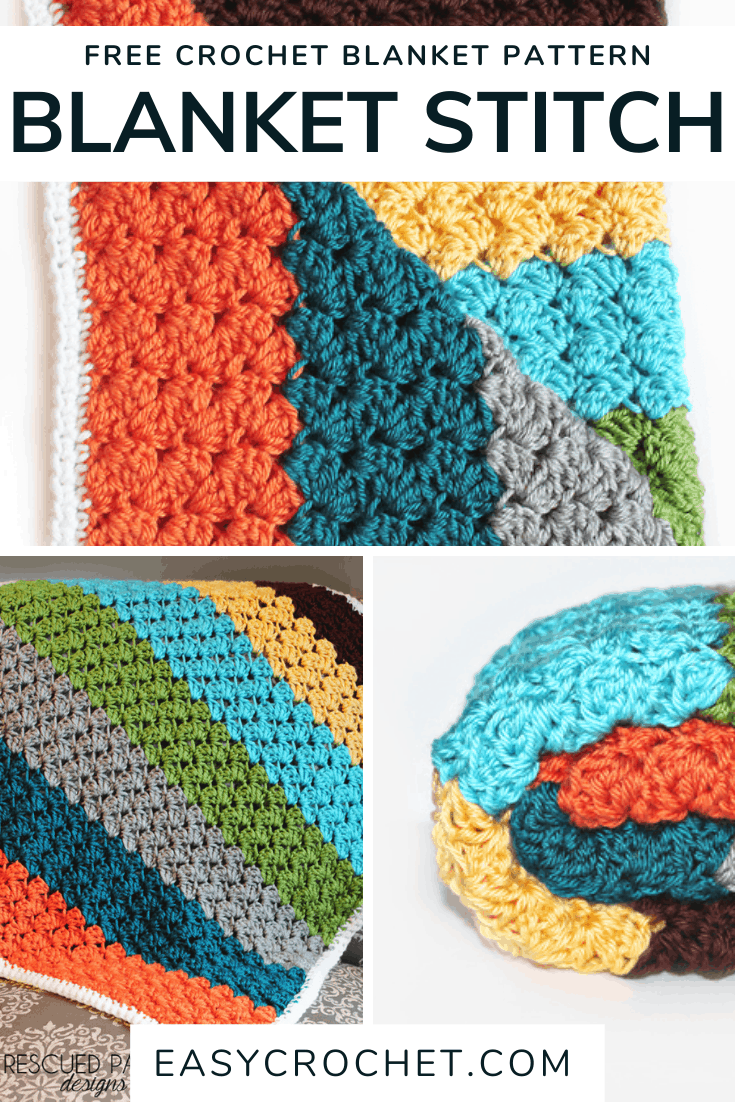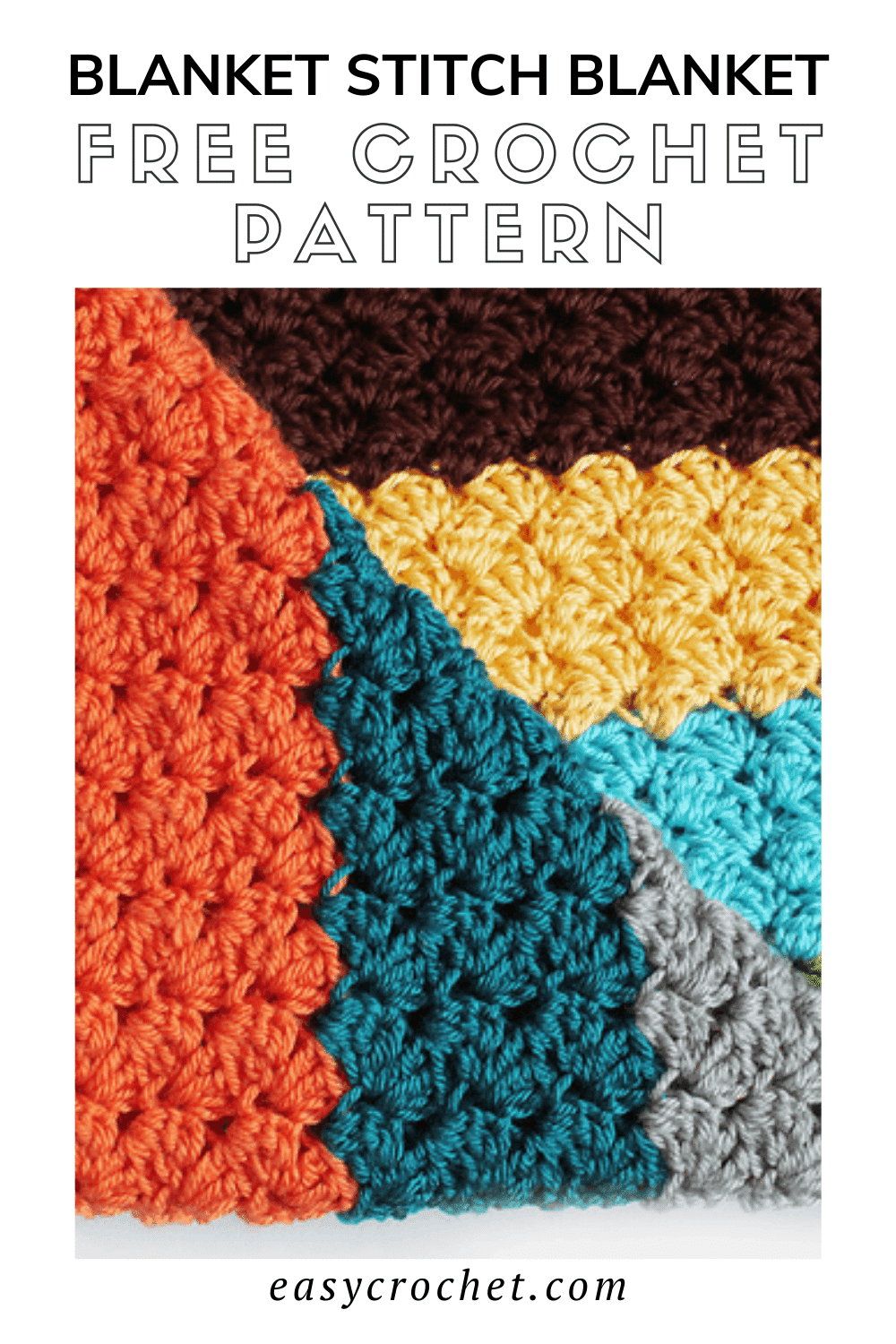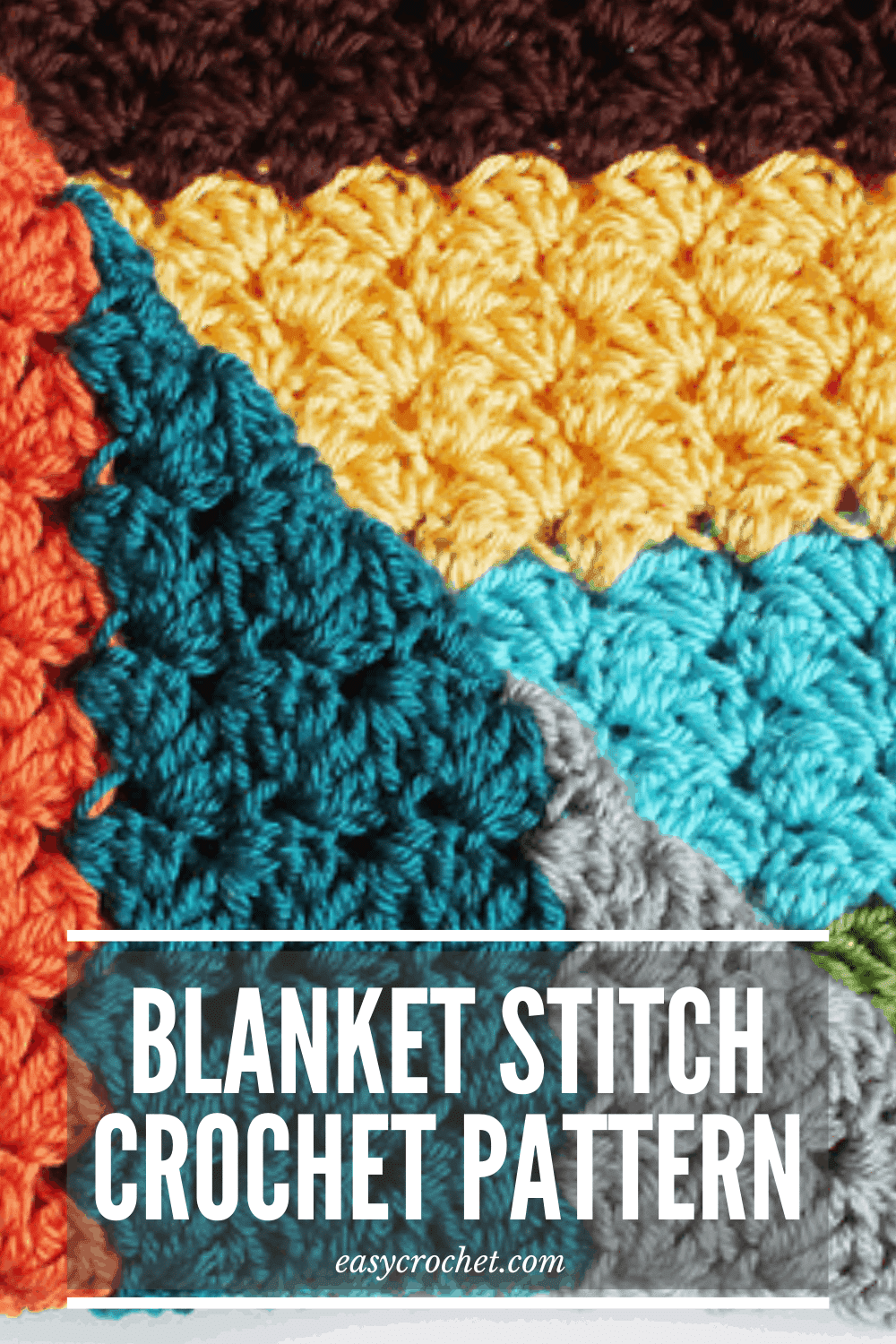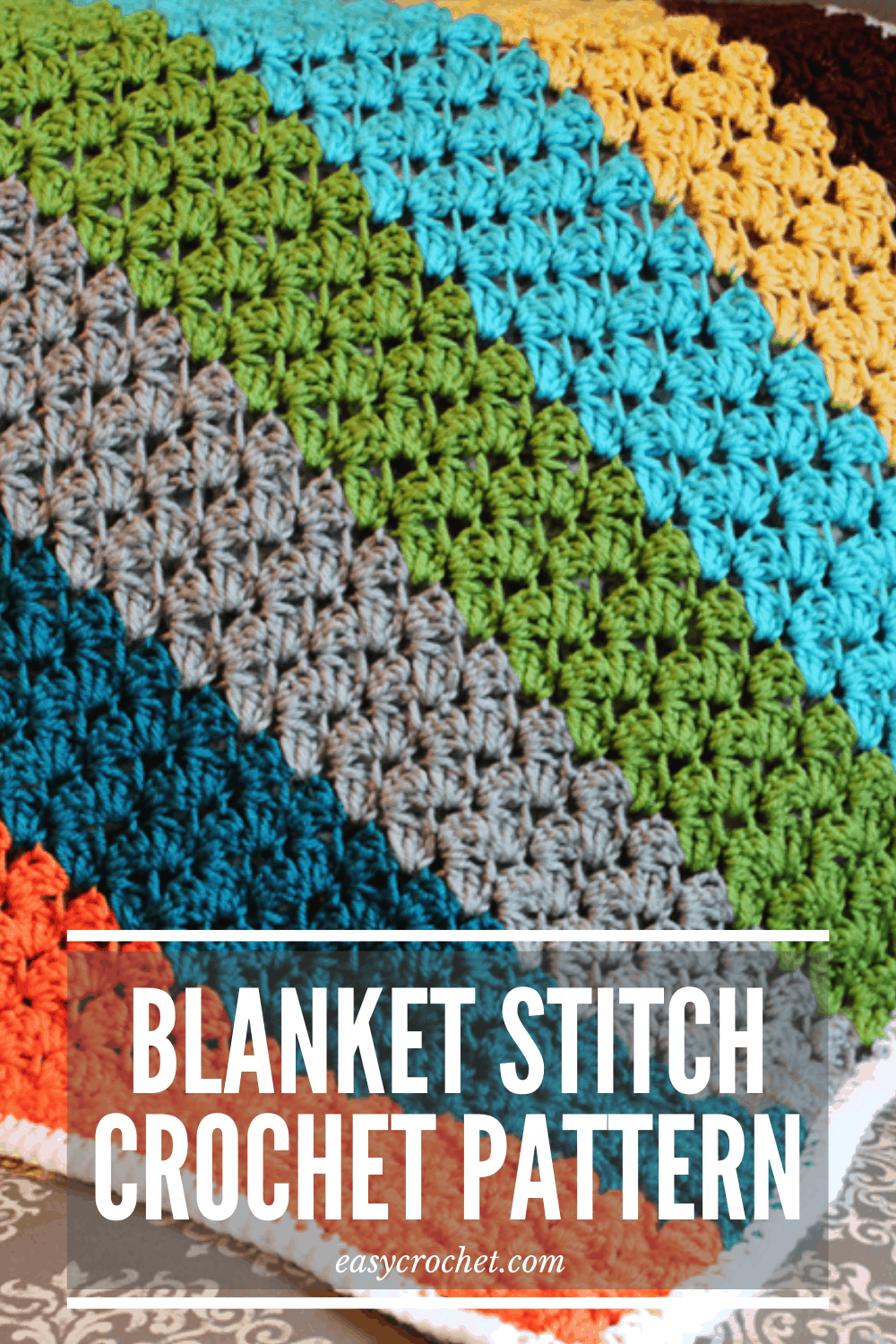 Learn how to blanket stitch in crochet today with this free crochet tutorial and bonus blanket pattern! This crochet blanket using the blanket stitch is fun, quick, and easy to learn. You can even crochet a blanket stitch baby blanket too once you master this simple stitch!
If you create this blanket, post it on our Facebook Group. I can't wait to see how your finished blankets look!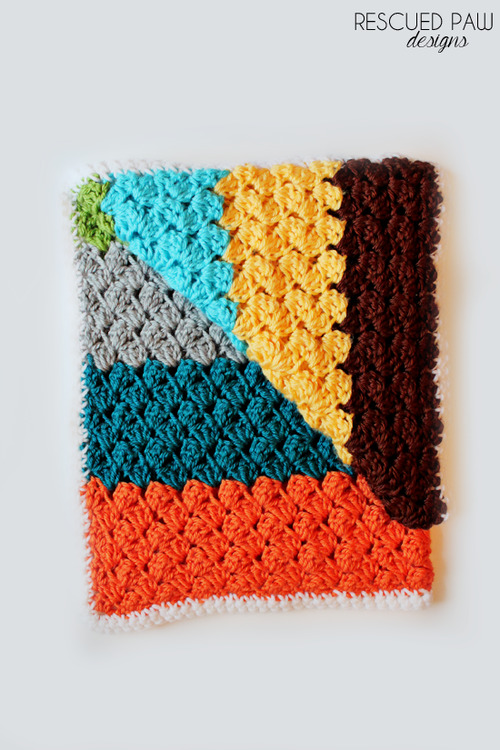 The Blanket Stitch
The blanket stitch is an effortless crochet stitch to learn. It creates a beautiful textured pattern that is unique from all the other stitches we've featured in the past.
The blanket stitch uses a repeating combination of one single crochet (sc), and two double crochet (dc) stitches. It then repeats this three-stitch combination for the entirety of the project. It only uses these two crochet stitches.
In my opinion, the blanket stitch is one of the best crochet stitches for baby blankets. It not only creates a unique texture, but is also really durable! Once you learn how to crochet the blanket stitch, you may find yourself using it all the time.

The Yarn Used in this Blanket
This blanket is designed to be a small baby blanket or lap throw, which makes it the perfect go-to project to use up extra yarn.
I had a lot of leftover yarn (which I am willing to bet you do too!) from past projects, so I decided to use all different yarn brands to create a fun, unique baby blanket. Learn more about the yarn below.
For this blanket, I mostly used Red Heart Soft Yarn. Red Heart Soft is an 100% acrylic, worsted weight four yarn and is astonishingly soft as the name of the yarn label suggests.
Red Heart Soft
This yarn is made by Red Heart, and is a Weight 4 – Medium yarn.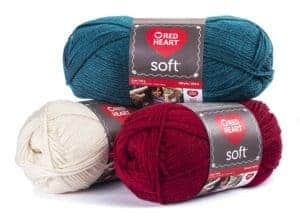 Buy Now
Patterns Using This Yarn →
I also used a few different colors of Caron Simply Soft mixed in as well for some extra fun colors.
Simply Soft
This yarn is made by Caron Yarn, and is a Weight 4 – Medium yarn.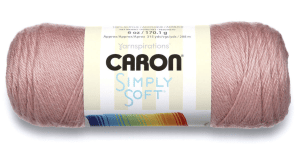 Buy Now
Patterns Using This Yarn →
If you wanted to get a similar look, I'd suggest these two yarns. It has a beautiful almost shiny look to it which makes the blanket look even better in my opinion.
You'll love it! Promise. Take a look at a few of my favorite yarn colors of these brands to see which one you'd like to make your crochet project with.
Yarn Substitutions
If you don't have either of those two yarns, any worsted weight yarn should work just fine. I love using Lion Brand Vanna's Choice as well!
Vanna's Choice
This yarn is made by Lion Brand, and is a Weight 4 – Medium yarn.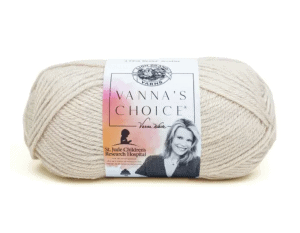 Buy Now
Patterns Using This Yarn →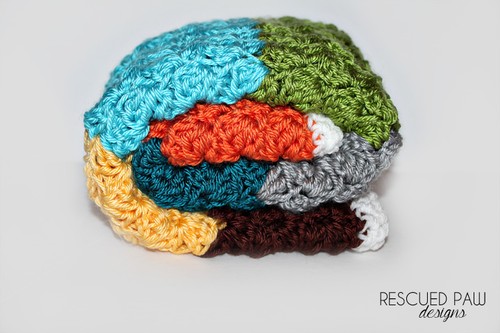 The Colors
The colors in this crochet blanket are meant to be unisex and should make the perfect baby shower gift!
If you have never changed colors in crochet – or if you simply need a refresher – I have a tutorial on the best ways to do that.
However, you can make this blanket in any combination of colors. We have spaces for up to seven colors, but you could shrink it down to even one color if that is what you'd prefer. In doing so, you would also save on weaving in all those ends!
Blanket Stitch Crochet Tutorial
Skill Level: Easy
Materials Needed
I used medium size #4 (worsted weight) yarn in the following colors:
Yarn Needle
Notes
Gauge is not relevant for this pattern.
This crochet blanket pattern is written in US terms.
If you're a beginner, learn how to read a crochet pattern.
Crochet Stitch Abbreviations
How To Change The Blanket Size
To change the size, chain a multiple of 3 to the desired length and continue with the written pattern. 3 chains are needed to complete each blanket stitch combination. This is why the multiple needs to be followed at all times.
Use this blanket sizing chart for guidance on choosing sizes for exact blanket dimensions.
Blanket Stitch Pattern Steps
Foundation: Chain 66 (see how to make it bigger or smaller above)
Row 1: In the 3rd CH from the hook make 2 DC's, * SK 2 CH's, in next CH do 1 SC & 2 DC's, repeat from * across until you are left with 3 CH's, SK 2 CH's, SC in last CH, turn.
Row 2: CH 1 (counts as an SC) in the next ST make 2 DC's, *SK 2 ST's, in the next ST make 1 SC & 2 DC's, repeat from * across until you are left with 3 ST's, SK 2 ST's, SC into the top of the turning CH, turn.
Row 3 -77: Repeat Row 2. Fasten off and weave in loose ends with a yarn needle.
Border: Attach the color you have chosen for the border in a corner by doing *3 SC, continue along the edge evenly single crocheting until you reached the next corner. Repeat * until you reach the starting corner. It is critical to make sure to do 3 SC in every corner and attach the last SC of border with a slip stitch.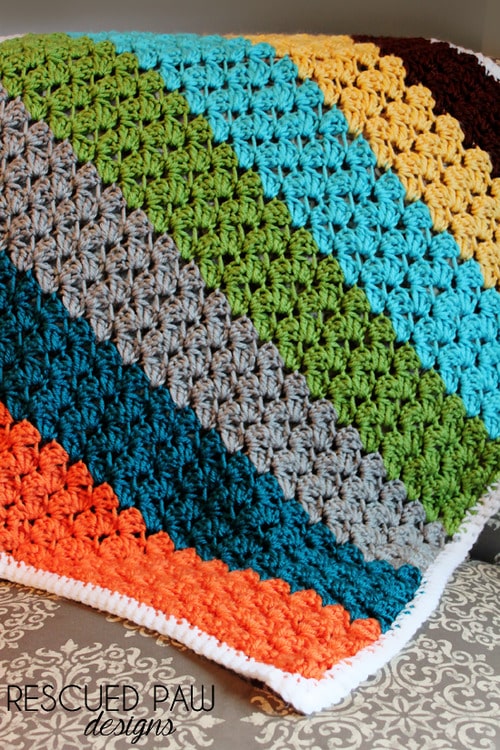 My final crochet blanket measured approximately 23 x 27 inches (58 x 69 cm). I hope you enjoy making this blanket stitch crochet pattern as much as I did!
Please keep in mind when you are finished making your blankets to share them with me on Instagram with the hashtag #EasyCrochet. I can't wait to see all your crochet blanket stitch patterns!
If you need any clarification, feel free to ask. I am more than happy to assist in any way possible.
You May Also Like…