Crochet Popcorn Stitch Pattern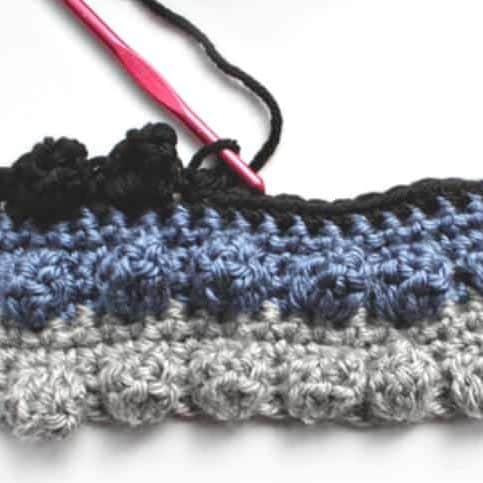 Use the simple crochet popcorn stitch tutorial below to learn how to make this simple but fun stitch in no time at all!
Are you looking for more stitches to learn? Check out the Easy Crochet stitches database to learn a new stitch today!
I hope you enjoy this step-by-step tutorial!
How to Crochet the Popcorn Stitch
Skill: Beginner
A crochet popcorn stitch is fun to work up and extremely simple to crochet once you get the hang of it! I hope this step-by-step picture tutorial of this easy stitch helps you out.
I did a starting chain of 20 for my popcorn stitch sample, then did 1 row of SC to give it a nice base. (You don't have to do this, but it spaces the popcorn stitches out a bit)
I promise you will learn how to crochet a popcorn stitch with this tutorial.
Here's an example of what we are trying to achieve:
Crochet Popcorn Stitch Tutorial
STEP 1:
After you do 1 row of SC Ch 1, do 2 SC, then in the next stitch, work 5 DC in the same stitch, then drop your loop that you are left with and remove your crochet hook ( in the above picture I have already done 2 popcorn stitches)
STEP 2:
Next, insert your crochet hook into the first DC of group.
STEP 3:
While keeping your crochet hook in the first DC of the group, bring it back through that loop that you previously dropped.
STEP 4:
Now you should have the loop and the first DC on your hook. Pull that loop through the first DC you have on your hook.
NOW you can flip over your work to see how you have done. 🙂
Make sure to flip it back over and do 2 SC.
REPEAT STEPS 1-4 to achieve multiple popcorn stitches
YOU DID IT!!!
The Compact Tutorial of The Popcorn Stitch
Each group of 5 DC that are pulled together is what is considered the POPCORN STITCH.
Chain 20, TURN, CH 1
SC 1 ROW, TURN, CH 1
SC in 2 stitches, POPCORN STITCH, SC in 2 stitches, POPCORN STITCH (keep repeating this until the end of the row) TURN, CH 1
SC 1 ROW, TURN, CH 1
You can feel free to change colors and or keep it a solid color!! If you need a reference on how to change yarn colors check out my tutorial.