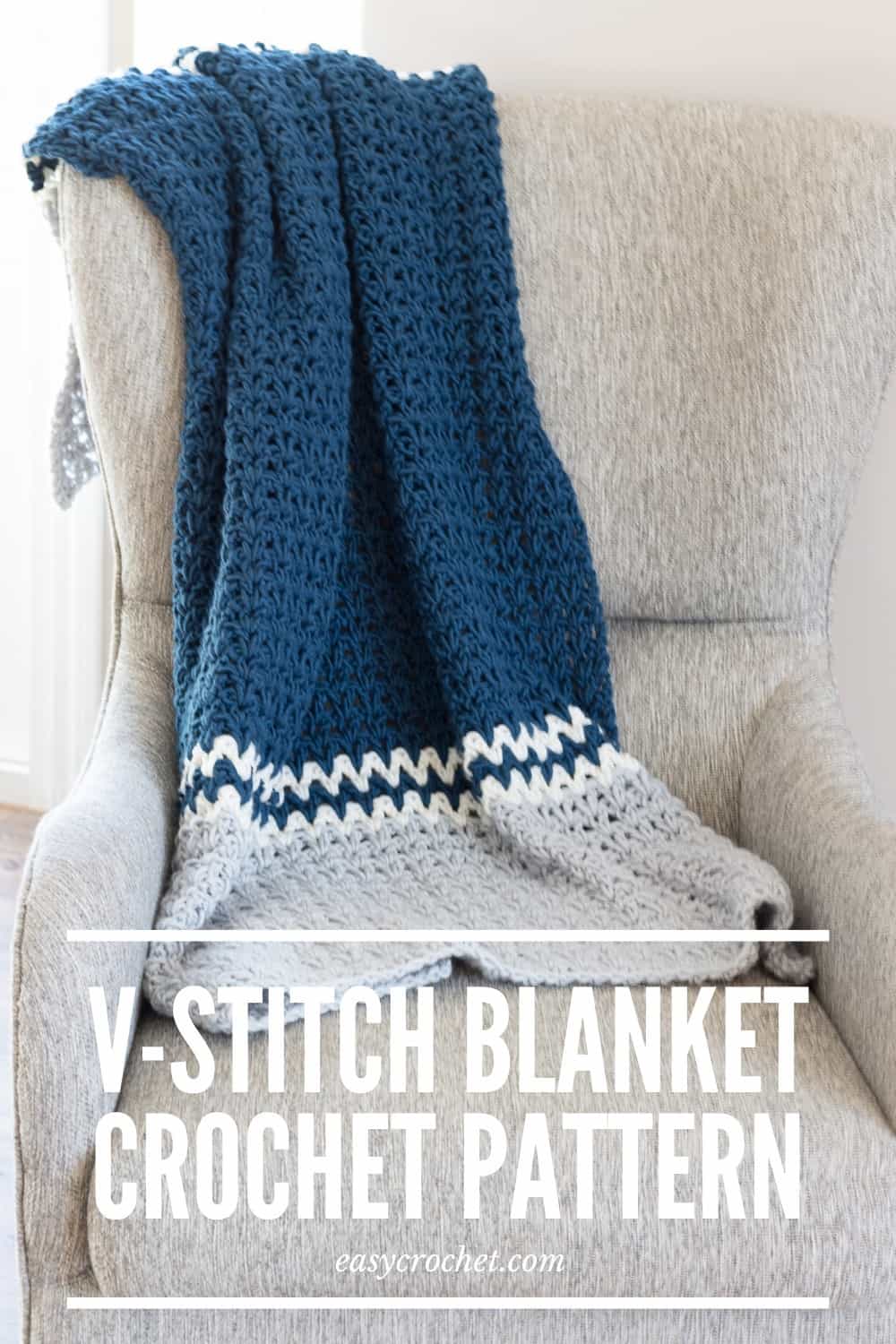 Do you love quick and easy patterns? If so, then this v-stitch design is for you! Yay!
If you can double crochet then you can crochet this blanket quickly. Make this simple double crocheted V- Stitch Blanket today with the free crochet pattern below!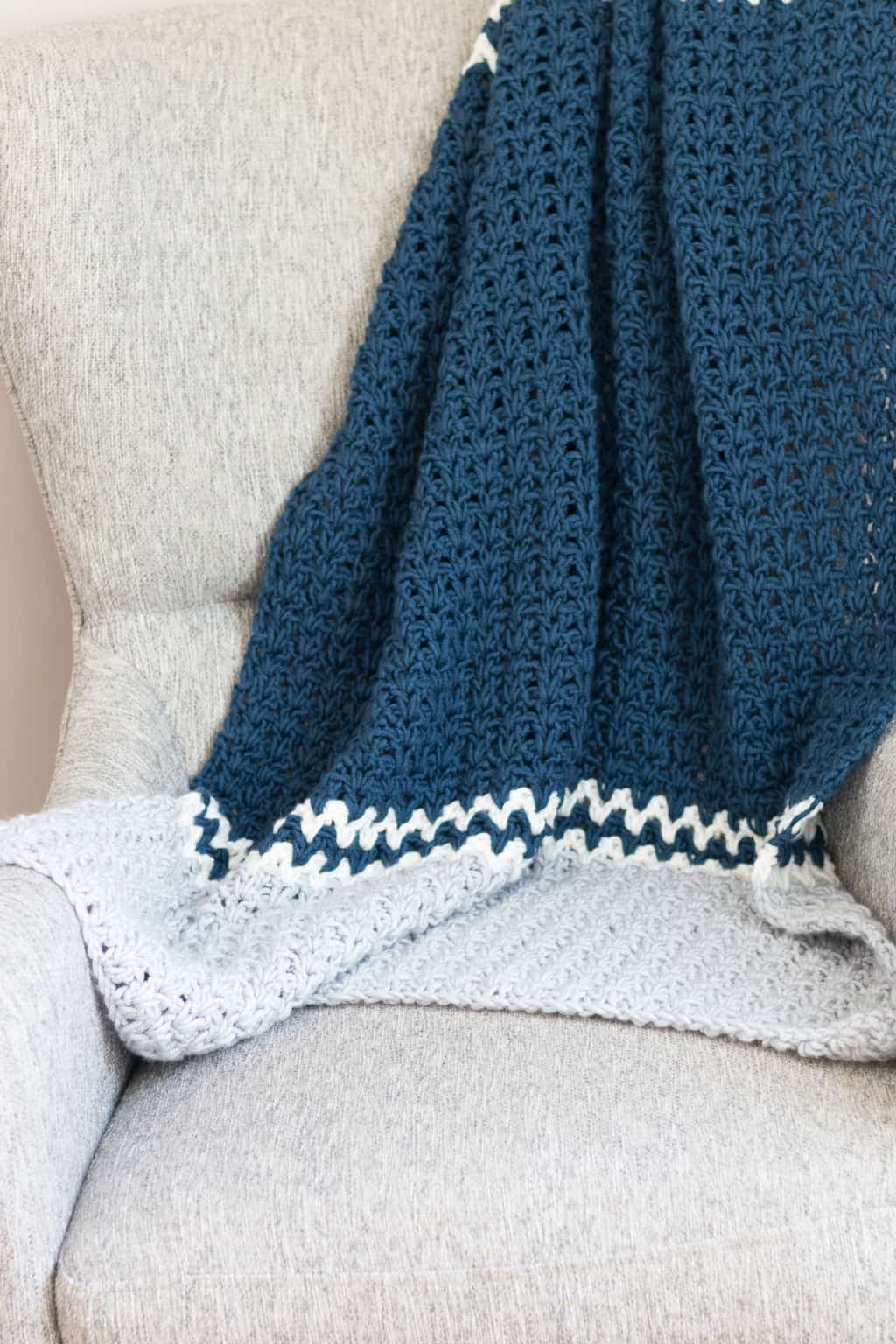 Are you looking for even more free crochet blanket patterns? You should try my chunky crochet throw, neutral chevron or search my blanket archive for even more designs.
I am excited for you to try this simple v-stitch blanket pattern!
Happy Crocheting!
Looking for a Quick V Stitch Crochet Pattern With Basic Crochet Stitches?
If you are looking for quick patterns then this double crochet V -stitch blanket might be it!
If you know how to double crochet, then you can crochet up this design in just a couple of days which in crochet time = hardly any time at all! The double crochet which is a basic beginner stitch is easy to crochet and makes the blanket crochet up so fast!
Learn more about the double crochet stitch below.
Ready to get started? Scroll on down to find the full FREE crochet afghan pattern using the v stitch.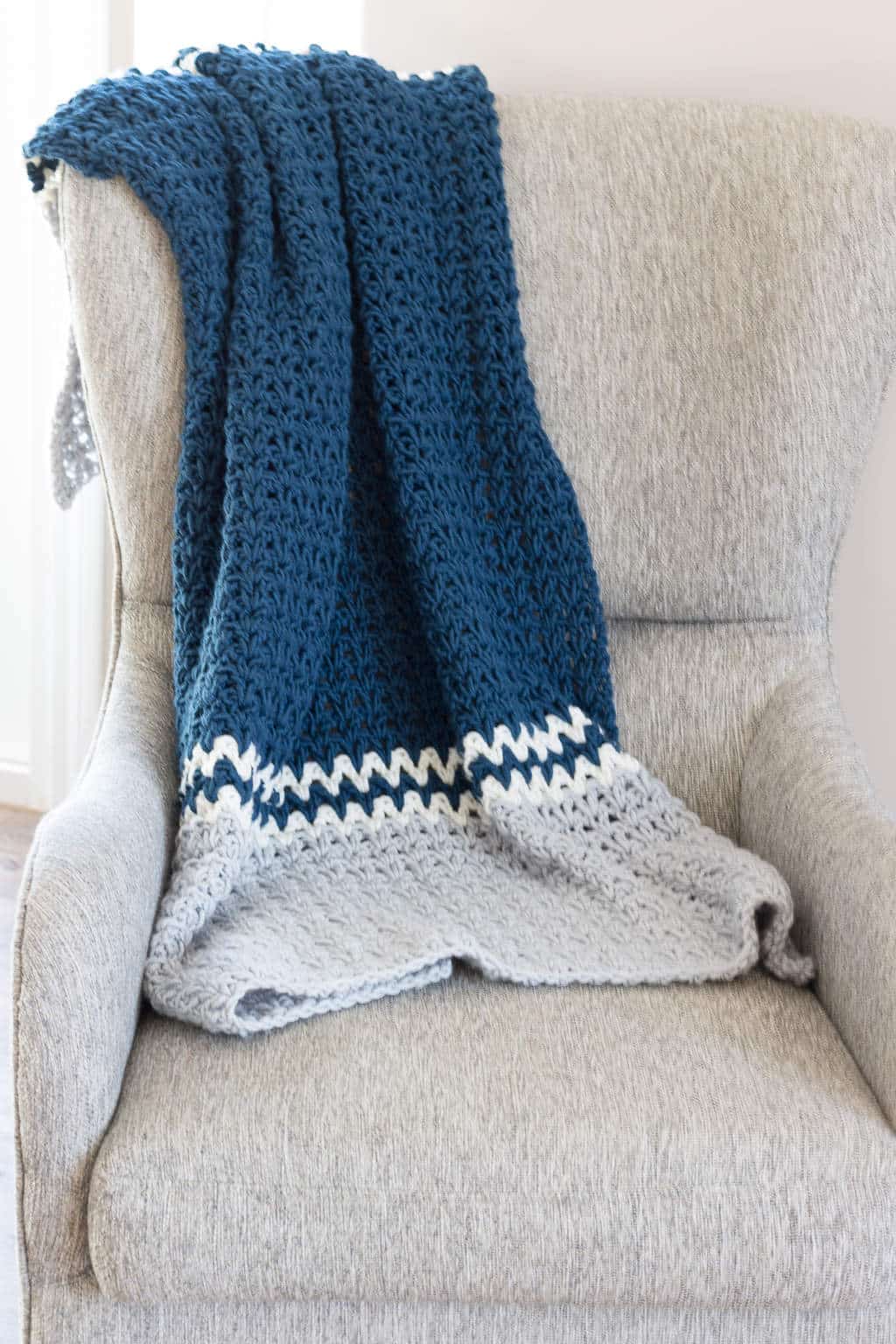 The Inspiration Behind This Easy Crochet Blanket
My son A asked me for a blanket for his (also his brothers) room, so he had something to keep cozy while reading. I had made my other son a color-blocked throw which meant it was his turn to have his own too!
He is loving Harry Potter right now and reads every day! Yep, proud mama here. If he asks for a blanket to read, I am most definitely going to oblige him!
Since his room is a gray, navy, and white sports theme we wanted a blanket that would go with that color scheme.
So we picked out (OK, he did) the matching colors in yarn from Lion Brand and I had the green light to get started!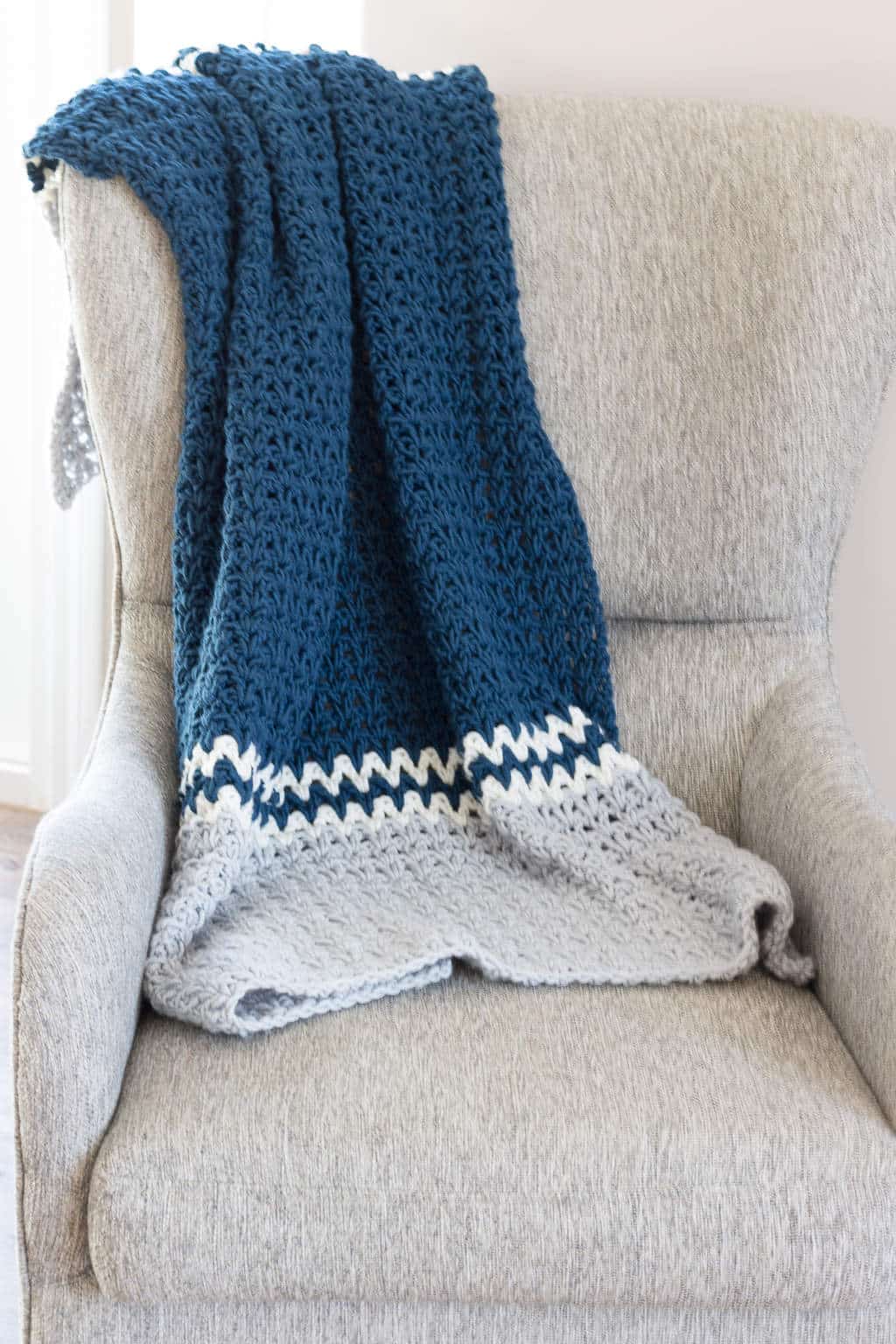 The yarn for this post was generously supplied by my friends over at Lion Brand Yarn! Thank you!
The Yarn That's Perfect for The V Double Crochet Blanket
We decided to go with the Color Made Easy yarn line because of the current color choices plus I never can pass up a great bulky yarn! It is a five weight yarn and has amazing color choices to pick from.
If you have ever worked with Woolspun from LB, this yarn has a very similar feel and look to that line. Ultimately, we ended up with the colors Shade, Birch, and Huckleberry, which matches his & his brothers' room perfectly!
(Click the yarn images below to explore each color)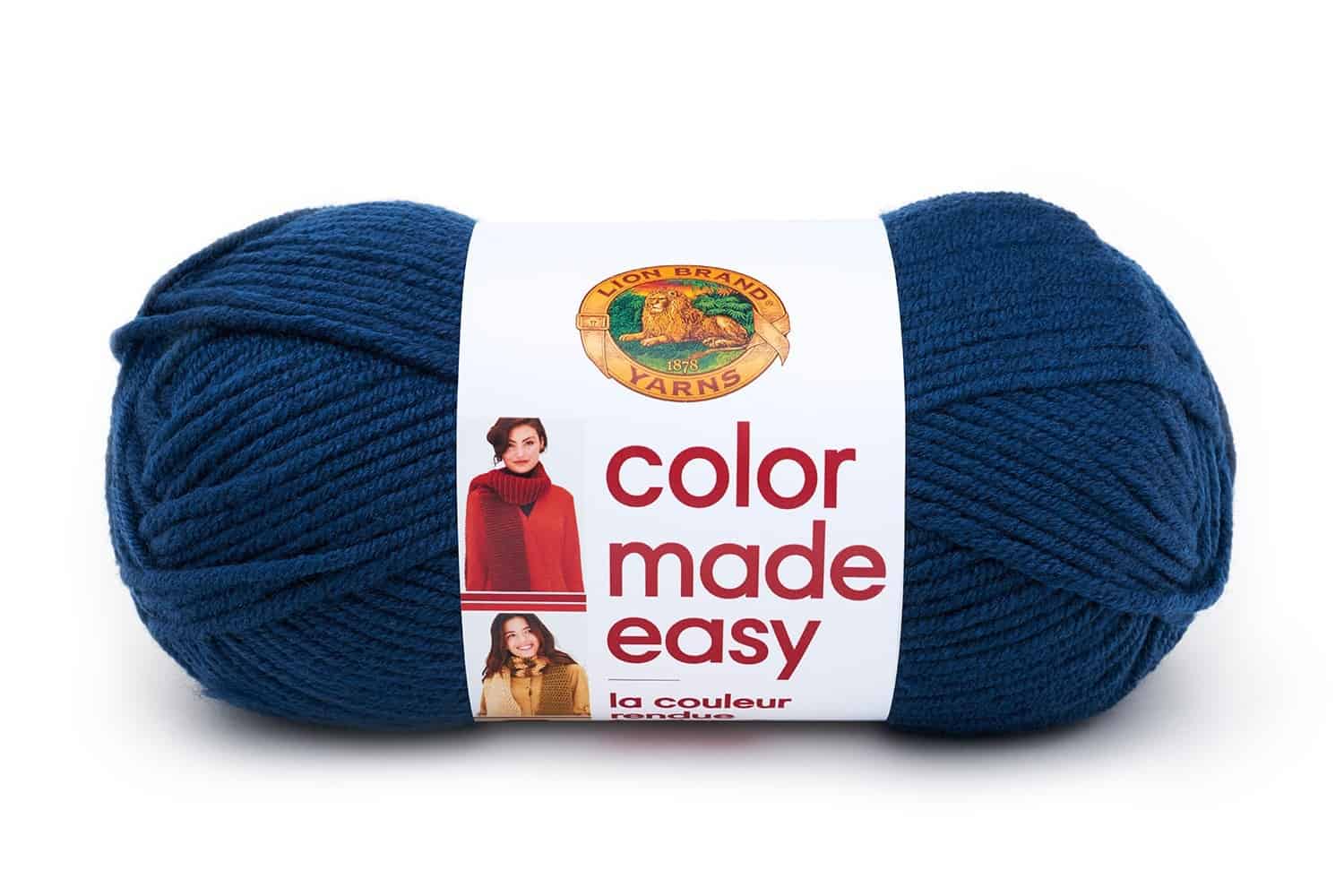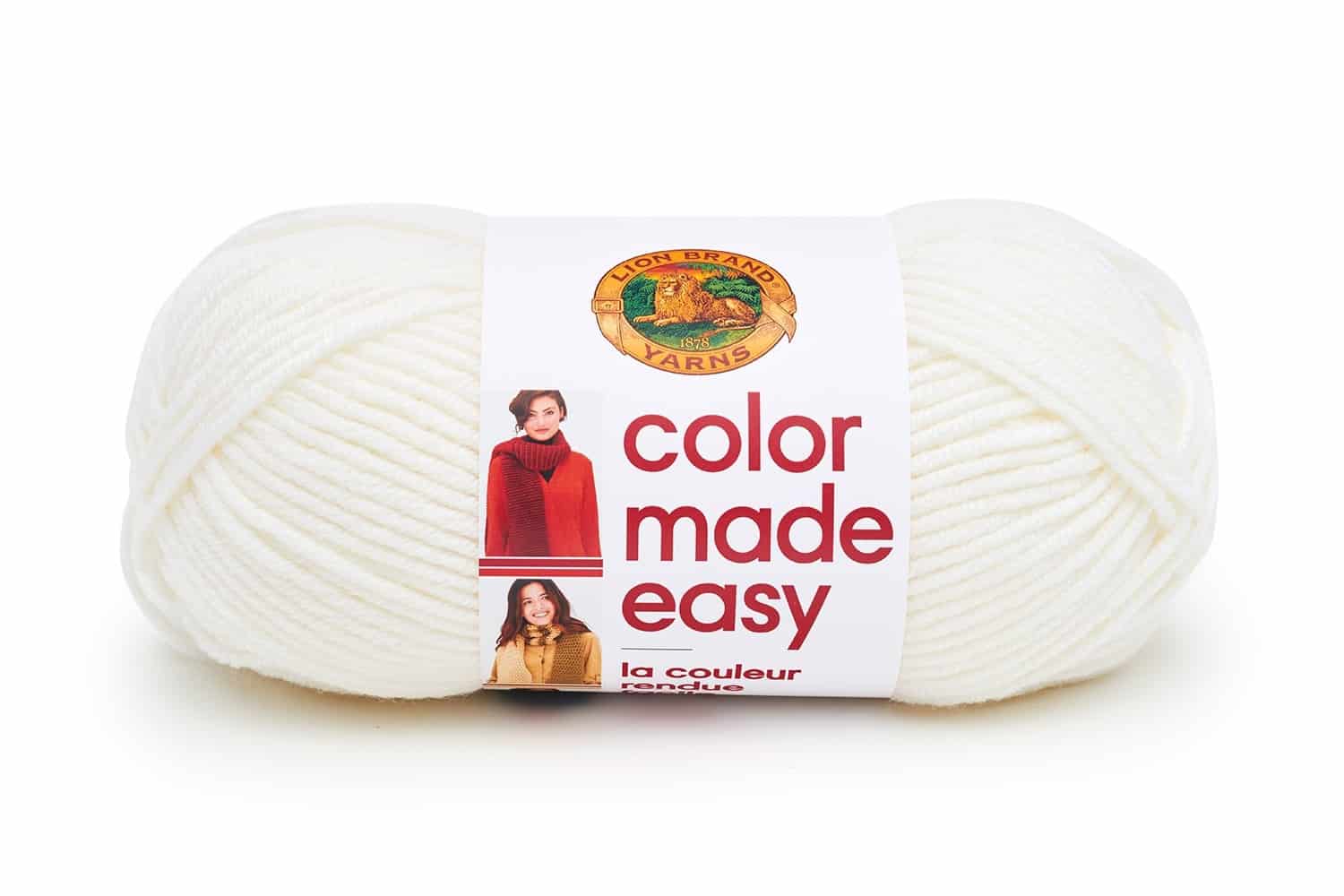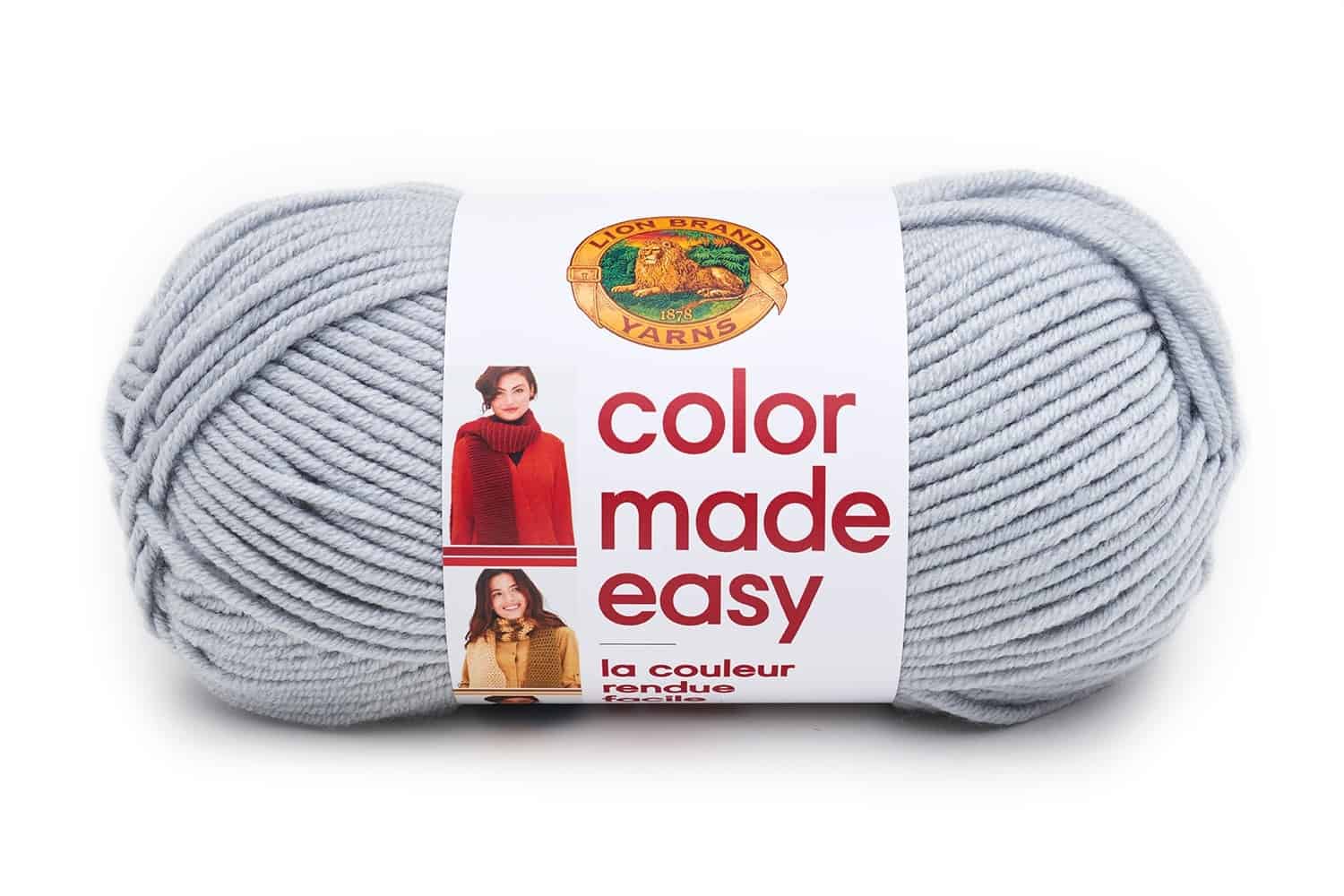 Ready to Get Started on This V-Stitch Blanket Pattern?
So now that you picked your favorite yarn colors and decided on making this blanket it is time to get started!
Keep on scrolling down to find the pattern to learn how to do the v-stitch in crochet and a full list of supplies.
Happy V-Stitch Crocheting!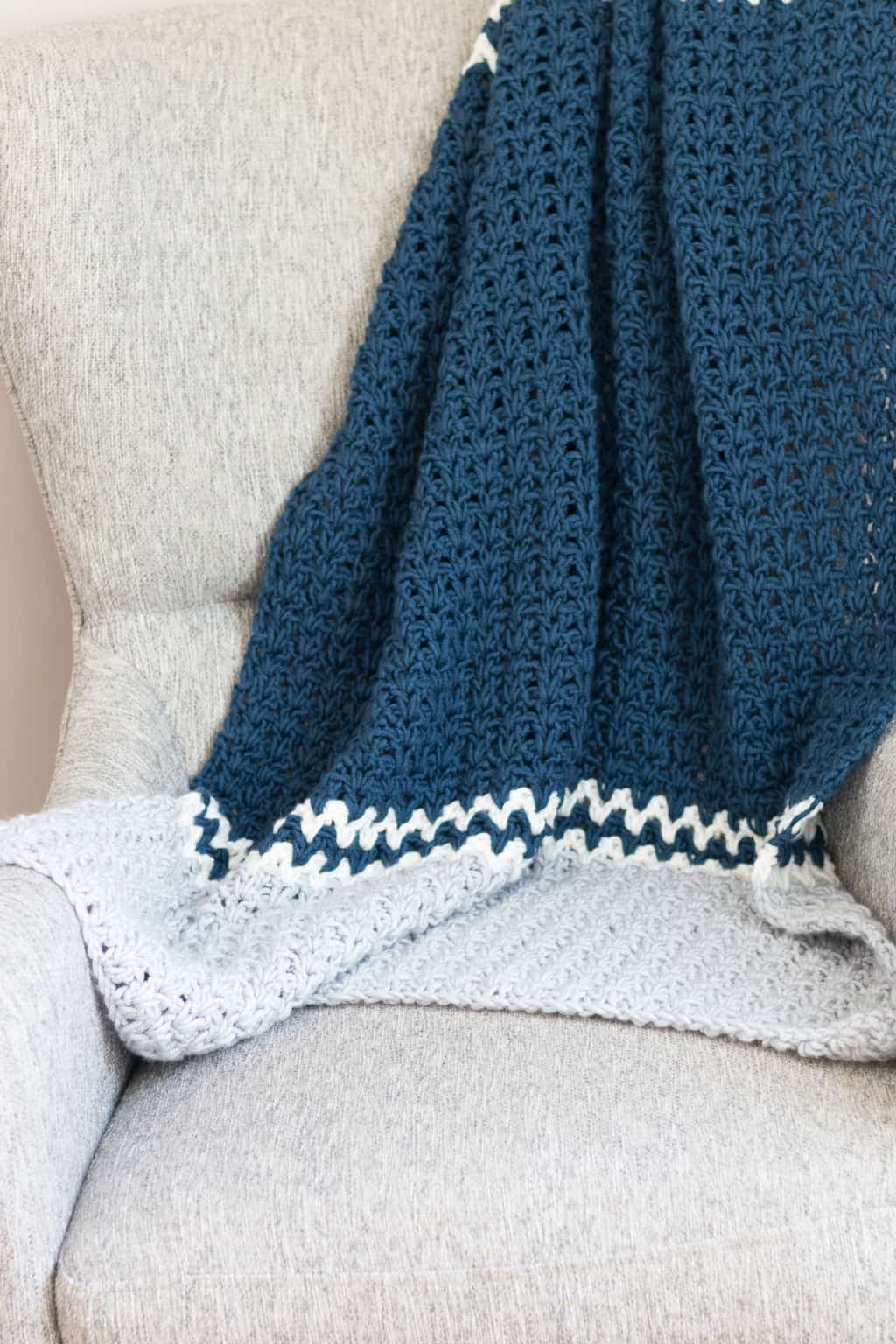 The Double Crochet V-Stitch Pattern Details
Skill Level: Easy
Description
This simple & classic v-stitch crochet blanket pattern is quick to work up and creates a beautiful textured looking piece!
Materials
Color Made Easy by Lion Brand = yardage is listed below for each color only for blanket shown. Yardage for total yarn is listed further down for different sizes too. or any bulky 5 yarn.
Crochet Hook: K 6.5 mm Crochet Hook ( I used a Boye Ergonomic Crochet Hook)
Yarn needle
Blanket Sizes & Yarn Yardage
Small Throw Blanket = 35″ x 48″ Ch 68 and work 65 rows. 1,000 yards
Yarn needed for Throw Size: Birch = <247 yards or 1 skein, Huckleberry = <494 yards or 2 skeins, Shade = <494 yards or 2 skeins
Twin Blanket = 59″ x 85″ Ch 154 and work 85 rows. 2620 yards
Queen Blanket = 80″ x 90″ Ch 204 and work 90 rows. 3700 yards
King Blanket = 96″ x 90″ = Ch 244 and work 90 rows 4440 yards
Gauge
6 stitches for every 4″ or 6 double crochets
Finished Size
34.5″ width x 48″ length (throw size). Change the size by using an even # starting chain.
Abbreviations
DC = Double Crochet
CH = Chain
SK = Skip
Notes
Written in standard US terms
Read up on my tutorial on how to change colors in crochet because it will come in handy for this blanket design. "Click Here" to learn my method.
I did carry the yarn through with the birch row & huckleberry small rows so I didn't have to weave in those ends, but the rest of the rows I followed the method above.
Yarn yardage will change when making a different size than the one shown.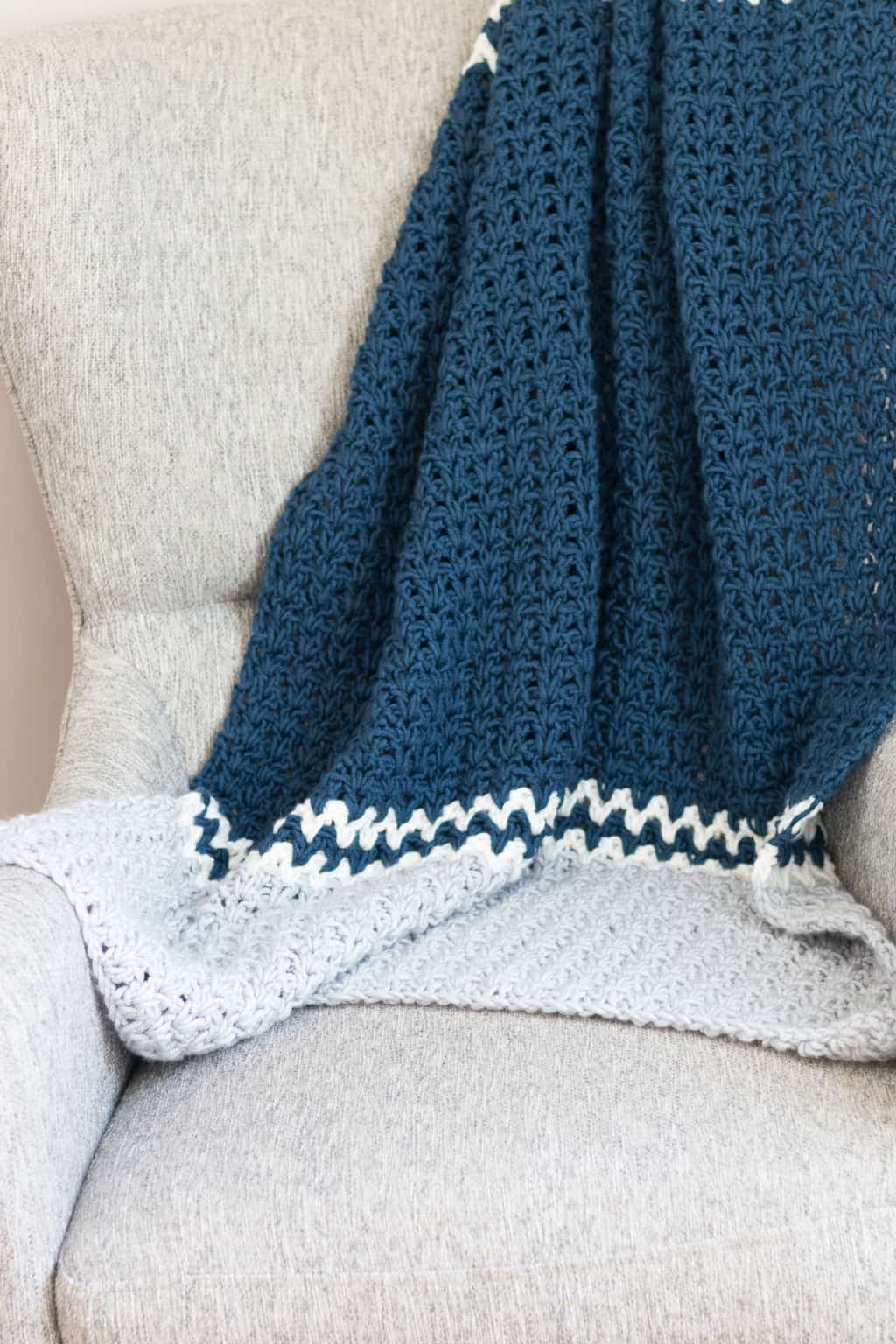 Easy Double Crochet V-Stitch Crochet Pattern
Foundation Row: Ch 68 with Grey (or if you'd prefer to make this pattern smaller or larger any even # of a starting chain will work)
Row 1: In the fourth CH from the hook make 2 DC, SK a CH, * in the next CH make 2 DC's, SK a CH, repeat from * across the row ending with a SK CH, then DC in the last ST, turn. (65)
Row 2: Ch 3, *Working between the two DC's from the row before make 2 DC's in between them (it makes a V!) Do you see it?, repeat from * across ending with 1 double crochet into the top of the CH 3 from the row before, turn. (65)
Row 3- 65: Repeat Row 2. Follow the color guidelines below to change colors for rows. (65)
Row 15: Grey
Row 16: White
Row 17 Navy
Row 18 White
Row 19-47: Navy
Row 48: White
Row 49: Navy
Row 50 White
Row 51- 65: Grey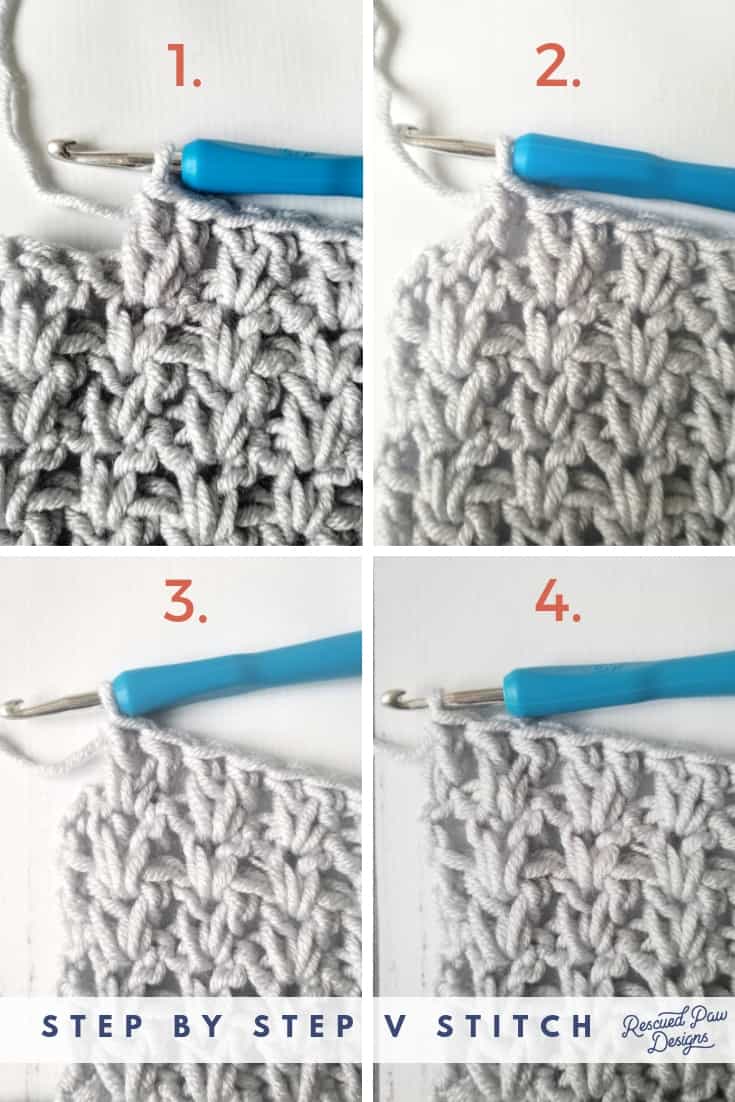 After Row 65: Fasten off yarn ends and weave in ends throughout the blanket.

Your Crochet Throw Blanket is Now Finished!
You did it! See how easy it was? I hope you liked this free v-stitch tutorial and if you have any questions about the pattern, please feel free to email me at Krista [@] easycrochet.com.
Do You Want More Free Crochet Tutorials?
If you liked this blanket, then you will LOVE the Jane Throw blanket too. I can't wait for you to check it out.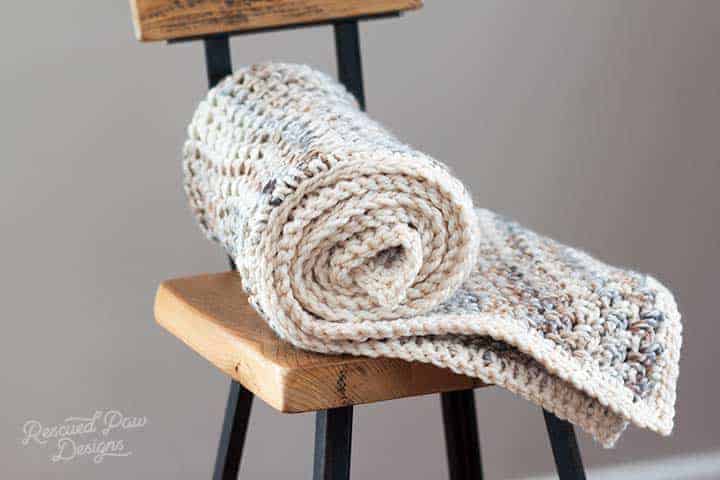 "Click Here" to check out the free pattern!
You May Also Like These Free Crochet Patterns
PS: Looking for something a little different? You should try one of these seven bobble stitch patterns! Happy Crocheting!