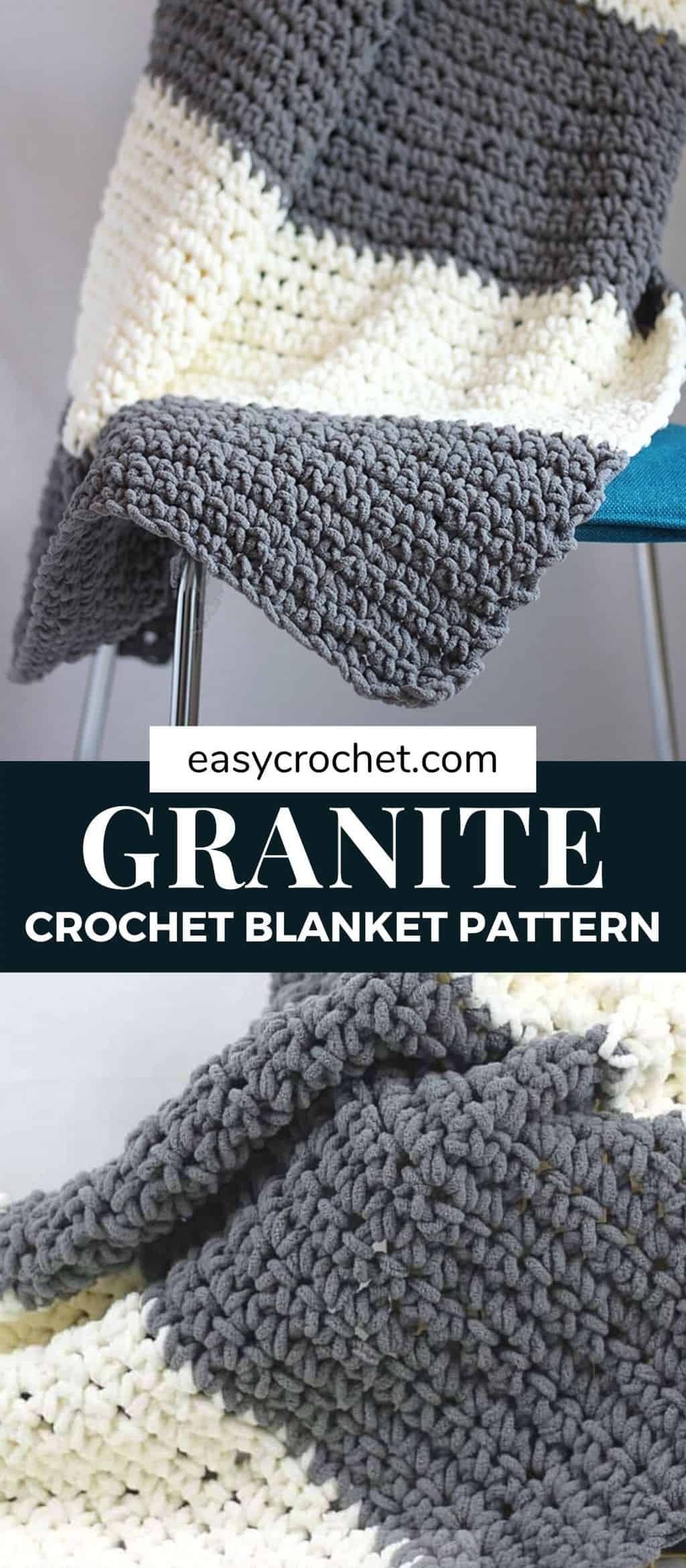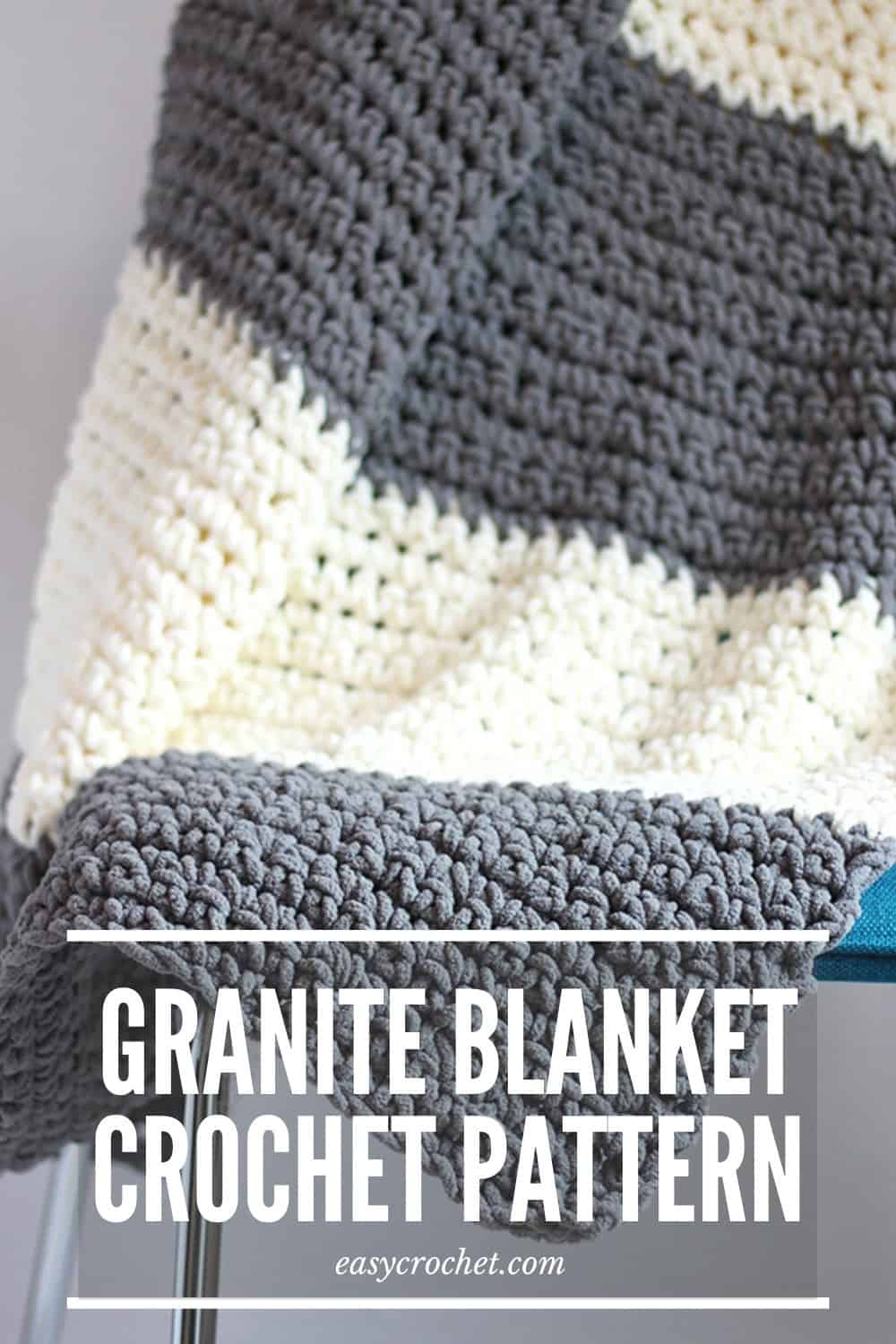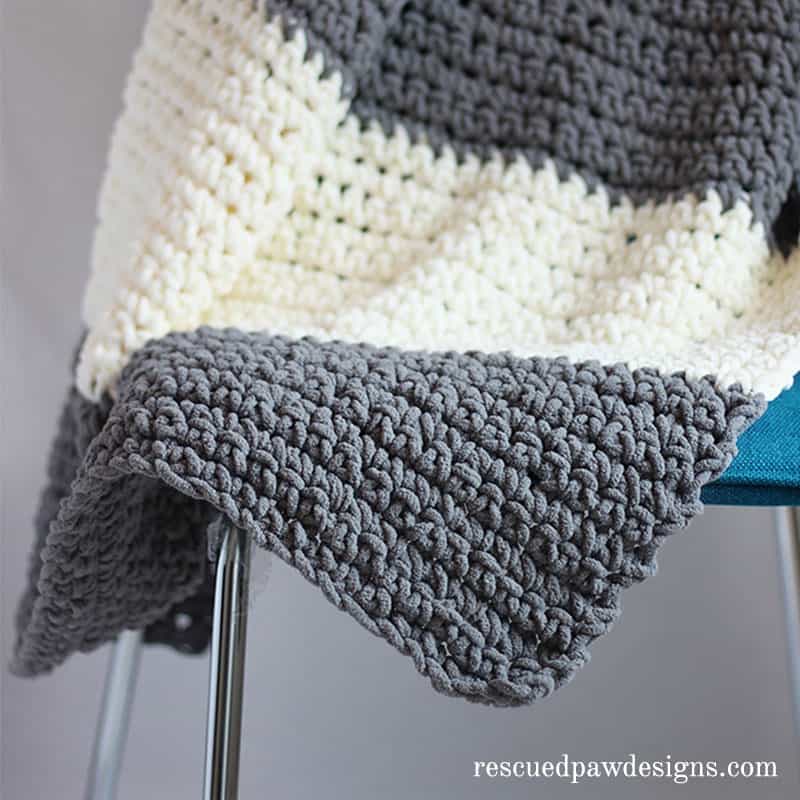 Are you looking for an extra cozy blanket to crochet? If so, The Granite Crochet Throw Blanket is among one of the top coziest blankets ever!
This chunky throw blanket currently has a permanent spot on my couch because my kids ask for it every day to snuggle. It is that soft!
I almost forgot to mention that is uses just ONE stitch which means it's a great beginner project to work on.
Did I convince you yet to make one? If so, read on down to find this easy crochet pattern that you can make in five different sizes!
I can't wait for you to check out this pattern and to start making but first let's talk about the yarn you'll want to have.
The Yarn That's Perfect For This Crochet Throw!
Can you imagine yourself snuggled up in this crochet throw blanket on a chilly fall day in front of a warm crackling fire? I know I can! I am all about cozy, and this blanket fits that description to a t!
I used Bernat Blanket Yarn from Yarnspirations, which happens to be one of the softest yarns imaginable! If you'd like to see more patterns with this yarn check out my post about the blankets you can make with this cozy yarn.
Once you work This type of yarn you will see that it is perfect for a blanket because it crochets up fast and is soft! Bulky yarn equals faster crochet projects.
You need to try it this yarn. You won't regret it. Promise! I found mine at my local craft store, and it was pretty inexpensive with a coupon or if you want you can check out Amazon too!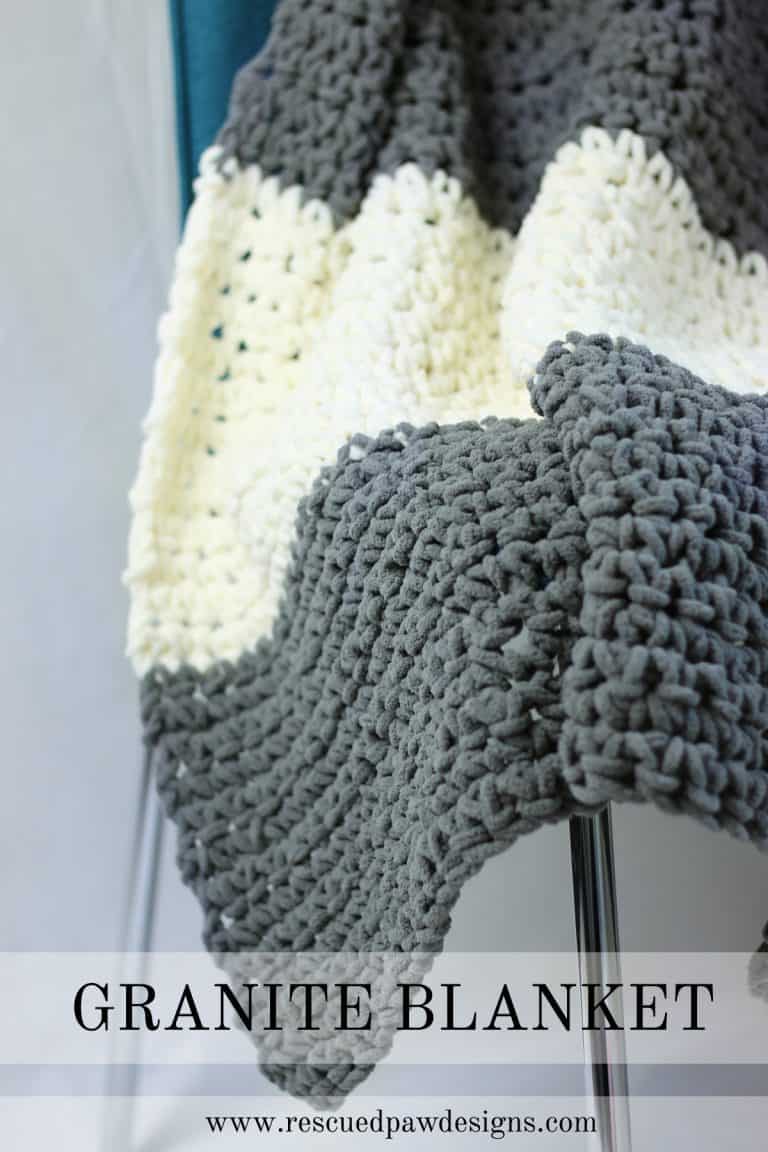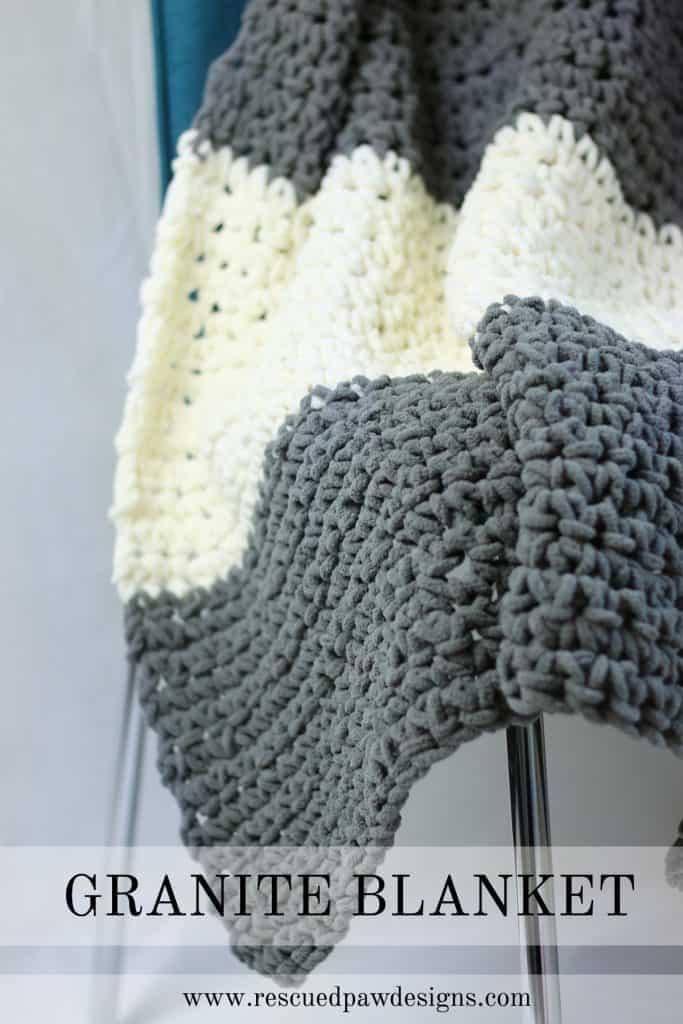 This Blanket Uses Only One Crochet Stitch!
This chunky crochet blanket pattern uses just one crochet stitch! Yep, one! I ended up using single crochets for the entire crochet pattern.
The single crochets make it a great beginner crochet pattern for a new crocheter to try. If you can single crochet, then you definitely can crochet this blanket!
You can do it! Promise! I worked this example up in less than two weeks in the evening and watching my daughter at swim practice.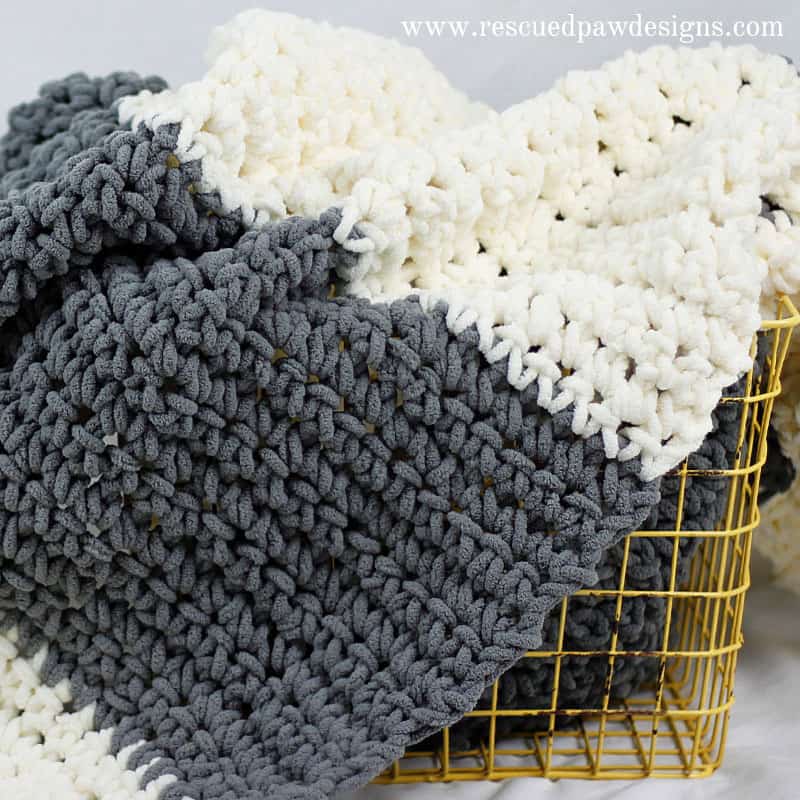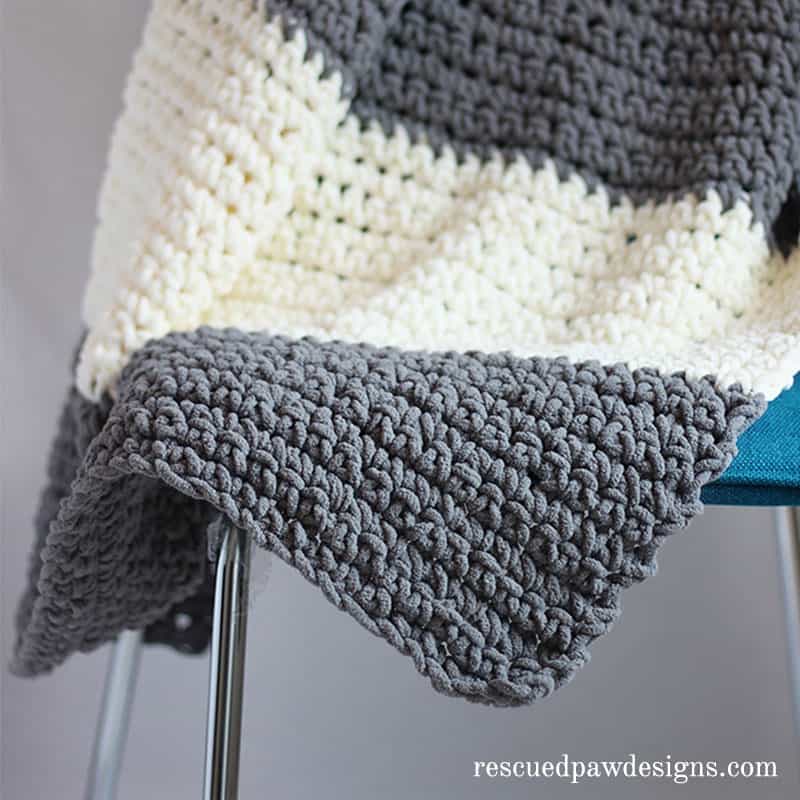 Are You Ready to Get Started on Your New Blanket?
Are you ready to crochet this blanket up now? If so, keep reading down for the full, FREE crochet throw blanket pattern. Enjoy!
Granite Crochet Throw Blanket Pattern
Skill Level: Basic
Materials
Seven skeins of Bernat Blanket Yarn 3 of Vintage White & 4 of Dark Gray (or approx 750 yards of super bulky six yarn) (for the size shown)
Large yarn needle
Scissors
Abbreviations
sc – single crochet
st – stitch
ch – chain
Standard Blanket Sizes
Baby: 45 by 60 inches – Chain 66 for 120 rows
Twin: 66 by 90 inches – Chain 96 for 180 rows
Double: 80 by 90 inches – Chain 120 Ch for 180 rows
Queen: 90 by 90 to 100 inches – Chain 138 for 180 to 200 rows
King: 108 by 90 to 100 inches – Chain 162 approx: for 180 to 200 rows
Gauge
6 st(s) for every 4″ & 2 rows of st(s) = 1″ in height
A good way to figure out how much yarn is needed for each size is to crochet a 4 × 4 square of 6 stitches by 8 rows. After you crochet that square weigh it on a small kitchen scale. That will tell you how much yarn is in a 4 × 4 square which is 6 stitches by 8 rows. With a little math you can figure out exactly how much yarn you will need for each size listed above.
Notes
Written in US terms
Repeat each color for 14 rows
Size can be adjusted by chaining any # to achieve the desired length
Add to Ravelry "here"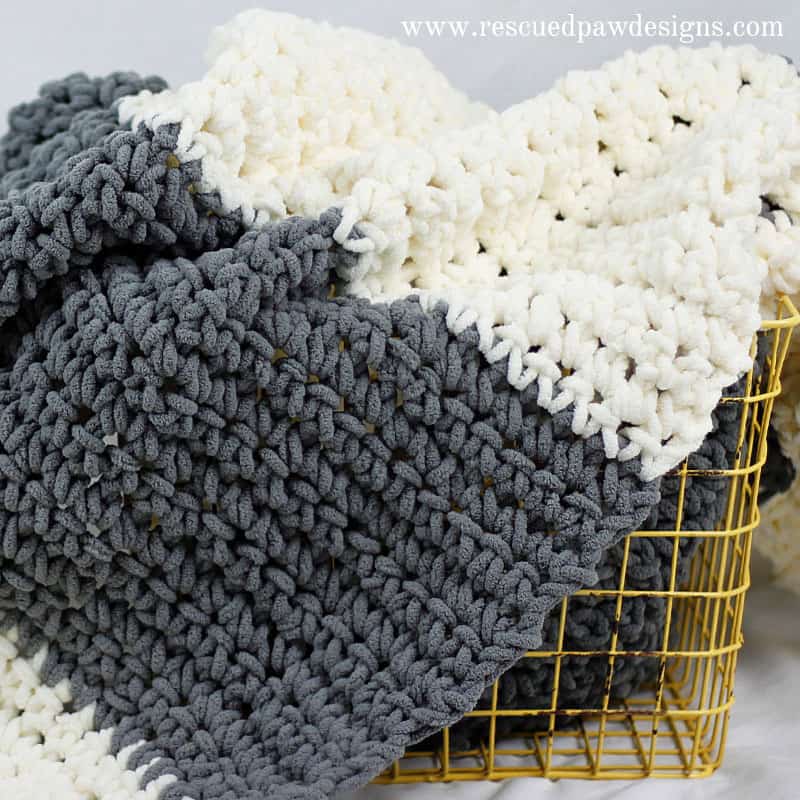 The Blanket Pattern Steps
Directions are for Baby Size ( See standard blanket sizes for other counts)
Foundation Row: Ch 66 with the first color (your choice)
Row 1: in the second ch from hook sc, sc in every ch across, turn. (65)
Row 2: ch 1, sc in first st, sc in every stitch across, turn. (65)
Row 3 – 13: repeat row 2 (65)
Switch to the second color
Row 14 – 27: repeat row 2 (65)
Switch to the first color
Row 28- 41: repeat row 2 (65)
Switch to the second color
Row 42 – 55: repeat row 2 (65)
Switch to the first color
Row 56 – 69: repeat row 2 (65)
Switch to the second color
Row 70 – 83: repeat row 2 (65)
Switch to the first color
Row 84 – 97: repeat row 2 (65)
Finishing
Fasten off yarn with scissors and weave in loose ends with yarn needle throughout the blanket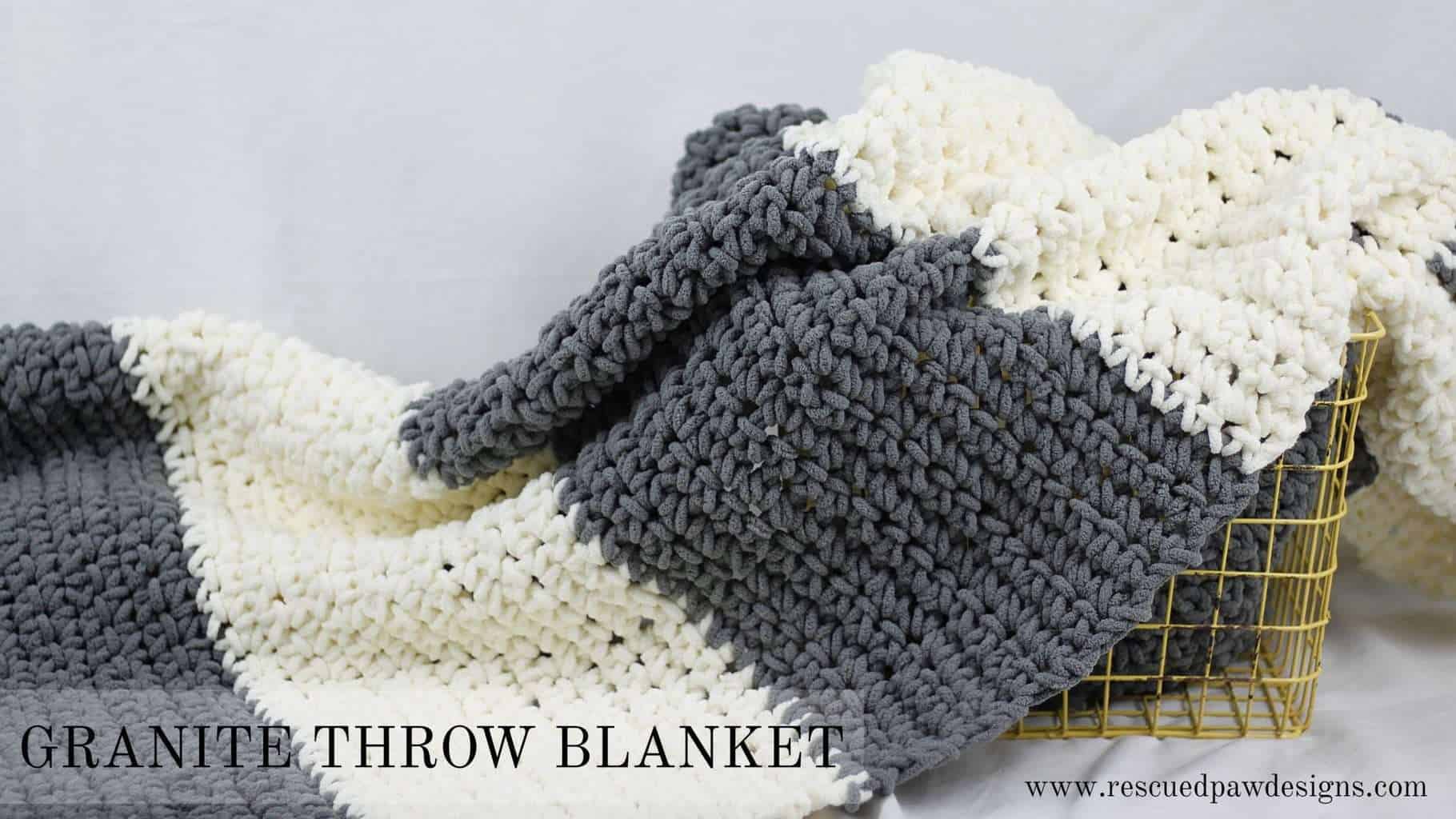 Are you looking for more free thick crochet blanket patterns? Try the Easy Crochet favorite Alissa Throw or explore the crochet archives for inspiration.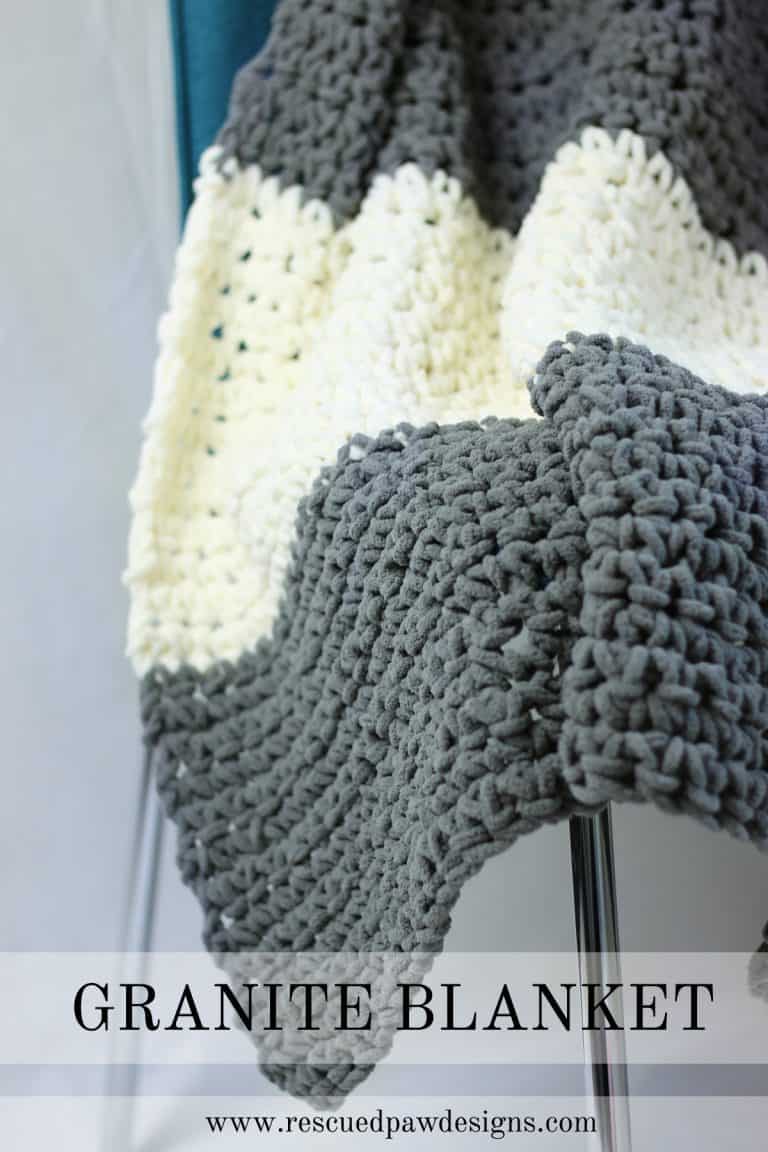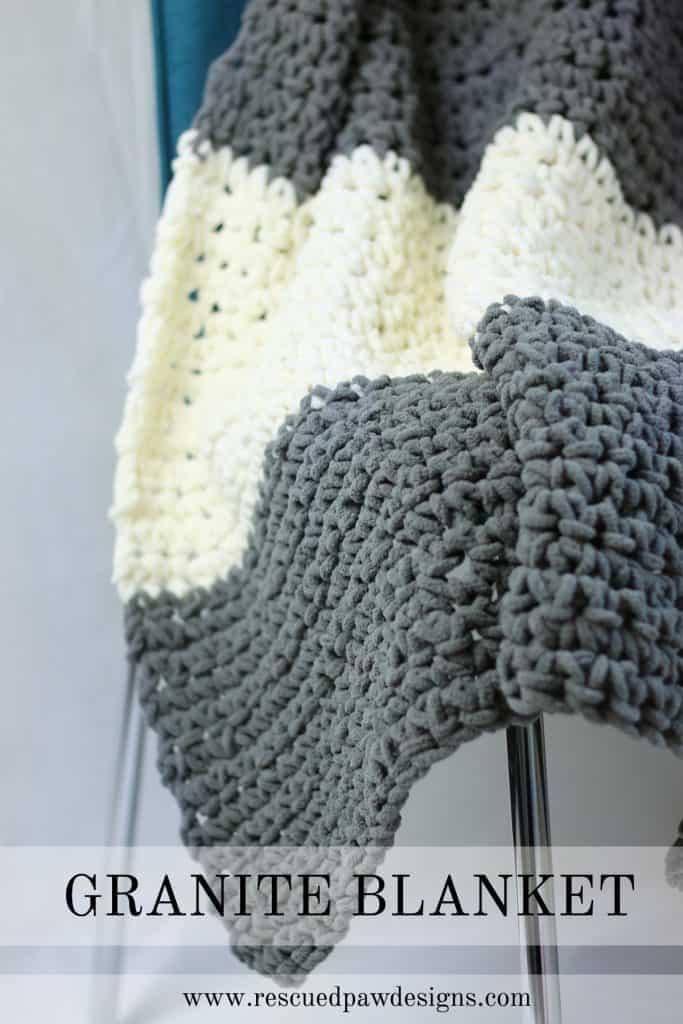 Did You Like the Granite Throw?
If you loved this pattern, then you will probably LOVE the Jane Crochet Throw Blanket too! Take a look at it in the link below.
"Click Here" to Check out the Jane Crochet Throw Blanket
Follow Along With Me on Pinterest!
If you liked this granite blanket pattern, you might also like my Pinterest board all free crochet where you can always find daily inspiration for new crochet projects.
Follow my "Crafty Crochet" board on Pinterest for more inspiration for all kinds of crochet patterns.
I hope you enjoyed this crochet throw blanket and if you have any questions, please feel free to send me an email at [email protected]
Happy Crocheting!
---
Visit Me on Social
Instagram | Pinterest | Apparel Shop
---
More Crochet Blanket Patterns
You may remember me using Bernat Blanket yarn to design my Sea Soft Baby Blanket from a few years ago. My sister still uses this until now, and it has held up amazingly well!
If you would like to make this blanket too, you can find the free super bulky crochet pattern here on Easy Crochet.