Granite Crochet Throw Blanket Pattern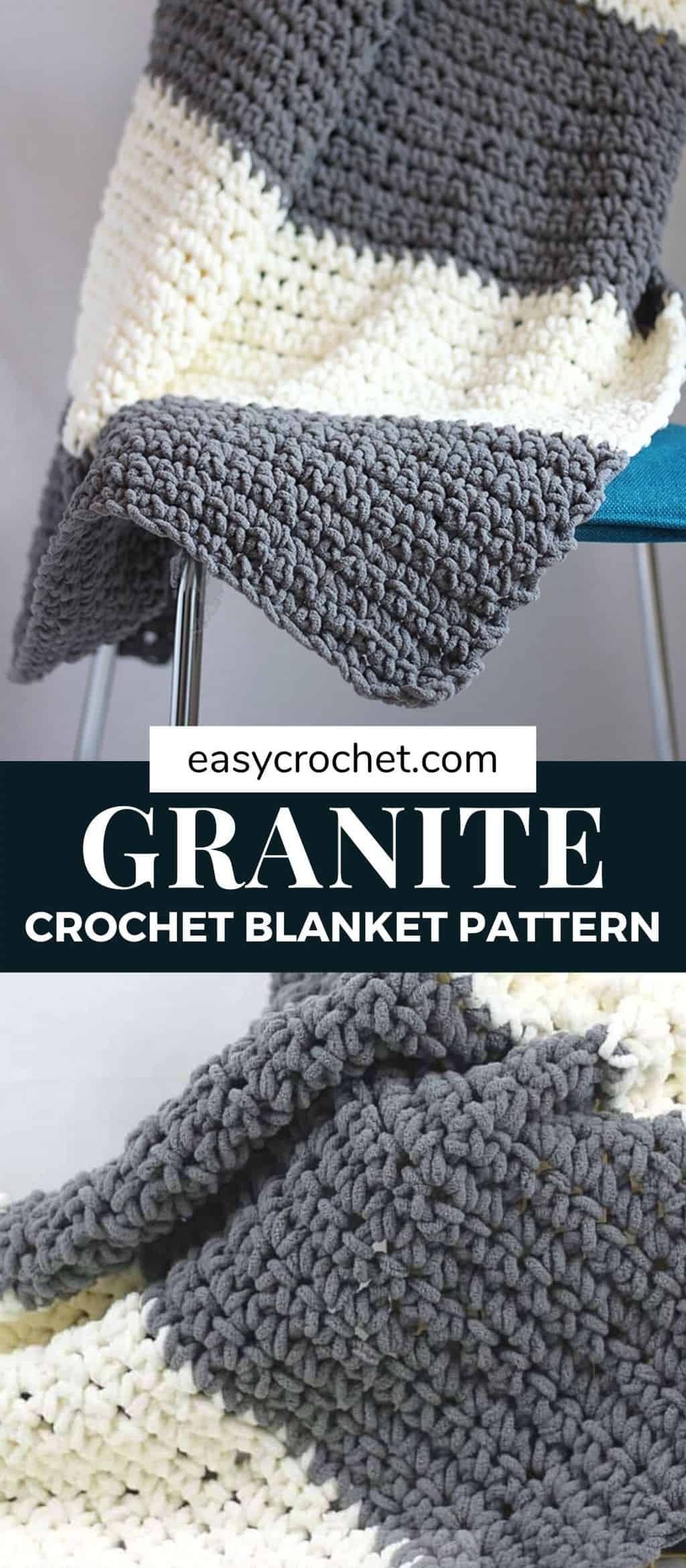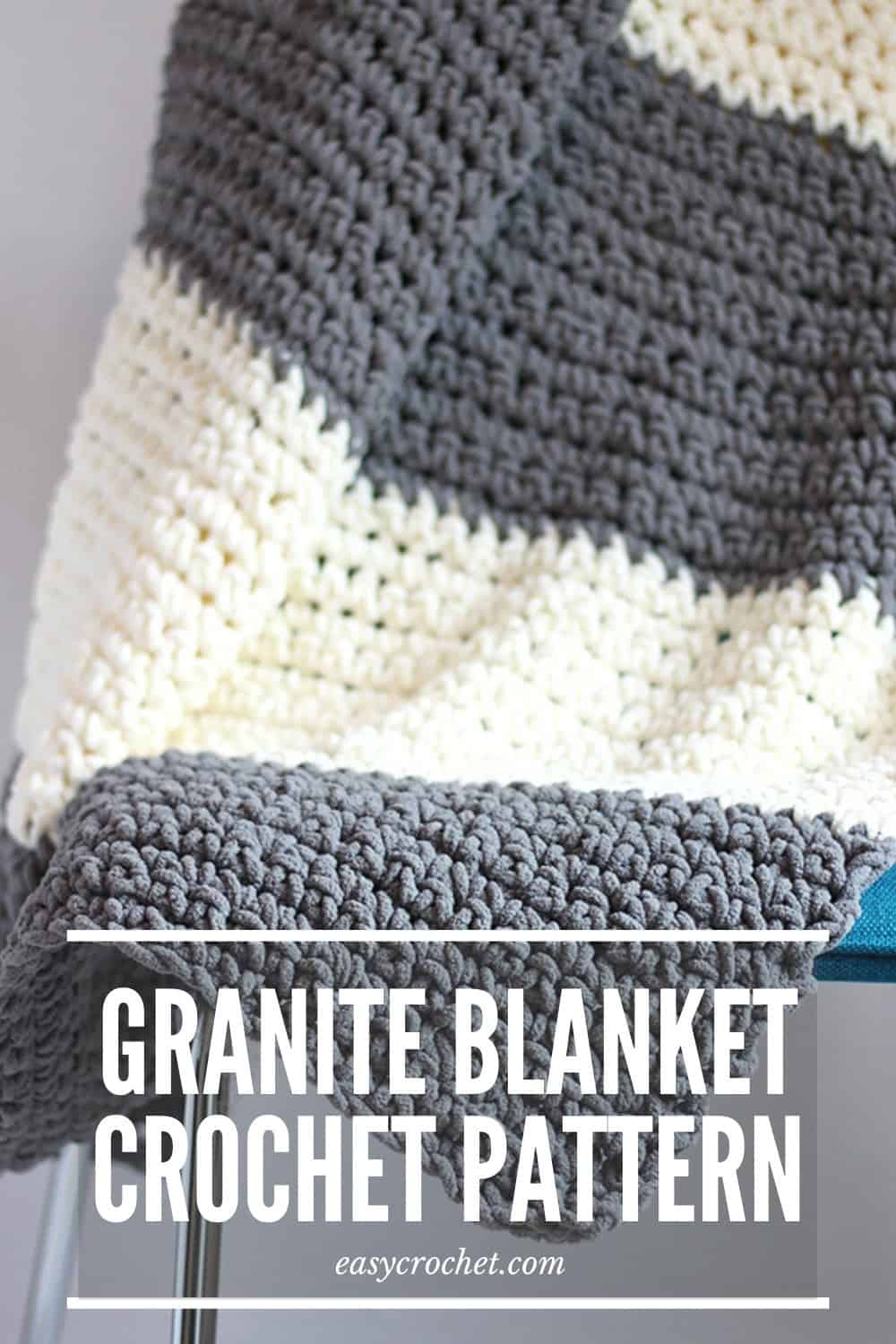 Are you looking for an extra cozy blanket to crochet? If so, The Granite Crochet Throw Blanket is among one of the top coziest blankets ever!
Why Make This Chunky Crochet Throw?
Here are a few reasons to make this crochet blanket.
It's soft
Uses one stitch
Available in 8 blanket sizes
This chunky throw blanket currently has a permanent spot on my couch because my kids ask for it every day to snuggle. It is that soft!
This amazingly soft blanket uses only one stitch, which means it's a great beginner project to work on. It also means it works up extremely fast since we are using chunky yarn.
This easy crochet pattern comes in eight different sizes if a throw blanket is not exactly what you're looking for. I can't wait for you to check out this simple throw pattern – it's become a favorite around my house since I made it.
Related: If you were looking for a granite stitch (aka moss stitch, sand stitch etc.) blanket then you may like our Moss Stitch Baby Blanket.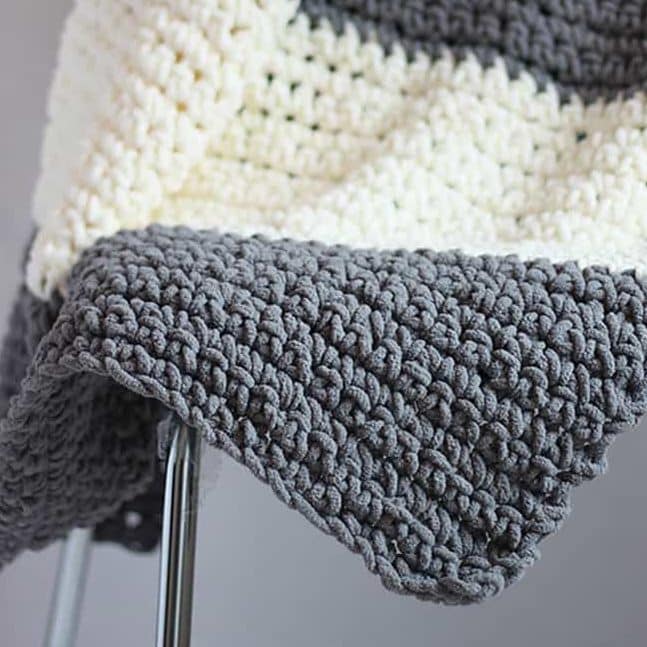 The Yarn That's Perfect For This Crochet Throw!
I used Bernat Blanket Yarn from Yarnspirations, which happens to be one of the softest yarns imaginable! If you'd like to see more patterns with this yarn, take a look at my post about the blankets you can make with this cozy yarn.
Another great advantage of Bernat's Blanket Yarn is that it lacks all the fuzzy threads that get everywhere with other yarn types. This blanket stays beautiful even after multiple washes!
Once you work with this type of yarn, you'll see that it is perfect for a blanket because it crochets up so fast and is soft! Bulky yarn equals faster crochet projects.
You need to try this yarn. Seriously, you won't regret it. I found mine at my local craft store, and it was pretty inexpensive with a coupon, or if you want you can check out Amazon too!
This Blanket Uses Only One Crochet Stitch!
This chunky crochet blanket pattern uses just one crochet stitch! Yep, one! I ended up using single crochets for the entire crochet pattern.
The single crochets make it a great beginner crochet pattern for a new crocheter to try. If you can single crochet, then you definitely can crochet this blanket!
You can do it! Promise! I worked this example up in less than two weeks in the evening and watching my daughter at swim practice.
Make this Blanket in 8 Different Sizes
We love the fact that you can crochet a blanket like this in multiple blanket sizes! If you'd like a throw blanket or just a baby blanket, then you can make it with this pattern!
Take a look at the available blanket sizes to crochet below.
Lovey
Stroller
Receiving
Baby
Throw
Twin
Full/Queen
King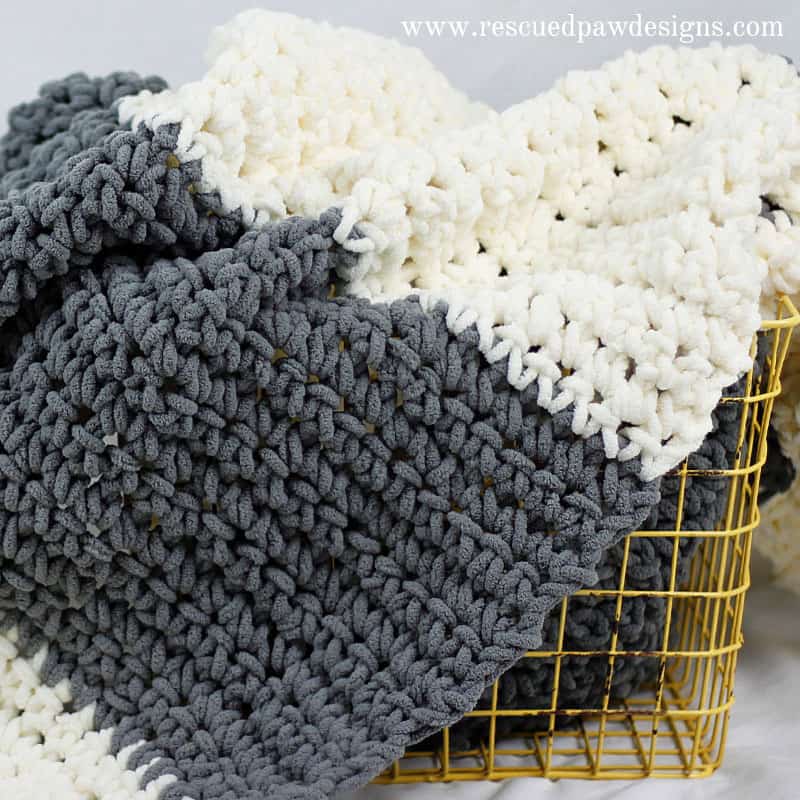 Granite Crochet Throw Blanket Pattern
Skill Level: Basic
Materials
Bernat Blanket Yarn: See Size Chart below for yardage
9 mm crochet hook
Large yarn needle
Scissors
Abbreviations
Gauge
7 sts x 5 rows = 4″ x 4″
Gauge pattern: Ch 8 and follow pattern as written below for 5 rows.
Notes
The granite blanket pattern is written in US terms
Size can be adjusted by chaining any # to achieve the desired length
Make a solid color blanket, or use the random stripe generator to make a striped design.
I changed yarn colors on mine when it came to the end of the ball of yarn.
Yardage & Skein Chart
The total skeins needed is calculated using the Bernat Blanket Yarn 10.5 oz, 201 yard size. If you use a different super bulky 6 yarn, use yardage instead.
| Blanket Size | Total Yardage | Total Skeins |
| --- | --- | --- |
| Lovey | 59 | 1 |
| Stroller | 437 | 3 |
| Receiving | 651 | 4 |
| Baby | 892 | 5 |
| Throw | 1270 | 7 |
| Twin | 2441 | 13 |
| Full/Queen | 3320 | 17 |
| King | 4745 | 24 |
Size Chart
| Blanket Size | Height | Width | Starting Ch | Rows |
| --- | --- | --- | --- | --- |
| Lovey | 12 | 12 | 22 | 15 |
| Stroller | 35 | 30 | 54 | 44 |
| Receiving | 40 | 40 | 71 | 50 |
| Baby | 52 | 42 | 75 | 65 |
| Throw | 60 | 52 | 92 | 75 |
| Twin | 90 | 66 | 117 | 113 |
| Full/Queen | 90 | 90 | 159 | 113 |
| King | 108 | 108 | 190 | 135 |
The Blanket Pattern Steps
Ch 22 (54, 71, 75, 92, 117, 159, 190)
Row 1: In the second ch from the hook sc, sc into each ch across, turn. 21 (53, 70, 74, 91, 116, 158, 189)
Row 2: Ch 1, in the first st sc, sc into each st across, turn.
Row 3 – See chart for sizes: rep row 2.
Finishing
Fasten off yarn with scissors and weave in loose ends with yarn needle throughout the blanket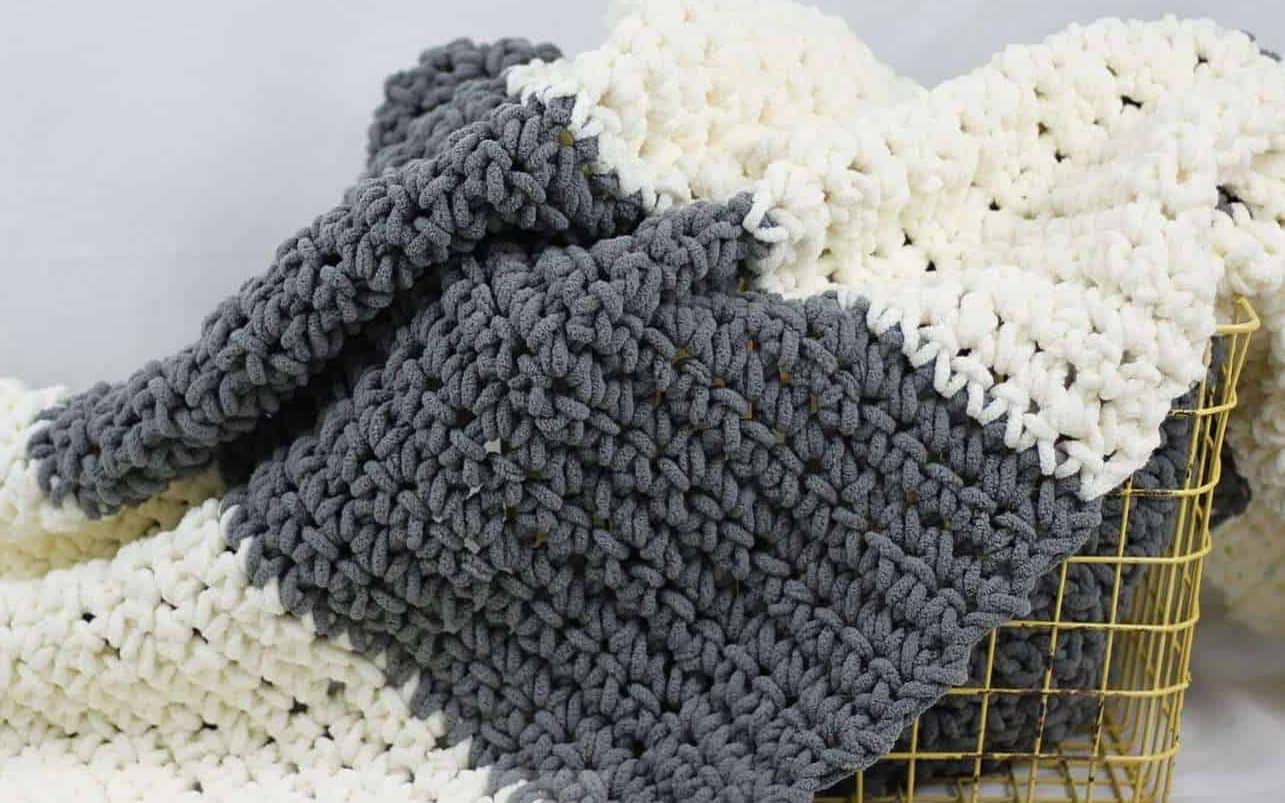 More Crochet Blanket Patterns
Are you looking for more free thick crochet blanket patterns? Try the Easy Crochet favorite Alissa Throw, or explore the crochet archives for inspiration.
If you loved this pattern, then you will probably LOVE the Jane Crochet Throw Blanket too! Below are some other patterns that I think you'll love as well.
You may remember me using Bernat Blanket yarn to design my Sea Soft Baby Blanket from a few years ago. My sister still uses this until now, and it has held up amazingly well.