The Jane Crochet Throw Blanket Pattern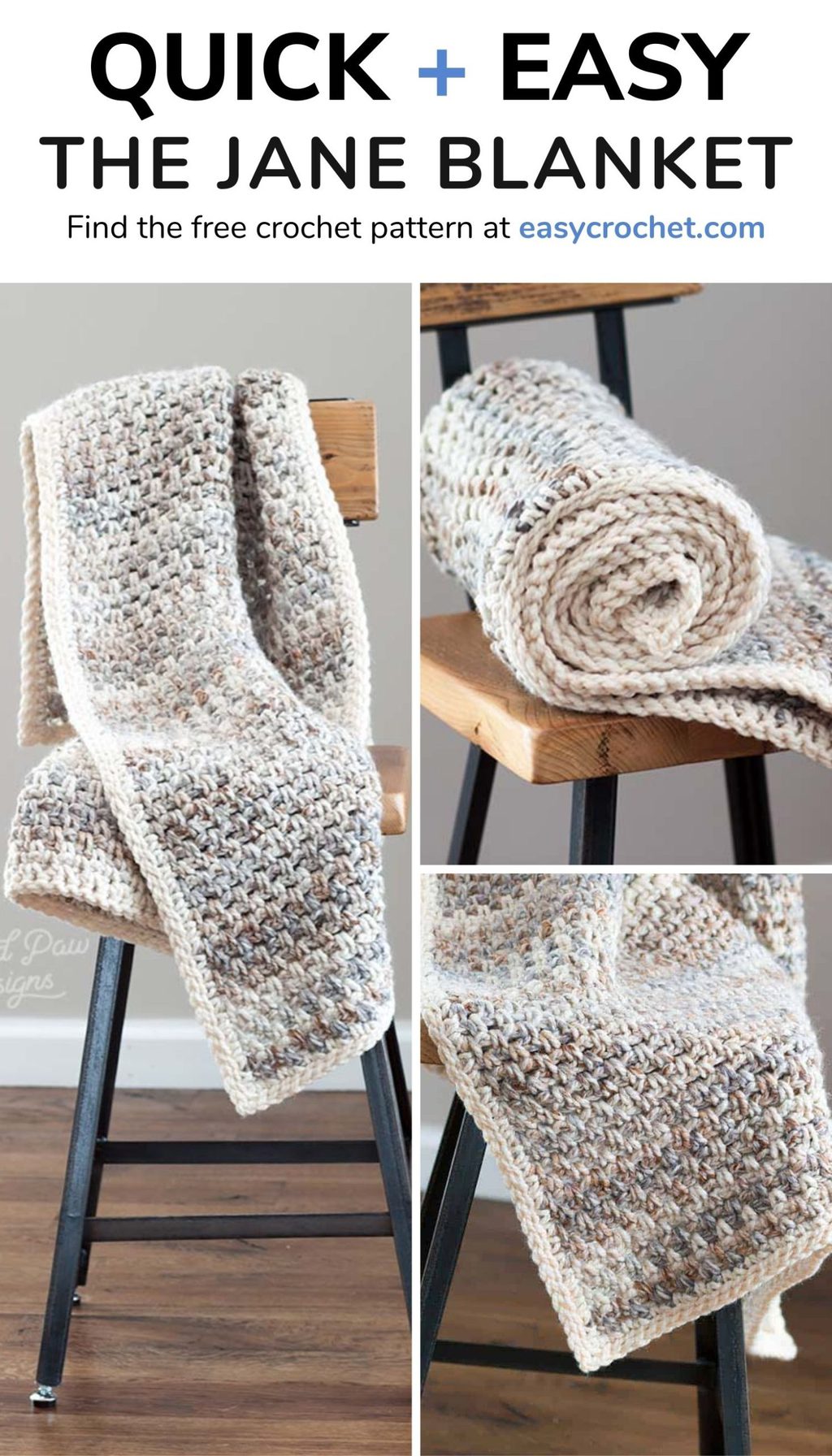 Learn how to make an easy crochet throw blanket today with this free crochet afghan pattern!
This chunky crochet blanket pattern uses simple crochet stitches and works up fast, which means you can move on to your next project even quicker. A fast crochet blanket is always a good pattern to have on hand.
If you are feeling extra ambitious, you can crochet this blanket in seven other blanket sizes too. Take a look below to see how easy this blanket is to make.
Read on down to find the free crochet blanket pattern design below that is now written in 8 sizes, or purchase an easy to print PDF with all EIGHT sizes listed with complete yardage.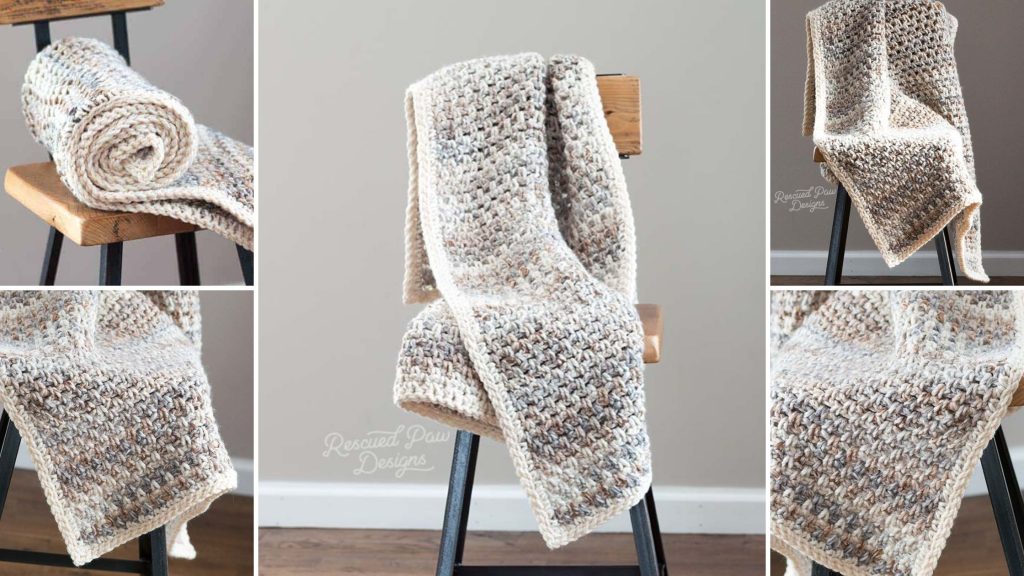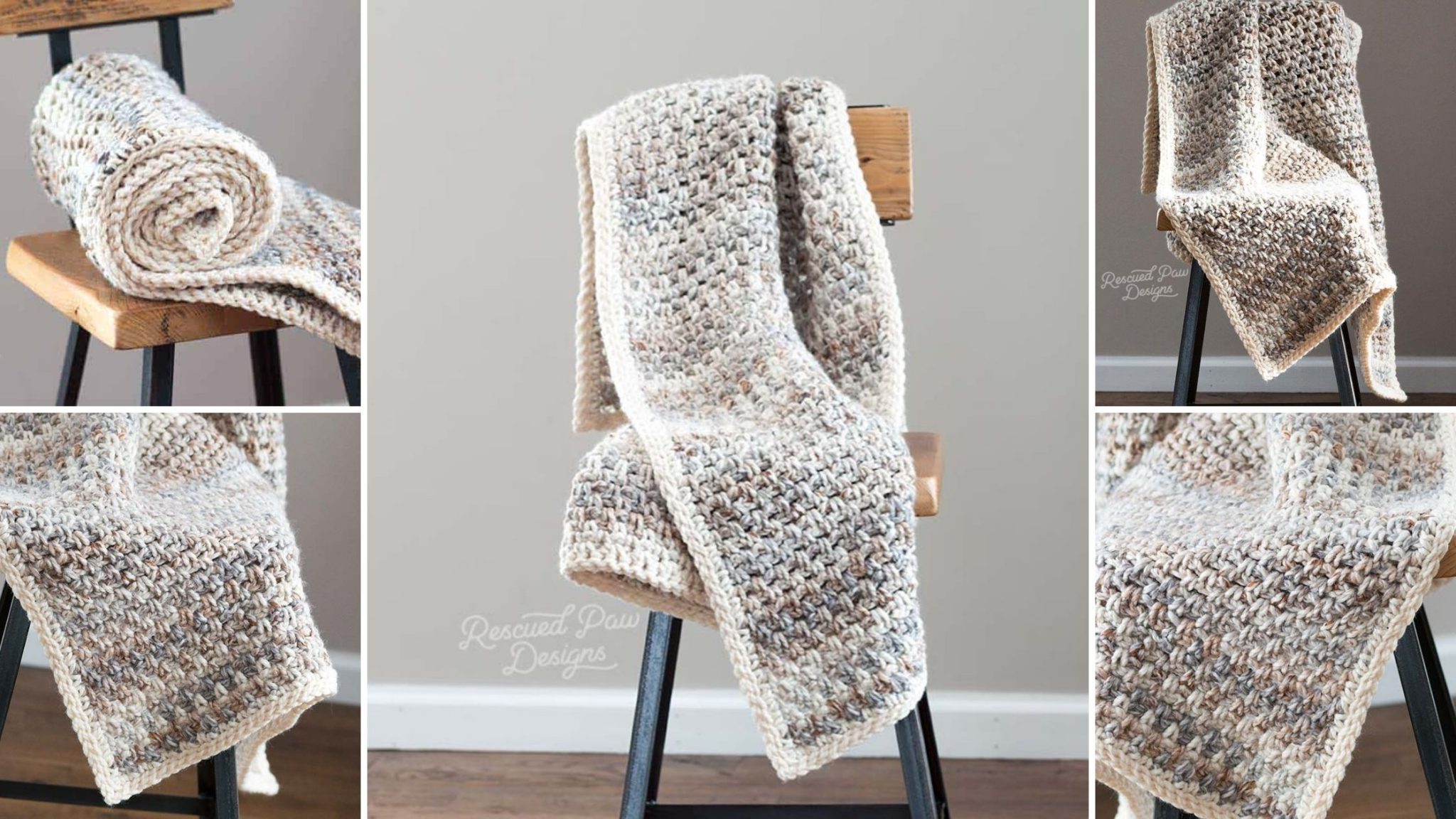 Learn How to Crochet a Throw Blanket
Learning how to crochet a blanket is easy! The Jane Throw Blanket is our simple crochet throw pattern that uses basic stitches in a way that creates a beautiful-looking texture!
Once you learn how to crochet this blanket, you will realize it is the perfect crochet sofa throw to cozy up with on a chilly evening or use as a crochet bed throw pattern!
If you want to make one too, then read on down to get the free crochet pattern for yourself!
Simple Crochet Throw Afghan
Use this simple blanket pattern for all your thick crochet blankets and throws! Make this afghan smaller and use it as a crochet baby blanket too! You can easily crochet this beautiful crochet throw blanket in just a few days.
The Yarn That's Perfect for This Chunky Throw
Since it is so cold in PA in wintertime, I was certain that when designing the Jane Throw Blanket, I was going to use Lion Brand Wool-Ease Thick & Quick or WET&Q abbreviated.
I love using this yarn, and I do for most of my crochet blankets and throws. You could even use this yarn to make my Willow Throw Blanket too, which is another chunkier throw that is perfect for wintertime! I went with the colorway Fossil because it is simply gorgeous!
This yarn has a beautiful blend of neutrals and a hint of silver throughout, making for a beautiful color. It is the perfect colorway to use because it can easily fit in with almost any decor. 🙂
Let's not forget, the bulky yarn creates a pretty cozy chunky crochet blanket which is perfect for snuggling! This bulky yarn crochet pattern is one that you will go back to time and time again for a quick blanket.
This Crochet Blanket Uses Just a Basic Crochet Stitch
To start the Jane Throw, you will need to know how to chain and single crochet! Yep! That's it! If you are new to crocheting, this would be the perfect project to try.
This pattern is a combination of single crocheting and chaining one, which is called the sand stitch, moss stitch or granite stitch. I created a post about the sand stitch for those who would like a tutorial and even a refresher on this beauty of a stitch.
Do You Want a Crochet Kit Instead?
Furthermore, I wanted to add that Lion Brand Yarn has generously made this into a crochet kit that includes the PDF version of the pattern and all the yarn needed! Purchase the Jane Crochet Throw Pattern Blanket Kit
Looking for a PDF Version Instead?
If you prefer a PDF version of this pattern, please head on over to my pattern shop to purchase it for the cost of a fancy coffee! Otherwise, read on down for the free design here on the blog!
Jane Video Tutorial
Subscribe to my YouTube crochet channel so, you don't miss out on other free video tutorials!
Ready to start?
I wrote this blanket in a throw size blanket plus 7 others, but you can easily change this into any size by using an even starting chain number.
Just imagine this design as a little crochet baby throw blanket! Ready to get started? Read on down to find the full tutorial and Happy Crocheting!
The Jane Throw Blanket Pattern
Skill Level: Easy
Materials
Blanket Sizes
Here we show how many stitches across and rows down you will need for 8 different sizes of this beautiful chunky yarn blanket pattern.
| | Height (in) | Width (in) | Starting Stitches | Total Rows |
| --- | --- | --- | --- | --- |
| Lovey | 12 | 12 | 26 | 21 |
| Stroller | 35 | 30 | 62 | 61 |
| Receiving | 40 | 40 | 82 | 70 |
| Baby | 52 | 42 | 86 | 91 |
| Throw | 60 | 52 | 106 | 105 |
| Twin | 90 | 66 | 134 | 158 |
| Full/Queen | 90 | 90 | 182 | 158 |
| King | 108 | 108 | 218 | 189 |
Yarn Yardage Per Blanket Size
Check the yardage of the six weight yarn you'd like to use. It can usually be found on the label of the yarn. For example, if your yarn has 106 yards per skein, and you want to make the Lovey size you'd only need one skein.
Main Yardage
Border Yardage
(optional)
Lovey
67
19
Stroller
487
35
Receiving
742
43
Baby
1,013
50
Throw
1,447
59
Twin
2,755
83
Full/Queen
3,756
95
King
5,409
115
How to Change Size
Notes
Written in Standard US terms.
Finished size varies with the size made
Stitch counts are given at the end of each row in ()
Gauge
*Please read this part. If gauge is not followed it will change the size of your blanket dramatically. It is important. Learn more about gauge in crochet to see exactly why it is good to follow.
Gauge pattern: Ch 10 and follow pattern as written below for 7 rows
8 st's x 7 rows = 4″ x 4″
Jane Blanket Pattern Steps
Each size has its options listed below the start, which is for all sizes.
Start: Foundation Row: Chain 26 (62, 82, 86, 106, 134, 182, 218)
Row 1: One single crochet in the 4th chain from the hook, *chain 1, skip next chain, 1 single crochet in next chain, repeat from * across. Turn. 24 (60, 80, 84, 104, 132, 180, 216)
Row 2: Ch 2, skip first single crochet, *1 single crochet in next chain 1 space, chain 1, skip next single crochet, repeat from * across ending with 1 sc in the turning chain, Turn. 24 (60, 80, 84, 104, 132, 180, 216)
Lovey Size Option:
Row 3 – 21: Repeat row 2. (26)
Stroller Size Option:
Row 3 – 61: Repeat row 2. (60)
Receiving Size Option:
Row 3 – 70: Repeat row 2. (80)
Baby Size Option:
Row 3 – 91: Repeat row 2. (84)
Throw Size Option:
Row 3 – 105: Repeat row 2. (104)
Twin Size Option:
Row 3 – 158: Repeat row 2. (132)
Full/Queen Size Option:
Row 3 – 158: Repeat row 2. (180)
King Size Option:
Row 3 – 189: Repeat row 2. (216)
Border: (optional)
For all sizes
Join in the Fisherman color at the end of the last row using my changing colors in crochet method, which you can find "here."
Chain 1, evenly work single crochets down the long side of the blanket.
When you reach the last stitch (corner) do 3 single crochets. Work single crochet along the short edge of the blanket until you reach the last stitch. Make 3 single crochets in the last stitch to make another corner.
Next, evenly single crochets along the other long side. Make 3 single crochets in the last stitch to form the corner.
Finally, evenly work single crochets along the last short edge or the last row of the blanket.
To finish join with a slip stitch into the row below the border.
Next, slip stitch into every stitch along the first long edge, including 1 of the corner stitches, in the second corner stitch work a slip stitch, ch 1, work a slip stitch, turn to the short edge and continue slip stitching across, work rest of the border in the same fashion.
Finishing: Weave in all the loose ends with a yarn needle or a smaller crochet hook.
Need help with the border? Have a look at this single crochet border tutorial, or add a different one by choosing one of these seven blanket borders instead.
---
The Jane Throw Blanket is now complete! Jane is a quick and one of the most easy crochet blanket patterns to make once you get the stitch repeat down! I promise you'll love it.
If you love neutral looking throws, then you'll love some of my other blanket designs as well! Try my Alissa Throw, Chevron Blanket or search my blanket archive for even more free crochet blanket patterns to make.
If you liked this blanket pattern, follow along with me on Facebook, Instagram, or Pinterest (where I pin daily!). If you prefer video tutorials, you can also find me over on YouTube!
Take a look at some more free crochet throw patterns or blankets for beginners, and my crochet blanket patterns archive is the perfect place to look through. Have fun exploring!
More Free Crochet Patterns for Blankets
Take a look at a few more easy crochet blanket patterns that you may enjoy making as well.