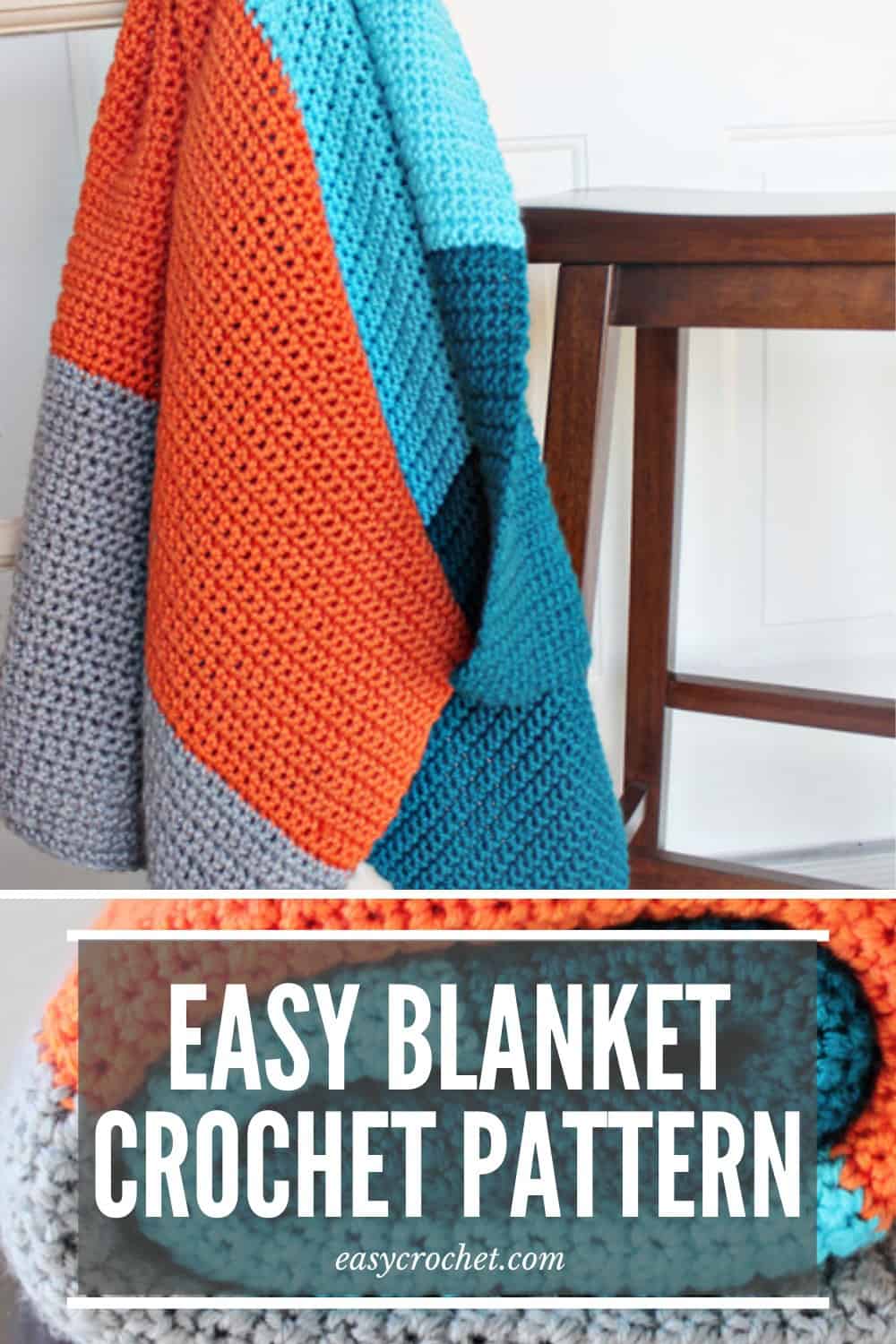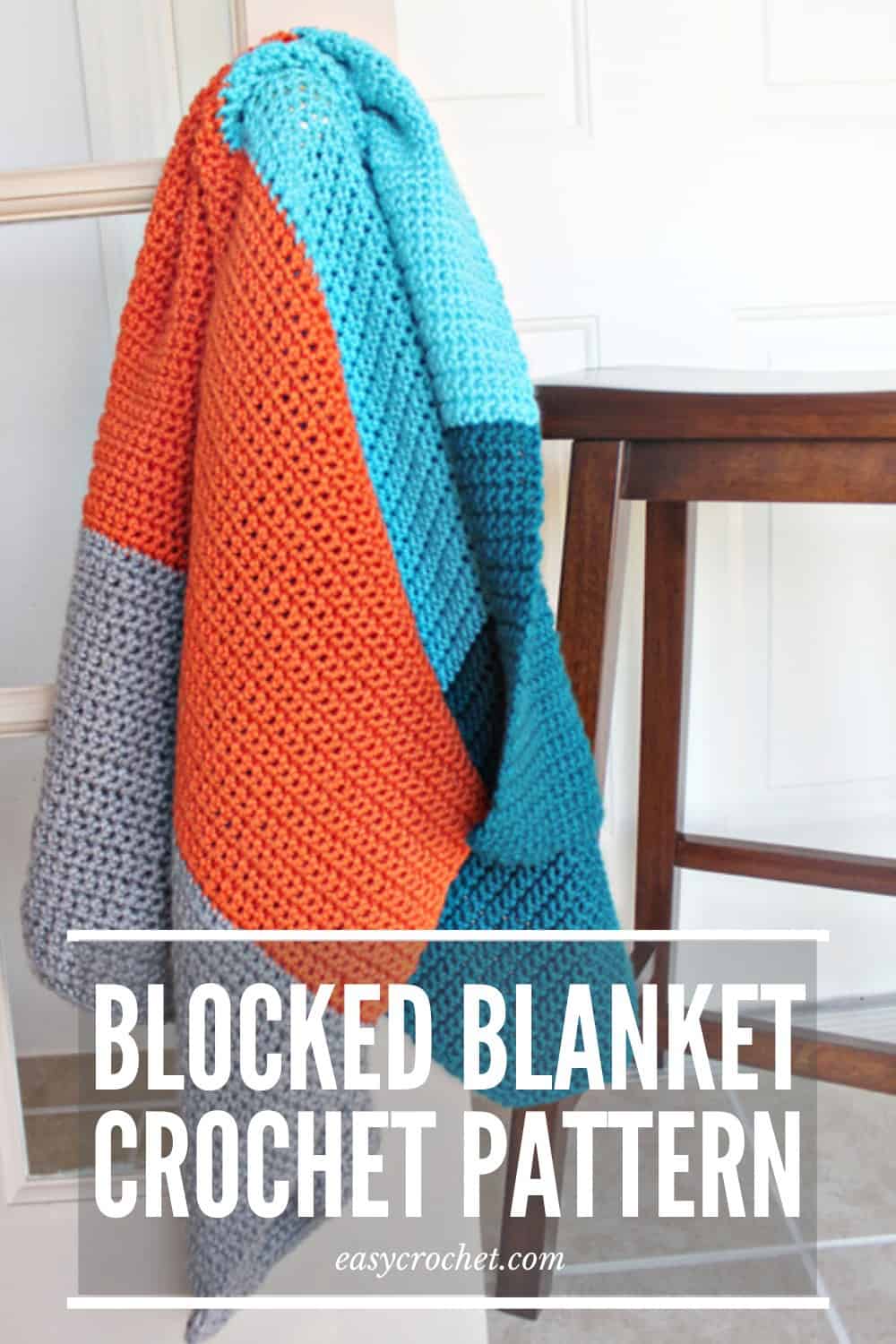 This easy stitch color block pattern is perfect for beginners! I can promise that this simple color-blocked blanket pattern is excellent for new crocheters!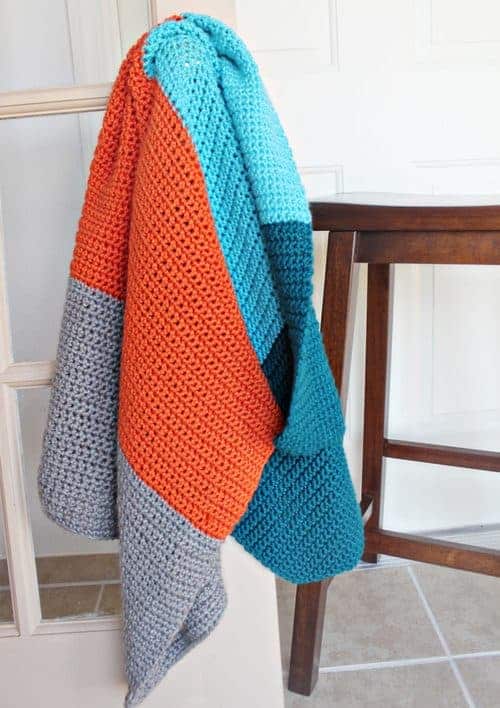 Are you looking for even more free crochet blanket patterns? I can help! Explore the Easy Crochet blanket pattern database for inspiration after you finish this color block crochet baby blanket!
I promise you can learn how to make a blanket with this free and beginner-friendly design. Read on down to find the blanket tutorial & pattern.
Happy Crochet Blanket Making!
The Yarn That I Used for This Colorblocked Crochet Blanket
I recently finished a crochet Three Striped Blanket for my living room couch and still being inspired I attempted to make something similar for son Sam's bedroom.
I used Red Heart Soft Yarn for the whole blanket and let Sam pick out the colors. I think he did a pretty good job on his color choices. I love how this colorful throw turned out and how much he enjoys using it.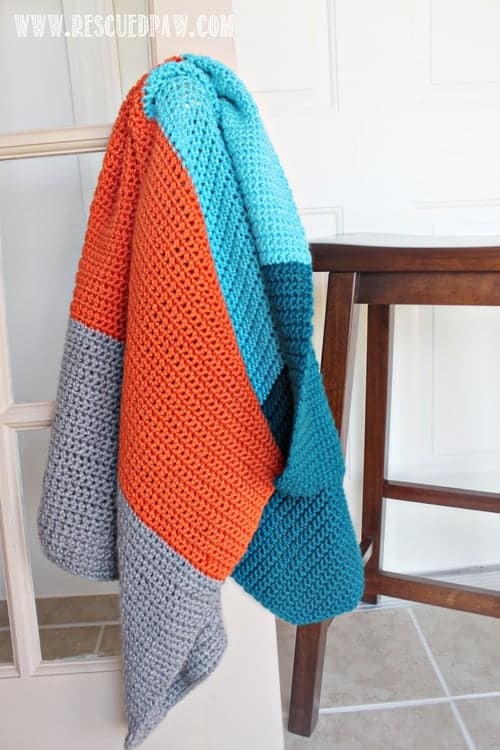 Beginner Color Block Crochet Blanket
I promise if you are new to crochet, then this blanket is for you! The best thing about this simple beginner blanket is that it works up so fast and uses only single crochets throughout the entire design!
Single crochets are the perfect stitch to use when first starting a crochet journey.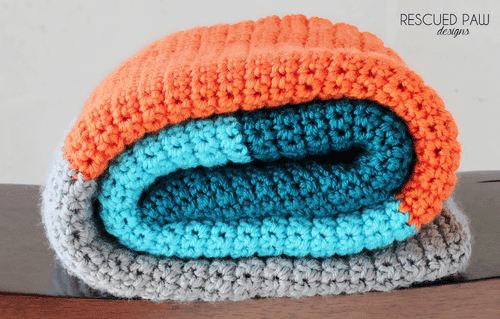 Ready to Get Started?
Read on down to find the free crochet throw pattern! Enjoy and
Happy Crochet Blanket Making!
Color-Blocked Crochet Blanket Pattern
Skill level: Basic
Materials
Size H Crochet Hook 5.00 mm
Yarn needle (to weave in ends)
Scissors
4 Skeins of Red Heart Soft Yarn
Sizing
The finished size as shown is approximately 50 inches x 25 inches
To change sizes simply chain any # starting chain.
Gauge
Gauge is not important for this pattern
Notes
Tutorial for changing yarn colors in crochet
Written in Standard US terms.
When you're ready to change colors pull up the first loop for a single crochet in the old color, then pull the new color through the last two loops to complete that single crochet, it's that easy.
Pattern Steps
Foundation: Chain 81
Row 1: Single crochet in the top loop of the second chain from the hook and in each chain across for a total of 80 stitches. Turn
Row 2: Chain 1, Single crochet in each stitch across. Turn.
Row 3-?: Repeat Row 2 until you reach the desired length.
Finishing: Cut yarn & weave the cut ends back and forth through the last row of stitching.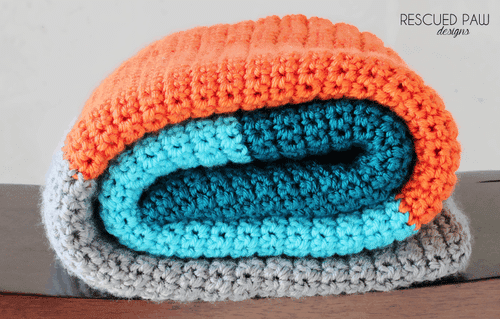 If you have any questions about this simple color-blocked crochet blanket pattern, please feel free to ask!
Want Even More Free Crochet Blanket Patterns?
Try the Charlotte Blanket or the Granite Crochet Throw to add to your collection.
You May Also Like…