The "Olivia", A Free Crochet Top Pattern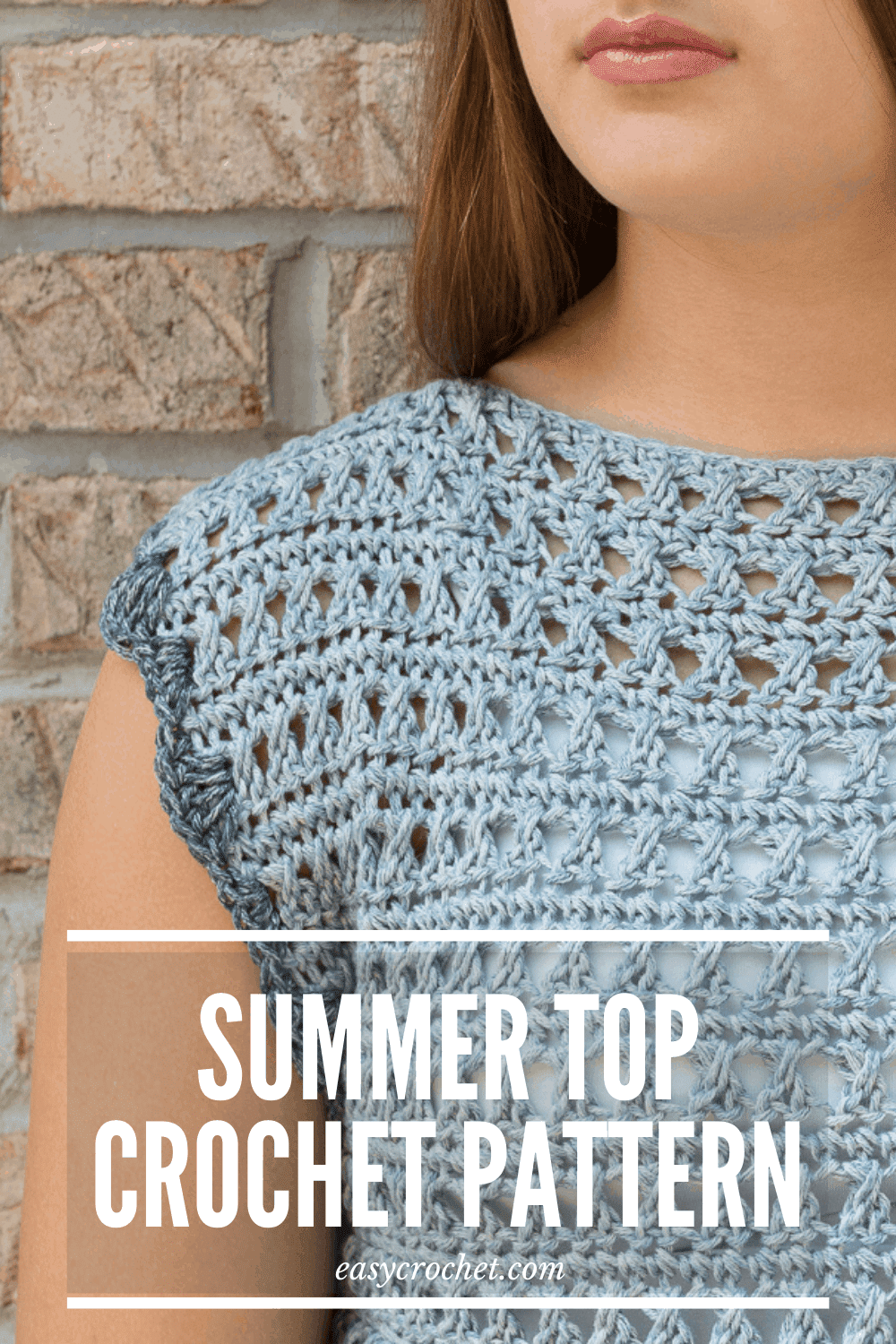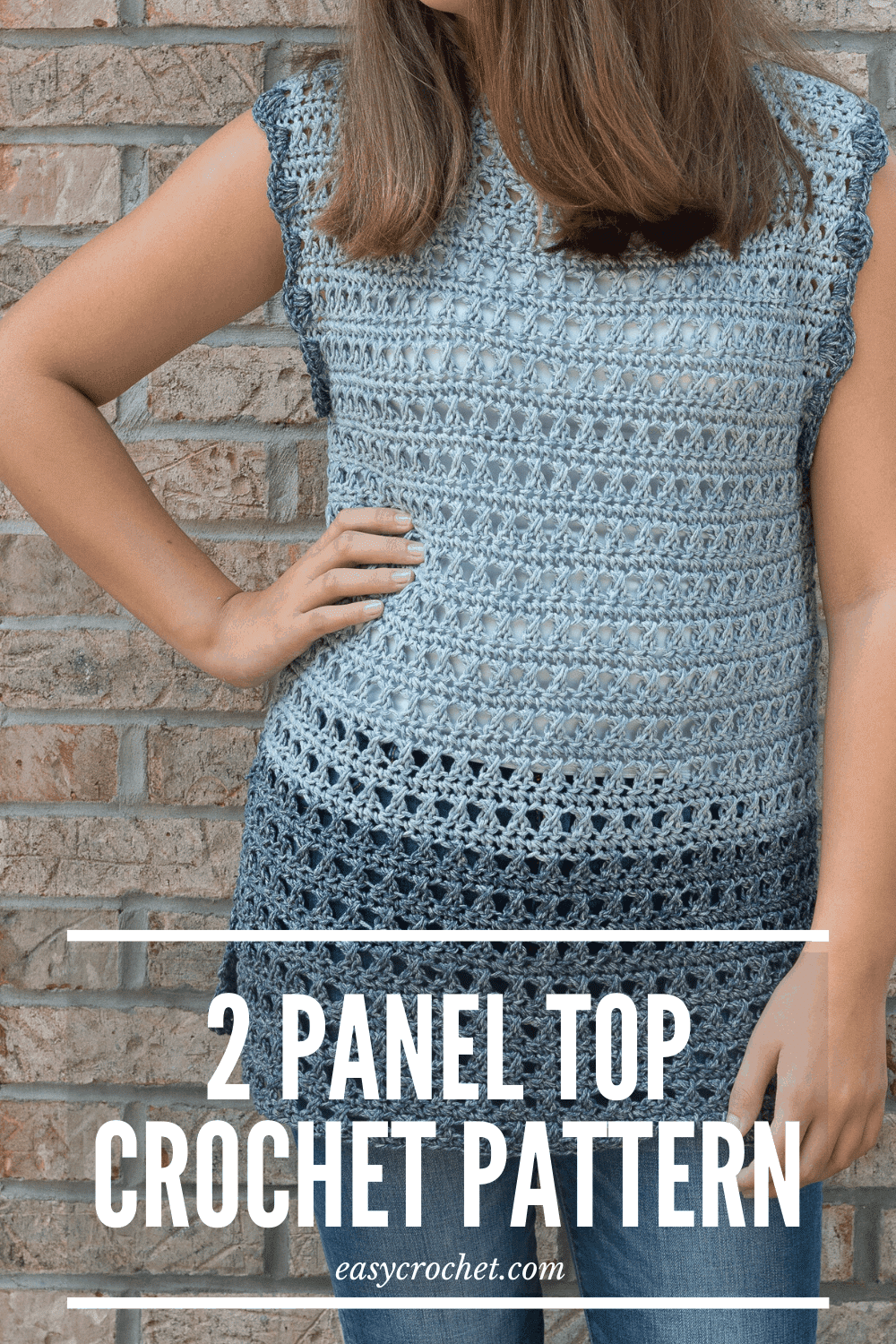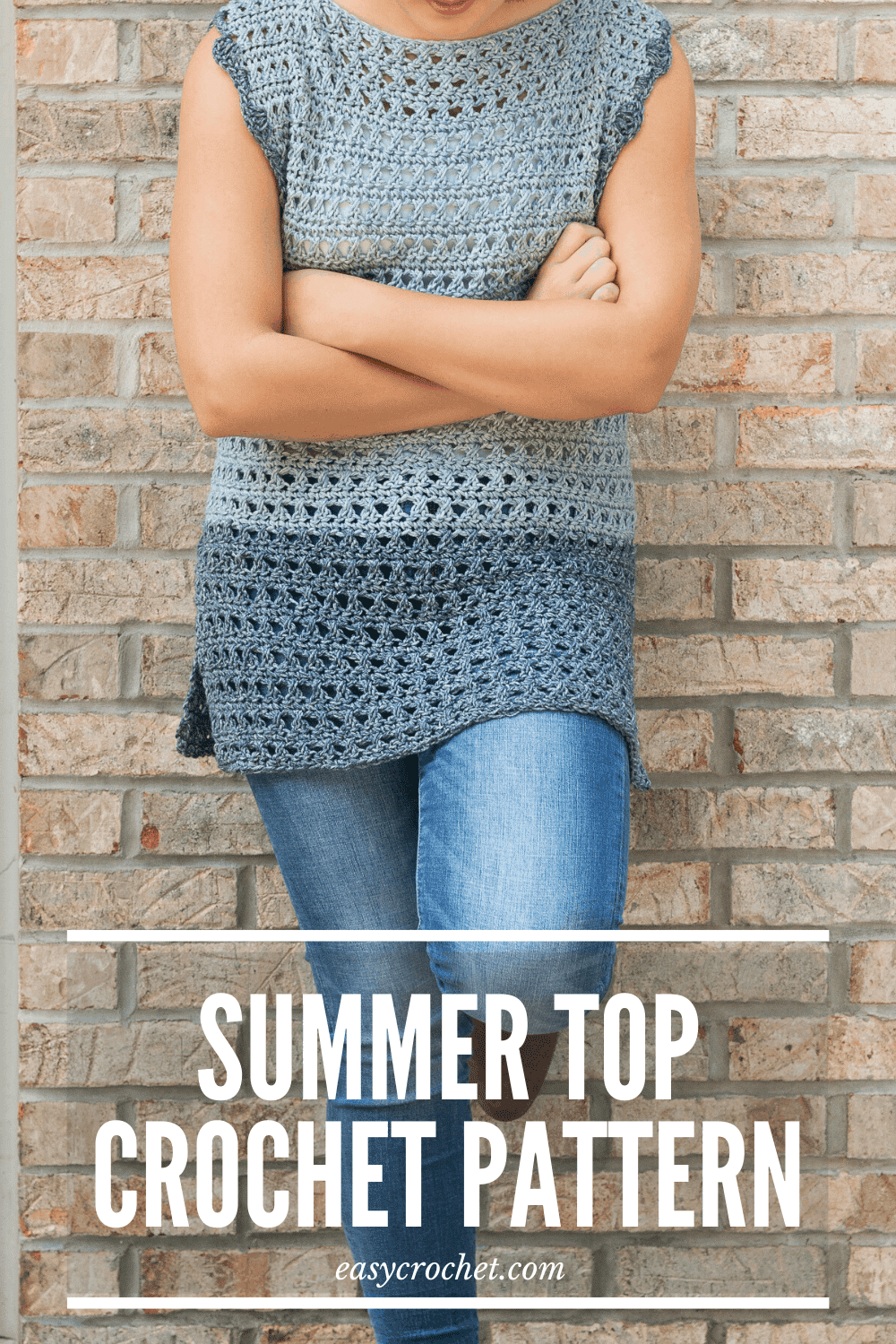 Are you looking for an easy crochet top pattern or crochet clothing to make? The Olivia top is a simple 2-panel design that works up fast, drapes beautifully, and is excellent for beginners!
Since the Olivia crochet top is a basic two rectangle design, it makes it a lovely pattern for those wanting to try a crochet garment for the first time! And I promise with the free pattern below you can learn how to crochet a sweater top in no time at all!
Read on down to learn how to crochet a top today… I can't wait to see what yours looks like!
Easy Crochet Pattern Top to Make
This pattern is a unique one for me because it is officially my first ever crochet top design! I am so proud of this piece and the hours it took to figure out sizing, yardage and photographing it! I see many more crochet sweater tops in Easy Crochet future.
I am so happy and proud to share this lightweight crochet sweater top with you! I hope you like it, and please let me know if you do decide to make this for spring!
The Perfect Yarn for this Crochet Sweater
For the entire design, you will be using the Lion Brand Jeans Cotton, which is just a fantastic extension of their Jeans acrylic yarn line! It is a DK lightweight yarn but is amazingly soft and works up beautifully in sweaters, baby blankets and even for a comfy crochet summer throw!
You will need two colors of this yummy yarn (or even one if you prefer fewer ends to weave in) and then you are good to go!
Jeans yarn is a great substitute if you can't find the cotton yarn.

Another thing you will love about this yarn is the drape! The top needs little to no shaping and drapes beautifully when worn! Once you crochet the first few rows, you will see just how amazing the way this yarn works up.
This top is probably one of the most flowing and softest pieces I have ever designed. If you do make this piece, then you will know what I mean!
Easy to Construct Crochet Top
This crochet piece uses just TWO basic rectangles and is super easy to put together! You will need to know how to do the mattress stitch & a slip stitch to finish. That's it!
The process of putting together the crochet panels is super easy, and you'll want to make a few of these in different sizes when you see how simple it is!
Grab the PDF Crochet Pattern Instead
I have put together a PDF of this crochet top if you would prefer a printable version of this pattern. Pattern sales help support my family, which means I can continue to offer FREE crochet patterns and to keep designing.
If you are ready to get started on this design, scroll on down for the free pattern, or purchase an inexpensive PDF version.
You will love how easy this lightweight top feels when worn. The soft drape and the way it wears will have you going back to this piece time and time again! Enjoy and happy crocheting.
The Olivia Crochet Top Pattern
Skill Level: Intermediate
Materials
LB Collection Jeans Cotton Yarn (Weight: 3: Light / 218 yards 3.5 oz or 100 g)
Color: Sun Bleached & Classic Indigo if doing the color-blocked look or just one color of choice from the LB Collection Jeans Cotton Yarn Line.

S = 700 yards or 4 skeins total
M = 850 yards or 4 skeins total
L = 1000 yards or 5 skeins total
XL = 1100 yards or 6 skeins total
2XL = 1350 yards or 7 skeins total
3XL = 1500 yards or 8 skeins total

Yarn needle
Scissors
H 5.00 mm crochet hook
F 3.75 mm crochet hook (For lace scalloped details)
Measuring tape or ruler
Abbreviations
Gauge
6 st(s) = approx. 2 inches & 2 rows of sc & dc is approx. 1 inch
Finished Sizes
Bust: 34 (38, 42, 46, 50, 54)"
Length: 24 (24, 25.5, 25.5, 26.5, 26.5)"
Neckline: 11 (11, 12,12, 12.5, 12.5)"
Armhole: 7 (7, 8, 8.5, 9, 9.5)"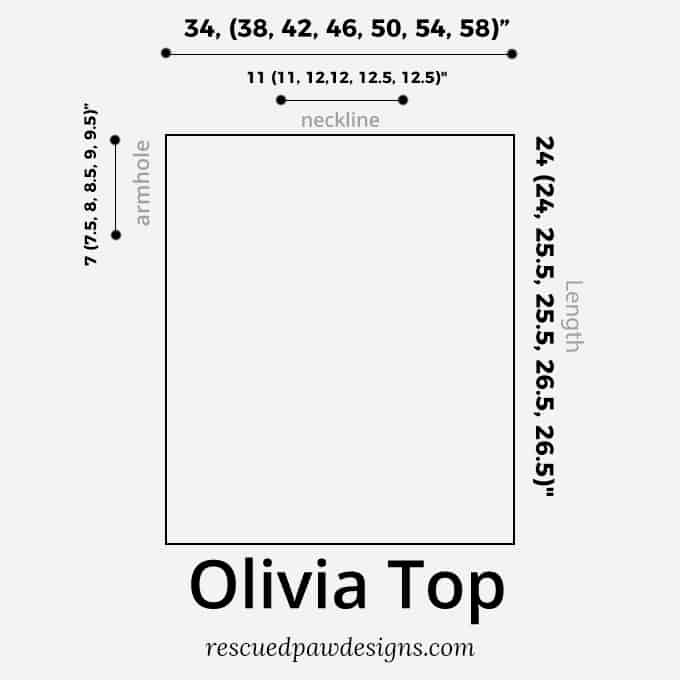 Notes
The pattern is written in standard US terms
The top sizes are in parentheses (S) (M) (L) (XL) (2XL) (3XL) at the end of each row.
The color block look is optional. If you'd prefer one color, that is totally fine. (fewer ends to weave in!)
I changed my color on row 34, but this is totally optional, and you can change colors on any row or even make stripes!
If you are between sizes, please size up.
To follow the pattern more easily, highlight all numbers for your size before beginning.
Starting with row 1: The turning Ch 1's & Ch 2's at the beginning of the rows do NOT count as a st.
The Crochet Top Steps
Note: This makes two panels:
1 Front Panel
1 Back Panel
Foundation Row: Ch (53 ) (63) (73) (83) (93) (103)
Row 1: Ch 1, starting in the second ch from the hook sc, sc into each ch across, turn. (52) (62) (72) (82) (92) (102)
Row 2: Ch 2, dc, sk a st, dc, go back to sk st then dc, *sk a st, dc, go back to sk st then dc, repeat from * across ending with 1 dc in last st, turn. (52) (62) (72) (82) (92) (102)
Row 3: Ch 1, starting in the first st make 1 sc, sc into each st across, turn. (52) (62) (72) (82) (92) (102)
Row 4-33: Ch 1, Repeat row 2 & 3. (52) (62) (72) (82) (92) (102)
Row 34: Change color to Classic Indigo (optional, can do one color instead), repeat row 2 (52) (62) (72) (82) (92) (102)
Row 35 – 48: Repeat row 3 & 2 (52) (62) (72) (82) (92) (102)
Size Option: For size S & M
Row 49: Repeat row 3, fasten off (52) (62)
Size Option: For size L & XL
Row 49 & 50: Repeat row 3 & 2 (72) (82)
Row 51: Repeat row 3, fasten off. (72) (82)
Size Option: For size 2XL & 3XL
Row 49 – 52: Repeat row 3 & 2. (92) (102)
Row 53: Repeat row 3, fasten off. (92) (102)
Finishing
Sides: With the wrong side of the front & back panel facing, start at the bottom of the garment and sew the side seam (use the mattress stitch) until the inches shown below are left according to the size made. If you would like more room at the hips, leave 3-4″ slit (unseamed) at the bottom, on each side of the body.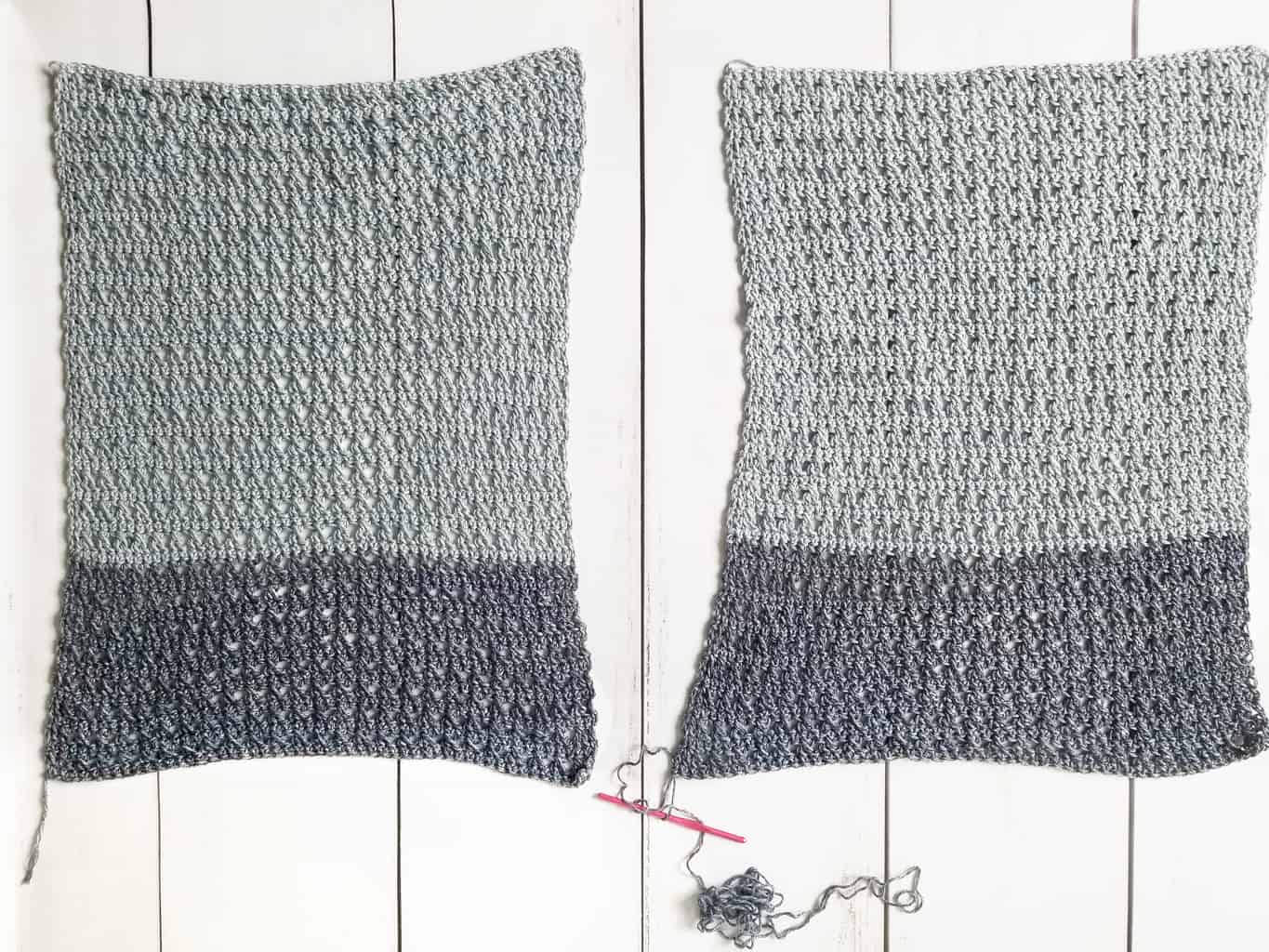 Arm Hole: Leave indicated space for armhole when seaming up the sides at the top of the piece.
S:7″
M: 7.5″
L: 8″
XL: 8.5″
2XL: 9″
3XL: 9.5″
Shoulders: Before you work the seams ( I recommend a slip stitch seam) across the top of the shoulders, try on the garment and mark off how wide you want your neckline to be.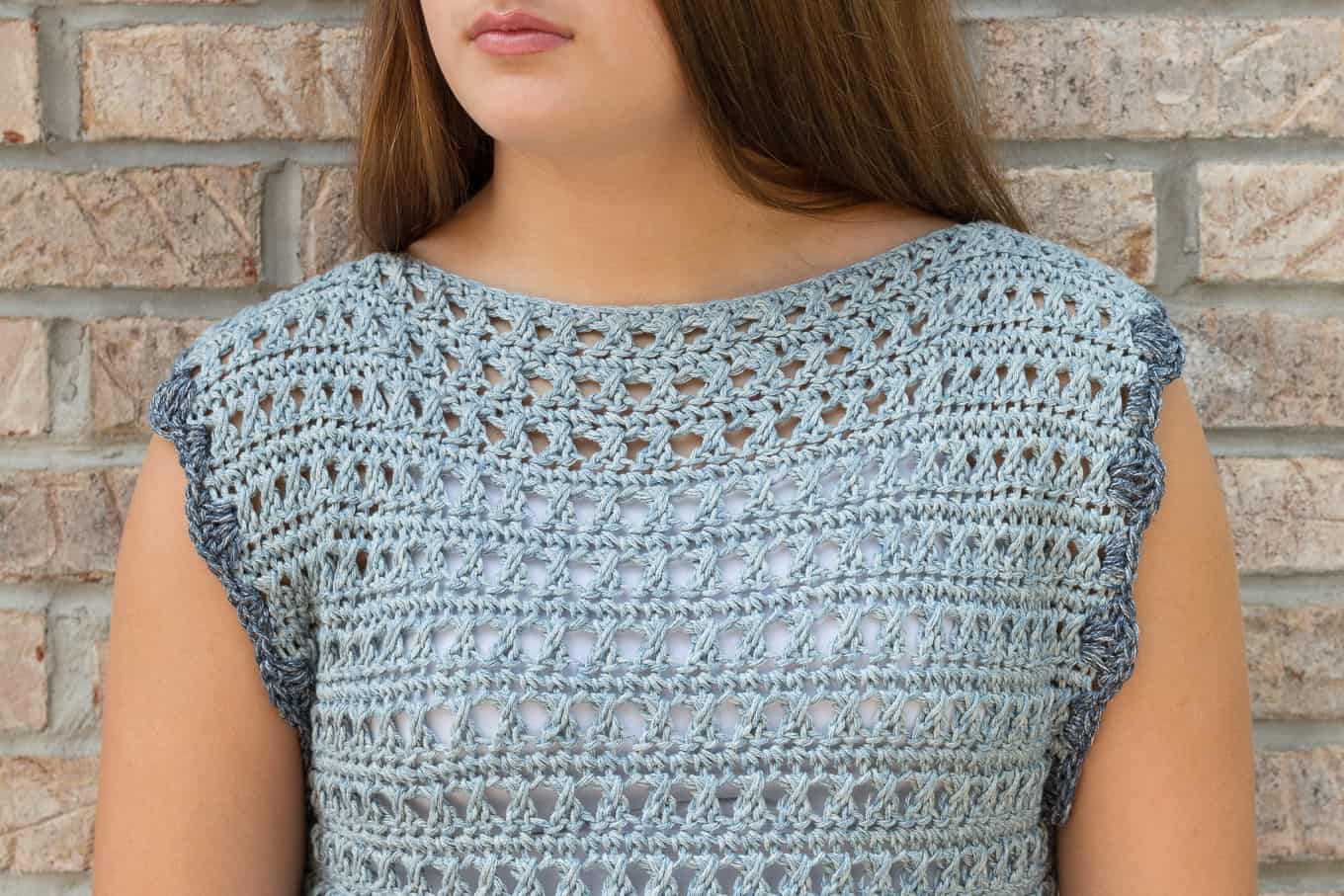 Lace Detail:
*Use the 3.75 mm hook for this part of the top.
(optional) I suggest using a contrasting color but any color would work fine.
Working along with the sleeve opening work four sc's in the side of the first dc row, in the next dc row work five double crochets along the side, repeat this process around the sleeve opening, finishing with a sl st to the first set of four sc's.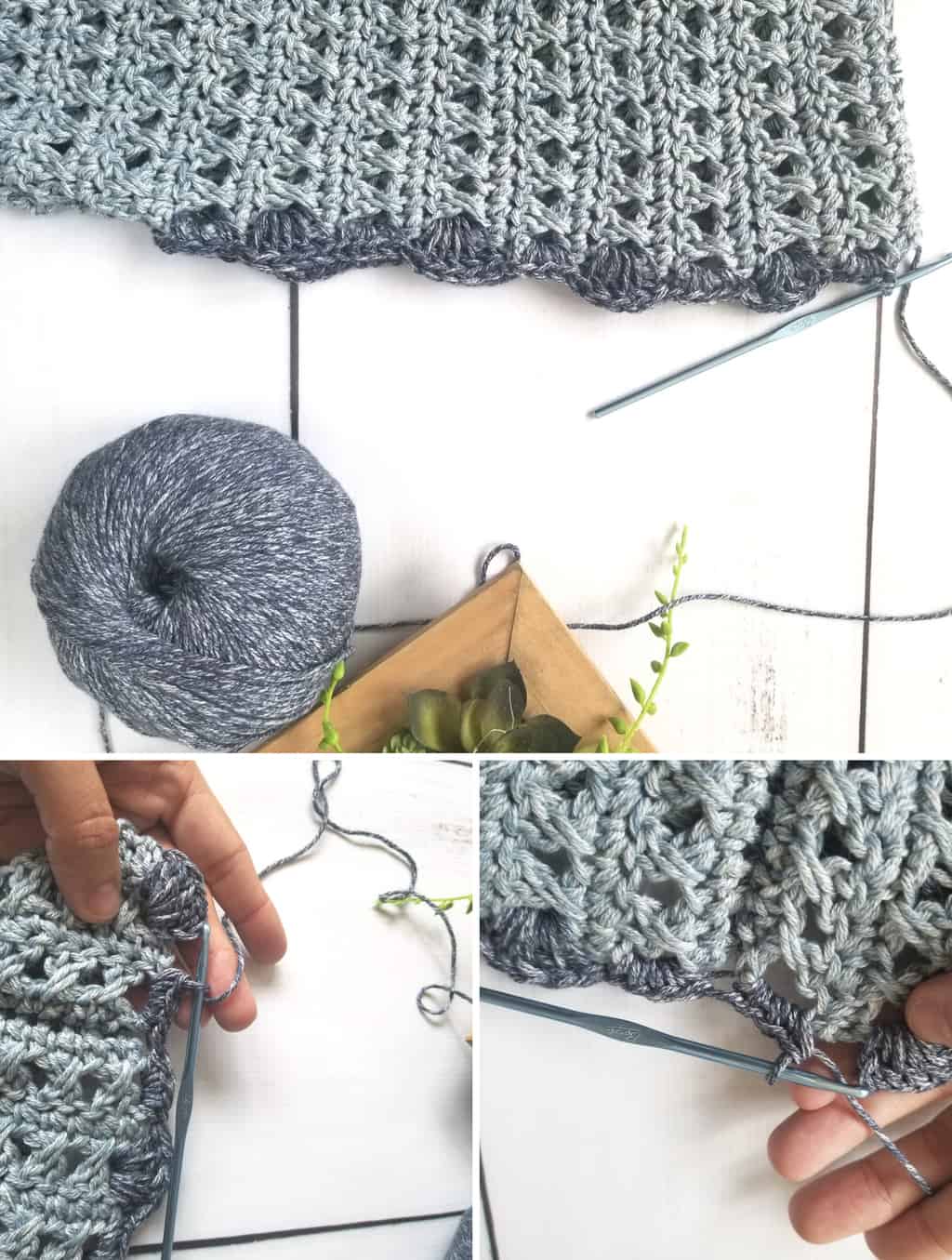 One Last Step: Weave in the ends throughout the piece with a yarn needle, and you are done with your new crochet sweater top for spring & summer!
Don't Forget to Follow Along With Me on Social Media!
If you enjoyed this free crochet pattern, please find me on Instagram, Pinterest, or come chat with me in the private Easy Crochet Facebook Group. If you have a question about this pattern, the Easy Crochet Facebook group is welcoming and always looking to help out!
More Crochet Clothing Patterns