18 Easy Crochet Baby Blanket Patterns for Beginners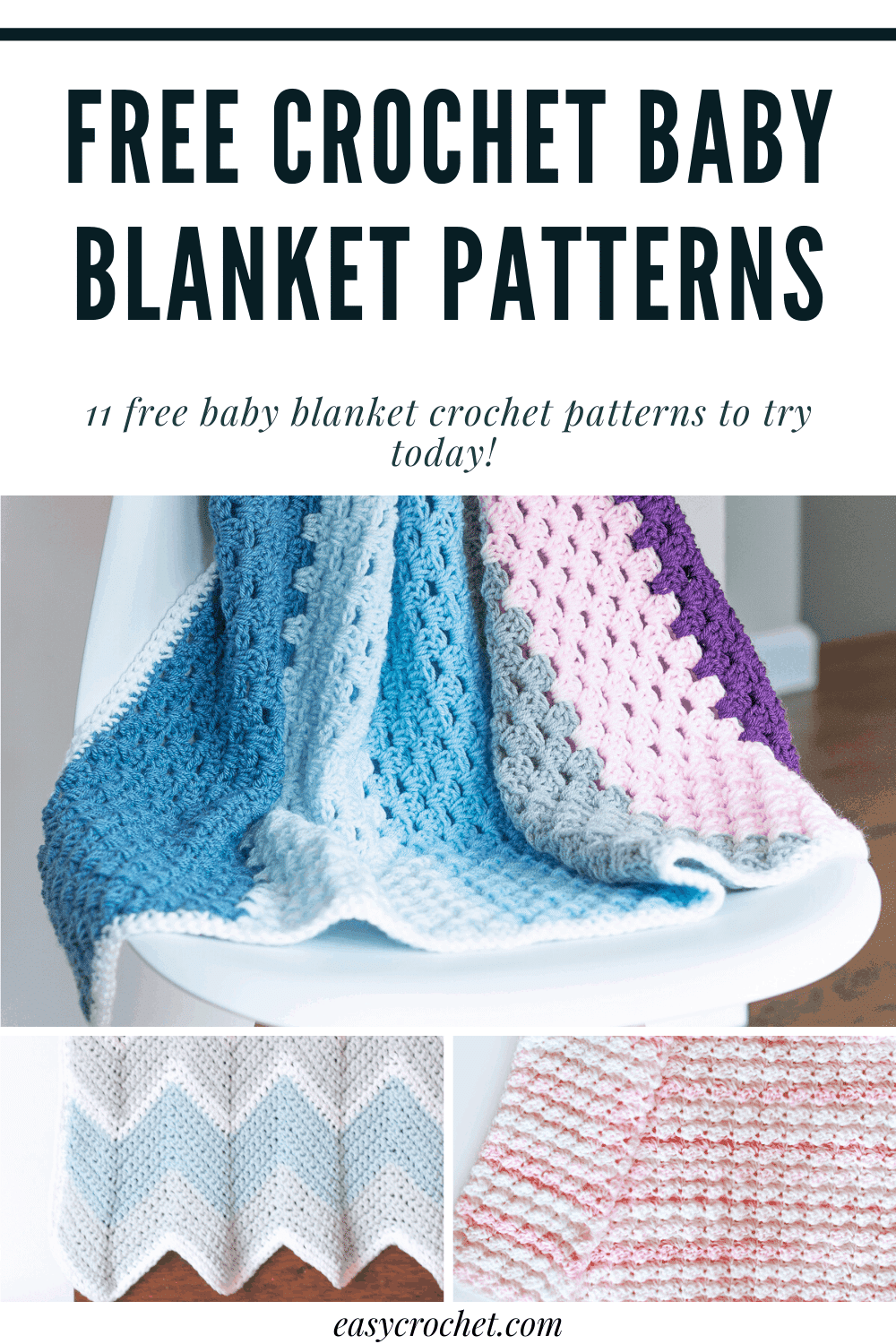 Are you searching for a new pattern to crochet a baby blanket? If so, you'll love this roundup of adorable free crochet baby blankets that are all easy to make, beginner-friendly and great for newborns to older babies, plus they all would make a great baby shower gift too!
You are going to love making an easy crochet baby blanket because they work up fast, they are easy to customize with any yarn color you wish, plus, they are a small project.
Scroll on down to find your next favorite crocheted baby blanket pattern from our list.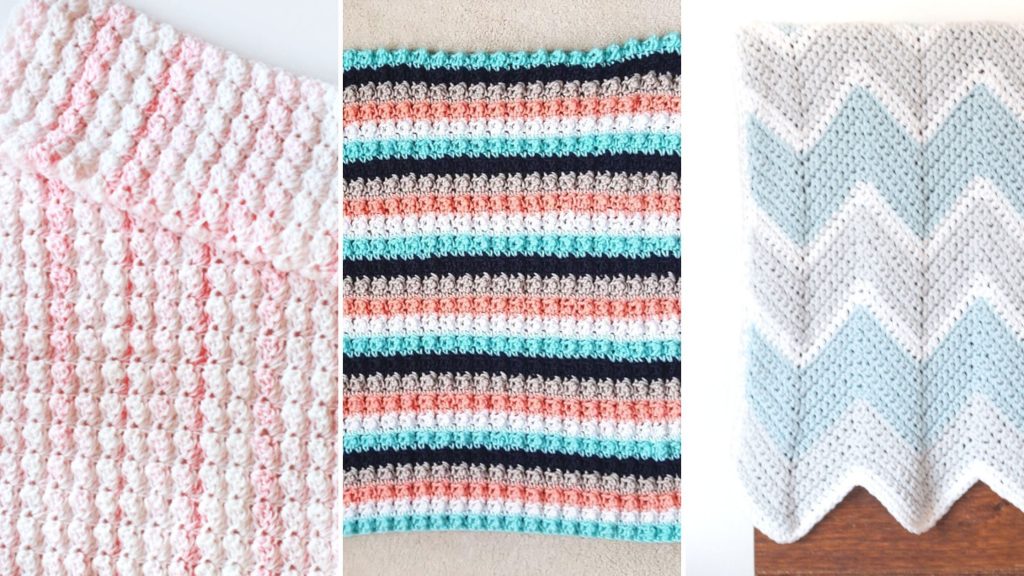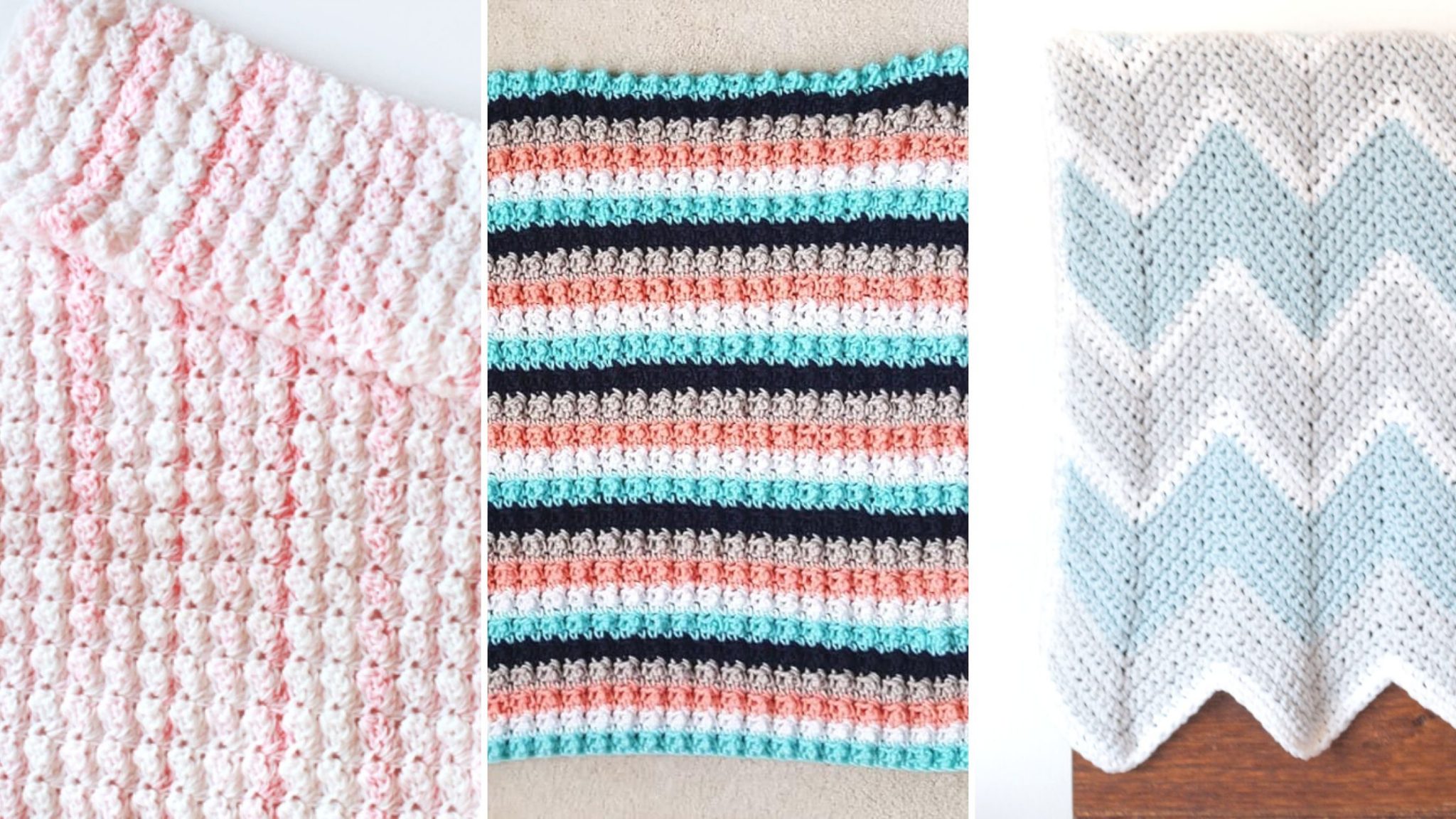 Free Crochet Blankets for Baby
Below you can explore the best crochet baby blanket patterns from Easy Crochet as well as some very talented crochet designers around the web.
You will find ripple blanket patterns, granny blanket patterns and more simple crochet baby blanket designs using basic crochet stitches in a repeat row. These patterns all come in a variety of baby blanket sizes such as lovey, receiving, stroller and baby (and more too!).
Let's not forget that they have great colors, so it will be easy to find inspiration for your next perfect blanket for a baby boy or baby girl quickly.
If you enjoy crocheting baby gifts, then take a look at our archive of easy baby blanket crochet patterns too.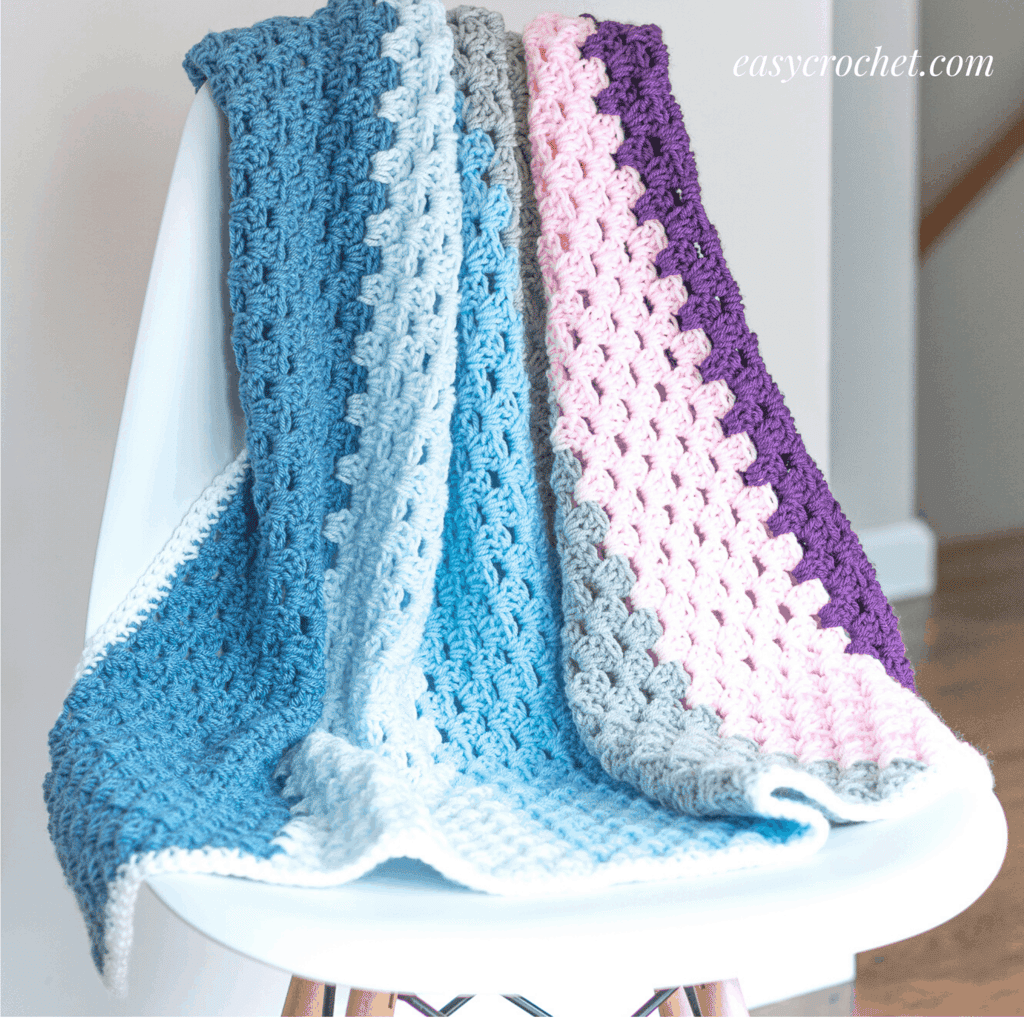 What is The Best Yarn for Baby Blankets?
What is the best yarn to make a baby blanket in? I get this question a lot, and the answer is that it depends on the family you are making it for!
Tip: Ask the person who you are making the baby blanket for what they prefer in a yarn, if there are any allergies, and their pick of a color. I usually recommend a washable yarn since it will more than likely be used over and over again.
My favorite types of yarn to make baby blankets with are acrylic yarns (easy to wash), cotton yarns and soft chenille velvet type yarns.
Acrylic Yarns
Acrylic yarns are a great choice for baby blankets because they are easy to care for and will look great wash after wash.
Some of my favorite acrylic yarns are Caron Simply Soft by Yarnspirtaions, Vanna's Choice by Lion Brand and We Crochet Brava Worsted, all of which are a worsted weight yarn (aka medium weight yarn).

Cotton Yarns
Cotton yarns are also a great choice for baby blankets, especially in the Summer, since they are a breathable fiber and easy to clean.
One of my favorite cotton yarns to use for blankets is 24/7 Cotton, since it has a beautiful sheen to it and is available in a wire array of colors. I also like using Comfy Cotton (a cotton blend) by Lion Brand to for crocheting in summer for baby blankets. They are both a four weight yarn (aka worsted weight yarn) that are lightweight and easy to work with.

Soft Chenille Yarns
Chenille yarns are so fun to work up because they are soft and make a blanket that is extra cuddly.
I recommend using the single crochet stitch with the velvet type yarns because the stitches can worm (or come loose) which can create a messy blanket.

Polyester Yarns
Polyester yarns are easy to make into baby blankets because they are a chenille style yarn that is soft and breathable.
My favorite polyester yarn to use is Bernat Baby Blanket yarn since it is a super bulky six yarn weight that works up quickly. If you haven't tried Bernat baby blanket, then you need to as soon as you get the chance!

Overall, there are so many yarn choices, brands and fibers, so you will always be able to find a good match of yarn for your baby gift.
Below, the baby blanket & lovey patterns have a variety of different yarn brands that were used. I linked them all up, so you'll be able to see the fiber content and the color choices, be it bright colors or neutral colors, that are best for you and your client.
Crochet Baby Blanket Sizes
If you have ever wondered what size a crochet baby blanket should be, then I can help! Crocheted blankets can really come in any size.
A good deal of crochet baby blanket patterns will have the size listed within in the pattern, but may also have sizes that are even larger. Be sure to look over the pattern you pick to be sure of the size baby blanket you are going to make.
The most common sizes for crochet baby blankets are lovey, strollers, receiving and baby. These are just suggested sizes, and the finished blanket sizes will more than likely vary from pattern to pattern.
| Blanket Size | Dimensions (inches) | Dimensions (cm) |
| --- | --- | --- |
| Lovey | 12 x 12 | 30 x 30 |
| Cradle (Small) | 15 x 30 | 38 x 76 |
| Cradle (Large) | 18 x 33 | 46 x 84 |
| Stroller | 30 x 35 | 76 x 89 |
| Crib | 30 x 36 | 76 x 91 |
| Receiving | 40 x 40 | 102 x 102 |
| Baby | 42 x 52 | 107 x 132 |
Crochet Baby Blanket Sizes
Are you ready to pick your new favorite crochet baby blanket pattern? I hope you love this roundup of the best free crochet baby blanket patterns. Happy Crocheting.
Easy Crochet Baby Blanket Patterns
Take a look at some of the best free baby blankets you can crochet below! Most of the patterns are great baby blankets for beginners to try and all use a simple stitch pattern. I hope you enjoy this baby afghan crochet pattern collection!
---
---
---
---
---
---
---
---
---
---
---
---
---
---
---
---
---
---
More Free Crochet Baby Blanket Patterns
---

If you enjoy this type of roundup of free crochet patterns for baby blankets, then you will probably like these articles from Easy Crochet with more free crochet pattern ideas too.
More Free Crochet Blanket Patterns
Check out a few of my favorite free blanket patterns below too! These two patterns below are my favorite blankets and are also a crocheter favorite here on Easy Crochet.
Jane Throw Blanket Free Pattern – The Jane crochet throw blanket uses the moss stitch and is a great beginner-friendly blanket that can be crocheted in eight sizes. So, this pattern is a great addition to your crochet baby blankets collection too!
Alissa Crochet Blanket Free Pattern – The Alissa afghan pattern is simple to crochet and looks quite unique when finished, even though basic crochet stitches are used.
If you'd like to share any of your baby projects, please join the Easy Crochet community on Facebook or email me.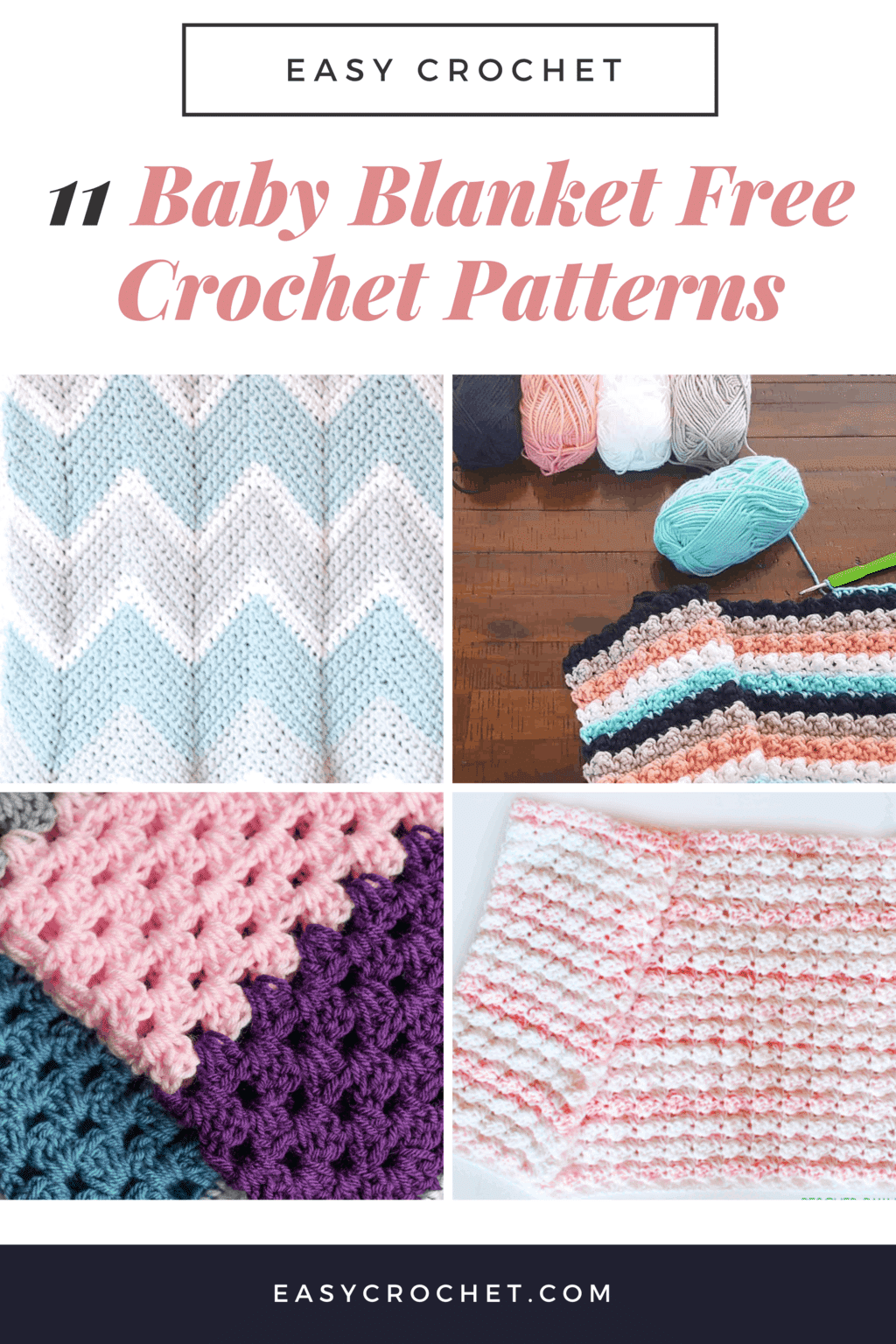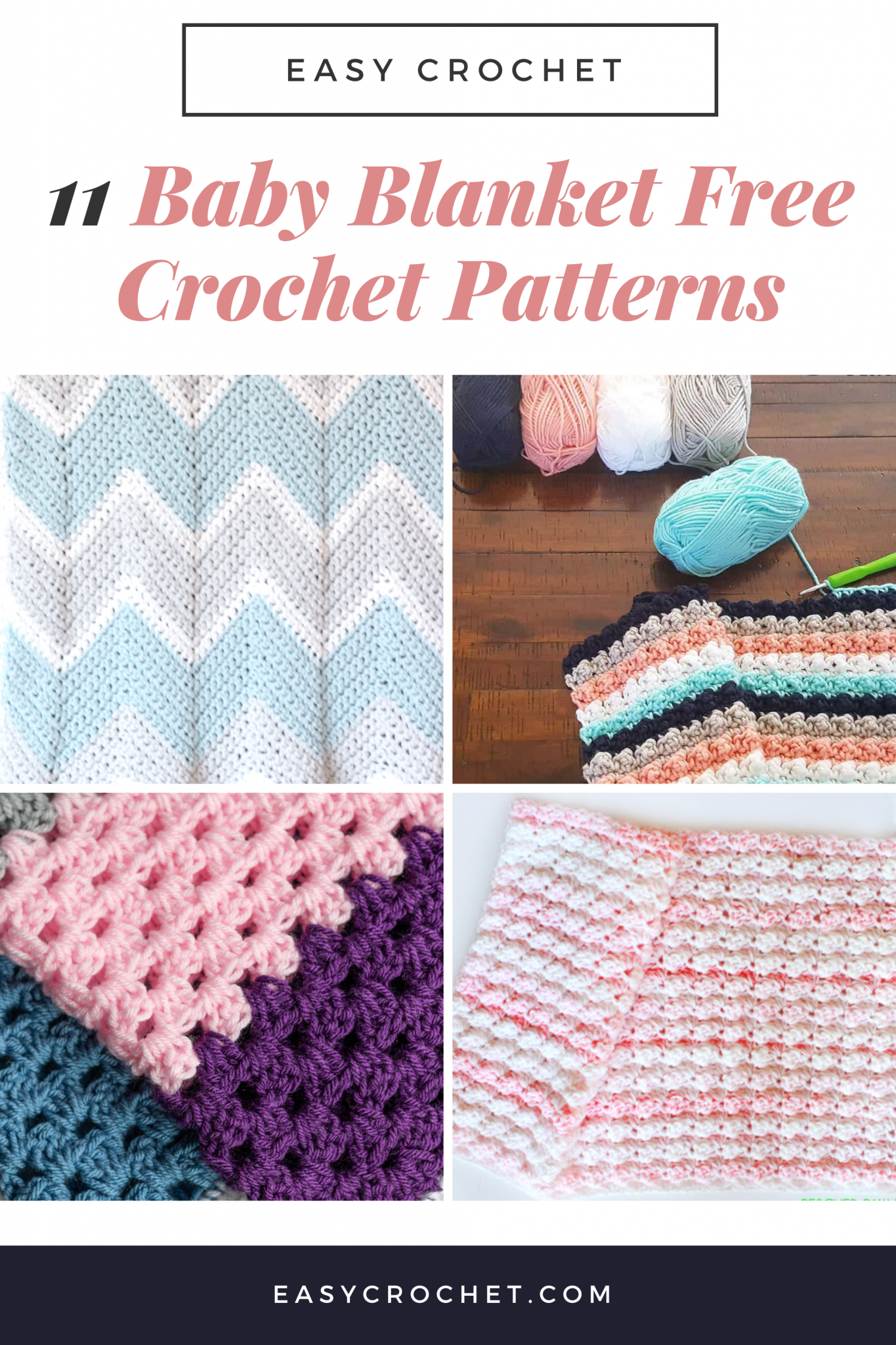 Common Questions About Crochet Baby Blankets
How Many Crochet stitches are in a baby blanket?
This number of stitches in a baby blanket will vary from pattern to pattern. It will also depend on the yarn weight and hook size as well. The average baby blanket size is 42″ x 52″ or 107 cm x 132 cm. So, if you crochet a baby blanket at that size with a four weight yarn and just the single crochet stitch you would use approximately 28,670 stitches total.
How Many Skeins of Yarn do you need to crochet a blanket?
To make a 42″ x 52″ crochet baby blanket, you will need 13 to 14 skeins of Vanna's choice Yarn in the 171 yard size using the single crochet stitch. Follow along with our single crochet blanket in the baby size and follow gauge to make a similar pattern.
How Long Should It take to Crochet a Baby Blanket?
For most crocheters, On average, a few days to a week is the time you will need to crochet a baby blanket. But time estimate this will depend on your skill level, the yarn used, and the complexity of the baby blanket design or pattern you want to make.
How Many Chains Do you Need for a Crochet Baby Blanket?
You will need 148 chains to make a 42″ wide baby blanket using four weight yarn and a 4.5 mm crochet hook. Follow along with this row by row using the single crochet stitch for 195 rows to make a 42″ x 52″ crochet baby blanket.
How Long Should a Baby Blanket Be in Crochet?
A baby blanket should be about 52″ long.
What Should I Use as a Border on a Baby Blanket?
You can use any edging or border pattern on baby blankets you prefer. I enjoy simple border patterns like the single crochet stitch edging. If you'd like to take a look at more choices for borders, browse through this blanket border post for inspiration.
What is the Best Crochet Stitch for a Baby Blanket?
The best stitch for a baby blanket will be half double crochet stitches (hdc). Half double crochet stitches are easy to learn and a great beginner stitch to try. This basic stitch is easy to make, great for beginners and creates a tight stitch which is perfect for baby blankets.