7 Best Yarns for Baby Blankets
Crochet blankets are always fun to make, but I especially love making baby blankets! It is because they are a smaller and quicker project than a throw or afghan, and I'll be able to start another blanket pattern even faster.
Truthfully, the best part for me about crocheting a blanket isn't actually the crochet part, it is the buying the yarn part! I've learned over the years that not all yarns are created equal when it comes to making sure you have the best yarn when you are crocheting a baby blanket.
What Yarn is Best for Baby Blankets?
There are a few things to consider when you are looking for the best yarn for baby blankets.
Top Two Things to Consider when Buying Yarn for a Baby Blanket are…
Is it a Washable Yarn?
Will the Fiber Irritate the Babies Skin?
First, babies can make a mess, so you will want to be sure the yarn you use in your baby blanket is washable. Since the blanket will need to be washed over and over again a fiber like a super wash merino would not work because it wouldn't be able to withstand the repeated washes.
Secondly, the yarn used in a baby blanket will need to be a fiber that is ok to have on babies sensitive skin. A good rule of thumb is to use an acrylic yarn, cotton, or blend (without wool) that can be thrown in the washer and won't irritate a babies sensitive skin.
Top Yarns for Baby Blankets
Below are the seven top yarns for crocheted baby blankets. These yarns range from extremely affordable to some fancier fibers. They are all perfectly good to use when making a crochet baby blanket, since they can hold up well to daily use and are extra soft for a baby.
Learn more below about some of my favorite yarns for all crochet baby blankets and crochet projects for babies!
Acrylic Yarns
Acrylic yarns are great for crochet or knit baby blankets because of the wide range of colors they are available in, plus they are easily washable. My top two favorite acrylic yarns for blankets are Brava from WeCrochet/Knitpicks and Vanna's Choice from Lionbrand. These yarns are both a four weight 100% acrylic yarn that are affordable and easy to find (most of the time!).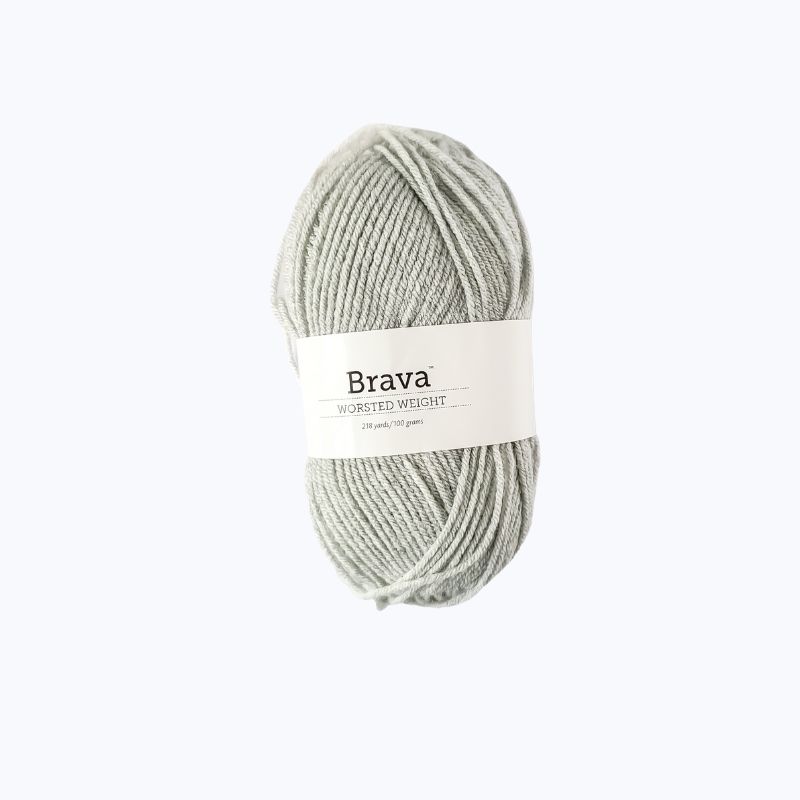 Brava Yarn from We Crochet + Knit Picks
Brava yarn is perfect to crochet a baby blanket with because of how inexpensive it is and how beautiful it works up. I used it before in the modern granny baby blanket in a variety of colors and am happy with how it turned out.
It has 218 yards in each skein for a low price, so you can crochet a baby blanket without much cost involved. Below take a look the large range of yarn colors that you can crochet a gorgeous baby blanket with and have fun!
---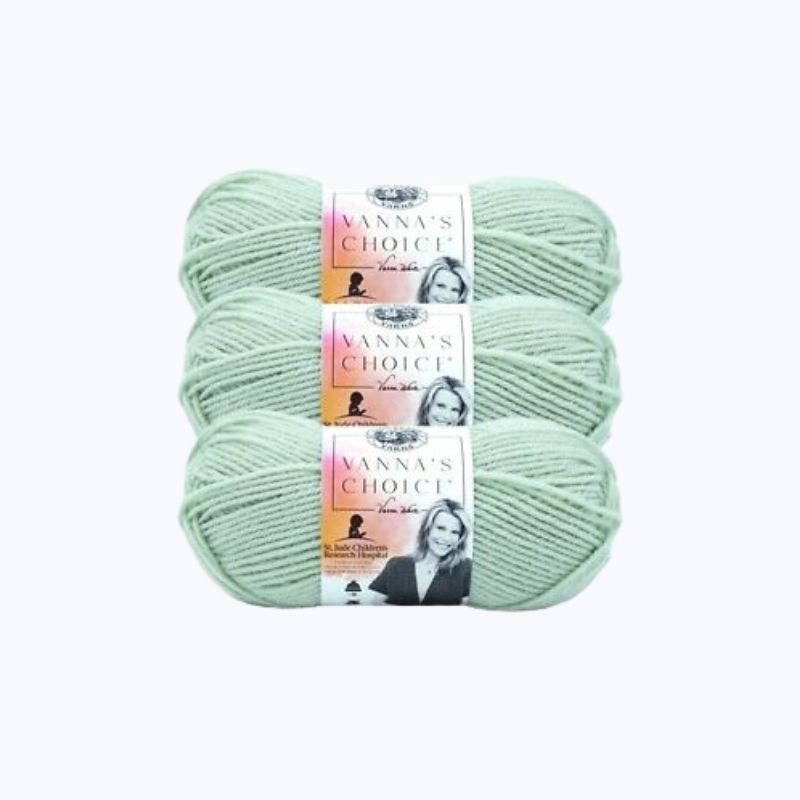 Vanna's Choice from LionBrand
Vanna's Choice yarn is a yarn that I can't and say enough positive things about. It's affordable, beautiful to work with, and has a wide array of stunning colors. This four weight yarn has 171 yards in each skein and is available in a solid colors, self striping and more styles.
Take a look at these easy crochet baby blanket made with Vanna's Choice, so you see how it looks worked up in a baby blanket.
---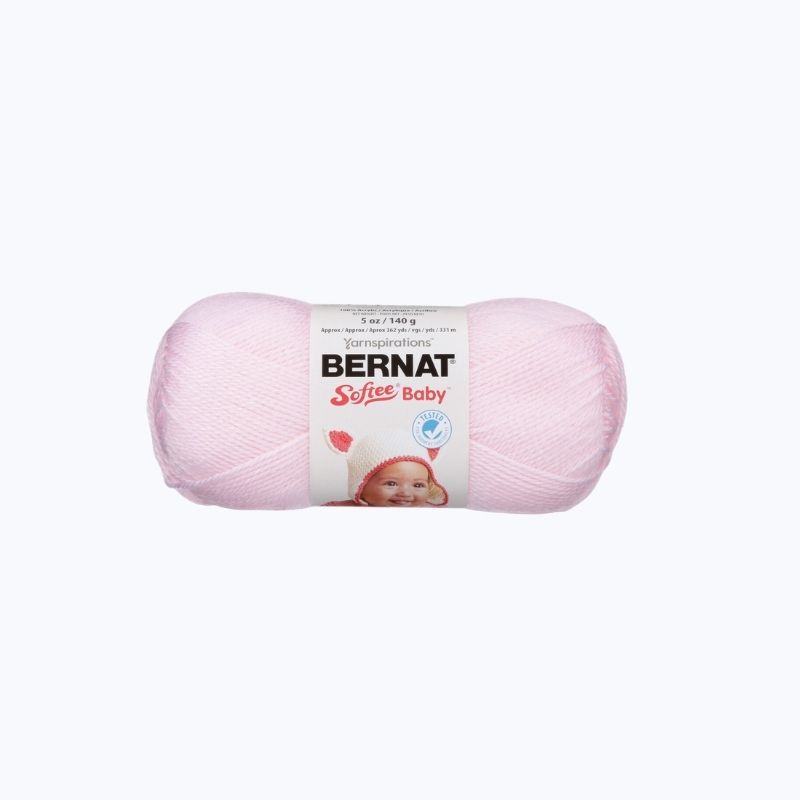 Softee Baby from Bernat
Softee Baby is a 100% acrylic fiber and is considered lightweight three yarn. It is available in a palette of colors ranging from bright to muted and ombres all of which are perfect for crochet baby projects!
Be sure to take a close look at the yarn, so you can see how beautiful it will be when it is worked up in a baby blanket. Psst… this is one of the softest yarn for baby blankets!
---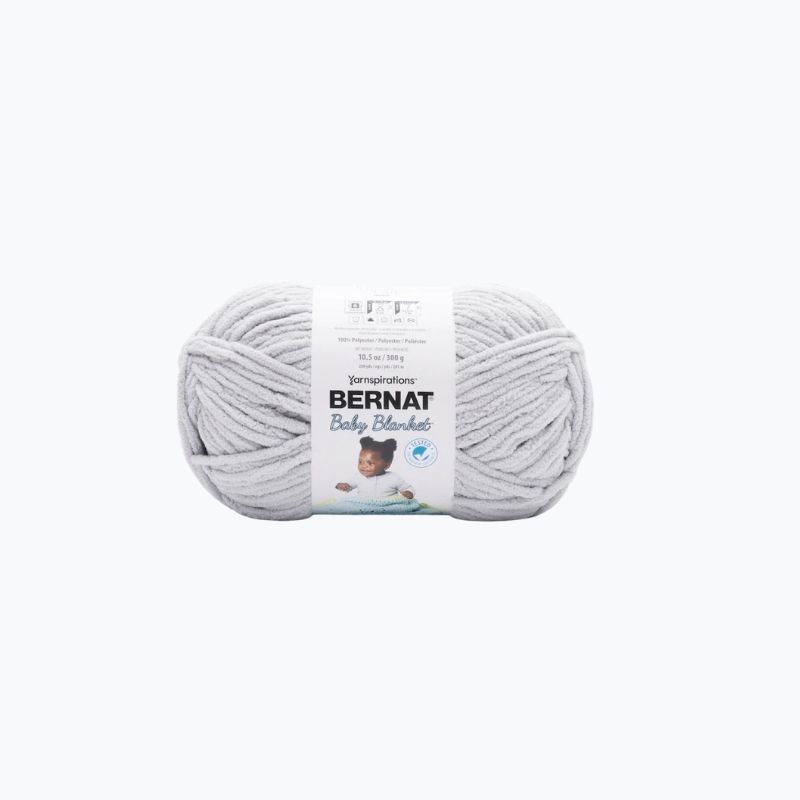 Baby Blanket Yarn from Bernat
Baby Blanket Yarn is a 100% polyester yarn that is a super bulky six weight yarn. It is a larger yarn that makes crocheting a baby blanket seem easy because it works up so fast. You can find it in the baby blanket variety or the regular blanket yarn style. Either yarn would work great for a soft baby blanket.
The Sea Soft Blanket here on Easy Crochet will give you a good idea of what blanket yarn will look liked crocheted into a baby blanket.
---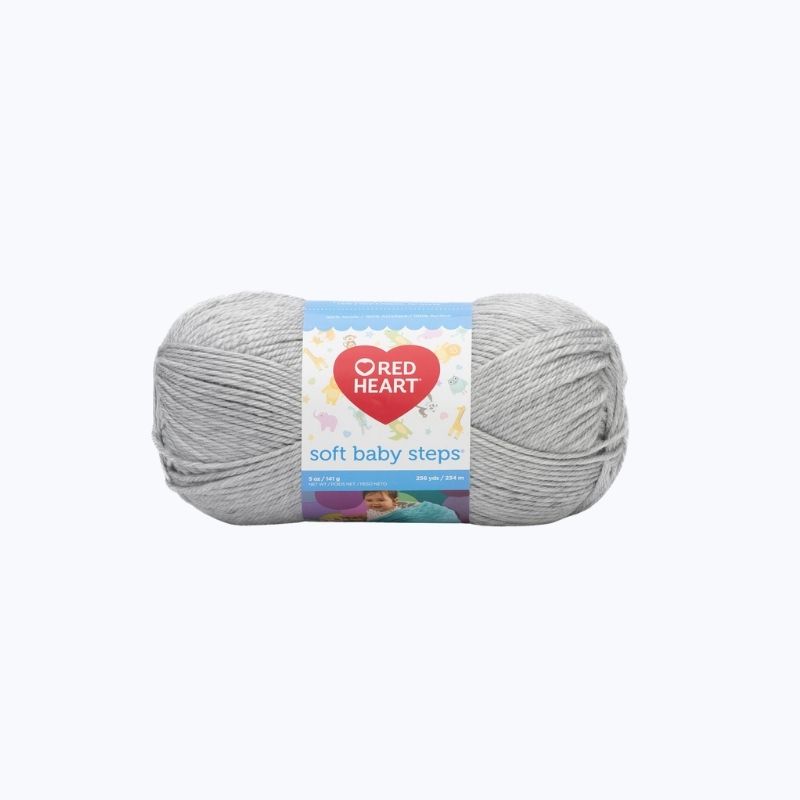 Soft Baby Steps from Red Heart
Soft Baby Steps yarn is a 100% acrylic medium weight yarn that is available in a beautiful range of bright to muted baby yarn colors.
I recently used it to design the Granny Stitch Ripple Baby Blanket and loved how it worked up. It has a beautiful color to it, and it is extra soft which is perfect for a baby blanket.
---
Cotton + Cotton Blend Yarns
Cotton and cotton blend yarns are great to use because they are lightweight, easily washable, and soft. My two favorite cotton yarns are Comfy Cotton from Lion Brand and Comfy Worsted from WeCrochet. Learn more about them below and get ready to make the coziest crocheted baby blanket ever!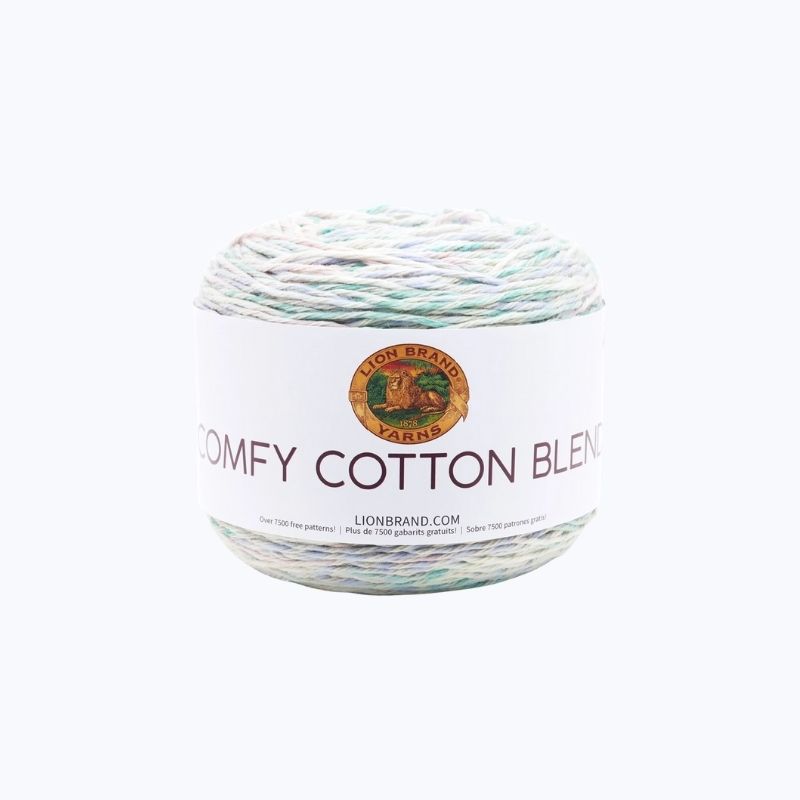 Comfy Cotton Blend from LionBrand
Comfy Cotton Blend is a three weight yarn that is a combination of cotton and polyester. This mixture makes it a breathable yarn perfect for a baby blanket or baby gift no matter the time of the year.
This yarn has 392 yards of yarn which means you won't need that much to complete a baby blanket, you'll have fewer ends to weave in, and you can start a new baby blanket project even quicker.
---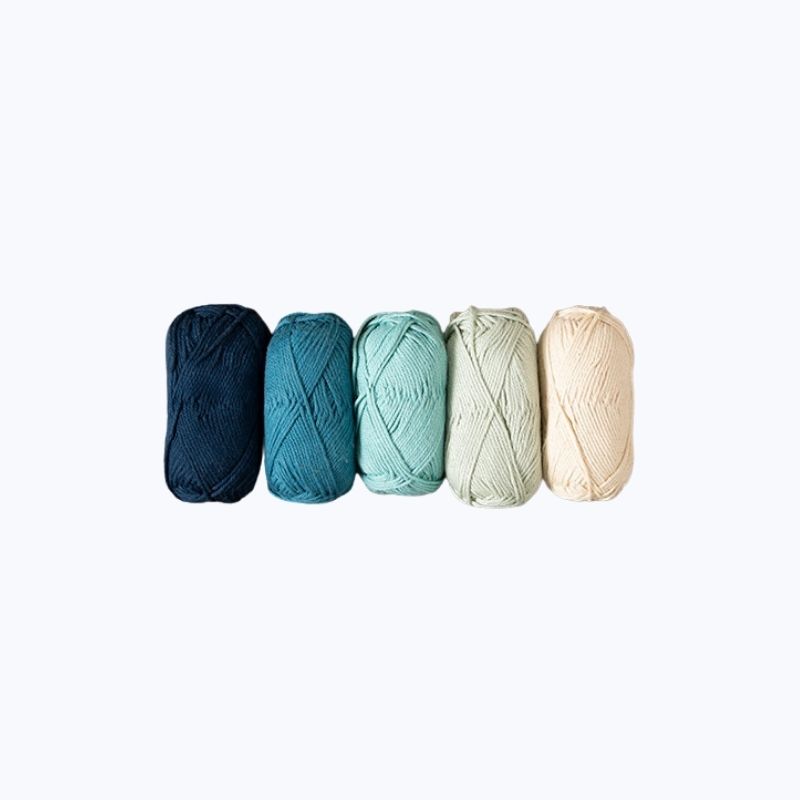 Comfy Worsted from WeCrochet
Comfy Worsted is a 75% pima cotton and 25% acrylic four weight yarn blend with 109 yards (100 m). This yarn is great for all types of crochet projects, including baby blankets.
The pima cotton in this yarn makes it incredibly soft which is perfect when it will be next to babies skin. Plus, it is machine washable and dryable.
---
Common Baby Blanket Yarn Questions
The yarns above are some of my favorite to use, and I am pretty sure I have used them all in at least one of my baby blanket designs. If you still have some questions about yarns used in baby blankets, take a look at the Q & A that I put together below.
How Much Yarn Do I Need For A Baby Blanket Pattern?
You will need approximately between 400 and 500 yards four weight yarn to make a small crochet baby blanket size. This can vary from yarn brand to yarn brand but generally speaking, if you use a worsted weight (or medium) weight yarn you will need this much to create a smaller size baby blanket. I love using this How Much Yarn Do I need? chart from Lion brand as a reference.
Crochet baby blanket sizes can vary, but there are a few standard blanket sizes such as lovey, stroller, receiving and baby sizes that you can base your yarn calculations from in the post linked above. Or you can use the Easy Crochet blanket resizing calculator too to help figure out yarn yardage. Keep in mind that yardage will change based on who you are making the blanket for. If you are crocheting a blanket for a newborn vs an older baby, the size of the blanket will change.
Do I Need to Buy All the Yarn for the Baby Blanket At the Same Time?
Yes! I suggest purchasing all your yarn for your baby blanket project at the same time because of dye lots. Dye lots are given to a yarn when it is made, so the consumer will be able to tell if the balls or skeins of yarn they buy will match in color. You can find the dye lot usually on the outside label of the yarn.
When you are crocheting a blanket you will want to make sure that all the yarn colors are the same dye lot because you wouldn't want to have a baby blanket with different shades of the same color it. This may be ok if you are not doing a solid color baby blanket and want an ombre looking blanket. I 100 percent of the time suggest buying yarns that the same dye lot number on them, so you can get a more cohesive looking baby blanket. You'll thank me later. 🙂
I hope you enjoyed these snugly and soft baby blanket yarns that are perfect for crochet blankets! If you have any questions about these yarns, please leave a comment!
More Free Crochet Baby Blankets