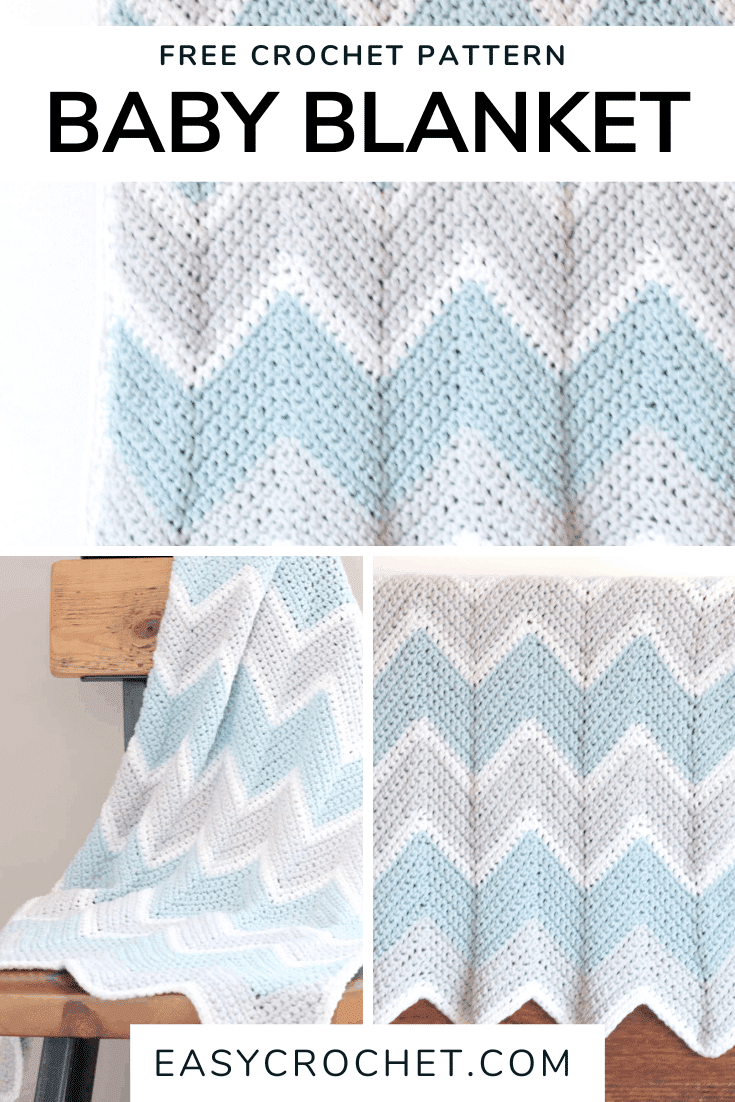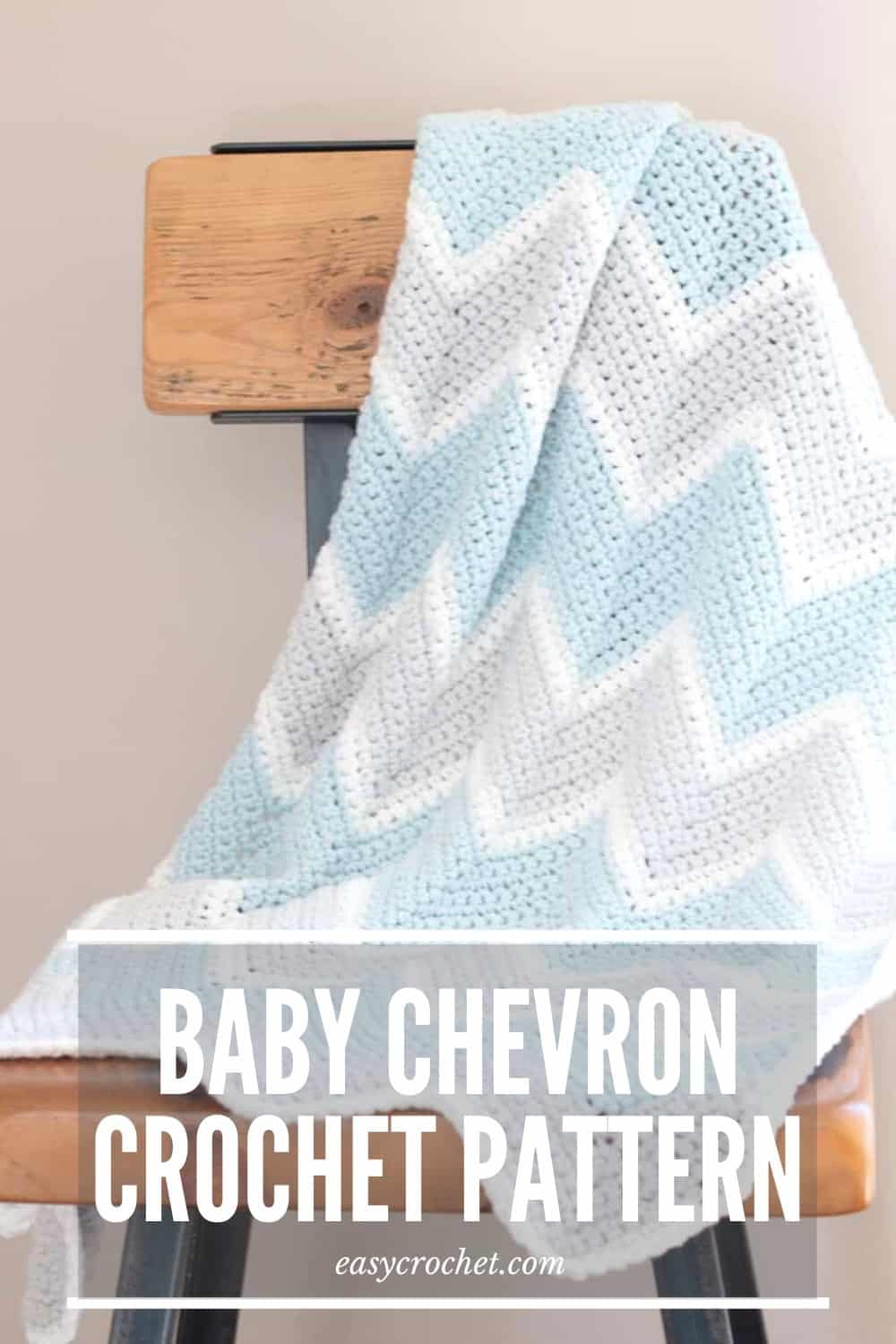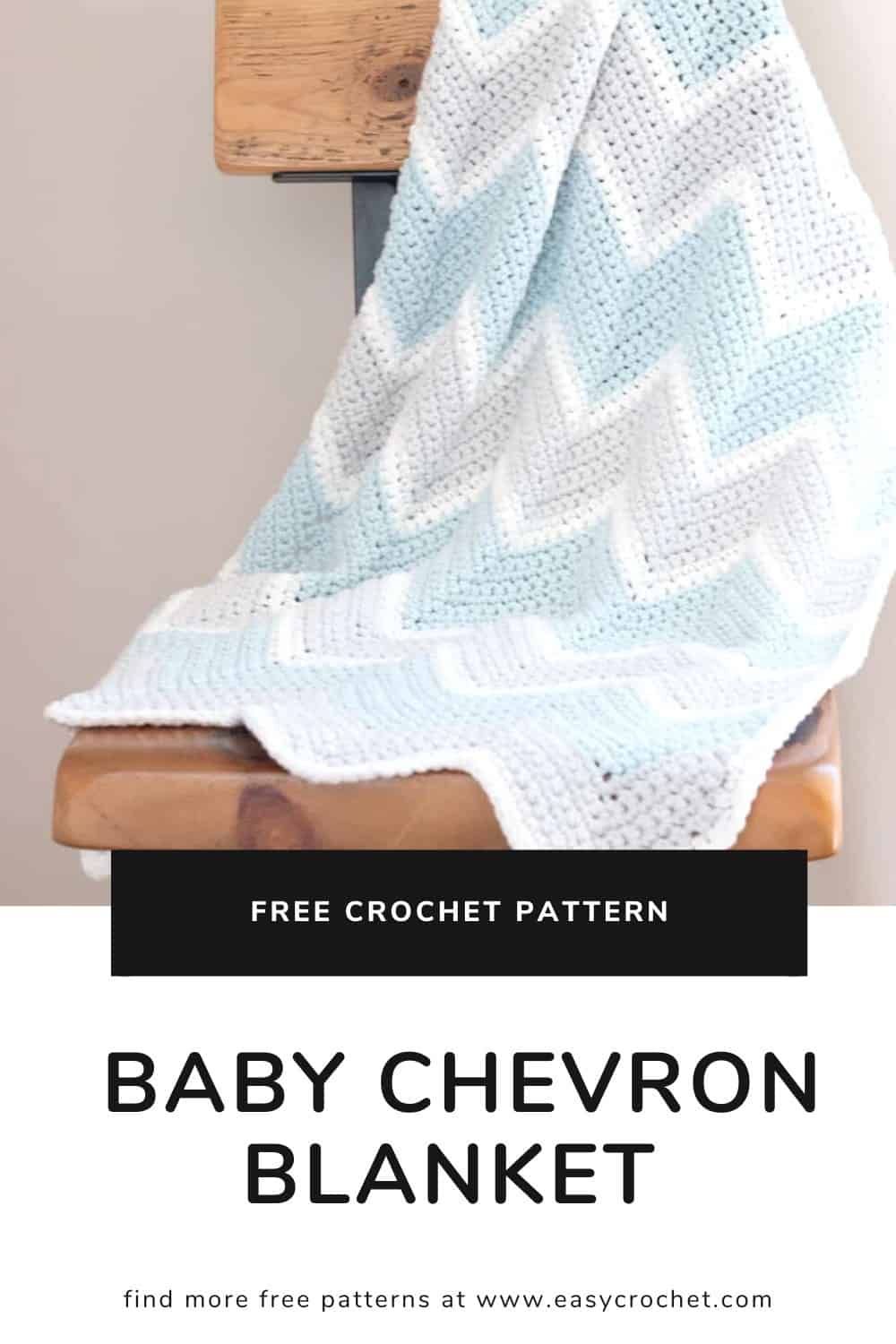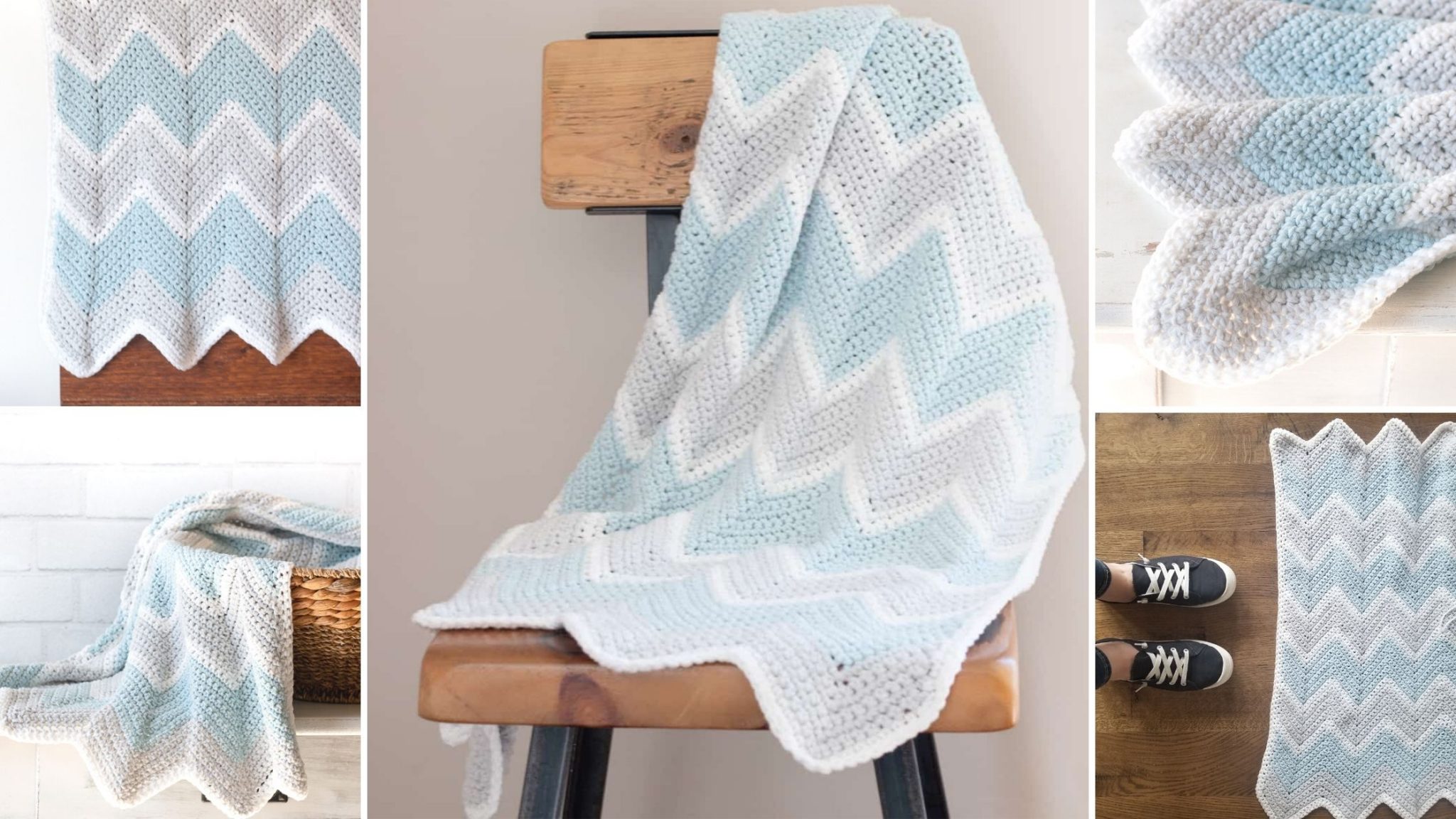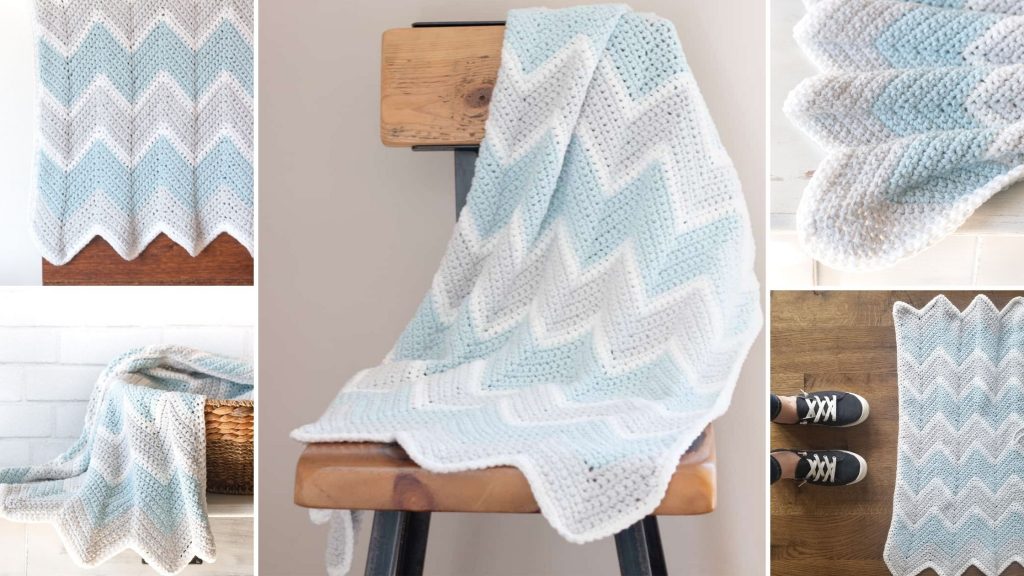 Do you love chevron patterns? Are you looking for a fun but beautiful baby blanket? Then you'll want to try this pattern!
Make this simple chevron baby blanket today with the FREE crochet pattern below!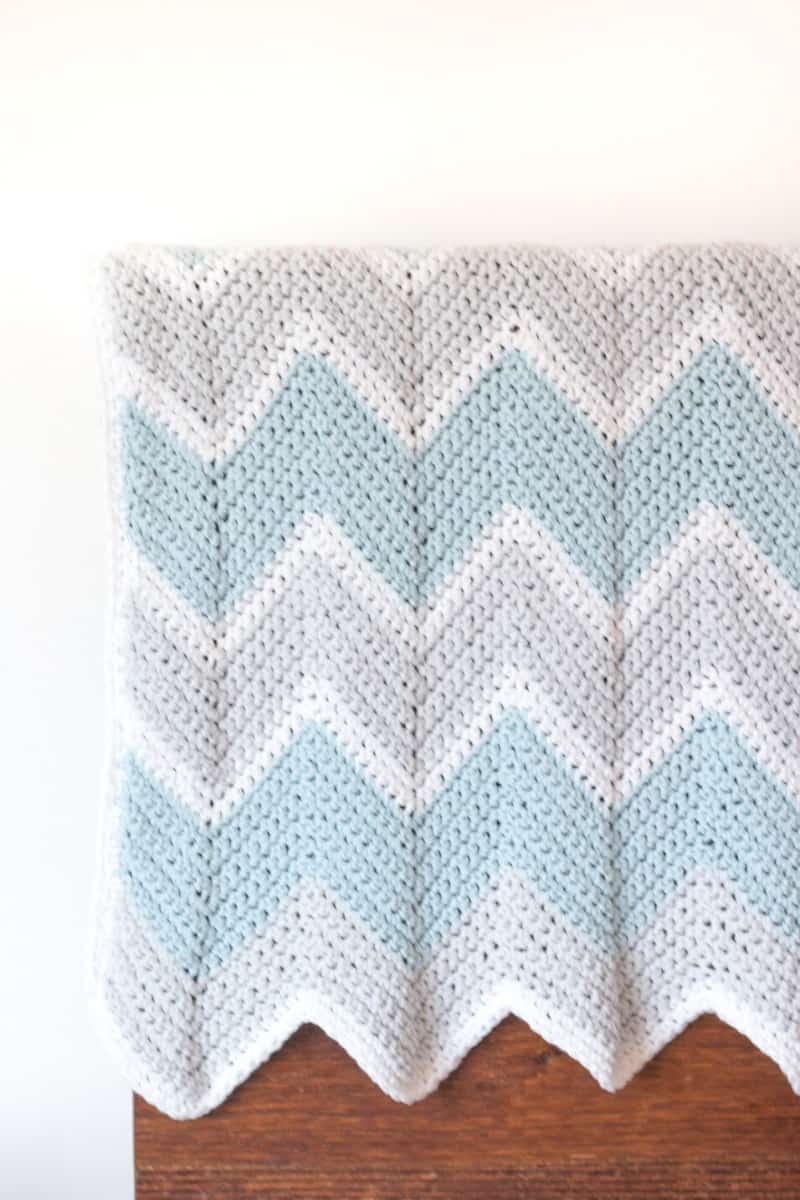 Are you planning on making more baby blankets? Try the reader's favorite Striped Blanket, Sea Soft Blanket, or search the archives for more inspiration.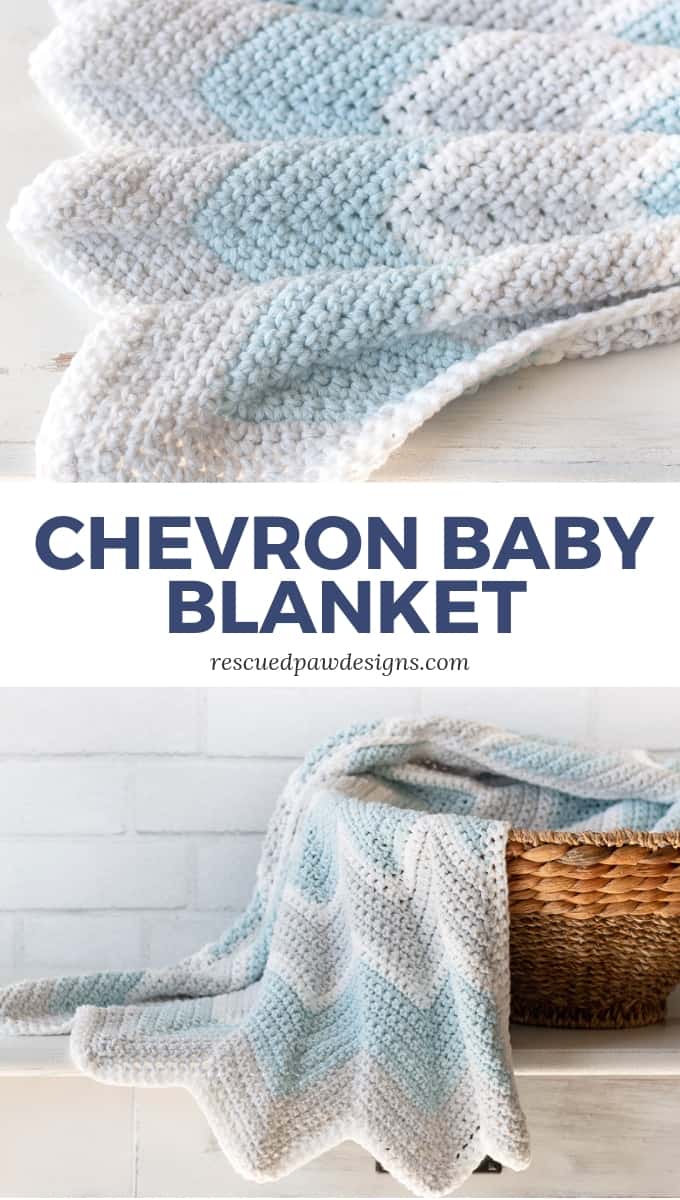 I am thrilled that you decided to check out my chevron crochet blanket pattern and I can't wait for you to make it!
Happy Crocheting!
Easy Chevron Crochet Pattern Baby Blanket
I think you'll love how quick this blanket is to work up. It is made with a simple stitch repeat consisting of only single crochets. (one of my favorite stitches!) I tend to use single crochets a lot in my patterns like these crochet baby blanket patterns. Believe me; if you can make a single crochet, then you are good to go for this project!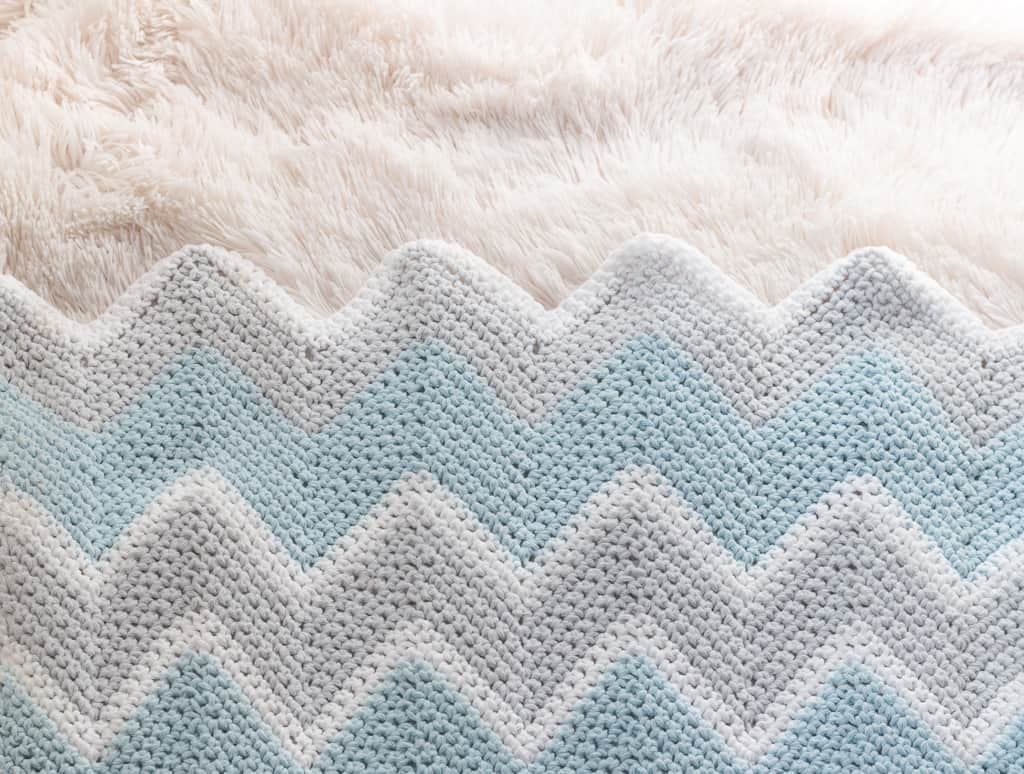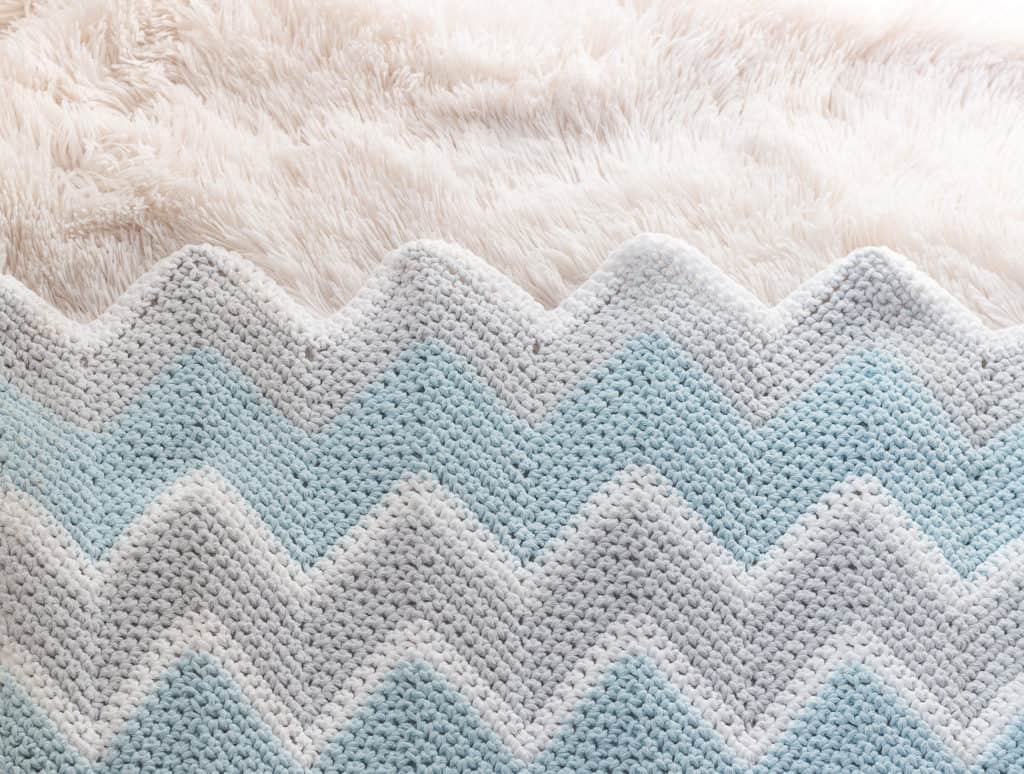 The Yarn That Is Perfect for This Crocheted Blanket
In my opinion, the newest yarn from Lion Brand, Feels like Butta is the ideal yarn for a baby crochet blanket!
It is amazingly soft and is machine washable and dryable which is a must-have for a blanket that will be used constantly. It is a 100% polyester yarn and comes in over 30 different colors so that you'll always be able to find the perfect color.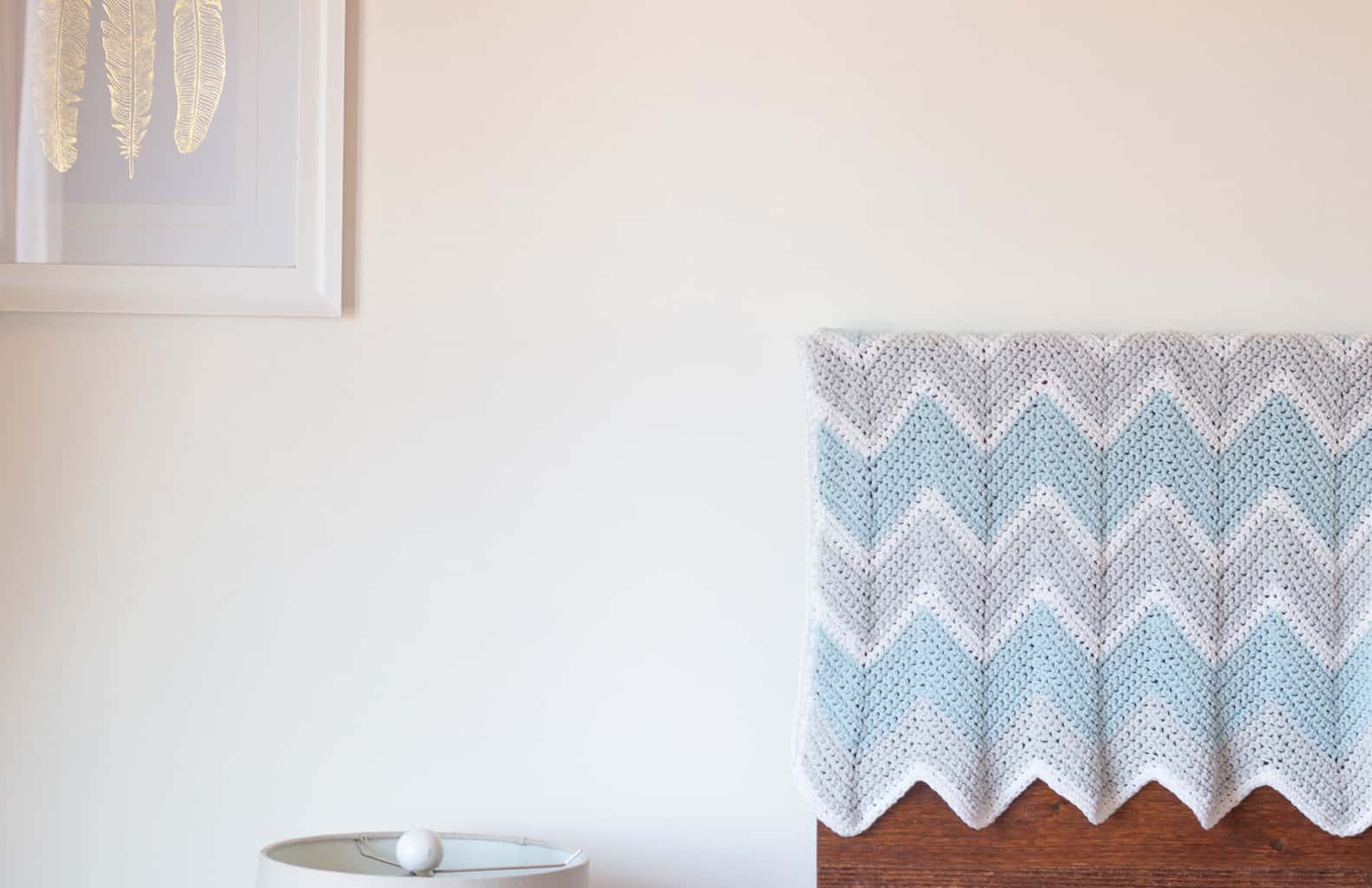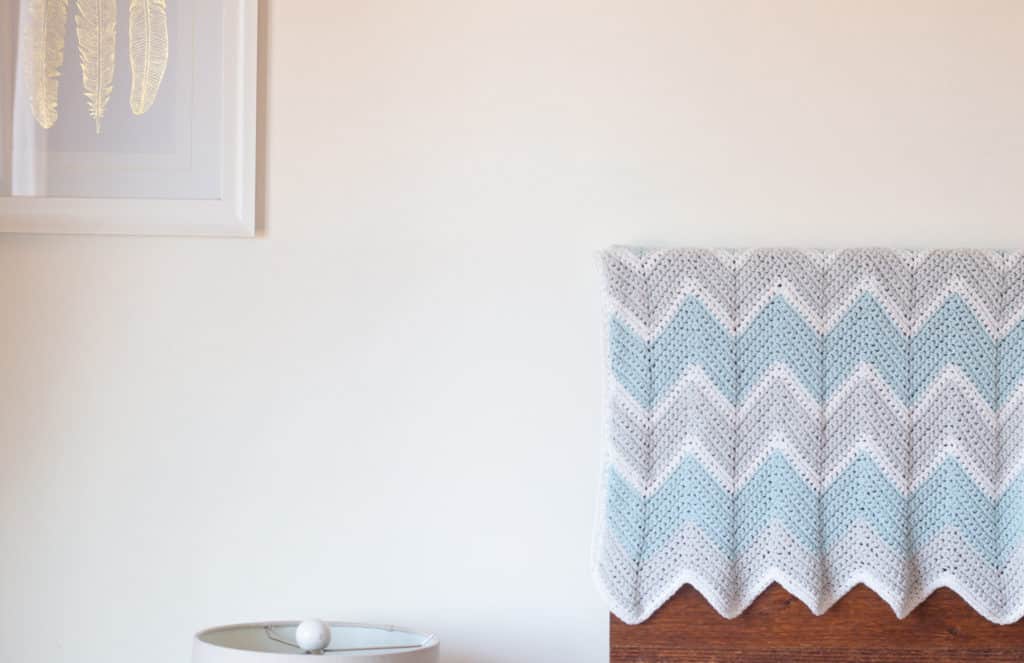 Use 3 Colors or Only 1 for This Chevron Blanket!
I know I used 3 colors for my blanket but if you prefer you can use only 1 color of Feels Like Butta and have way fewer ends to weave in. Lion Brand also sells bonus bundles of this yarn so you can get even bigger skeins to use.
The regular skeins are 100 grams vs the bonus bundles that have 275 grams. This whole blanket only takes 269 grams so you could actually get away with using one bonus bundle of this yarn as long as the gauge is followed correctly!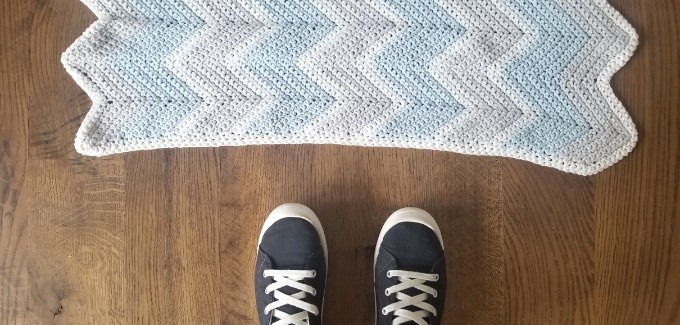 Take a Look at The Yarn Colors I Picked!
If you'd like to take a look at the yarn colors, I used I linked the yarn up below (affiliate links). Go ahead and check out each one to find the color that's just for you.
I'll explain a bit more about them a little further down, but I couldn't wait to show you the actual colors!
Feels Like Butta – Ice Blue
Feels Like Butta – Pale Grey
Feels Like Butta – White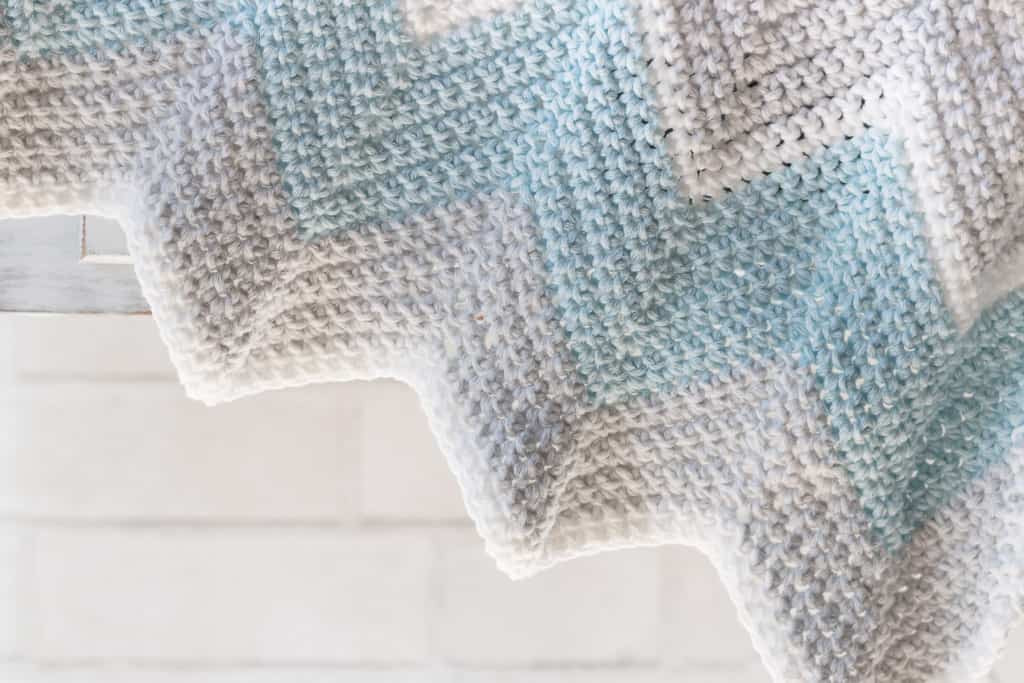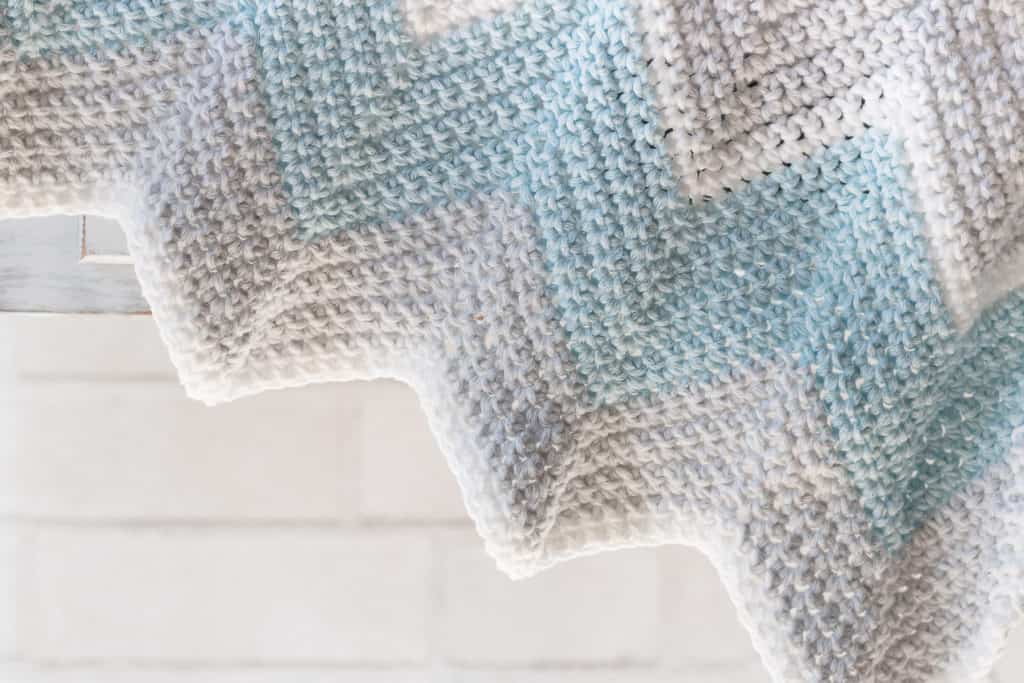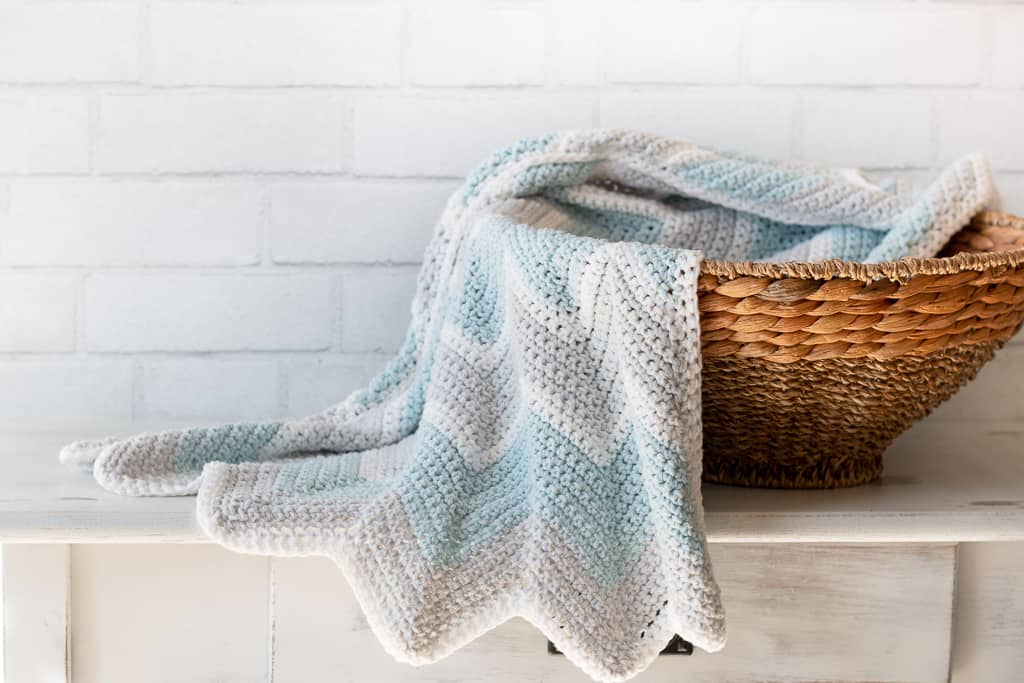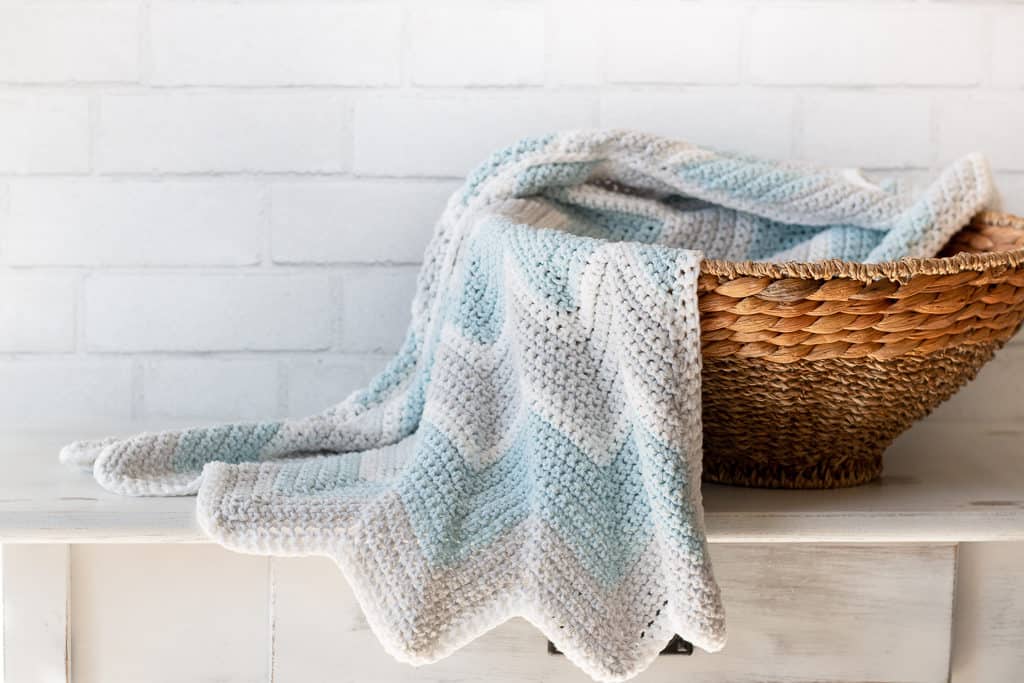 Neutral Colors Are Perfect for This Crochet Blanket!
For this blanket, I decided to go with soft neutral colors. I opted for Ice Blue, Pale Grey & White because I loved how muted they were! Feel free to pick any colors because I am pretty positive any shade from this line would look AMAZING!
You Can Get This Blanket Pattern in a Crochet Kit
Lion Brand has generously made this into a crochet kit on their site! You'll get the pattern and all the squishy yarn to make it!
Grab the chevron baby blanket crochet pattern kit in the link below or keep on scrolling down for the free pattern.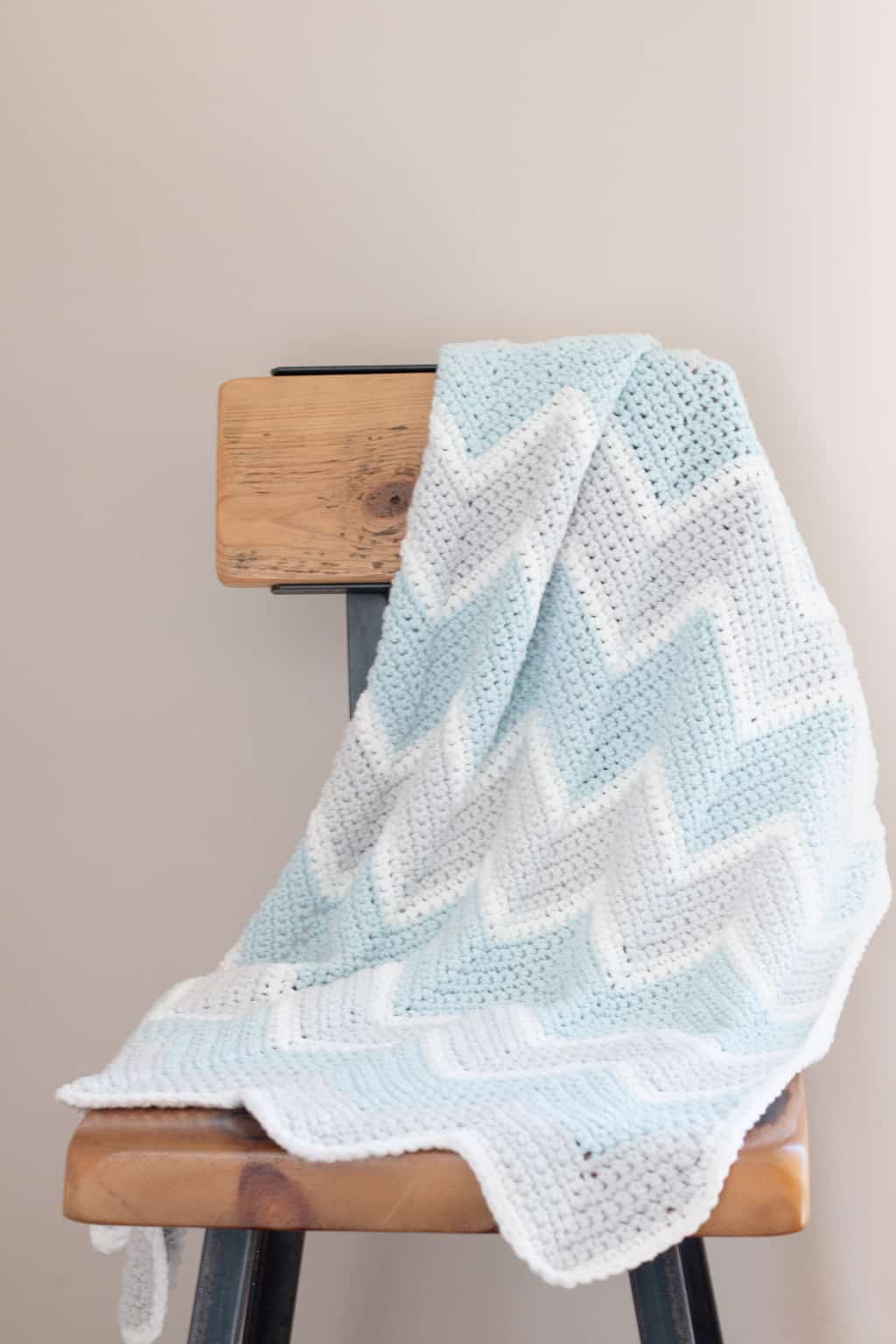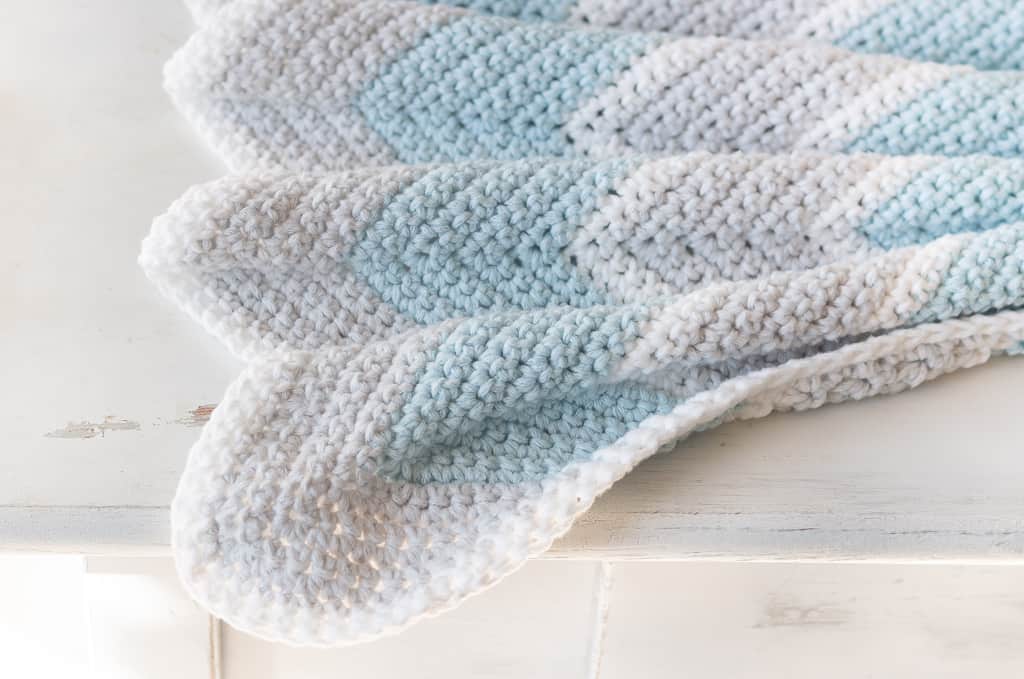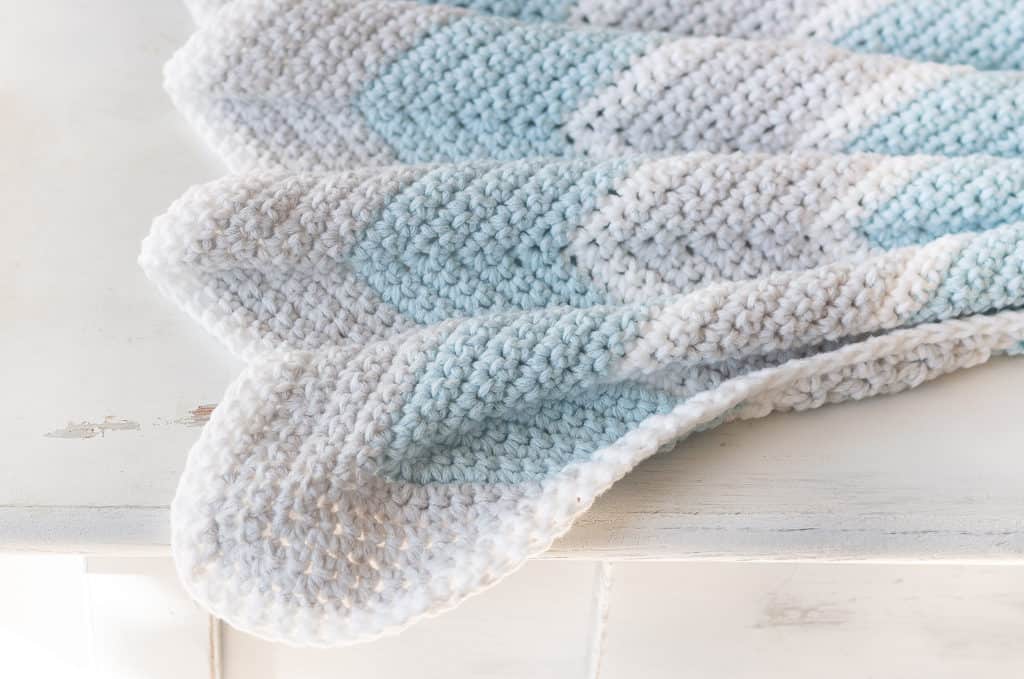 Are You Ready to Get Started on Your New Favorite Baby Blanket Pattern?
I can't promise that this chevron crochet pattern will be your new favorite, but I am hoping that it does. Read on down for the full, free design and be sure to tag me on Instagram or share in the Easy Crochet Facebook Group if you do make it!
Happy Chevron Blanket Making!
Chevron Crochet Baby Blanket Pattern
Skill Level: Intermediate
Materials
Feels Like Butta Yarn from Lion Brand Yarn in:

Pale Grey – about 2 skeins or less than 200 grams
White – about 2 skeins or less than 150 grams
Ice – about 2 skeins or less than 200 grams

Crochet hook size F 3.75 mm (or whatever hook size is needed for gauge)
Scissors
Yarn needle
Crochet Abbreviations
ch = chain
st = stitch
sk = skip
sc2tog = single crochet 2 stitches together
sc = single crochet
Gauge
21 sts x 10 rows = 5" x 5″. Chain 21 and follow pattern as written below for 10 rows.
Use a hook size that gets you this gauge. All crocheters crochet slightly different, be it tighter or looser, so you may need a different size hook to get the same gauge.
Learn about why gauge is important when crocheting.
Finished Size
Approximately 30″ X 42″ inch baby blanket
How to Change Sizes: Change sizes by using a multiple of 21 + 20. So that means that you will need to use a starting chain in a multiple of 21. For example… 21,42,63,84,105,126,147,168,189,210,231,252,273 etc. then add 20 chains to that total.
Notes
Pattern Steps
The pattern as shown in pictures is using a starting chain of 105 + 20 (or you can use a multiple of 21 +20 starting chain to make it any size)
Row 1: sk the first ch, sc 2 tog, sc once in each of the next 7 ch's, sc 3 x in the next ch, *sc once in each of the next 9 ch's, sk 2 ch's, sc once in each of the next 9 ch's sc 3x in the next ch, repeat from * across until you are left with 9 st's, finish by sc once in each of the next 7 ch's, sc 2 tog, turn.
Row 2: Ch 1, sc 2 tog, sc once in each of the next 7 st's, sc 3 x into the next st, *sc once in each of the next 9 st's, sk 2 st's, sc once in each of the next 9 st's sc 3x in the next st, repeat from * until you are left with 9 st's, sc once in each of the next 7 st's, sc 2 tog, turn.
Row 3: – repeat row 2 for the remainder of the pattern switching colors as indicated below.
Color Pattern for This Blanket
Row 1 – 4 = grey
Row 5- 16 = ice
Row 17-18 = white
Row 19 – 23 = grey
Row 24-25 = white
Row 26 – 37 = ice
Row 38 – 39 = white
Row 40 – 44 = grey
Row 45-46 = white
Row 47 – 58 = ice
Row 59 – 60 = white
Row 61 – 65 = grey
Row 66 – 67 = white
Row 68 – 79 = ice
Row 80-84 = grey
Optional: Border of The Blanket
Do not fasten off yarn at the end of your project.
Join in the white yarn, turn your work and crochet sc's evenly across the entire last row. At the end of the row work three sc's into the last st to make a corner, continue sc down the whole side of the blanket evenly into the side of each row.
At every corner do three sc's and continue this pattern along the entire outside of the blanket. You can do two rounds of a single crochet border or just one. Either way would look lovely!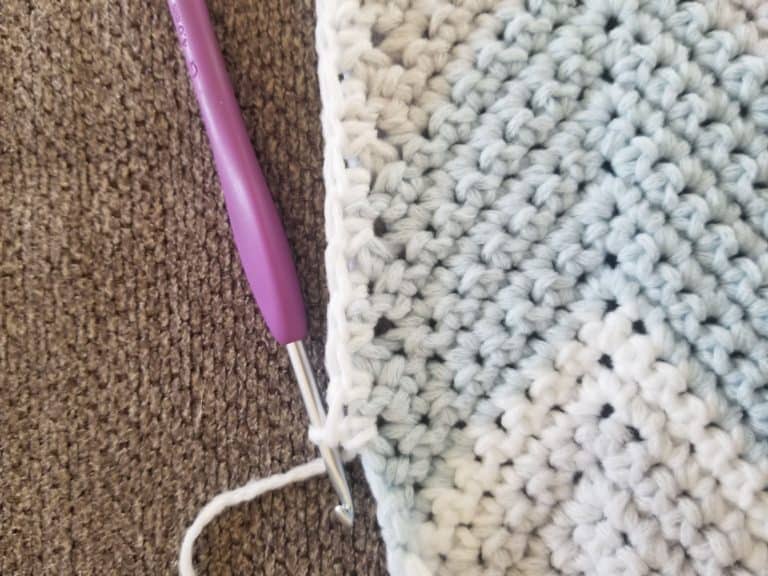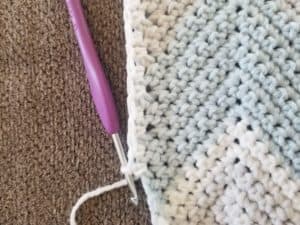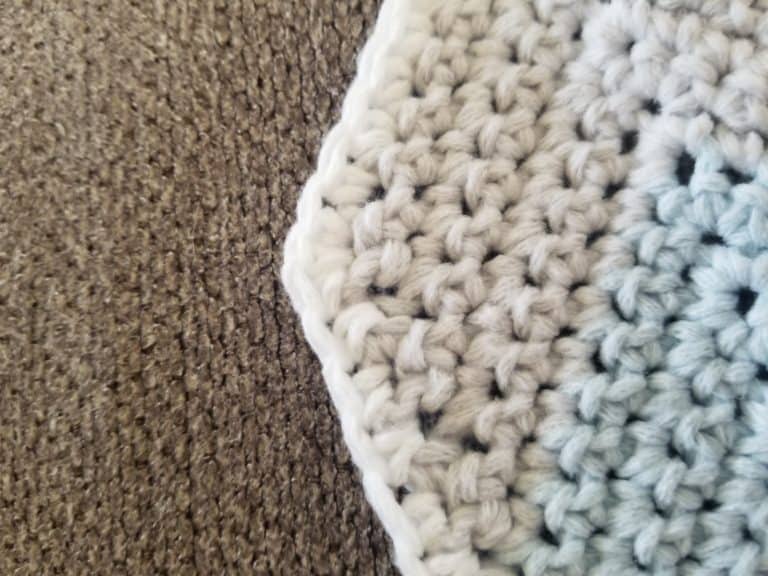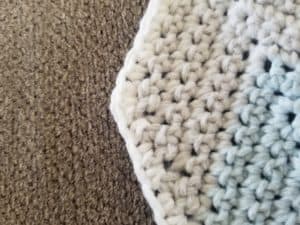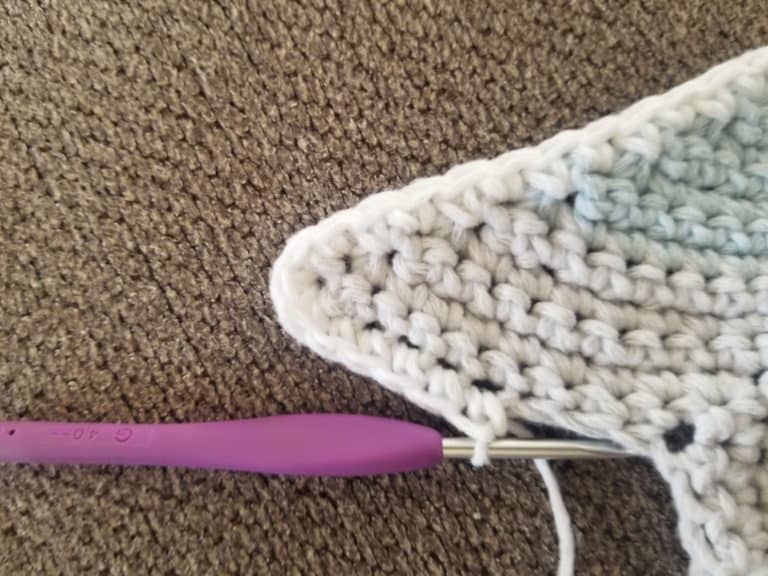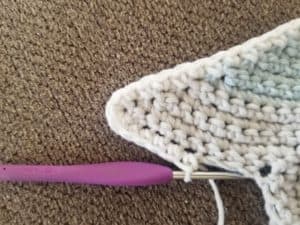 After the border, there is only one thing left to do. Use a yarn needle to weave in all the ends of the blanket.
Blocking Your Blanket
The chevron stitch does tend to take on a wave-like appearance, so I'd recommend blocking your finished blanket. You can use the blocking techniques I talked about in my post "how to block crochet" to help you with this part.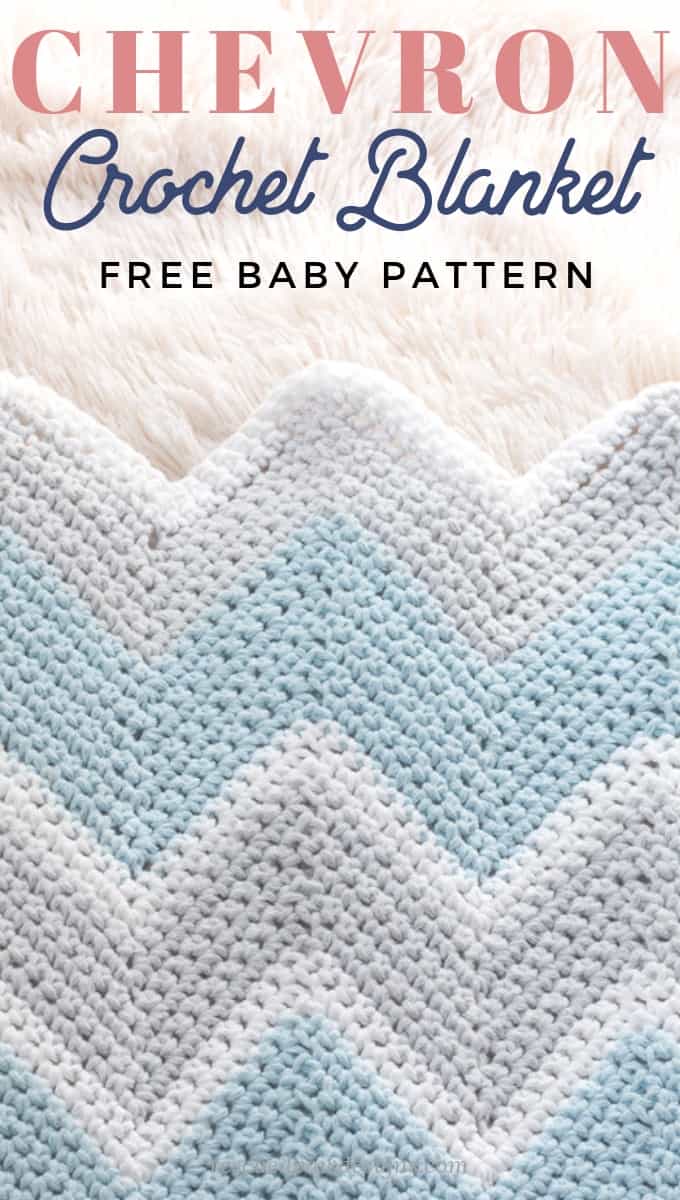 You Are Done With Your Chevron Blanket for Baby!
See how easy it was? I love how this chevron stitch worked up with the higher peaks, which is what I was hoping to achieve. I designed something similar to my "Neutral Chevron Blanket," which is also a crochet chevron blanket but with smaller peaks! If you love chevron patterns, I'd suggest checking that blanket out too.
More Free Crochet Blanket Patterns