Textured Puff Stitch Crochet Blanket Pattern
If you are looking for an easy crochet blanket to make that has some interesting texture, this puff stitch blanket might be the one that you were searching for.
It uses a basic crochet stitch mixed with the puff stitch, which adds texture as well as a unique look to the blanket.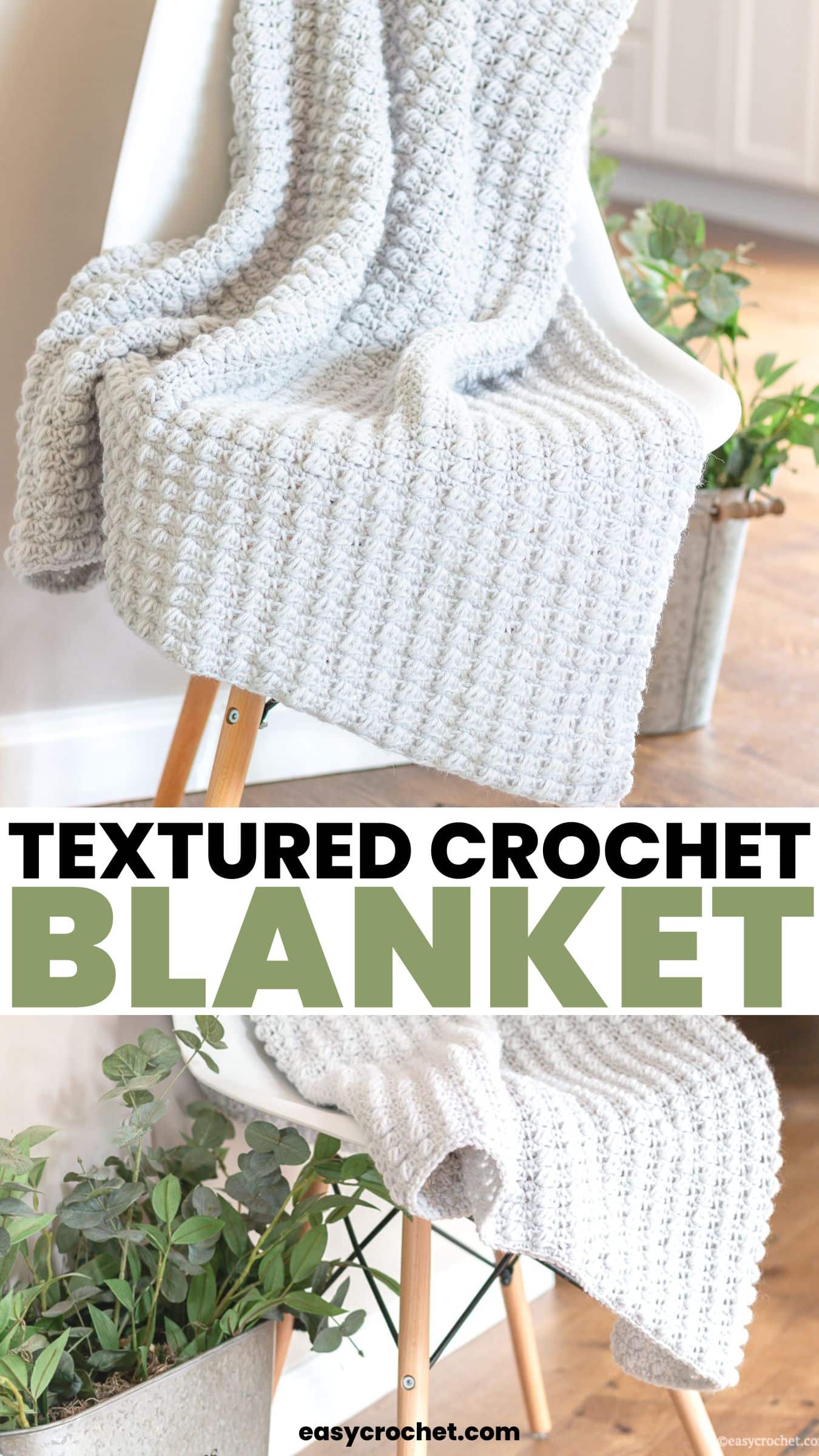 Scroll on down to find the free puff stitched blanket pattern that you can crochet in eight different blanket sizes.
But first, let's learn about the yarn and the crochet stitches that you'll use to make this gorgeous blanket design.
The Yarn
The whole blanket uses Pound of Love yarn by Lion Brand. It is what the name implies, a whole pound (16oz) of four weight, 100% acrylic yarn that is available in many beautiful colors.
Pound of Love
This yarn is made by Lion Brand, and is a Weight 4 – Medium yarn.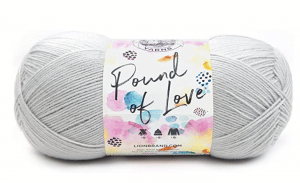 Buy Now
Patterns Using This Yarn →
For this tutorial, I chose to use the color Gray Elephant since I wanted to crochet a throw blanket for my living room and I wanted it to be a neutral color that would go with everything.
Above, you can see a few different varieties of yarn color you can make this blanket in if you'd like.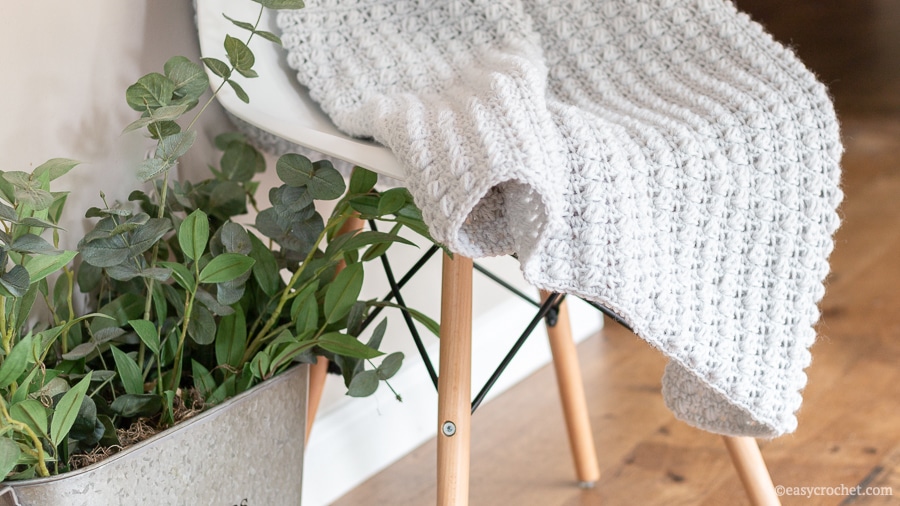 Do you need a substitute yarn? Luckily, this blanket pattern goes with well with many yarns. Here are a few of my favorite yarns to swap in if you can't find Pound of Love.
Brava Worsted by WeCrochet / Knit Picks
Vanna's Choice by Lion Brand
Super Saver by Red Heart
Keep on reading to learn more about the easy to learn crochet stitches you'll need to know to make this blanket.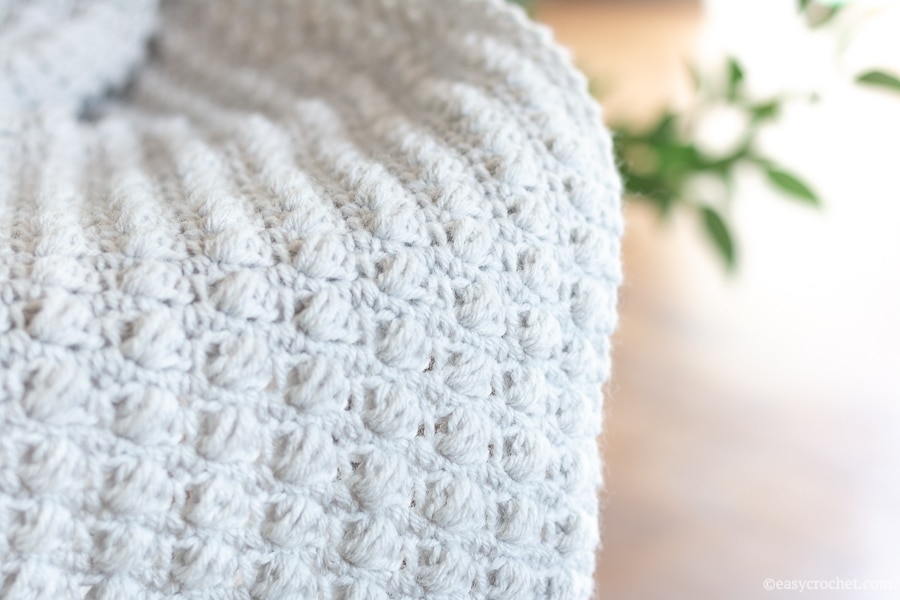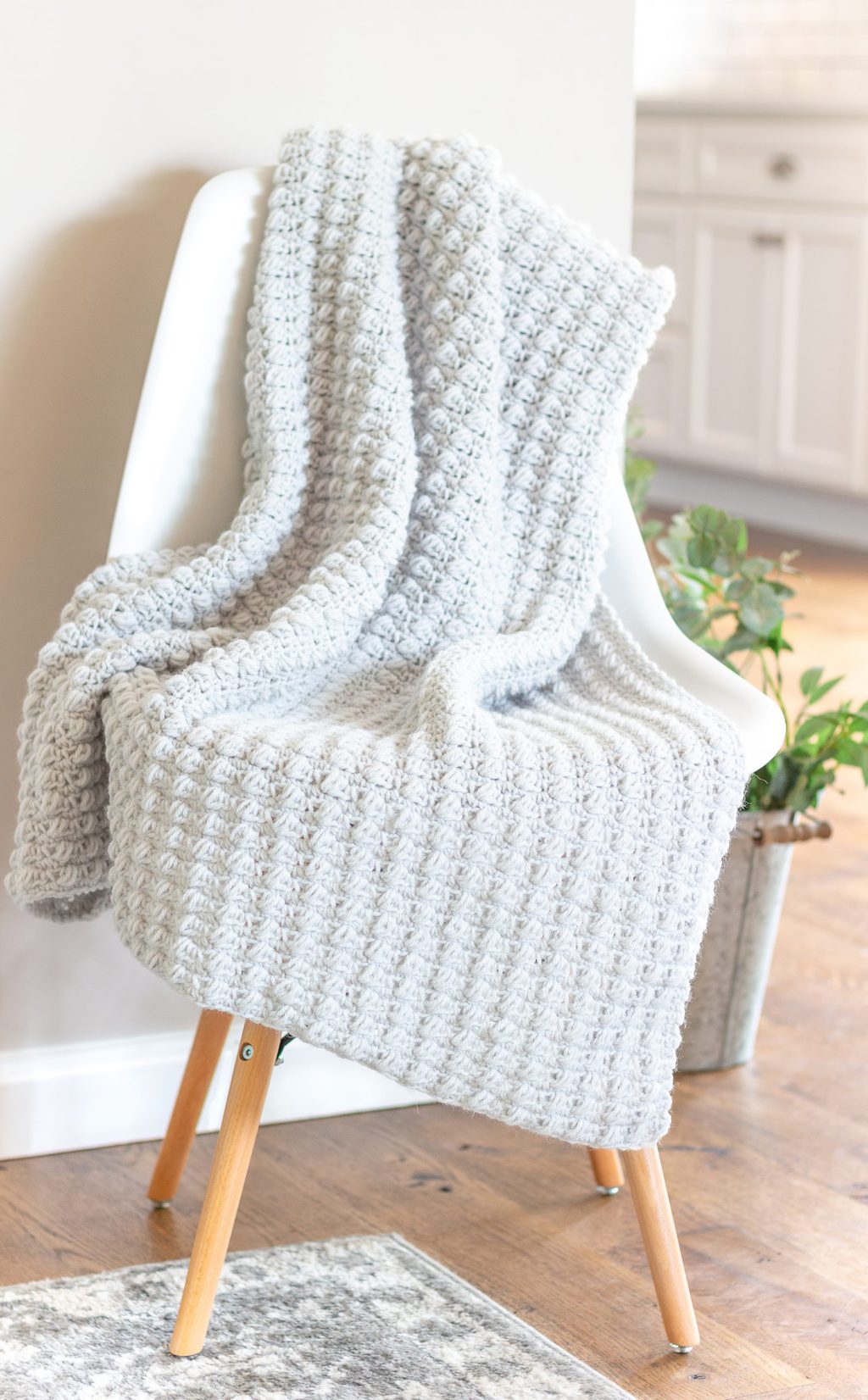 The Stitches
To get the texture in this blanket, you'll need to know how to chain, single crochet and make a puff stitch.
I consider this an easy blanket, but I marked it as intermediate because the puff stitch can be tricky the first few times it is crocheted. No worries though, once you get the hang of it you will be good to go for the rest of the blanket.
Learn more about each stitch below, such as how to crochet a puff stitch, if you'd like a refresher on what each crochet stitch entails before you start the blanket.
Crochet Stitches in a Textured Blanket
Single Crochet Stitch (sc):
Insert hook from front to back in the second chain from the hook or designated stitch
Bring the yarn over (yo) the hook and pull the yarn back through the chain (or stitch) from back to front (2 loops on hook).
Yo and pull through both loops on the hook.
Puff Stitch (puff):
Puff stitches will vary with how many loops they will pull up. I am using 7 for this blanket.
*Yo, insert a hook into the designated stitch and pull up a loop, repeat from * into the same stitch 3 times for a total of 7 loops on the hook
Yo, pull through the 7 loops on the hook.
Chain Stitch (ch):
A simple crochet stitch that often forms the foundation of what crochet stitches are worked into during projects.
Make a slip knot.
Insert your hook into slip knot point first, bring yarn over the shaft of the hook from back to front and grab it with the throat of the hook.
Draw hooked yarn through slip knot and onto the hook. This movement will make one chain stitch
Repeat steps two and three until you have the desired number of stitches for a pattern. One loop will remain on hook.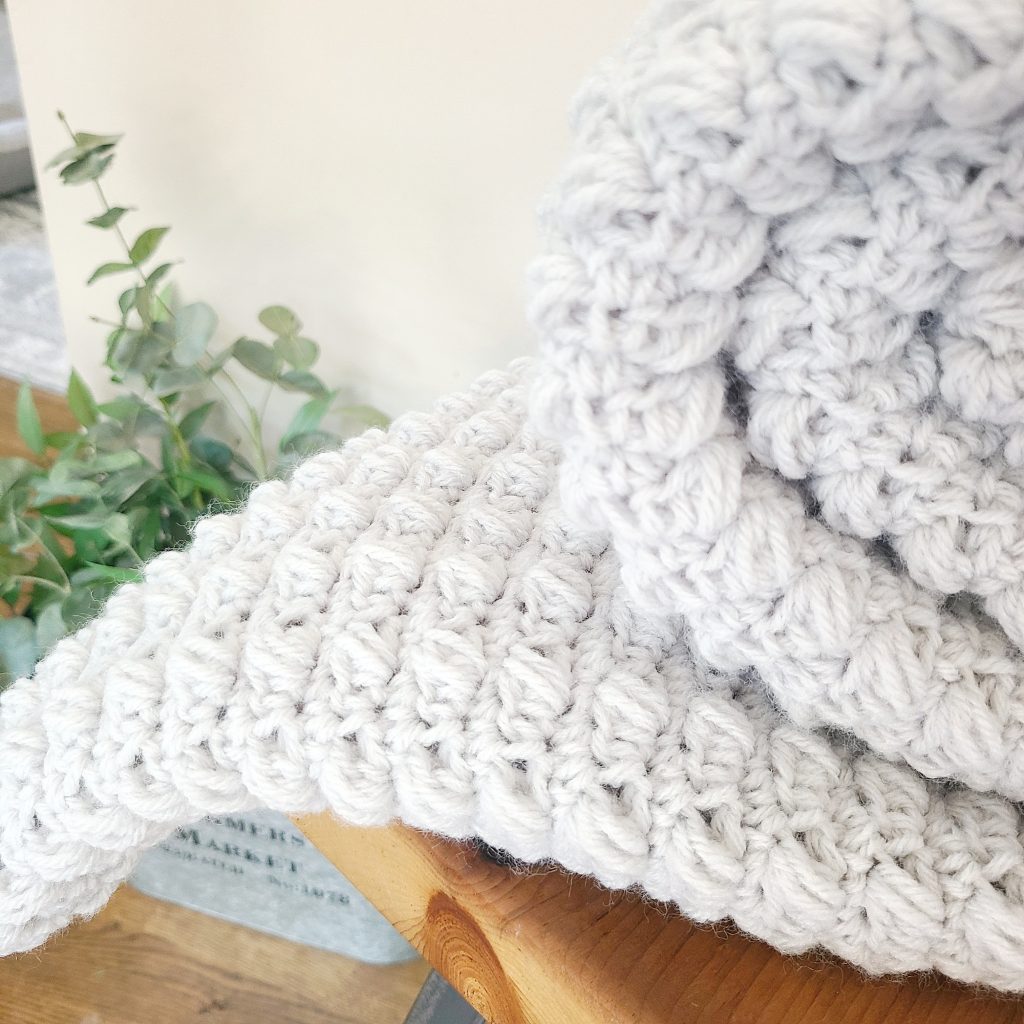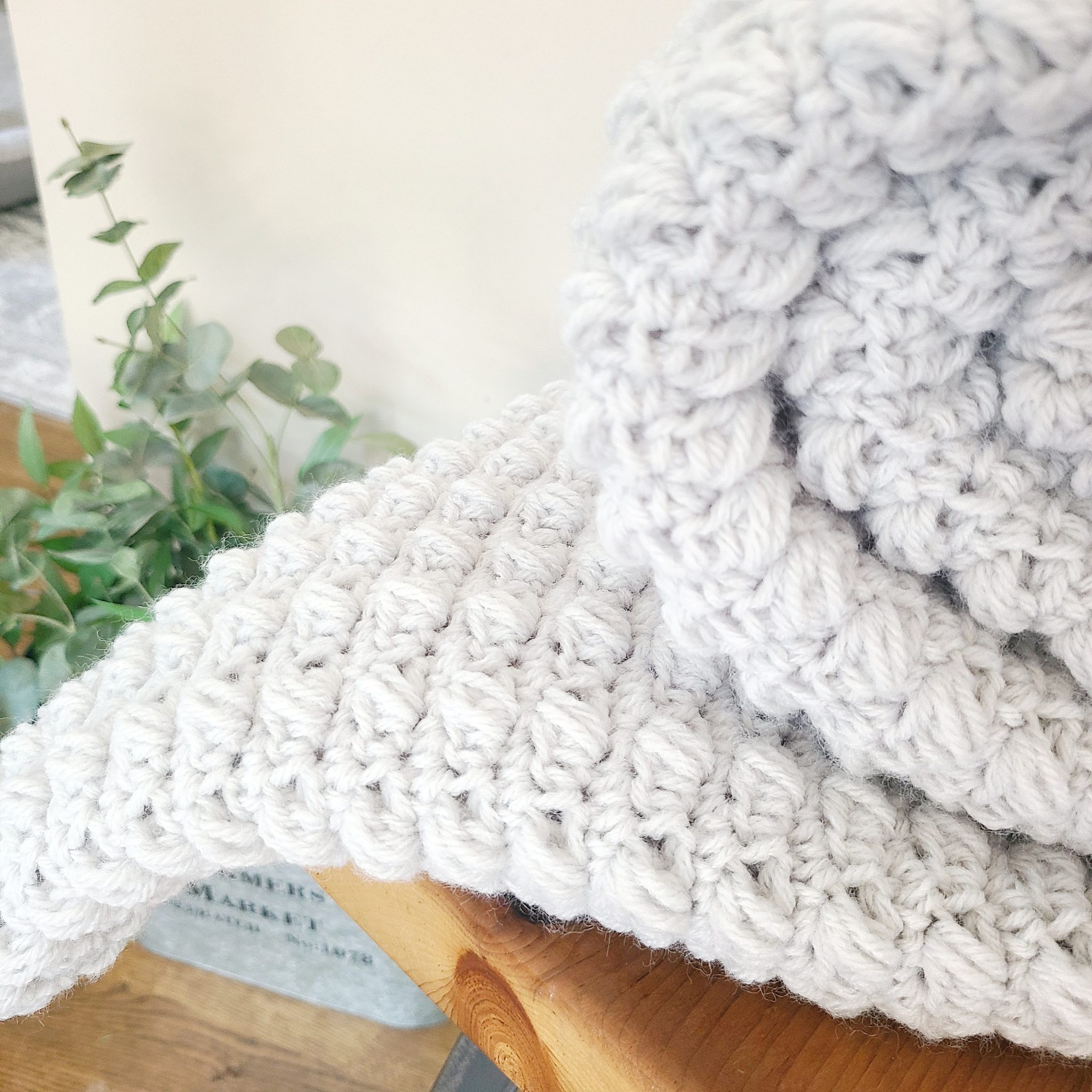 Get Started
Use the free puff stitch blanket pattern and tutorial below to create a one-of-a-kind crochet blanket in eight blanket sizes such as baby, twin, throw or even a king-sized blanket!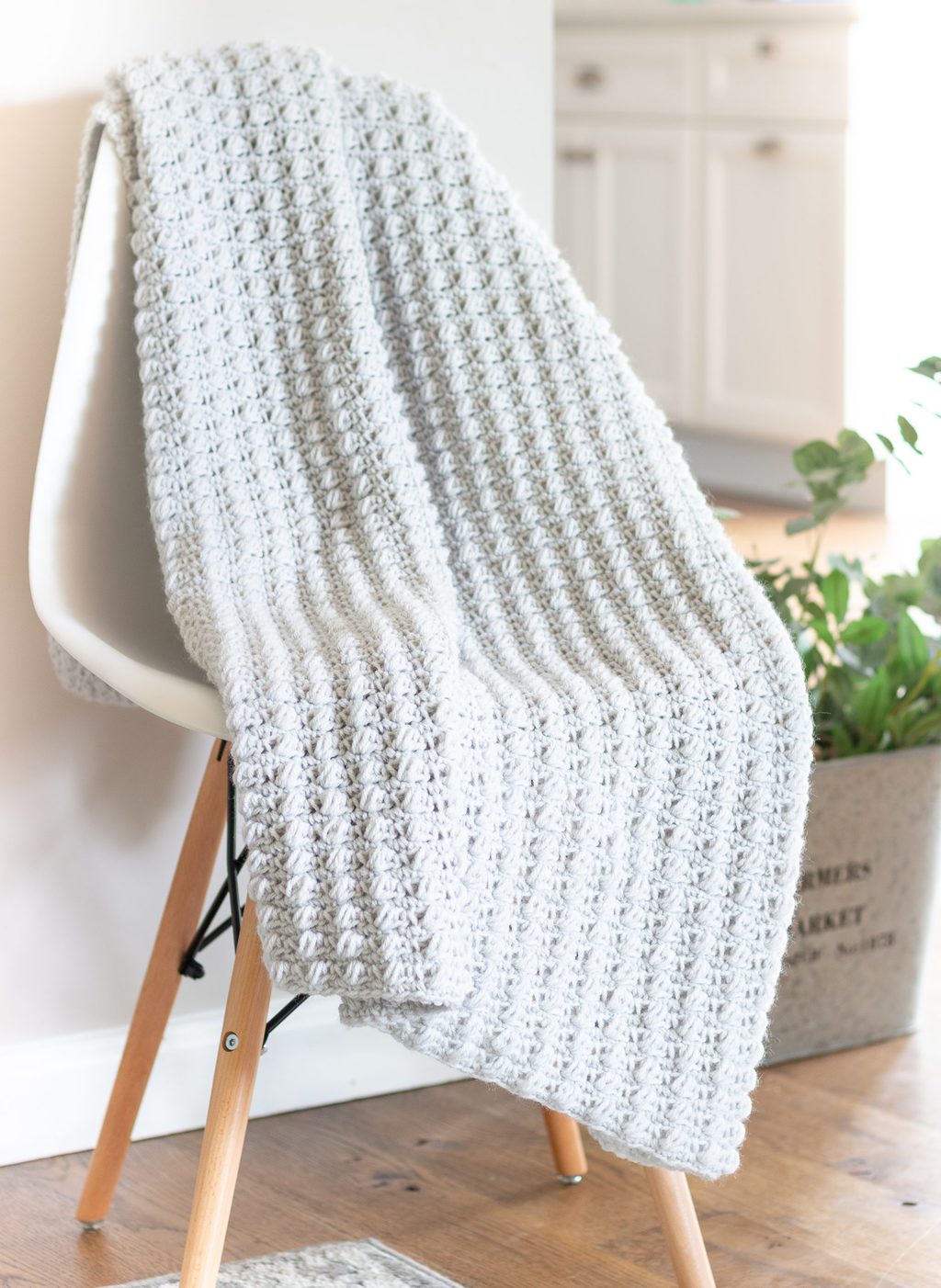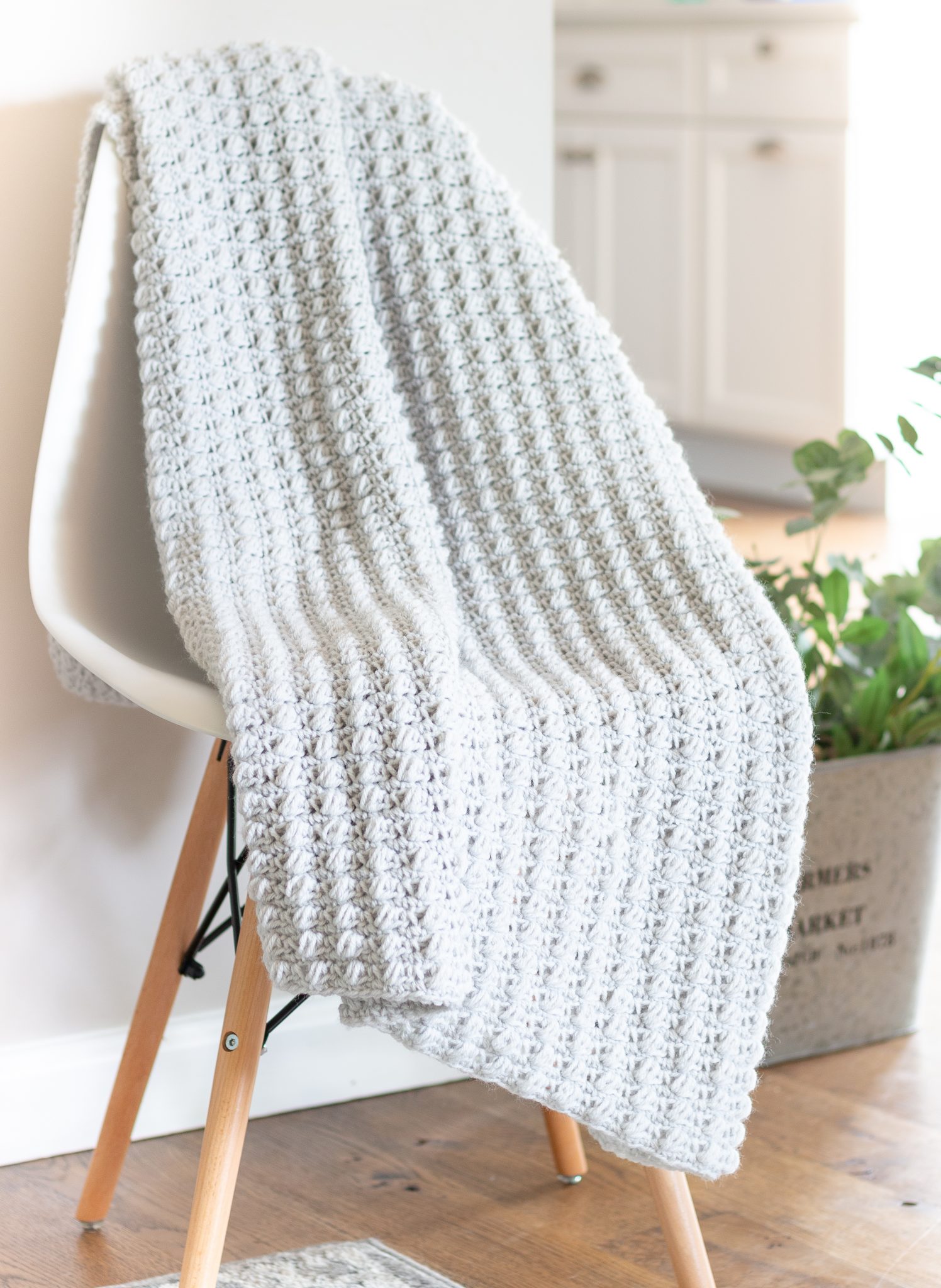 I hope you enjoy learning how to crochet this simple single crochet and puff stitch blanket.
Happy Blanket Crocheting!
Easy Puff Stitch Crochet Blanket Pattern
Skill Level: Intermediate
Materials
Pound of Love by Lion Brand (see blanket size chart below for yardage needed) or any four weight yarn.

I used the color Grey Elephant

5 mm crochet hook (or whatever hook size is needed to obtain gauge)
Yarn needle
Scissors
Measuring Tape

Gauge
12 sts X 11 Rows = 4″ x 4″
Gauge Swatch Pattern: Ch 13 and follow pattern as written for a total of 11 rows.
Finished Sizes
Lovey, Stroller, Receiving, Baby, Throw, Twin, Full/Queen & King
See our blanket pattern size chart below for sizes, starting chains and number of rows needed for the blanket size you'd prefer to crochet.
Change to a different size blanket by using a starting chain in a multiple of 3 +4
Crochet Stitch Abbreviations
ch = chain
sc = single crochet
puff = puff stitch
sk = skip
rep = repeat
st = stitch
Notes
The pattern is written in standard US terms
The Ch 1 sp (space) that follow the puff stitch in the pattern count as st. The ch 1's at the beginning of the rows do not count as a st.
The example blanket size shown in photos is a large throw blanket
You can purchase a crochet kit for the Textured Puff that includes all the yarn and pattern from Lion Brand.
The Blanket Pattern
*Sizes are as follows: Lovey (Stroller, Receiving, Baby, Throw, Twin, Full/Queen, King)
Foundation Row: Ch 31 (76, 94, 103, 121, 157, 211, 247)
Row 1: In the second ch from the hook sc, sc into each st across, turn. 30 (75, 93, 102, 120, 156, 210, 246)
Row 2: Ch 1, sc into the first st, sc, *puff, ch 1, sk a st, sc, rep from* across until 1 st is left, sc into that last st, turn.
Row 3: Ch 1, sc into each st across, turn.
Row 4 – See blanket pattern size chart: Rep Rows 2 + 3 until you reach the rows needed for the blanket size you are crocheting.
Blanket Pattern Sizes + Starting Ch's
| | Height (in) | Width (in) | Starting Ch's | Rows |
| --- | --- | --- | --- | --- |
| Lovey | 12 | 12 | 31 | 33 |
| Stroller | 35 | 32 | 76 | 96 |
| Receiving | 40 | 40 | 94 | 110 |
| Baby | 52 | 44 | 103 | 143 |
| Throw | 60 | 52 | 121 | 165 |
| Twin | 90 | 68 | 157 | 248 |
| Full/Queen | 90 | 92 | 211 | 248 |
| King | 108 | 108 | 247 | 297 |
Amount of Yarn Needed
| | Total Yarn Length | Total Skeins |
| --- | --- | --- |
| Lovey | 121 | 1 |
| Stroller | 938 | 1 |
| Receiving | 1339 | 2 |
| Baby | 1915 | 2 |
| Throw | 2611 | 3 |
| Twin | 5128 | 6 |
| Full/Queen | 6949 | 7 |
| King | 9760 | 10 |
This chart shows the total skeins need of Pound of Love yarn by Lion Brand, 16 oz, 1020 yard size. If you use a different yarn you will need to use yardage instead of skeins needed and results may vary.
Finishing: Fasten off yarn and weave in loose ends throughout the blanket with a yarn needle.

Common Crochet Blanket Questions
How do I add a Border to a Crochet Blanket?
Adding a border to a crochet blanket is easy. A simple single crochet border with 3 single crochets in each corner is the easiest.
If you'd like more crochet border choices, be sure to take a look at the post Crochet Blanket Borders that shows quite a few different options you can choose for a border.
How do I Wash a Crochet Blanket?
The best way to care for a crochet blanket is to follow the laundering instructions that are on the yarn labels you made the blanket out of.
Some yarns may require cold water or handwashing, so be sure to save the yarn label. It is always important to include the care instructions when you are gifting the blanket to others, so the blanket can be properly taken care of.