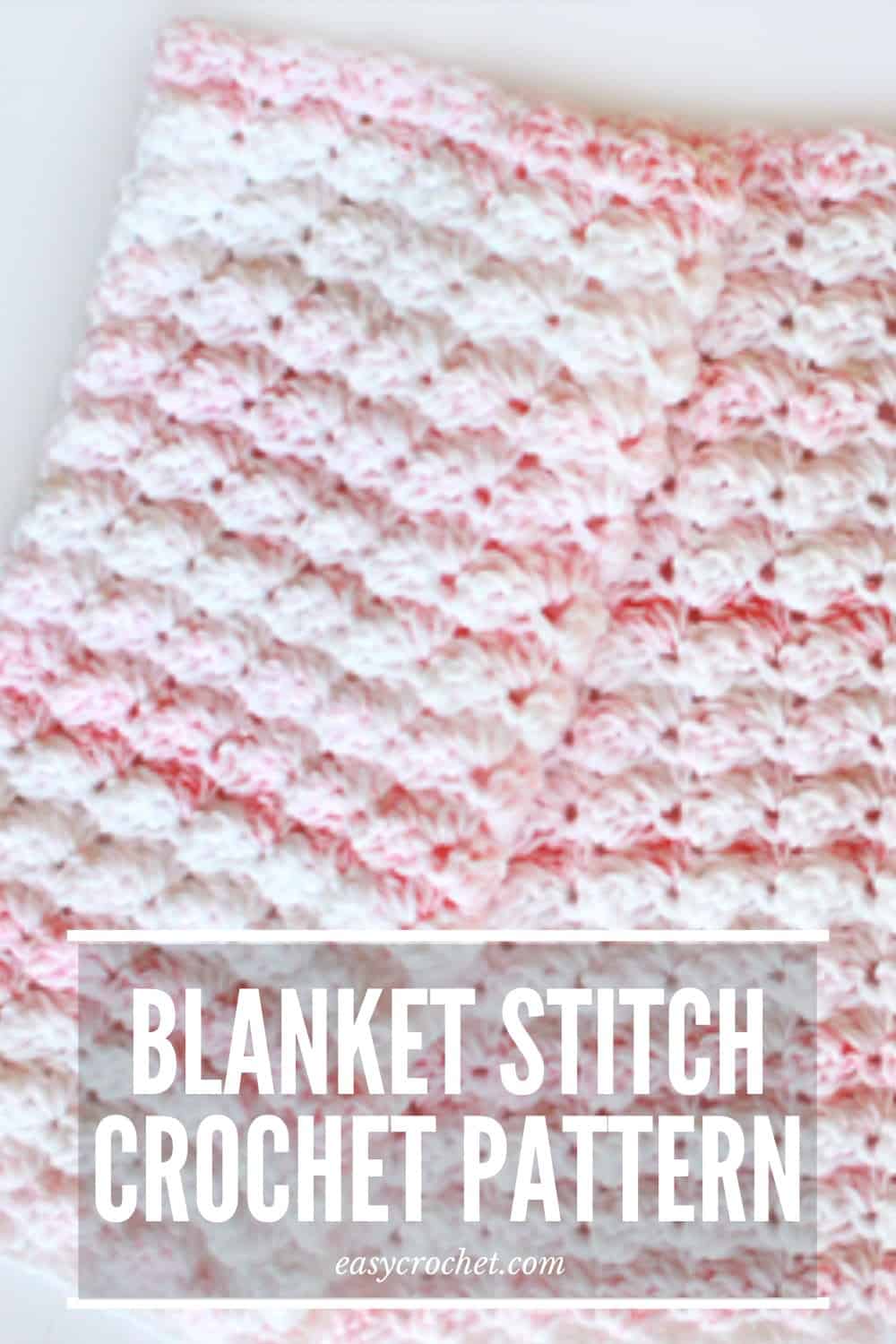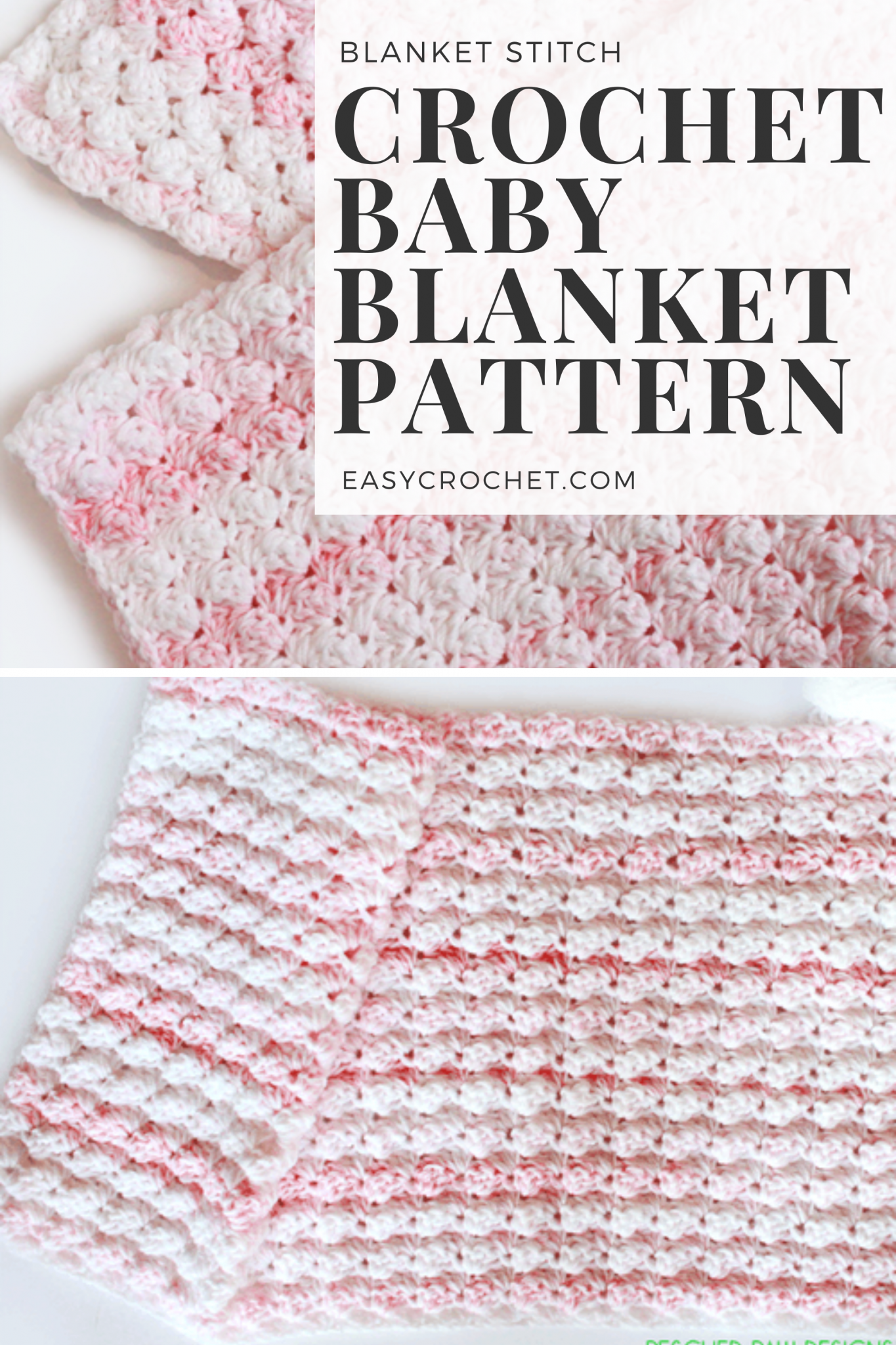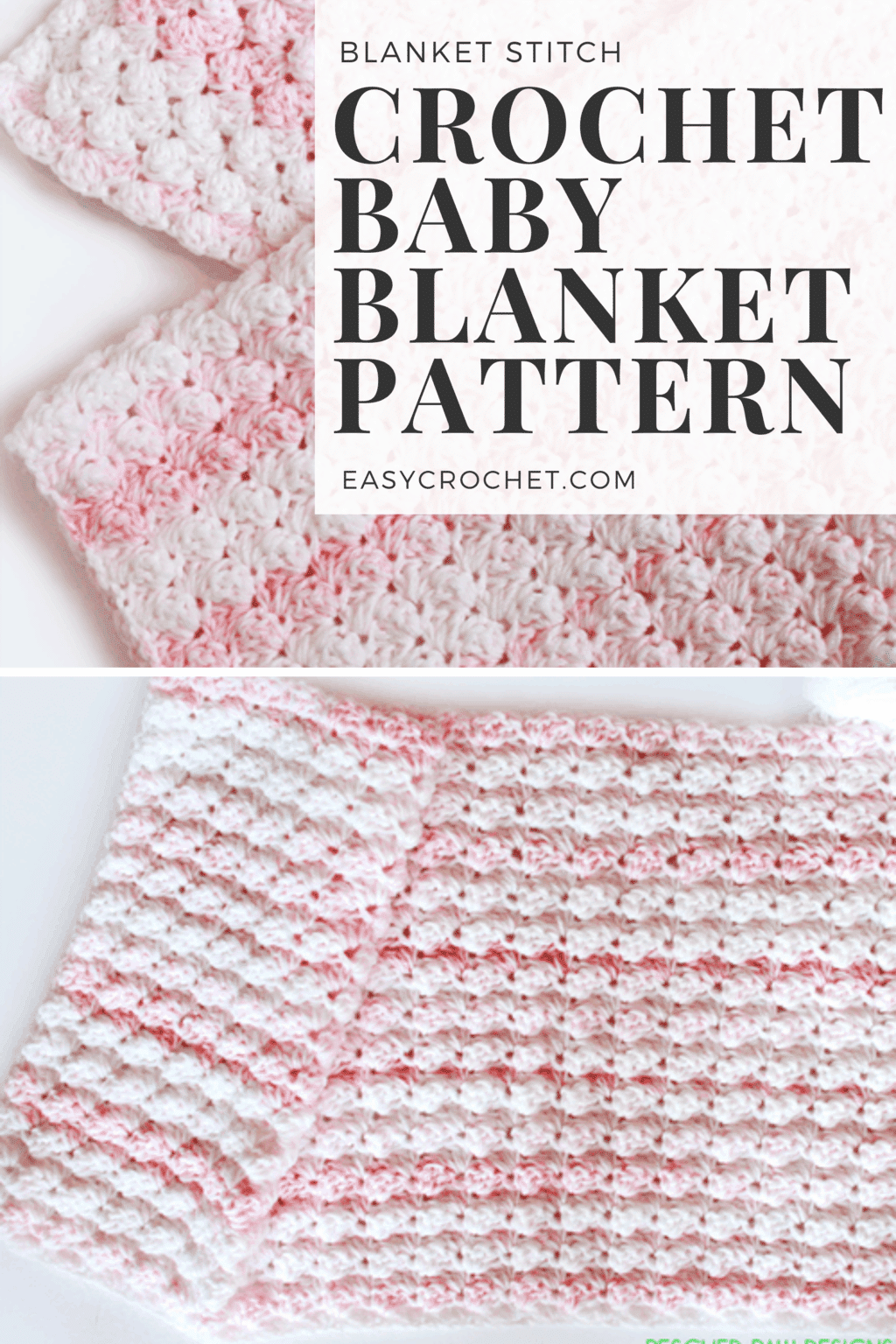 Have you been looking for a simple and beautiful baby blanket pattern? If so this blanket stitch blanket is it!
This easy crochet baby blanket pattern is a quick baby shower gift! It works sup quick and it is a beginner-friendly blanket which means it will be the perfect project!
Scroll on down for the free crocheted baby blanket pattern & learn how to do the blanket stitch!
I hope you enjoy this simple and beautiful blanket!
Happy Crocheting!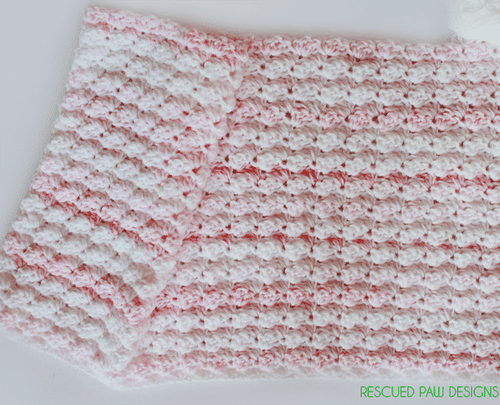 Make This Baby Blanket by Holding Two Strands Together at Once!
This blanket stitch baby blanket works by holding two strands of yarn together simultaneously. I love using this technique because it makes it work up fast and gives it an extra cozy touch. I also used this technique on this blanket stitch pattern too if you'd like to take a look.
You will be holding the pink and white yarn together for the entire blanket which I will explain more about below.
The Yarn That's Perfect for a Baby Blanket
I used Lion Brand Baby Soft Yarn in Parfait, which is a 60% acrylic & 40% nylon blend. This yarn is incredibly soft & cozy, which means its perfect for swaddling a baby.
Also, it is available in some pretty fabulous colorways too! You'll want to check them out the next time you are perusing the yarn aisle!
Do you want to use a different yarn?
If you can't find the yarn I used you can use any medium weight yarn and get the same results as me. I recommend Red Heart Soft or Lion Brand Vanna's Choice as good substitutes.
You can find a ton of suggestions for thread online at places such as Amazon, or you take a peek inside your local craft store to find a suitable yarn too.
Beginner Friendly Baby Blanket Crochet Pattern!
You will need only a few materials and basic crochet knowledge to complete this baby blanket pattern, which makes it a perfect beginner-friendly crochet blanket project!
If you can double crochet, single crochet & chain then you are good to go with this pattern. If you were having doubts, please don't worry because you can do this!
Let's Get Started on This Easy Baby Blanket!
If you think you are ready to make, this simple crochet baby blanket read down for the full crochet baby blanket pattern to get started today.
Happy Baby Blanket Making!
The Crochet Blanket Stitch Pattern
Skill Level: Easy
Materials
Two skeins of Lion Brand Yarn Baby Soft Yarn Parfait Print or 670 yards of three weight yarn.
Two skeins of Lion Brand White Baby Soft Yarn or 670 yards of three weight yarn.
Size J crochet hook 6.00 mm
Yarn needle
Scissors
Notes
Written in US terms
To make this blanket larger or smaller always make sure your starting chain it is in a multiple of 3.
The whole blanket is worked holding two skeins of yarn (pink & white) together at the same time.
Sizing
When using a beginning chain of 84 which your blanket will be approximately 32 inches wide (when holding 2 skeins of yarn together at once)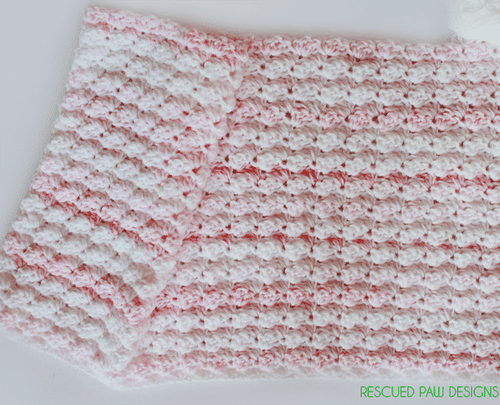 Pattern Steps
Row 1: Chain 84 holding together 2 skeins of yarn at once.
Row 2: Make 2 double crochets in 3rd chain from hook, skip 2 chains, make 1 single crochet & 2 double crochets in the next chain, *skip 2 chains, 1 single crochet, 2 double crochets in the same chain, repeat from * to the end of the row. Make sure to end with 1 single crochet in the last chain, turn
Row 3: Chain 2, 2 double crochets in first single crochet (from the previous row), * skip next 2 stitches, Make 1 single crochet and 2 double crochets in next stitch (the single crochet from the previous row) Repeat from * until end of row. End with 1 single crochet in last stitch, Turn
Remaining Rows: Repeat Row 3 until the desired length. *
*I did 52 rows for my baby blanket.
Finishing: Fasten off yarn and weave in loose ends with a yarn needle.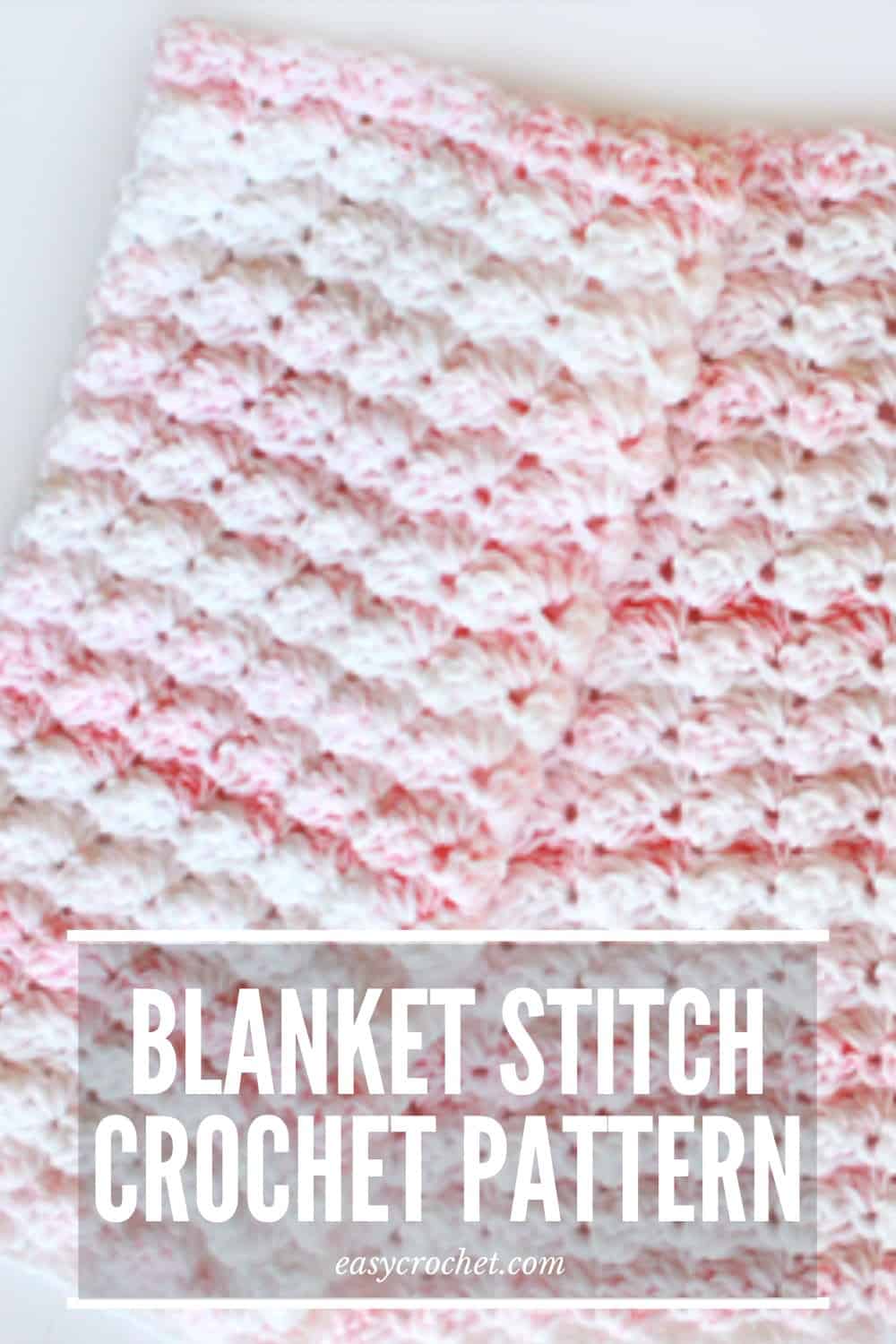 Share Your work With Me!
Remember I would love to see your creations using the #Easy Crochetmaker on Instagram, so don't forget to tag me! 🙂
You Can Make This Blanket in Any Color!
Don't you love the way the blanket stitch looks? Plus, I love how the Parfait Print color is variegated and hints of pink throughout this baby blanket. What a perfect color for a sweet baby girl! Can you imagine this in soft mint green or pastel blue?
Any color would look perfect for a handmade crochet baby gift since the whole Baby Soft colorway is made just for baby apparel.
Feel Free to Ask Me Questions!
I hope you enjoyed this blanket stitch pattern and if you have any questions, please leave a comment or send me a message through my contact page!
More Free Crochet Baby Blanket & Baby Patterns
Are you looking to make more baby blankets? Explore the Easy Crochet database for over 300 free crochet patterns!