Easy Crochet Baby Blanket Pattern for Spring
If you are looking for a crocheted baby blanket for Spring, then this is the pattern for you!
You'll love the that it uses an easy stitch that has amazing texture, works up fast with a simple stripe design and is a great pattern to finish over a weekend or two.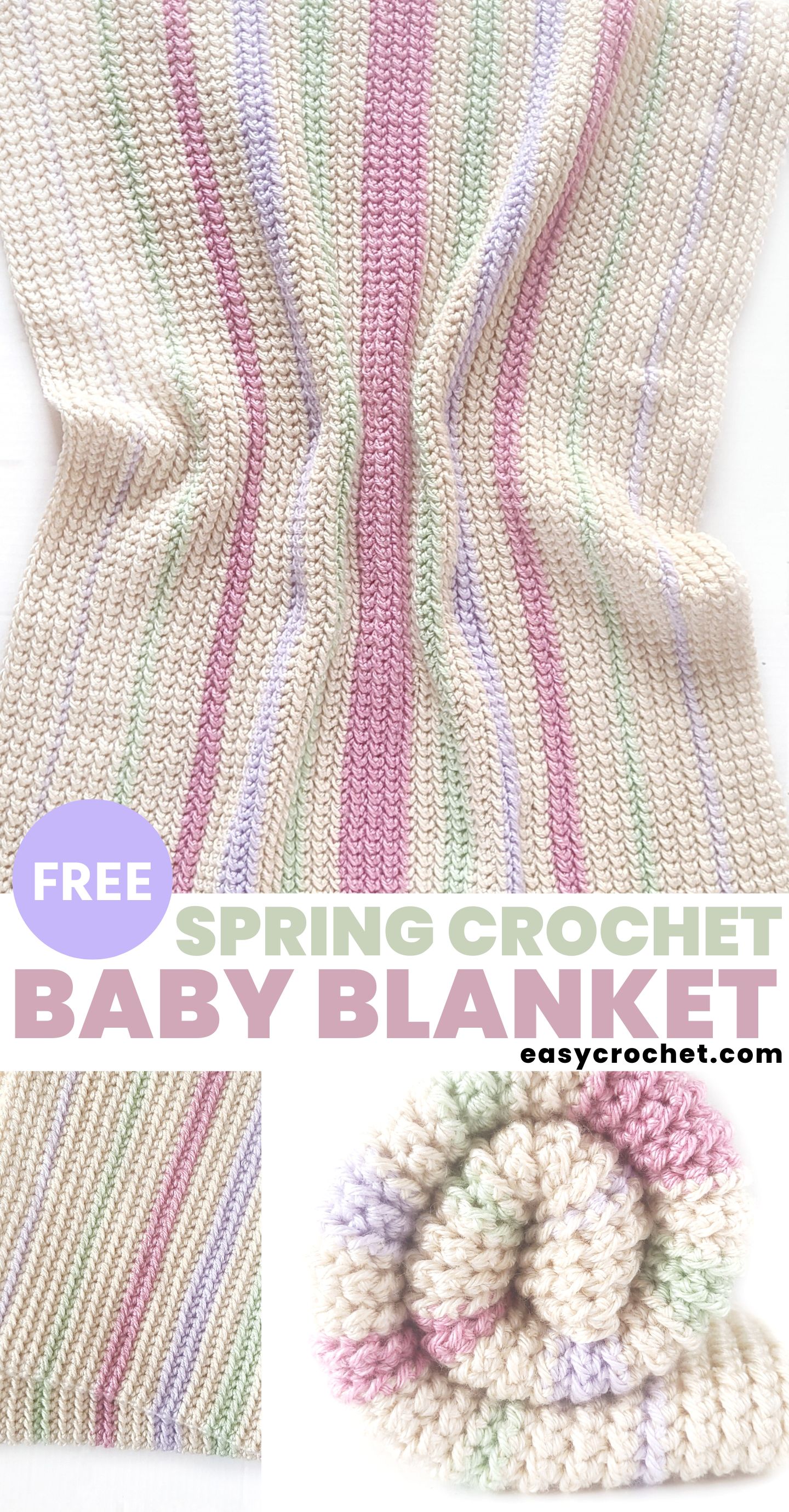 How to Crochet a Spring Time Baby Blanket
Below, we'll go over the details of the stitch used in the pattern, the yarn used as well as the easy-to-follow stripe design, so you'll be ready to start your very own baby blanket for spring!
Scroll on down to find the full details to get started on this easy crochet spring baby blanket!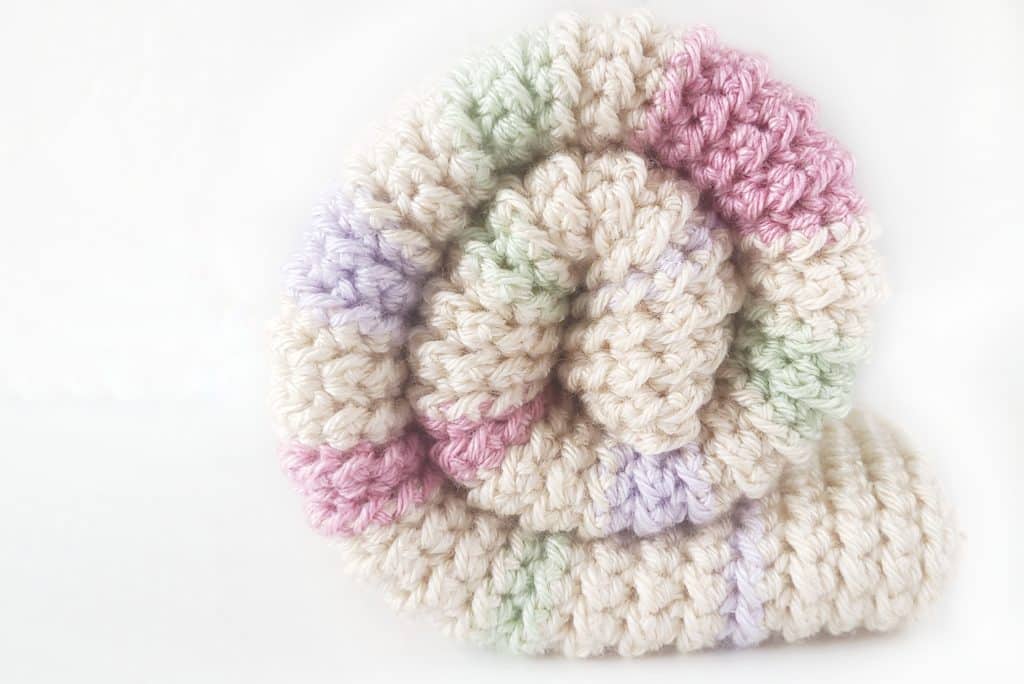 Stitches
To be able to make this easy crochet baby blanket, you'll just need to know how to make a half double crochet slip stitch or hdc sl st abbreviated.
You'll find that I have a full tutorial with photos and a video lesson in the link if you get stuck and need some extra help with this crochet stitch.
You will also need to know how to make a chain to turn your work, which is a very basic stitch and easy to learn!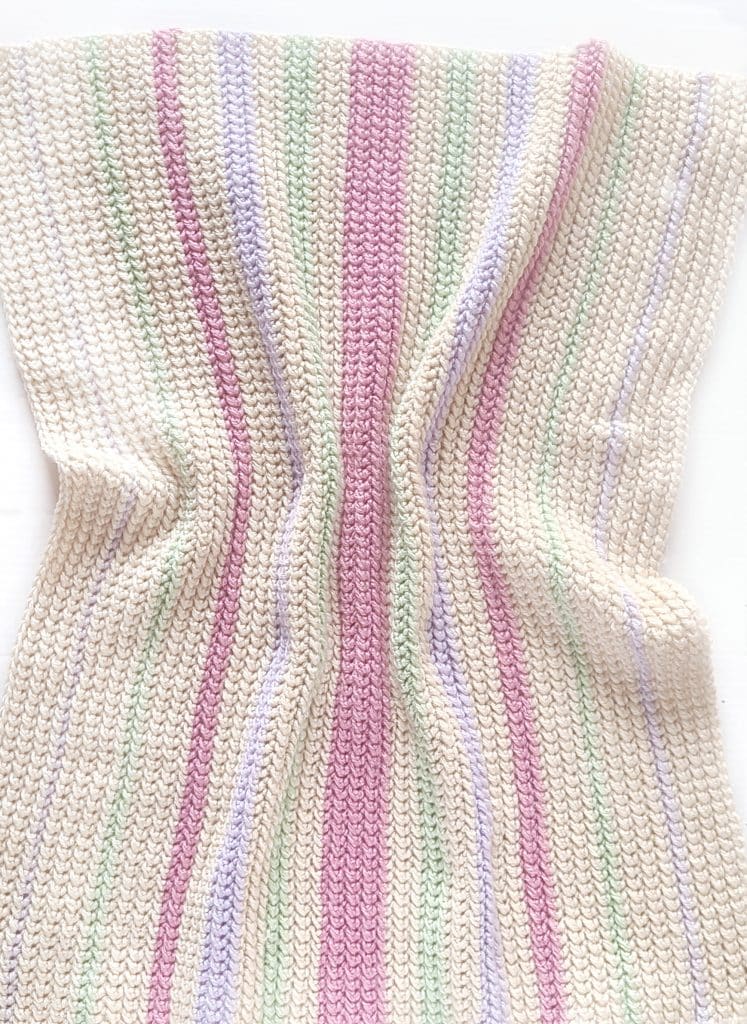 Yarn
I used Heartland yarn from Lion Brand for this design, which is a four weight yarn that is easy to find and has amazing colors choices, all based off places of natural beauty within the United States.
The Colors
For this baby blanket, I went with soft pastel yarn colors so that it would be perfect for Spring. Take a look at each of the yarn colors I used below:
Acadia (off white)
North Cascades (purple)
Channel Islands (green)
Lassen Volcanic (pink)
Learn more about Heartland Yarn below and find some more free crochet patterns using this soft yarn.
Heartland
This yarn is made by Lion Brand, and is a Weight 4 – Medium yarn.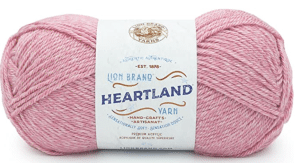 Buy Now
Patterns Using This Yarn →
If you'd prefer to use another four weight yarn, that would work too! Just be sure to pick fun four colors or make it all in one color if you wish.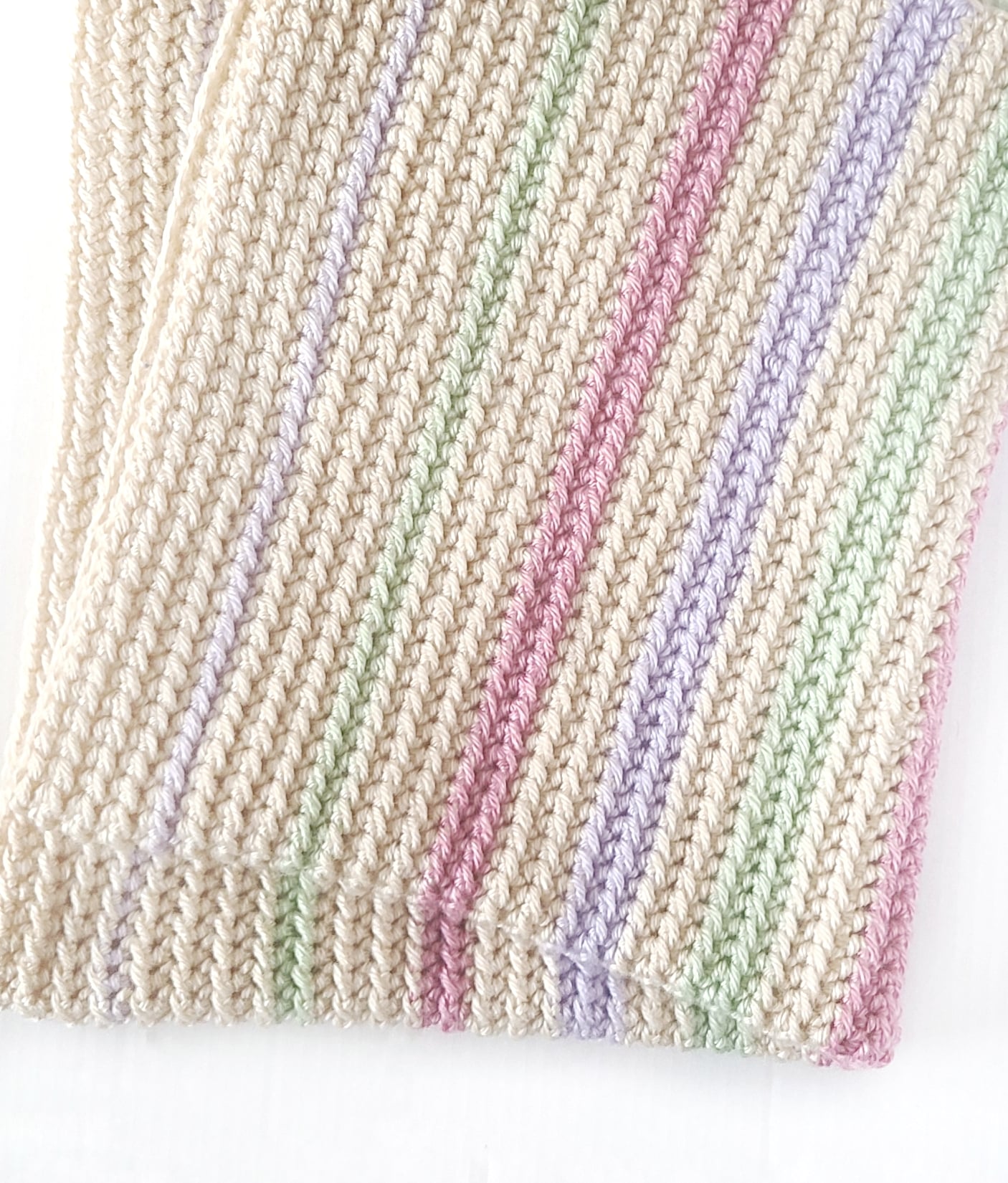 Let's Get Started
Now that you've learned about the stitches in this blanket and the yarn you'll want to use, you are now ready to get started crocheting a baby blanket for spring!
Happy Crocheting!
Spring Baby Blanket Pattern
Skill Level: Easy
Materials
Heartland Yarn from Lion Brand, or any four weight yarn. These are the colors I used:

Color A: Acadia (< 2 skeins)
Color B: North Cascades (< 1 skein)
Color C: Channel Islands (< 1 skein)
Color D: Lassen Volcanic (< 1 skein)

Tapestry needle
Scissors
Crochet Abbreviations
Finished Size
30″ x 35″ (height x width)
This pattern is written in ONE size: Stroller
The initial foundation row should be approximately 35″ and the finished height of the blanket is approximately 30″ high.
Do you want a different blanket size? You can change the blanket size by chaining any number for your foundation row or by using our blanket resizing calculator. I did not figure out the stripe pattern for other sizes, but you are more than welcome to do that on your own.
Notes
The pattern is written in standard US terms.
The number in parentheses at the end of the row is how many stitches are in that row.
The Pattern
Row 1: Ch 90
Row 2: In the second ch from the hook hdc sl st, hdc sl st into each st across, turn. (89)
Row 3: Ch 1, in the first st hdc sl st, hdc sl st into each remaining st across, turn. (89)
Row 4 – 110: Rep row 3 changing colors as shown in the chart below. (89)
| Rows | Color |
| --- | --- |
| 1-8 | Color A |
| 9 | Color B |
| 10-17 | Color A |
| 18 -19 | Color C |
| 20 -27 | Color A |
| 28-30 | Color D |
| 31-36 | Color A |
| 37-40 | Color B |
| 41-45 | Color A |
| 46-49 | Color C |
| 50-53 | Color A |
| 54-61 | Color D |
| 62-65 | Color A |
| 66-69 | Color C |
| 70-73 | Color A |
| 74-77 | Color B |
| 78-82 | Color A |
| 83-85 | Color D |
| 86-91 | Color A |
| 92-93 | Color c |
| 94-100 | Color A |
| 101 | Color B |
| 102-110 | Color A |