If you are just learning how to crochet then this step-by- step tutorial on how to make a half double crochet stitch (hdc) for beginners is just what you need! A half double crochet is one of the most common and basic crochet stitches that you can learn.
This post is excellent for beginner crocheters who would like a step-by-step tutorial on how to make a half double crochet and to really learn the answer to the question of what is a half double crochet?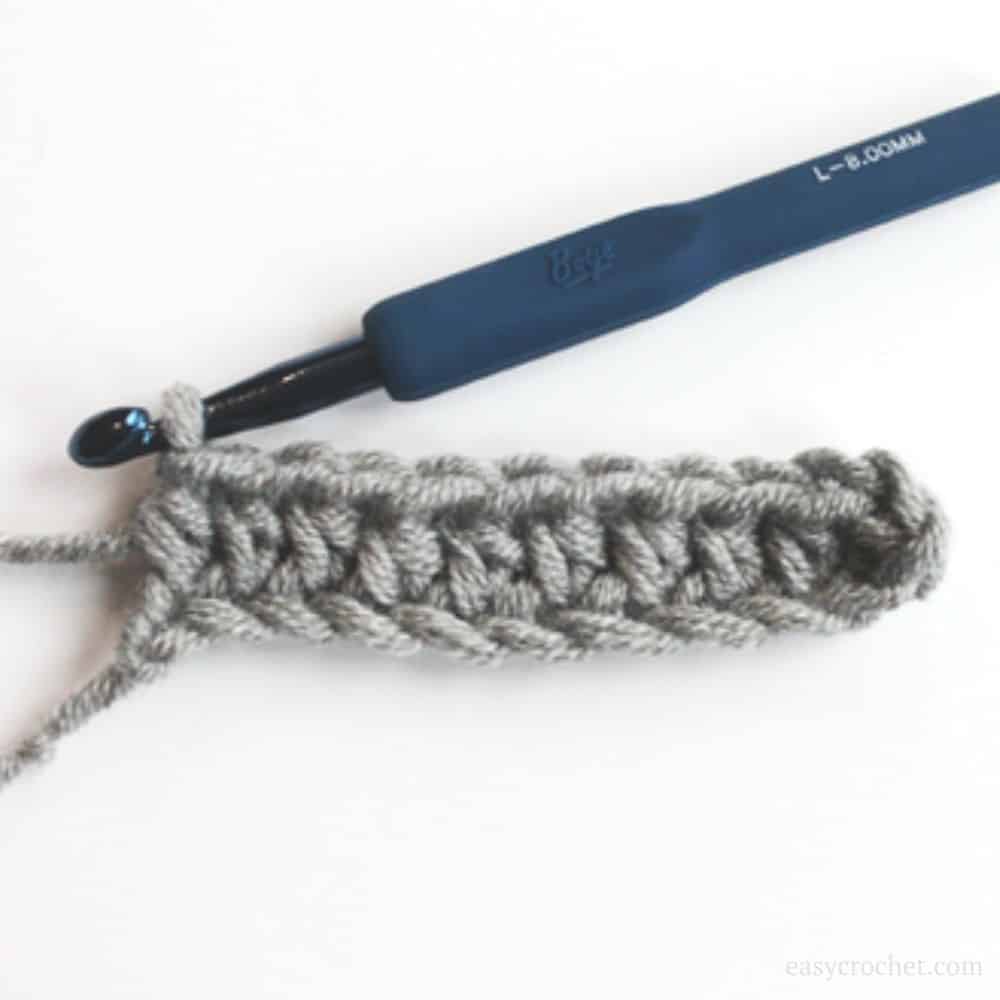 How to Half Double Crochet
A half double crochet quite similar to a single crochet and double crochet but with a few differences. A half double crochet is started with a YO(yarn over) the hook unlike a single crochet where no yarn over is made. Now to make it different from a double crochet at the end of the stitch you pull through three loops on the hook instead of continuing on.
Once you have your yarn and hook ready you are ready to learn. Below are a few basic steps on how to half double crochet in a pattern which will get you started in the right direction of making this stitch.
How to Half Double Crochet (hdc):
YO (yarn over)
Insert hook from front to back of the designated stitch,
YO the hook and pick up a loop.
YO the hook and pull back through all three loops on the hook.
Sometimes in crochet patterns, you will see it abbreviated using the letters "HDC." So, if you've ever wondered what HDC stands for when reading crochet patterns now, you know that it means half double crochet! Also, in the US, it's called half double crochet. In the UK, it's called a half treble crochet. So, you'll need to keep that in mind when you are looking through patterns.
Patterns Using a HDC Crochet Stitch
The half double crochet is a solid stitch that is perfect to use in projects such as a hdc crochet blanket, pillow and ear warmer I have designed quite a few patterns that use the half double crochet stitch that would be great to try once you learn this easy stitch. Take a look at a few of my favorite ways to use hdc stitches in patterns below!
Or take a look at our collection of patterns using the half double crochet to see if there is a blanket, scarf or more that you may want to crochet.
Ready to Learn The Half Double Crochet?
Read on down to find the FREE photo tutorial on how to half double crochet as well as video tutorial!
I can't wait for you to learn all about this stitch, which also happens to be my favorite stitch to use in crochet patterns! You'll be implementing this easy crochet stitch into those patterns you have been hoping to try.
Happy Half Double Crocheting!
How to Do a Half Double Crochet (HDC)
Skill Level: Basic
Materials
I used Lion Brand Woolspun Bulky Size 5 in Oxford Grey (but any size or brand will work)
Crochet Hook Size L. I used the Crochet Dude Aluminum Crochet Hook Size L /8 mm (use the hook that corresponds with the yarn you choose to use)
Scissors
Notes
This tutorial is shown using standard US Terms
Remember to have fun! 🙂
The Half Double Crochet Tutorial
Step 1: Chain any number (I used 11 for this tutorial)
Step 2: Yarn over and Insert Hook into 2nd Chain from Hook
Step 3: Yarn over again and pull back through 2nd Chain (3 loops on hook)
Step 4: Yarn over again and pull through all 3 loops on hook
Step 5: Repeat from Step 2 (do not work into the 2nd chain from hook from here on out go to the next chain instead)
Finishing: When you get to the end of the row, remember to chain 1, turn and repeat from step 2 on to complete a pattern.

Learn even more about the HDC stitch with our tutorial about how to hdc two together or hdc decrease or half double crochet increase as well as working in the third loop of a hdc stitch.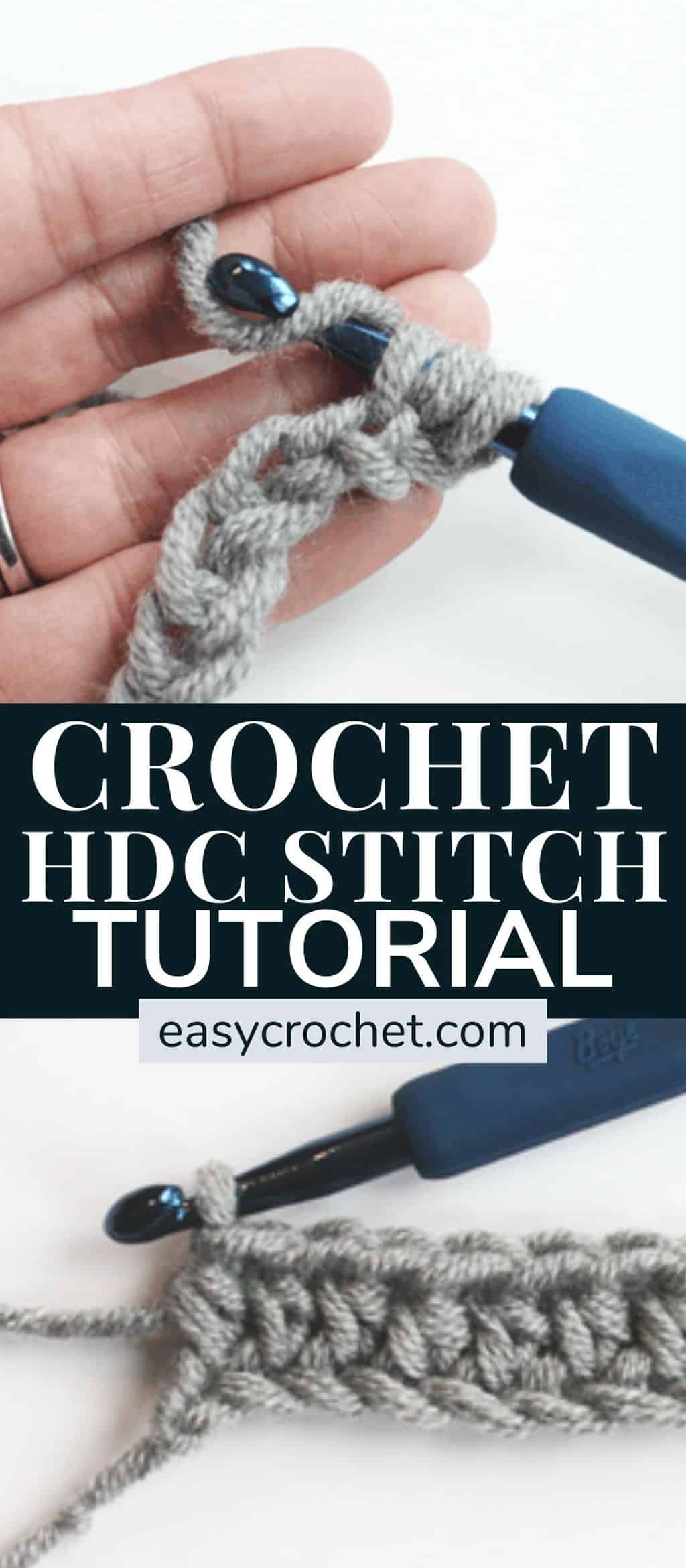 Half Double Crochet Stitch Video Tutorial
If you prefer a video on how to make a half double crochet then check out my channel below!
Other Crochet Stitch Tutorials That May Help Too!
I hope you had fun learning about the tips and tricks on how to half double crochet and if you have any questions, feel free to ask!
If you are a beginner crochet you may also like to try the beginner crochet lesson, abbreviation guide, or even make this beginner-friendly scarf.
Here are some more how to crochet tutorials that may be useful with future crochet projects & patterns.
Happy Crocheting!!
PS: Want to crochet even more crochet projects with the Half Double Crochet Stitch? Check out my suggestions below.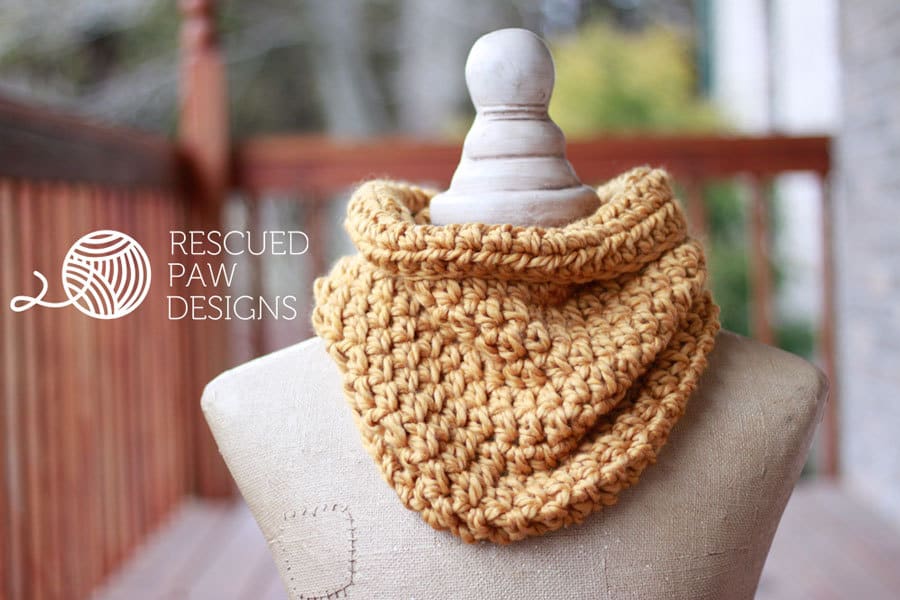 The Quick One Hour Half Double Crochet Cowl