Modern Square Crochet Blanket Pattern
If you're looking for an easy-to-make modern square crochet blanket, then you'll love this one. This basic stitch blanket is simple to work up and creates a cool design that everyone will be sure to love.
Scroll on down to find this blocked square blanket pattern in eight different crochet blanket sizes that are all free to use here on Easy Crochet!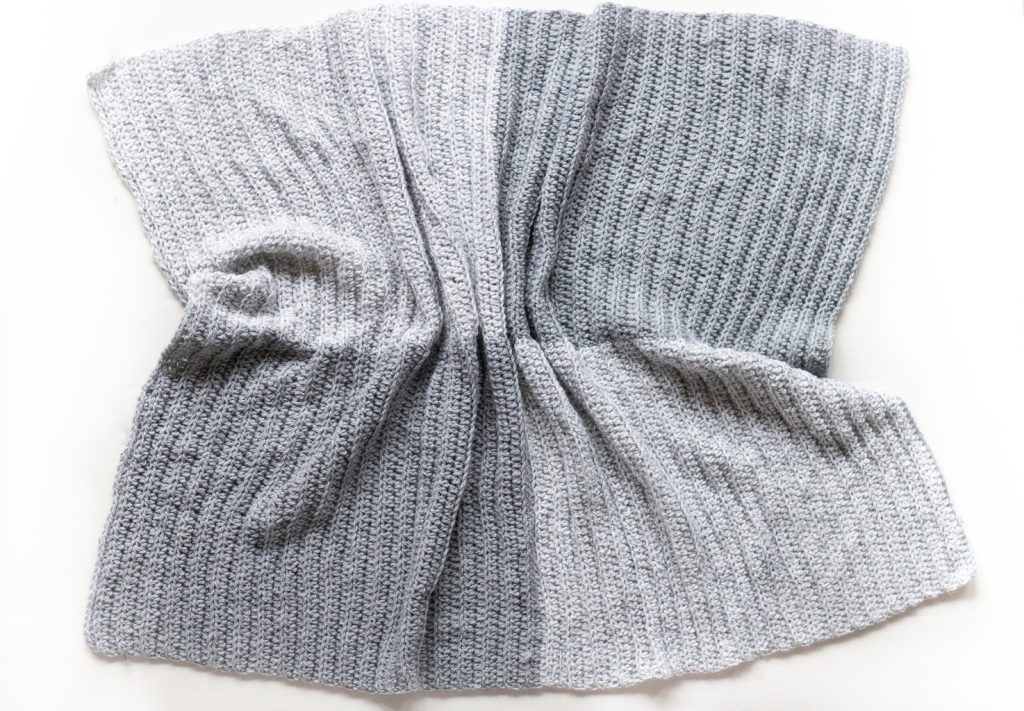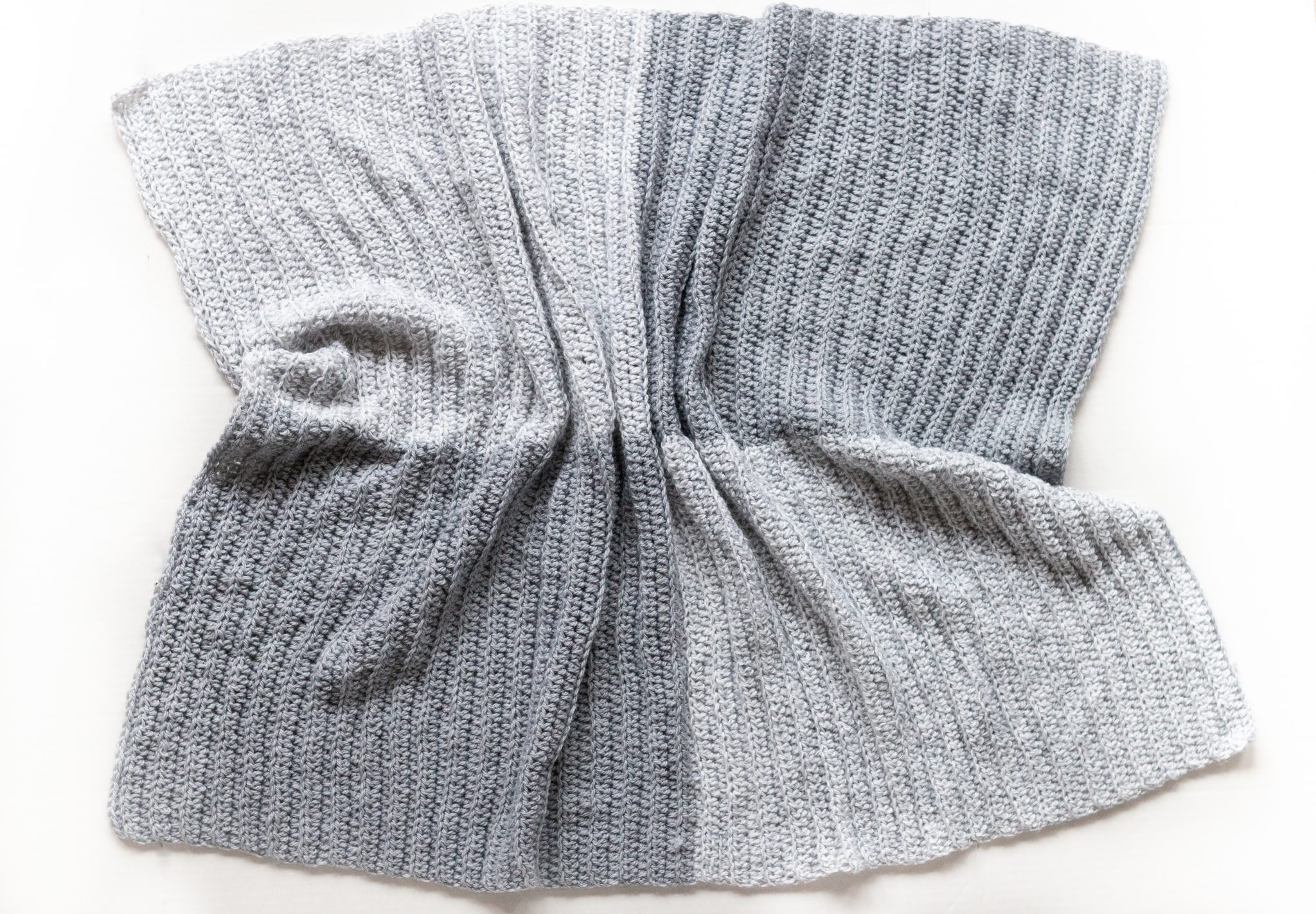 How to Make a Modern Crochet Square Blanket
This crocheted blanket is worked with just one stitch and two yarn colors to create a four blocked square, modern looking design.
Easy Steps to Make a Square Blanket
Chain the number of the blanket size you are making, work into the second chain from the hook
Half double crochet into each chain across for half the number of stitches in the row
Change yarn colors and continue half double crochets into each stitch across, turn
Chain 1, hdc into the bl of each stitch across halfway, change colors again
Expert Tip: When you start a new color of yarn, you will always drop the yarn color when you are done working with it and then pick it back up when needed again. This will help form the crisp, clean edges of the four squares that will make this blanket feel modern.
The Yarn
This blanket is made with Patons Beehive Baby Sport, which is a lightweight #3, 70% Acrylic / 30% Nylon yarn. I recommend using a metal hook (G-4 mm), so the yarn doesn't split. If you do find that it splits with the hook you use, I suggest trying a different crochet hook instead, since they are all shaped a bit differently.
I used the colors Baby Grey and Baby Grey Marble, so it would create a neutral crochet blanket that would go well in most nurseries and living rooms. If you'd prefer to make this blanket design with a different color, it will be easy since this yarn is available in a variety of beautiful colors.
Substitute Yarn: If you can't find this yarn or would prefer to use a different yarn for this blanket, then I recommend Brava Sport by WeCrochet. Keep in mind that any lightweight 3 yarn would work perfectly for this easy blanket pattern.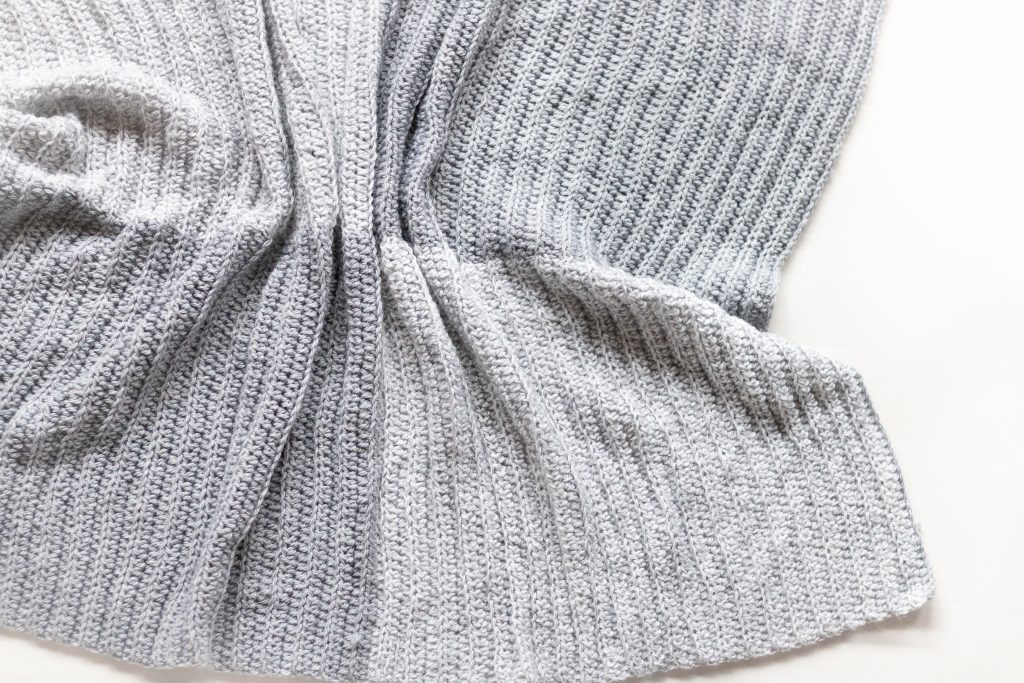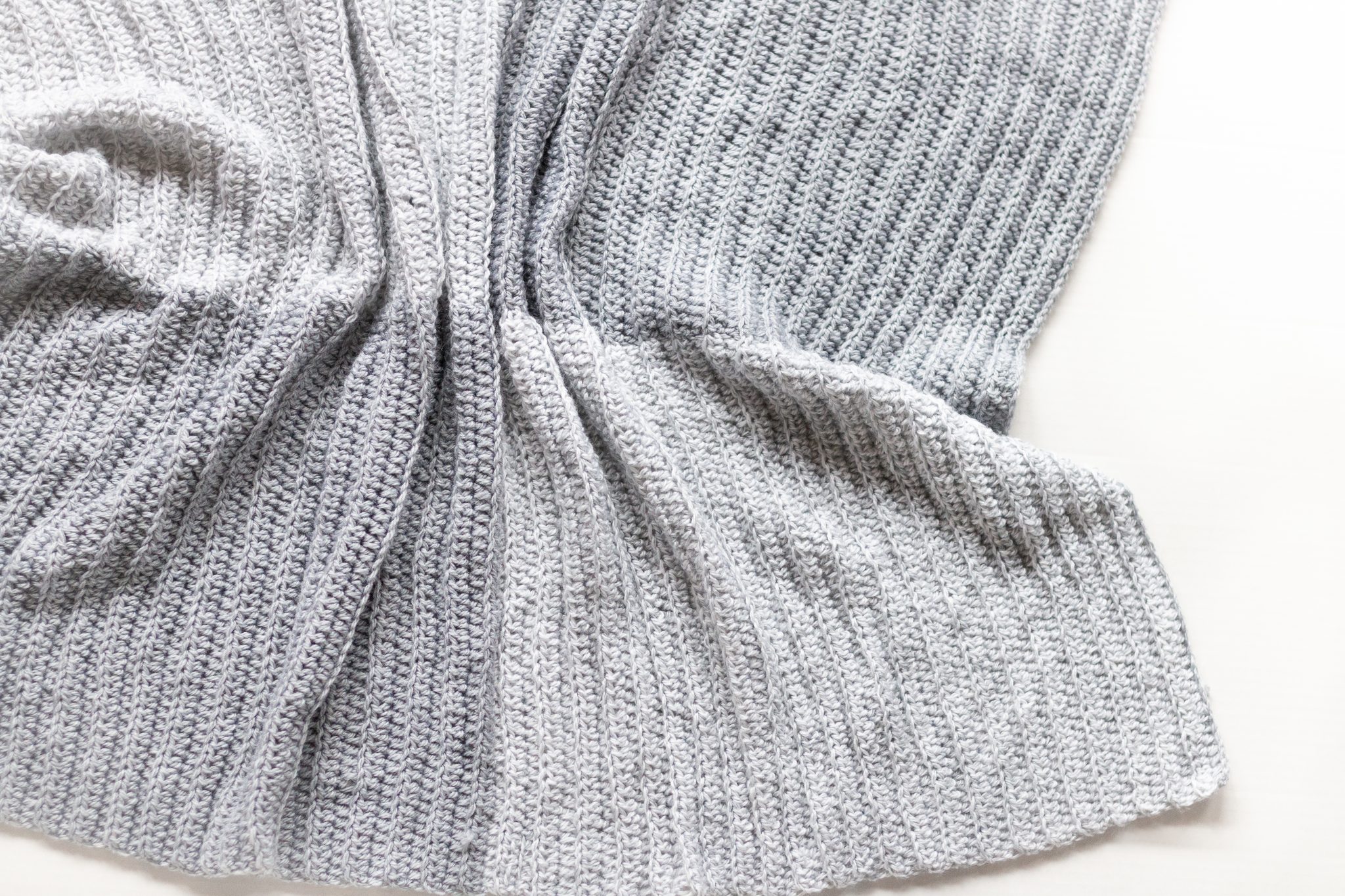 The Stitches
This entire easy crochet blanket is made with just one crochet stitch, the hdc stitch, which a beginner crocheter could master in no time. Not only will you make a half double crochet, you will also be working in the back loop of the hdc stitch too!
Learn more about the half double crochet stitch and half double crochet back loop technique below.
Half Double Crochet (hdc):
Yo (yarn over) insert hook from front to back of the designated stitch, yo the hook and pick up a loop.
Yo the hook and pull back through all three loops on the hook.
Back Loop (bl):
Insert the hook through the bl only of each stitch, rather than under both loops (the v) of the stitch. Complete the stitch as usual.
Get Started Crocheting
Now that you've learned about the yarn and crochet stitches you'll need, you are ready to get started crocheting!
Scroll on down below to find the free blanket pattern, Ad-free PDF and add to Ravelry!
Happy Crocheting!
The Modern Blocked Square Blanket Pattern
Skill Level: Easy
Materials
Patons Beehive Baby Sport or any 3 weight yarn (see chart for yardage)

Color A: Baby Grey
Color B: Baby Grey Marble

Yarn needle
Scissors
Tape measure
Crochet Stitches
ch = chain stitch
hdc = half double crochet
bl = back loop

Insert the hook through the bl only of each stitch, rather than under both loops of the stitch.
Complete the stitch as usual.

st = stitch
Notes
This pattern is written in standard US terms
The stitches are worked in rows with a color change halfway across each row to create a blocked look.
Twin & Queen sizes will not be exact blocks
You will need to switch the order of colors halfway through rows of the blanket size you are making. Start with Color A, followed by color B. Then halfway though, start with color B followed by color A.
Parentheses in pattern show stitch count totals
READ: These sizes will not work out to a perfect square, but all will have a "blocked" look. The only sizes that come out to a perfect square blanket sizes are lovey, receiving and king.
Gauge
Approximately 17 stitches x 10 rows = 4″ x 4″
Gauge Pattern: Ch 17 and work pattern as written below for 10 rows.
Yardage Chart
| | Total Yarn Length (yd) | Total Skeins |
| --- | --- | --- |
| Lovey | 167 | 2 ( 1 Color A, 1 Color B) |
| Stroller | 1,293 | 4 (2 Color A, 2 Color B) |
| Receiving | 1,847 | 6 (3 Color A, 3 Color B) |
| Baby | 2,641 | 8 (4 Color A, 4 Color B) |
| Throw | 3,601 | 12 (6 Color A, 6 Color B) |
| Twin | 7,072 | 20 (10 Color A, 10 Color B) |
| Full/Queen | 9,564 | 28 (14 Color A, 14 Color B) |
| King | 13,460 | 38 (19 Color A, 19 Color B) |
Skeins are calculated using Patons Beehive Baby Sport Skein Weight: 3.5 oz. / 100 g, 359 yard size.
Starting Chains + Rows
| | Height (in) | Width (in) | Starting Chains | Rows |
| --- | --- | --- | --- | --- |
| Lovey | 12 | 12 | 53 | 30 |
| Stroller | 35 | 32 | 137 | 88 |
| Receiving | 40 | 40 | 171 | 100 |
| Baby | 52 | 44 | 189 | 130 |
| Throw | 60 | 52 | 223 | 150 |
| Twin | 90 | 68 | 291 | 225 |
| Full/Queen | 90 | 92 | 393 | 225 |
| King | 108 | 108 | 461 | 270 |
Finished Blanket Sizes
Lovey: 12″ x 12″
Stroller: 35″ x 32″
Receiving: 40″ x 40″
Baby: 52″ x 44″
Throw: 60″ x 52″
Twin: 90″ x 68″
Full / Queen: 90″ x 92″
King: 108″ x 108″
The Blanket Pattern
Foundation Row: With Color A ch (see chart for the size you are making)
Row 1: starting in the second ch from the hook hdc, hdc into each ch halfway across(26,68,85,94,111,145,196,230), Change to color B and hdc into the rest of the chs, turn. (52,136,170,188,222,290,392,460)
Row 2: Ch 1, hdc bl into each st across working until halfway across, change to Color A, hdc bl into remaining sts, turn.
Row 3: Ch 1, hdc bl into each st across working until halfway across, change to Color B, hdc bl into remaining sts, turn.
Row 4 to (see chart): Rep row 2 & 3 until you are halfway through your total rows, then switch to Color B first followed by Color A for the remaining half of rows.
When to Switch:
Lovey: 15 rows
Stroller: 44 rows
Receiving: 50 rows
Baby: 65 rows
Throw: 75 rows
Twin: 112 rows
Full/Queen: 112 rows
King: 135 rows
Finishing: Fasten off the yarn and weave in all the loose ends throughout the blanket with a yarn needle.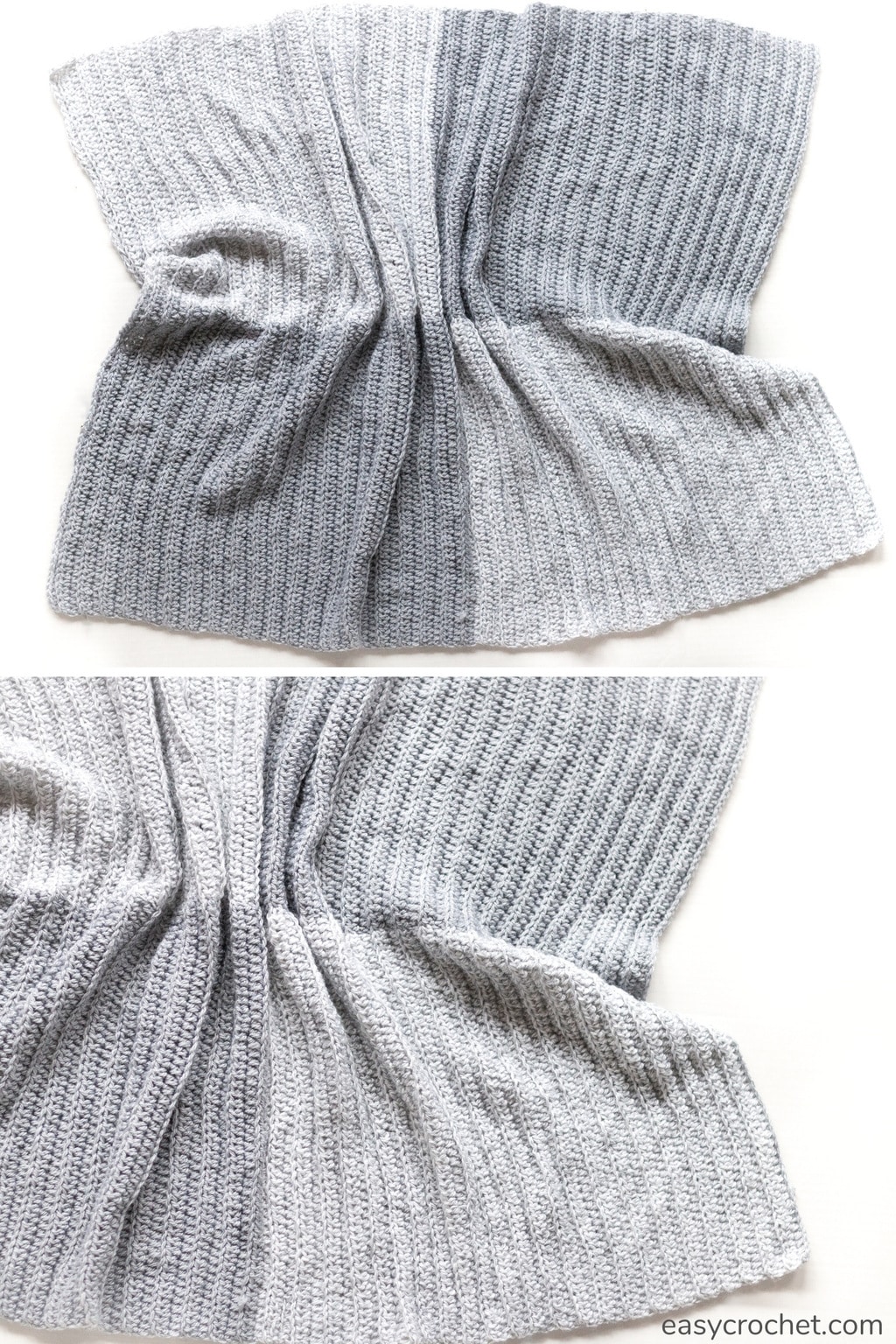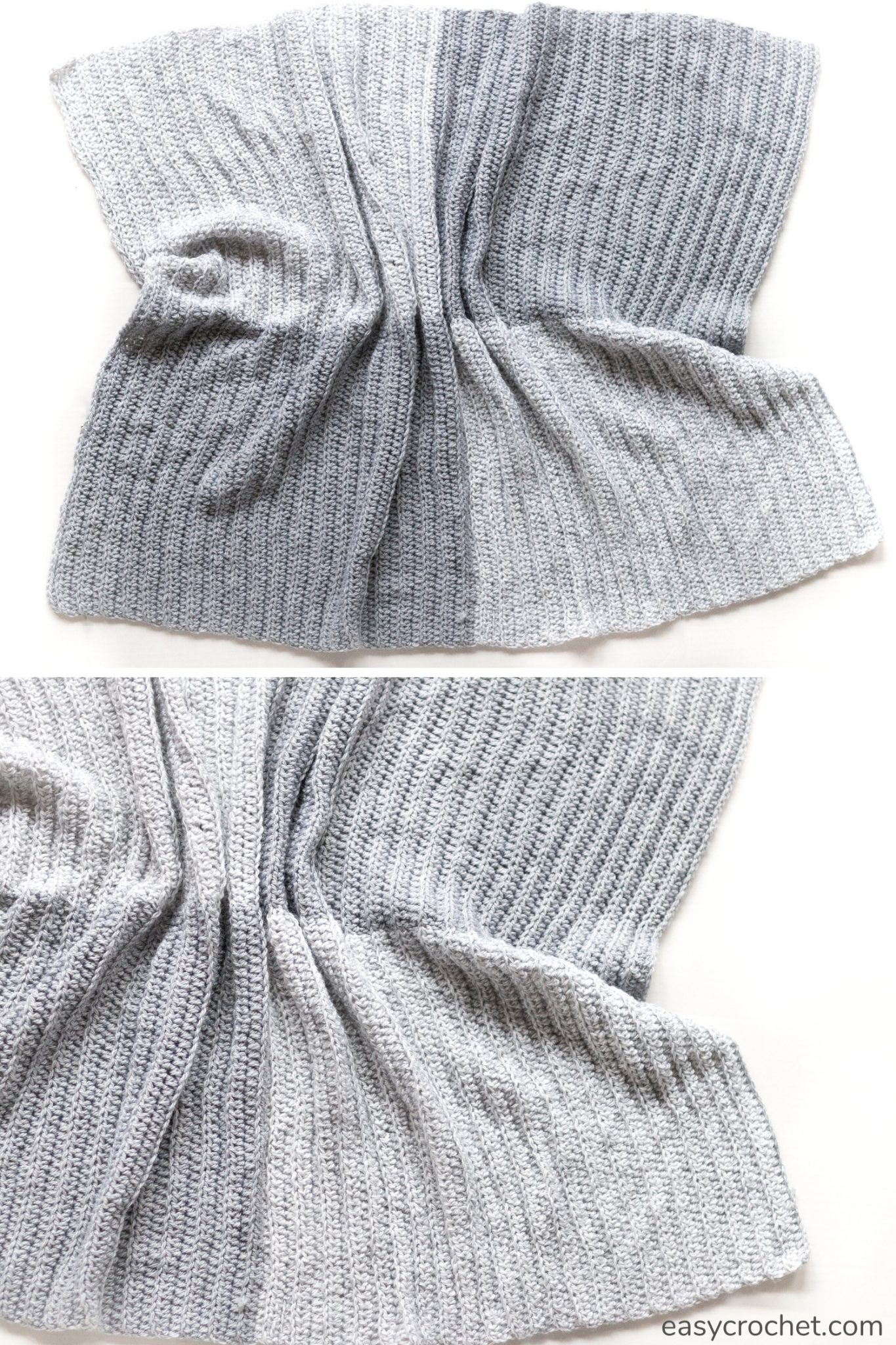 Common Crochet Blanket Questions
How Do I Make a Crochet Blanket a Different Size?
To make this blanket a different size than the standard blanket sizes listed, you will need to use a starting chain in an odd number.
How Do I Wash a Crochet Blanket?
Follow along with the care instructions that are listed on most yarn labels. If you did not make the blanket, ask the crocheter who did the best way to take care of your new blanket.
More Free Crochet Blanket Patterns