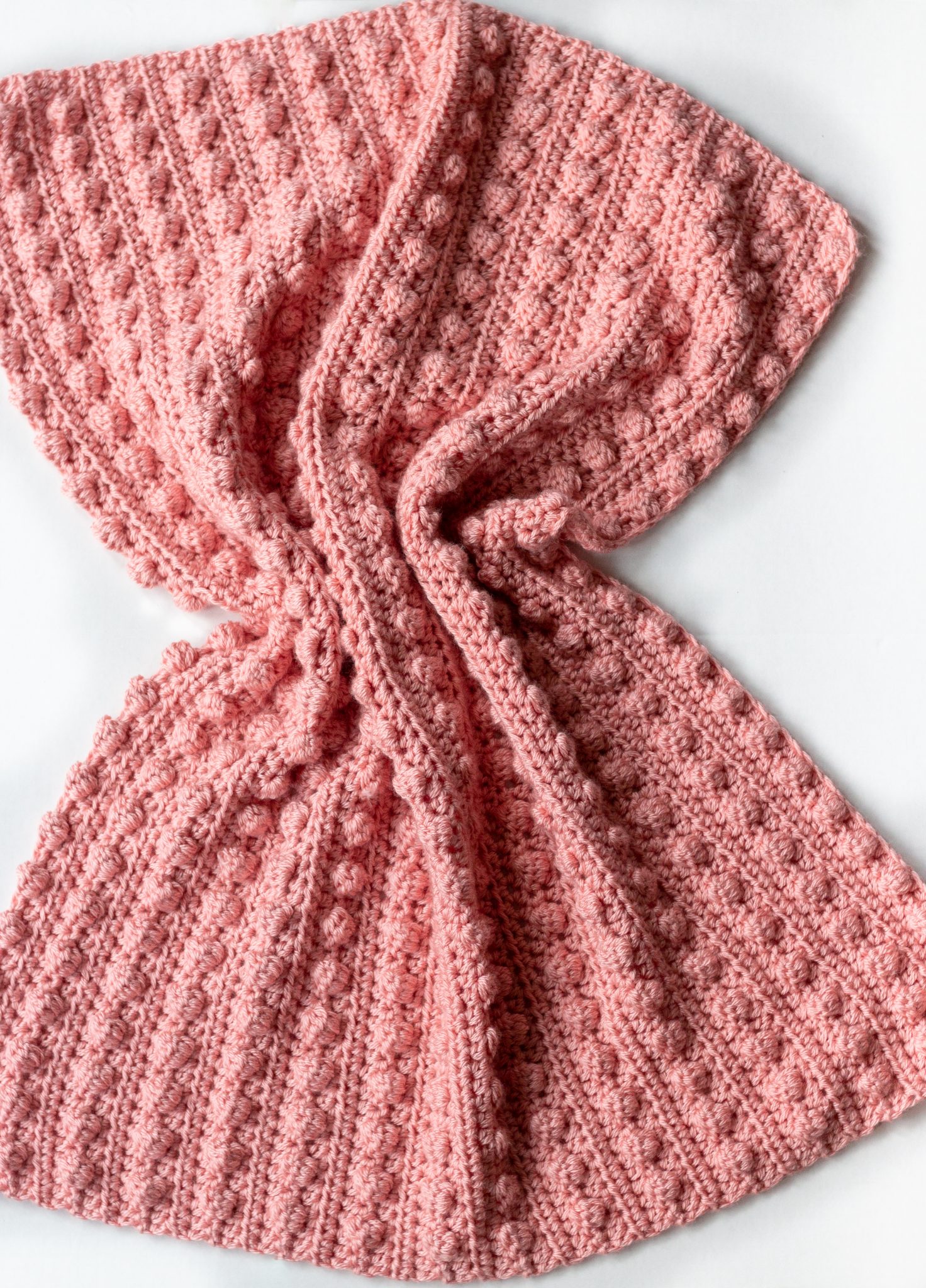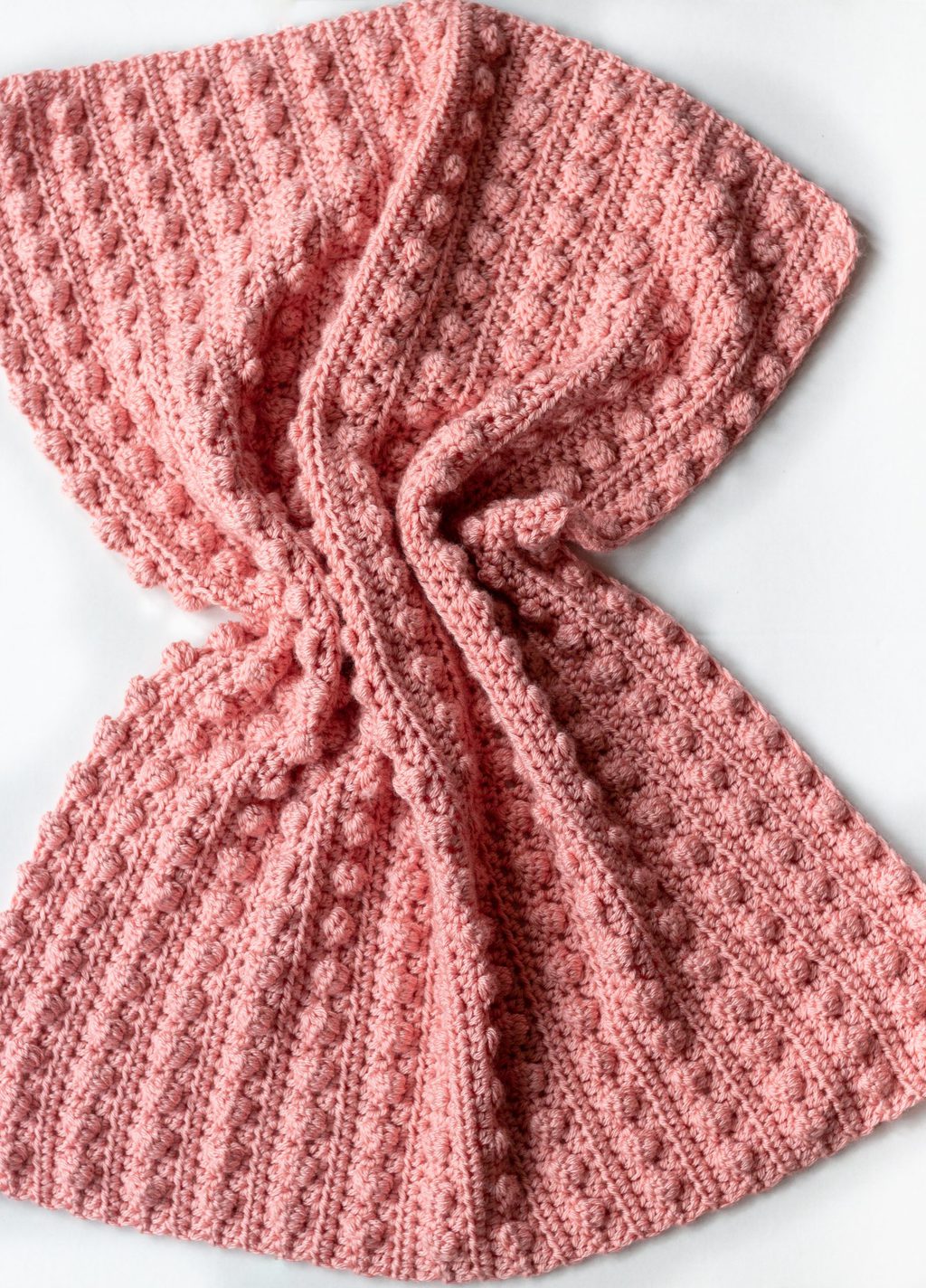 Free Crochet Pattern for a Bobble Stitch Blanket
If you are looking for a beautiful baby girl crochet blanket or baby boy blanket to make, then this blanket design is the one. Our new free pattern uses three simple stitches to create a wonderful texture and can be made into the perfect sized baby blanket as a baby shower gift. Plus, it can be crocheted in different colors, so it's easy to customize to match any nursery theme.
If you'd like to make a different size blanket other than this blanket size, then you are in luck! This easy crochet baby blanket is available (for free!) in seven other bonus blanket sizes below.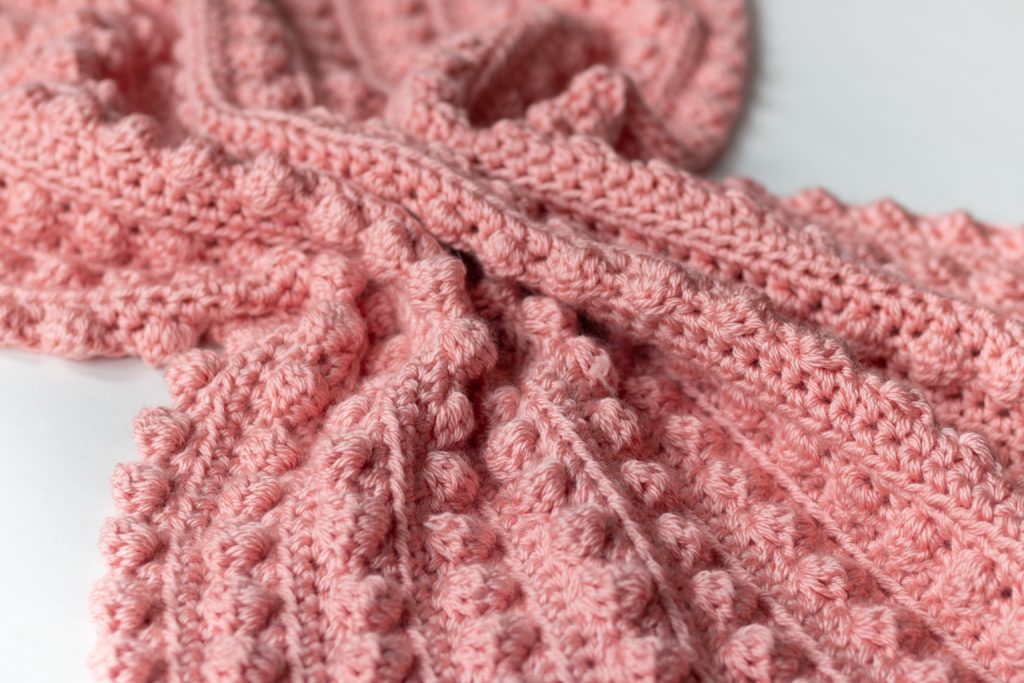 Crochet Stitches Used in this Bobble Blanket
You will need to know how to do a few basic crochet stitches such as the single crochet, half double crochet as well as the bobble stitch to make this baby blanket.
Each crochet stitch that is used in this blanket is explained with more detail in the pattern below and has a link to a tutorial for extra help if it is needed.
This easy to make and let's not forget adorable baby blanket is worked up with rows of hdc stitches followed by single crochet and bobble stitches, which are then worked in a pattern repeat. The combination of these different stitches along with the yarn used makes the texture of this bobble stitch blanket pop. You can learn about the yarn you'll want to use to make this blanket below.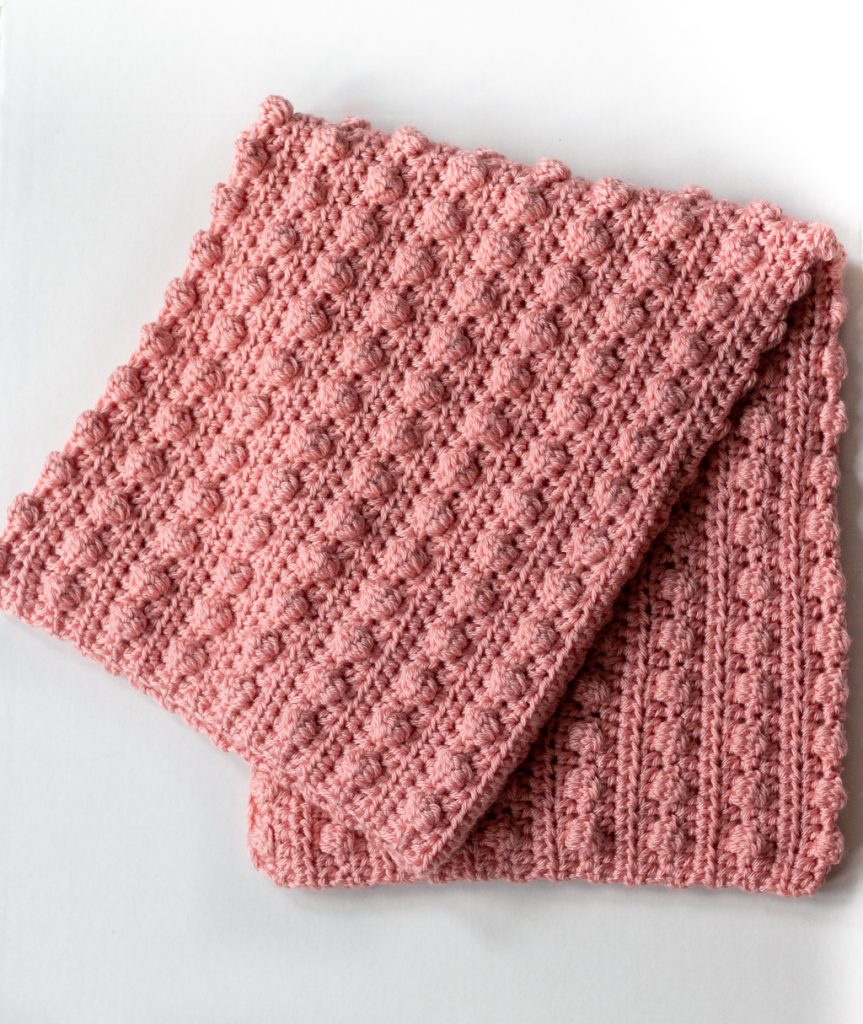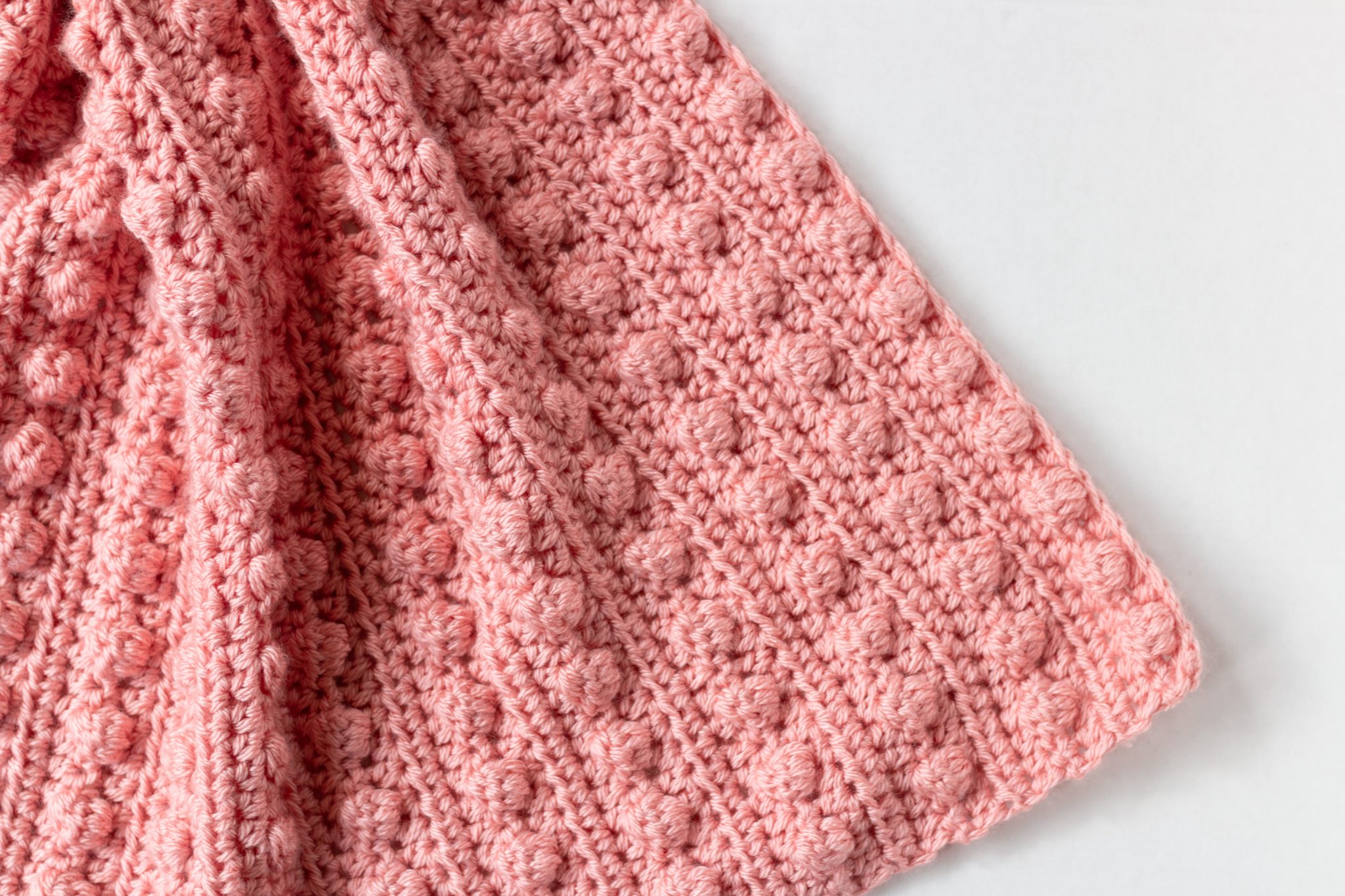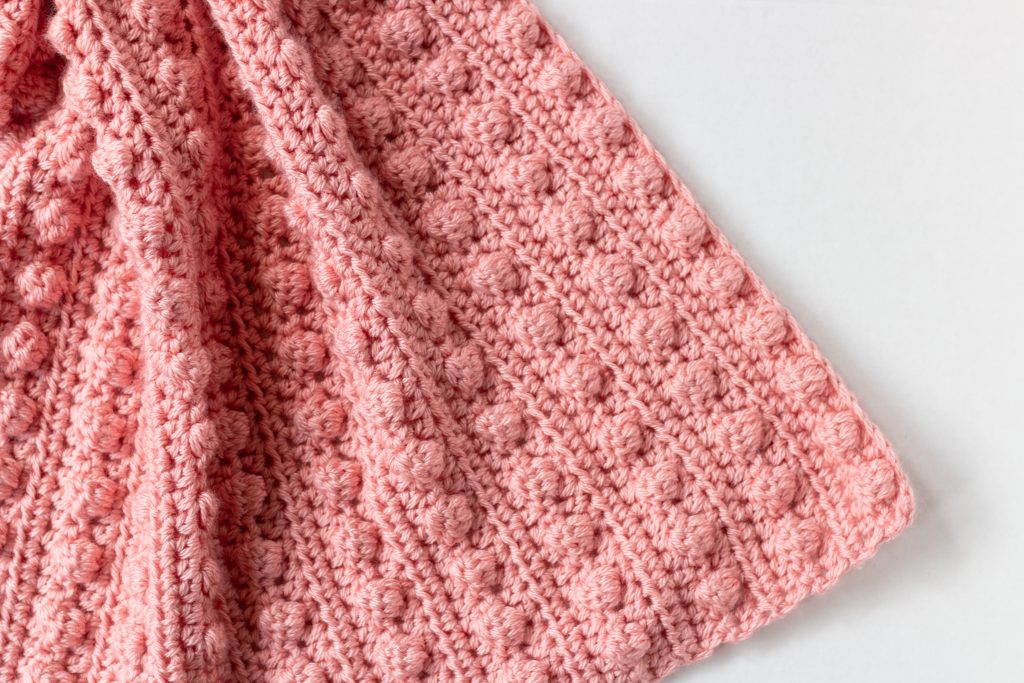 The Perfect Yarn
For the entire baby blanket, I used Bernat Softee Baby yarn a three lightweight soft, 100% acrylic yarn. Since it is acrylic, it can easily be machine washed and dried, which is important with a baby since this blanket will more than likely need frequent cleanings.
The solid colors like the one I am using here comes in generously sized 362 yard skeins. Luckily, it is easy to find this yarn at most craft stores, shops online or directly from yarnspirations.com. I used the colorway Soft Peach as shown below for this design sample, but it can be made using any color you would like.
Bernat Softee Baby Yarn

The entire blanket is made by holding two skeins or strands of yarn together at the same time. For the receiving size baby blanket size shown, you'll need 6 skeins of Bernat Softee Baby yarn.
For the Lovey size, you could get away with using one skein of yarn by pulling it apart and cutting it in half. However, it may be easier to purchase 2 full skeins instead.
If you have trouble finding this yarn, any #3 weight yarn can be substituted. Take a look below at a few good yarn substitution options for your soon-to-be made baby blanket design.
Here are some great yarn substitutions if you find yourself having trouble finding Bernat Softee Baby:
Be sure to take a look at the size and yardage charts in the pattern below. This way, you'll know exactly how much yarn is needed for the size blanket you wish to make.
Happy crocheting!
Bobble Stitch Crochet Blanket Pattern
Skill Level: Intermediate
Materials
Bernat Softee Baby or any 3 weight yarn (See chart below for yardage)
5 mm (H-8) crochet hook (or any hook size needed to obtain gauge)
Yarn needle
Scissors
Measuring tape

Gauge
12 sts x 7 rows= 4″ x 4″
Gauge Pattern: Ch 13 and follow along with pattern as written
Making a gauge swatch is important for a properly sized blanket, and I highly recommend crocheting one.
Stitch Abbreviations
bo = bobble
sc = single crochet
hdc = half double crochet
ch = chain
st = stitch
rep = repeat
Stitch Explanations
Single Crochet (sc) Single Crochet Stitch Tutorial
Insert hook from front to back in the second chain from the hook or designated stitch
Bring the yarn over (yo) the hook and pull the yarn back through the chain (or stitch) from back to front (2 loops on hook).
Yo and pull through both loops on the hook.
Bobble (bo) Bobble Stitch Tutorial
Yo (yarn over) insert hook into the designated st (stitch) in row and pick up a loop. Yo draw yarn through 2 loops (3 loops)
Yo insert hook into same st, yo draw through 2 loops (4 loops)
Yo insert hook into same st, yo draw through 2 loops (5 loops)
Yo insert hook into same st, yo draw through 2 loops (6 loops)
Yo draw yarn through all 6 loops on hook, tighten down
Half Double Crochet (hdc) Half Double Crochet Stitch Video Tutorial
Yo (yarn over) insert hook from front to back of the designated stitch, Yo the hook and pick up a loop.
Yo the hook and pull back through all three loops on the hook.
Finished Size
40″ x 40″ Receiving Blanket Size (+ bonus sizes such as throw blanket, queen blanket and more are listed below in the chart)
Change size by using a multiple of 6 + 1 if you'd like to make this blanket in a different size than the standard ones listed below in the chart
Notes
Baby blanket is written in standard US terms
If you'd like to make a bobble stripes blanket, for example, you can change the yarn colors. For color changes (or yarn skein changes) in this blanket, you can use our how to change colors in crochet tutorial.
Blanket is made holding TWO SKEINS of YARN together at the same time.
You can make this blanket with just one skein of yarn at a time if you'd like, just remember to cut the number of skeins + yardage needed in half that are shown in the chart below.
The Blanket Pattern
* pattern is worked holding two skeins of yarn together at the same time.
*st counts shown in () are as follows, (lovey, stroller, receiving, baby, throw, twin, full/queen, king)
Foundation Row: ch (see size chart for size being made), in second ch from the hook hdc, hdc into each ch across, turn. (37,97, 121,133,157,205,277,325)
Row 1: ch 1, sc, sc, *bobble, sc, sc, bobble rep across ending with 1 sc in last st, turn. (36,96,120,132,156,204,2 76,324)
Row 2: ch 1, hdc into each st across, turn.
Row 3: ch 1, hdc into each st across, turn.
Row 4: ch 1, hdc into each st across, turn.
Row 5 – (see chart for size being made): rep row 1 – 4 until two rows remain
Second to Last Row: rep row 1
Last Row: rep row 2
Finishing: Fasten off and wave in loose ends with a yarn needle.
| | Height | Width | Starting Sts | Rows |
| --- | --- | --- | --- | --- |
| Lovey | 12 | 12 | 37 | 21 |
| Stroller | 35 | 32 | 97 | 61 |
| Receiving | 40 | 40 | 121 | 70 |
| Baby | 52 | 44 | 133 | 91 |
| Throw | 60 | 52 | 157 | 105 |
| Twin | 90 | 68 | 205 | 158 |
| Full/Queen | 90 | 92 | 277 | 158 |
| King | 108 | 108 | 325 | 189 |
| | Total Yardage | Total Skeins |
| --- | --- | --- |
| Lovey | 181 | 1 |
| Stroller | 1420 | 4 |
| Receiving | 2028 | 6 |
| Baby | 2896 | 8 |
| Throw | 3954 | 12 |
| Twin | 7785 | 22 |
| Full/Queen | 10522 | 30 |
| King | 14779 | 42 |
Total skeins are calculated using Bernat Softee yarn 362 yard size. If different yarn is used, go by total yardage instead.
Blanket sizes shown above are based off standard crochet blanket sizes. Take a look at the Easy Crochet Blanket Sizes Chart to learn more about each size and which one would work best for you.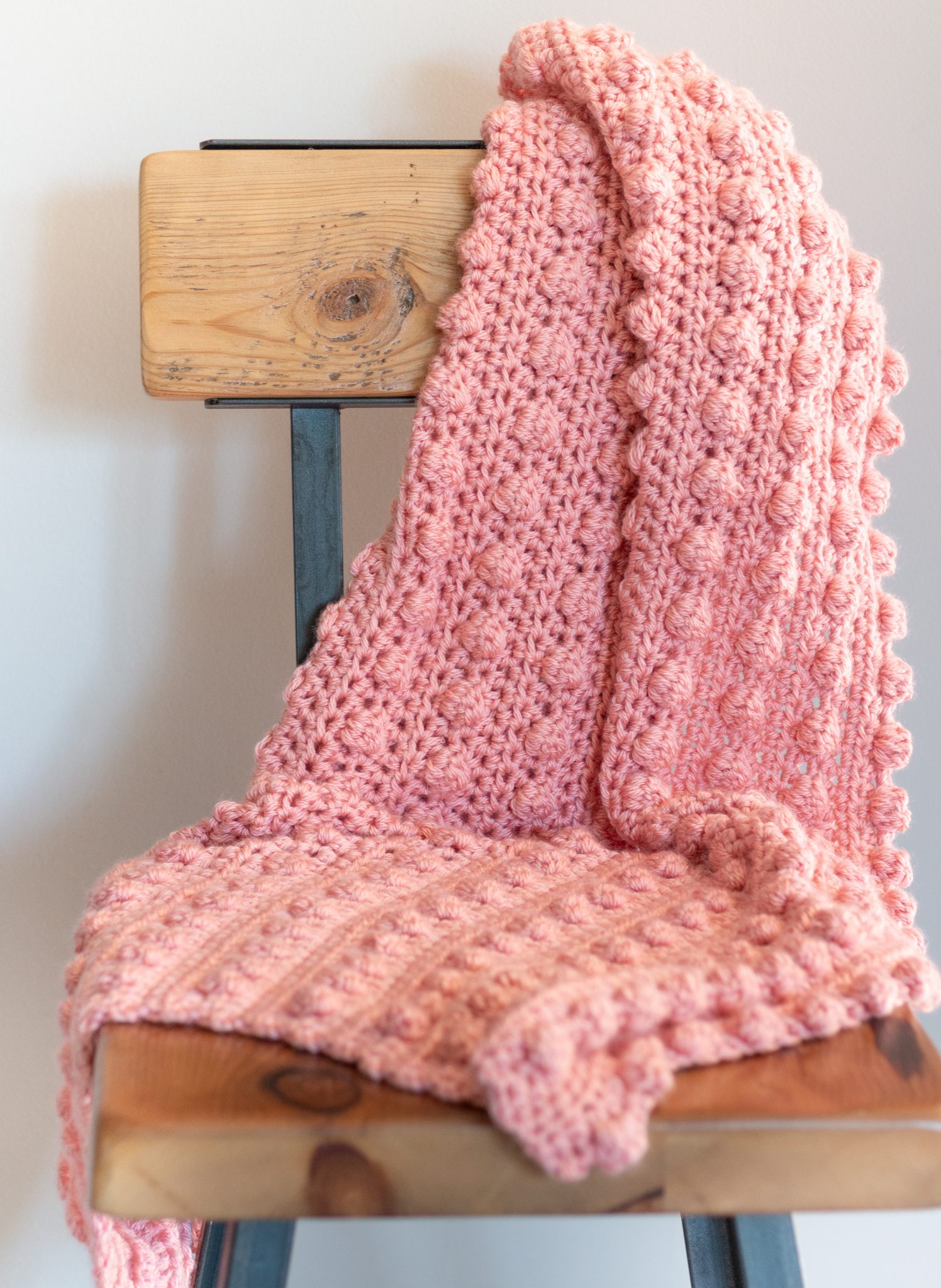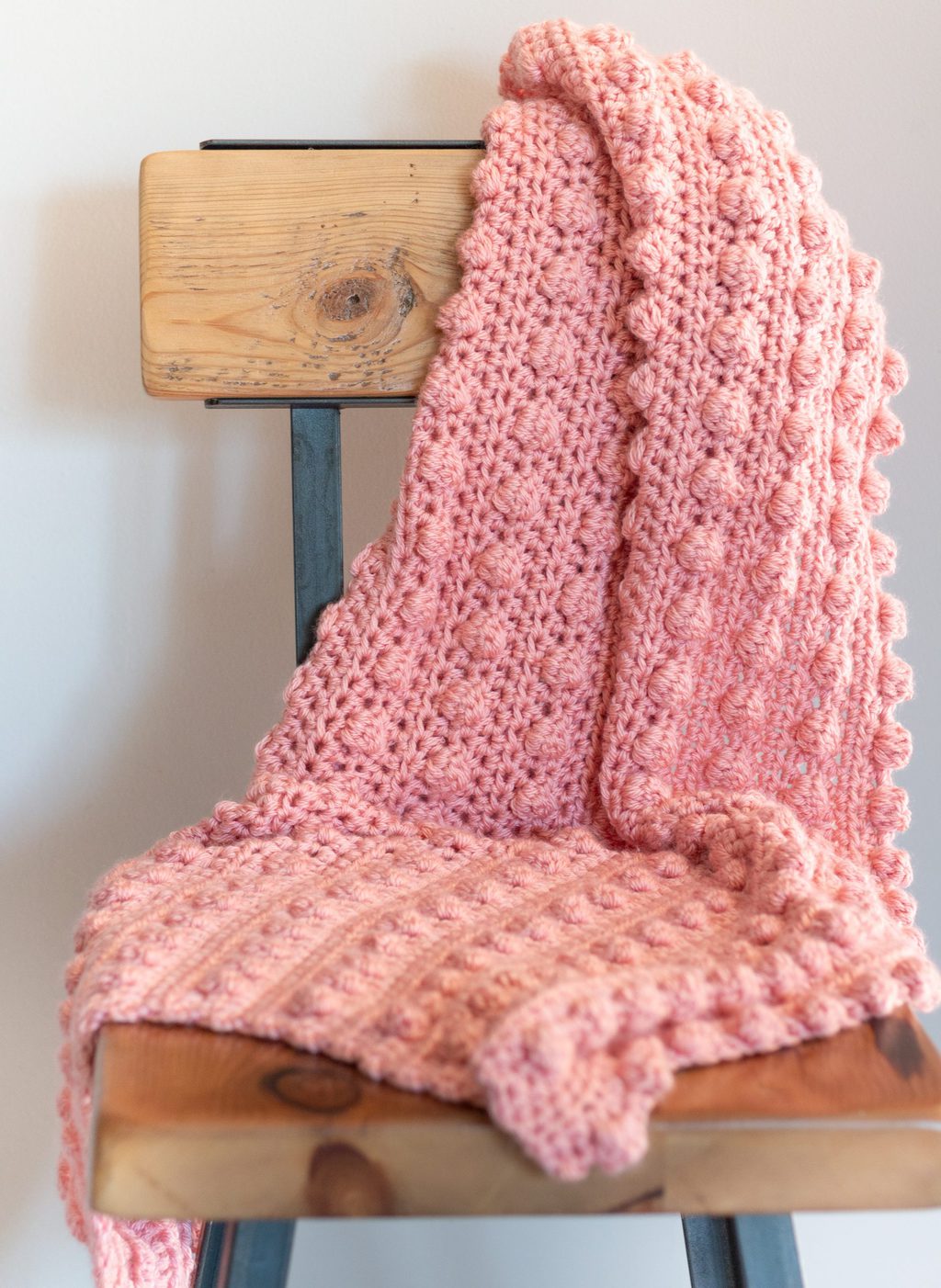 More Free Crochet Blanket Patterns
The free blanket patterns below range from ones that are great for crochet beginners to more advance crocheters. Explore each one to find your new favorite blanket to crochet!
Great Tips for Crocheting Baby Blankets
Use our guides and tutorials below to research how to make the best crochet baby blanket.