The Finley Easy Crochet Blanket Pattern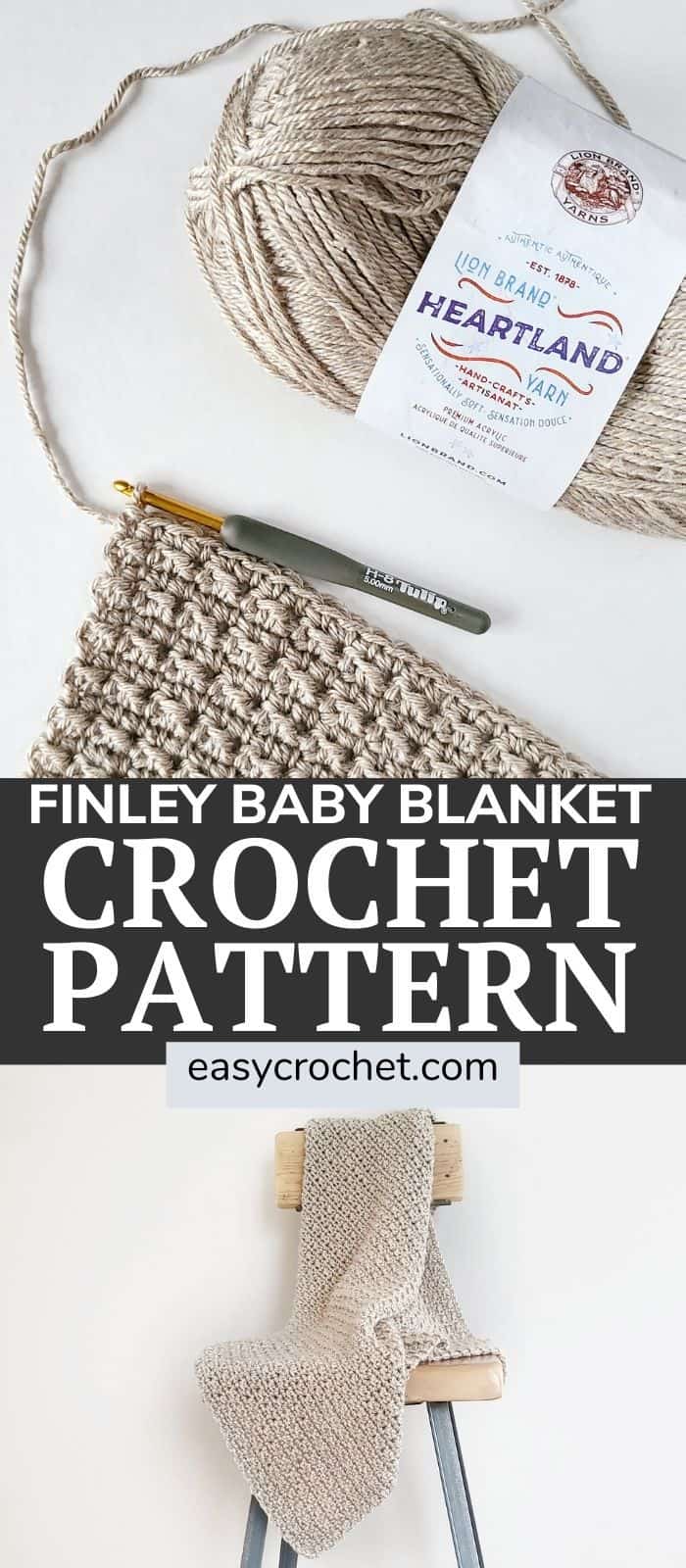 Are you looking for a beautifully textured and easy to crochet baby blanket?
The Finley crocheted baby blanket is the blanket for you! This blanket uses only two basic stitches and works up fast! Plus, the best part is that it can be made in four different baby blanket sizes.
If so, read on down to learn about the yarn I used plus the two easy stitches, so you can make this easy baby blanket! Learn more below about the yarn, stitches, and sizes you can make the Finely blanket in!
I hope you enjoy this pattern and happy crocheting.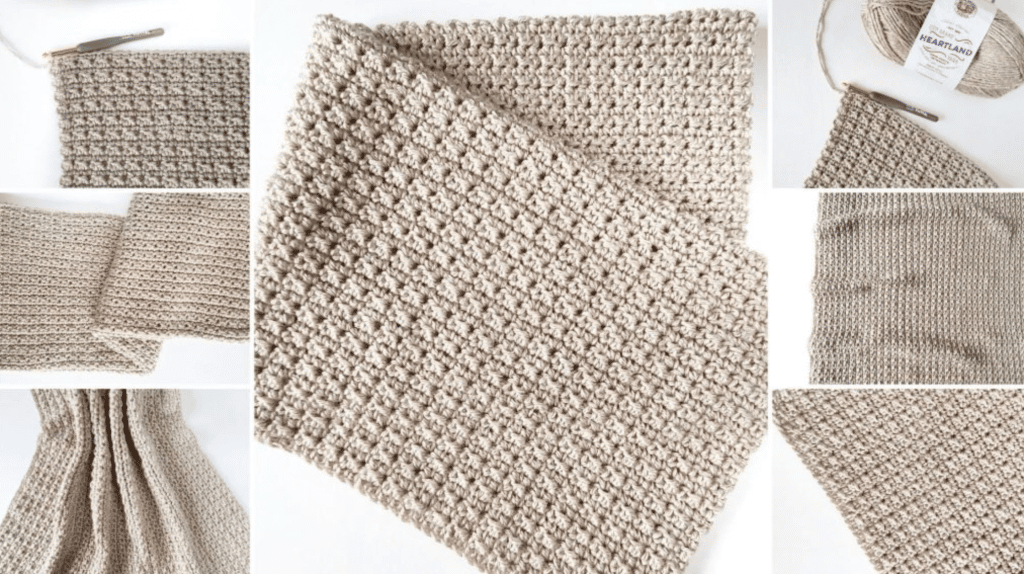 The Yarn
I knew I wanted a soft yarn to be used for this baby design. Since this blanket will be next to babies skin, the yarn needed to be cozy. Immediately Heartland Yarn from Lion Brand came to mind!
Heartland
This yarn is made by Lion Brand, and is a Weight 4 – Medium yarn.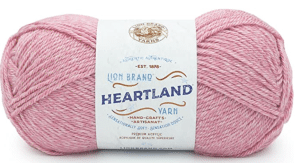 Buy Now
Patterns Using This Yarn →
It is a velvety soft 100% acrylic yarn with drape, which is perfect for blankets that is a worsted weight yarn (aka medium weight yarn). I made this example baby blanket in the color Grand Canyon because it is a neutral shade that would be great for a baby boy or baby girl baby shower gift.
Take a look at the yarn above and check out all the wonderful colors you can make your new baby blanket in. You won't be disappointed.
Plus, this yarn is machine washable and dryable, which is perfect for blankets that will more than likely need to be washed frequently.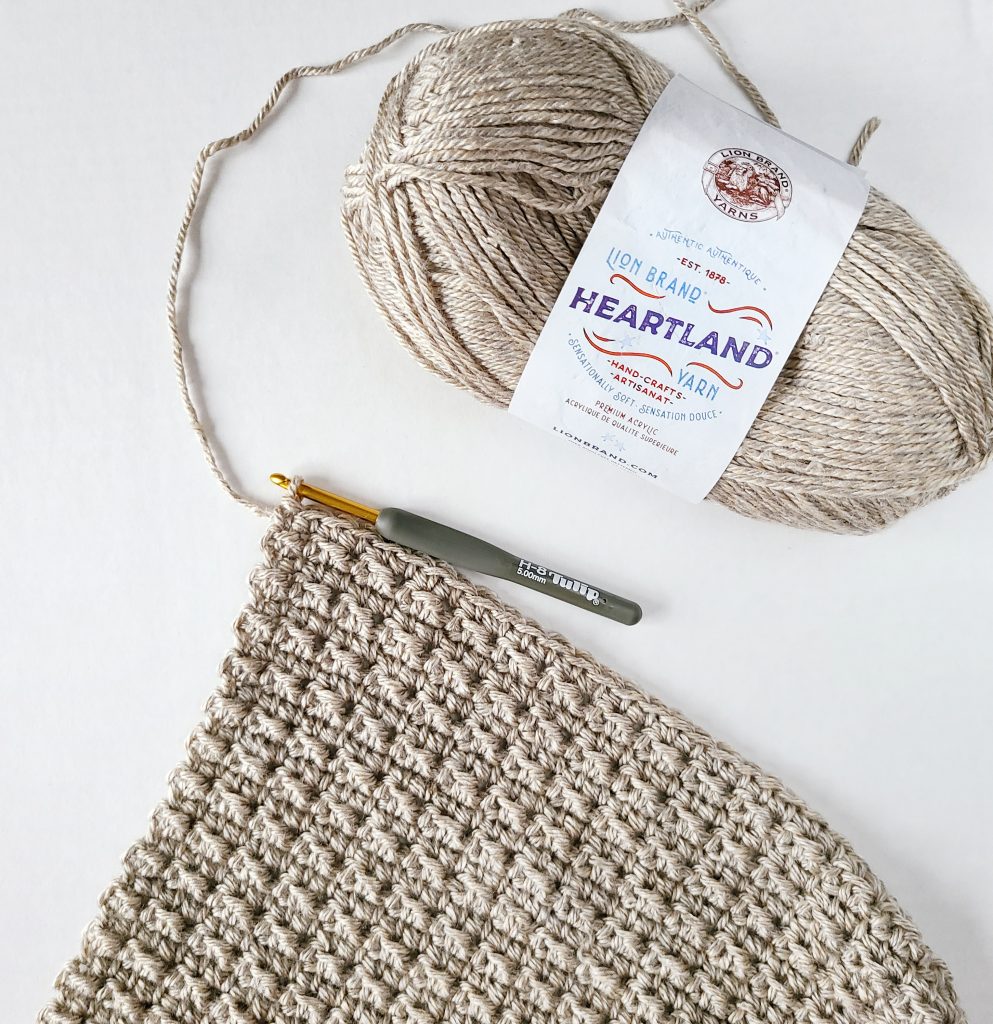 The Stitches
This baby blanket uses only two simple beginner-friendly crochet stitches. You will have to know how to single crochet and double crochet. That's it!
This baby blanket pattern is worked in a simple repeat of one row of single crochet stitches (sc) and then a row of alternating half double crochets (hdc) and single crochets. The hdc and sc stitch combination create a texture and unique blanket that looks way more complicated than it is to make!
If you'd like a refresher on these crochet stitches, take a peek at the links below that have crochet tutorials and crochet videos for both stitches of this blanket.
Once you feel confident about these basic crochet stitches, then you can start on the free blanket patterns below!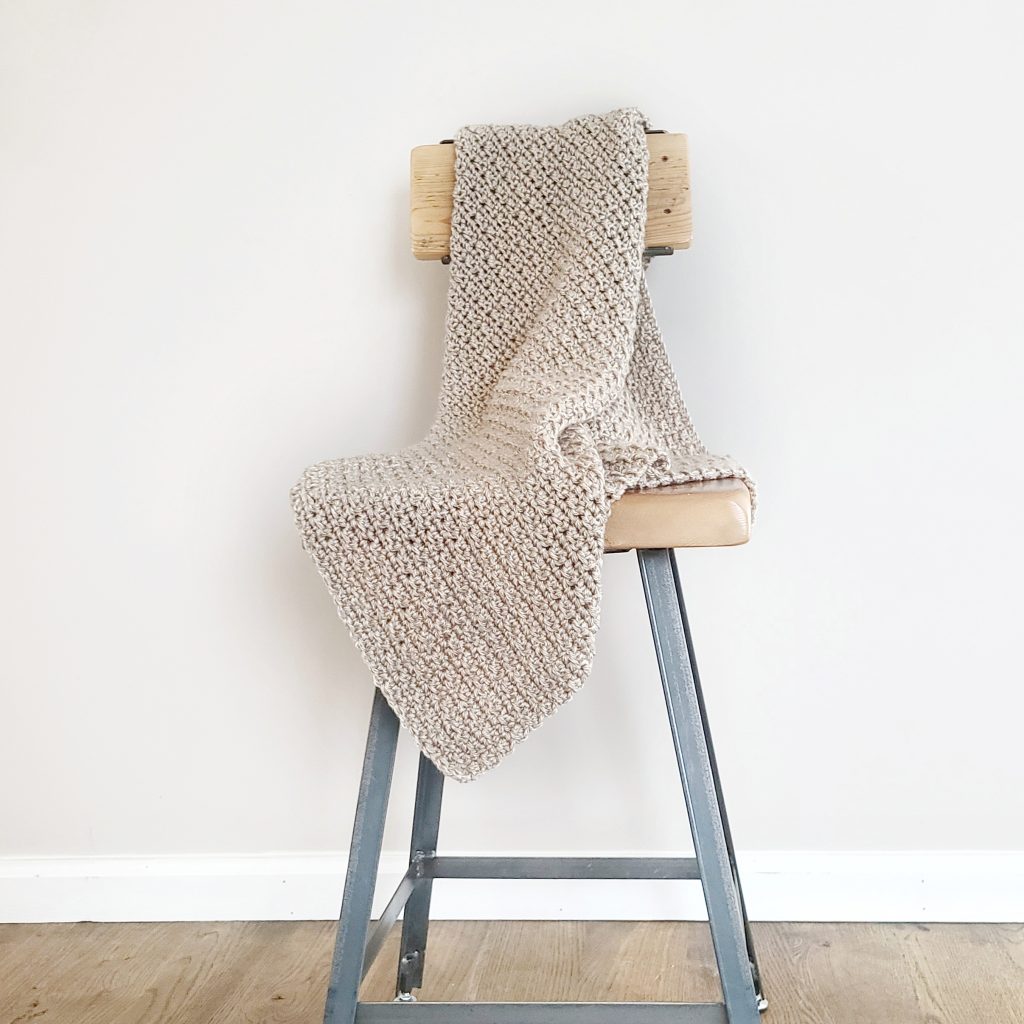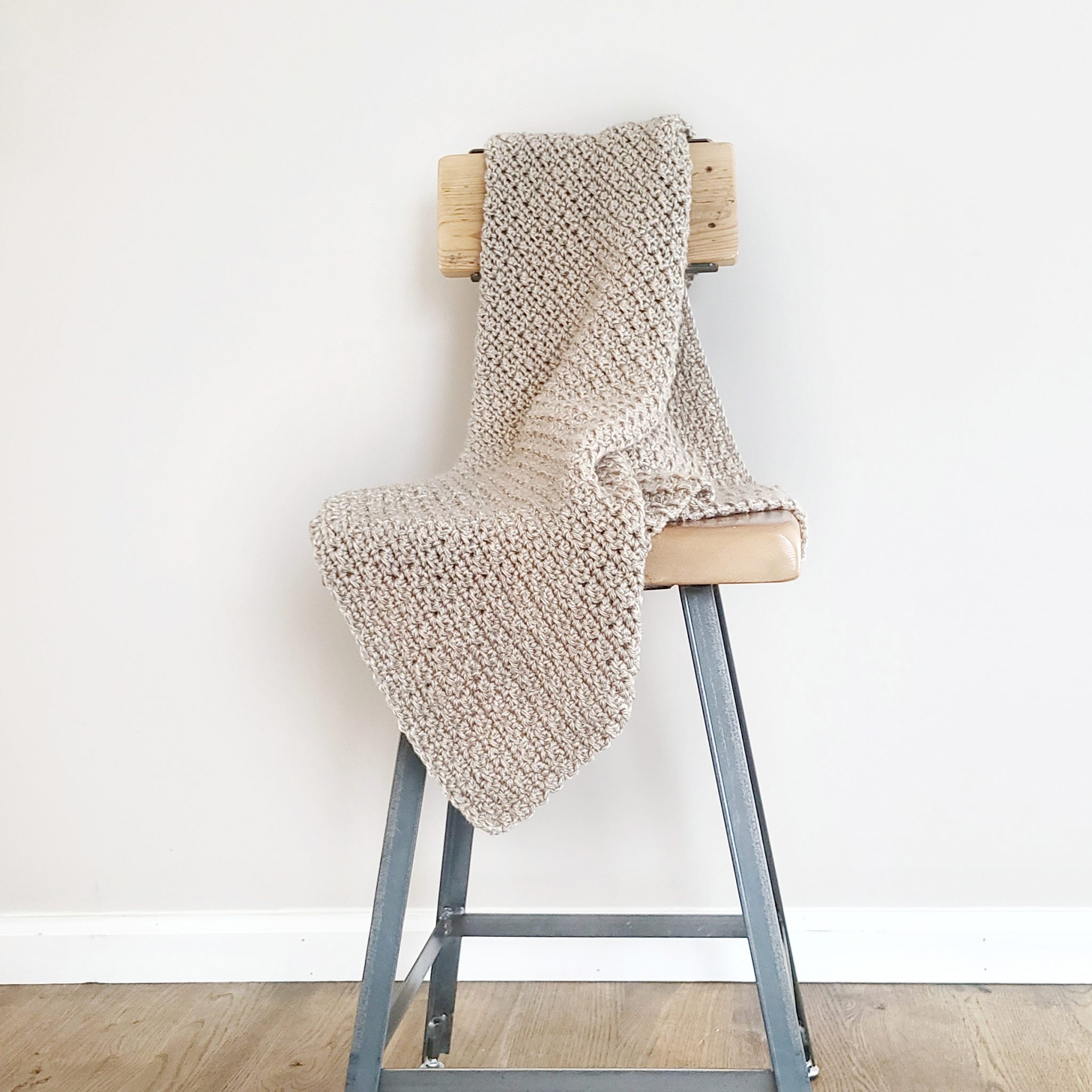 The Baby Blanket Sizes
As I previously mentioned, this baby blanket design can be made in four different blanket sizes.
Lovey: 12″ x 12"
Stroller: 35″ x 32"
Receiving: 40″ x 40"
Baby: 52″ x 44″
I have the complete yardage and number of skeins you'll need to make each blanket size below here on the blog as a free pattern.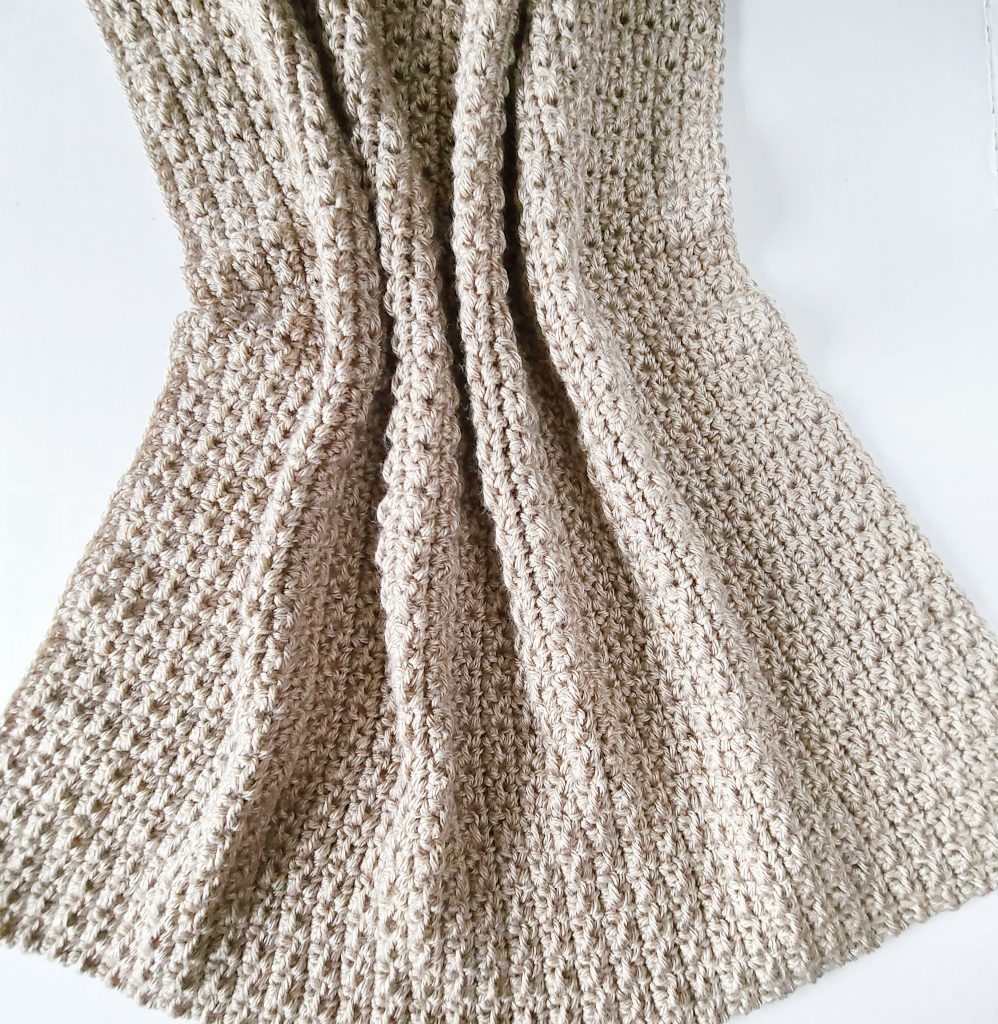 Finley Baby Blanket Video Tutorial
**If you have an ad-blocker installed, you may not be able to see the video. Please disable the video to see the stitch tutorial.
If you'd prefer, you can get the ad-free PDF in the Easy Crochet shop or in my Etsy shop as well. If you'd like to make it in a different size, you can always use our blanket resizing calculator.
Enjoy this easy baby blanket pattern and happy blanket making!
The Finley Blanket Crochet Pattern
Skill Level: Easy
Materials
Lion Brand's Heartland Yarn in Grand Canyon or any medium weight #4 yarn (see chart for exact yardage)
Scissors
Yarn needle
Measuring tape
Gauge
15 sts x 15 rows = 4″ x 4″
The gauge pattern is ch 16 and follow pattern as written
Crochet Abbreviations
hdc = half double crochet
sc = single crochet
st = stitch
ch = chain
Notes
This free pattern is written in standard US terms
Find the complete Finley crochet kit with yarn and pattern at lionbrand.com for sale.
If you'd like to add a border, take a look at a few of my favorites, that would be a perfect edging for a blanket.
Finished Blanket Sizes & Yardage
If you'd like to make a custom size blanket, work an even number starting ch
See chart for standard finished sizes & yardage needed
The skein used was the 5 oz & 251 yard size.
| | Starting Chs | Rows | Total Yardage (skeins) |
| --- | --- | --- | --- |
| Lovey 12″ x 12″ | 46 | 30 | 190 (1) |
| Stroller 30″ x 35″ | 120 | 88 | 1476 (6) |
| Receiving 40″ x 40″ | 150 | 100 | 2109 (9) |
| Baby 42″ x 52″ | 166 | 130 | 3016 (13) |
Use our blanket resizing calculator for different blanket sizes
The Free Pattern
Get the PDF version in our pattern shop.
To Start: Ch 46 (120, 150, 166)
Sizes available are Lovey, Stroller, Receiving and Baby (see chart)
Row 1: In the second ch from the hook sc, sc into each ch across, turn. 45 (119, 149, 165)
Row 2: Ch 1, in the first st hdc, sc into the next st, *hdc into the next, sc into the next st, rep from * across ending with 1 hdc in the last st, turn.
Row 3: Ch 1, in the first st sc, sc into every st across, turn.
Row 4 to (see chart) : Rep rows 2 & 3
Finishing: Fasten off and weave in loose ends throughout the blanket
Crochet Diagram
Here is the crochet diagram using standard symbols.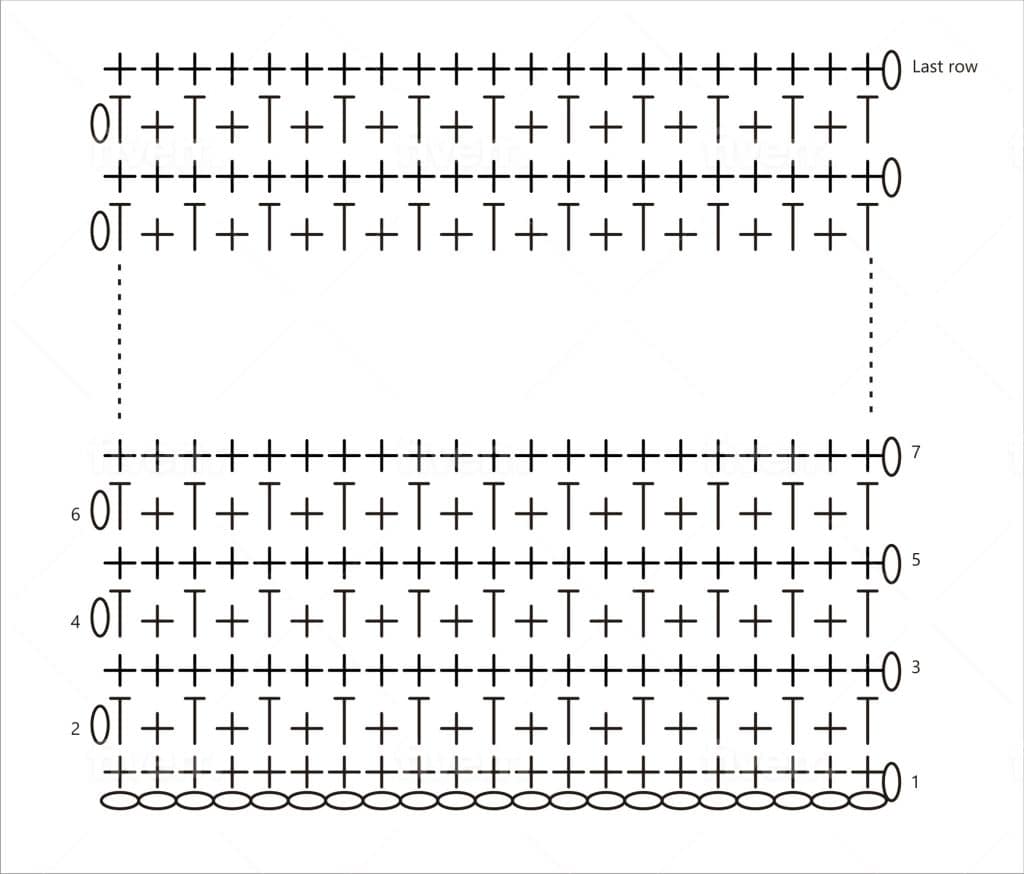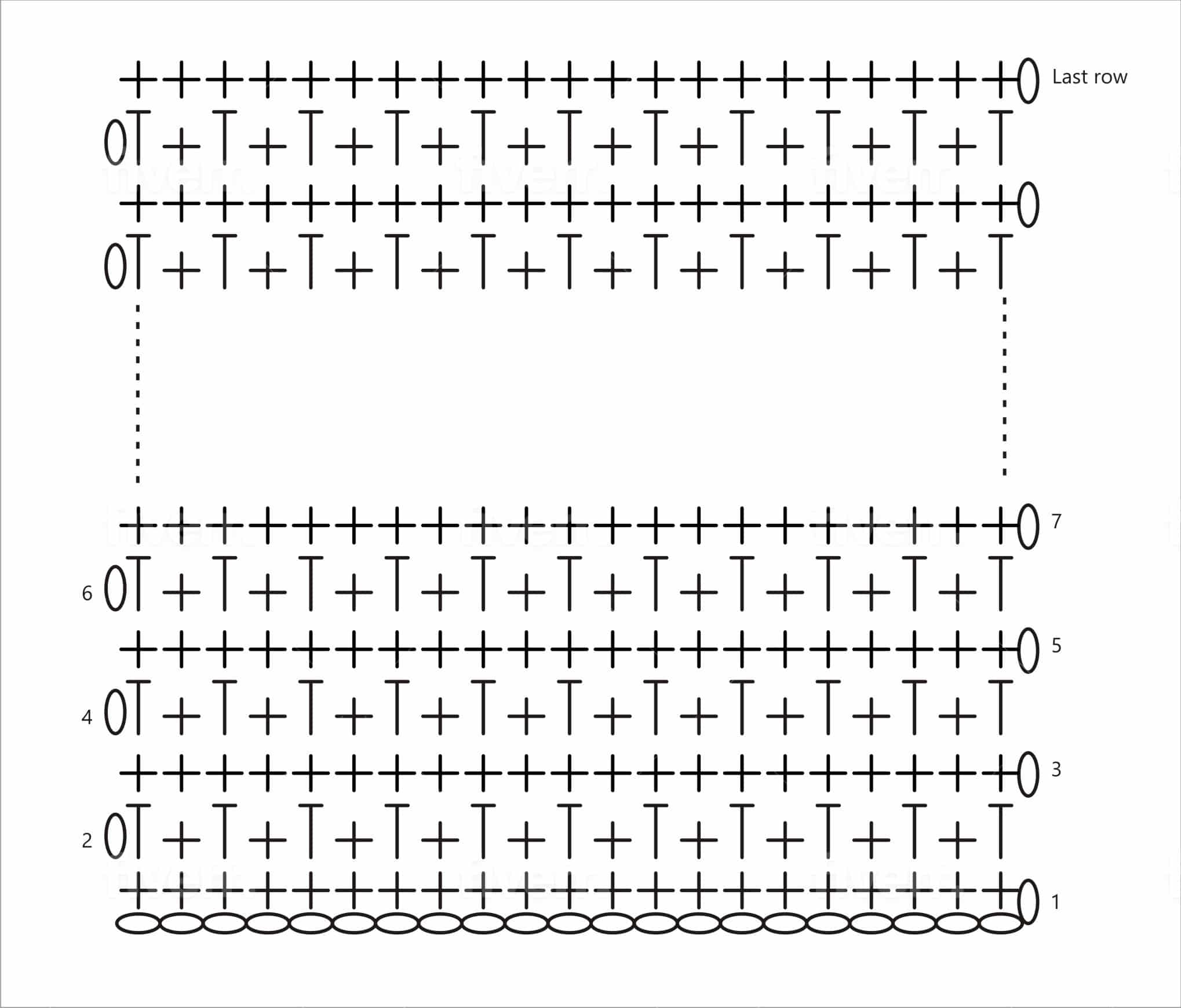 You are done!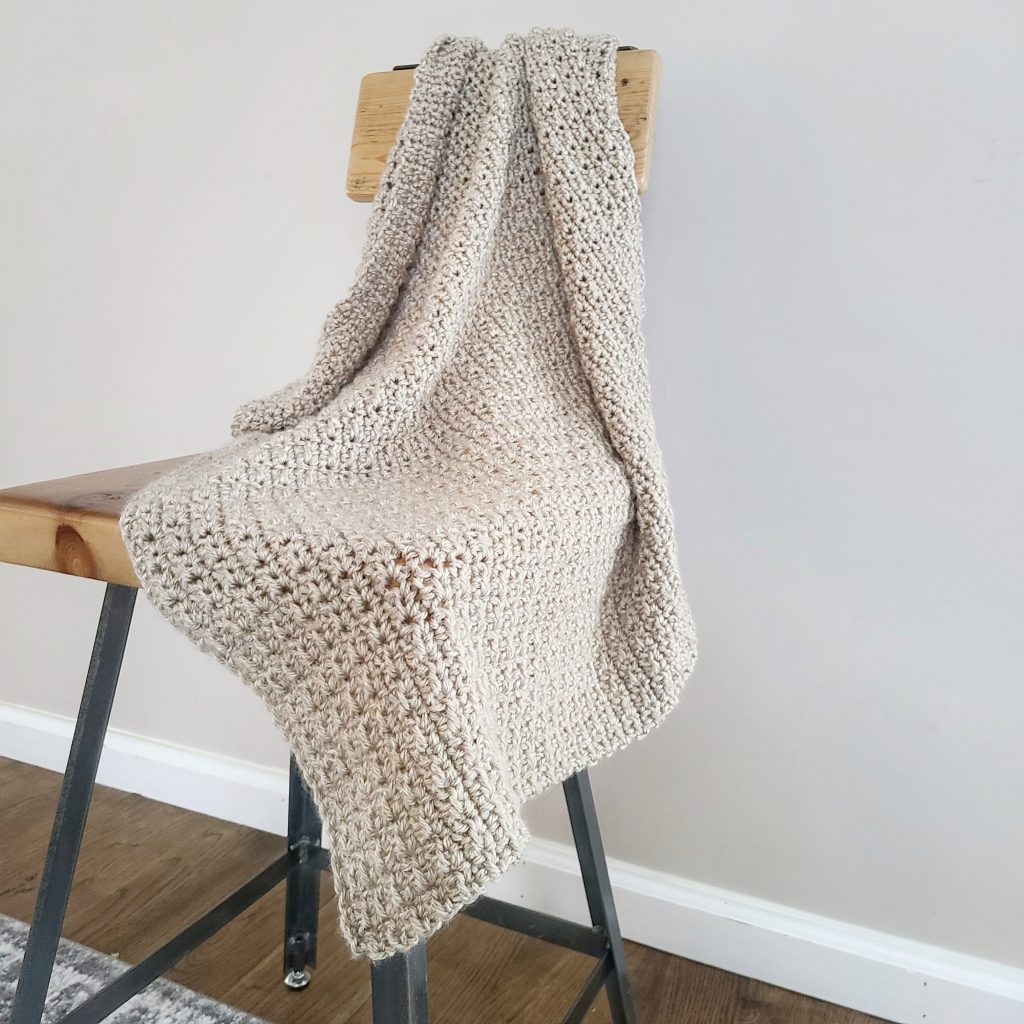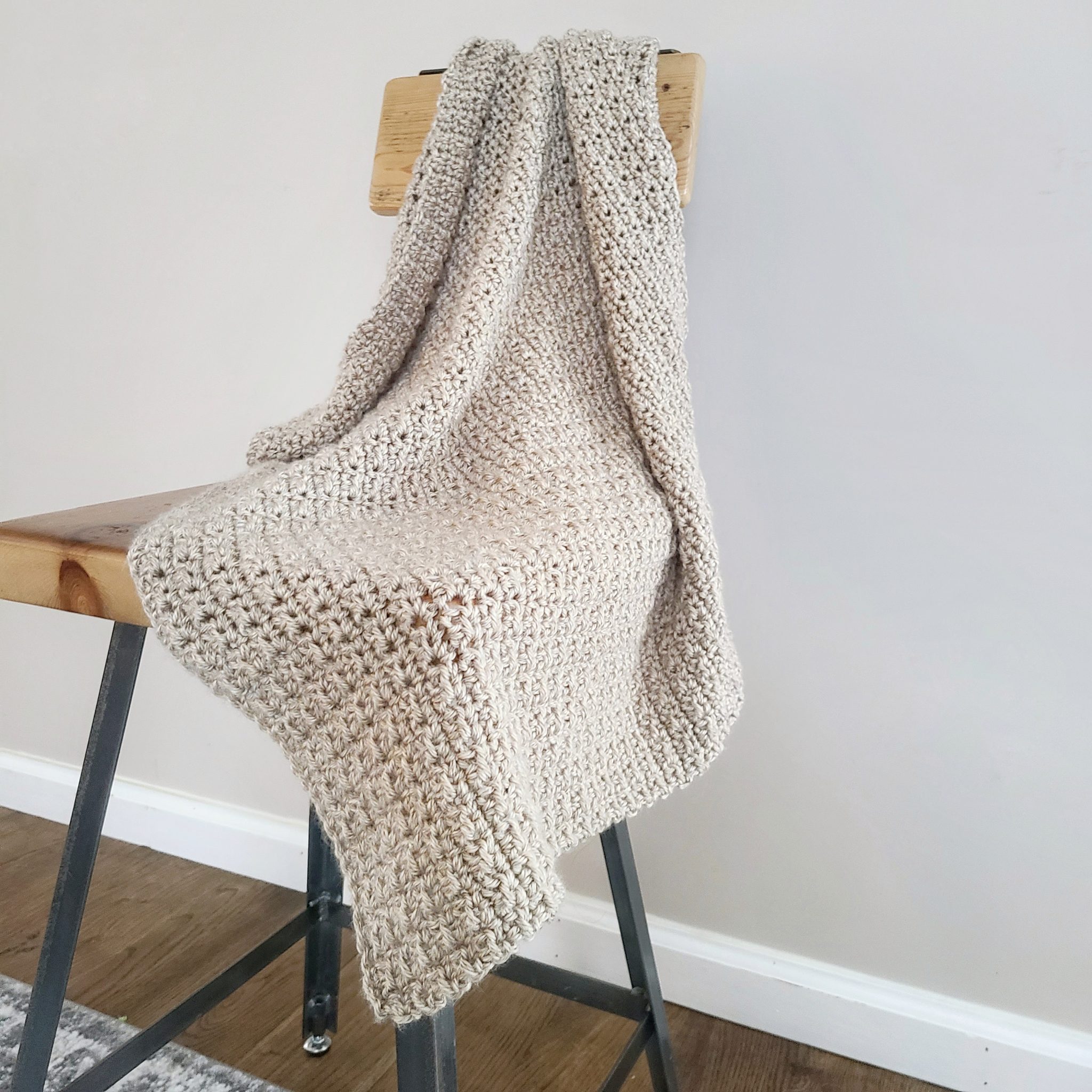 I hope you enjoy this free baby blanket pattern! If you need any clarification, please feel free to join the Easy Crochet Community on Facebook.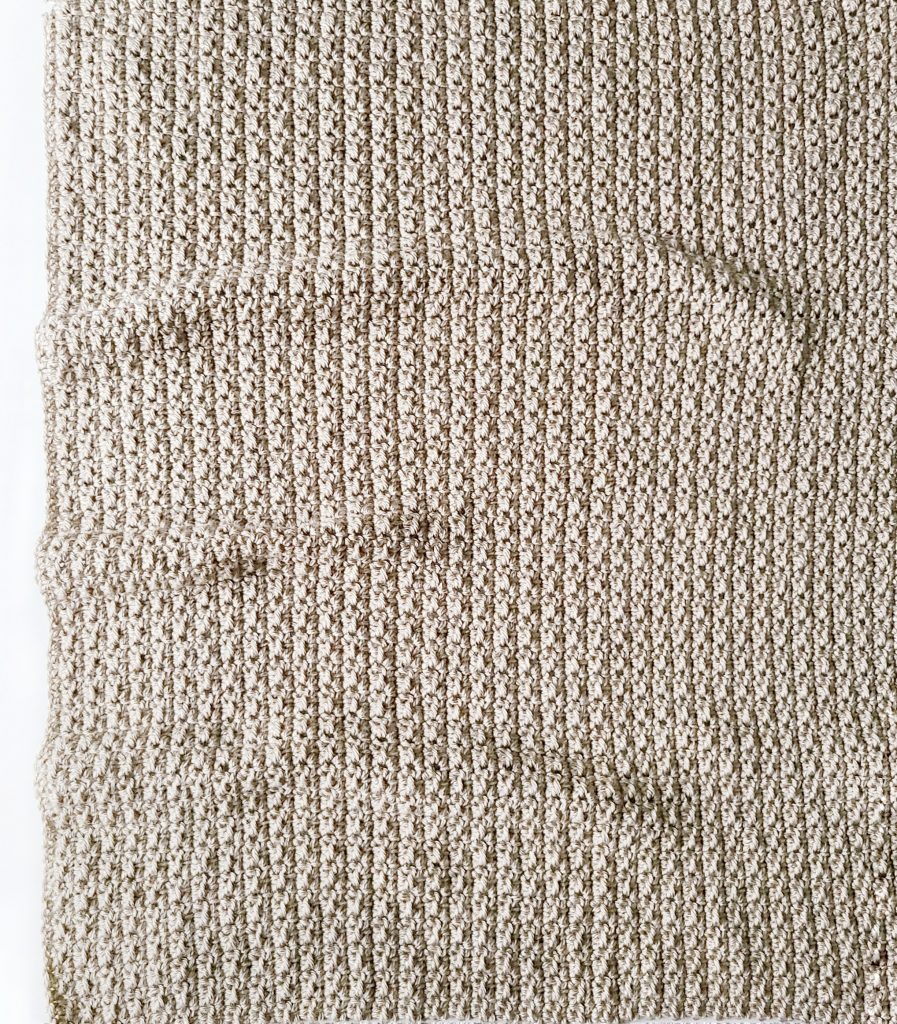 More Free Crochet Baby Patterns
---