Modern Crochet Baby Granny Stitch Blanket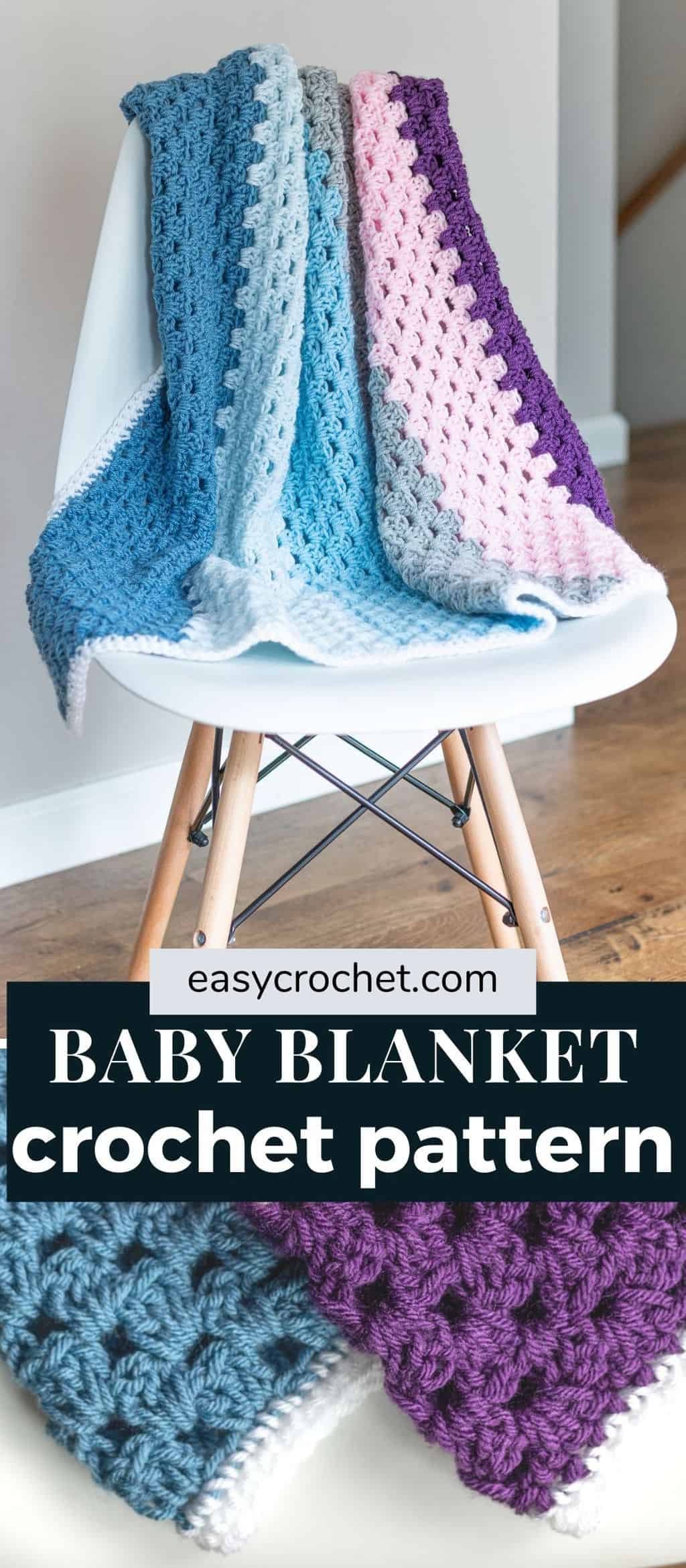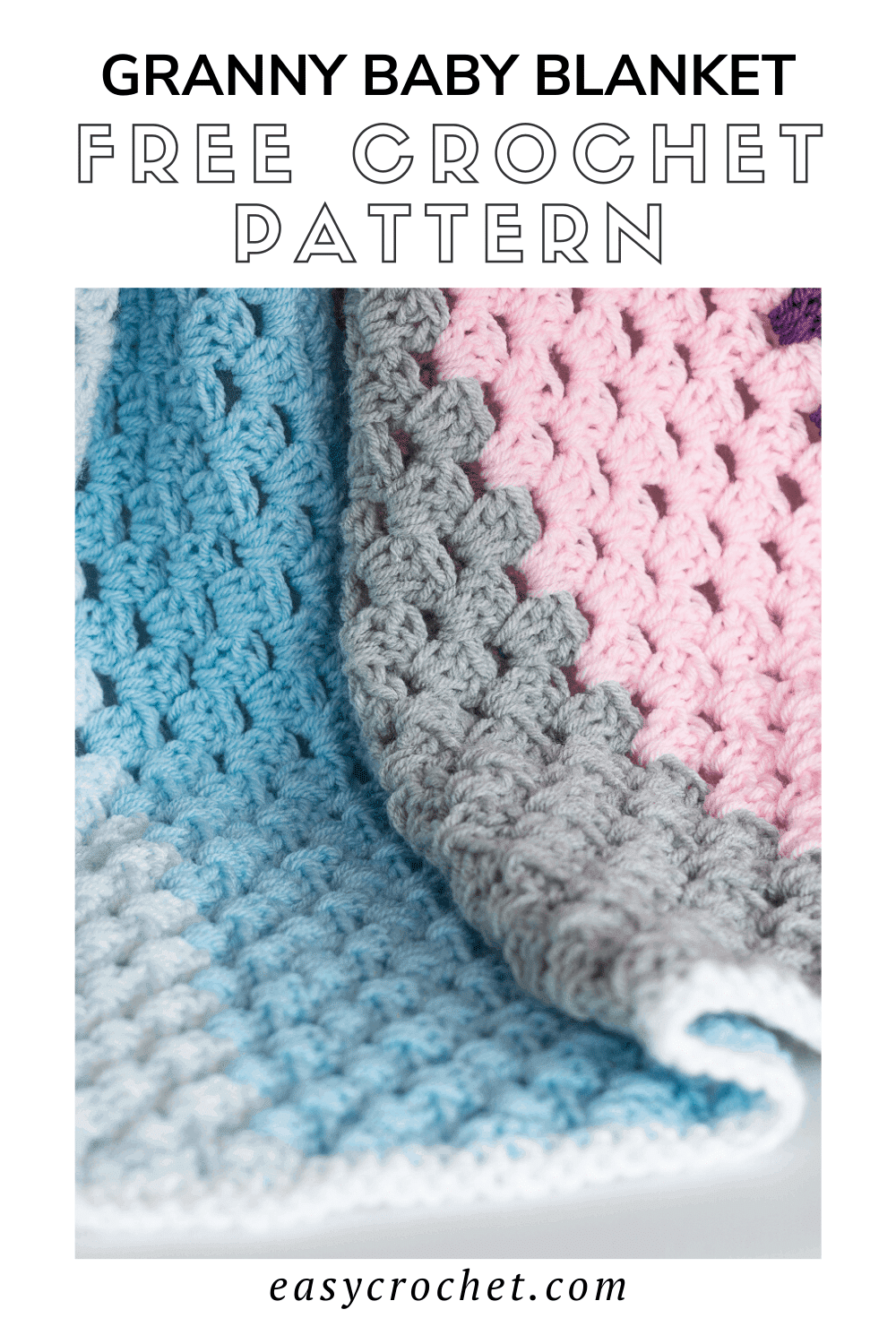 This modern take on the granny blanket is easy to crochet, works up fast and is a beginner-friendly crochet blanket pattern since it uses a simple crochet stitch.
This granny stripe crochet pattern is so quick to work up, you can make a lot of these in little time. (You can see more color combo suggestions after the pattern below!)
Scroll on down to use this free baby blanket crochet pattern to make a modern crochet granny blanket in a stroller size blanket today, or purchase a 6-page AD-FREE printable PDF from the shop.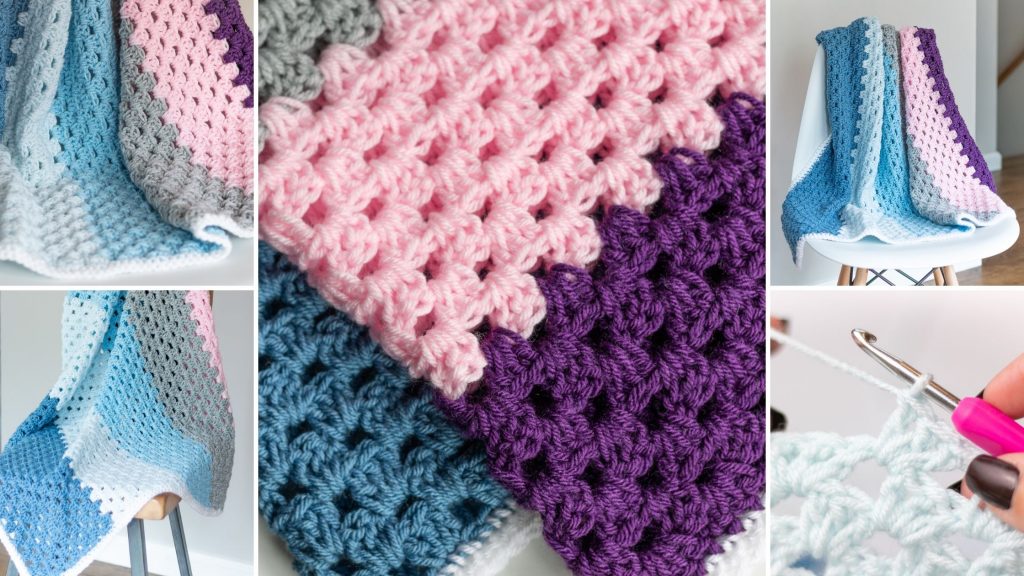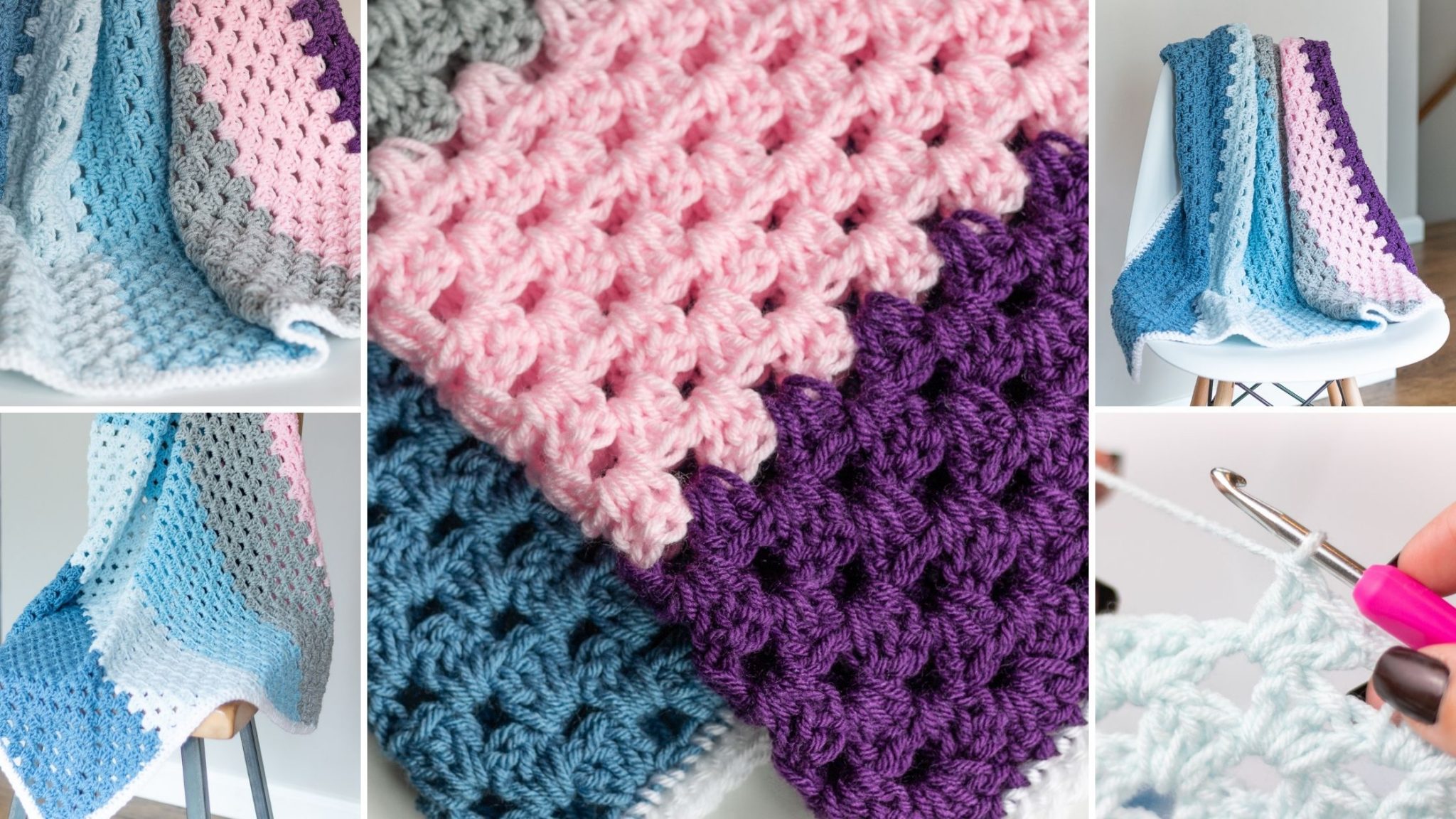 The Yarn That's Perfect for This Granny Stitch Crochet Blanket
When I decided to make a crochet baby blanket, I wanted to be sure that it was made with yarn that was easy to find but also beautiful to work with in designs. That is why this blanket is crocheted using Brava Worsted Yarn.
Brava Yarn
Brava Worsted is a 100% acrylic, medium weight four yarn that is machine washable and dryable. Since this yarn is easy to wash, it makes it is perfect for crocheting a baby blanket with since it will get constant use.
Brava Worsted
This yarn is made by Knit Picks, and is a Weight 4 – Medium yarn.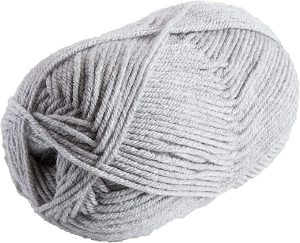 Buy Now
Patterns Using This Yarn →
The Brava yarn line has over 45 yarn colors to pick from, there are so many color combinations you could make this baby blanket in to match whatever color scheme the new parents would like.
I will list a few blanket color combinations I came up with at the end of the pattern if you'd like to take a look!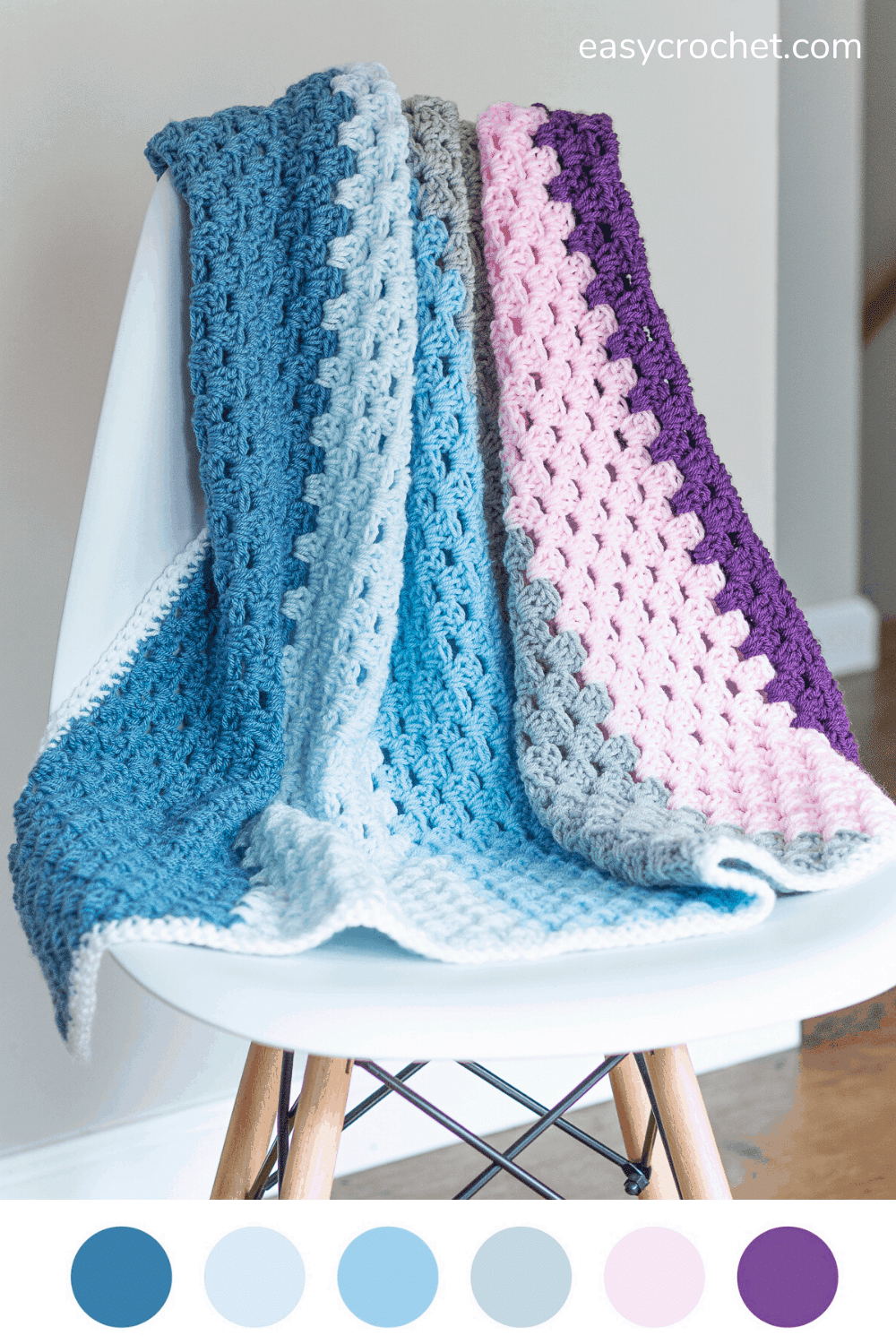 My overall opinion of Brava worsted yarn is really, really positive! It's affordable, easy to find and has many color options, which is always a good thing when designing a blanket like this.
Yarn Substitution
If you can't find Brava Worsted, you can substitute Vanna's Choice by Lion Brand, which has always been a favorite of mine. Vanna's is also a four weight yarn that is mostly easy to find (depending on location) and is available in gorgeous yarn colors.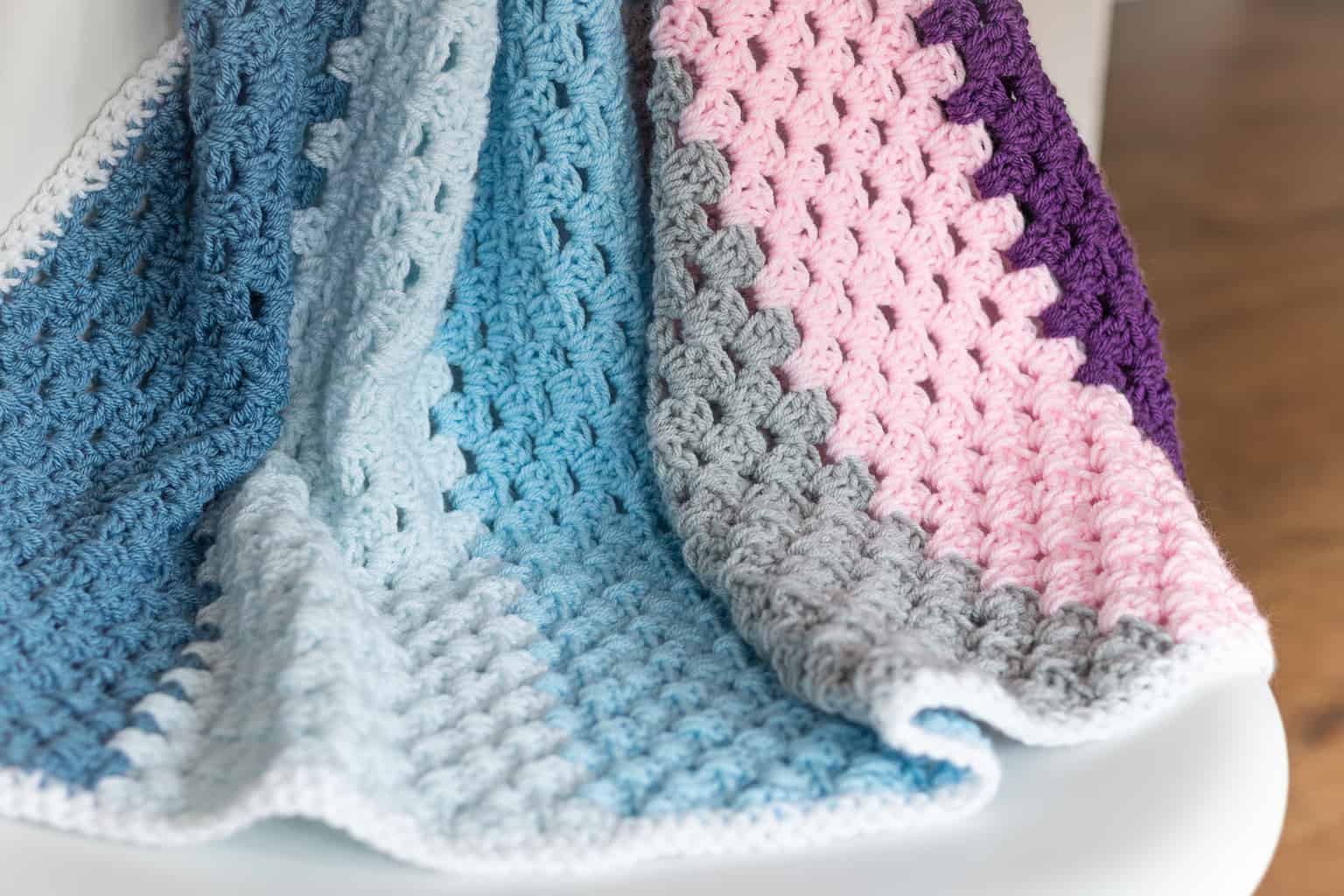 The Stitches You'll Need to Know to Make a Granny Blanket
To make this granny blanket, you will need to know how to double crochet or DC, as it is sometimes abbreviated in crochet patterns. The double crochet stitch is one of the basic beginner crochet stitches that are learned when a new crocheter is first starting out.
In this particular baby blanket you will be making a double crochet three times into one stitch to make a cluster which creates the classic granny look that you see in granny squares.
This blanket will be using these clusters to make granny stitches in rows. Learn more about the double crochet stitch in our free double crochet tutorial. You can also look over the step-by-step dc tutorial below.
Double Crochet (dc):
Wrap the yarn over (YO) the hook, insert the hook into the specified st.
YO the hook again, draw the yarn through the st so there are 3 loops on the hook
YO the hook again draw it through 2 loops so there are 2 loops on the hook
YO the hook, draw it through the final 2 loops.
Double Crochet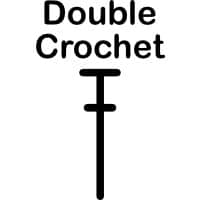 Patterns Using This Stitch →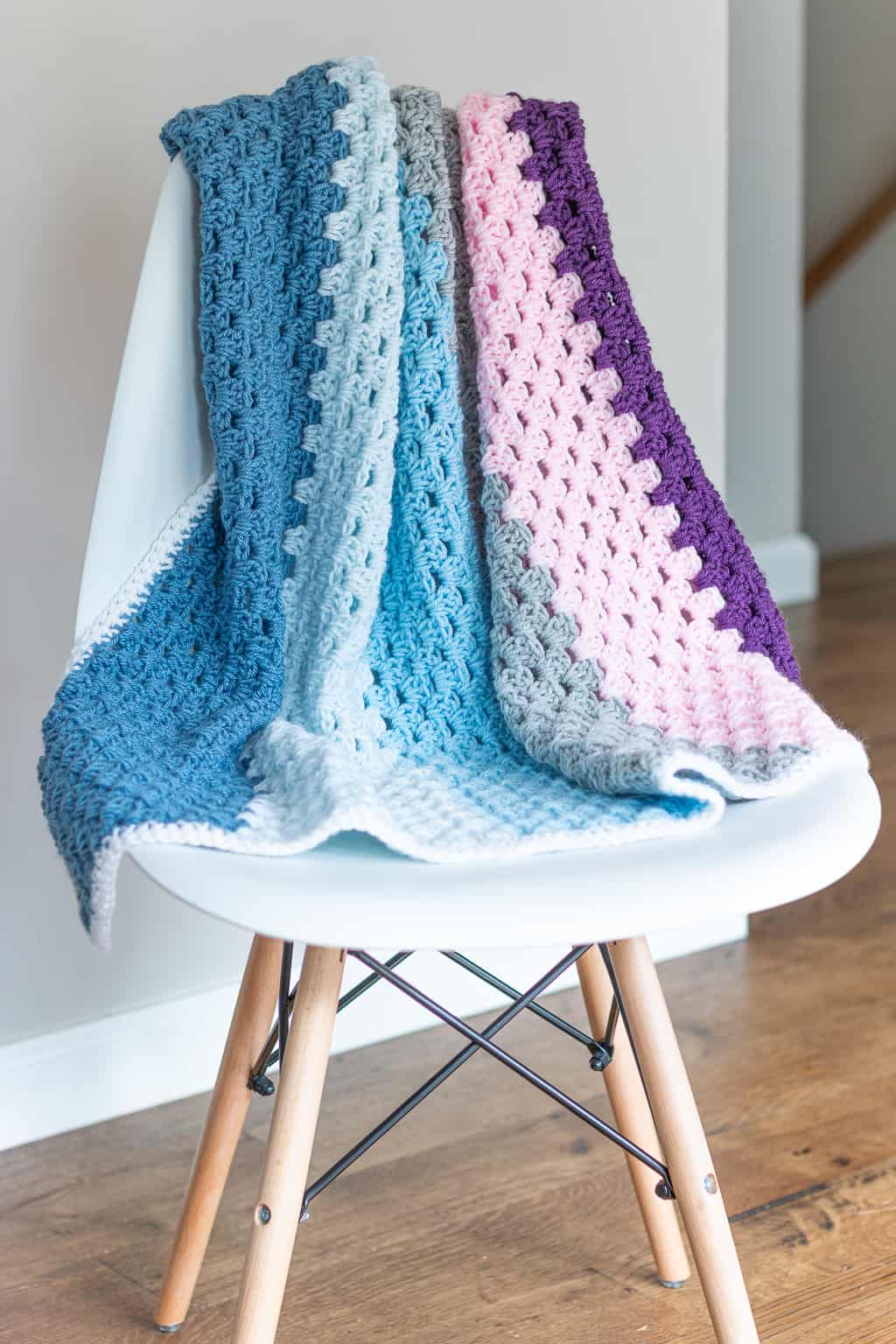 Ready to Get Started?
Now that we know about the stitches and the yarn to make this granny baby blanket, we can start crocheting!
Read on down to find the free stroller size baby blanket pattern, material list and more. Enjoy!
The Modern Granny Stitch Baby Blanket
Skill Level: Easy
Materials
Main Blanket: Less than 1,300 yards or 6 skeins of Brava Worsted Yarn from WeCrochet/Knitpicks, or any four medium weight yarn.

Option 1: Make it in one color! Less weaving in of ends! You will need less than 1,300 yards of one color Brava Yarn or any medium weight yarn
Option 2: Use different colors, as shown below. You will need 6 skeins of Brava Worsted, or less than 1,300 yards of any medium weight yarn.

Border (optional): 1 skein of Brava Yarn in White
Yarn needle
Scissors
Individual Colors

Color A: Denim – 12 Rows
Color B: Clarity – 11 Rows
Color C: Sky – 10 Rows
Color D: Dove Heather – 9 Rows
Color E: Blush – 8 Rows
Color F: Mulberry – 7 Rows
Crochet Abbreviations
Finished Size
Gauge
Notes
This pattern is written in standard US terms
After row 1 turn at the end of each row.
ch 3 counts as a stitch
On row 1 the ch 2 at the beginning counts as a st (see stitch chart)
Use our step-by-step photo tutorial on how to make a granny stitch in rows for extra help.
Granny Blanket Stitch Chart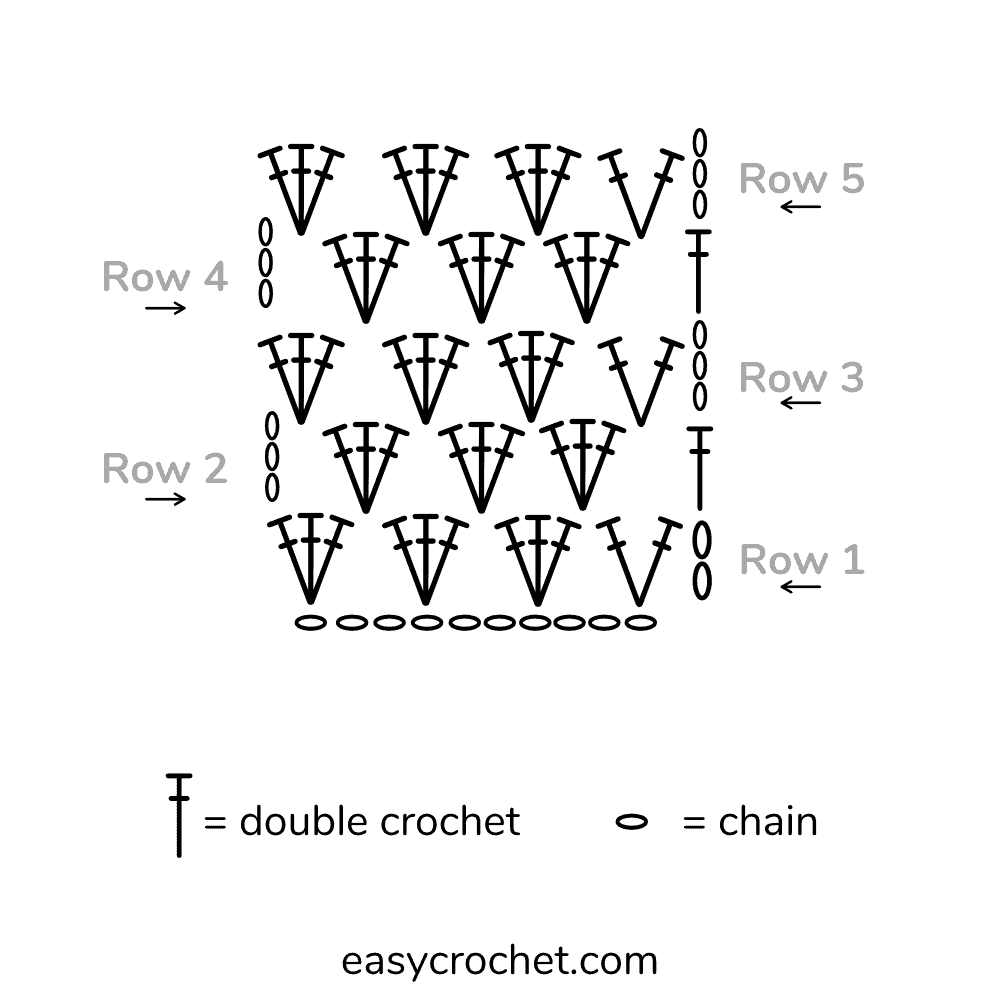 The Granny Blanket Pattern
To Start: Ch 90 with Color A
Row 1: In the 3rd ch from the hook dc2x, *sk 2 chs, dc 3x in the next ch, repeat from * across ending with 3 dcs in the last ch. (90)
Row 2: Ch 3, dc 3x in the first space between the 3 dc group from the row before, end with 1 dc in the last st. (89)
Row 3: Ch 3, dc 2x in the first st, dc 3x in the space between the 3 dc group from the row before ending with 3 dc in the last st (top of the ch 3 from the previous row) (90)
Row 4 -13: Repeat Rows 2 (89) & 3 (90)
Row 14: Change to Color B, Repeat Row 2 (89)
Row 15: Repeat Row 3 (90)
Row 16 – 23: Repeat Row 2 (89) & 3 (90)
Row 24: Change to Color C, Repeat Row 2 (89)
Row 25: Repeat Row 3 (90)
Row 26-33: Repeat Row 2 (89) & 3 (90)
Row 34: Change to Color D, Repeat Row 2 (89)
Row 35: Repeat Row 3 (90)
Row 36-42: Repeat Row 2 (89) & 3 (90)
Row 43: Change To Color E, Repeat Row 2 (89)
Row 44: Repeat Row 3 (90)
Row 45 – 50: Repeat Rows 2 (89) & 3 (90)
Rows 51: Change to Color F, Repeat Row 2 (89)
Rows 52: Repeat Row 3 (90)
Row 53 – 57: Repeat rows 2 (89) & 3 (90)
Finishing: Fasten off and weave in loose ends with a yarn needle.
Tip: If you'd prefer to make this in one color instead, follow the pattern as written through row 57 disregarding the color changes!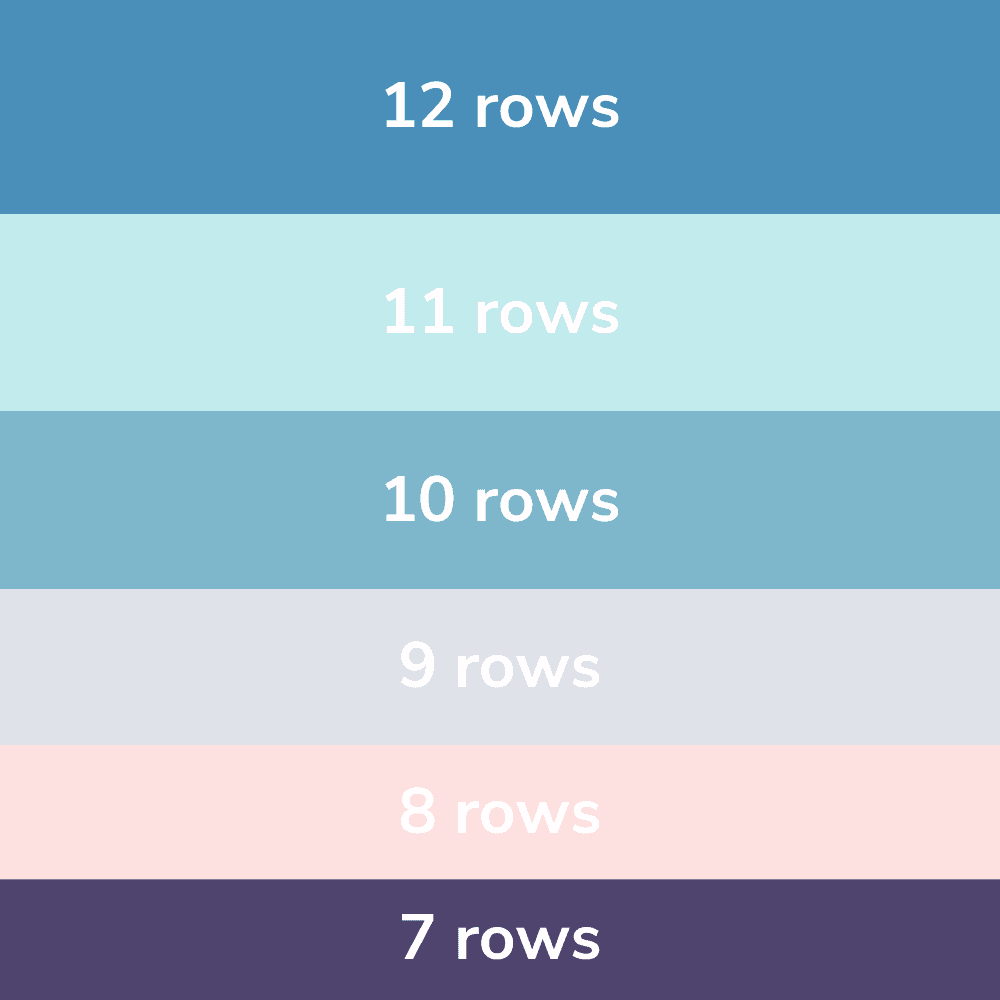 Border (optional): To give the blanket a clean polished look crochet a single crochet border using a contrasting color. I choose Brava Yarn in White.
Learn how to crochet a single crochet border using this video tutorial I found on YouTube.

Save this Pattern to Pinterest to Crochet Later
You can save the blanket pattern images below to your Pinterest boards by clicking on them and saving. That way when you are ready to make a granny blanket it will be there waiting.
Make sure to follow along with Easy Crochet on there too, since I post all my easy crochet patterns and tutorials there quite often.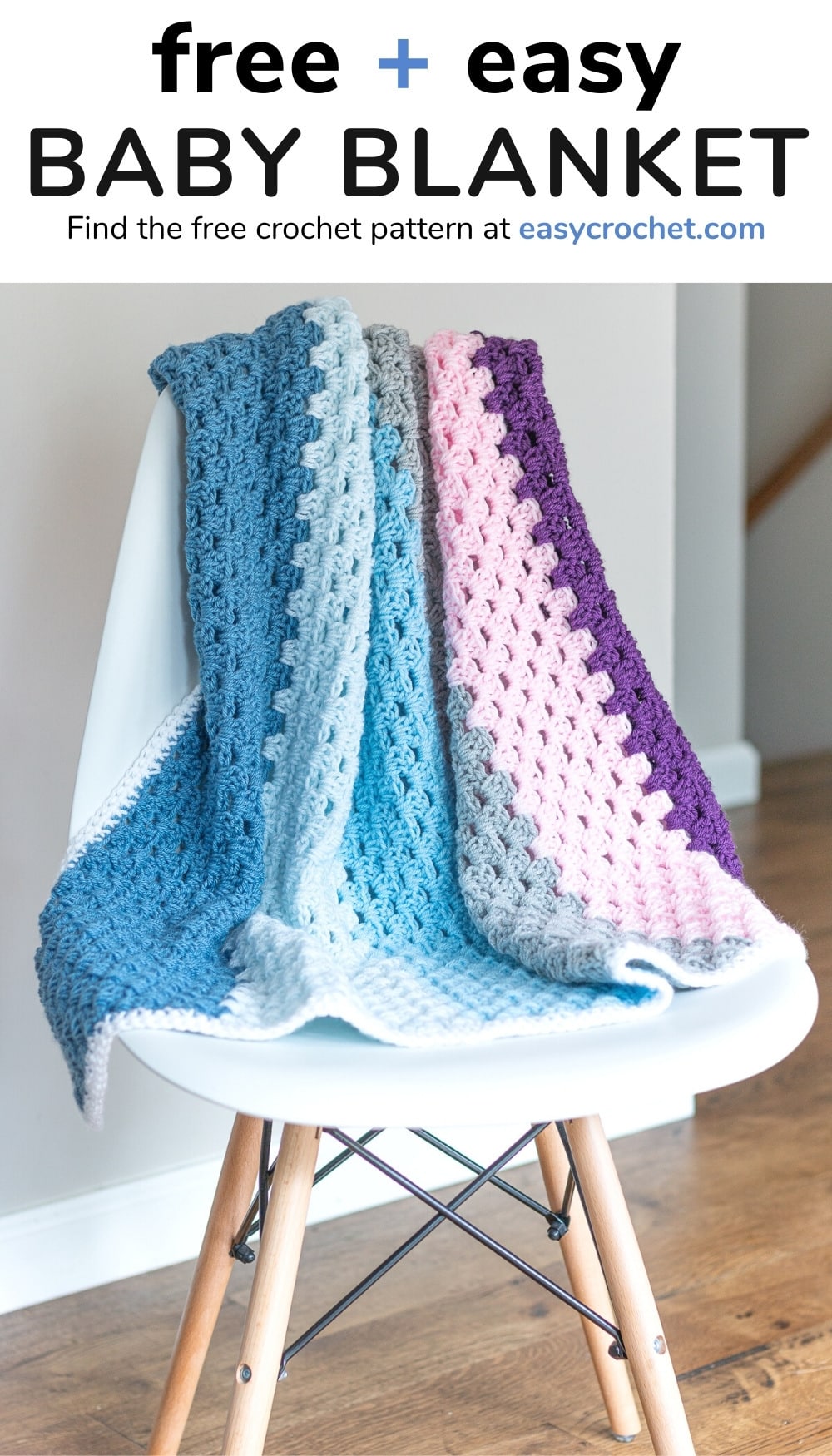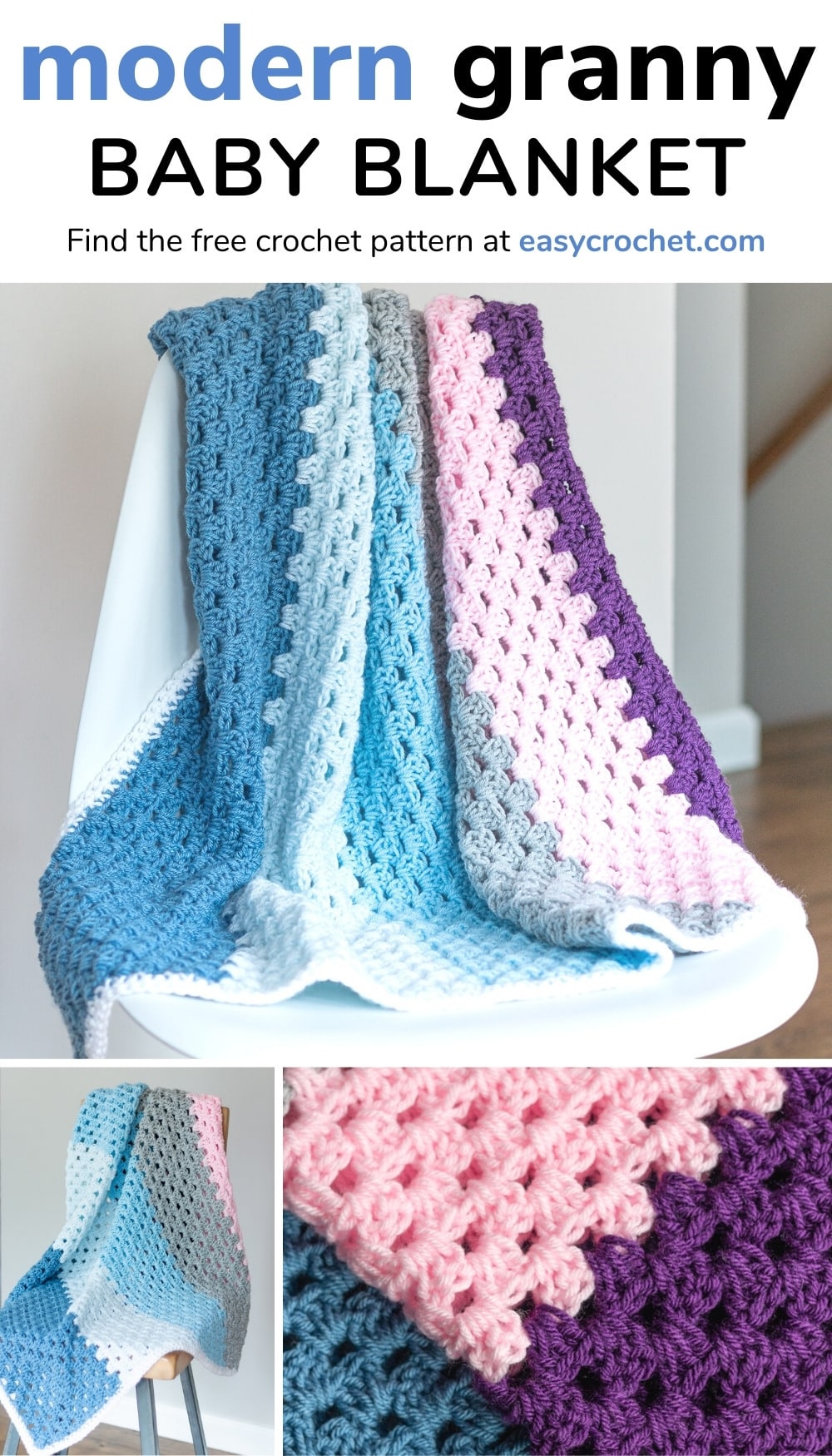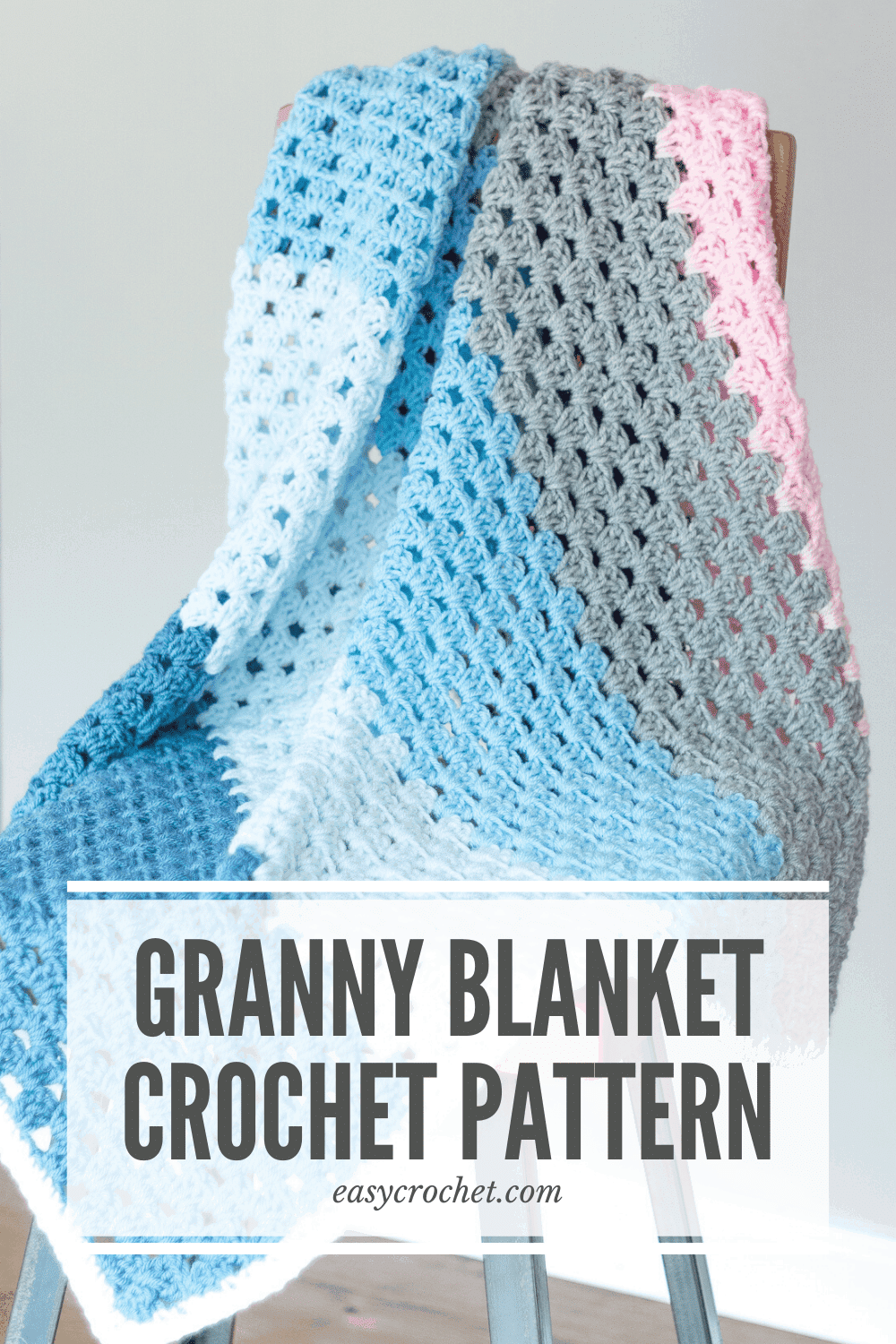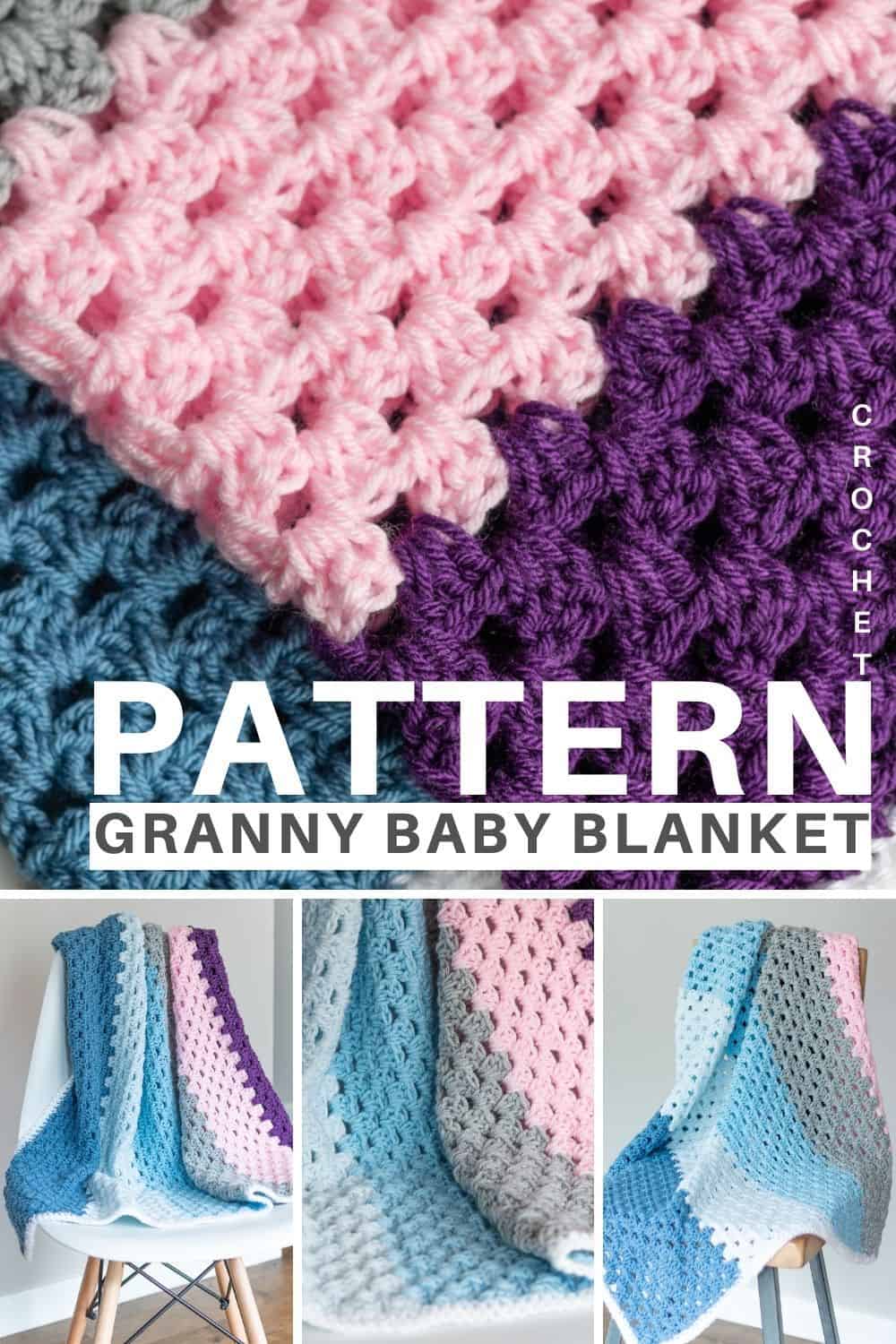 Looking For Other Color Combinations?
If you'd like to make this blanket in other color combinations, here are a few that I put together that I think would look perfect together. Let me know what you think in the comments!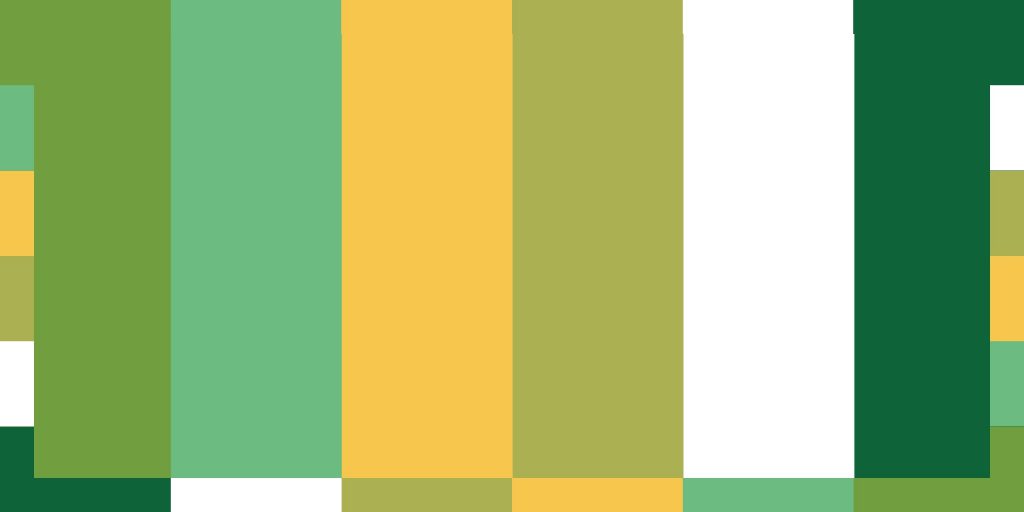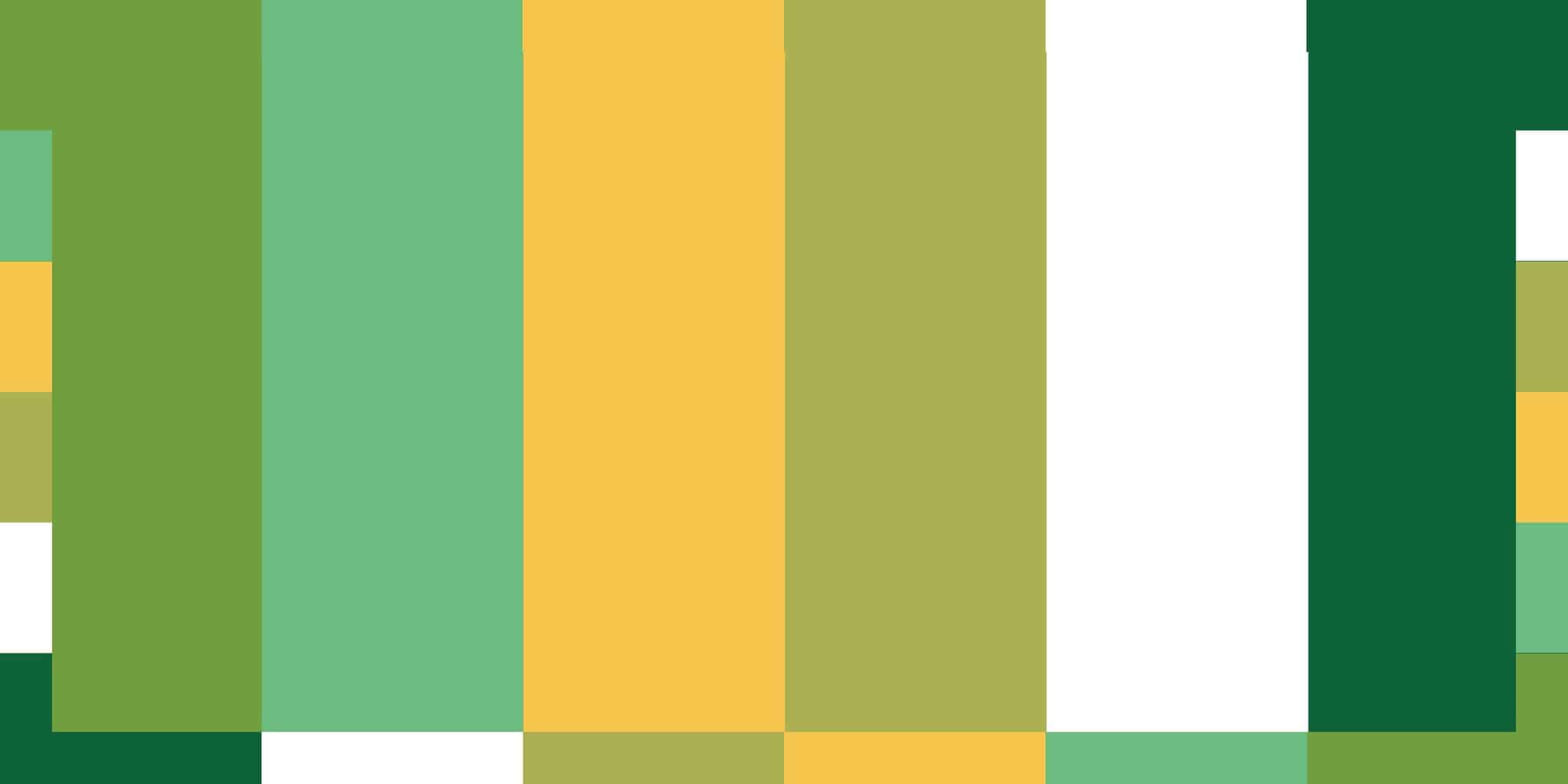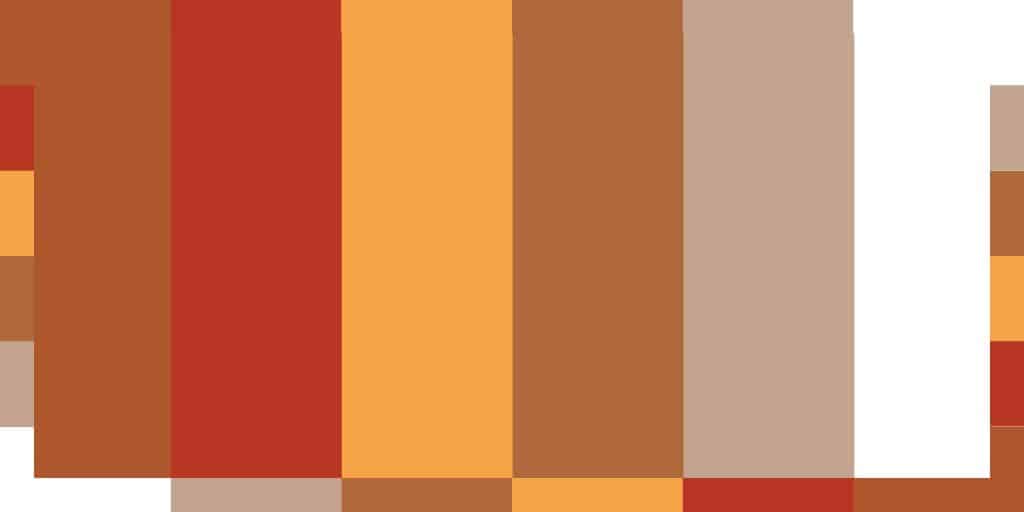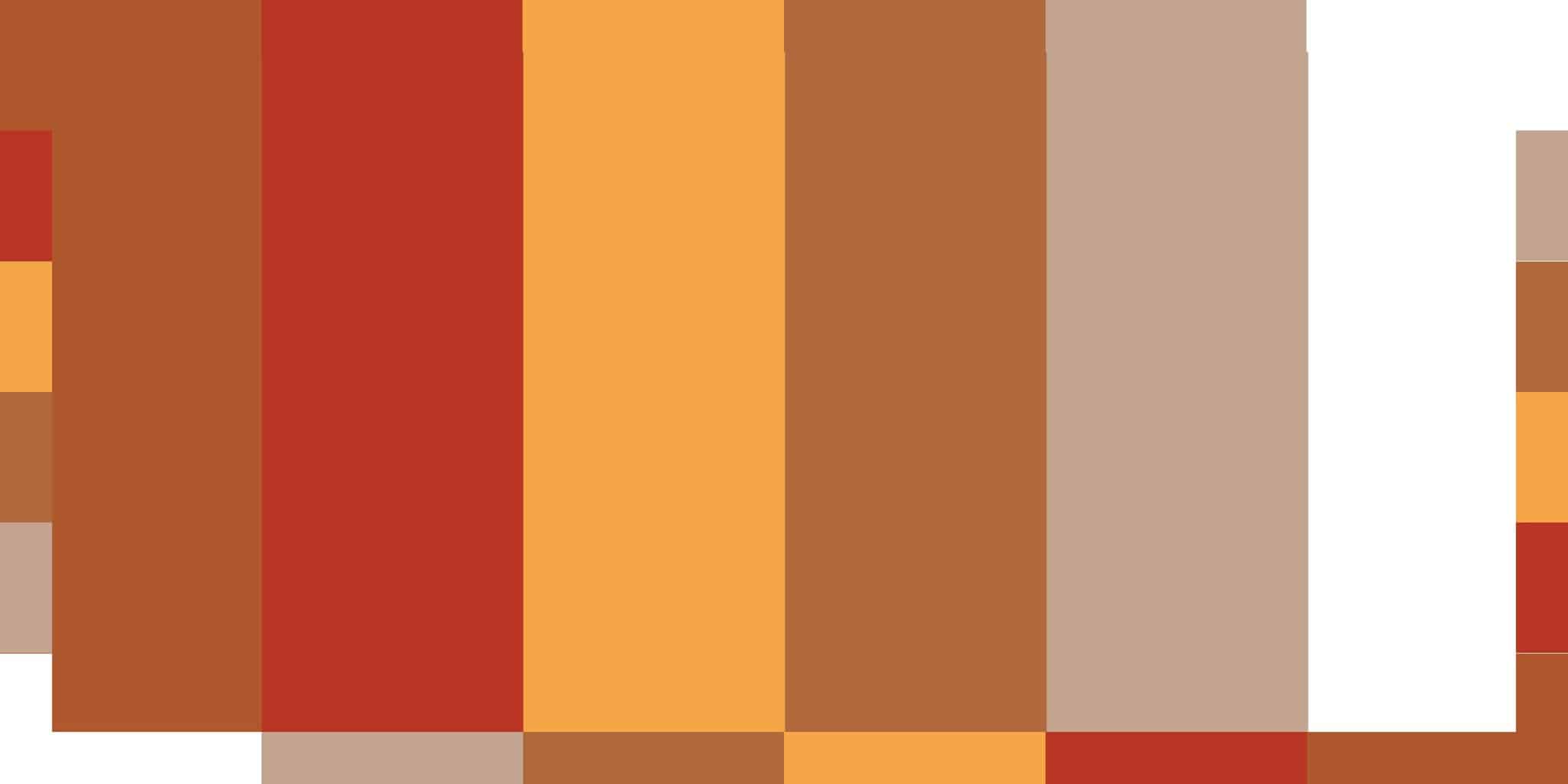 Thanks for Checking Out This Free Crochet Pattern!
I hope you enjoyed this granny blanket tutorial. If you have any questions or just want to come hang out with like-minded crocheters & yarn lovers please join the Easy Crochet Facebook Community!
If you liked this granny baby blanket you may also like these granny patterns too. Enjoy!
More Free crochet baby blanket patterns