Alissa Easy Crochet Blanket Pattern (7+ Blanket Sizes)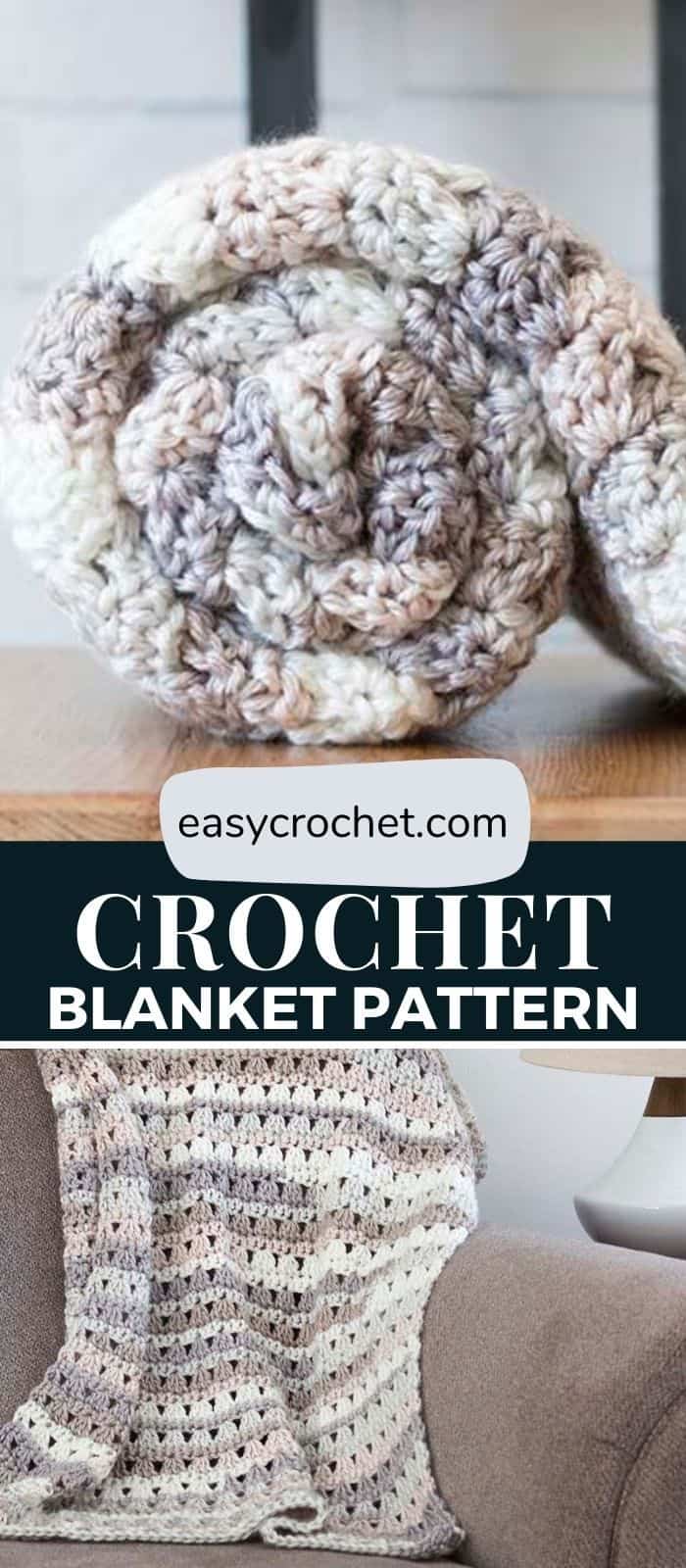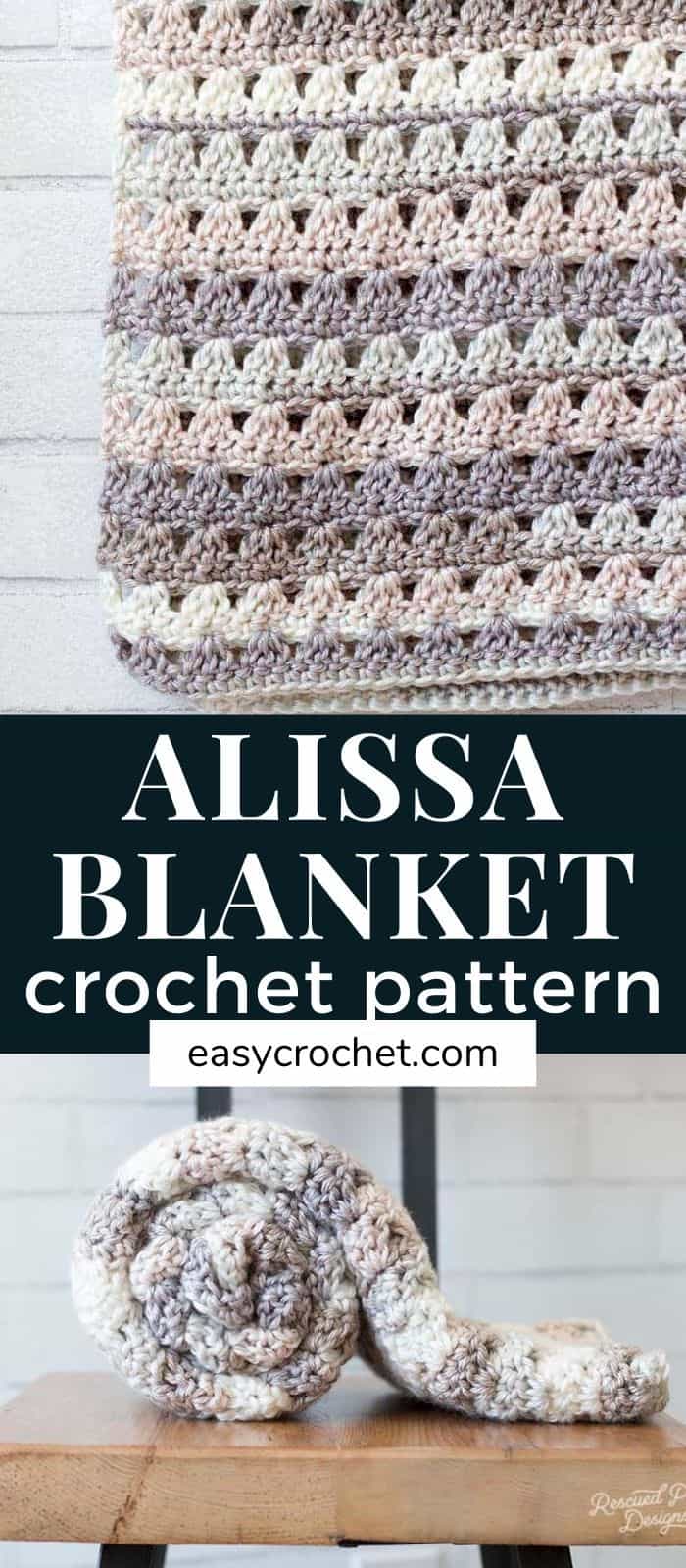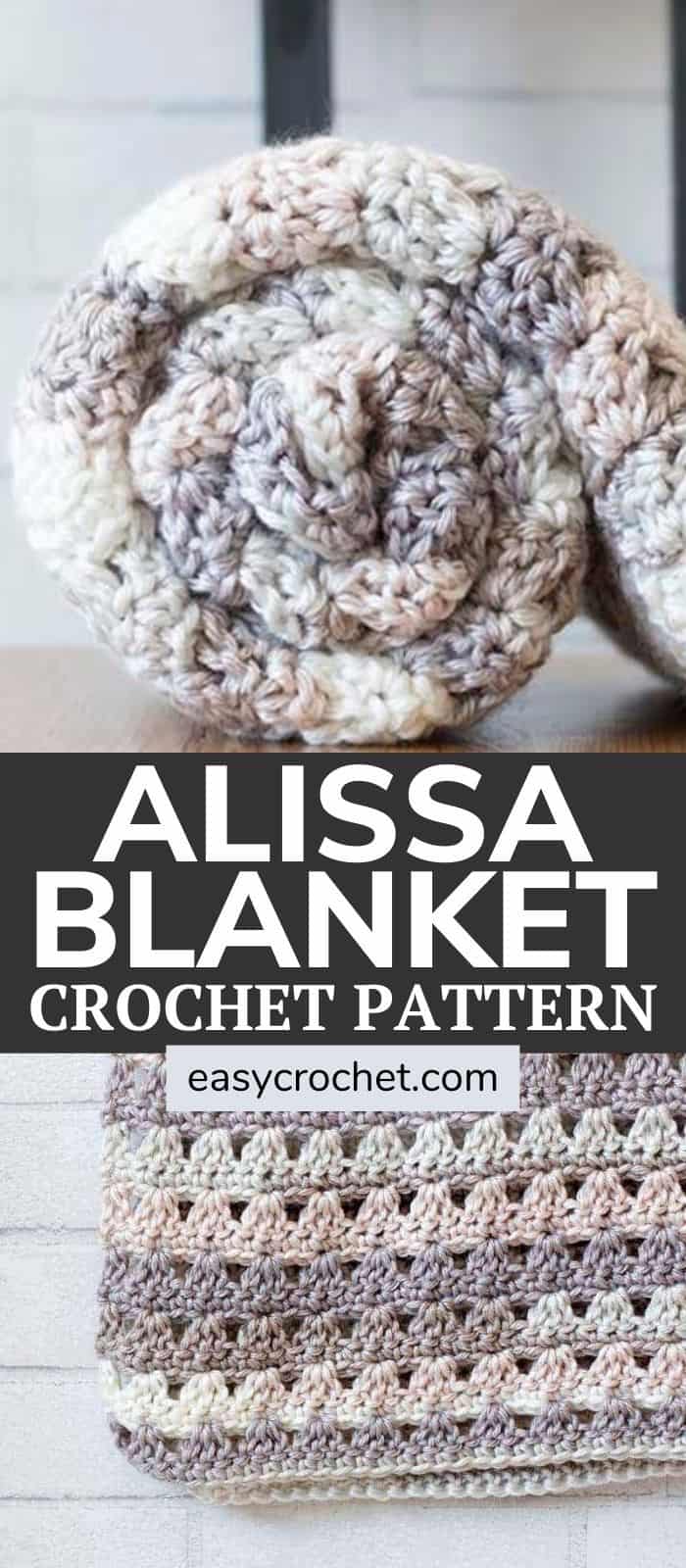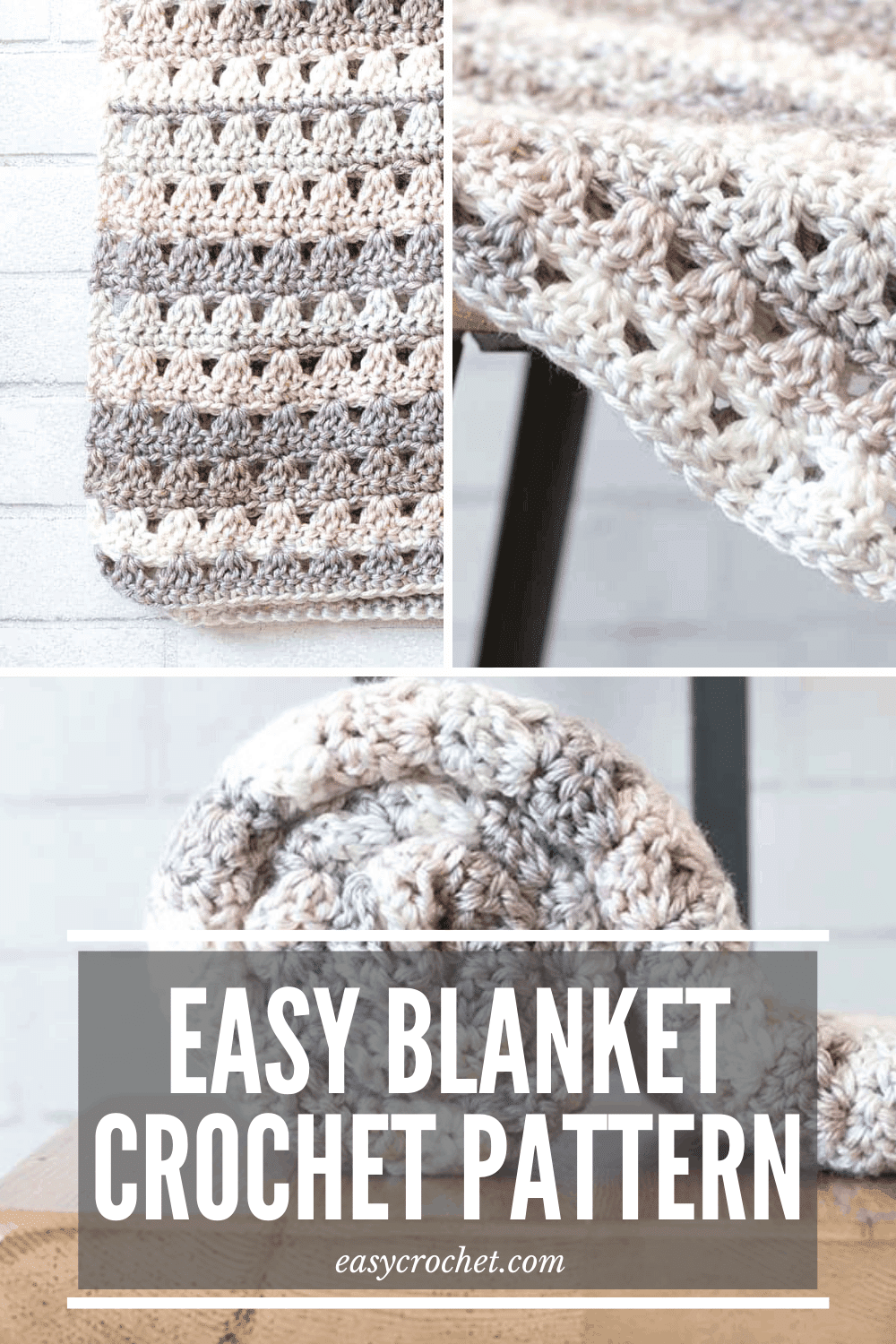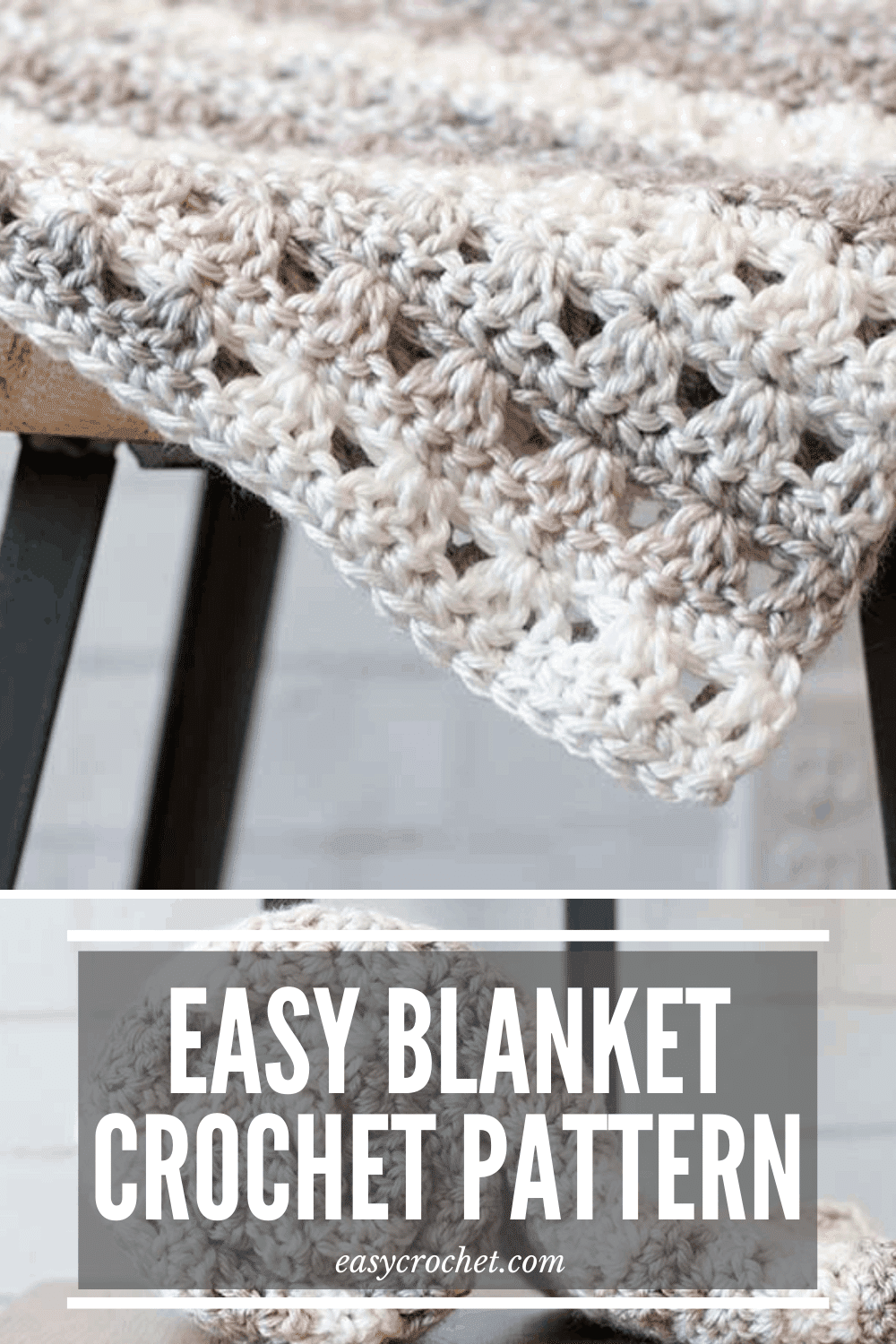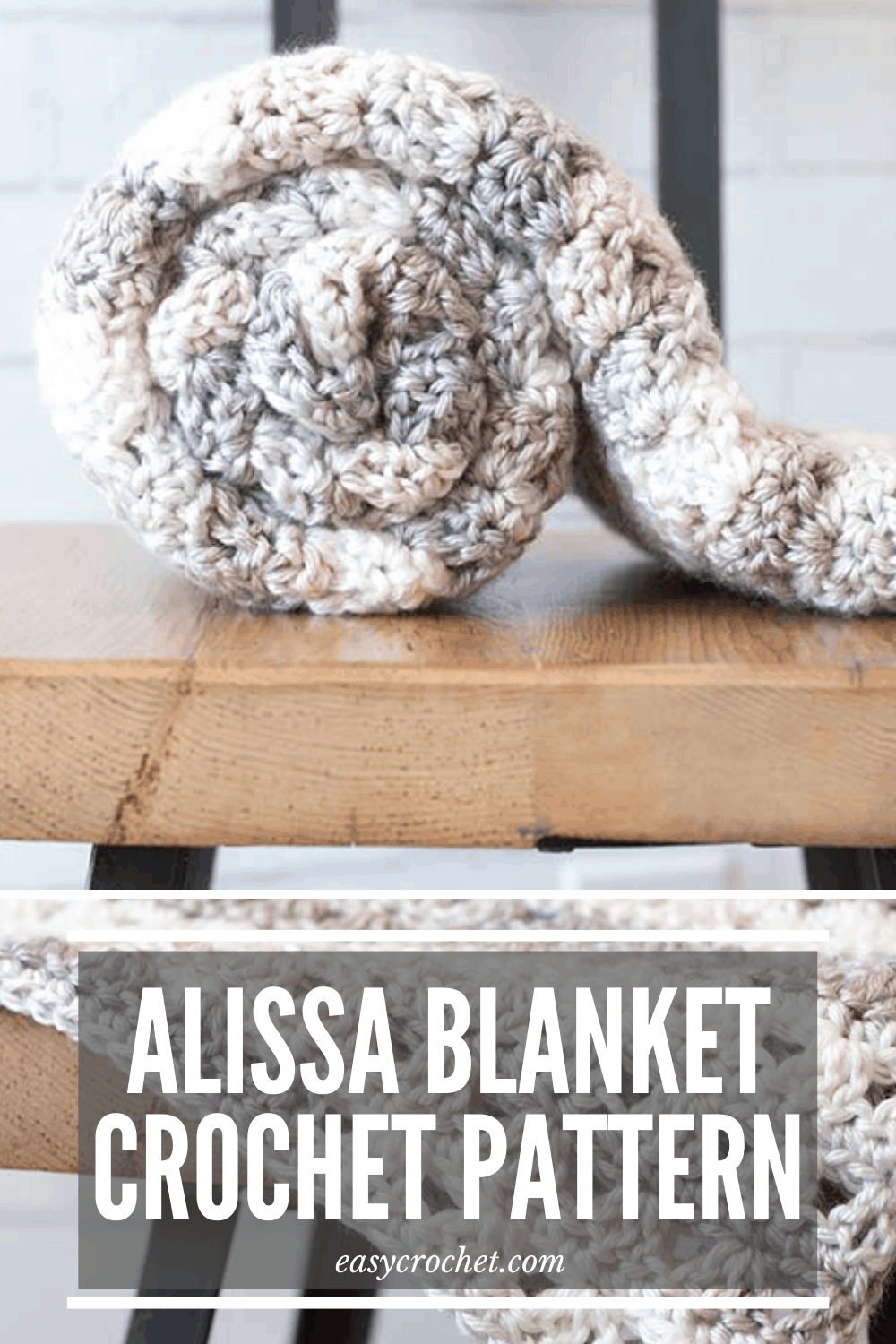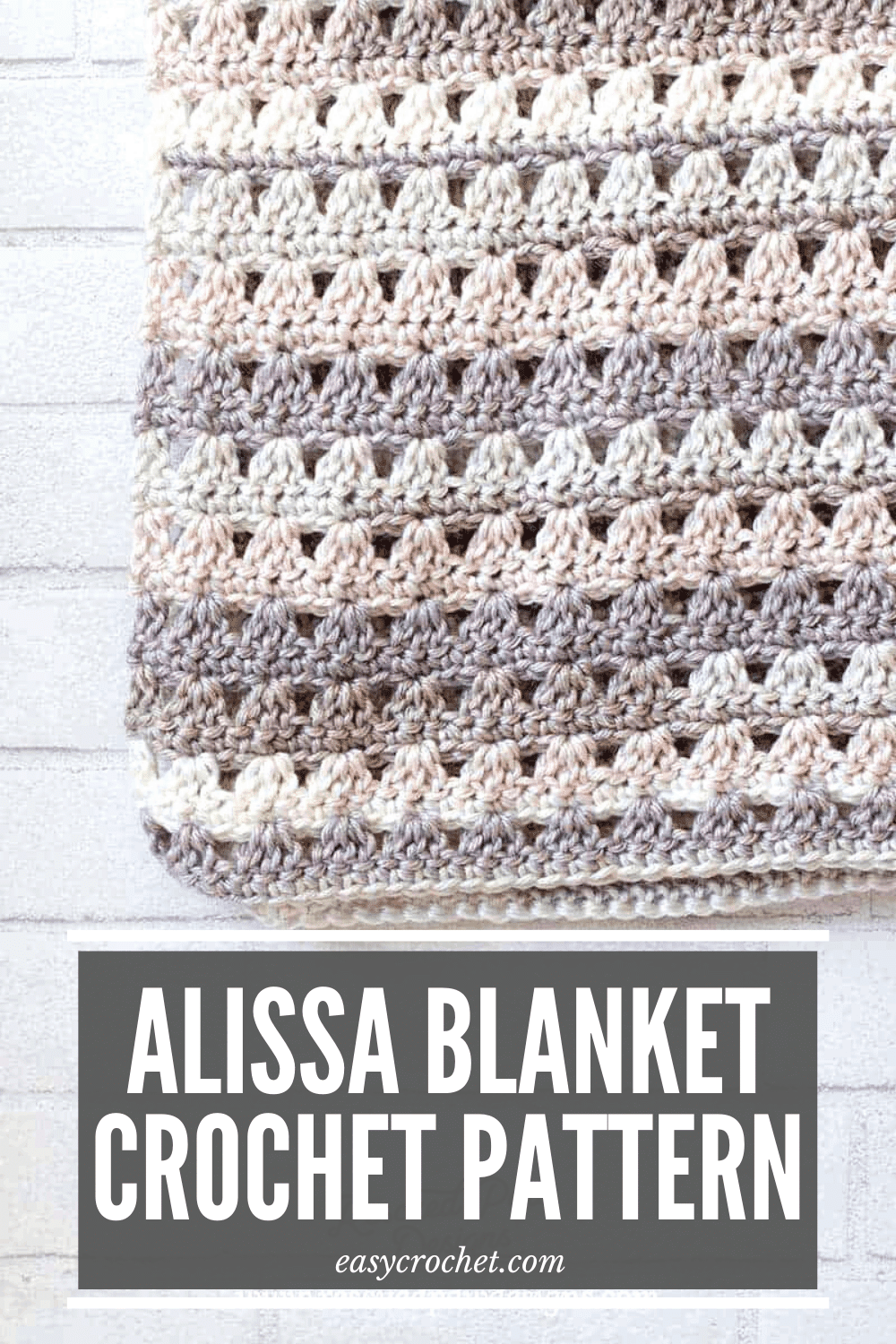 Do you love fun and easy crochet blankets? If so, then this blanket pattern is for you! You can enjoy the free pattern here on the blog, or find a printable PDF version in my shop. Enjoy!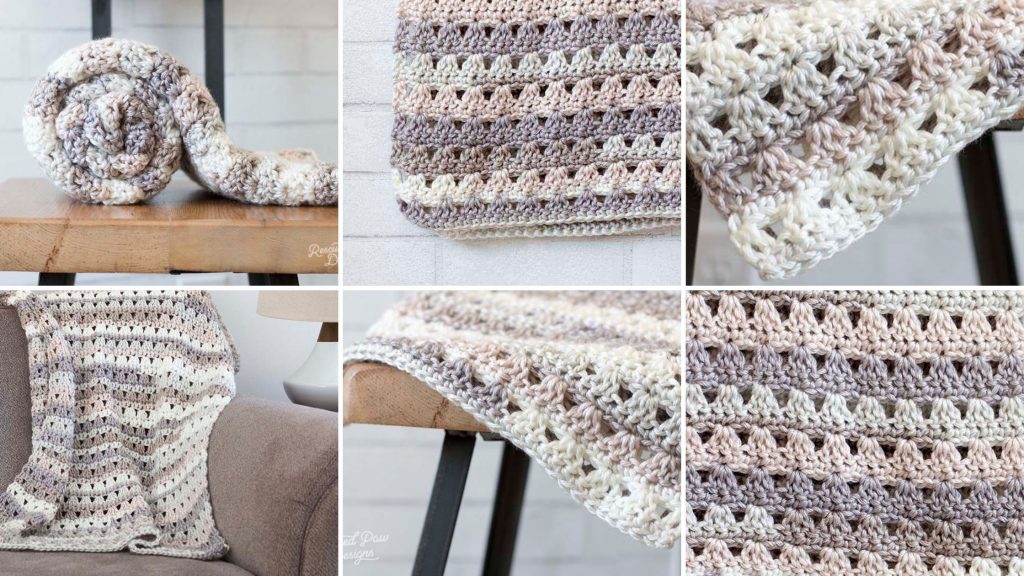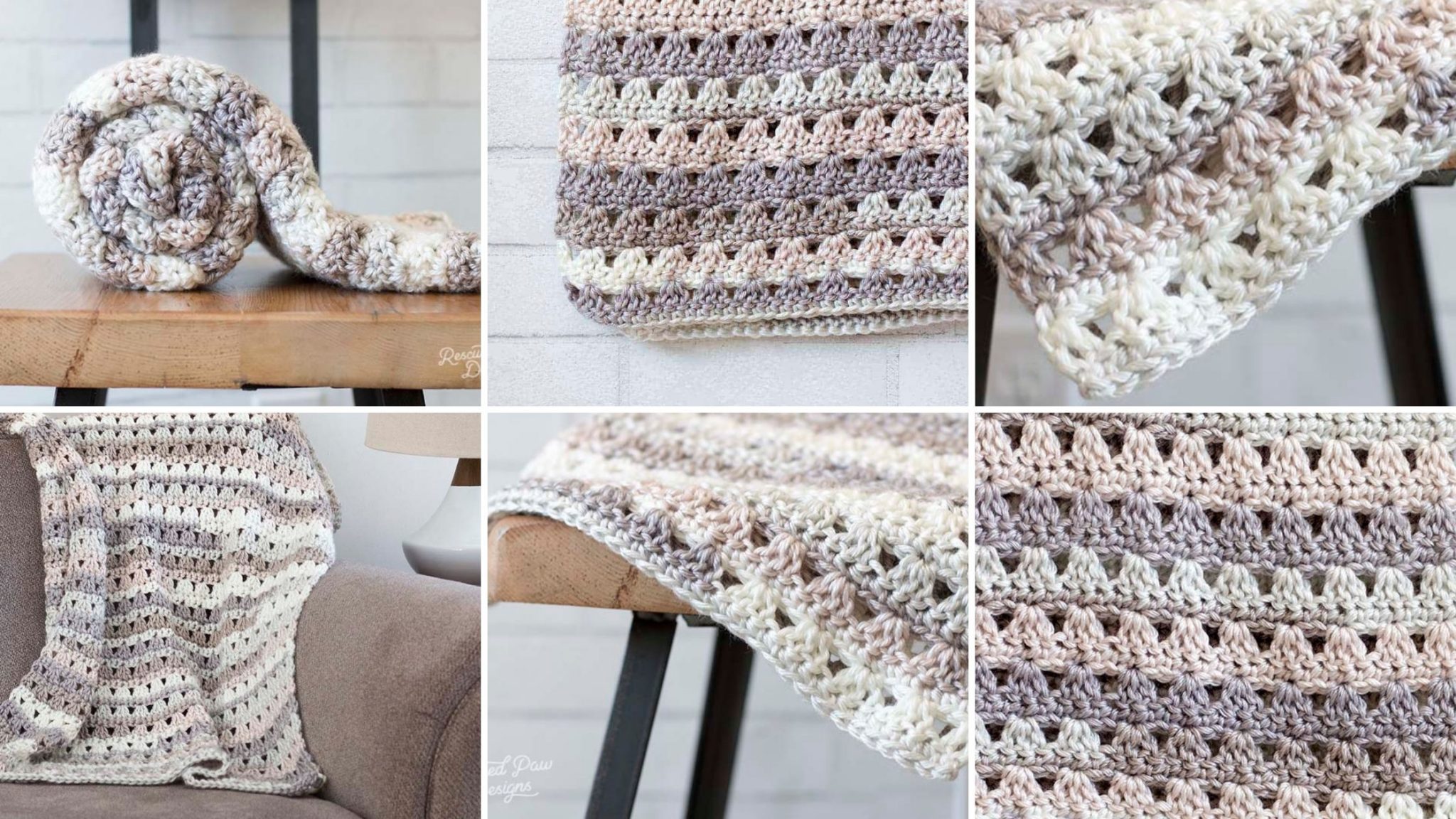 All About The Alissa Blanket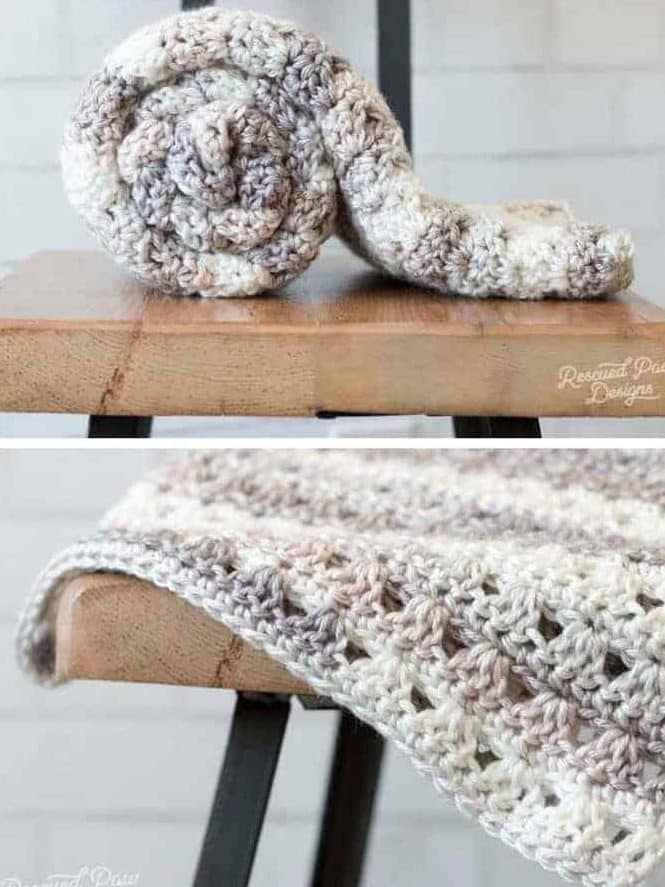 How to Make an Easy Crochet Blanket Pattern
This relatively straightforward simple crochet blanket pattern involves repeats along with some basic crochet stitches (I'll explain them below) to make for a fun, quick, and easy crochet throw (or one of the other seven sizes too)!
I am telling the truth when I say it is simple to work up, and you'll be happy after your weekend crochetathon when you will have a comfy and pretty stylish looking crochet throw to snuggle up in. But first, I want to discuss the yarn, I used to make this blanket!
The Yarn For This Throw Blanket
For this particular crochet throw, I went with a self-striping neutral yarn, mostly because I fell in love with the color-way Linen Stripe from the Red Heart Soft Essentials line the last time I was shopping.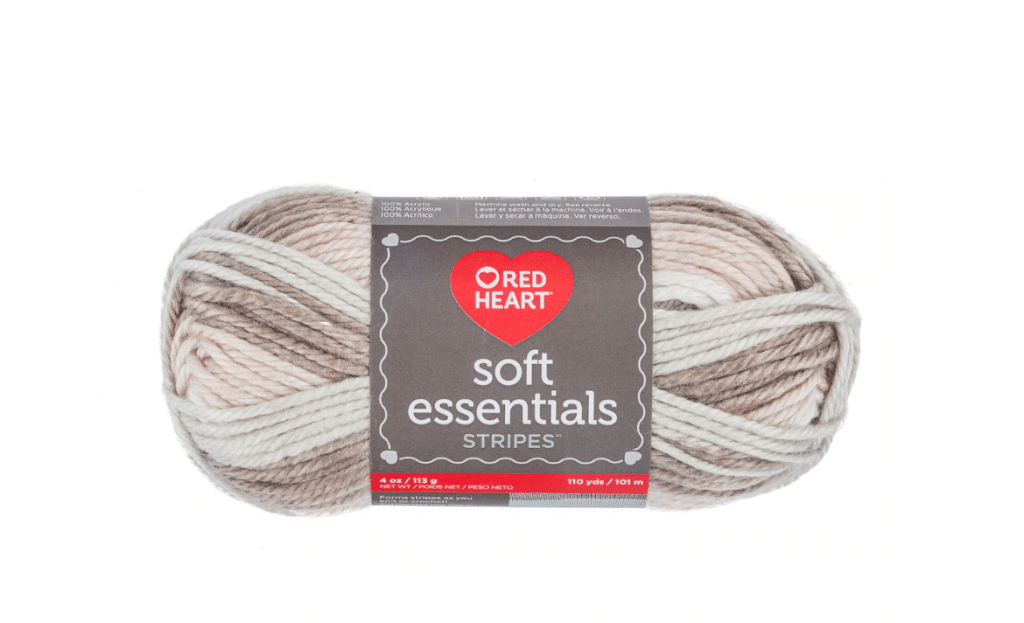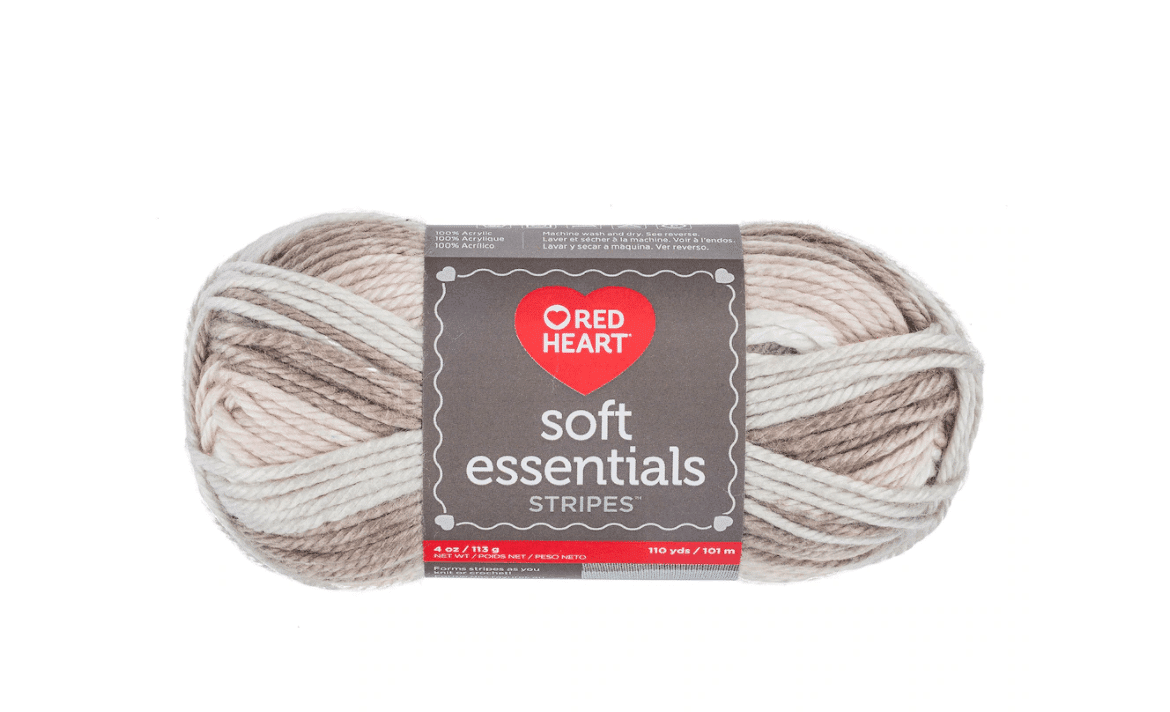 I do love striped blankets (not the color-changing), so this yarn was perfect because it meant minimal yarn ends to weave in. It is considered a bulky 5 yarn and comes in a beautiful variety of colors and even a baby line!
This yarn was harder to find than most others out there. I had the best luck at Micheal's for this exact color, but you can make this in any color of the Red Heart Soft Essentials line.
Update 2022: This yarn has been discontinued. I suggest using Lion Brand Hue & Me as a substitution. This yarn is not self striping, but is a great match for likeness. If you prefer, any five weight yarn will work great.
Hue + Me
This yarn is made by Lion Brand, and is a Weight 5 – Bulky yarn.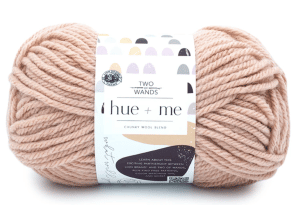 Fiber: 80% Acrylic, 20% Wool
Yardage: 137
Hook: 6.5 mm (K-10.5)
Substitute:
Buy Now
Patterns Using This Yarn →
Easy Crochet Stitches
This easy throw pattern only uses two easy stitches, the single crochet stitch (sc) and double crochet stitch (dc). If you are a beginner to crochet, this would be a good blanket if you want something a bit challenging than a single crochet blanket.
Double Crochet (dc):
Wrap the yarn over (yo) the hook, insert the hook into the specified st.
Yo the hook again, draw the yarn through the st, so there are 3 loops on the hook
Yo the hook again draw it through 2 loops, so there are 2 loops on the hook
Yo the hook, draw it through the final 2 loops.
Single Crochet (sc):
Insert hook from front to back in the second chain from the hook or designated stitch
Bring the yarn over (Yo) the hook and pull the yarn back through the chain (or stitch) from back to front (2 loops on hook).
Yo and pull through both loops on the hook.
It is not overly hard but will challenge you if you are new, which is always a good thing in my book. Ready to get started on this fast crochet throw? I hope you like it!
Alissa Blanket Video Tutorial
If you have an ad-blocker enabled, you may not be able to see the video. Disable and refresh to view.
Don't forget to check out the video above if you'd like some help with the stitch pattern. I can't wait to see your creations. Happy Crocheting!
I hope you enjoy this free blanket pattern and stitch tutorial!
Alissa Easy Crochet Throw Pattern
Skill Level: Easy
Materials
Abbreviations
Notes
The blanket pattern is written in standard US terms
Turn at the end of each row
Gauge
10 sts x 6 rows = 4″
Gauge Pattern: Chain 6 +5 and follow the first 6 rows with the correct crochet hooks size as mentioned above.
Sizing
To change the blanket size, use a multiple of 3 +5
Multiples of 3: 3,6,9,12,15,18,21,24,27,30,33,36, 39,42,45,48,51,54,57,60, 63,66,69,72,75,78,81,84,87,90,93, etc.
Blanket Size Chart & Yardage
*Skeins numbers shown are for Red Heart Soft Essentials Yarn (a bulky #5 yarn) aka chunky yarn which has 131 yards per skein (not stripes which is 110 yards per skein)
| | Height | Width | Starting Sts | Rows | Total Yardage | Skeins needed of RHSE |
| --- | --- | --- | --- | --- | --- | --- |
| Lovey | 12 | 14 | 35 | 18 | 83 | 1 |
| Stroller | 35 | 34 | 86 | 53 | 642 | 5 |
| Receiving | 40 | 42 | 104 | 60 | 917 | 7 |
| Baby | 52 | 46 | 116 | 78 | 1311 | 11 |
| Throw | 60 | 54 | 134 | 90 | 1788 | 14 |
| Twin | 90 | 70 | 176 | 135 | 3508 | 27 |
| Full/Queen | 90 | 94 | 236 | 135 | 4745 | 37 |
| King | 108 | 110 | 275 | 162 | 6685 | 52 |
Pattern Steps
The Crochet Blankets size stitch counts are listed at the end of each row in the order of lovey, stroller, receiving, baby, throw, twin, full/queen & king.
FOUNDATION: Ch 35 (86, 104, 116, 134, 176, 236, 275)
ROW 1: in 2nd ch from the hook sc, sc in each st across. 34 (85, 103, 115,133,175,235,274)
ROW 2: ch 3, in the 1st st make a dc, *sk 2 st's, dc 3 times in next st, repeat from* across ending with 3 st's, skip 2 and 2 dc's in the last st, turn.(The turning chains count as a dc in these rows when counting sts) 34 (85, 103, 115,133,175,235,274)
ROW 3: ch 1, in first st make a sc, sc in each st across, end with a sc in last st, turn. (or the top of the turning chain). 34 (85, 103, 115,133,175,235,274)
ROW 4: ch 3, in 1st make a dc, *sk 2 st's, dc 3 times in next st, repeat from* across ending with 3 st's, skip 2 and 2 dc in the last st, turn. (The turning chains count as stitches in these rows when counting) 34 (85, 103, 115,133,175,235,274)
ROWS 5: rep row 3
ROW 6: repeat row 4
ROW 7 – ?: repeat rows 3&4 to the row of the blanket size you are making from the chart above.
FINISHING: fasten off yarn and weave in loose ends throughout with a yarn needle.
Purchase a Low-Cost PDF Instead
Like I mentioned previously, you can grab the PDF crochet pattern version of the Alissa Blanket in my shop. It includes instructions, pictures, and a stitch chart.
Get the low-cost AD-FREE PDF with eight blanket sizes for the price of a fancy coffee.

I hope you enjoyed this easy crochet blanket tutorial!
If you prefer a video tutorial, a video can be found on my YouTube Channel!
Watch the video tutorial for this pattern on YouTube
If you require any further assistance about this free pattern or any other easy crochet patterns on my site, please feel free to leave a comment or email me.
Thanks for checking out my free throw crochet pattern and if you liked this pattern follow along with me on Facebook, Instagram or Pinterest (where I pin daily!) about more free crochet projects like afghan patterns for example. If you prefer video tutorials, you can also find me over on YouTube!
Common Questions About the Alissa Blanket
Can I use a different yarn weight to make the Alissa?
Yes, you can, but keep in mind the sizing will be different that shown above using a five weight bulky yarn. For example, if you want to use a super bulky yarn or a worsted weight yarn, you will need to crochet a gauge swatch and measure what your swatch is.
Then you can use our blanket calculator to figure out the starting chain and yardage you'll need to make the Alissa with a six weight yarn or four weigh yarn.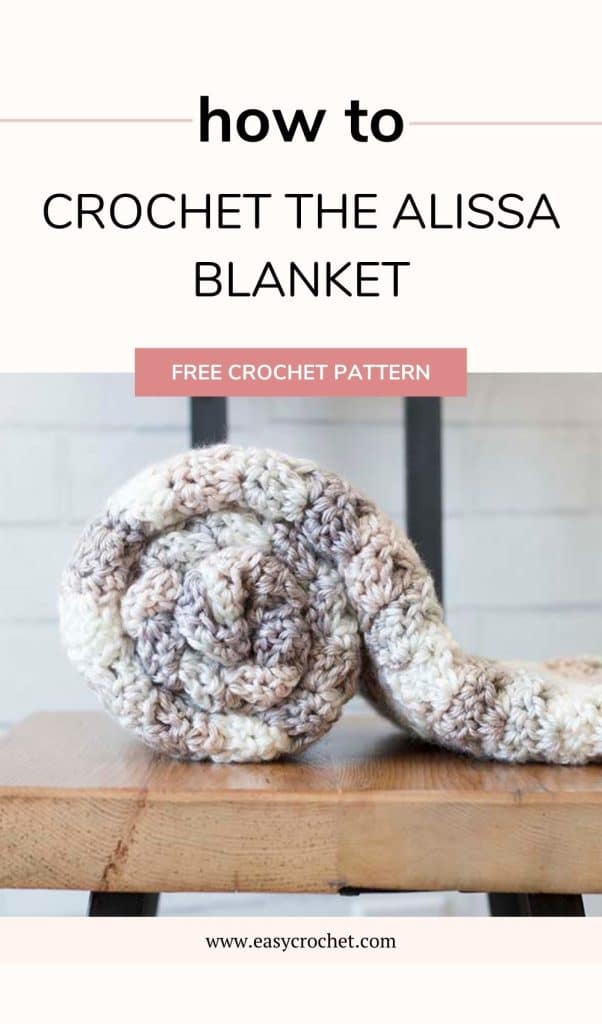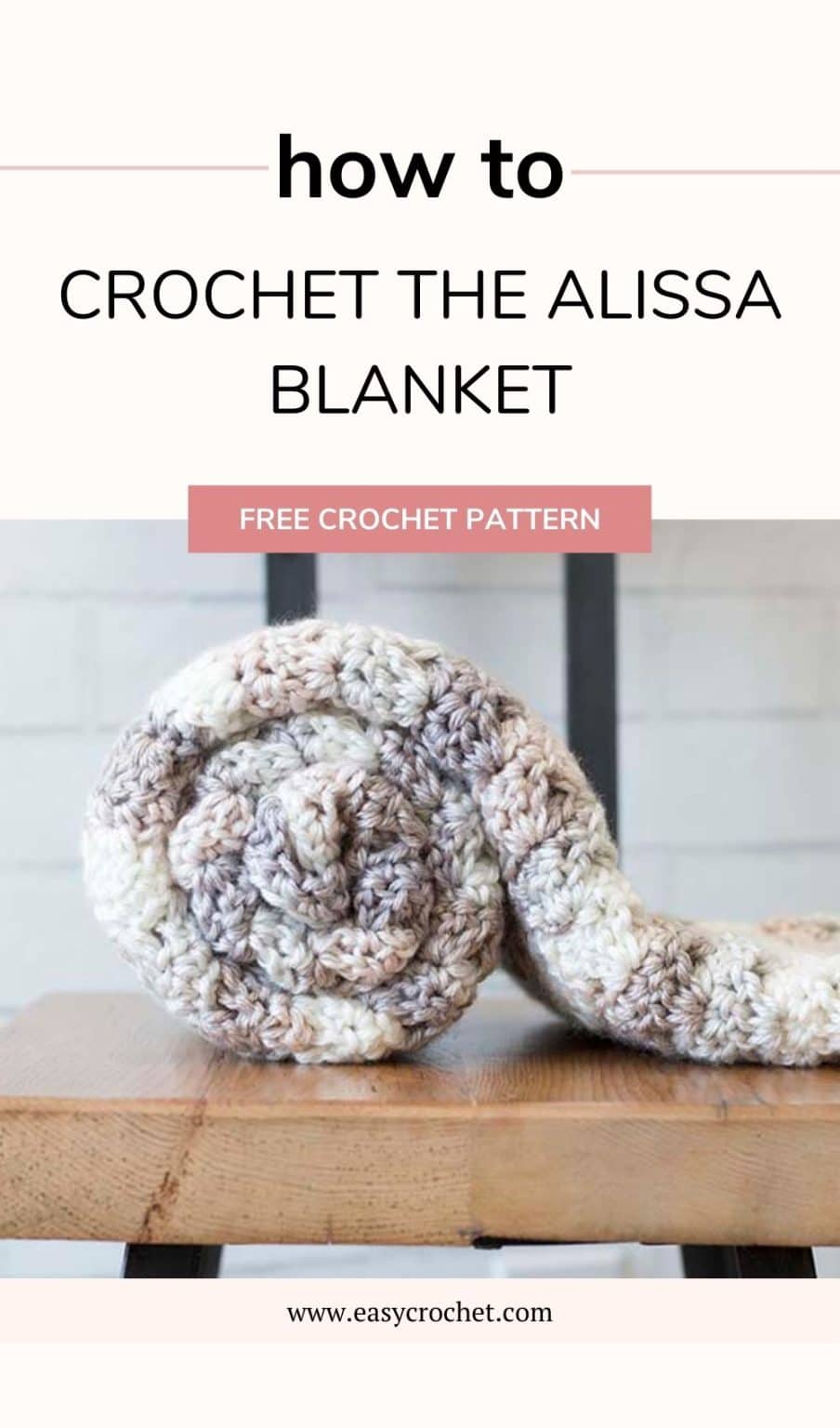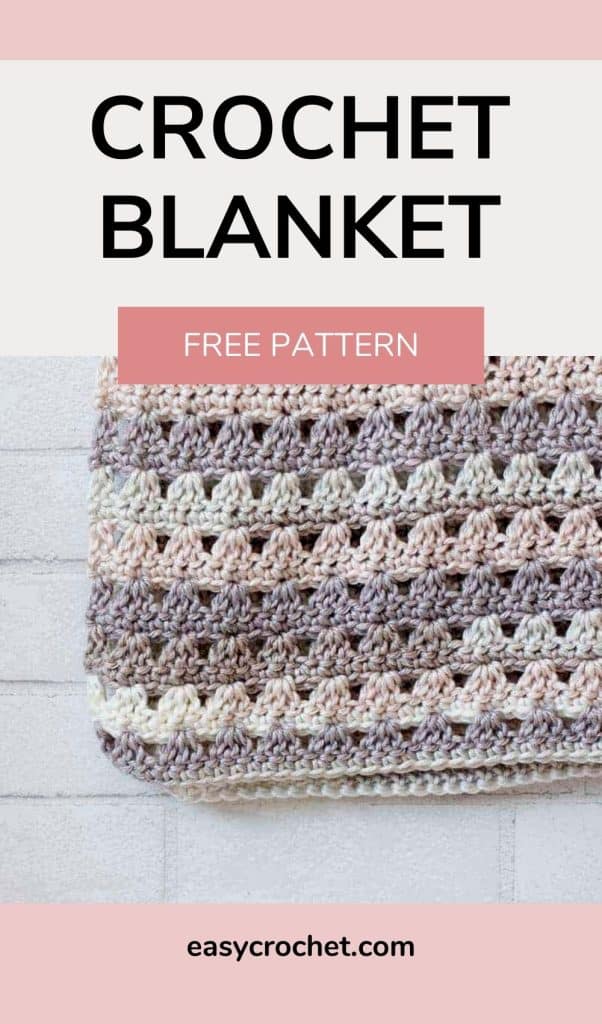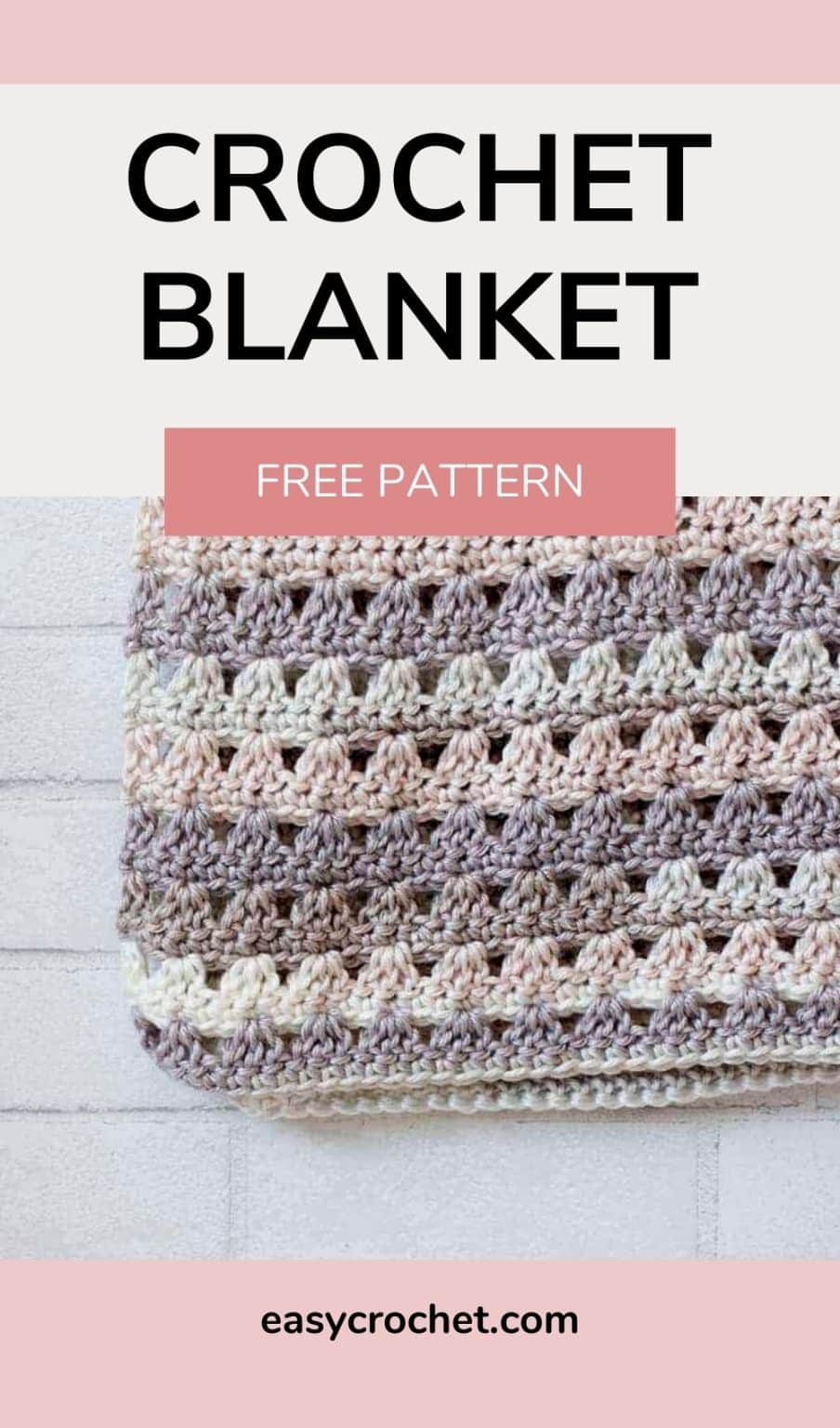 More Free Crochet Blanket Patterns
Take a look at all these easy crochet blanket patterns below to find a new blanket pattern that you may enjoy crocheting for your next project.
My favorite blanket to make is the Jane Blanket that uses the moss stitch, so be sure to check that design out! I hope you enjoy all these free crochet patterns!