Easy Crochet Ombre Shell Stitch Baby Blanket
If you are looking for an easy baby blanket pattern that has great texture, then this ombre shell stitch baby blanket pattern for you! Baby blankets make great gifts, are easy to crochet and work up fast, all of which are great reasons to put one of these on your to crochet list.
Below, I'll teach you how to crochet a baby blanket using the shell stitch that is the perfect blanket size for a stroller or car seat once finished. I will also go over the supplies and stitches you'll need to know to finish it, too. Enjoy!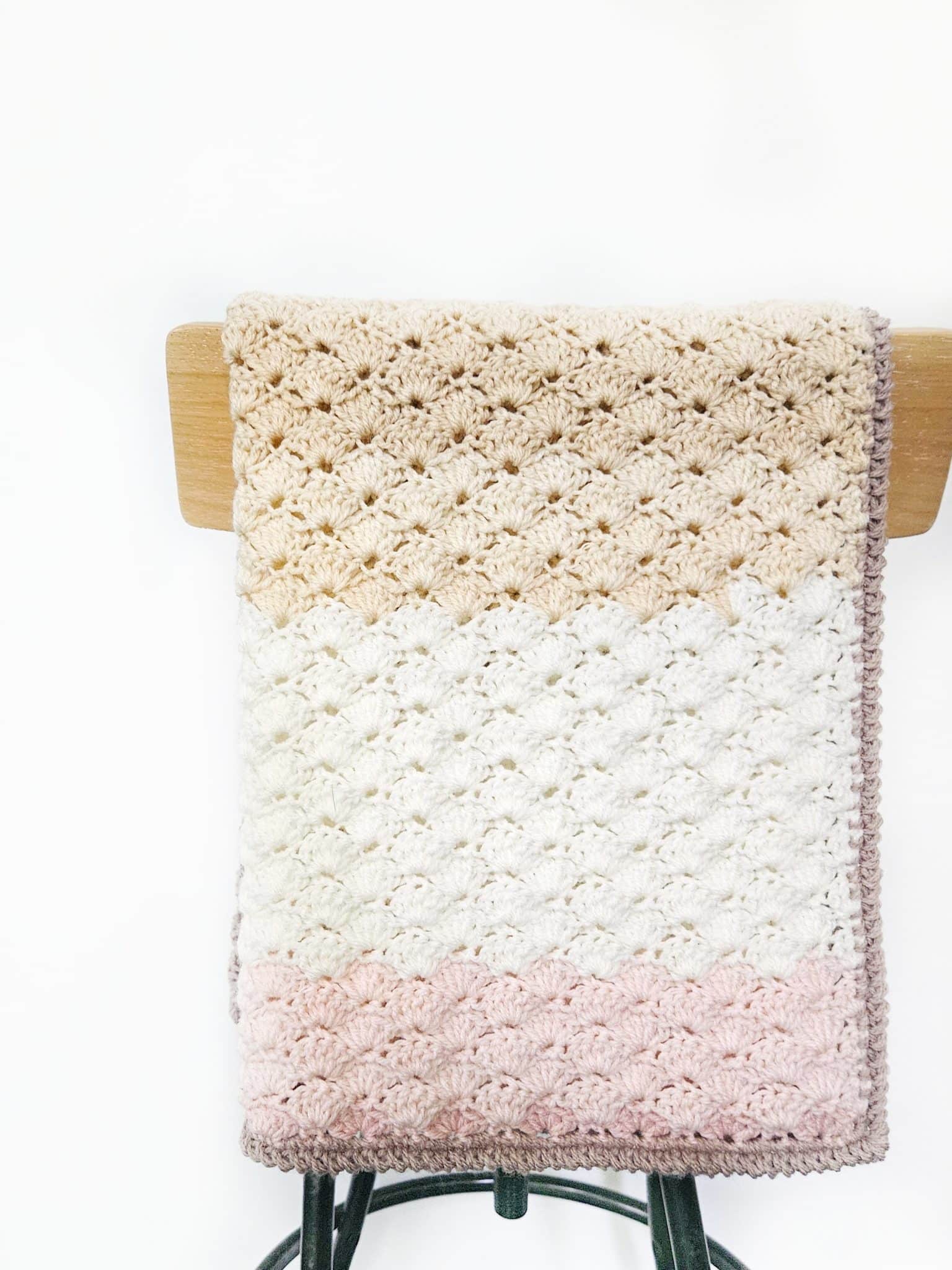 How to Crochet An Ombre Shell Stitch Baby Blanket
To crochet a baby blanket with shell stitches, you will need to have a few different crochet supplies on hand as well as knowledge of a couple of basic stitches, too.
Crochet Supplies
You can make a shell stitch with any type of yarn you'd like, but to get the ombre effect that I have, you will want to use a specific yarn. I am using Lion Brand Mandala Bonus (yarn color Meowth) for this example. It is a 100% acrylic light (#3) yarn with 1181 yards that is great for blankets since it is easy to wash and dry.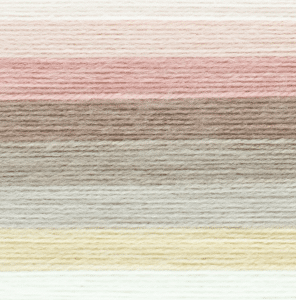 If you'd prefer to use a different weight yarn, such as a bulky 6 weight yarn to make a shell stitch project, that is perfectly fine but your yardage and sizes may vary.
You will also need a crochet hook. This blanket was made with a 4.5 mm crochet hook size. My advice is to remember to use the recommended crochet hook size for each yarn, which can usually be found on the label.
Tip: You may also use a different hook size than recommended if that is what you need to get the gauge on the label. Hint… I used a 4.5 mm when the yarn label called for a 5 mm.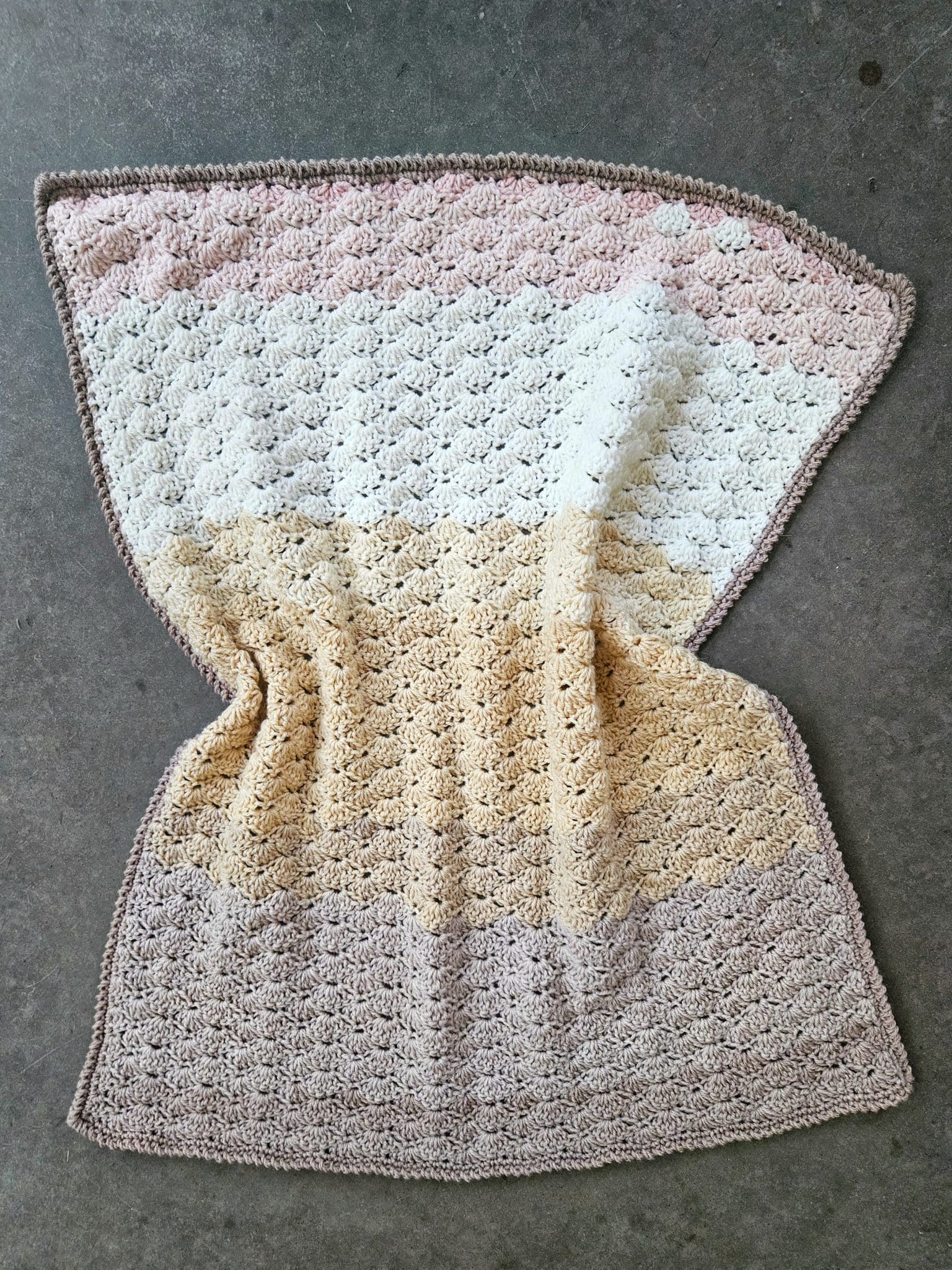 Crochet Stitches
To make this ombre shell stitch baby blanket, you will need to know how to double crochet (dc abbreviated) as well as single crochet (sc). The double crochet stitch and single crochet stitch are easy to learn, and both are beginner-friendly stitches.
Take a look at our full photo tutorial for the shell stitch (linked above), so you'll be prepared to make this shell stitch blanket.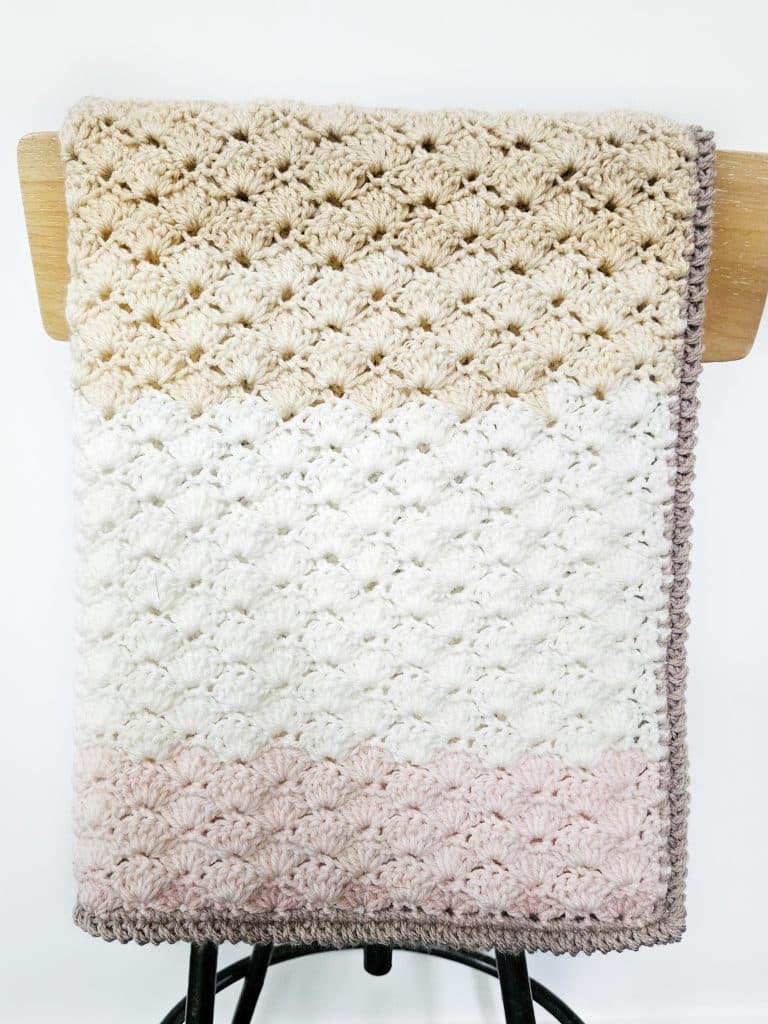 Let's Get Started
In this tutorial, we will guide you through creating a cozy baby blanket using the easy shell stitch pattern. The closed shell stitch, consisting of five double crochet stitches with no spaces, forms the basis of this blanket.
Once you complete the initial three rows, the remaining pattern consists of repeating those rows. This makes it effortless to replicate the stitch design regardless of your crochet skill level. Whether you're a beginner or an experienced crocheter, this shell stitch blanket is perfect for you.
Continue reading to discover the step-by-step instructions for crocheting a beautiful baby blanket using the shell stitch!
Ombre Crochet Shell Stitch Blanket
Skill Level: Easy
Materials
Crochet Abbreviations
Finished Size & Gauge
Notes
The Pattern
To Start: Ch 84 + 2 (86 total chs)
Row 1: sc in the second ch from the hook, *sk next 2 chs, 5 dcs in the next st, sk next 2 chs, 1 sc in the next st, rep from * across, turn. (85)
Row 2: ch 3 (counts as a st), 2 dcs in the first st, *sk next 2 sts, 1 sc in the next st, sk next 2 sts, 5 dcs in the next st, rep from * ending with 3 dcs in the last st of the row, turn.
Row 3: Ch 1 (does not count as a st), 1 sc in first st, *sk 2 sts, 5 dcs in next st, sk 2 sts, sc in the next st, rep from * ending with a sc in the top of the ch 3 from the row before, turn.
4-61: Rep Rows 2 & 3 to make the pattern bigger.
Finishing: Fasten off yarn and weave in loose ends with a yarn needle or….
Border: How to do the Crab Stitch
Round 1: Do not fasten off and work 3 scs into the last stitch (or corner of the blanket. Continue working one sc into each st down the side of the blanket and around, making sure to work 3 scs into each corner until you reach the first corner, sl st into the first sc of the round.
Round 2: Ch 1, reverse single crochet (crab stitch) around the blanket working 3 reverse single crochets into each the corner stitch ( the second of the 3 scs you previusly worked the round before) until you reach the end, finish with a sl st into the top of the first st of the round.
Finishing: Fasten off the yarn and weave in all loose ends (should only be two!) with a yarn needle.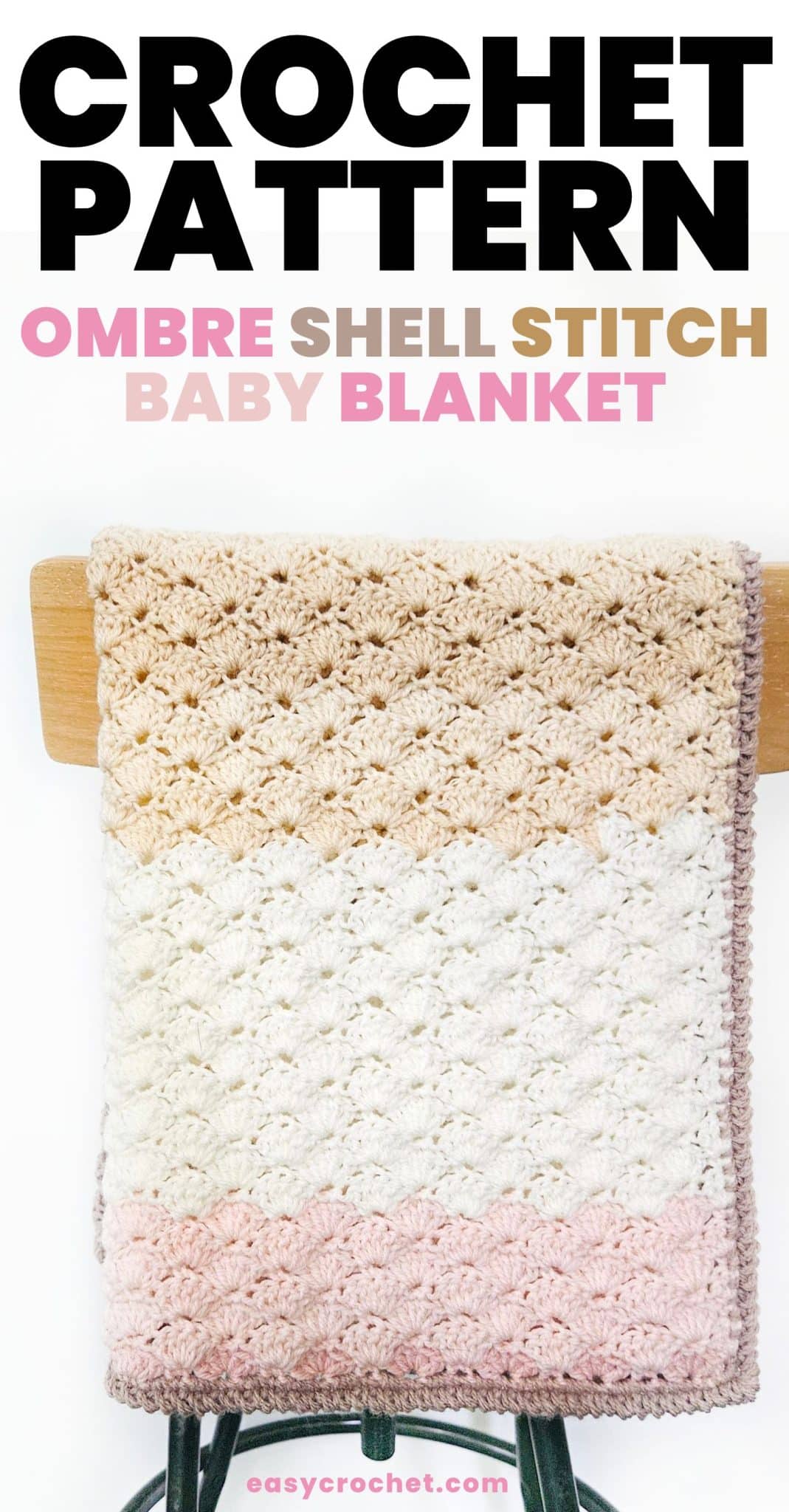 More Free Baby Blanket Patterns