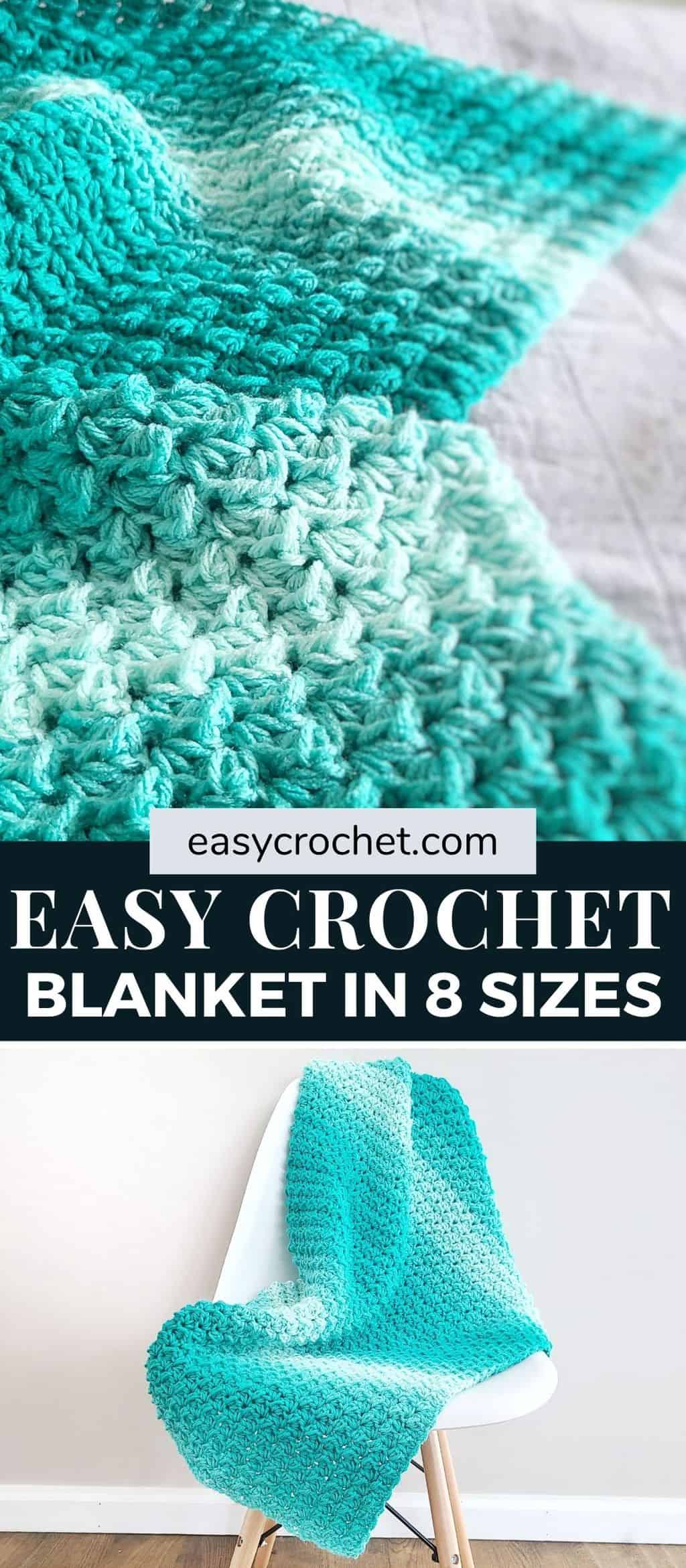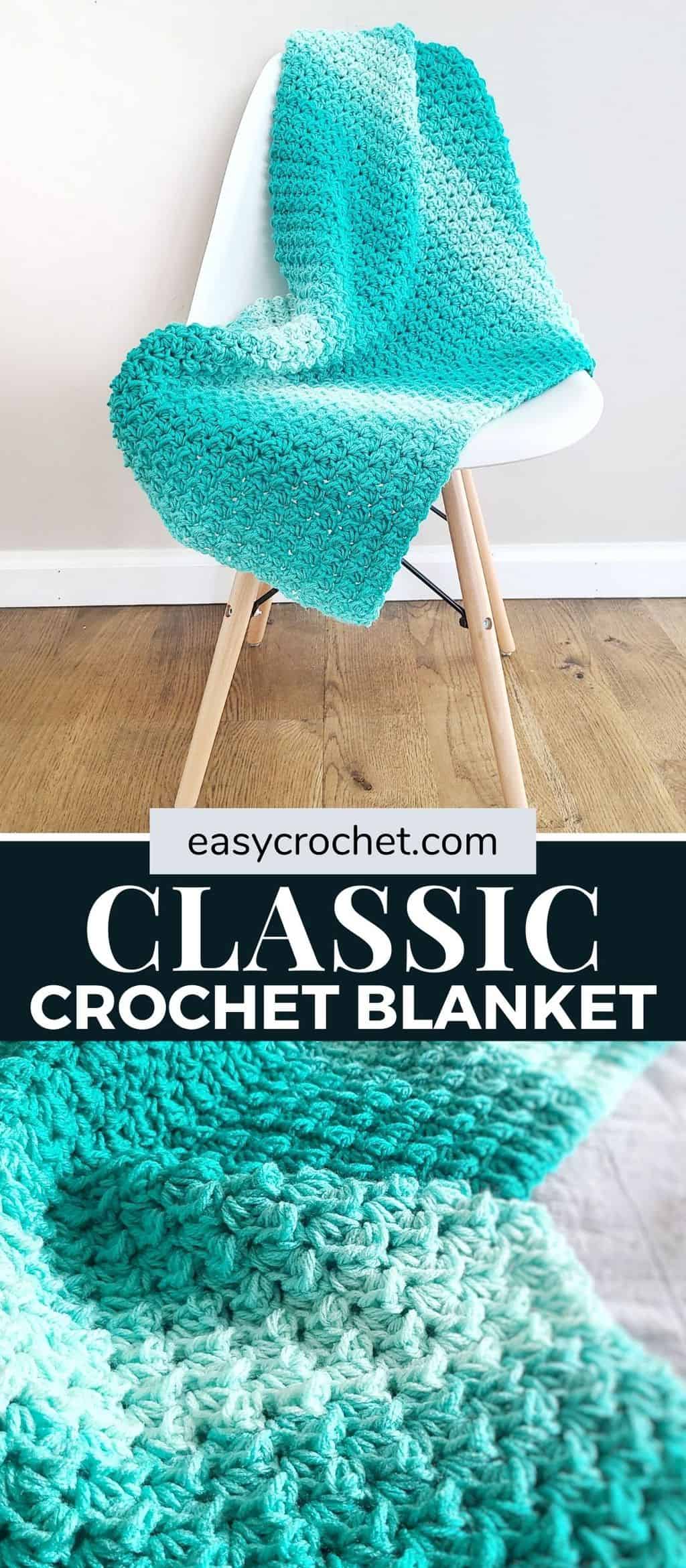 If you want to learn how to crochet a classic blanket, then this is the pattern for you!
This easy crochet blanket uses a simple stitch repeat which creates a beautiful texture that you can crochet into a baby blanket or even a throw for your living room. Plus, the yarn creates an ombre effect which makes for a stunning blanket!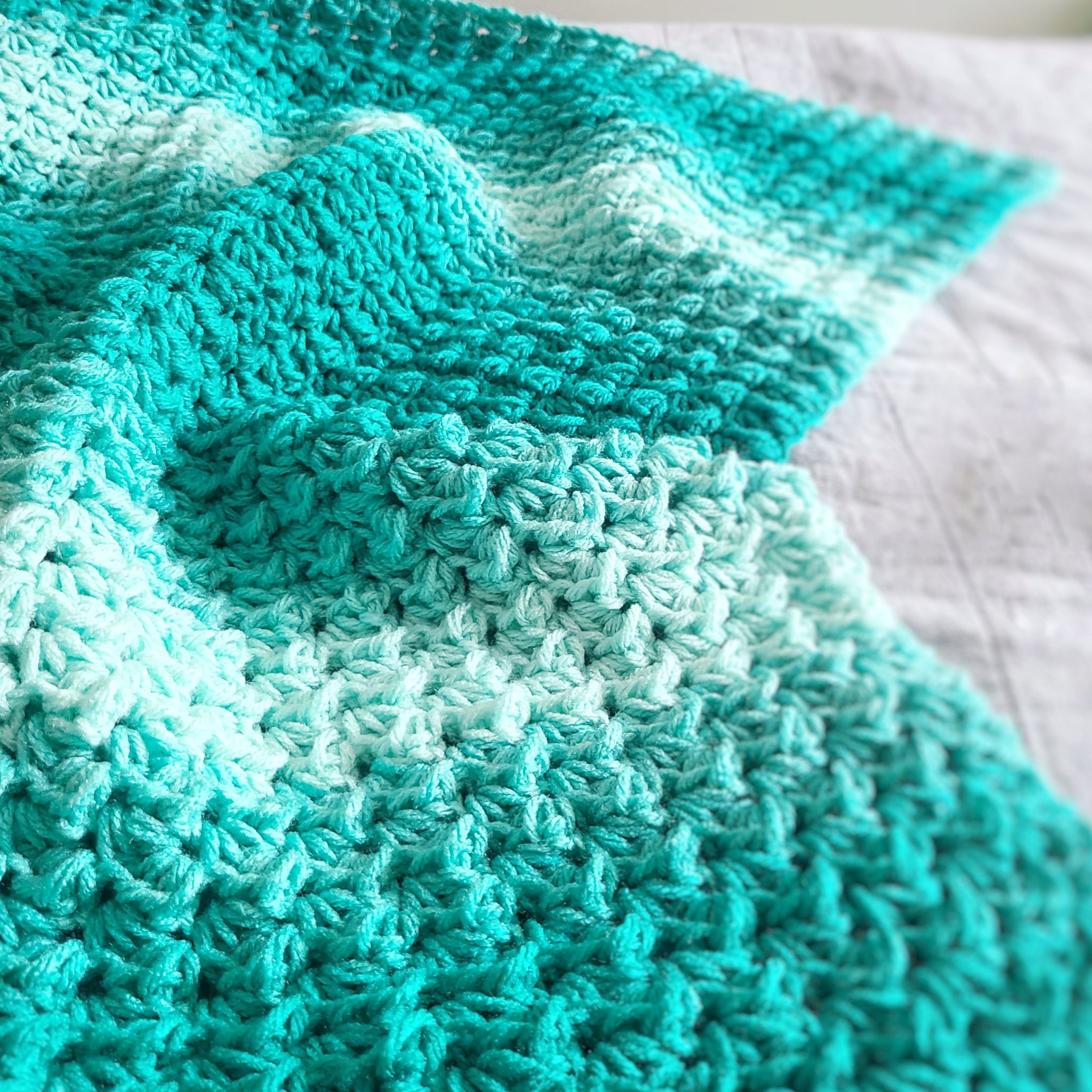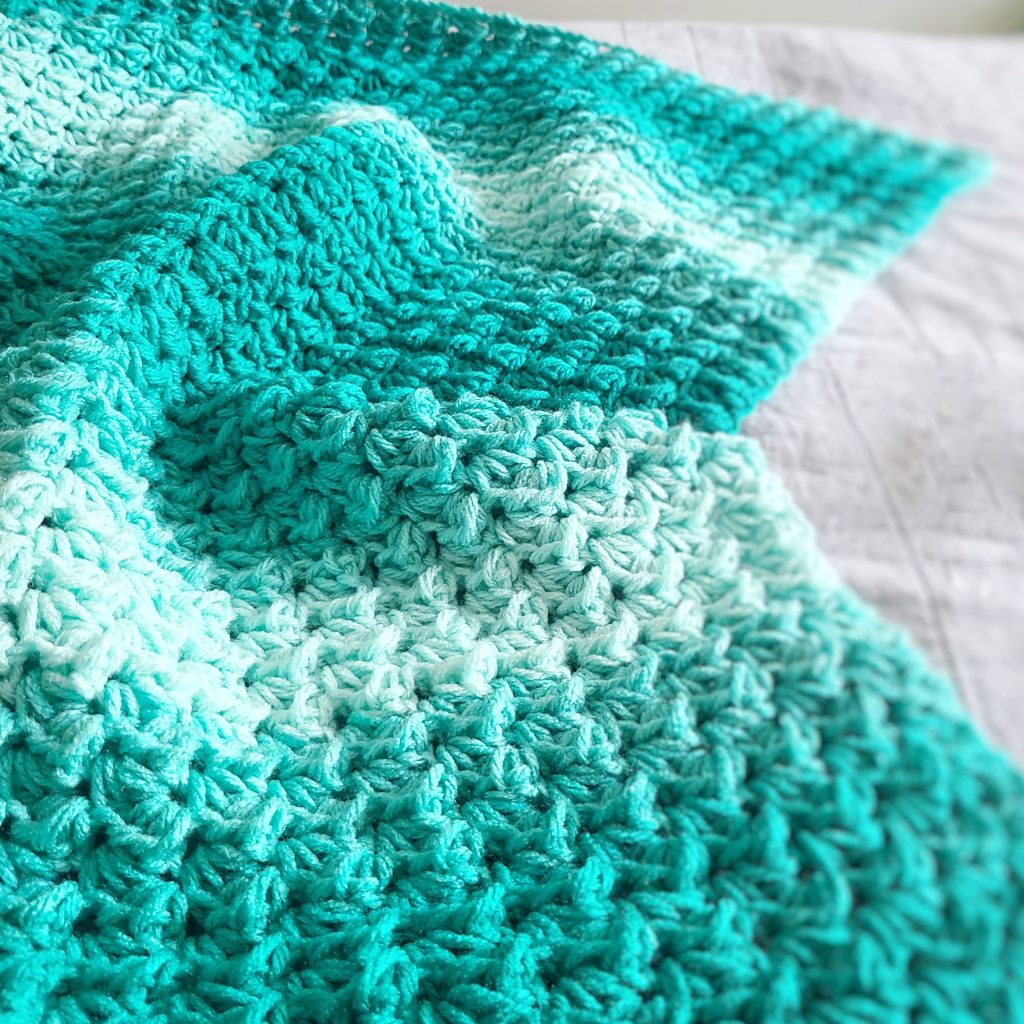 Scroll on down to learn all about the stitches you'll need to know, the yarn and as well as the full ombre crochet blanket pattern in eight blanket sizes with size charts and yardage charts.
Happy blanket making!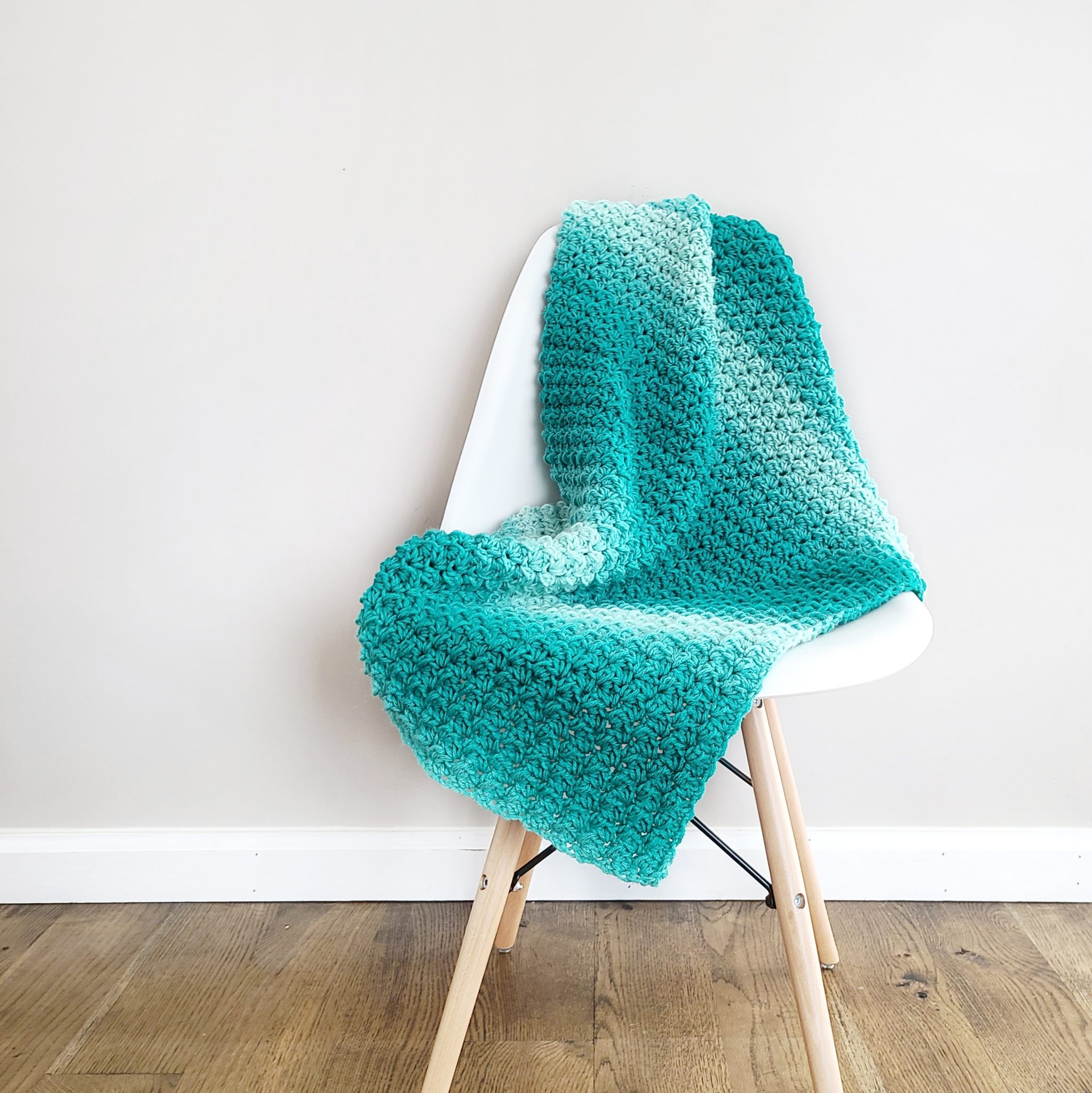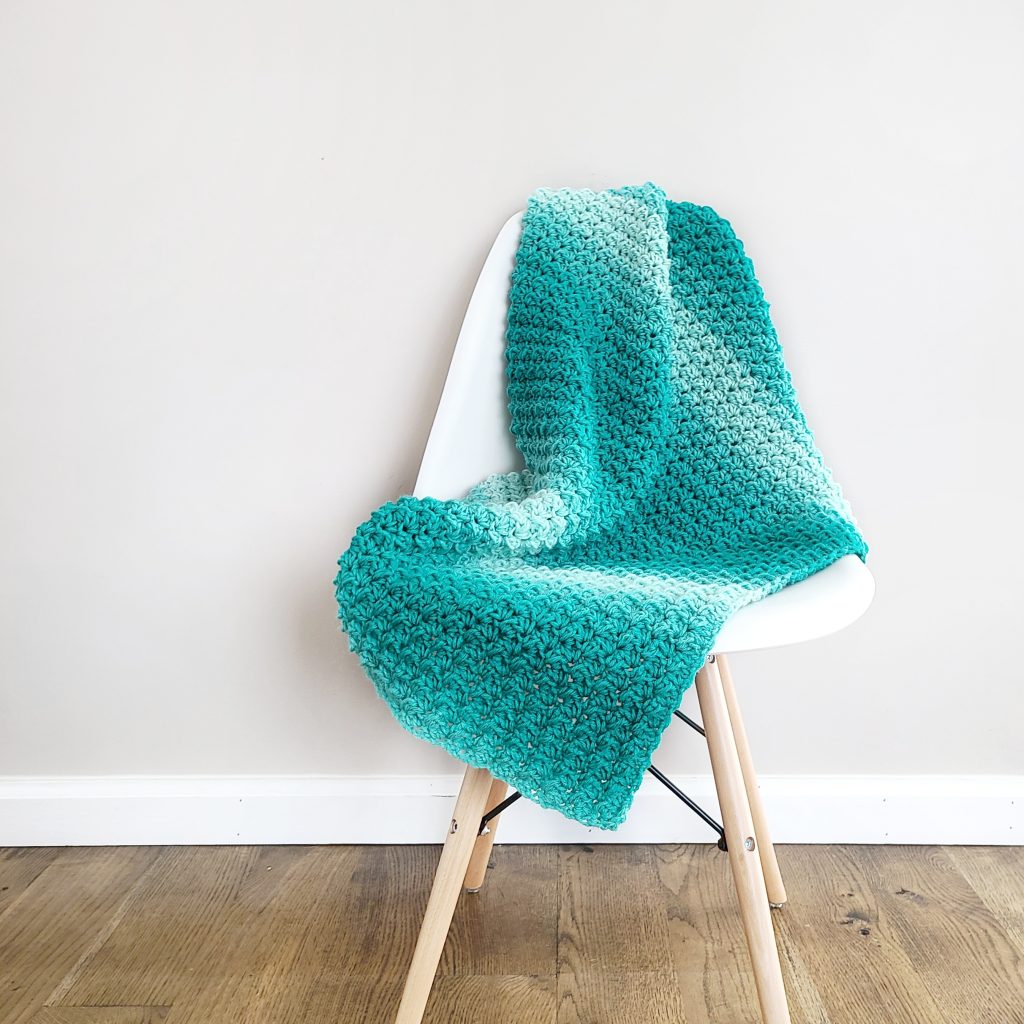 The Stitches for this Crochet Ombre Blanket
To make this blanket, you will need to know three basic crochet stitches. The first stitch is the half double crochet, followed by the slip stitch and finally the single crochet all of which are fairly simple to learn.
Take a look below at a detailed explanation as well as links to the stitch tutorials if you'd like a refresher.
Crochet Stitches for a Classic Blanket
Slip Stitch (sl st): Tutorial & Video
Insert hook into designated stitch
YO (yarn over) and pull back through the st and through the loop on the hook.
Single Crochet (sc): Tutorial & Video
Insert hook from front to back in the second chain from the hook or designated stitch
Bring the yarn over (YO) the hook and pull the yarn back through the chain (or stitch) from back to front (2 loops on hook).
YO and pull through both loops on the hook.
Half Double Crochet (hdc): Tutorial & Video
YO (yarn over) insert hook from front to back of the designated stitch, YO the hook and pick up a loop.
YO the hook and pull back through all three loops on the hook.
You can see how beautifully in the photo below how these stitches work together to create a wonderfully textured blanket! It is created by working a sl st followed by two half double crochets all in one stitch.
You can watch the video of this blanket being worked up in the video after the pattern. It is a very similar repeat to the Charlotte Blanket which you may like to try too.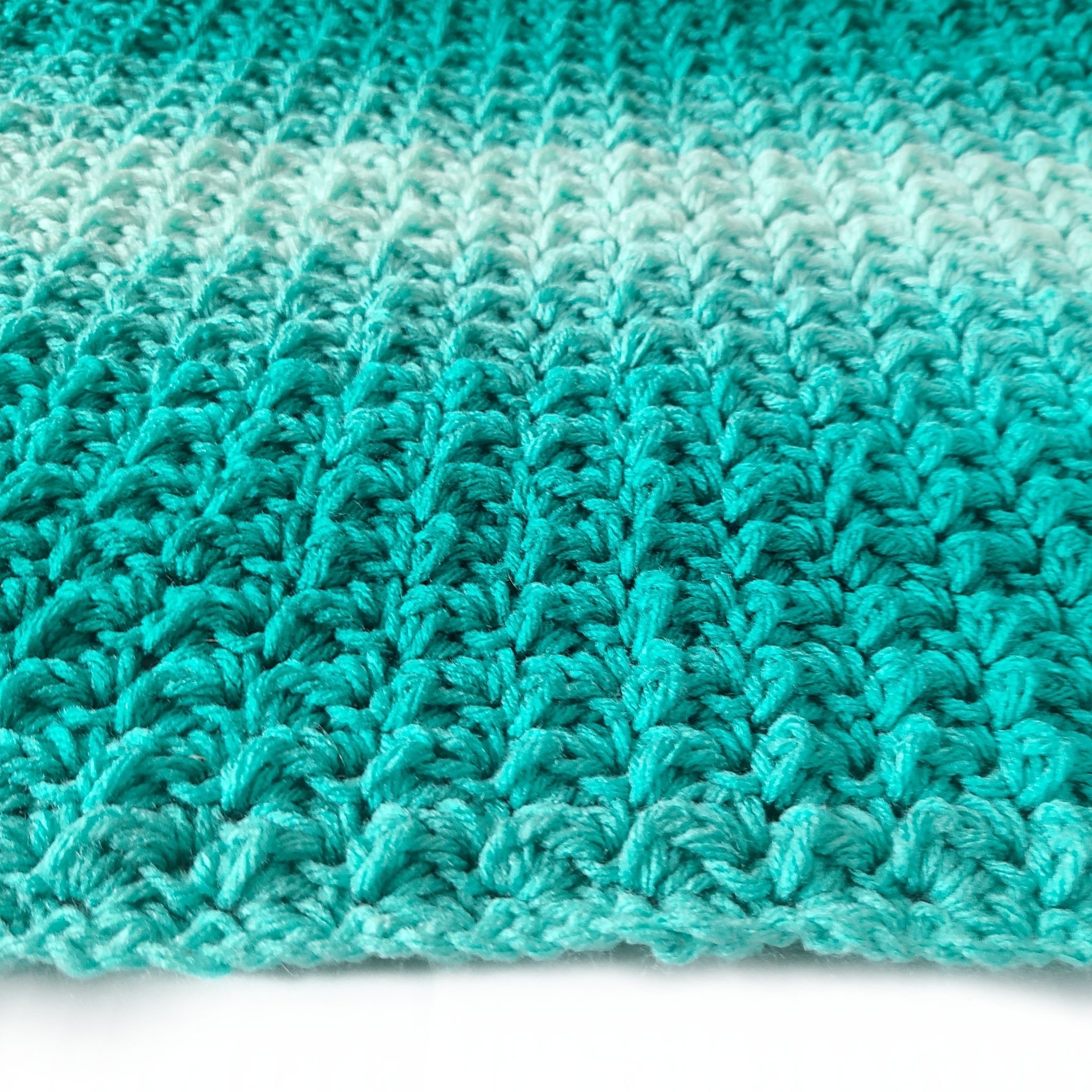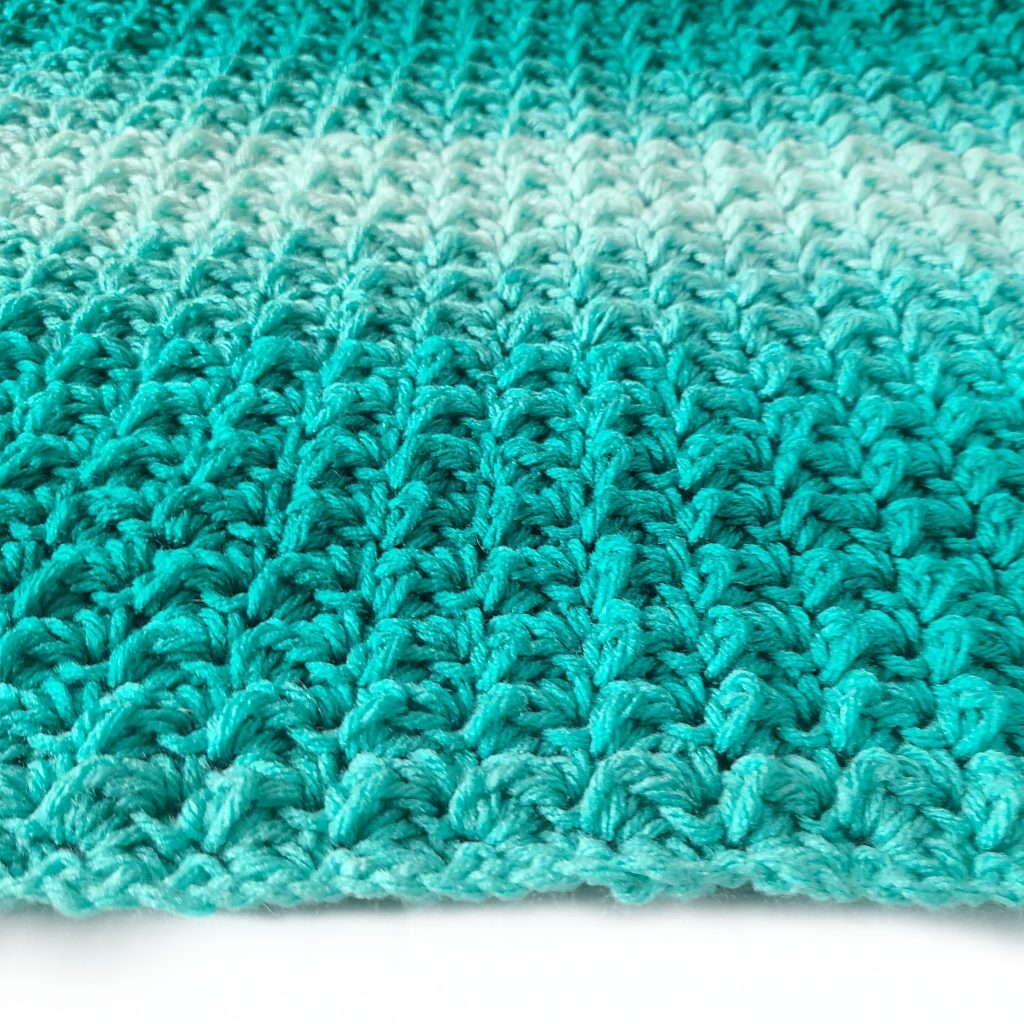 The Ombre Yarn
The whole blanket is worked up using Red Heart Super Saver Ombre yarn which is a four weight-100% acrylic yarn fiber that is quite inexpensive, easy to find and comes in a value size of 482 yards (441 meters). With that much yardage, you will quickly find out that you won't need a lot of it to make a blanket, no matter what size you pick below.
To make the same color blanket as mine you will want the color Spearmint which move from light greenish blue to dark a teal and back again. It's perfect because it means you don't have to switch colors, and you get that gradient ombre blanket look without changing yarn skeins. Take a look at it above, so you can see how pretty it is close up!
I also wanted to mention that this yarn is washable as well as dryer safe. It gets softer and softer with each wash, plus is durable, making it a great fiber for blankets that will be used frequently. You can learn more about different yarn types and decide which is best for you.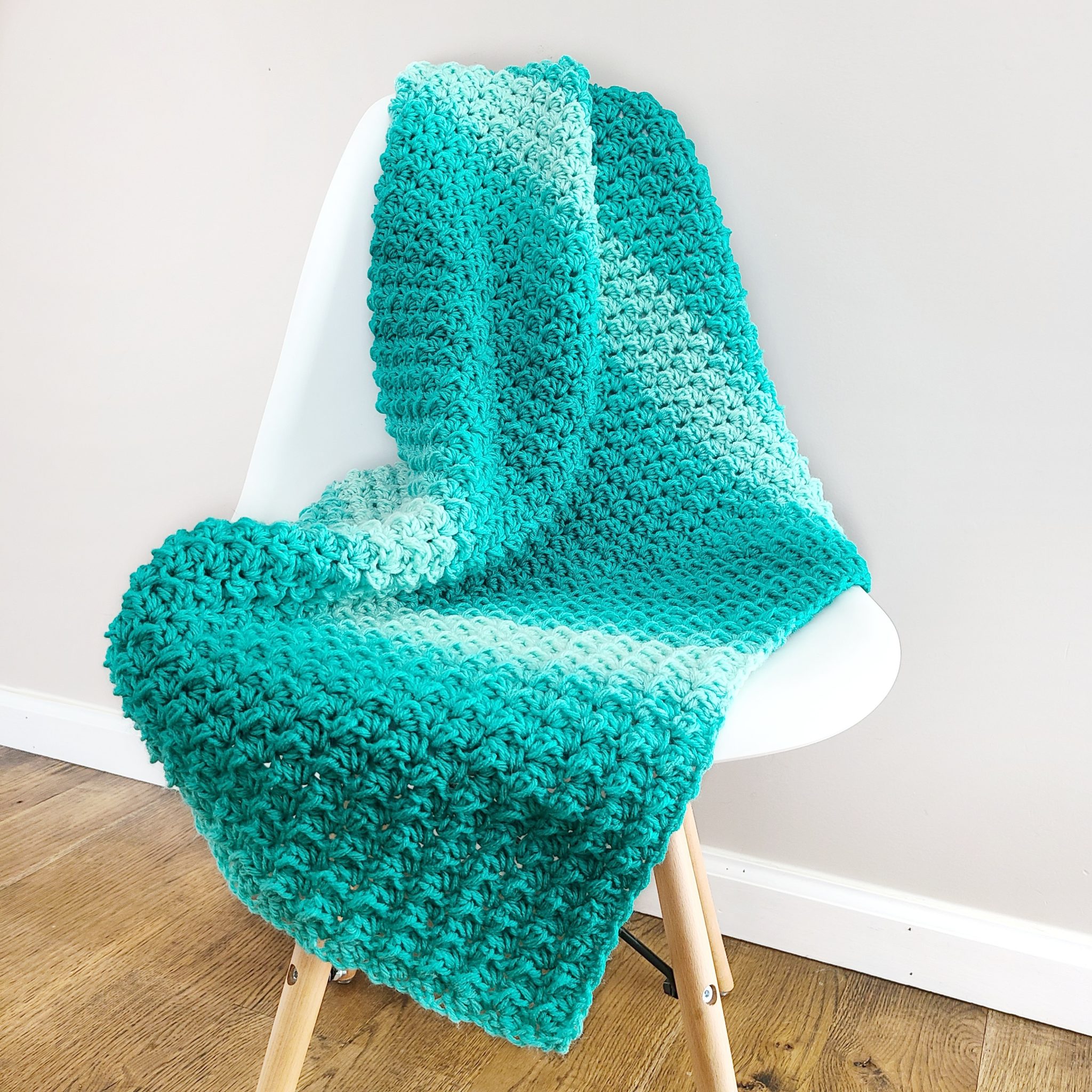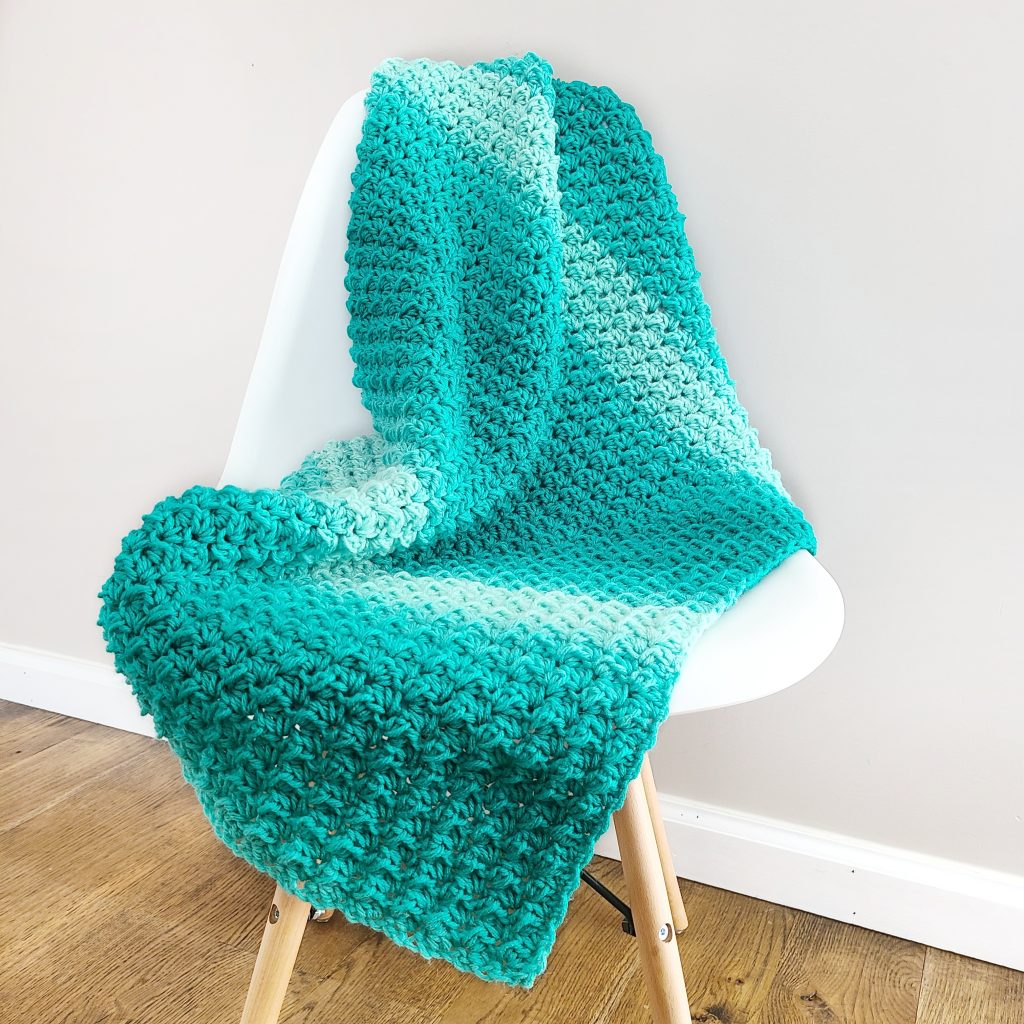 Are You Ready to Start Crocheting?
Now that you know about the stitches and the yarn, the only thing left is the pattern! I can honestly say that this is one of my favorite crochet blanket patterns for ombre yarn because of the texture!
Scroll on down to find the free blanket pattern here on the blog in eight sizes, or purchase the AD-FREE printable PDF in our shop for easy on the go crocheting.
Happy Blanket Making!
The Ombre Classic Crochet Blanket Pattern
Skill Level: Easy
Materials
Finished Size
Size shown is stroller – See size chart below for additional blanket sizes in lovey, baby, receiving, throw, twin, full, queen, and king
Gauge
8 rows x 12 sts = 3.5″ x 3.5″
Gauge Pattern: ch 12 and follow written pattern below
Crochet Stitch Abbreviations
hdc = half double crochet
ch = chain
sk = skip
sl st = slip stitch
rep = repeat
sc = single crochet
Notes
This pattern is written in standard US terms
Change blanket size by working in any multiple of 3
st counts at the end of the row = the starting ch
ch 1 counts as a st
The Blanket Pattern
Foundation Row: See chart below for starting chain of the blanket size you are making
Row 1: in the 3rd ch from the hook make 2 hdc's, * sk 2 ch's, in next ch do 1 sl st & 2 hdc's, rep from * across until you are left with 3 ch's, sk 2 ch's, sc in last ch, turn.
Row 2: ch 1 (counts as a sc) in the next st make 2 hdc's, *sk 2 st's, in the next st make 1 sl st & 2 hdc's, rep from * across until you are left with 3 st's, sk 2 st's, sc into the top of the turning ch, turn.
Row 3 – ? (See chart below for size being made): Rep row 2.
Finishing: Fasten off yarn and weave in loose ends with a yarn needle throughout the blanket.
Blanket Size Chart
| | Height | Width | Starting ch | Rows |
| --- | --- | --- | --- | --- |
| Lovey | 12 | 13 | 46 | 27 |
| Stroller | 35 | 32 | 109 | 80 |
| Receiving | 40 | 41 | 142 | 91 |
| Baby | 52 | 42 | 144 | 119 |
| Throw | 60 | 55 | 188 | 137 |
| Twin | 90 | 69 | 236 | 206 |
| Full/Queen | 90 | 92 | 317 | 206 |
| King | 108 | 111 | 380 | 247 |
Yardage & Total Skeins
Total skeins are calculated using Red Heart Super Saver Ombre 10 oz, 482 yard size. If you are using a different four weight yarn use yardage instead.
| | Total Yardage | Total Skeins |
| --- | --- | --- |
| Lovey | 157 | 1 |
| Stroller | 1097 | 3 |
| Receiving | 1627 | 4 |
| Baby | 2157 | 5 |
| Throw | 3230 | 7 |
| Twin | 6098 | 13 |
| Full/Queen | 8194 | 17 |
| King | 11785 | 25 |

Classic Crochet Blanket Video
Use the video below to learn the stitches you'll need to make this classic ombre blanket! ** If you have an ad-blocker on you may not be able to see the video.
Save to Crochet this Blanket Later
Use the images below to save to Pinterest, so you can make the ombre blanket whenever you'd like. Follow along with us, too, so you'll know every time we release a new crochet blanket pattern.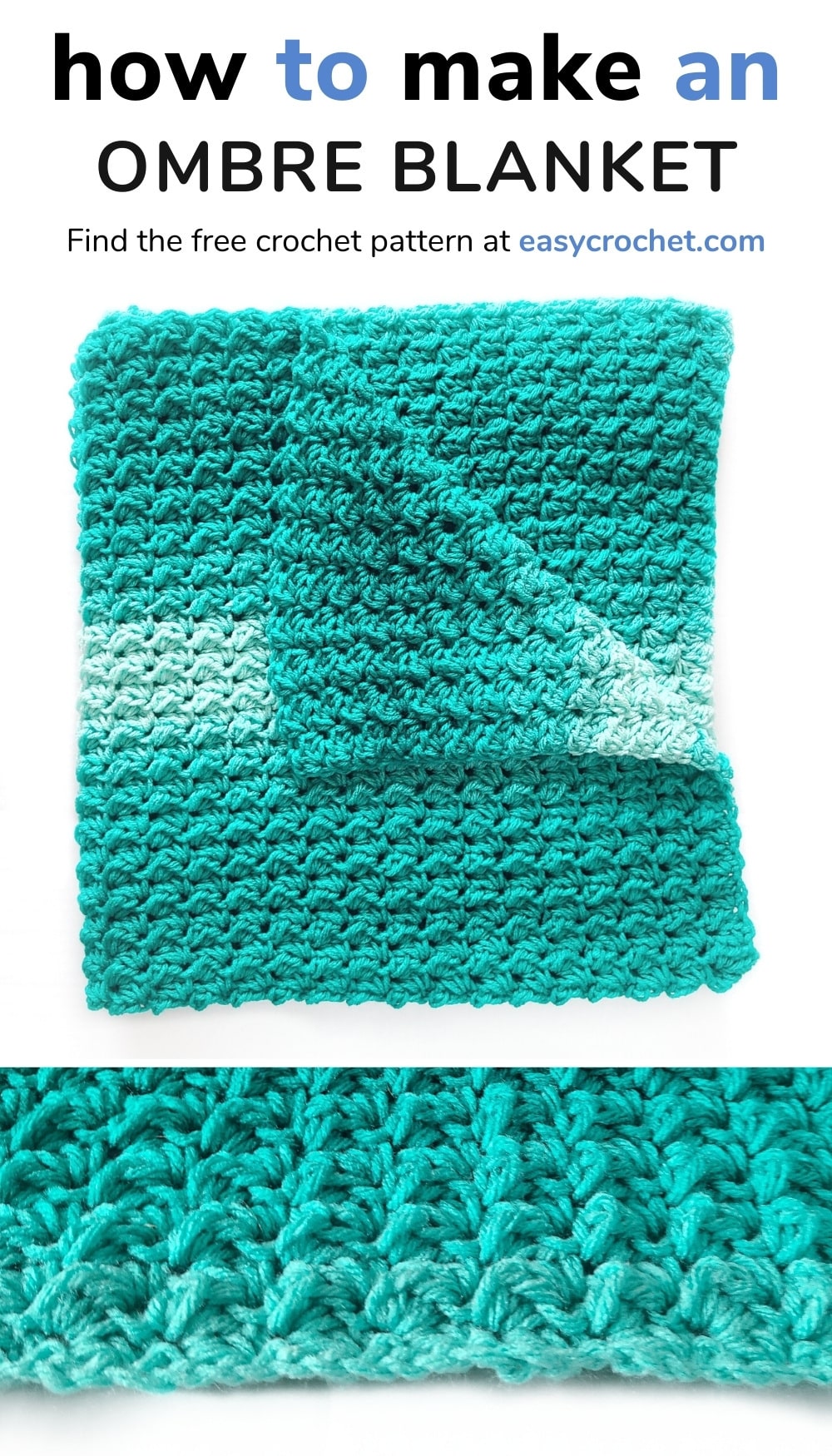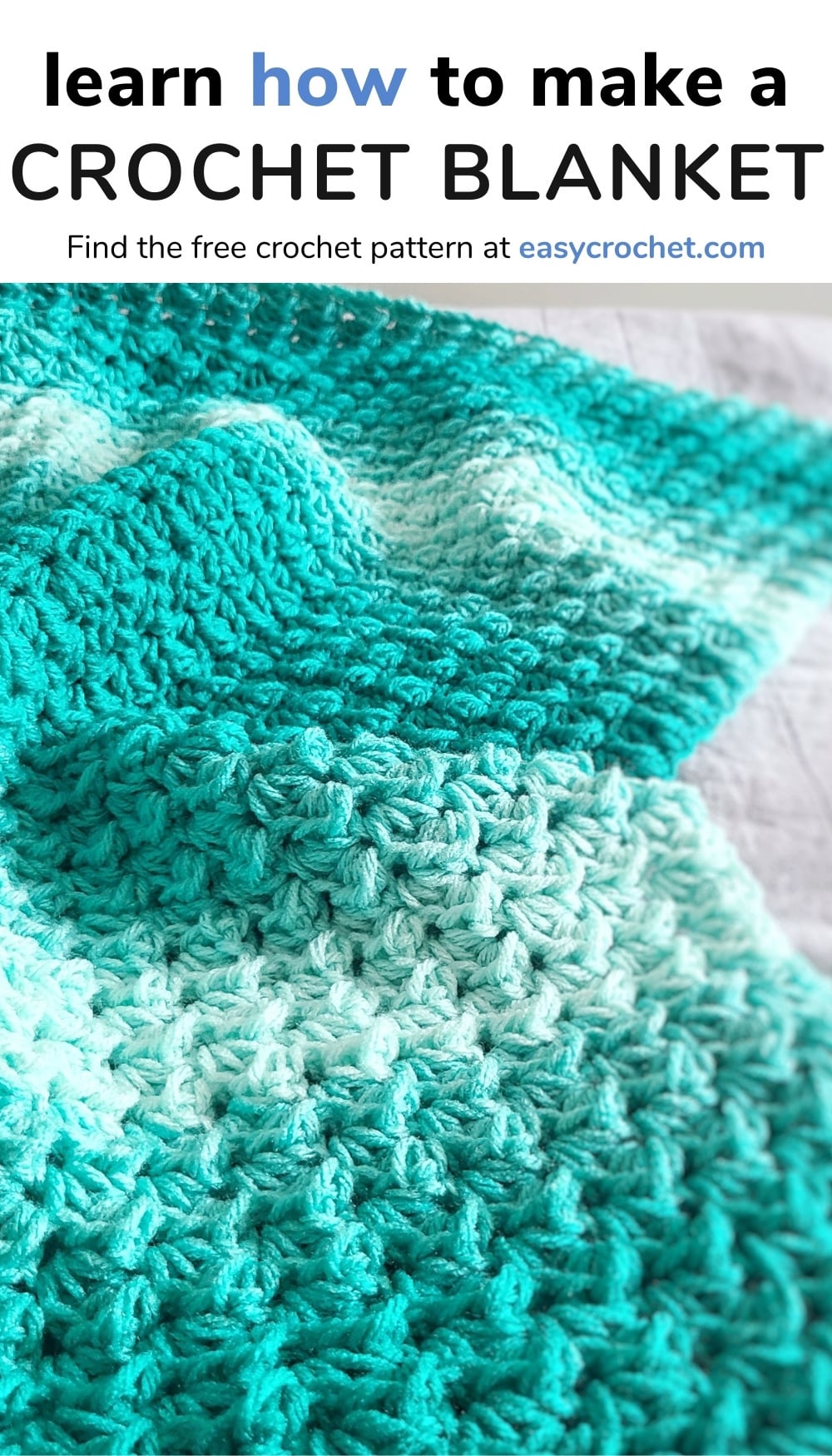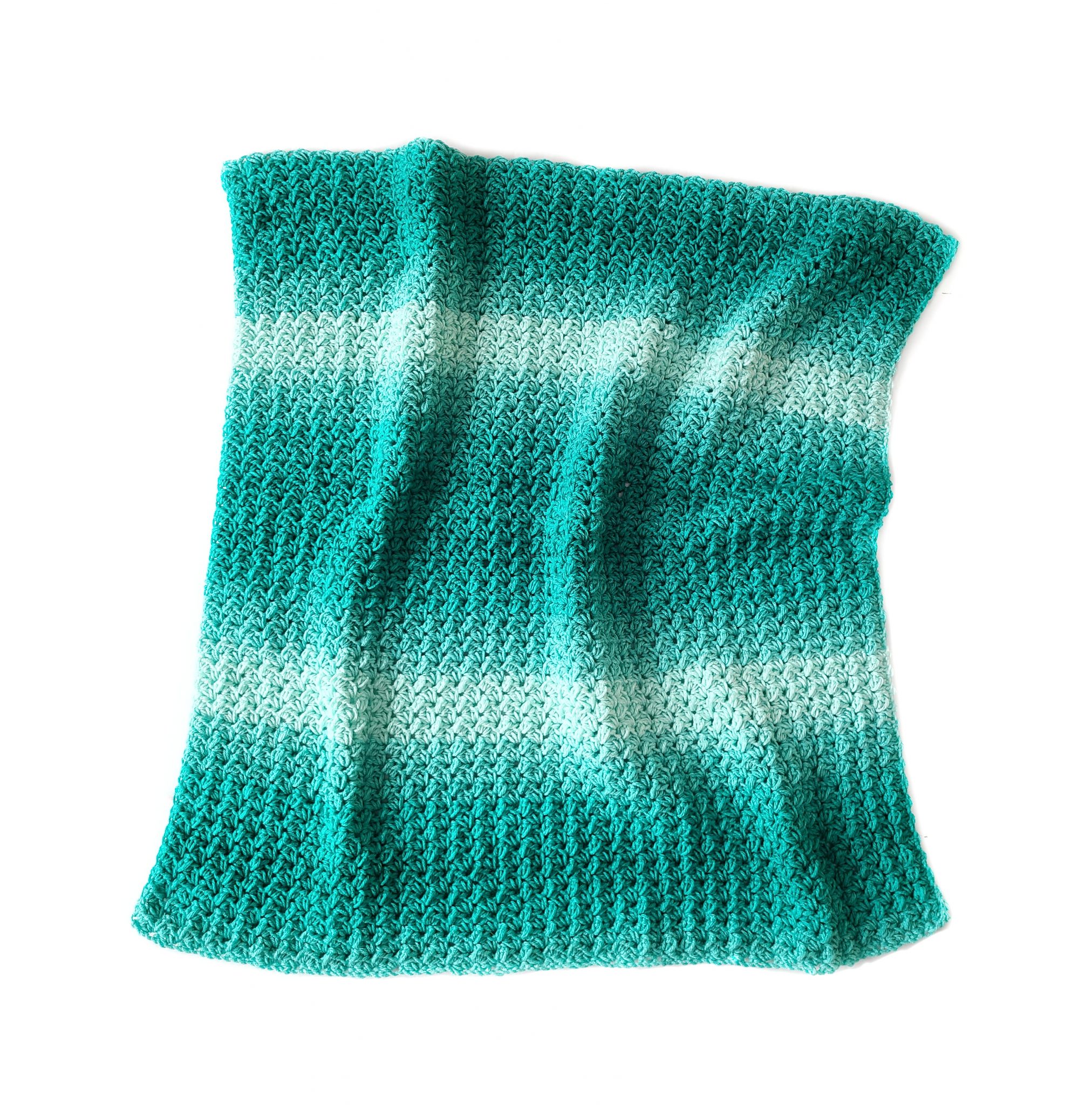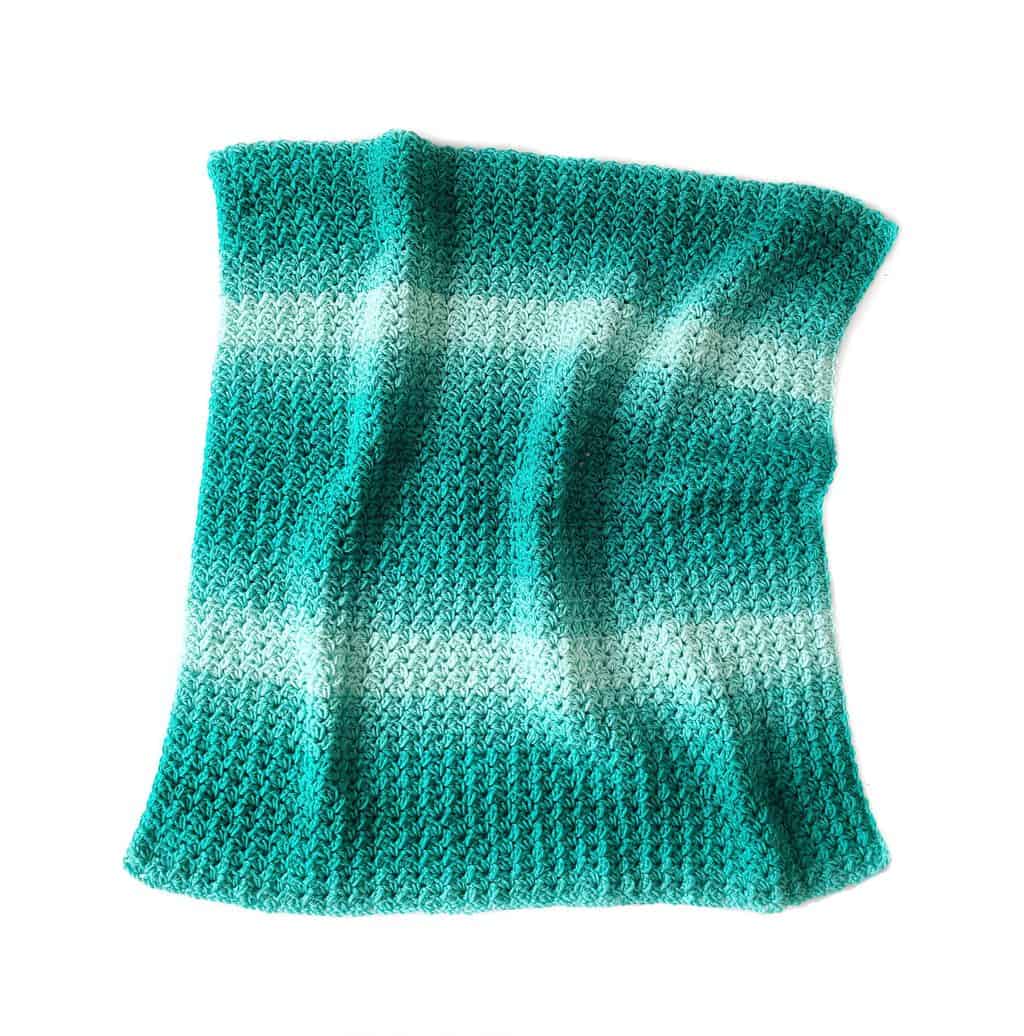 More Free Crochet Blanket Patterns
Take a look at a few of my favorite free crochet blankets here on the blog, so you can crochet throw blankets, baby blankets and more below.
Crochet Blankets
Baby Blankets