How to Decipher Crochet Slang!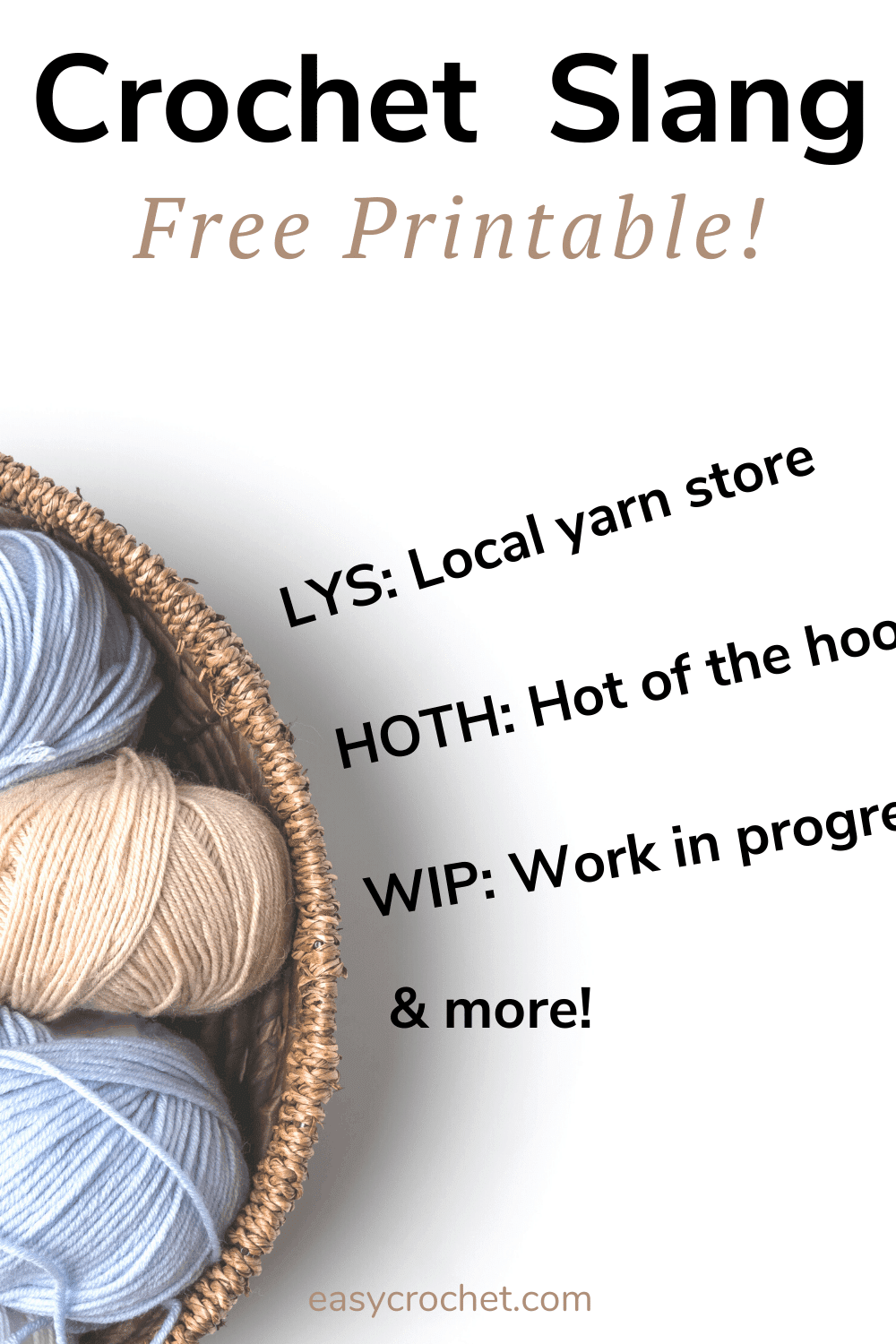 If you frequent crochet groups or blogs online, then you know that crocheters speak have a different kind of language! Keep on scrolling down to learn what HOTH, WIP & more mean!
For example: What is Frogging in Crochet? You might have heard the term "frogging" or "frog" before on a crochet page or forum. It has nothing to do with actual frogs, and actually means ripping out a crochet project with a mistake or there is a need to start over. It is called frogging because it reminds you of the sound a frog makes. Get it? Rip it? Ribbit?
Just like crochet abbreviations, crochet slang is another crochet language that you will want to learn to fully understand patterns and what exactly crocheters mean. Read on down to find the full list of crochet slang terminology and meanings!
Common Crochet Slang & Terms
Below are common crochet slang and unofficial abbreviations you may see throughout the crochet community.
Crochet Slang Abbreviations
AMI: Amigurumi – A small knitted or crocheted toy.
BISTITCHUAL: This is someone who both knits and crochets.
C2C: Corner-to-corner – These projects are worked diagonally and can use graphs to create images.
CAL: "Crochet Along"… when crocheters work on parts of a crochet project together as a group.
FO: Finished object
FOTH: A crochet project that is "fresh off the hook"
FREFORM (FREESTYLE or FREEHAND): Crocheting without a pattern, and just making it up as you go.
FROG or FROGGING: Ripped out stitches of a crochet project
FS: An item "For Sale"
HOOKER: One who crochets… with a hook
HOTH: A project that is hot off the hook
HSPY: Haven't started project yet
ISO: "In Search Of"… when you are looking for that perfect yarn or pattern.
JAYGO: Join as you go
LYS: Local yarn store
NCR: Not crochet related
OCD: Obsessive crocheting disorder
PAT: Crochet Pattern
PHD: Project half done
PIW: "Project in waiting"… one that hasn't been started yet.
STASH: All your yarn, a yarn pile or accumulation of so much yarn.
STASHBUSTER: A project that uses up leftover yarn.
TIA: "Thanks in advance"… when you ask a question about yarn or a pattern and want to say thanks in advance.
UFO: Unfinished project
USO: Unstarted object, same as a PIW
WIP: "Work in Progress"… the crochet project you are currently working on.
YARN BARF: The mess that comes out of the middle of yarn ball when you try to pull the center strand out.
YARN BOMB: A decorative yarn piece that is crocheted or knit and placed in public
YARN CHICKEN: Trying to finish a row or a whole project without running out of yarn.
YARN CAKE: When you rewind a skein of yarn using a yarn winder.
YARN VOMIT: See the definition for yarn barf
YARNIE: Someone who loves to crochet or knit with yarn.
What is Your Favorite Crochet Lingo?
I hope you enjoyed this list of popular crochet slang terms! If you can think of any I didn't mention above, be sure to let me know in the comments or over in the Easy Crochet Facebook Group and be sure to tell me your favorite too!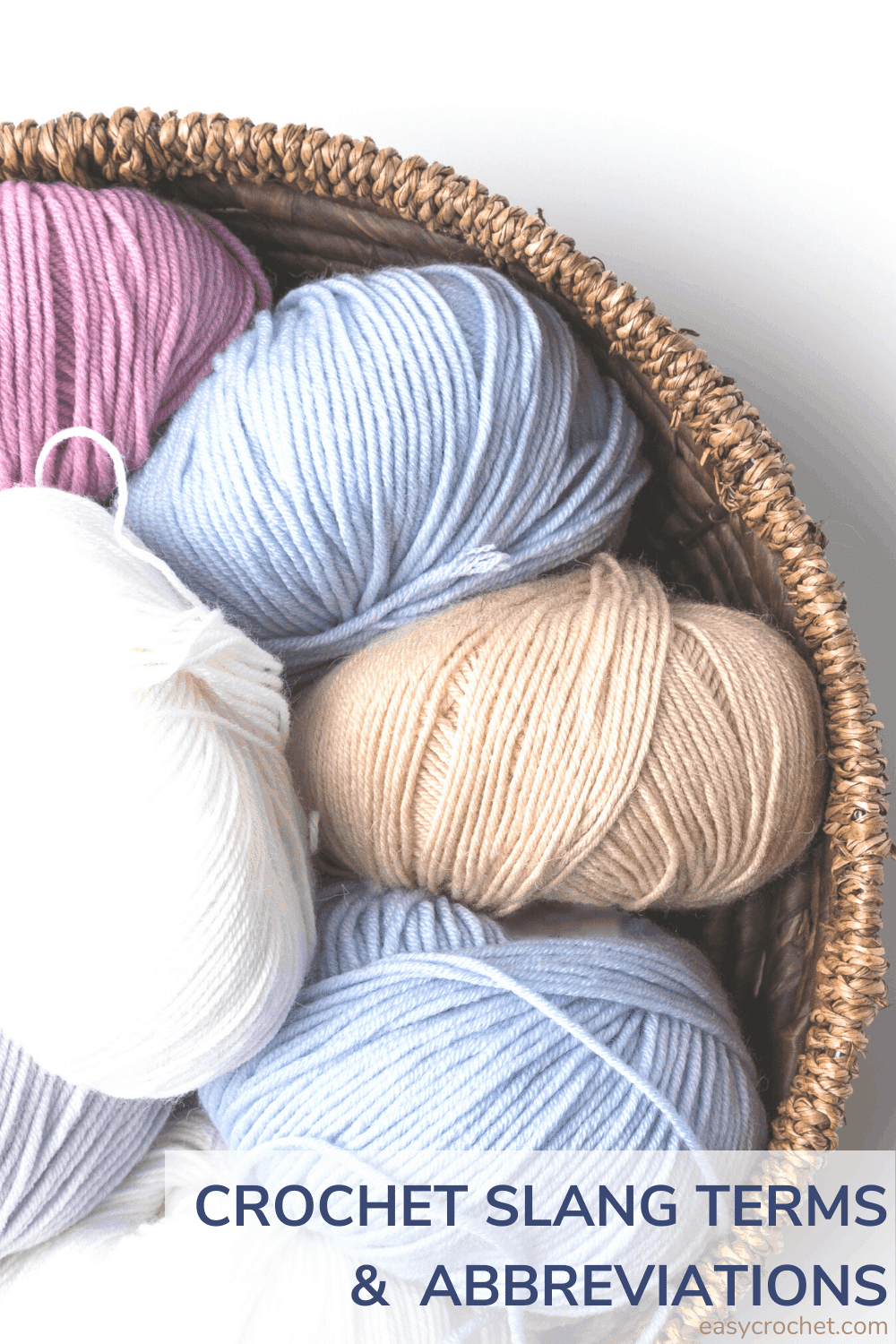 Free Crochet Patterns To Make