Every crocheter (and knitter) knows that collecting yarn is a big part of the thrill of being a fiber artist! With so many brands, colors, and weights of yarn out there, it can be hard to limit yourself.
I picked out a few of my favorites below to try to make your choice a little easier! Have fun!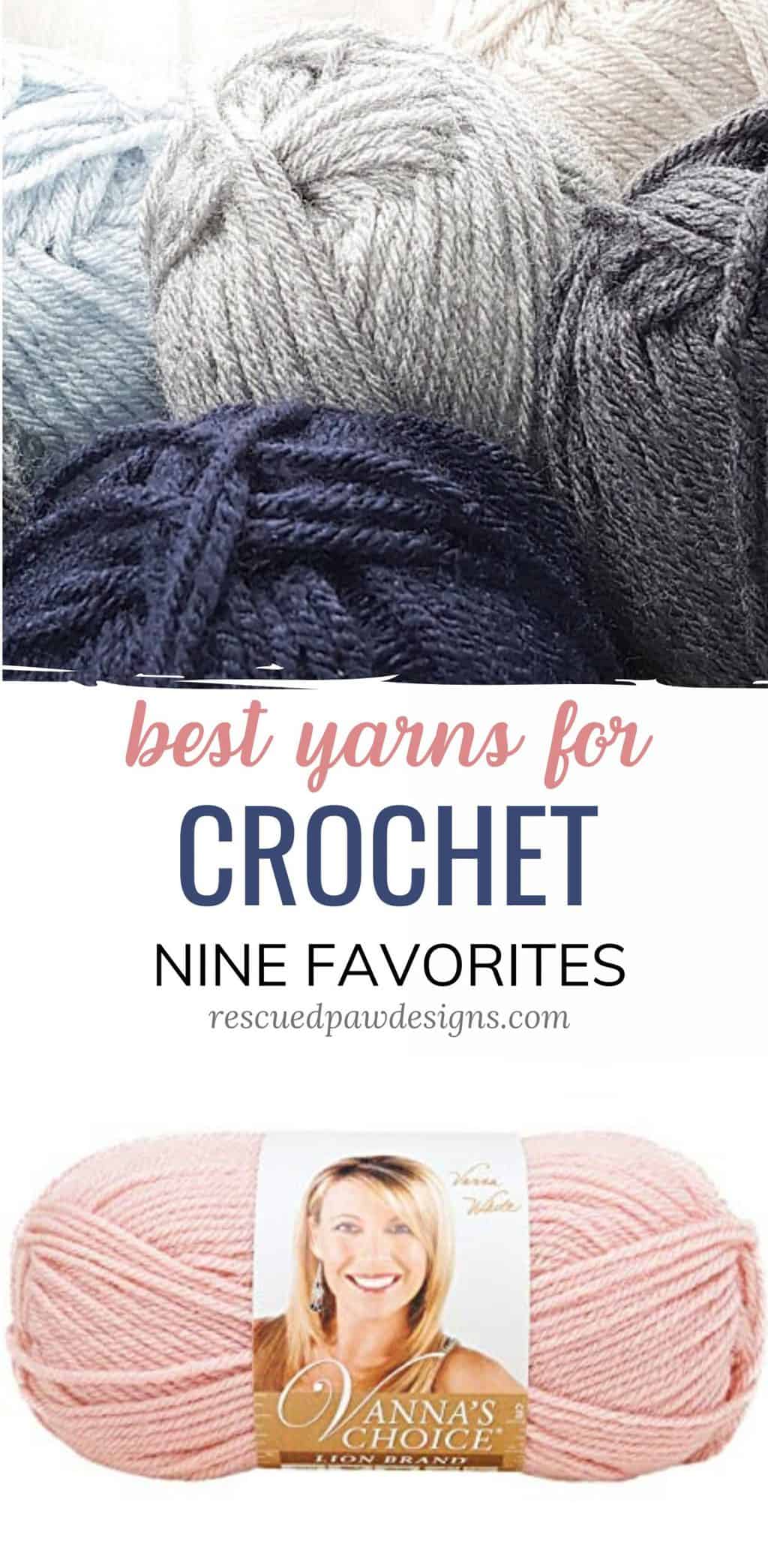 I hope you enjoy this list!
Happy Yarn Looking!
What Yarn Should I Choose?
The three most common choices for yarns when someone is first learning to crochet are wool, acrylic, and cotton. Most are affordable and easy to find at craft stores, yarn stores, and online at places like Amazon.
I will break down the list below into the three yarn type categories I mentioned above Wool, Arcylic, and Cotton (all great for beginners FYI) for easy reference and to hopefully make your choice of yarn a simple one!
Share Your Favorite Yarns With Me
I can't wait to help you out a bit by telling you about my NINE FAVORITE yarns to use for patterns and other projects. If you have a yarn that is a must-use please let me know about it in the Easy Crochet Facebook group. Join in on the fun now.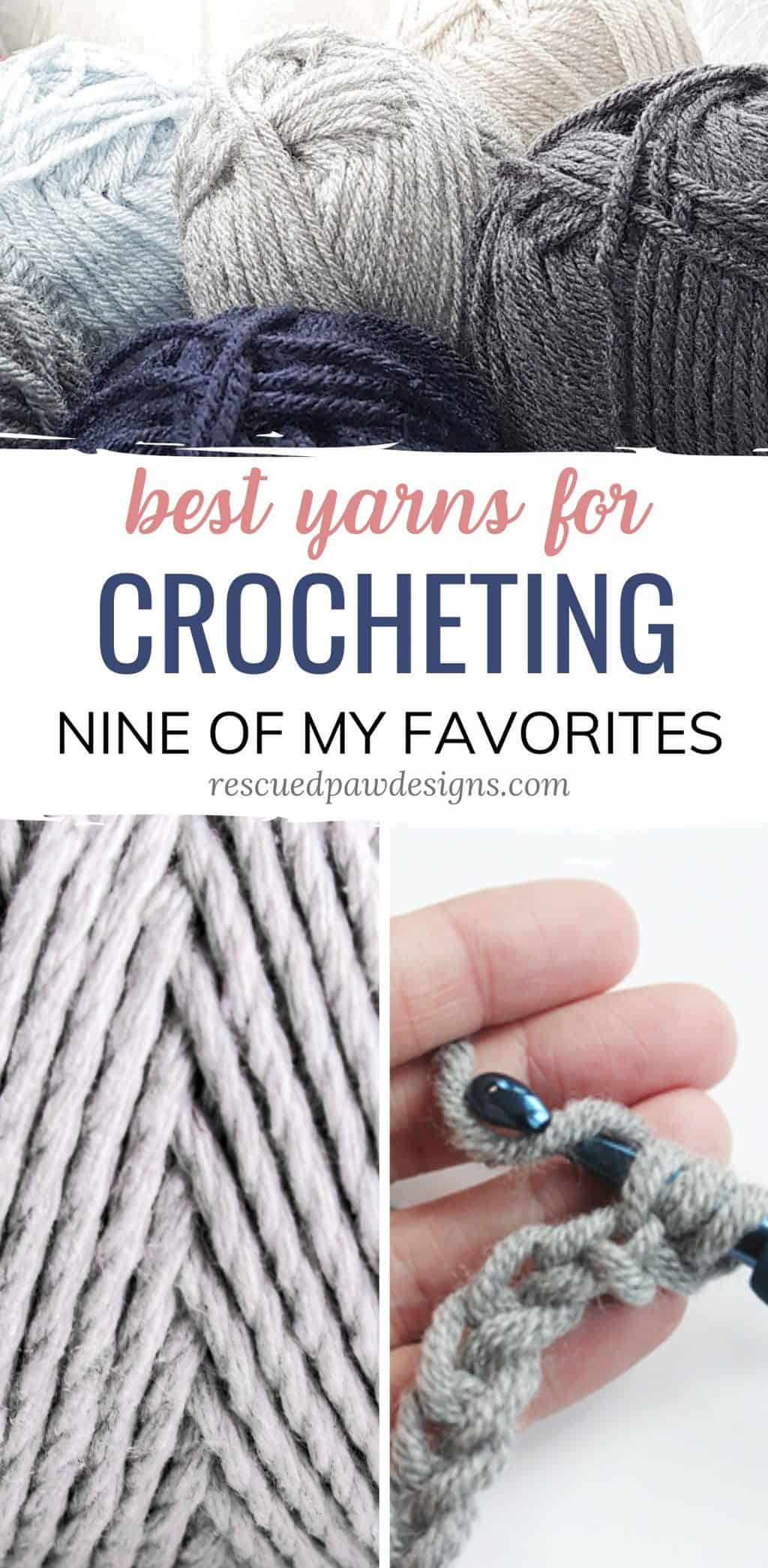 My Favorite Yarns to Crochet and Design With
---
Best Wool Yarn for Crochet
* The list includes wool & wool blend yarns
---
Lion Brand Wool-Ease Thick & Quick – This 20% wool yarn is a great one to try because it is bulky and works up fast. I used it when I designed the Jane crochet blanket a couple of years ago, which is a quick project if you are looking for one. 😉 Take a look at the Jane.
Red Heart Chic Sheep Wool by Marly Bird – You will love this 100% merino wool yarn that is exceptionally soft and cozy. Pick from over 24 beautiful colors and have fun creating. Shop now.
Lion Brand Scarfie Yarn – If you hate weaving in ends, you'll LOVE this 22% wool scarfie yarn! You will only need one skein to work up a crochet scarf! Or you can use it to create some home decor wall hangings as Lindsey did in this Easy Crochet guest post. Read the post.
---
Best Acrylic Yarns for Crochet
---
Red Heart Soft Yarn – This fiber, as the name suggests, is a SOFT yarn that is easy to use to crochet patterns. You can pick from over 40 different colors that are a mix of solids and variegated looks. I used RHS to create my son's favorite blanket a few years ago, which you can find on the blog. Take a look.
Lion Brand Vanna's Choice – When it comes to this yarn, I am a little biased. I LOVE it. LOVE LOVE LOVE it! It washes up beautifully and holds up to wear. I have three children, so when I make them something, this is my go-to yarn! If you'd like to see a few things I've made on the blog, be sure to check them out here.
Lion Brand Yarn Hometown – Chunky yarns are fantastic to work with, and this yarn is no exception! It is a 100% acrylic super bulky six yarn made in the USA. The name of each colorway is a city in the United States, which makes it even more special. If you'd like to see a pattern with this yarn used in it, then check out the Easy Crochet chunky throw blanket on the blog. Take a look.
Caron Cupcakes Yarn – If bright, fun colors are your jam, then you'll enjoy cupcakes yarn! You can make one hat with this yarn, and it also includes a pom-pom to add later. I designed a colorful hat "The Simply Sweet Beanie" for the blog you may like to try with it. Take a look at the pattern.
---
Best Cotton Yarns for Crochet
---
Lily's Sugar N' Cream Yarn – I tend to ALWAYS grab for this yarn whenever I am out yarn shopping because of the colors that are available and how inexpensive it is! You can create dishcloths, washcloths, and bags with it for such a low price. I designed a beach tote with it, and we still use it to this day. Check out the pattern.
Lion Brand Re-Up Yarn – This planet-friendly cotton yarn saves over 1,400 liters of water for every 70 grams! The colors it is available in are just as amazing and perfect for your next cotton project. If you'd like some inspiration, take a look at the spiked stitch dishcloth that I designed for the blog. Get the pattern.
---
That's It!
I hope you enjoyed this list of my favorite yarns! If you'd like to find some patterns to use them with, then search through the Easy Crochet crochet pattern archives!
Happy Crocheting!
You May Also Enjoy These Free Crochet Patterns