How to Read Yarn Labels for Beginners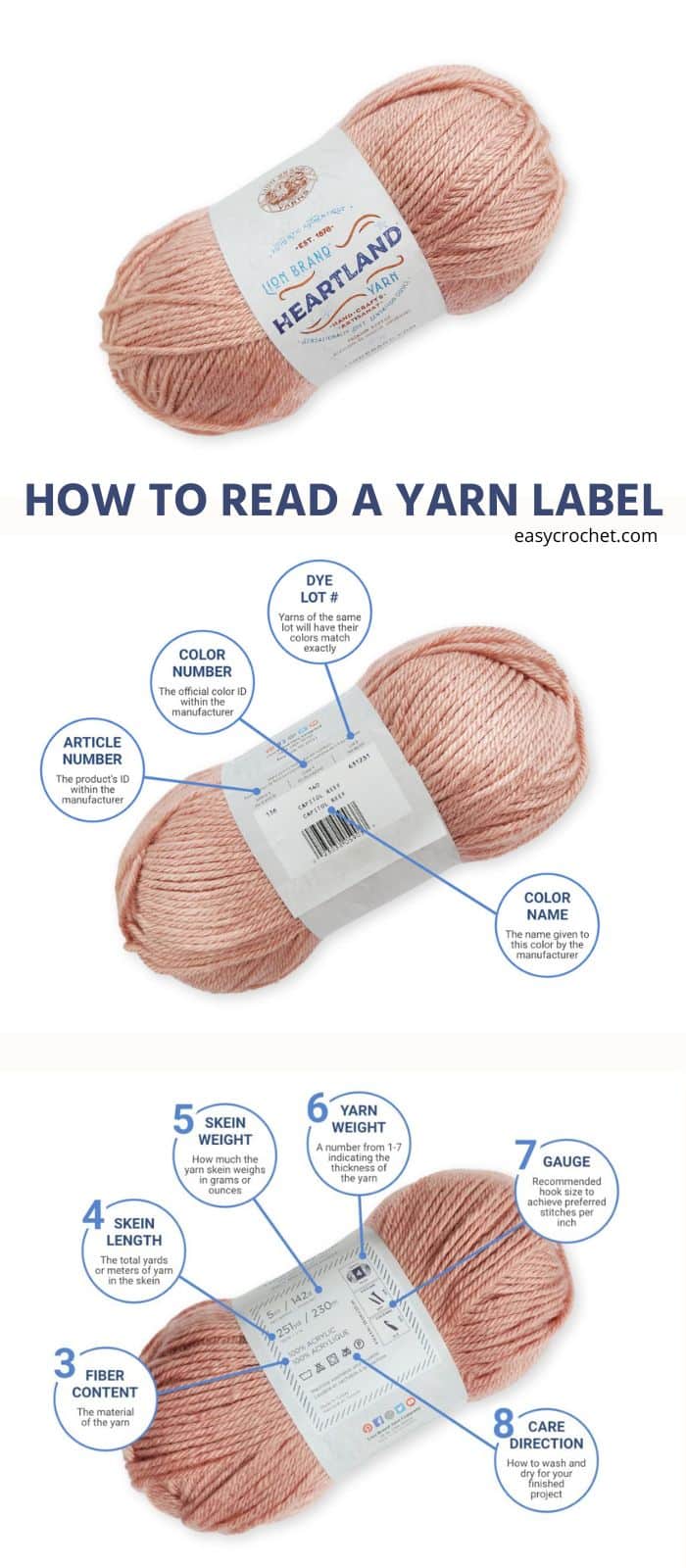 When buying yarn, there are several things to keep in mind. First, you probably have a specific design, color, or fiber content for your upcoming major project.
Understanding how to read a yarn label can also help you decide on what yarn to buy and if it would work for your project. There is a vast variety of wool, each with its fibers, hues, thicknesses, and textures to pick from, so knowing how to read a yarn label is a must.
What Is On A Yarn Label?
Ball bands, also called yarn labels, will provide information for your crochet and knitting projects.
Fiber content, (wool, acrylic, cotton, etc.)
What size crochet hook or size knitting needles to use
Yarn weight category (light #3, medium #4, bulky #5, super bulky #6, etc.)
Yarn length in yards or meters
Care for the laundry
The color name and dye lot number
Gauge swatch information for crocheting and knitting
How to Read a Yarn Labels and Symbols
Choosing the correct yarn is important because each knitting or crochet pattern uses different kinds. Therefore, you should be familiar with many key components that comprise a skein of yarn's label.
The following tutorial will lead you through each component step by step on reading yarn labels and explain where you can get the information you need.
Keep in mind that different yarn labels will show all the components below or a select few.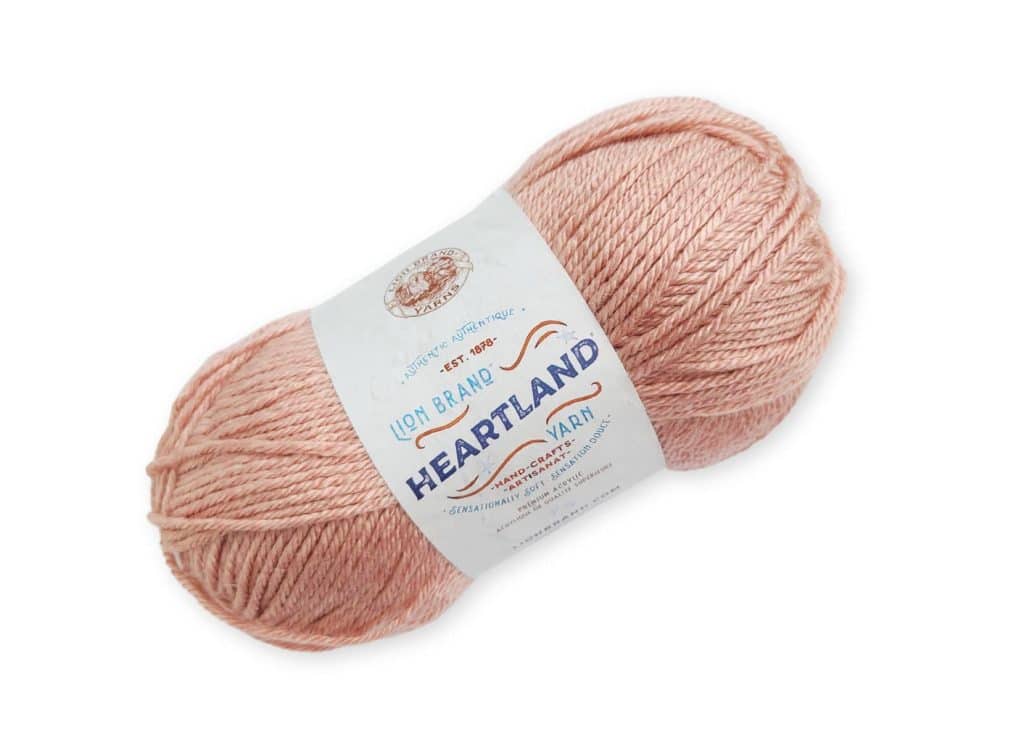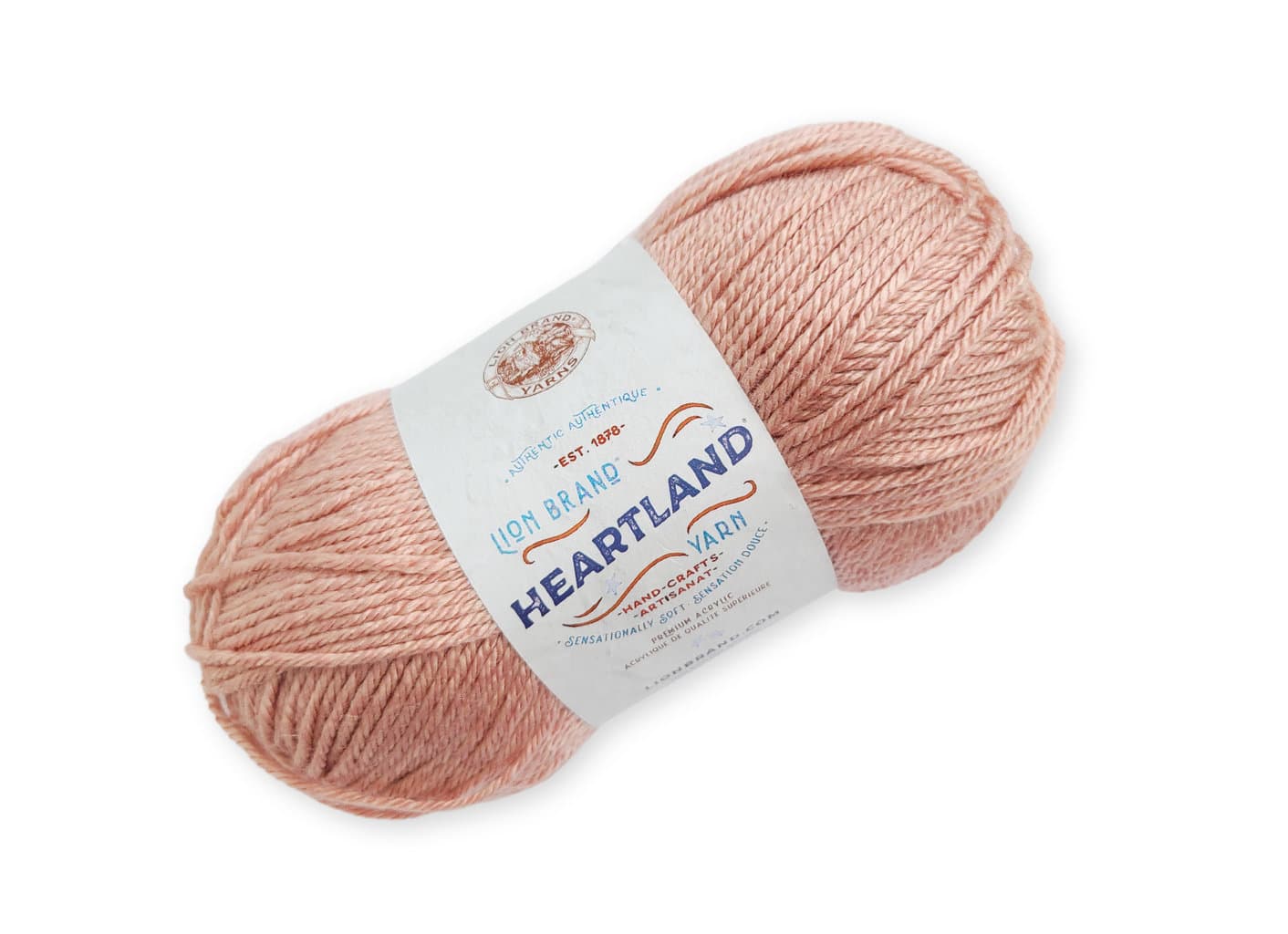 1. Brand & Yarn Name
The name of the yarn brand will be the first thing you see because it is usually the most prominent word on the label. Almost every yarn will have its brand, or manufacturer, as well as the name for this specific type of yarn. In this case, we are looking at Lion Brand as the brand and Heartland as the yarn name.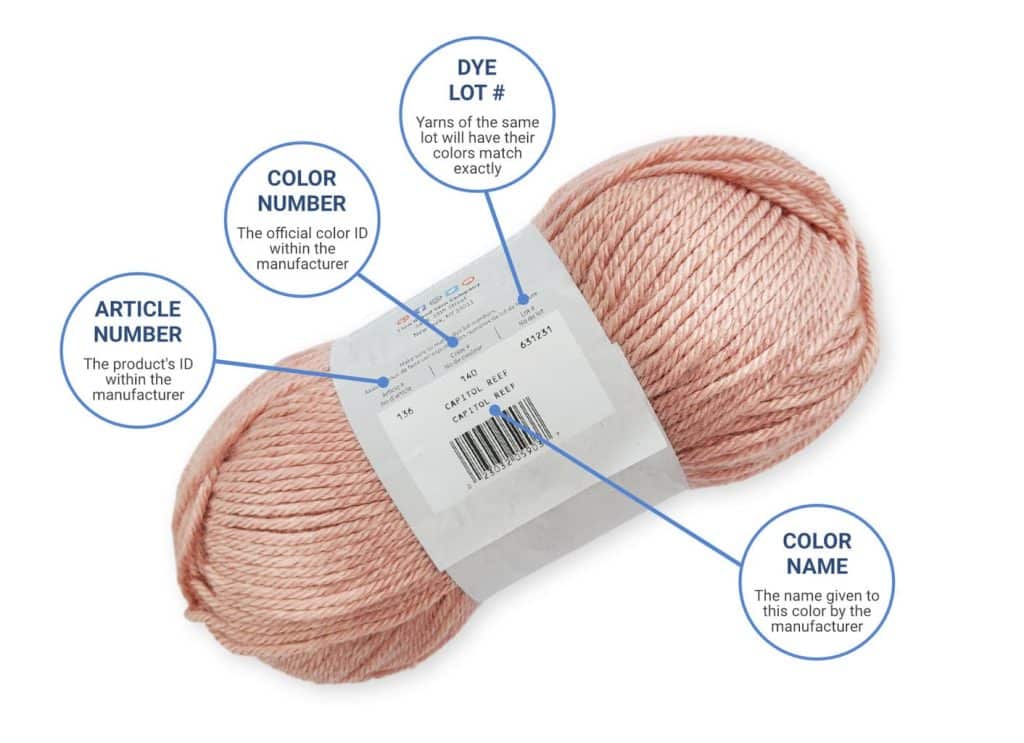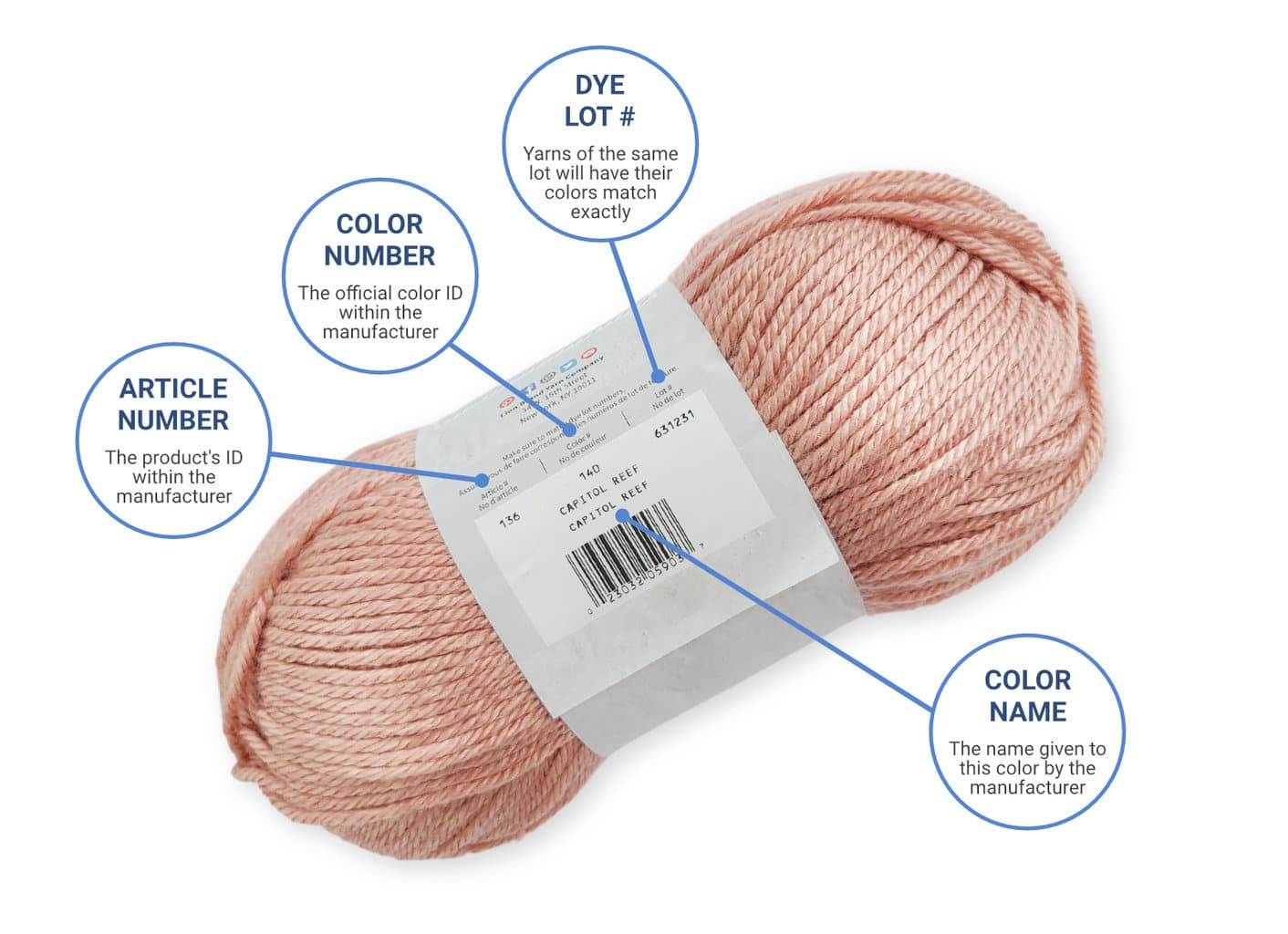 2. Color Name, Number, and Dye Lot
The color of the yarn, article number, color number, and the dye lot will be on the label. Tip: Do not ignore the dye lot!
The color of the yarn is the name found on the label. For, example, the image shows the yarn color to be "Capital Reef" and it also has as color number of 140.
The article number (art) is a code the manufacturer uses to keep track of different products they make. Not every yarn label will have an article number on it.
The dye lot is a unique identifier for each batch of colored yarn. In theory, various batches of dye can give slightly varying shades or hues of color. Therefore, using the same yarn from a dye lot is essential if you want to use more than one skein in your project. This results in the same yarn from the same brand in the same color looking slightly different.
Selecting yarn skeins from all the same dye lot will guarantee that the yarn's colors are constant. In addition, doing it in this manner ensures that all your wool will match perfectly.
You might need this information if you ever need to buy more yarn of a similar color and dye lot. Alternatively, you may seek it under the category "Batch Number," which is another term for "Dye Lot Number."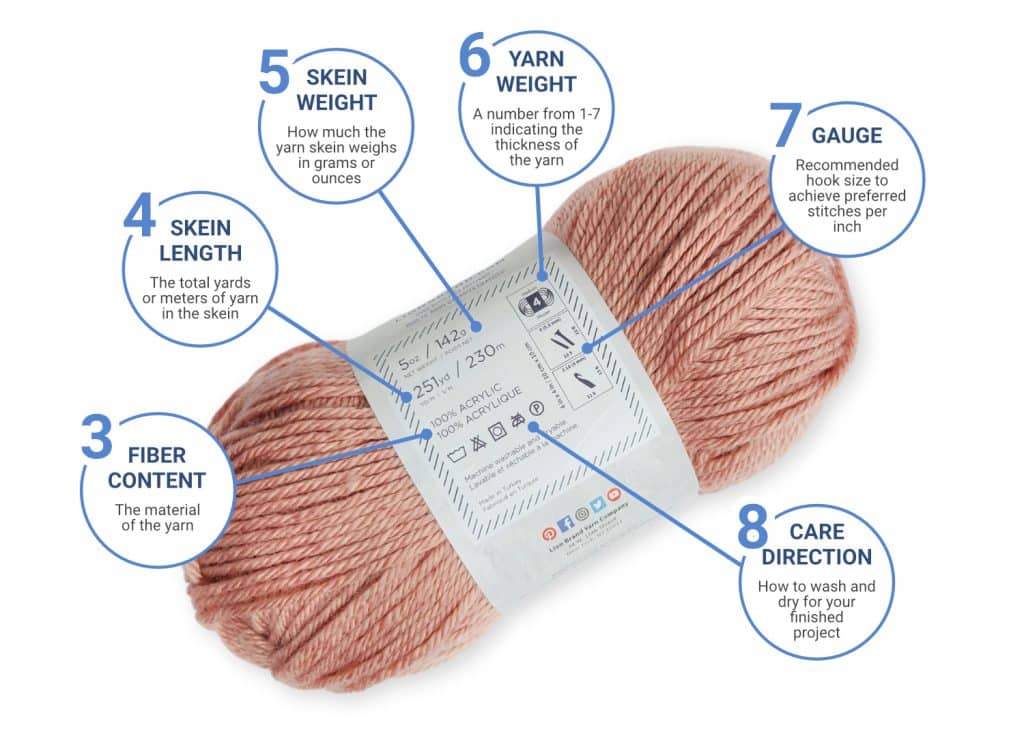 3. The Yarn Fiber Content
On the yarn label, you will find information on the yarn's fiber in this section. Looking at the fiber makeup, you may sense how the fiber will feel and perform.
Not all yarn is suitable for every project, and every fiber behaves differently. Wool yarn, for example, is both insulating and durable, but should not be used for anything that should be lightweight.
Typical contents of yarn skeins are either exclusively one type of fiber (i.e. 100% cotton), or a blend of a couple of different ones (i.e. 75% cotton, 25% acrylic).
Furthermore, yarns labeled "superwash" have been treated to special processing to make them acceptable for machine washing.
Finally, the type of fiber in the thread you knit or crochet is one of the most crucial aspects in determining how soft the finished product will be.
4. The Skein's Yarn Length (yards or meters)
You can see the yards and meters of the yarn next to the weight. This number will tell you how long this particular skein of yarn is.
Most good patterns will include a section about how much yarn is needed to complete them. You can use this part of the label to determine how many skeins you'll need to complete it.
However, beware trusting those pattern suggested lengths blindly. Gauge, weight, product type, stitch, crochet hooks, knitting needles and your personal tension can all factor into how much yarn you'll actually need while knitting or crocheting.
5. The Skein's Weight (grams or ounces)
The actual weight of the total skein will usually be shown in ounces and in grams on the yarn label. This is the total weight of the physical skein, cake, or ball of yarn.
Therefore, make sure you have enough yarn for your project by comparing the ball's weight to the weight specified in the design. You will find the yarn weight listed on the label most of the time.
6. The Yarn Weight

In the case of a particular pattern, for example, a specific weight of yarn is likely to be required.
The Craft Yarn Council designed the eight yarn weight categories, and each of the yarn weights has a name and symbol that connect to the other. On most labels, this symbol appears towards the top of the brand, right next to the information about the gauge, knitting needle size, and crochet hook size recommendations, as well as yarn care instructions.
So, for example, while the Lace Weight category, number 0, comprises the thinnest yarns, Jumbo, number 7, contains the thickest.
The following are the eight types of yarn weight:
If you want to start knitting or crocheting, it will be good to begin with a 4 yarn weight or 5 yarn weight category because of the ease with which it is handled.
7. The Swatch Gauge

You'll also see the gauge swatch size listed on the yarn label. The gauge information is the most confusing component of a yarn label for beginners.
The suggested gauge swatch's width and height will be by a number found above or below the gauge squares. It's usually 4 inches wide and 4 inches high (10 by 10 cm). Having a good grasp of your gauge is vital since it will decide the final size of your finished product. Your project will be too big if your gauge is too loose. Your completed product will be too small if your gauge is too tight.
The suggested gauge on the label is just that: a suggestion. Think of it as a rough estimation of what the preferred gauge is for this particular yarn. Your project may require something a little different, or your individual tension may cause it to be either smaller or larger.
One set of numbers on the gauge icon show how many stitches and rows that can be worked into the gauge swatch. The others denote the suggested needle or hook size for a specific yarn.
Needle Sizes
On each yarn label, you'll typically find two swatches: one for crochet, and the other for knitting. Crochet swatches will recommend a hook size, while the knitting gauge recommends a knitting needle size.
However, the recommended hook and needle sizes are just that: a suggestion. You can use different size needles to create a more open or thick fabric. Your gauge will also change depending on the design you are working with and the needles you are using.
Uncertainty can be alleviated using the pattern's instructions to build a gauge swatch. To find the suggested knitting needle sizes and crochet hook size for a particular yarn, look for it in the area that tells you about its gauge.
8. Care Instructions

The yarn label will have cleaning recommendations. Washing and drying your completed product in the correct way is essential if you want it to retain its beauty for many years. For the most part, wool yarns should only be hand cleaned or hand washed; do not put them in your washer or dryer unless necessary. On the other hand, cotton yarn is easy to take care of since it is machine washable and dryable.
Make sure your recipient knows how to properly care for the item by including the yarn's care instructions when you give it as a gift. Laundry symbols may also appear on some product labels.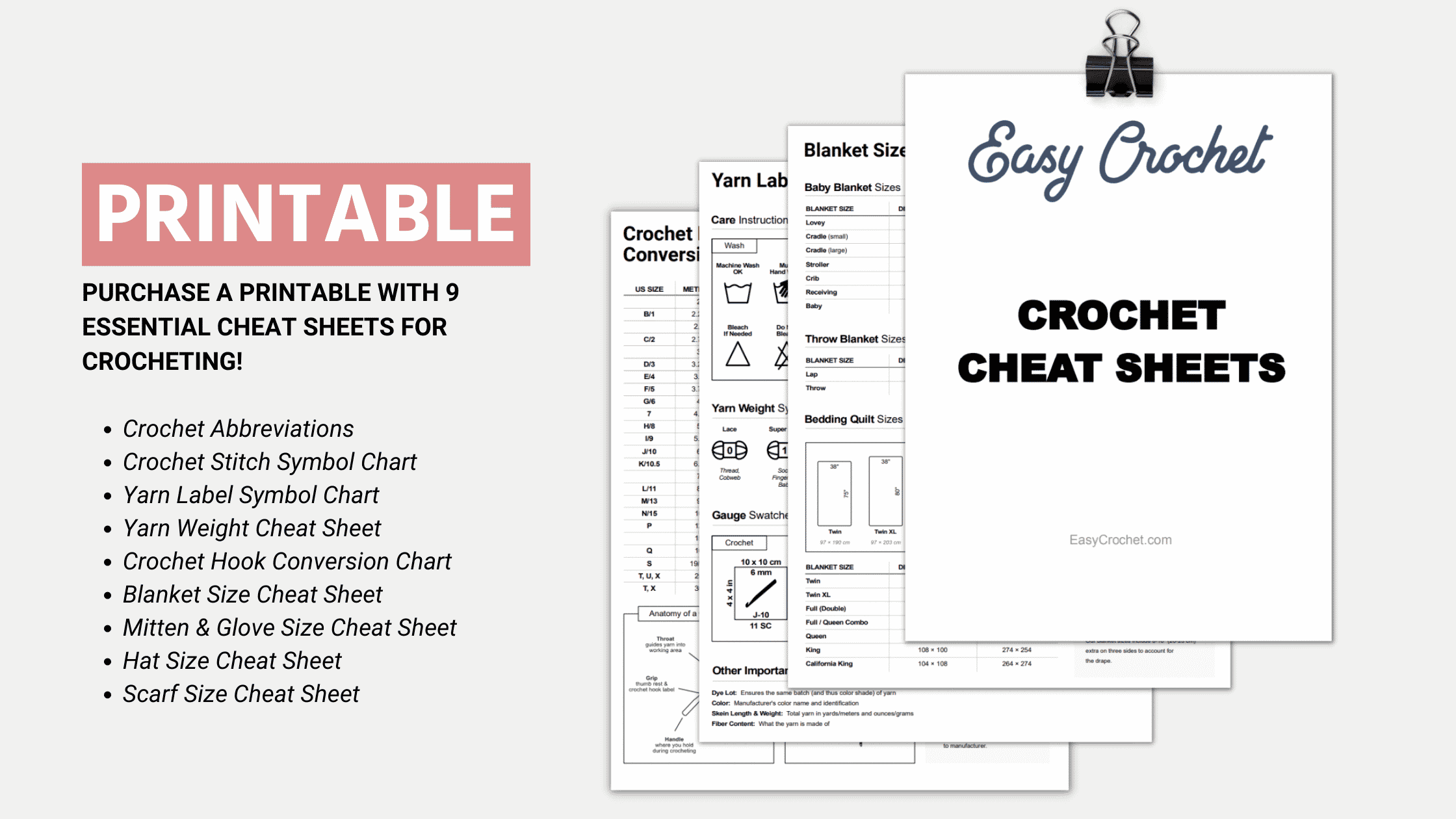 Common Questions about Yarn Labels
Do You Need To Keep Your Yarn Labels?
What should you do with the labels on the skeins once you've chosen your yarn? Mixing up the skein of yarn is easy, especially if you have a lot of wool on hand. However, if you keep the yarn labels, you will always have access to vital information about your yarn. Furthermore, some yarn companies also include a free pattern on the label of the wool they sell.
What is the Best Way to Store Yarn Labels?
There are different ways to save your labels. Some people like to keep their brands, as well as their project notes and sketches, in a notebook or binder. On the other hand, some people find it more practical to attach the labels to the gauge swatch they made at the start of their project.
What is the Best Yarn Weight for Beginners?
The best yarn weight for beginners is a four weight yarn or five weight yarn. This yarn weight is easy to find and is the easiest to work with when you are first starting to learn how to crochet.
What do the Numbers on a Yarn Label Mean?
The numbers (between zero and six) indicate the yarn's thickness. The number 4, for example, signifies the yarn is a medium weight yarn.
Conclusion
Buying yarn requires some consideration. First, select the pattern, color, and wool for your next project. Wool fibers, hues, textures, and thicknesses vary. Knowing how to read yarn labels will help with purchases and make sure you make the best choice of yarn for your pattern.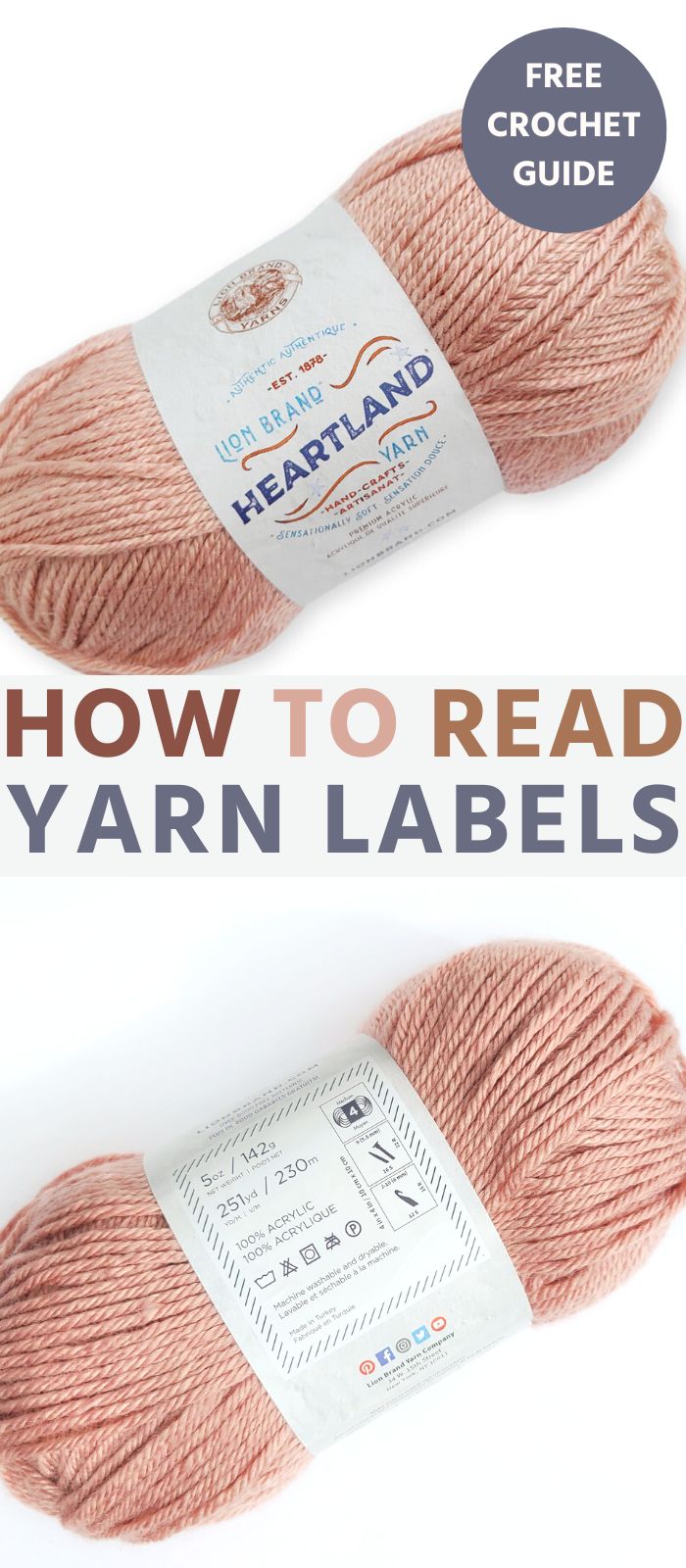 Free Patterns to Make
Use all or a few of these free patterns below to use your new skill of reading yarn labels.