How to Understand and Read Crochet Chart Symbols
Crochet symbols are used to create a visual when creating patterns. For some, these symbols are much easier to follow than written instructions.
Crochet symbols all follow a standardized format set by the Craft Yarn Council (CYC). Once you learn the basics, they become effortless to read and understand. These set of standardized crochet symbols follow very specific patterns and rules.
Here is our deep dive on how to read, understand and follow the most common (and uncommon!) crochet symbols you'll find.
You can also get a full 13-page crochet cheat sheet packet with everything you'll need to know for crocheting in my shop that includes…
Crochet Abbreviations
Crochet Stitch Symbol Chart
Yarn Label Symbol Chart
Yarn Weight Cheat Sheet
Crochet Hook Conversion Chart
Blanket Size Cheat Sheet
Mitten & Glove Size Cheat Sheet
Hat Size Cheat Sheet
Scarf Size Cheat Sheet
Basic Crochet Symbols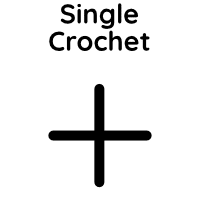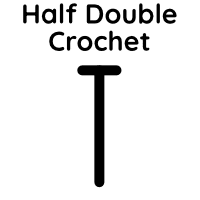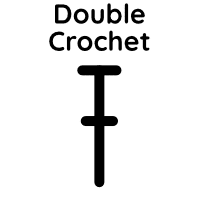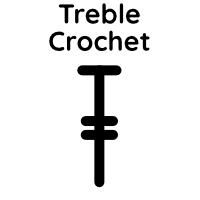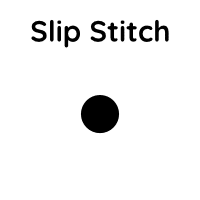 There are four main crochet stitches. It starts with the single crochet stitch (sc), then works its way up to the half-double crochet, double crochet, and eventually to the treble (or triple) crochet stitch (tr). There are more stitches in this succession, such as the double-treble, triple-treble, etc., but those are a bit uncommon.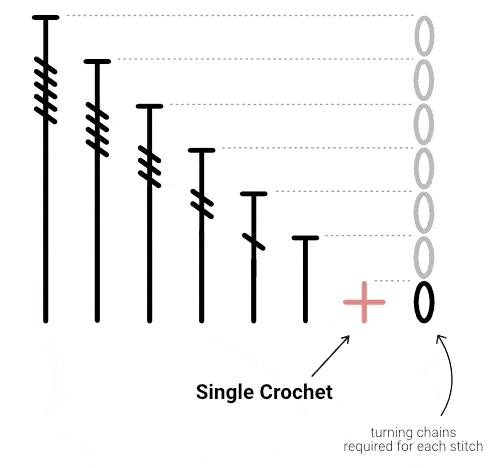 We've also included the slip stitch (sl st) since it is also one of the most basic crochet stitches, and you'll find in just about every crochet pattern available.
Slight Symbol Variations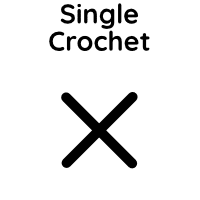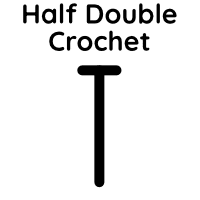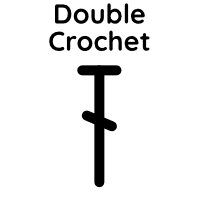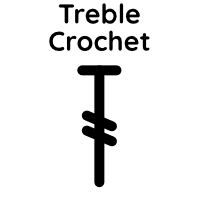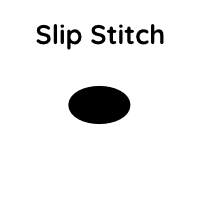 The basic stitch symbols have taken on a few permutations through the years. The single crochet stitch can either be identified as either the Plus sign (+) or the (×) crochet symbol. There is, however, no difference in how you crochet when you see one or the other.
Similarly, the middle lines that designate the stitch as either a double, or treble crochet, are oftentimes shown at an angle instead of straight across. Again, there is no difference in how you would crochet these stitches based on the angle of the middle line(s).
The slip stitch symbol can be shown as either a perfect circle, or in an oblong shape.
How to Read A Crochet Symbol
The anatomy of a crochet stitch symbol can be confusing at first, but it doesn't have to be. If you know and understand these four basic elements of a symbol, you should be able to understand them all.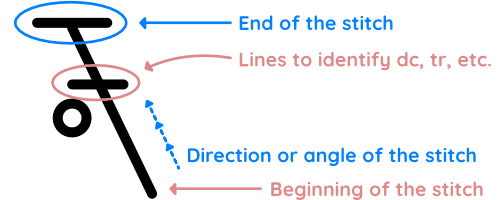 The long, flat line, signifies the END, or closing of the stitch.
The middle lines identify the basic stitch type, such as a sc, dc, or tr.
The direction the stitch is turned shows the direction the stitch should be made.
The opposite end of the symbol shows the BEGINNING of the stitch.
Expanded Crochet Stitch Symbols
To expand on these foundational stitches, more symbols are often used to create a more complex stitch. These extras include the chain stitch, front- and back-loops, and the front- and back-posts.
Occasionally, these symbols are shown alone in a pattern (mostly the chain stitch), but more often than not, they are combined with another stitch's symbol.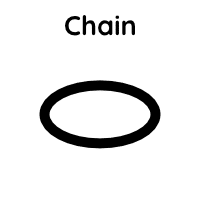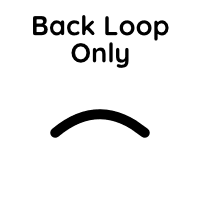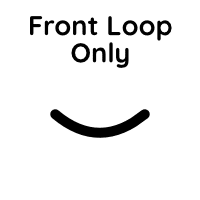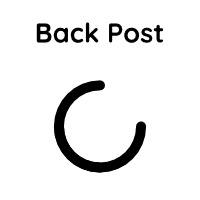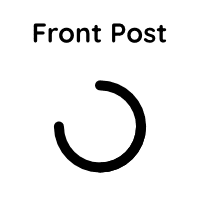 Let's take a look at how these crochet symbols get combined. For this example, we are going to use the double crochet stitch (dc).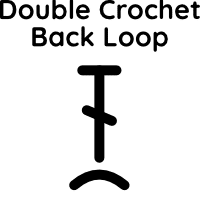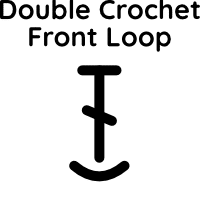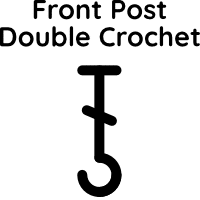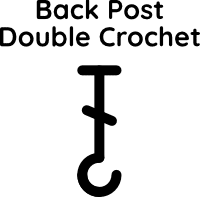 As you can see, all the symbols above contain the original double crochet symbol, but they've now been augmented. For instance, when you combine the double crochet (dc) and back loop (blo) symbols, it creates the double crochet back loop (dc-blo).
Tip: This combination method also works with crochet abbreviations: (dc + blo = dc-blo).
Together (Decrease) Stitch Symbols
When a particular stitch crochet symbol is duplicated and a part of the same graphic, it symbolizes a decrease in the number of stitches. This type of symbol shows that you'll take anywhere from 2 to 7 stitches, and combine it down into 1.
Sticking with the double crochet stitch, here are its symbols for the 2-together (dc2tog), all the way up to the 6-together (dc6tog).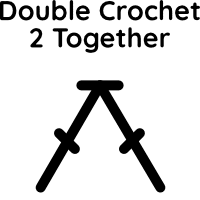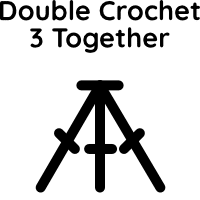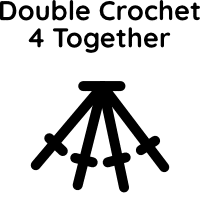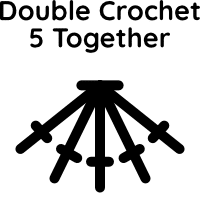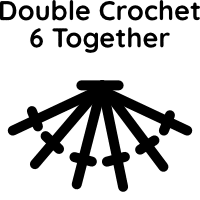 You can identify this type of stitch symbol by noticing how there is only one ending line in it. This indicates that the stitches are all decreasing into one final stitch.
While we only show the double crochet stitch in our example above, this type of decreasing together symbol also works for all single, half-double and treble crochet stitches.
Increasing Stitch Symbols
Similarly, symbols can be clustered together to show one stitch increasing from anywhere from 2 to 7 stitches and even more in some special cases. This is called clustering, or increasing. The symbols for an increase are—predictably—in the opposite direction of the decrease.
Here we show the double crochet stitch (yeah, again) increasing into 2, all the way up to 6 stitches. The resulting combination of stitches is also referred to as a shell stitch.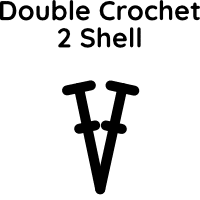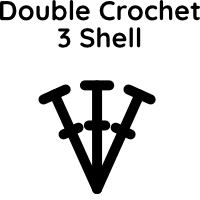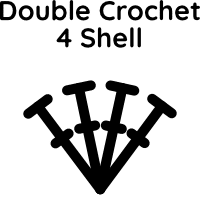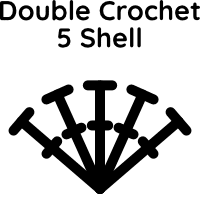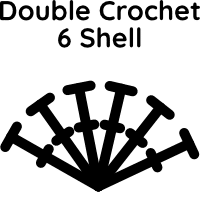 You can identify this type of stitch crochet symbol by noticing now that there are multiple ending lines. This shows that one stitch is increasing into a multiple.
While we only show the double crochet stitch in this example, you can create an increasing cluster for the single, half-double and treble crochet stitches as well.
Combining Crochet Stitch Symbols
Combination crochet stitches are usually a mix of two or more elements that fit together to create something unique.
Here, we have three combination stitches that show how this is accomplished: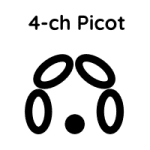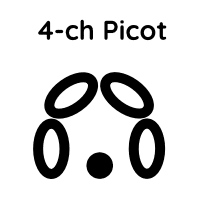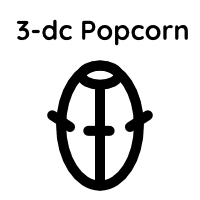 3 double crochets combined with 1 chain stitch create a popcorn stitch.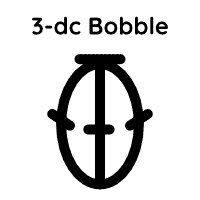 3 double crochets increased to create a bobble stitch.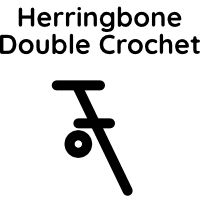 Tunisian Crochet symbols
Tunisian crochet is different from regular crochet, in both how the stitching looks and the hooks that are used. Projects that are made in the Tunisian-style resemble a knit-like texture more than crochet.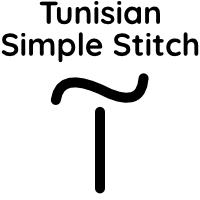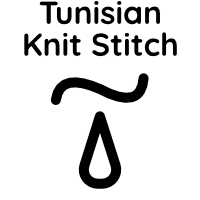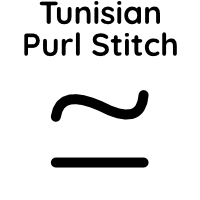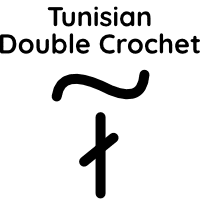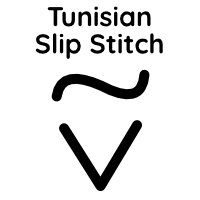 The tilde (~) at the top of all the crochet symbols here symbolizes the typical Tunisian closing during the return pass. You may come across Tunisian crochet patterns that just show the bottom half of those symbols in their chart, but that's because the top tilde is assumed.
As you can see, some Tunisian symbols resemble their regular crochet cousins, such as the Tunisian Double Crochet (tdc) and the regular Double Crochet (dc).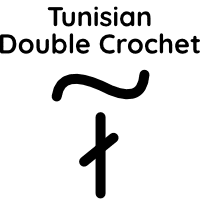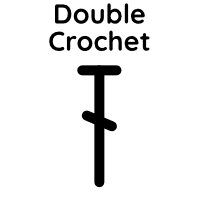 However, this is not the case with all Tunisian stitch symbols, so it should not be expected or assumed. For a drastic example, here are the differences between the Tunisian Slip Stitch and the regular crochet slip stitch.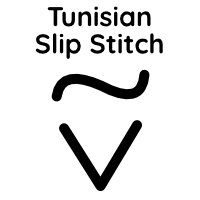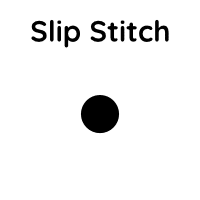 Pattern Diagrams
Select patterns will include a diagram of the pattern in addition to the written instructions. These diagrams will be swatches of the final product, but instead of words, the image shows crochet symbols arranged into the pattern's shape.
Here is the crochet diagram for our very popular Andy Throw Blanket. You can see the mix of slip stitches, chains, half-double crochets and single crochets.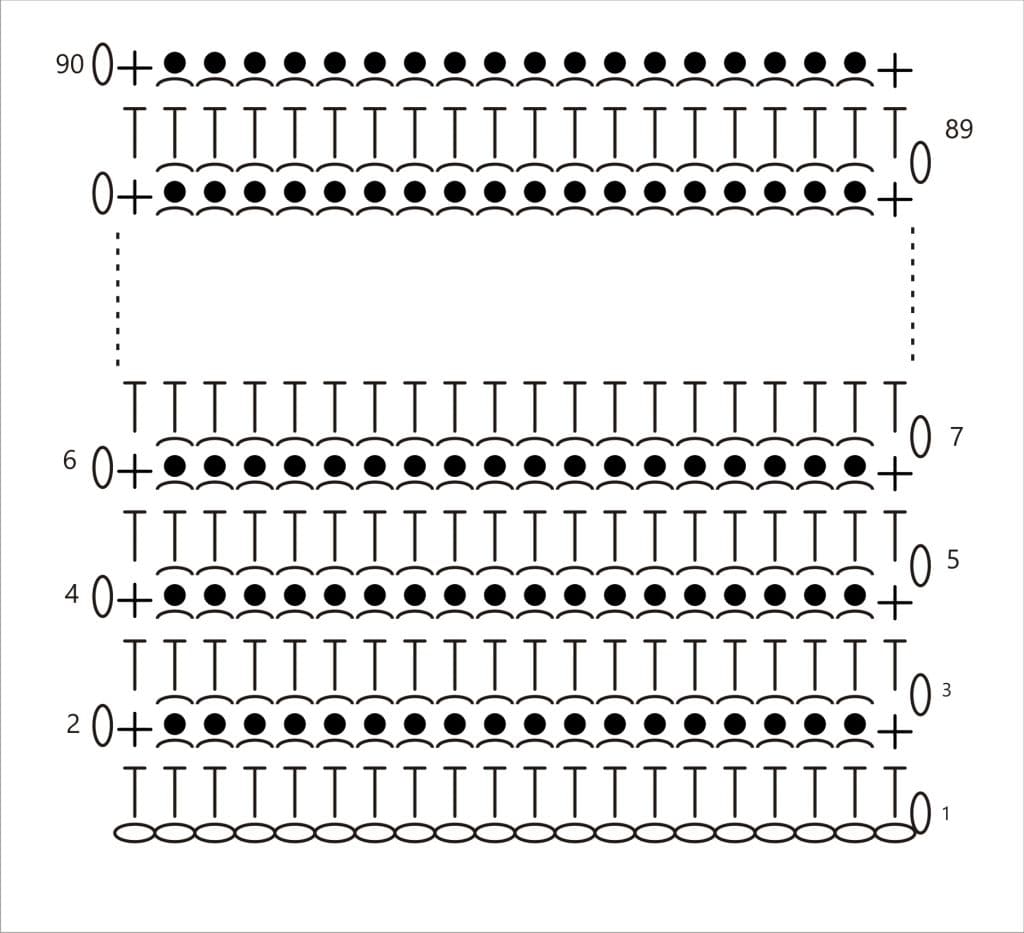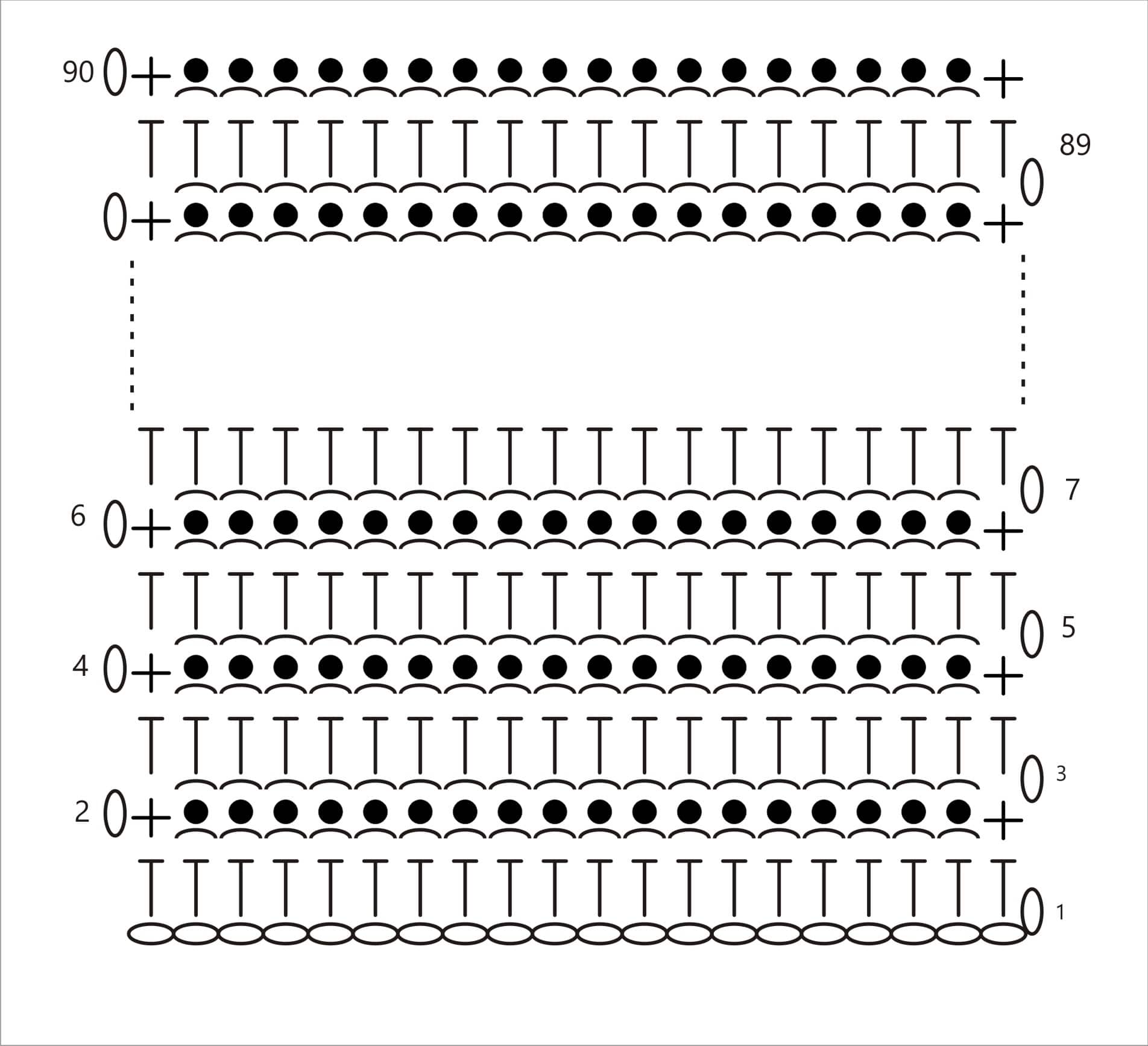 Free Crochet Patterns Using Symbols
Now, that you've learned all about crochet symbols in patterns, take a look at some easy crochet patterns that have a chart.