What is Tapestry Crochet?
Ok, so you've finally perfected all the crochet basics and are now looking for something more challenging. You remember a needlework-loving friend saying she'd created some of her most rewarding and beautiful work using the tapestry crochet technique. A satisfying technique that creates striking crafts sounds like just the thing for your next crochet project!
But what exactly is tapestry crochet?
Tapestry crochet is a technique that uses different colors of yarn, thread, or other strands of material in a single row or round to create shapes, patterns, and pictures in the finished work. The designs can be simple or detailed and feature two or several colors.

Learning tapestry crochet will upgrade your crocheting skill set and boost your fabrics' wow factor. This versatile technique can enliven crotchet projects with interesting details, bursts of color, personality, and storytelling. Keep scrolling to discover what makes tapestry crotchet a technique worth knowing.
The Ins And Outs Of Tapestry Crochet
Tapestry crochet involves crocheting two or more colors into one row or round to create fabrics featuring shapes, letters, patterns, or pictures. The most basic tapestry crochet project has two strands of yarn, each of a different color, that combine in a way to show a specific image or shape.
Using a pattern or your imagination, you stitch from row to row or in the round, making color changes mid-row or -round as needed. You'll switch seamlessly between two or more colors, carrying and enclosing all loose threads as you work back and forth. After you've completed all the rows or rounds, the change in colors reveal motifs.
Watch Moogly's Tamara Kelly demonstrate tapestry crochet for beginners:
You're limited only by your creativity and skill level while working on your tapestry crochet projects.
You can, for example, you can stitch two colors in rows to make a simple decorative motif for a cushion cover or blanket. Geometric shapes can be created in rounds to form a patterned hat, or even use multiple colors in single rows to create a sunrise on a baby blanket! Tapestry crochet is really only limited to the creativity of your mind!
Tapestry Crochet Stitches
While you can technically use any stitch in a tapestry crochet pattern, regular single crochets are the most common.
The single crochet stitch is used most often due to its simplicity. Tapestry crochet patterns use the single crochet stitch because it's easy to master, and its texture won't take away from the motif you're creating.
Double crochet (dc), half-double crochet (hdc), and triple crochet (tr) stitches also work well with tapestry crochet patterns, but are usually left up to the more advanced crocheters, or for designs that need the pattern that these stitches create.
Tapestry Crochet Is Only One Colorwork Technique
Tapestry crochet is one of the many crocheting techniques that create exciting designs by changing colors as you crochet. You might have heard that tapestry crochet is the same as mosaic crochet, stranded crochet, and intarsia crochet. While these three are similar, they are instead unique colorwork techniques that produce different effects.
Here's what sets these four colorwork techniques apart:
| Tapestry | Mosaic | Stranded | Intarsia |
| --- | --- | --- | --- |
| Uses two or more colors on the same row, encasing loose strands to keep the back of the fabric neat. | Uses a single color per row. | Uses more than one color on the same row, leaving loose strands at the back of the fabric. | Uses colors in sections without carrying them at the back. |
Customize Tapestry Crochet
Tapestry crochet's versatility isn't limited to its results; there are also different ways to do this type of crochet.
Here's what you can customize to your liking when tackling tapestry crochet projects:
Crochet in rows or rounds. We did this with our recent Christmas Tree Washcloths and our Heart Dishcloth.
Do simple or adventurous projects. Beginners might want to start with something small, like a crochet square in two colors, to get a feel for this technique before attempting a more daunting project like a rainbow-colored tote bag.
Use different stitches. Tapestry crochet usually uses quick and easy single crochet stitches, but also works well with double, half double, and slip stitches. Which stitch should you choose? I suggest picking the stitch according to the design style you're after – single stitches are great for square-shaped color blocks, whereas double stitches are better for rectangular color blocks.
Stitch tightly or loosely. Use tight stitches for a strong fabric with hidden carried colors, or keep stitches loose to give your fabric a drape and make the carried colors visible.
Tip: If you're a beginner who wants to easily create something showy using just two yarns, pick a solid color and a self-striping yarn. This trick makes even simple shapes and patterns look impressive!
Pros And Cons Of Tapestry Crochet
Hooked on the idea of tapestry crochet yet? Let's look at its perks and pitfalls to help you know if this is the technique you want to try next.
The Positives of Tapestry Crochet
Here are 3 good reasons to give tapestry crochet a go:
Pro #1: Tapestry crochet is suitable for all skill levels. Choose a small tapestry crochet tutorial with a simple design using two colors if you're new to this technique. Then, move to bigger and bolder projects as your confidence grows.
Pro #2: Tapestry crochet creates a neat fabric on the front and back, making it a good pick for projects that will be seen on both sides.
Pro #3: Tightly stitched tapestry crochet makes a strong fabric – perfect for bags, hats, belts, and other objects that need some structure.
The Negatives of Tapestry Crochet
These are 4 reasons why starting a tapestry crochet pattern might not be right for you:
Con #1: Using classic single crochet stitches when doing tapestry crochet can make geometric patterns slant to the right. If this is the only stitch that you're comfortable with, note that your stitches might not align with each other just so. So, the diamonds in that argyle pattern you're hoping to crochet won't have precise edges.
Con #2: If you don't carefully manage all the loose strands you're using, they'll get tangled and put the brakes on your project. Suppose you think keeping a close eye on these strands is too much fuss. In this case, you'll likely find tapestry crochet frustrating (though, once you've completed a few tapestry crochet projects, you might find this task comes naturally).
Con #3: Although multi-colored tapestry crochet wonders are the most awe-inspiring, they're also the most challenging to make and result in a dense fabric because of all the different threads you need to enclose. If you're dreaming of a delicate rainbow-colored motif to sew onto the front of a floaty blouse, be aware that tapestry crochet won't give you the light, thin fabric you're after.
Con #4: At times you'll see colors bleed through the other ones as you swap from one color to the next on the right side (rs) of the project. This especially happens when you are going from a dark-colored yarn to something light, or vice versa.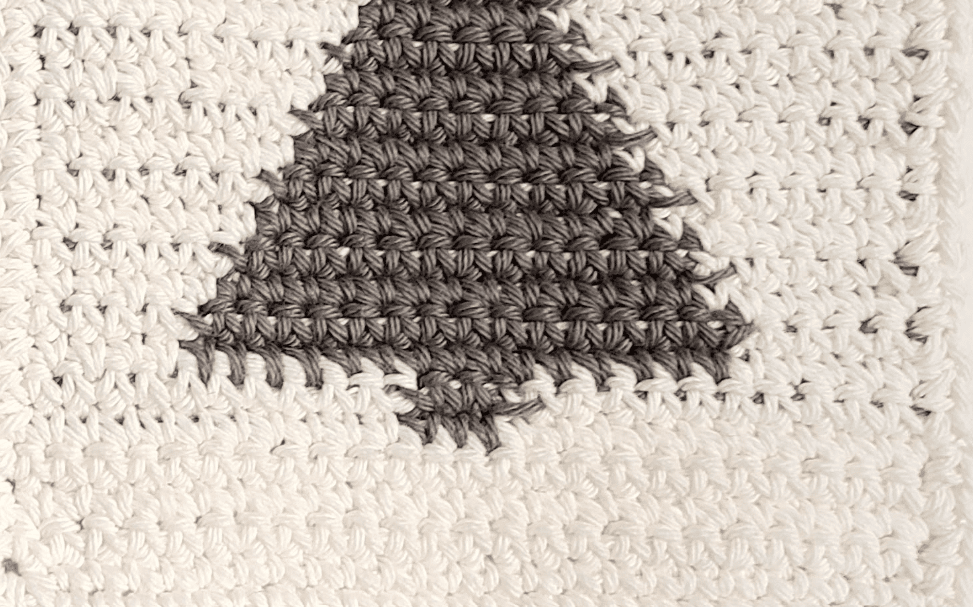 Con #5: The wrong side (ws) of a tapestry crochet project doesn't always have the best look to it. The way the colors for the motif change and/or get carried throughout the pattern can sometimes distort the motif on the wrong side of the work.
Tapestry Crochet Patterns
We have a few tapestry crochet patterns on Easy Crochet. The easiest is a crochet tutorial that creates Christmas-themed pine trees on washcloths. Our heart blanket is another tapestry crochet tutorial that is easy for beginners.
Conclusion
Tapestry crochet is a colorwork technique that lets you create fabrics featuring shapes, letters, patterns, or pictures in two or more yarn colors. This technique stands out from other crochet colorwork techniques because it involves carrying and enclosing loose threads to create a tidy fabric on both sides.
Anyone who knows the basic single crochet stitch can try tapestry crochet, starting with a simple two-color project and working toward creating spectacular, intricate multi-color designs.