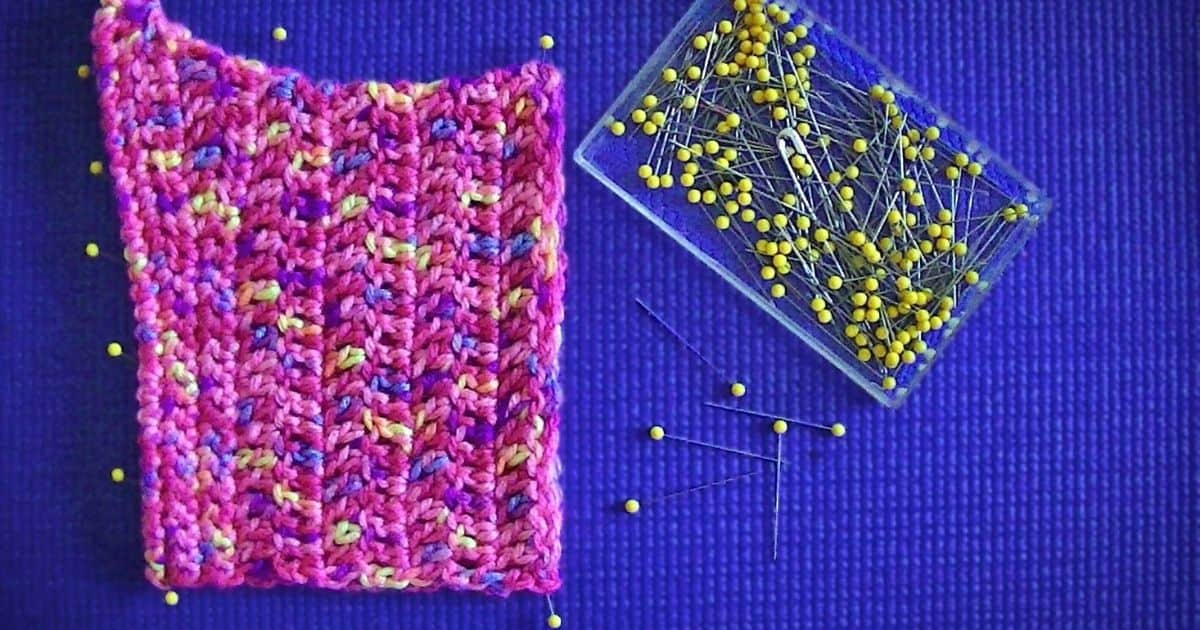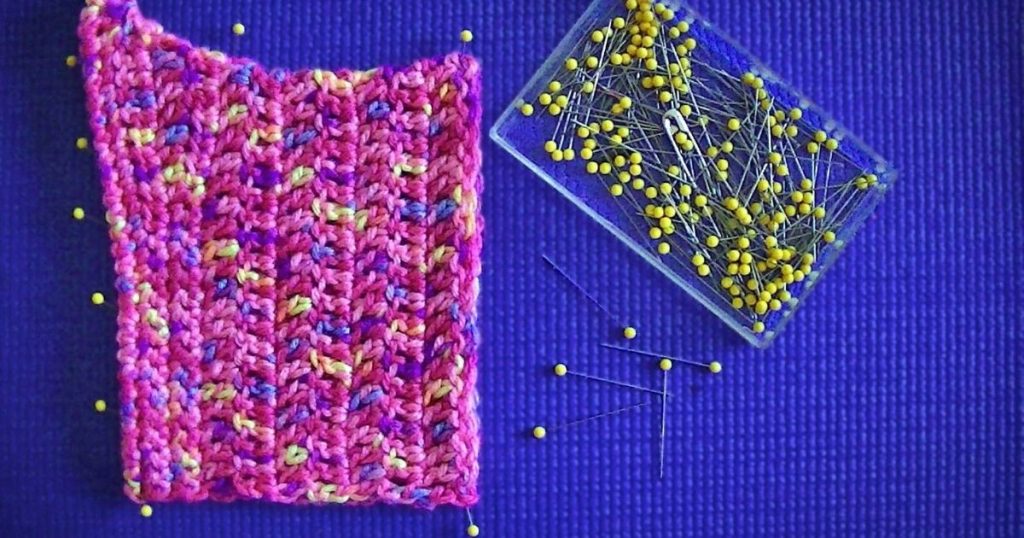 Are you looking for some ways to block crochet patterns or projects? If so, this post can help!
If you are like me and sometimes have that one crochet project that just won't lay flat or stay the shape it was meant to be then these blocking techniques are for you! Learn about what blocking is, the supplies you'll need as well as the three most common blocking techniques.
What is Blocking in Crochet?
Blocking is a way to shape crochet projects using water. It is then pin down to a blocking board to keep its shape until it is dry. One example that blocking can help with is if you'd like to flatten edges that may be curling or uneven.
Read on down to learn about the 3 different ways that I used to block my crochet projects. These techniques will help give your projects a crisp look. Promise!
3 Types of Blocking to Use in Crochet
Wet Blocking
Steam Blocking
Spray Blocking
The crochet projects that need blocking are appliques, sweaters, and blankets. Blocking will always depend on the type of yarn, stitches, and project
I used a spray blocking technique on my easy chevron blanket that I blogged about earlier. You can read all about that in my blog post "Easiest Chevron Crochet Blanket Pattern."
Blocking Supplies
To block crochet projects, you will need water, pins & a blocking board. I found the blocking board I use on Amazon, but you could look at almost any craft store, and they should have them.
How to Block Crochet Patterns
---
Wet Blocking
You will either wash or submerge your item entirely in water.
Roll out and towel dry. You may need to do this part multiple times to get the project almost dry.
Next, you will pin your project down to a blocking board, or you could even lay it flat on a towel.
Let the item air dry.
*The wet blocking approach is pretty straight forward and the easiest IMO to use.
Steam Blocking
Lay the item down on a flat surface.
Cover your item with a wet towel.
Using an iron or steamer slowly press against the damp washcloth to create steam.
Shape your piece as you go.
Let dry.
*The steam blocking method is recommended for natural yarn products versus acrylic yarn.
Spray Blocking
Lay item flat on a towel or blocking board.
Spray with a water bottle while shaping as you go.
You may pin to a blocking board if you'd like.
Let dry.
Common Blocking FAQ's
How to Block a Large Crochet Blanket
Blocking large blankets can be done by having enough blocking squares available or by using a large bed or area on the floor.
How to Block Crochet Squares
Crochet squares can be blocked with steam blocking, wet blocking or spray blocking, A blocking board is recommended, but you can also use a DIY blocking station to block the squares.
How to Use a Crochet Blocking Board
A crochet blocking board is used by placing the crochet piece you'd like to block on the board and pinning it down, so it stays in place to take shape.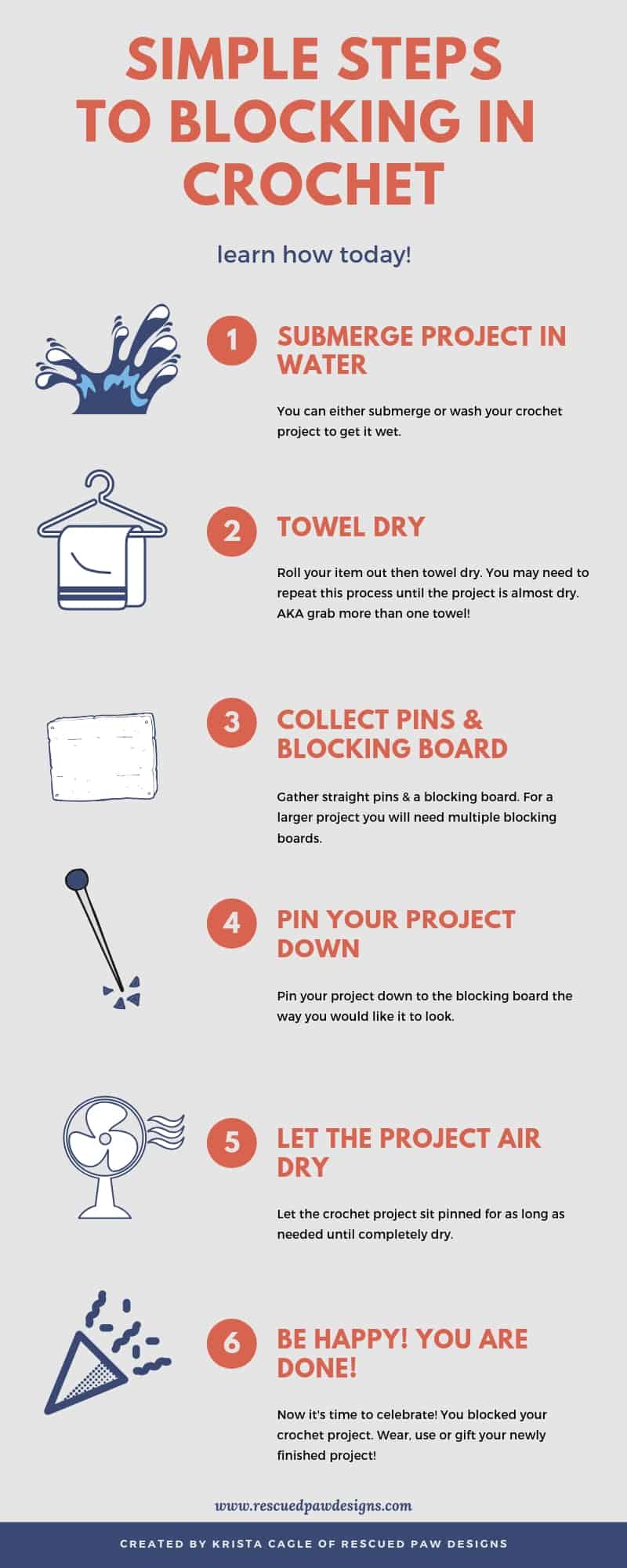 You are Now Ready to Block Your Crochet Projects!
Follow along with me for more tips, free patterns, and tutorials over on Pinterest (https://www.pinterest.com/easycrochetcom/) where I pin daily!
You May Also Like
Are you looking for crochet patterns? Explore the Easy Crochet archives for access to over 300 designs that are all FREE!