15 Easy Crochet Baby Blankets Free Patterns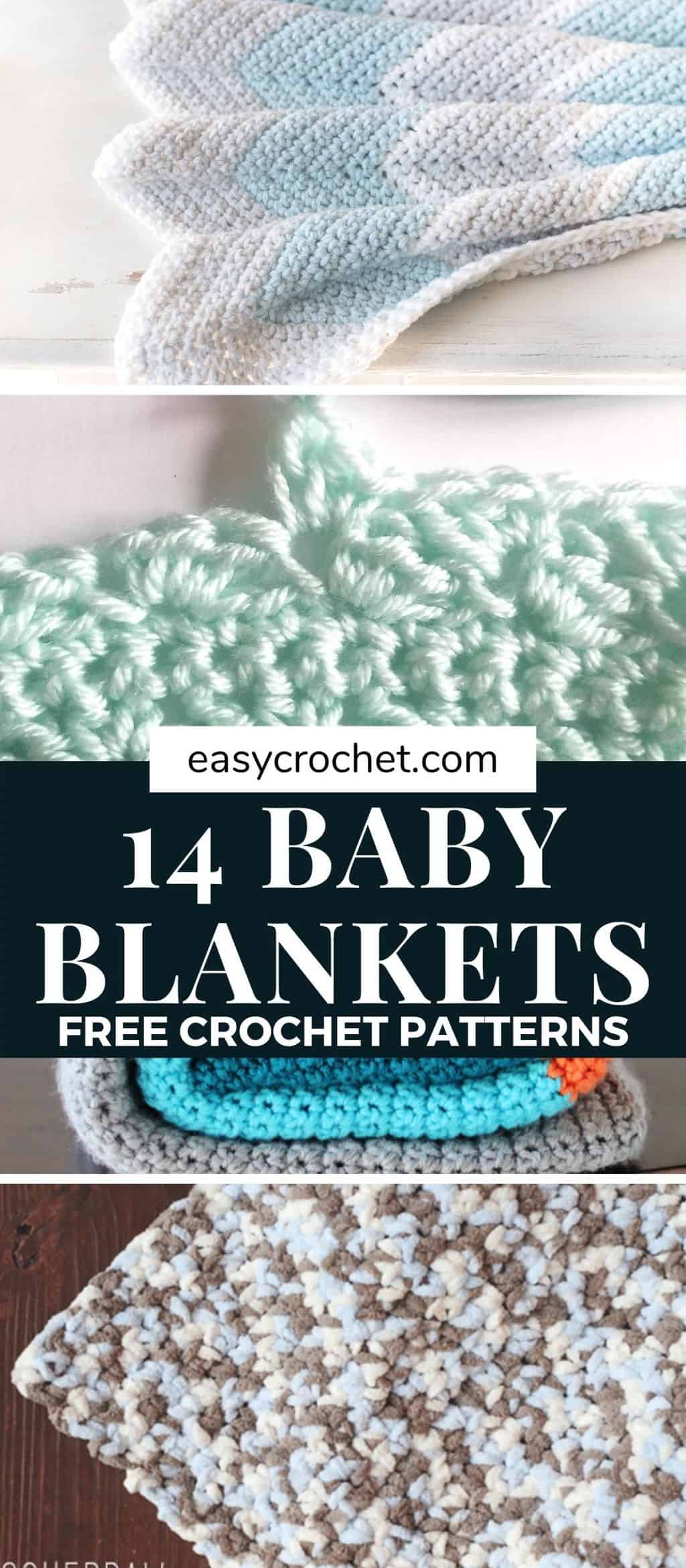 If you are looking for an easy crochet pattern for a baby blanket, then you've found it! This collection of the best free crochet baby blankets is great to have when you are looking to crochet a baby shower gift and are the perfect blanket size to make for a newborn or toddler.
All the baby blankets can be customized in color and size, so you can crochet any one of these blankets for a baby girl or baby boy!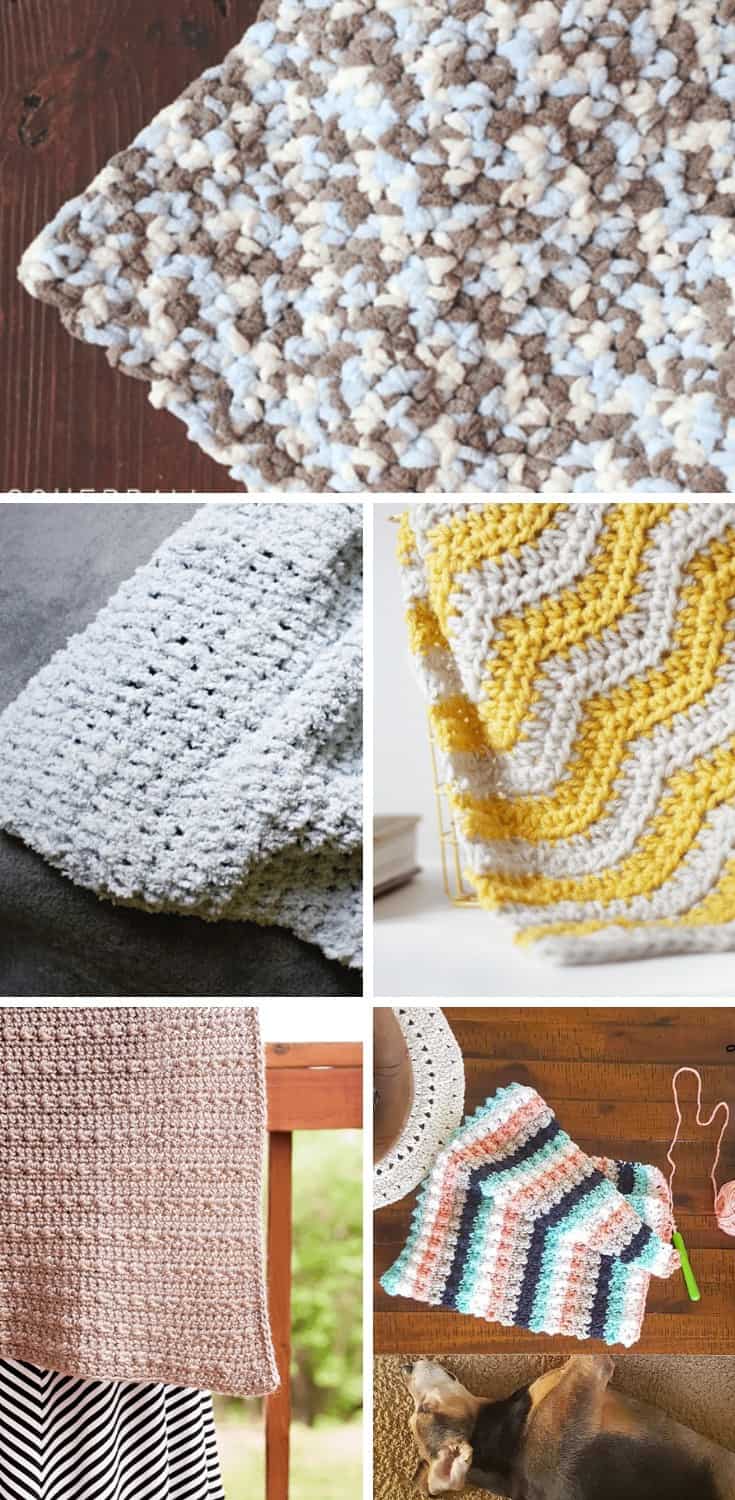 How to Crochet a Baby Blanket
A small blanket is a beginner project that you can use to practice your new crochet skills. Here are the first steps you'll need to know when making a crochet baby blanket:
First collect supplies, such as yarn, a crochet hook, yarn needle and scissors for the blanket pattern you are crocheting,
Make a slip knot and the first row of chain stitches.
Crochet the first row according to the pattern you are following.
Keep crocheting the remaining rows of stitches until the blanket is as big as the pattern calls for.
Finish the baby blanket by cutting the yarn and weaving in the ends. You can also add a blanket border for a final finishing touch.
Crochet Baby Blankets Sizes
When I first learned how to crochet, I always made baby blankets. These adorable blankets are the perfect size for beginner crocheters because of how small they are, which means they are quick to crochet!
Baby blanket sizes can vary, but I like to make the four standard sizes below when crocheting a baby blanket. The four main blanket sizes for babies are Lovey, Stroller, Receiving and Baby.
| Blanket | Dimensions (inches) |
| --- | --- |
| Lovey | 12 x 12 |
| Stroller | 30 x 35 |
| Receiving | 40 x 40 |
| Baby | 42 x 52 |
You can read more about blanket sizes and different baby blanket sizes in my crochet blanket sizes post as well as find a full chart for even more blanket sizes to make.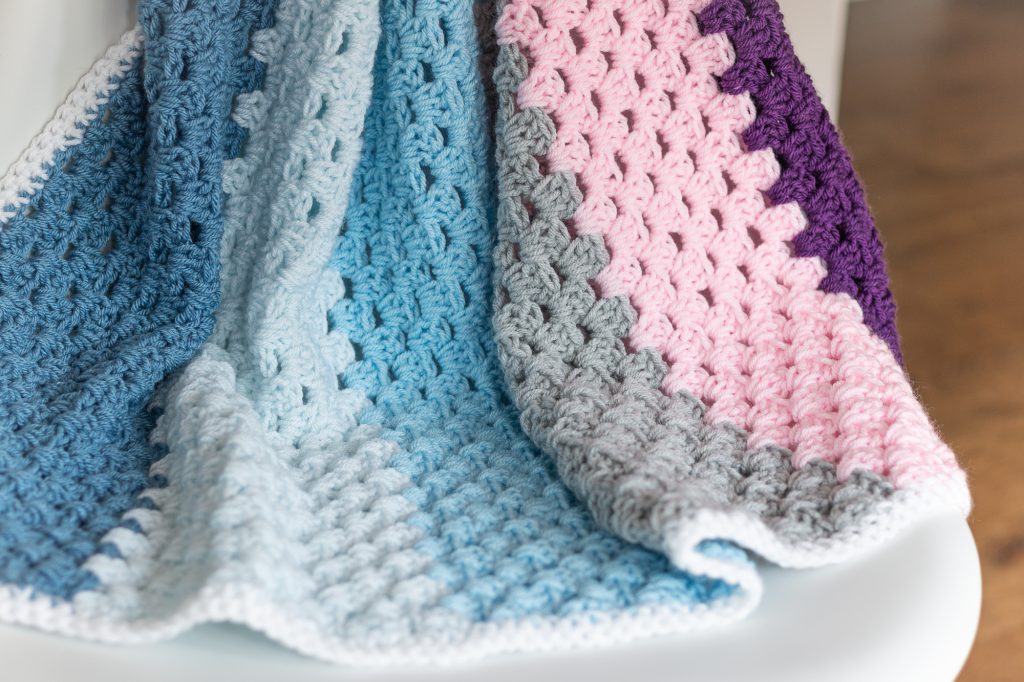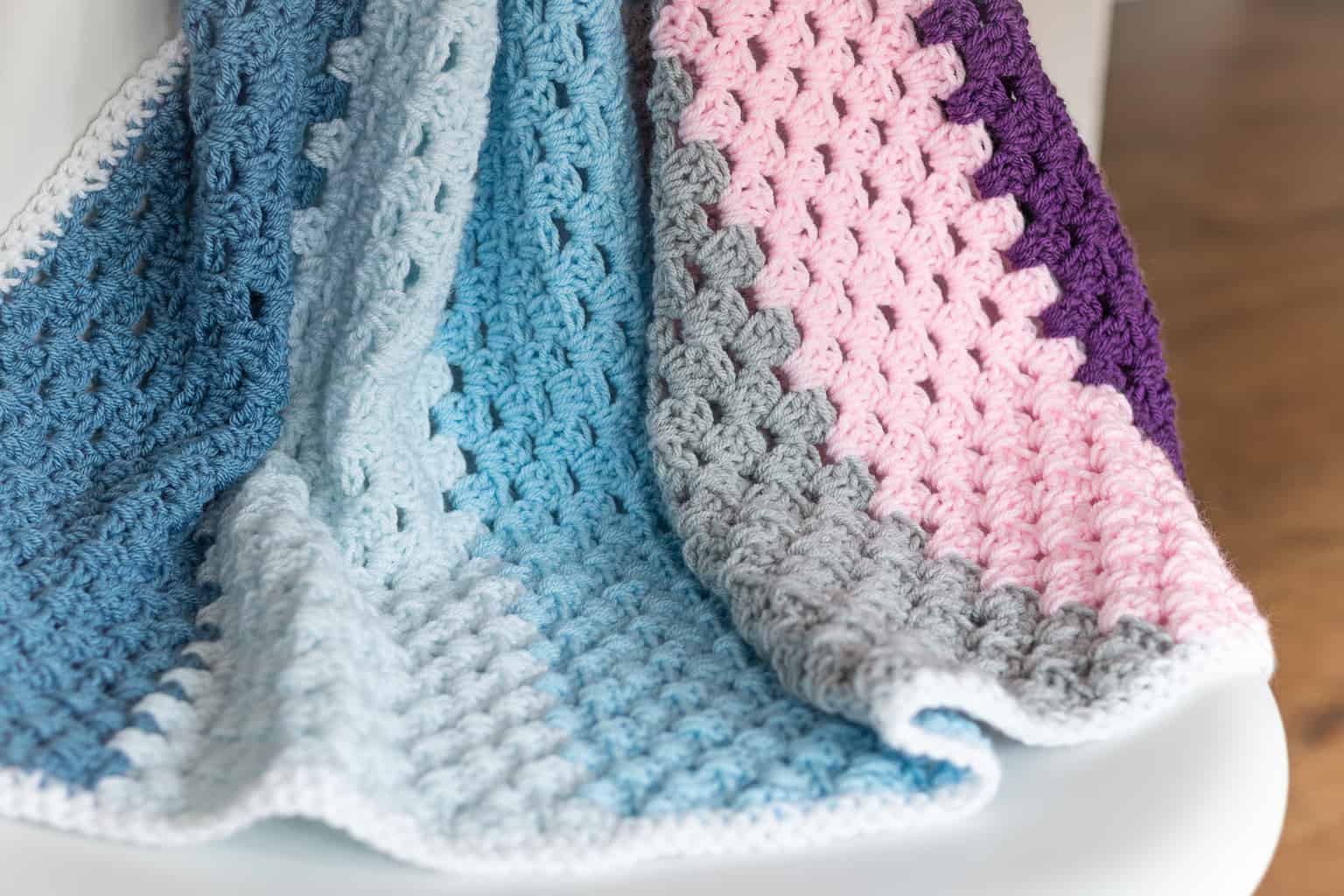 Stitches for an Easy Crochet Baby Blanket
Most of the blankets I will list below use easy crochet stitches, which make for a good variety of patterns to pick from. All the blanket patterns below are a mixture of simple beginner-friendly stitches which will make for a quick project.
Single Crochet – The single crochet stitch (sc) is one of the basic crochet stitches that is a quick stitch to use.
Half Double Crochet – A half double crochet looks great in a blanket and is easy to work up.
Double Crochet – The DC stitch is another basic stitch that is always a good choice for a baby blanket.
Blanket Stitch – This double crochet and single crochet combo crochets into a beautiful textured blanket for the baby.
Moss Stitch – An easy but beautiful combination of single crochets and chains make up this cozy stitch that is great for a baby blanket.
Granny Stitch – A classic stitch that is great for a beginner crocheter.
V-stitch – This stitch uses double crochets to create a V stitch look that is easy to learn.
Smaller crochet projects like these blankets using simple beginner stitches are a good idea when you are first learning the basics of crochet because they work up fast.
Read over my article about the 5 beginner crochet stitches that I recommend for new crocheters.
Free Baby Blanket Patterns
With the Easy Crochet collection of free crochet blankets growing, I wanted to showcase a few that, I thought, would be perfect to make for baby blankets. These adorable & easy to make blankets would be a great baby gift!
Ready to start crocheting?
Scroll down to learn about how to make a baby blanket as well as see all the baby blanket favorites below! Enjoy! I hope you enjoy this collection of 14+ free baby blanket patterns and happy crocheting, friends.
---
15 Adorable and Easy Crochet Baby Blankets
Explore the collection below of the best crochet baby blankets you can make for babies, toddlers and more. All are perfect for baby boys or baby girls and will make a beautiful heirloom piece.
So Soft Baby Blanket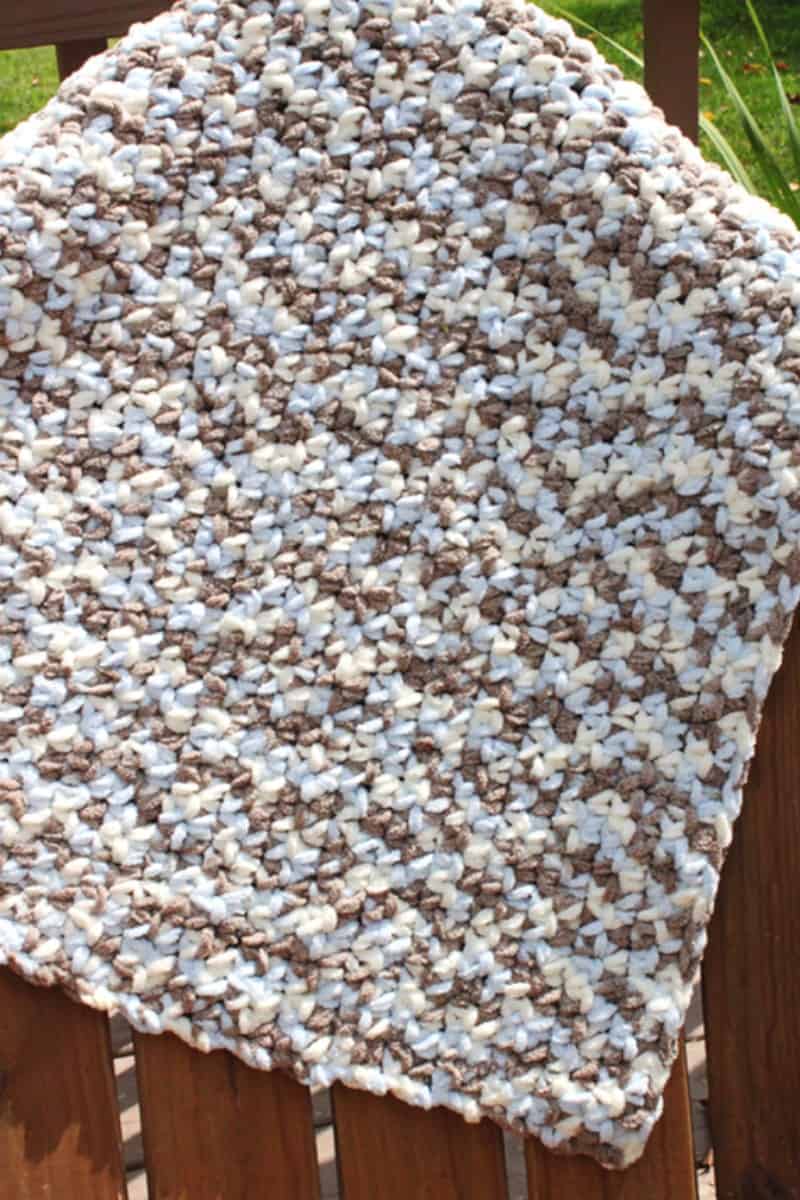 This soft and cozy Bernat blanket baby blanket is easy to crochet because it uses only one stitch! The single crochet! If you are a beginner wanting to crochet a baby blanket, then you will love this blanket design.
Yarn: Bernat Blanket Yarn
---
Two Triangle Baby Blanket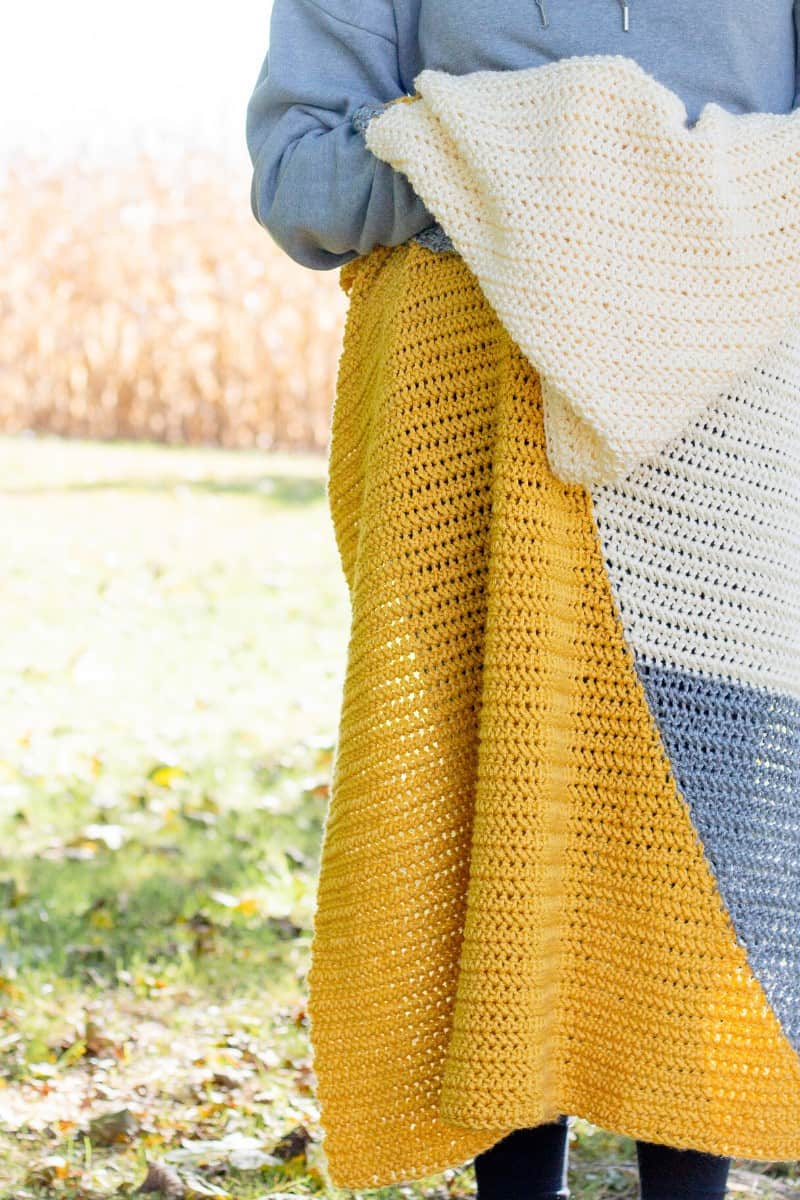 If you love unique blanket designs, then this one is it! Crochet this two triangle baby blanket quickly with this easy to make pattern using Basic Stitch yarns from Lion Brand.
Yarn: Lion Brand Basic Stitch
---
Simple Stitch Baby Blanket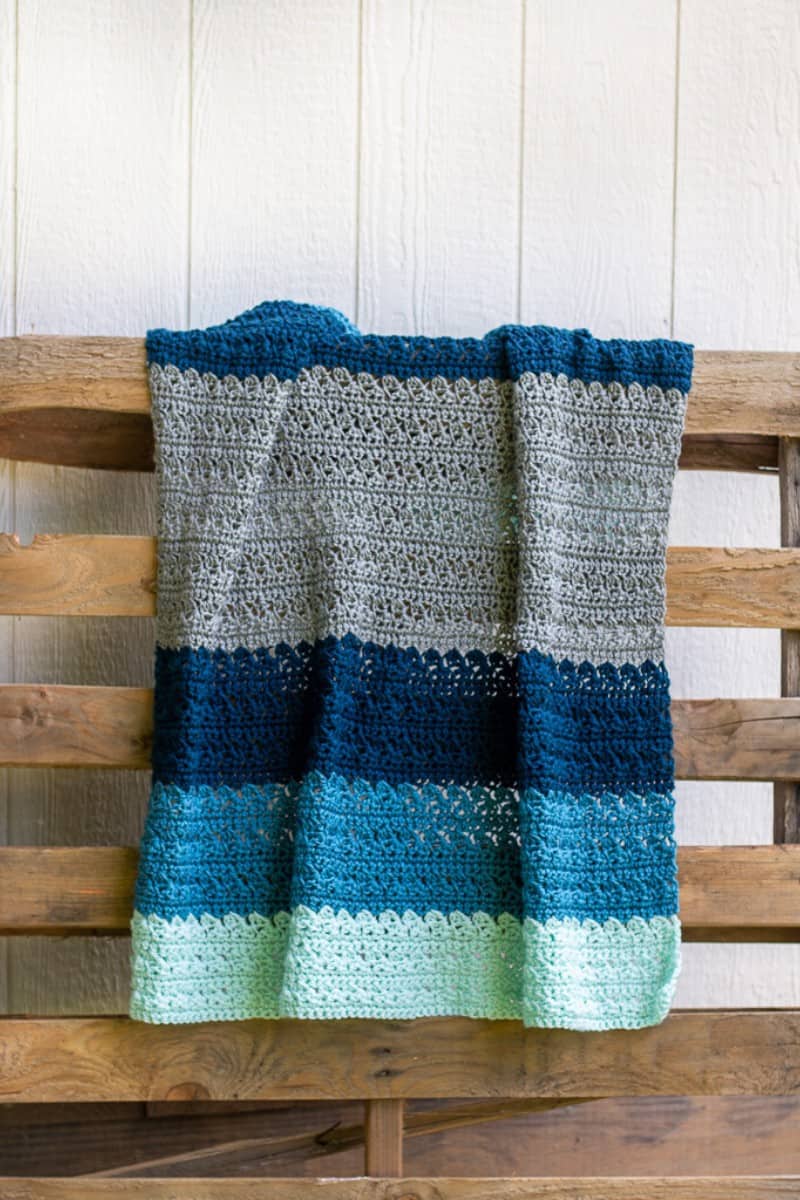 You are going to love this multicolored crochet baby blanket because of the gorgeous the stitches work up together! Don't miss out on this pattern that features Basic Stitch Yarn!
Yarn: Lion Brand Basic Stitch
---
Stoney Pebbles Baby Blanket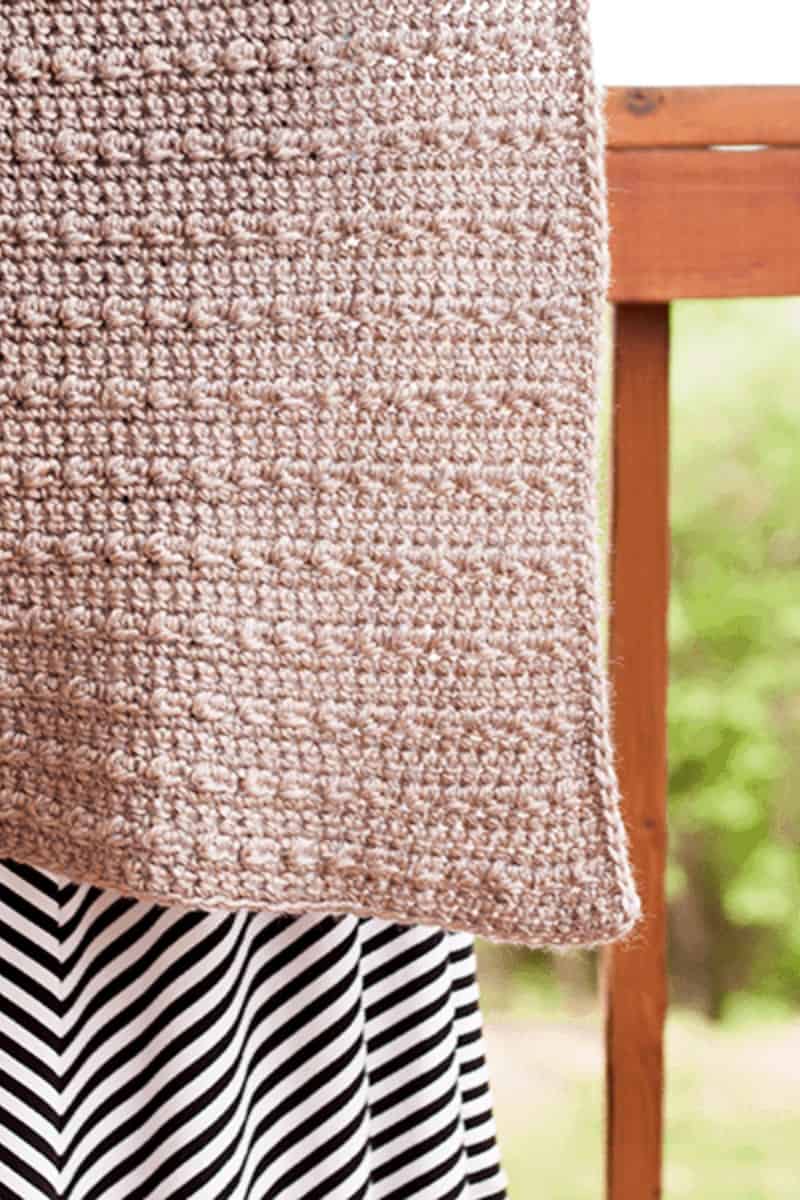 The Stoney Pebbles baby blanket is a great example of a combination of simple crochet stitches used to great a beautiful texture. To get the same look as the blanket shown, be sure to use Heartland Yarn from Lion Brand.
Yarn: Lion Brand Heartland Yarn
---
Chevron Baby Blanket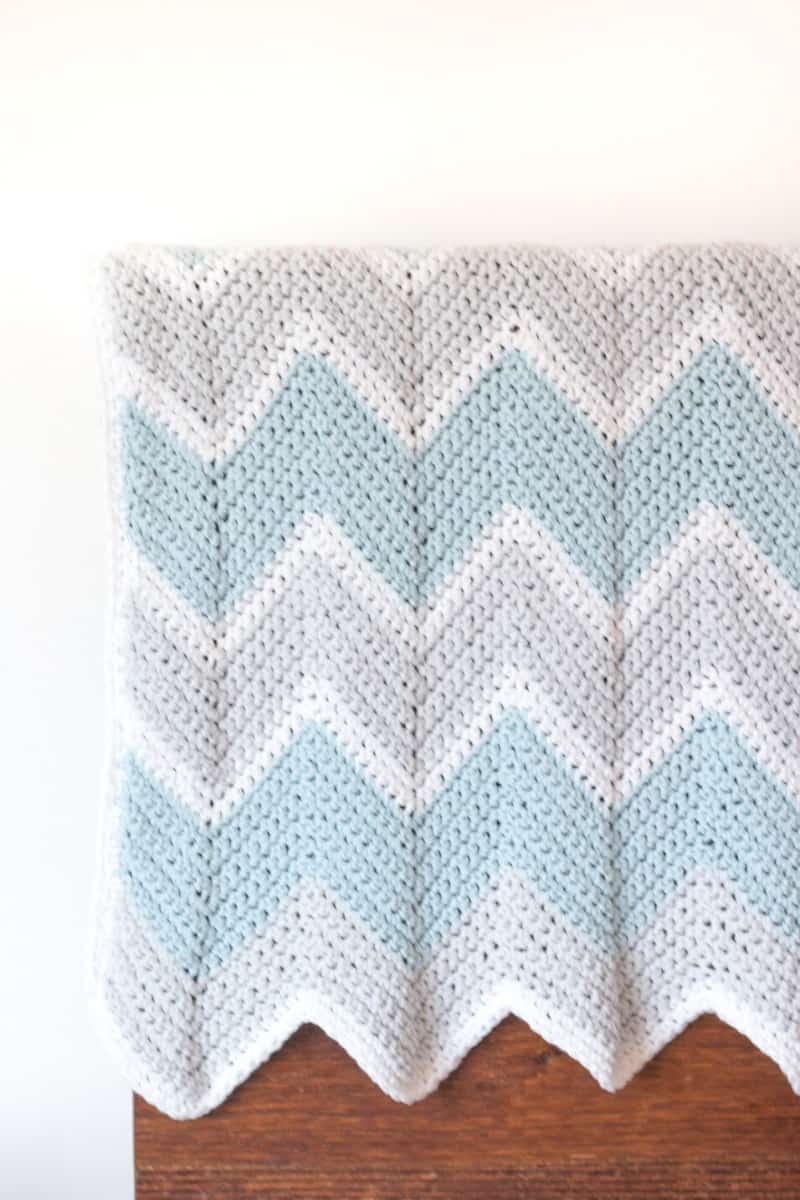 If you are a fan of ripple blankets, then you are going to adore this baby chevron crochet blanket! If you can single crochet, you can make this pattern that features Feels Like Butta Yarn from Lion Brand.
Yarn: Lion Brand Feels Like Butta
---
Car Seat Baby Blanket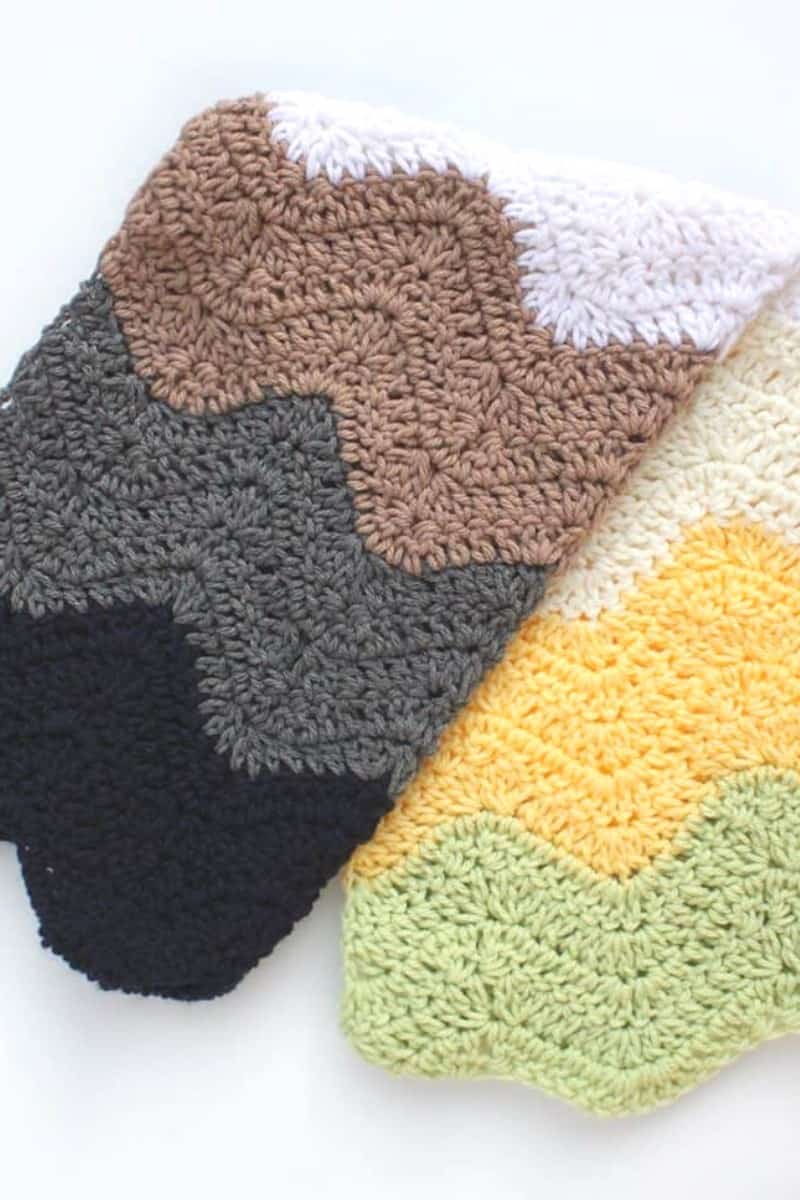 The car seat baby blanket is great to make for a little one's car rides. It is the perfect size to fit on a car seat to keep baby cozy warm in the car.
Take a look at this easy free crochet baby blanket below!
Yarn: Loops & Threads Impeccable
---
Striped Crochet Baby Blanket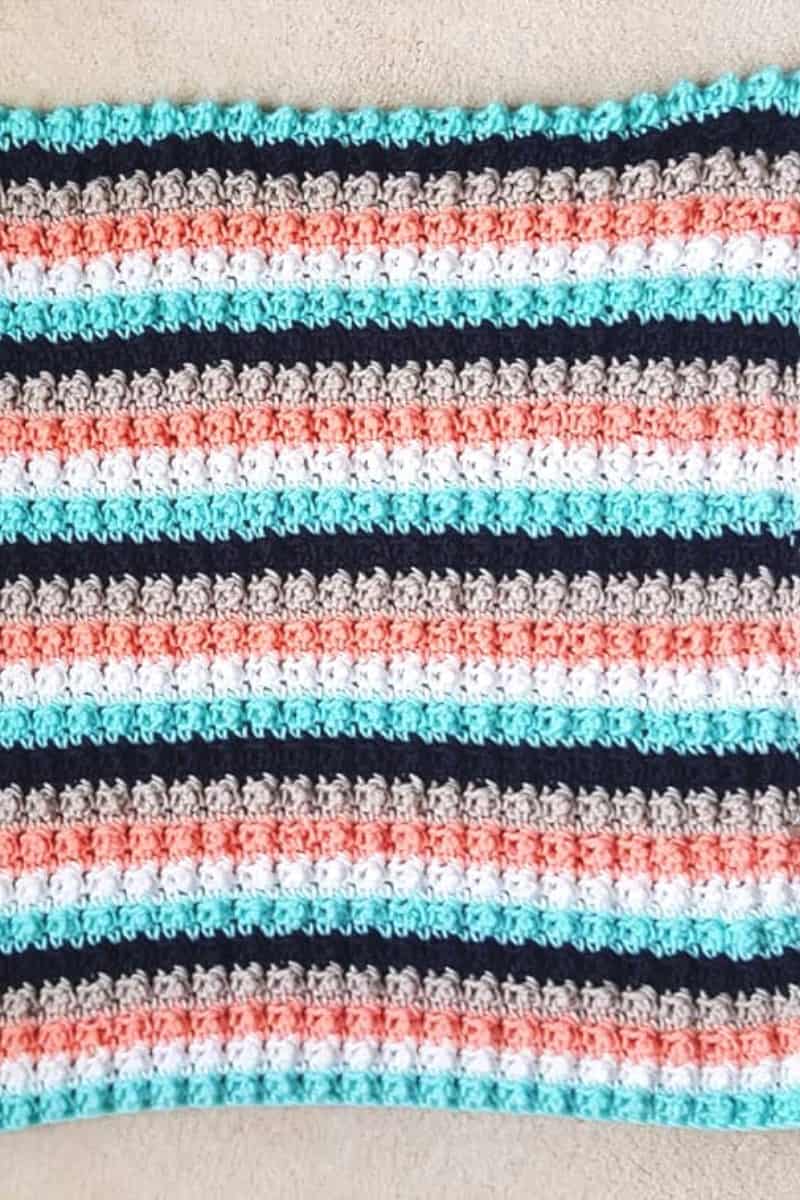 This striped baby blanket is worked up in a combination of triple and single crochets! This design is simple to work up since it uses these two basic crochet stitches.
The texture the single and triple crochet creates makes such a beautiful blanket design for the baby and is extra cozy too.
---
Ripple Crochet Baby Blanket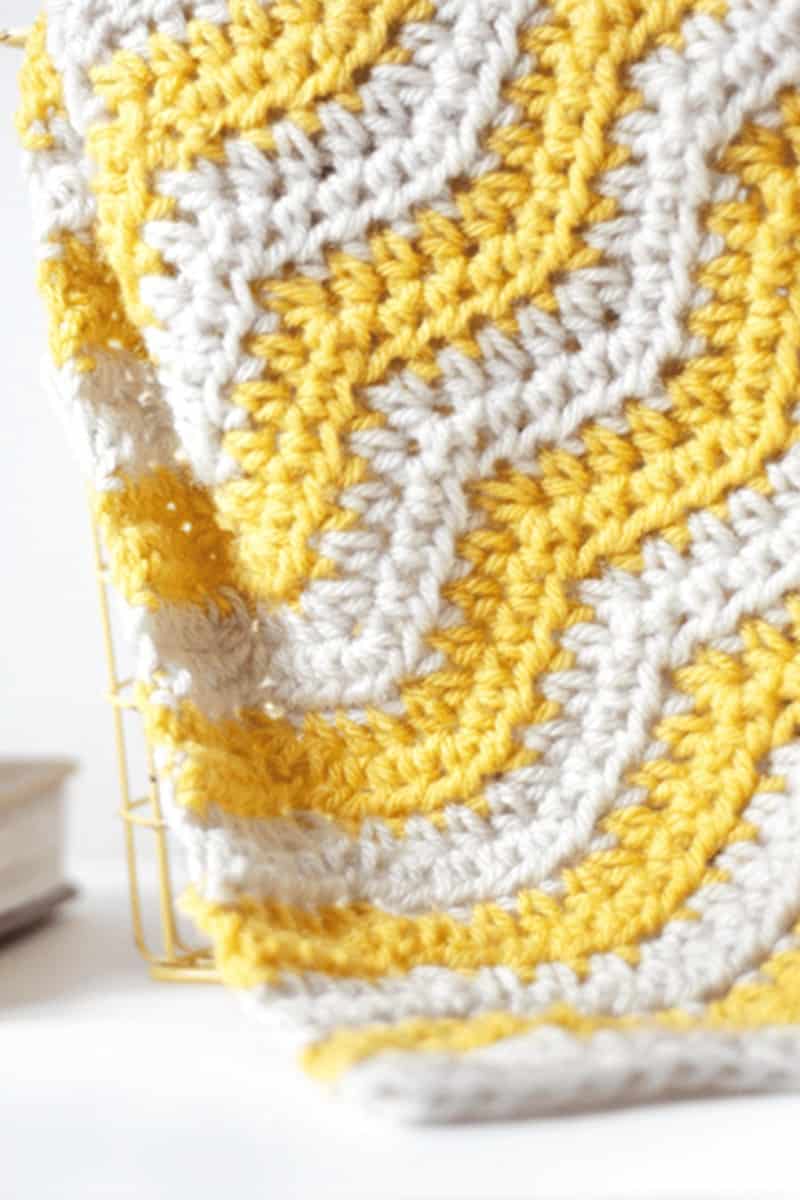 This yellow and crème crochet baby blanket is perfect to make as a gift for a baby shower or a new baby in your life. You can make this blanket it in any color to suite what the new parents like or want in the baby's nursery.
---
Chunky Baby Blanket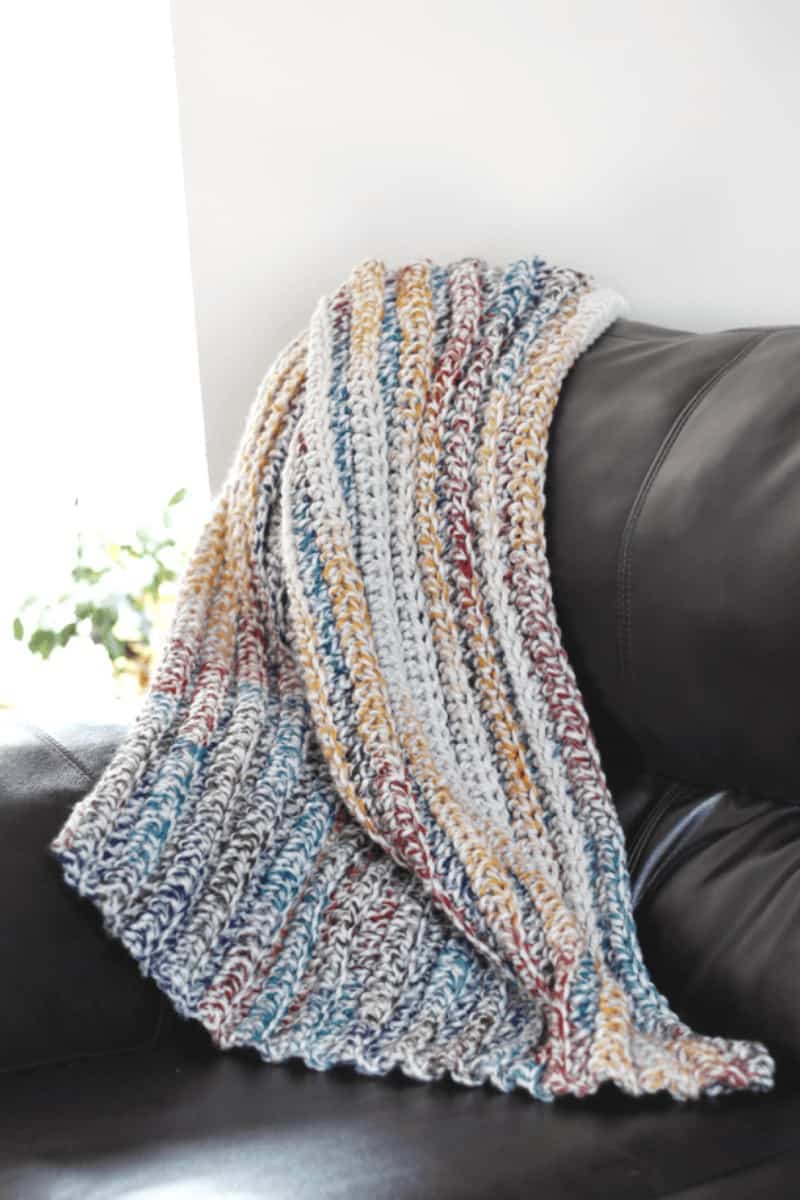 This cozy blanket is very beginner-friendly! You are going to love how quick this chunky baby blanket works up!
Since it uses only the half double crochet, you can make this simple blanket pattern fairly quickly and in a multiple array of blanket sizes other than baby too.
Yarn: Lion Brand Wool-Ease Thick & Quick in Hudson Bay
---
Blanket Stitch Baby Blanket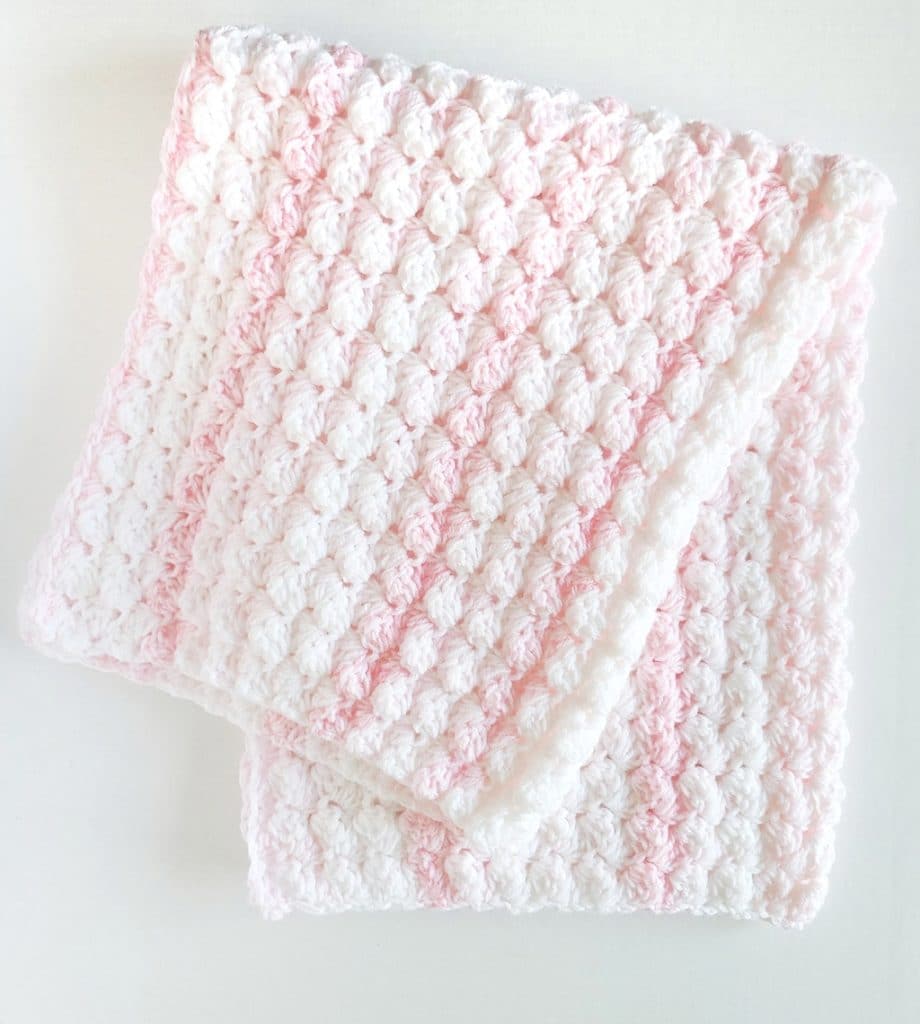 This classic baby blanket pattern is gorgeous and can be made up in any color or any yarn. It uses the easy to learn blanket stitch pattern to create a beautiful heirloom baby blanket that will be treasured for years to come.
This is one of the prettiest stitches you can use in a blanket and a crocheter favorite here on easycrochet.com. Check it out below.
Yarn: Lion Brand Baby Soft
---
Colorblocked Baby Blanket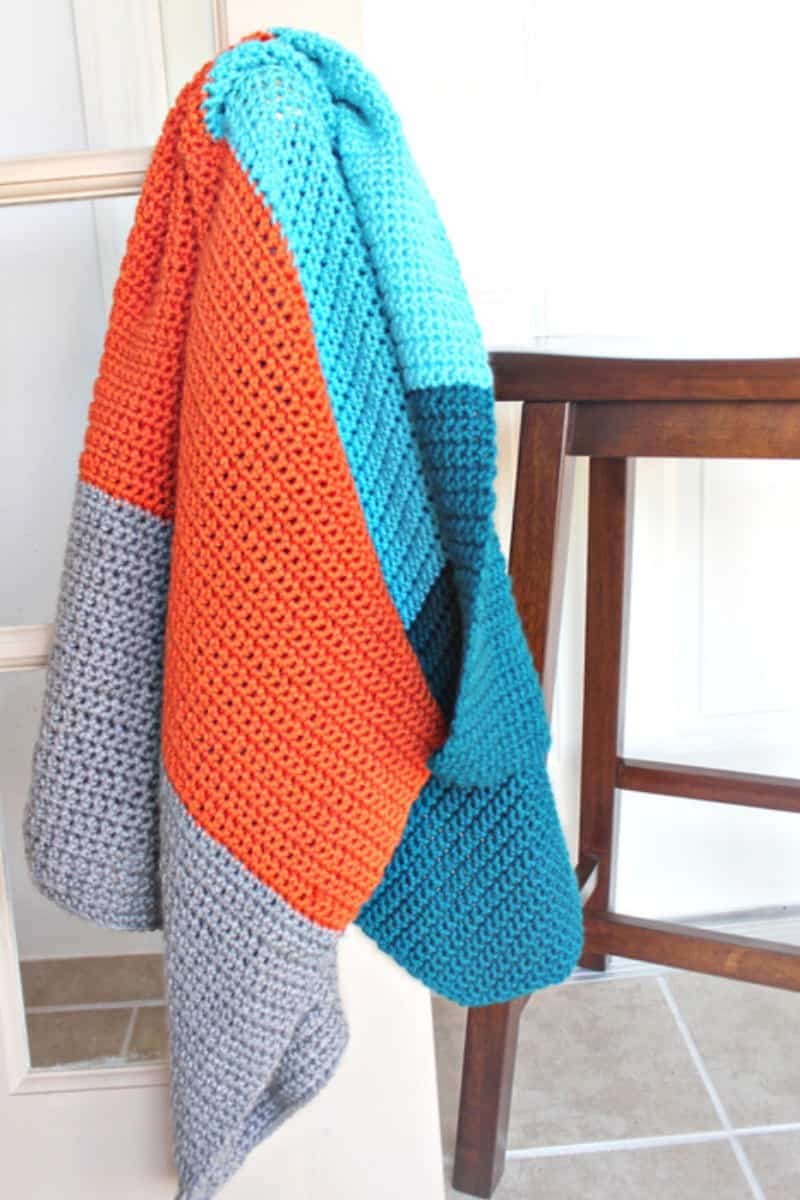 This 3 color crochet baby blanket pattern is crocheted up with just one stitch! If you can single crochet you can make this easy blanket pattern! If you'd prefer to make your blanket in all one color that is easy to do just omit the extra colors, and you'll have yourself a solid one color blanket.
---
Cozy Baby Blanket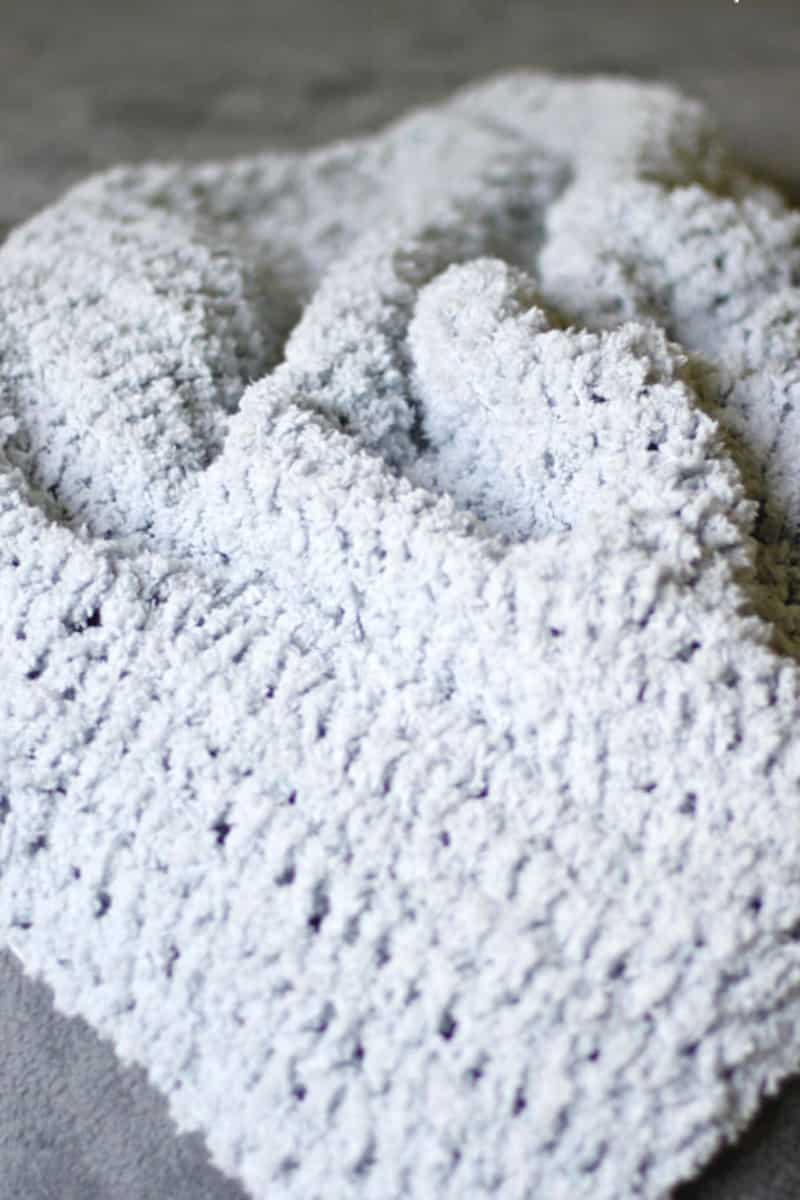 This unique looking but easy to crochet blanket is soft and cuddly. These are the perfect words to describe this baby blanket because of the soft yarn that is used. If you can't find the exact yarn the blanket calls for you can substitute any bulky 5, and it would work just as nicely. You'll love how quick it works up!
---
Colorful Baby Blanket Pattern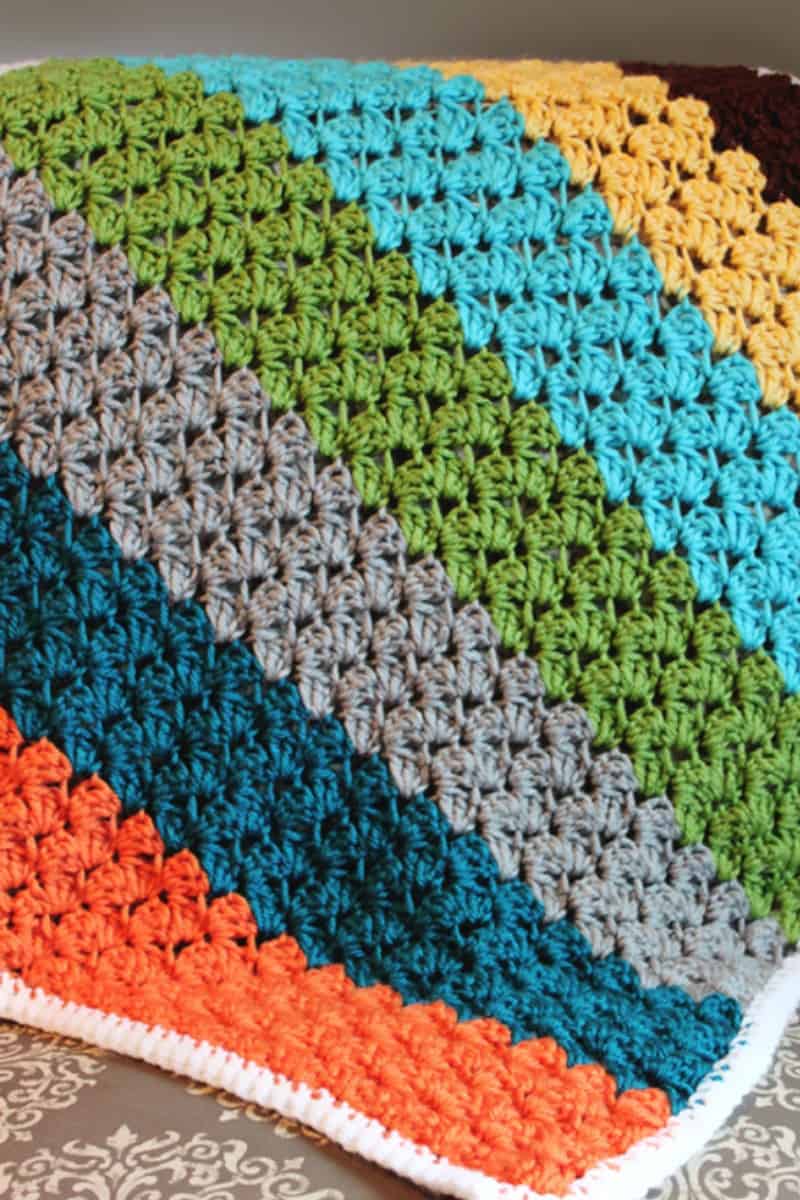 This blanket designs is another example of the crochet blanket stitch used in a baby blanket. The yarn color combinations are endless and even would look great crocheted up in just one solid color too!
---
Ombre Ripple Baby Blanket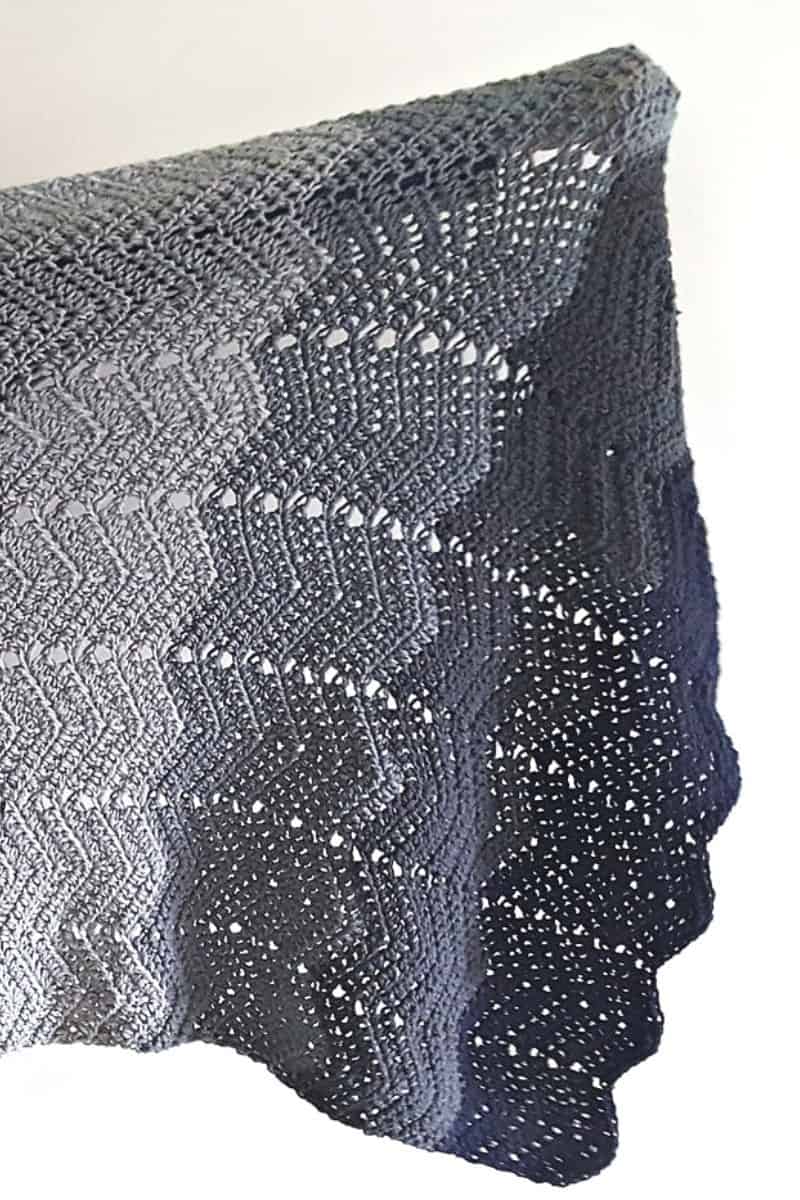 The ombre ripple blanket is a beautiful example of a ripple stitch! It uses 7 different shades of blue of Lion Brands Vanna's Choice to create a gorgeous effect that would make the perfect baby blanket to make and gift! This design is easy to change to a yellow ombre or pink ombre too. Just look through the yarn I linked above to start designing a blanket that is unique to the family you are giving it to.
---
Granny Stitch Baby Blanket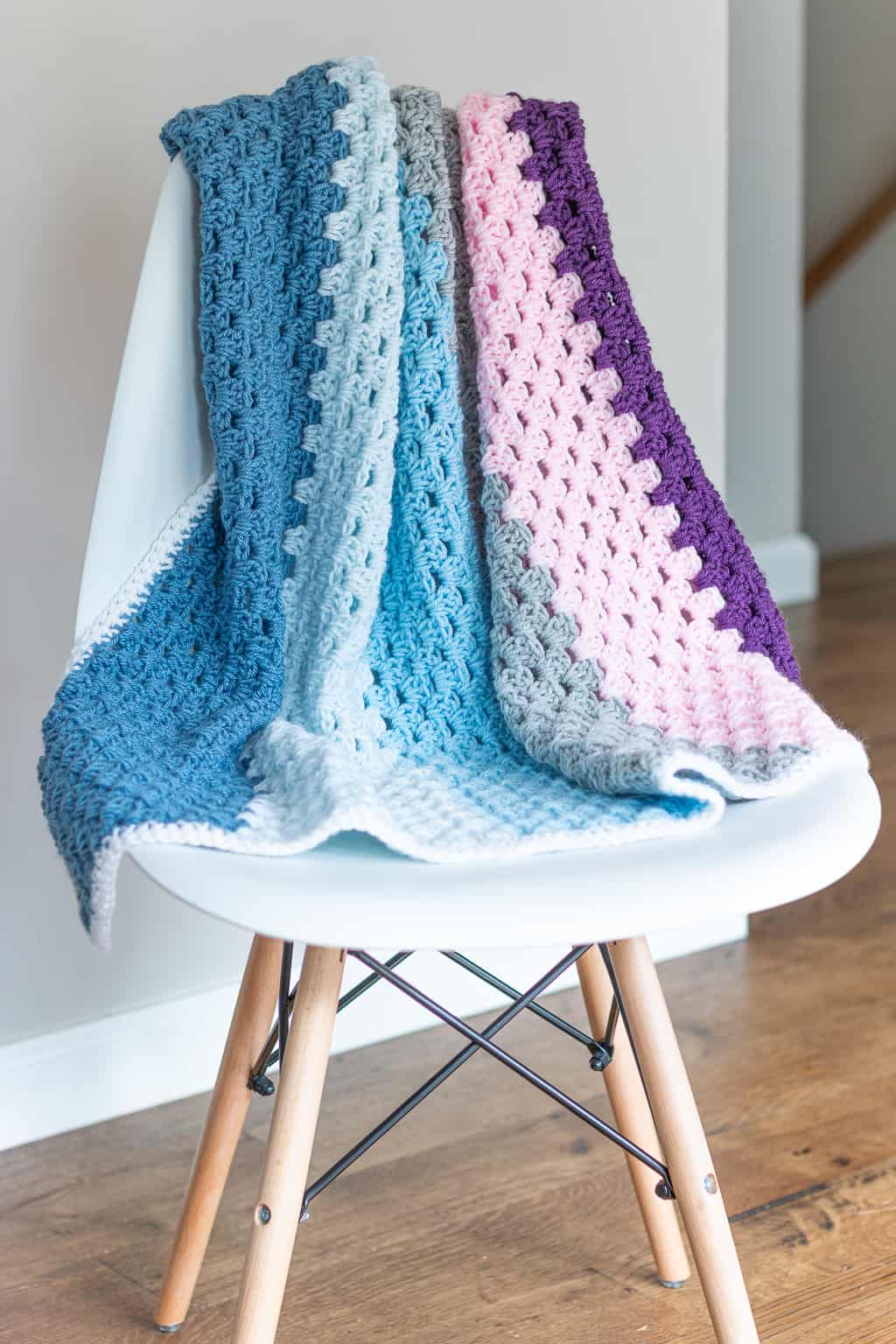 This easy to crochet granny stitch blanket is perfect for new crocheters and can be made in any color for a baby shower gift! Get the Brava Worsted Weight yarn from Knit Picks / WeCrochet and the free pattern to make one today!
---

I hope you enjoyed this list of some top free crochet baby blanket patterns on the web! If you make one of these beauties, please let me know in the comments or sign up to join the Easy Crochet Facebook Group to share your blanket creations.
More Crochet Baby Blanket Patterns