Bernat Blanket Yarn Crochet Patterns
Bernat Blanket yarn is perfect to use to make snuggly crochet patterns that are ideal to make during winter, like cozy blankets, headbands and more!
If you love quick to make crochet patterns, then this chunky yarn is for you! I, personally, love to crochet with bigger yarn like Bernat Blanket because for one it makes for a quick project, and secondly it is extra warm (and soft) to use.
Below, we put together a collection of Bernat Blanket Yarn patterns which are all free patterns, so you can find and crochet a pattern easily with this soft yarn.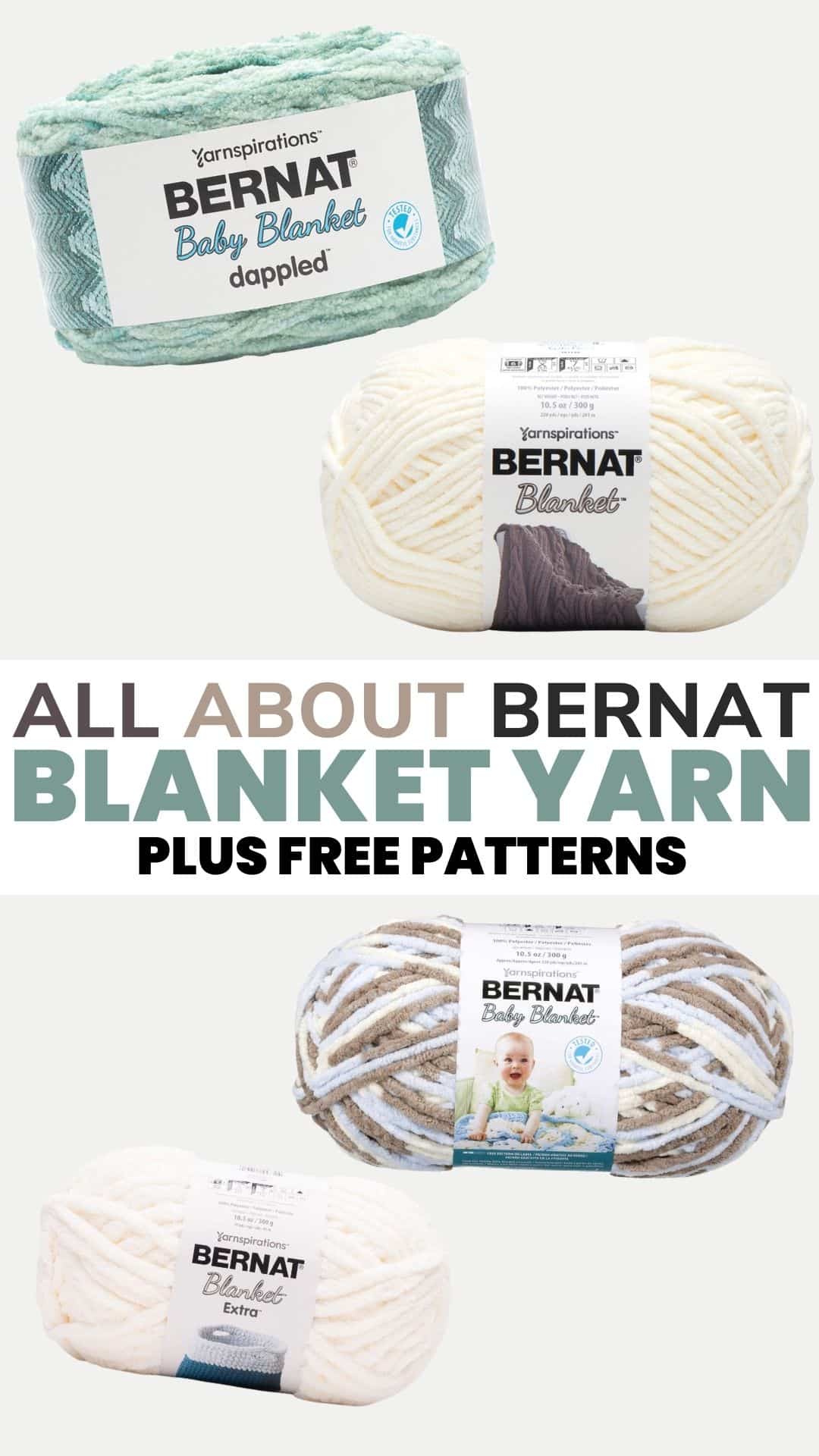 What Is Bernat Blanket Yarn?
Yarnspirations Bernat Blanket yarn is a bulky soft chenille yarn that is extra cozy, chunky and all-around perfect for crocheting blankets, amigurumi, and other projects that are specifically for fall and winter!
Color
If you are looking for a specific Bernat blanket yarn color, you'll find that it is available in a range of stylish shades, so you'll be able to find a match to whatever you are making.
Take a look below at a few of the colors of Bernat Blanket yarn.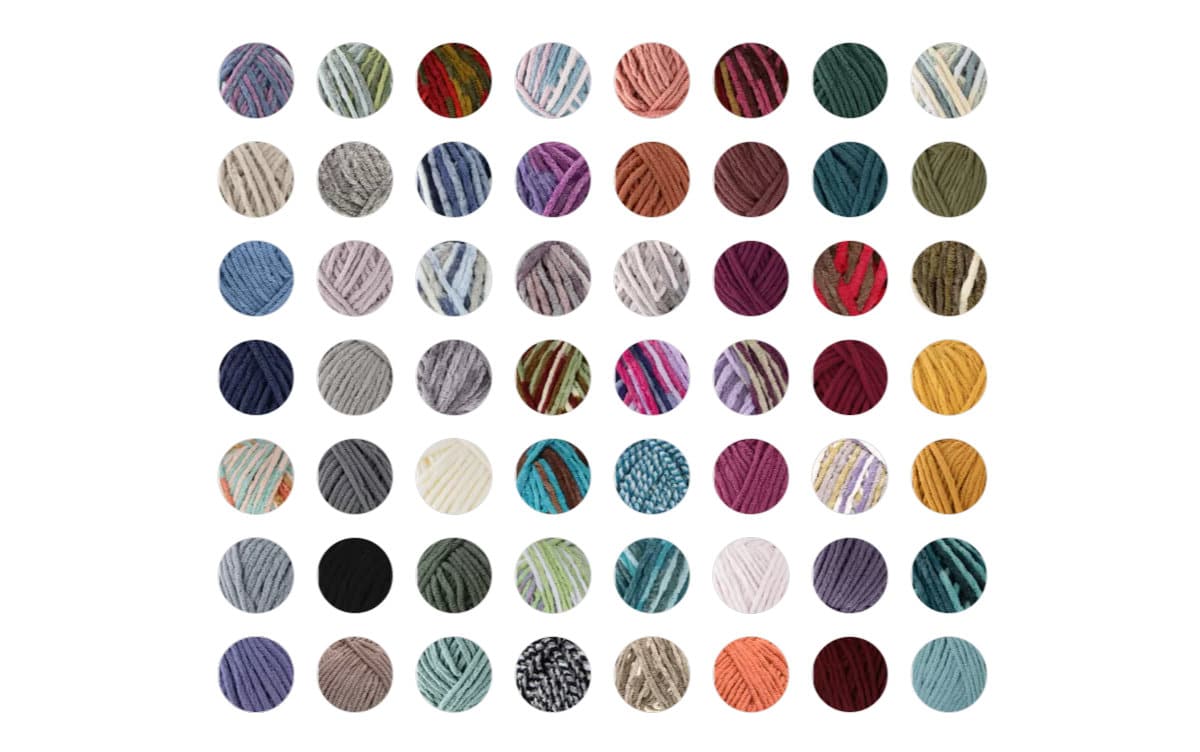 Size
The Classic Bernat blanket yarn is a 100% polyester and is considered a super bulky #6 yarn but is also available in a jumbo #7 size yarn weight as well which means fast, quick projects that you can machine wash.
The thickness of this yarn makes it easier to see your stitches, which is helpful for beginners, and it makes for a quick crochet project as well.
Bernat Blanket Yarn Types & Styles
Bernat Blanket Yarn is available in several styles including 6 super bulky and jumbo sizes, all of which are perfect for crocheting cozy blankets and other cozy crochet projects with since they are all a squishable soft yarn.
Bernat Blanket: The original blanket yarn that started it all.
Bernat Baby Velvet Yarn: Cozy Velvet yarns for baby blankets!
Bernat Blanket Big: Bernat Big Yarn is a seven weight yarn that is great for crocheted blankets that are warm and cozy.
Bernat Blanket Brights Yarn: Bernat Blanket Brights is a soft and cozy yarn in a range of bright colors. Blanket Brights is a soft and cozy chenille-style yarn, in an energetic range of bright shades.
Bernat Blanket Stripes: This cake yarn comes in fun striped colors, which means color without weaving in ends.
Bernat Baby Blanket Stripes: Extra soft yarn with easy color changes that make beautiful self striping baby projects.
Bernat Blanket Extra Thick: Bernat Blanket Extra Thick makes it easy to make big, beautiful projects!
Bernat Blanket Tweeds: Use Bernat Tweeds blanket yarn to compliment your home decor with this cozy yarn.
Bernat Baby Blanket: Baby blanket yarn is perfect for quick crochet baby blankets.
Bernat Blanket Breezy
Bernat Blanket O'Go: The O'Go format creates a quick start and tangle-free stitching experience.
Bernat Blanket Pet: This yarn is made with a safe and natural solution that helps reduce pet odors.
Bernat Blanket Twist Yarn: Bernat Twist yarn has a fun, eye-catching gradient color change.
Bernat Baby Blanket Twist Yarn. Bernat Baby Blanket Twists is a new favorite with its beautiful twisted color.
Bernat Blanket Ombre: This gorgeous Blanket Ombre cake yarn fades from one color to the next for a beautiful ombre crochet project.
Bernat Blanket Extra Yarn: Bernat Blanket Extra is a cozy BIG yarn that is perfect for crocheting big blankets.
Bernat Baby Blanket Dappled. There is a speckled color effect on the Dappled yarn, which has the same soft feel as the Baby Blanket line.
Don't limit yourself to making a crochet blanket because you can make many other types of crochet projects as well as hats, ear warmers and more with this Bernat Blanket yarn as well.
Tips on Using Bernat Blanket Yarn
Use the Recommended Hook Size:
Bernat Blanket yarn is soft to work with and can be crocheted up by a beginner effortlessly with the correct hook. As long as you use the recommended crochet hook size, you will have no trouble with this blanket yarn being too stiff.
About Hook Size
If your crochet project using Bernat Blanket Yarn is stiff, you'll want to try to use a larger hook size, so it has softness and drape since we all tend to crochet a little different. Some crochet tightly and some people crochet loosely.
Take Hand Breaks
Since Bernat Blanket is a thicker yarn, your hands may get tired from time to time, so take breaks if needed. When working with bigger yarn, it can help not to try to finish the project using it all in one sitting.
This super bulky yarn makes crocheting blankets faster and the thickness also makes it easier for you to see your stitches, which is super helpful for beginner crocheters.
Have The Supplies
To crochet with Bernat Blanket yarn make sure to have a large crochet hook which is usually an 8 mm (U.S. L/11) crochet hook or larger. You will also need a large yarn needle to weave in ends, scissors for cutting the yarn at the end of your project, and possibly stitch markers to keep your place while crocheting.
Best Stitches for Bernat Blanket Yarn
The best stitches to use with Bernat Blanket yarn are ones that are simple like the single crochet stitch (sc), half double crochet stitch (hdc) and double crochet stitch (dc).
Single Crochet (sc)
Insert hook from front to back in the second chain from the hook or designated stitch
Bring the yarn over (Yo) the hook and pull the yarn back through the chain (or stitch) from back to front (2 loops on hook).
Yo and pull through both loops on the hook.
Single Crochet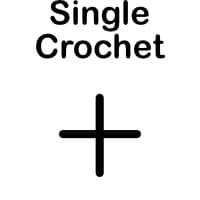 Patterns Using This Stitch →
Half Double Crochet (hdc):
Yo (yarn over) insert hook from front to back of the designated stitch, yo the hook and pick up a loop.
Yo the hook and pull back through all three loops on the hook.
Half Double Crochet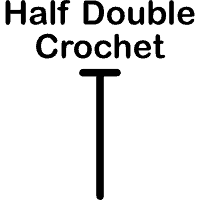 Patterns Using This Stitch →
Double Crochet (dc):
Wrap the yarn over (yo) the hook, insert the hook into the specified st.
Yo the hook again, draw the yarn through the st, so there are 3 loops on the hook
Yo the hook again draw it through 2 loops, so there are 2 loops on the hook
Yo the hook, draw it through the final 2 loops.
Double Crochet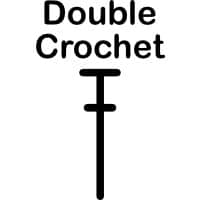 Patterns Using This Stitch →
Using basic crochet stitches like the ones mentioned make it easier to see your stitches when working with a thicker yarn like the Bernat Blanket. You are welcome to try some more unique crochet stitches with this yarn to see how it goes.
The Best Bernat Blanket Yarn Crochet Patterns
Explore the list below to find some of the best crochet patterns for Bernat blanket yarn like slippers, hair scrunchies and cozy crocheted blankets.
Common Questions About Bernat Blanket Yarn
How Do I Wash Bernat Blanket Yarn?
According to the yarn label, Bernat Blanket yarn is machine washable and dryable which is great for baby blankets or throw blankets that get a lot of use. You'll love how easy it is to machine wash and dry projects made with this yarn.
How Much Bernat Blanket Yarn Do I Need For A Blanket?
How much yarn you will need for a blanket will depend on the size of the blanket you want to make. The best way to determine how much yarn required is by using our blanket resizing calculator or by researching blanket sizes.
Where Can I Buy Bernat Blanket Yarn?
You can purchase blanket yarn in most craft stores, online and at big box stores like Walmart. You could also buy this yarn from Michaels.com using their bulk buy program, Michaels Pro.
What Can I Use as a Substitute Yarn for Bernat Blanket Yarn?
If you can't find Bernat Blanket Yarn, you can check the list of other Bernat blanket products to see if those yarns would work. Be sure to read the yarn label to make sure the yarn weight is the same.
You could also look at amazon.com, walmart.com and lovecrafts.com to find a suitable super bulky six yarn or jumbo yarn as a substitute.
My favorite and what I recommend substituting it with is Lion Brand Yarn I Wanna Make a Blankie Yarn which can be found at Walmart, online at Amazon or directly from the LionBrand.com website.
More Free Crochet Patterns using Super Bulky Yarn