Crochet Ripple Baby Blanket Pattern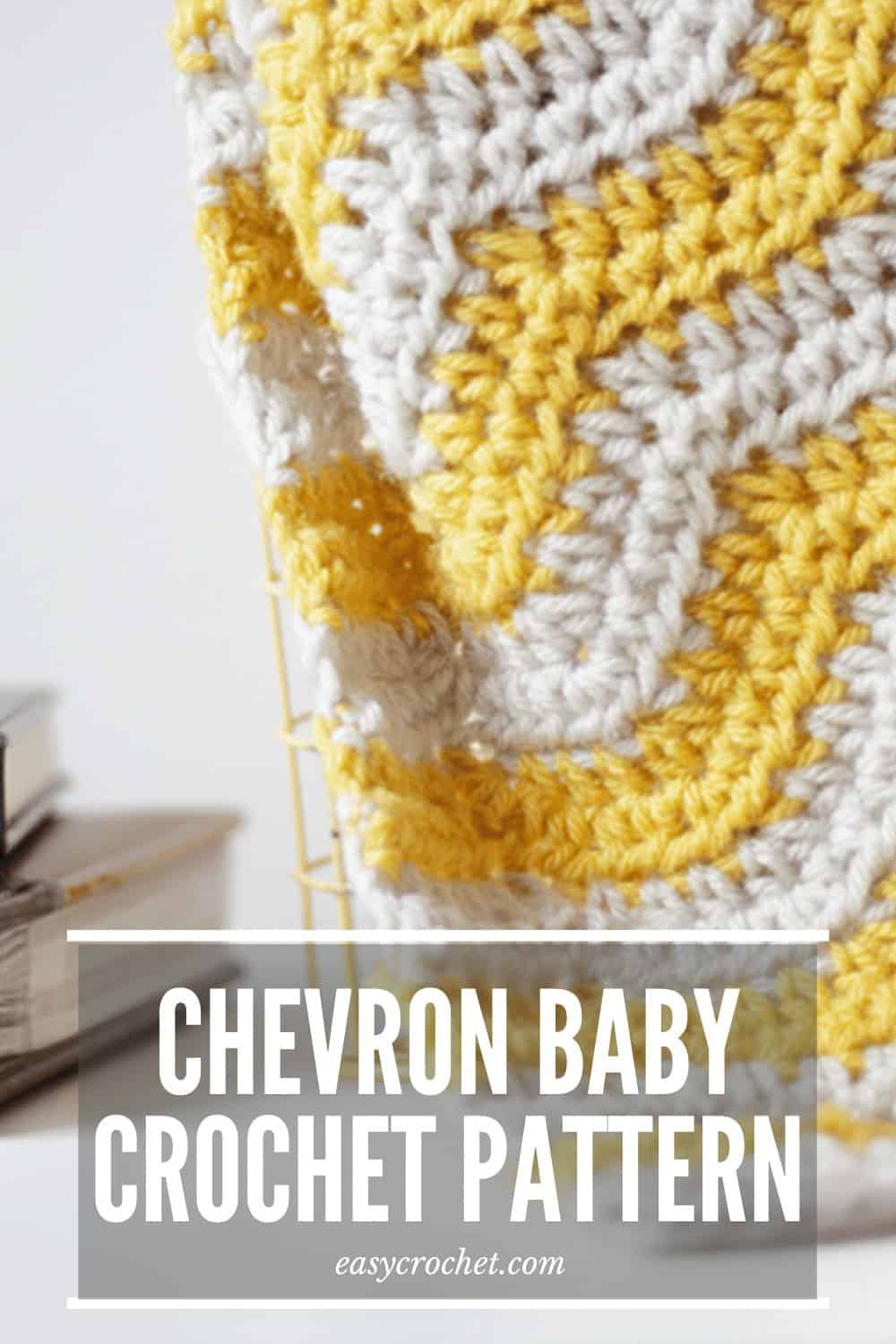 Make this simple half double crochet ripple baby blanket with this free crochet pattern and tutorial. Read on down to get started on your next crocheted baby blanket project with our step by step pattern!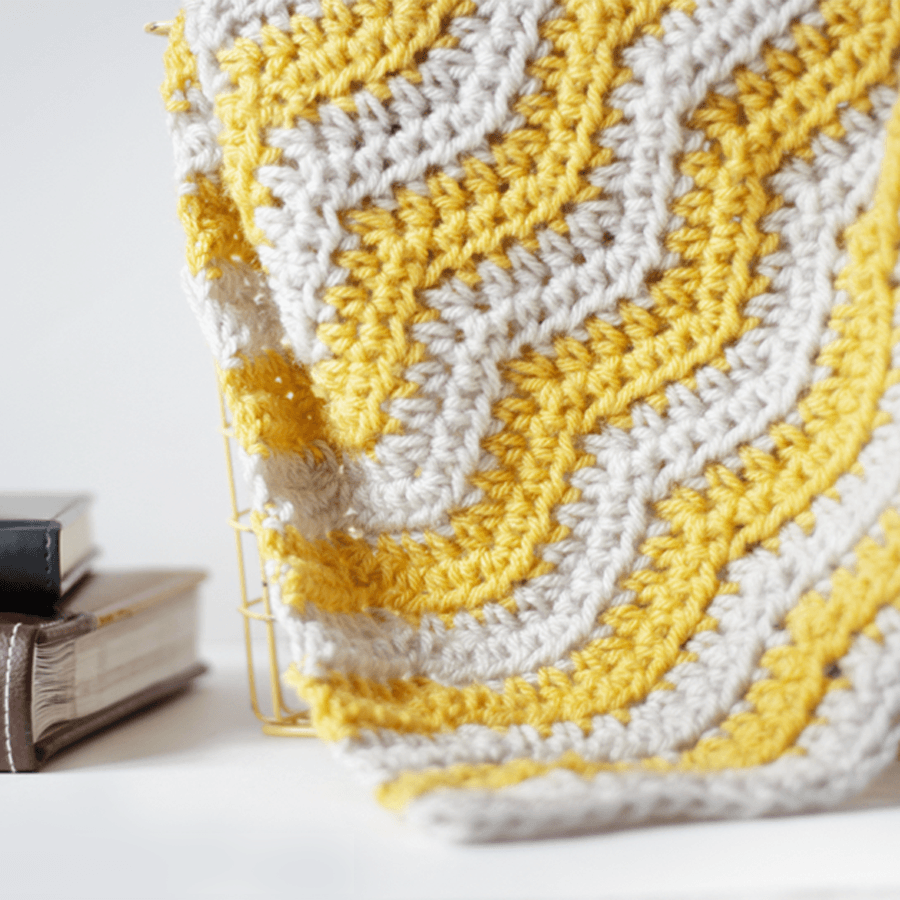 Related: Are you looking for more crocheted baby items? Try the Stoney Pebbles Blanket, Newborn Pom Beanie, or explore the archives for free patterns.
Why You'll Love This Crochet Ripple Baby Blanket
Below are a few reasons that you'll love crocheting a ripple baby blanket and want to keep on making more of them! Enjoy!
Great Ripple Blanket to Make As a Baby Shower Gift!
I have been dreaming about designing a smaller version of my Neutral Crochet Chevron pattern, and this little beauty of a ripple crochet baby blanket was the result.
This free baby ripple afghan is great for baby showers, gifts and a just because I want to make a baby gift blanket. Have fun making this ripple baby blanket pattern!
The Perfect Crochet Ripple Baby Blanket Pattern
When I worked up this blanket, I wrote it to be the perfect blanket size for a baby/stroller blanket. I would love to see it made in a different size, so please do try it and share it with me!
The Yarn for This Ripple Blanket
I love unlimited color choices with my projects, so I went straight to my favorite Lion Brand Yarn Vanna's Choice and chose the colors, Mustard & Linen. Vanna's is a 100% acrylic yarn that works up beautifully, is washable and easy to find in most craft stores.
Almost any color scheme would look great with this crochet baby blanket, so have fun and be creative with when you are planning your blanket.
Click the yarn below to take a peek!

Easiest Ripple Baby Blanket
Like I said before, this blanket works up pretty quickly! It is easily one of the fastest baby blanket patterns! I promise you can crochet this up quickly even if you are a beginner.
Crochet Stitches for a Ripple Blanket
This blanket uses a few simple crochet stitches, like the half double crochet (hdc) and chain stitch (ch).
Learn more about each stitch below before you get started, so you'll be ready to make this baby blanket as soon as possible.
Half Double Crochet (hdc):
Yo (yarn over) insert hook from front to back of the designated stitch, yo the hook and pick up a loop.
Yo the hook and pull back through all three loops on the hook.
Chain Stitch (ch):
A simple crochet stitch that often forms the foundation of what crochet stitches are worked into during projects.
Make a slip knot.
Insert hook into slip knot point first, bring yarn over the shaft of the hook from back to front and grab it with the throat of the hook.
Draw hooked yarn through slip knot and onto the hook. This movement will make one chain stitch
Repeat steps two and three until you have the desired number of stitches for a pattern. One loop will remain on the hook.
Now that you know how easy this blanket will be to crochet, then you don't have to look through baby crochet patterns online anymore! All you need is this pattern, some yarn, knowledge of some basic crochet stitches and your crochet hook!
Ready to Try Out This Simple Crochet Baby Blanket Pattern?
Scroll on down to find the free pattern, so you can learn how to crochet a baby blanket, or you can click here to purchase an inexpensive, ad-free PDF in my pattern shop.
Free Ripple Stitch Crochet Baby Blanket
Skill Level: Easy
Materials

Abbreviations
Gauge
The gauge is approx. 5 st's for every 2″. Each st is approx .5″ in height.
Learn why gauge is important to follow.
Finished Size
The finished baby blanket size is 28″ x 34″(inches)
Notes
This pattern is written in American Standard Terms.
To make in different sizes of this blanket, please use a multiple starting ch of 8 then add 2 to whatever length you have chosen.
Use the blanket sizing calculator to get measurements, rows, and yardage for standard blanket sizes.
I recommend weaving in the ends as you go.
Here is a tutorial on changing colors if it is needed. Click here → "How to Change Colors in Crochet"
Pattern Steps
I am using two yarn colors, Linen, and Mustard from the Vanna's Choice Line.
Foundation Row: Ch 72 + 2 with linen
Row 1: Starting in 2nd ch from hook hdc, *hdc once in each of the next 3 chs, hdc the next 2 chs together, hdc once in each of the next 3 chs, 2 hdcs in the next ch, repeat from * until the end, turn. (73)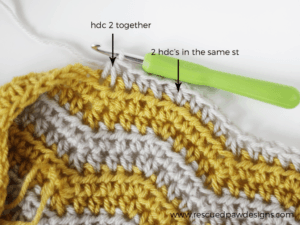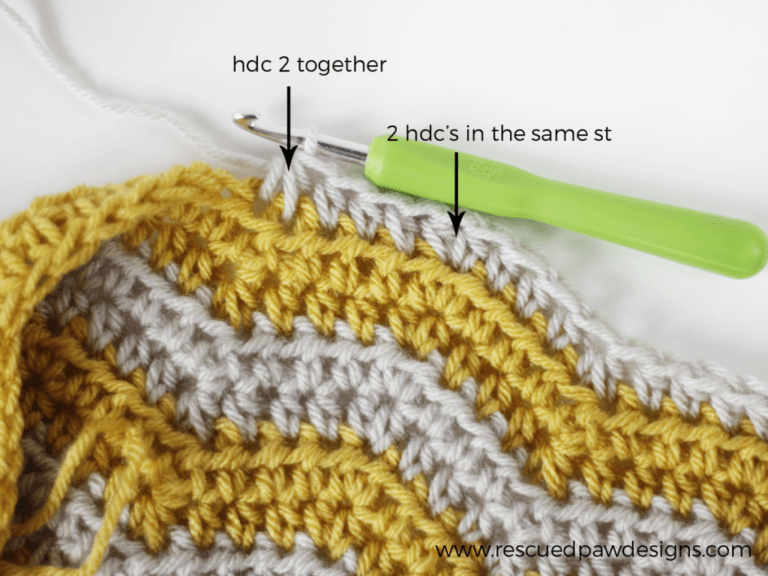 Row 2: Ch 1, starting in the first st hdc, * hdc once in each of the next 3 sts, hdc the next 2 st's together, hdc once in each of the next 3 st's, 2 hdc's in the next st, repeat from * until the end, turn. ( 73)
Row 3: Change color to Mustard and repeat row 2 (73)
Row 4: Repeat row 2 (73)
Row 5: Change color to Linen and repeat row 2 (73)
Row 6: Repeat row 2 (73)
Row 7 – 34: Repeat row 2 alternating colors every 2 rows. (73)
Finishing: Fasten off, cut the yarn with scissors and weave in loose ends throughout the ripple blanket with a yarn needle.

If you need any clarification about this baby ripple crochet blanket, please feel free to email me! I am more than happy to help in any way possible.
Save it to Pinterest to make later with our images below! Make sure to follow along with us, too, so you never miss out on a new free pattern or tutorial.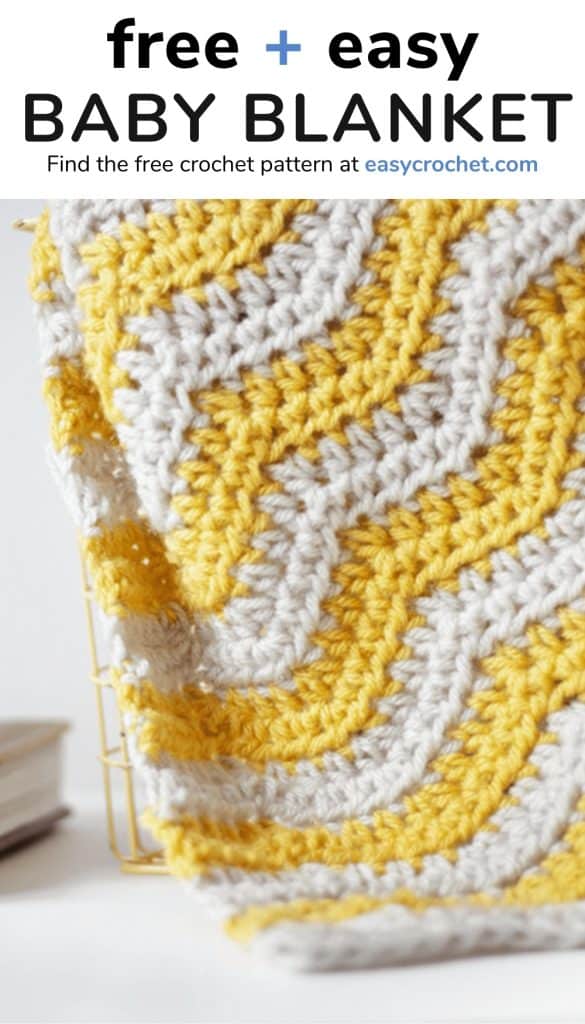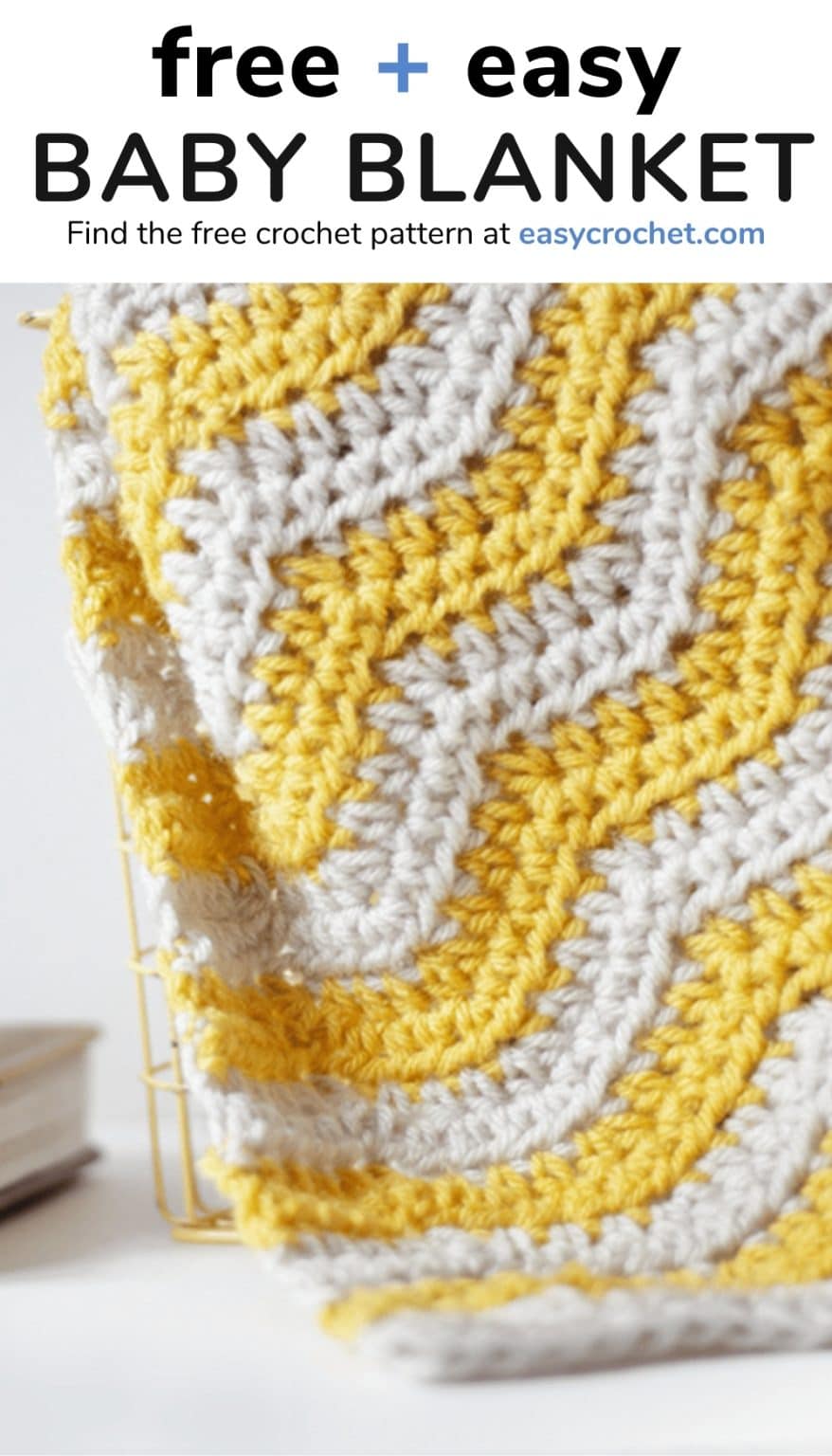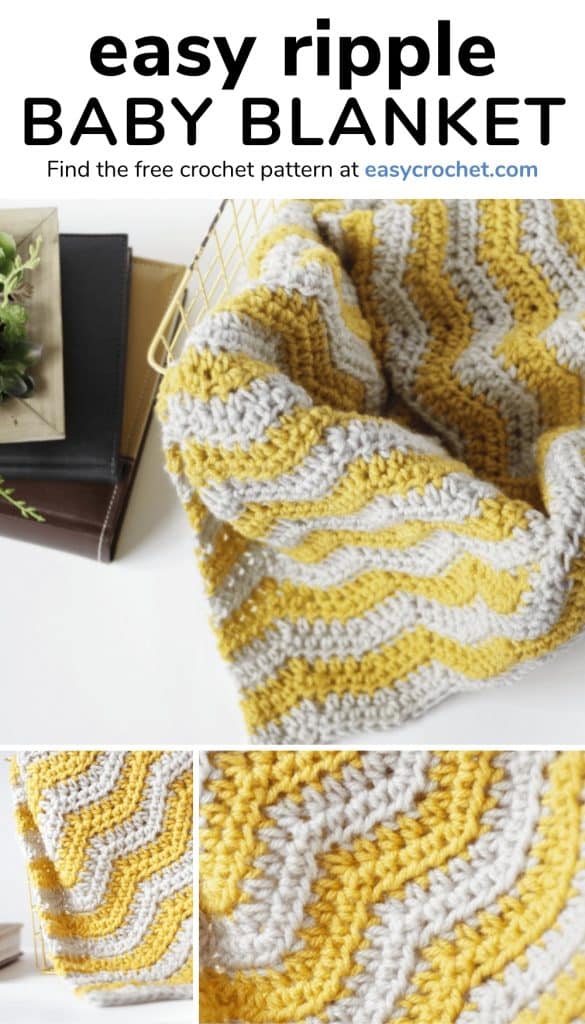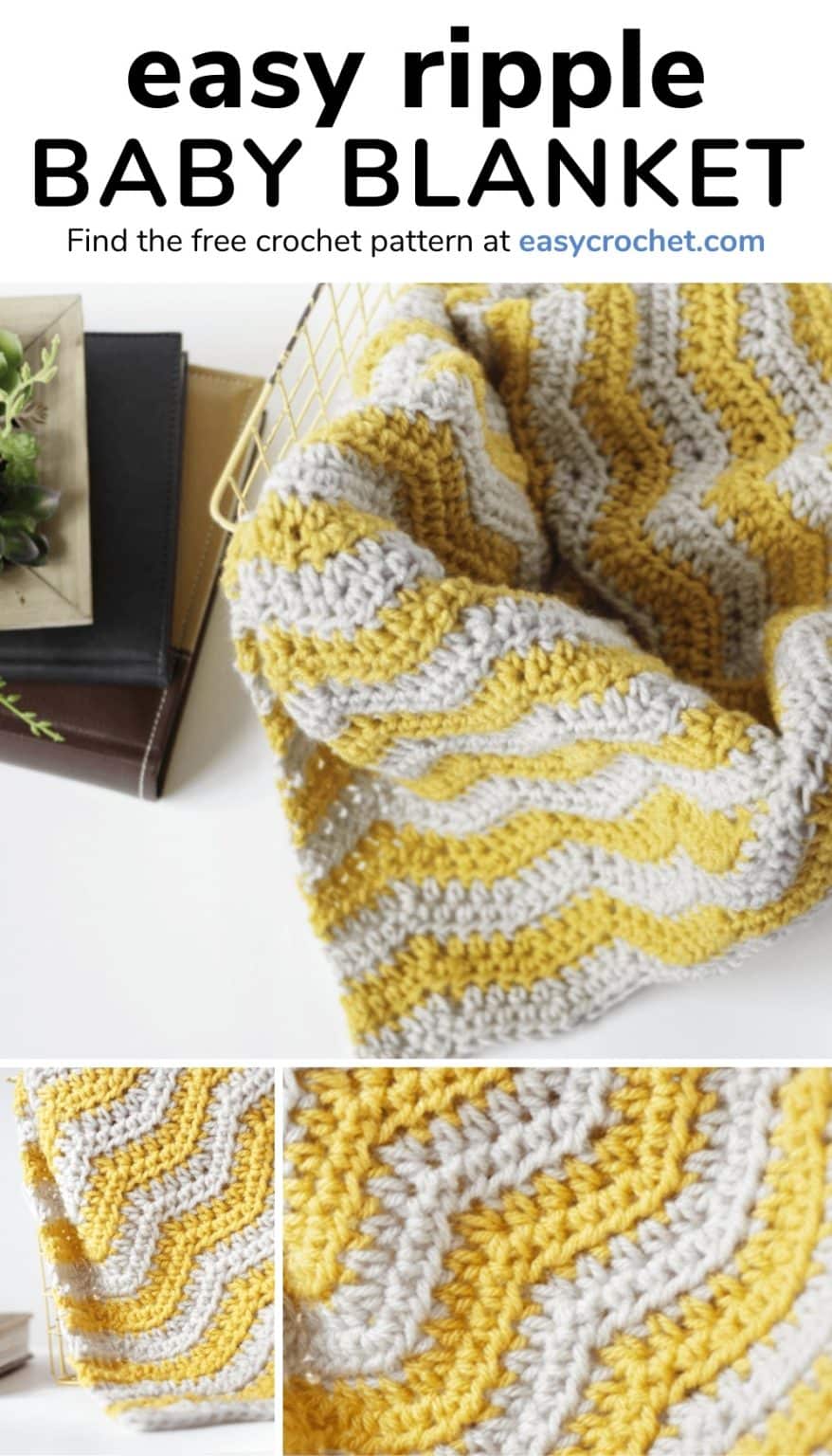 More Free Crochet Baby Blanket Patterns to Make