Two Triangle Crochet Baby Blanket Pattern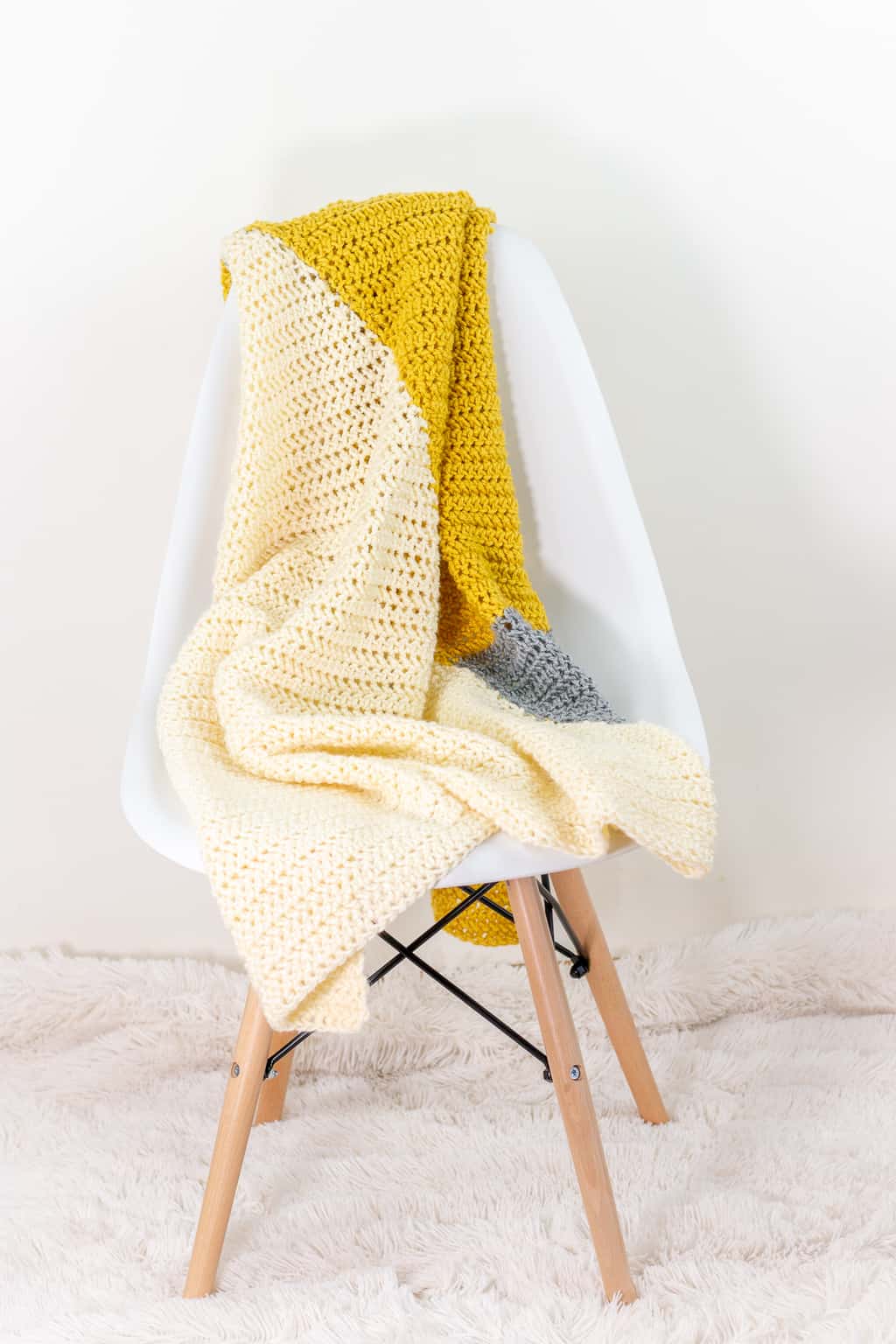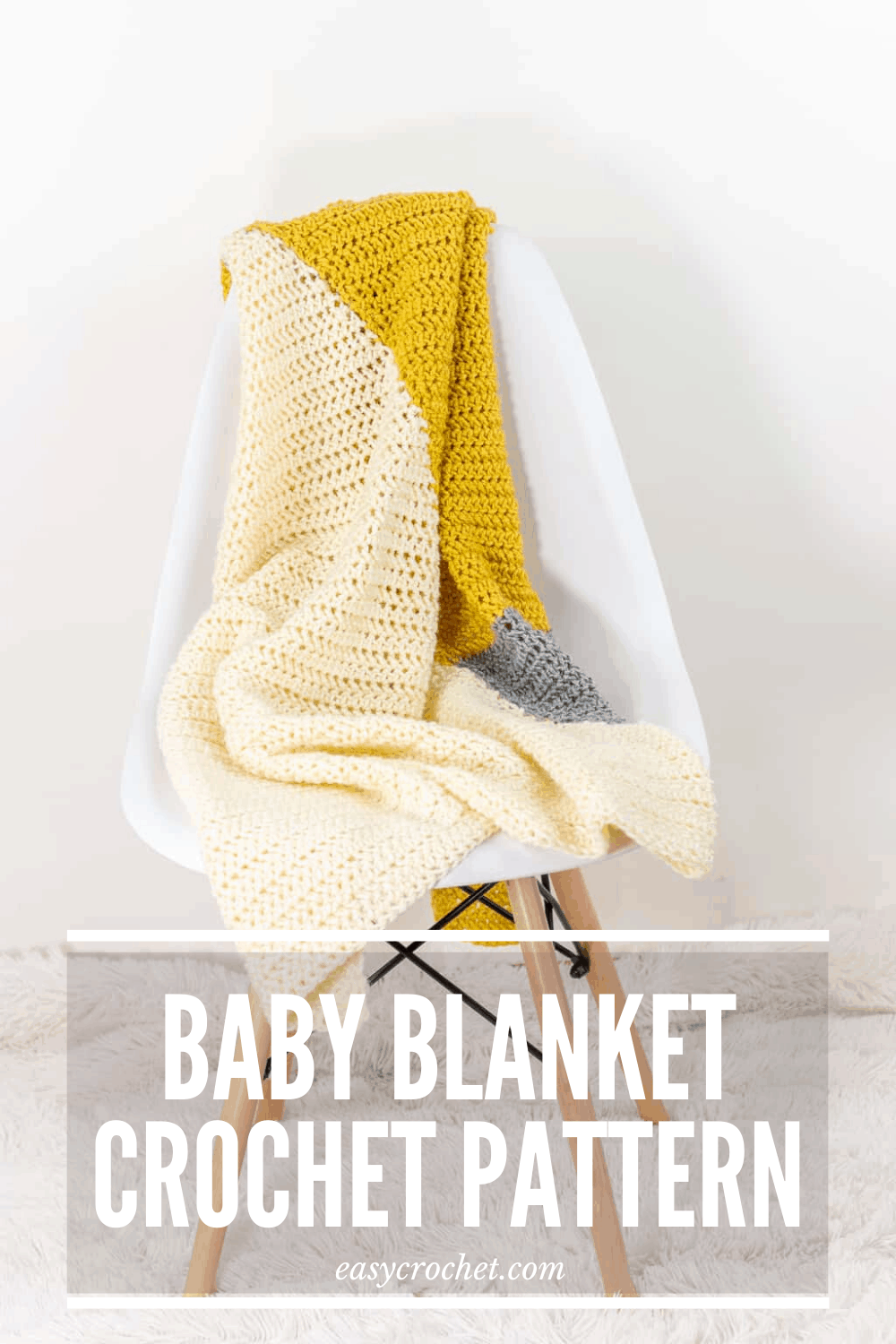 This triangle baby blanket is probably one of the most fun baby blanket patterns you can crochet! It can be made in a variety of colors and uses an easy beginner-friendly stitch.
If you can herringbone half double crochet (hddc), then you can make this baby blanket! Learn more about the hhdc stitch below. Scroll down to get started on your new favorite crochet blanket pattern, and I hope you enjoy this modern take on a baby blanket!
You can find the free pattern here on the blog, or purchase a ready to print PDF versions in my shop.
Happy Crocheting!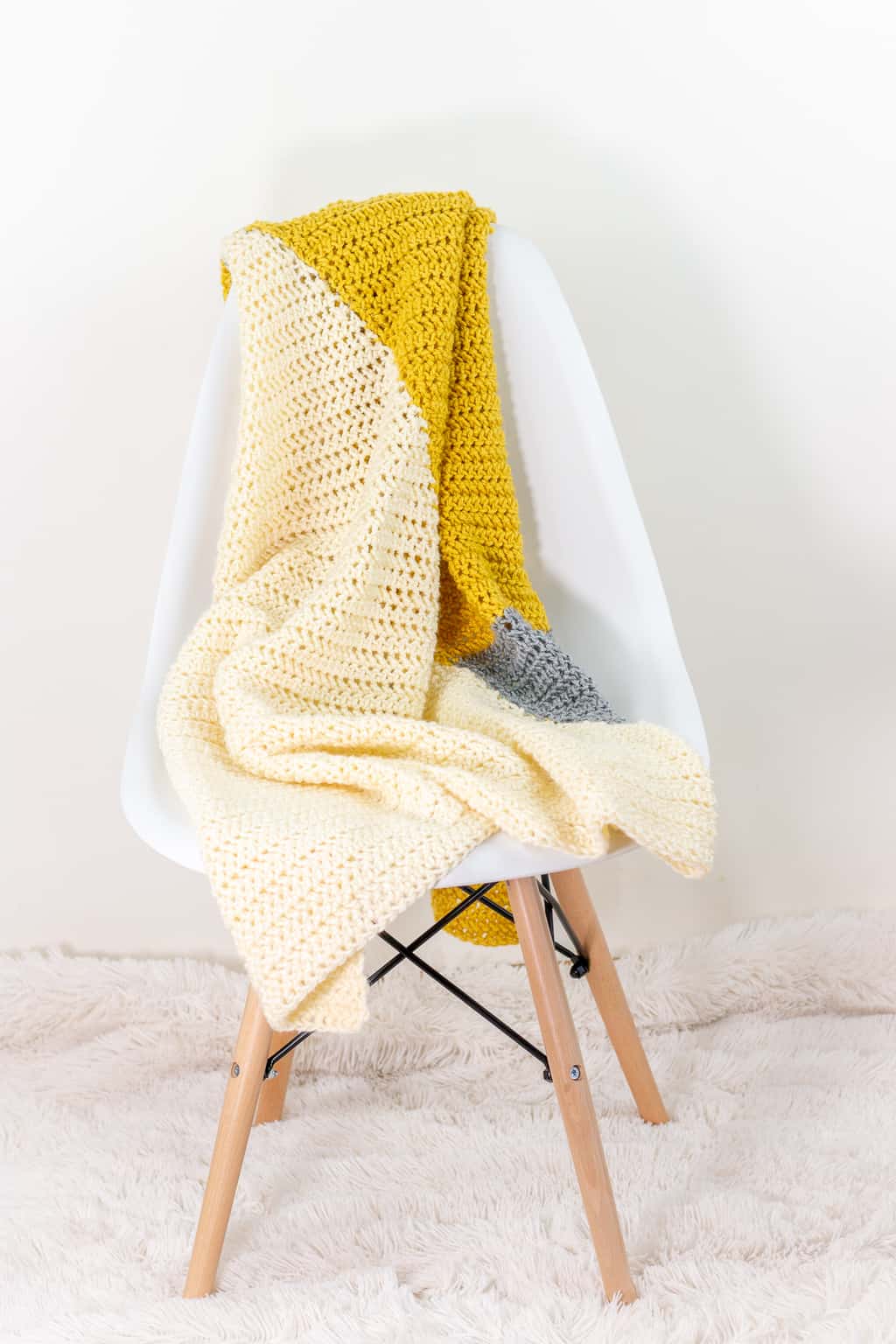 Related: Do you want to make even more crochet baby blankets? Explore the baby blanket pattern archive Easy Crochet!
Make A Baby Blanket With Two Triangles
Yep! I know it looks like four triangles, but it is only two! This whole blanket is worked up using two triangles in three different colors.
I used Lion Brand Yarn Basic Stitch Anti-Pilling in Silver Heather, Mustard, and Ecru.
I recently used this yarn to make another blanket called the Simple Stitch Blanket, and if you like this yarn, you'll definitely want to make this other blanket as well!
What you'll need: You will need a little less than three skeins of each of the Mustard and Ecru and one skein of the Silver Heather to complete this entire blanket, a size 6mm crochet hook and some extra time.
I will explain more about the construction below in the pattern, and even designed a chart that will make it easy to see how the blanket goes together.
You can make this blanket… Promise!
The Crochet Stitches You'll Need to Know
For this entire design, I used just two crochet stitches… the Herringbone Half Double Crochet (HHDC) and Single Crochet (SC), which are both easy to learn! Don't worry, I'll explain them below and also link to a video tutorial for them too!
Stitch Lessons
Herringbone Half Double Crochet (HHDC):
yarn over
insert hook into the stitch indicated
yarn over (3 loops on hook)
pull up a loop and pull that loop through the first loop on the hook (2 loops on hook)
yarn over
pull through the remaining two loops on the hook
Click here for a more in-depth HHDC tutorial lesson.
Herringbone Half Double Crochet Video Lesson:
[adthrive-in-post-video-player video-id="nuPPGUxp" upload-date="2019-10-01T15:16:11.000Z" name="Herringbone Half Double Crochet Stitch" description="Learn how to crochet the Herringbone Half Double Crochet Stitch."]
Click here to watch the HHDC video tutorial on YouTube.
Single Crochet (SC):
Insert hook from front to back in the center of the second chain from the hook.
Bring the yarn over (YO) the hook and pull the yarn back through the chain from back to front (2 loops on hook).
YO and pull through both loops on the hook.
Learn more about the single crochet stitch.
Click here to watch the SC video tutorial on YouTube.
Let's Get Started!
Now that you know what yarn you'll need and all about the stitches, just read on down to start crocheting your new blanket.
Happy Baby Blanket Making!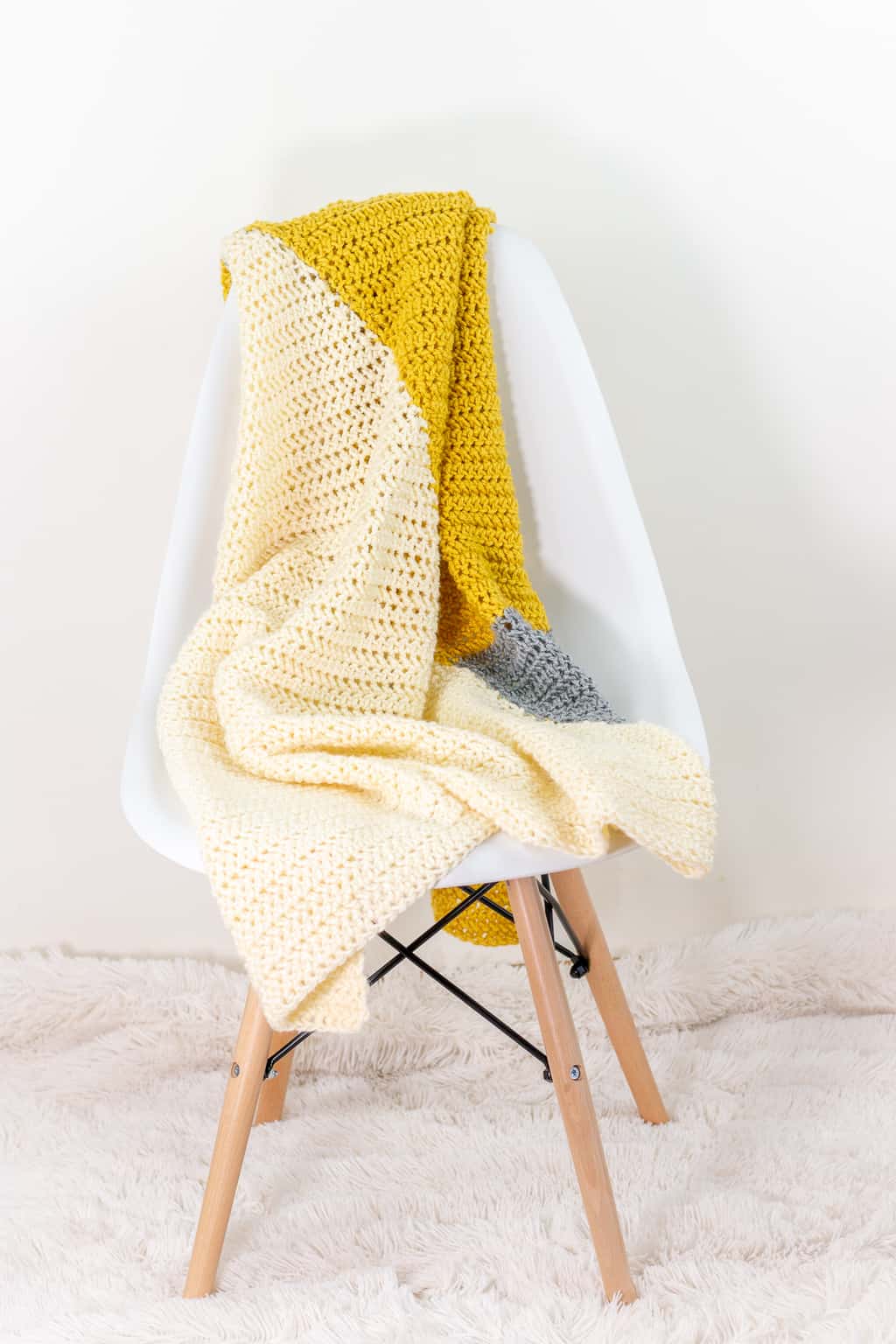 Three Ways To Enjoy This Blanket
FYI: there are three different ways to enjoy this pattern.
One: scroll down to find the pattern here on the blog.
Two: Buy a ready to print AD-FREE PDF for the price of a fancy coffee.
Three: purchase the kit with all the yarn you'll need from Lionbrand.com
Two Triangle Crochet Baby Blanket Pattern
Skill Level: Intermediate
Description: The two triangle blanket is worked up in two pieces and with one stitch with a simple decrease every row to create a modern triangle design.
Buy the Crochet Kit for this pattern from Lion Brand
Materials
Basic Stitch Anti-Pilling by Lion Brand in

Ecru: COLOR A – < 300 grams – 3 skeins
Mustard: COLOR B – < 300 grams- 3 skeins
Silver Heather: COLOR C – < 50 grams – 1 skeins

Crochet hook J 6 mm
Scissors
Yarn needle
Stitch markers
Abbreviations
HHDC Decrease: Decrease by 1 ST by HHDC two STS together
CH = Chain
SC = Single Crochet
HHDC = Herringbone Half Double Crochet
HHDC DEC = Herringbone Half Double Crochet Decrease
ST(S)= Stitch(es)
REP = Repeat
Gauge
4″ x 4" swatch using a starting chain of 11 × 8 rows by following the written pattern
Sizing
48″ x 36″ baby blanket. Only one size is available at this time.
Notes
Written in Standard US terms
Turning CH's do not count as ST's
Make two in three different colors or all the same. Mix it up the colors however you'd like. Have fun with it! 🙂
Knowledge of mattress stitch joining method is required
Learn how to change yarn skeins in crochet
Pattern Steps
Note: You are making two triangles.
Triangle 1: Ch 92 with COLOR A or *SC foundation CH of 91 * skip to Row 1
Foundation Row: in the second CH from the hook SC, SC into each CH across, turn. (91)
Row 1: CH 1, in the first ST HHDC, HHDC into each ST across, end with 1 HHDC DEC in last ST, turn. (90)
Row 2: CH 1, HHDC DEC, HHDC into each remaining ST across, turn. (89)
Row 3: Repeat row 1 & 2 with COLOR A for a total of 63 rows
Row 64 – 90: Join in COLOR C repeat rows 1 & 2.
Triangle 2: Repeat Pattern, but use COLOR B in place of COLOR A.
Finishing: Fasten off yarn and weave in the loose ends with a yarn needle securely.
Joining Triangles: Use the mattress stitch to join the triangles.
Mattress Stitch: Holding the two triangles right side up, making sure the STS are lined up from each triangle along the edge, using ST markers to hold them together evenly. With COLOR B yarn and yarn needle, mattress stitch 91 times along the edge to join.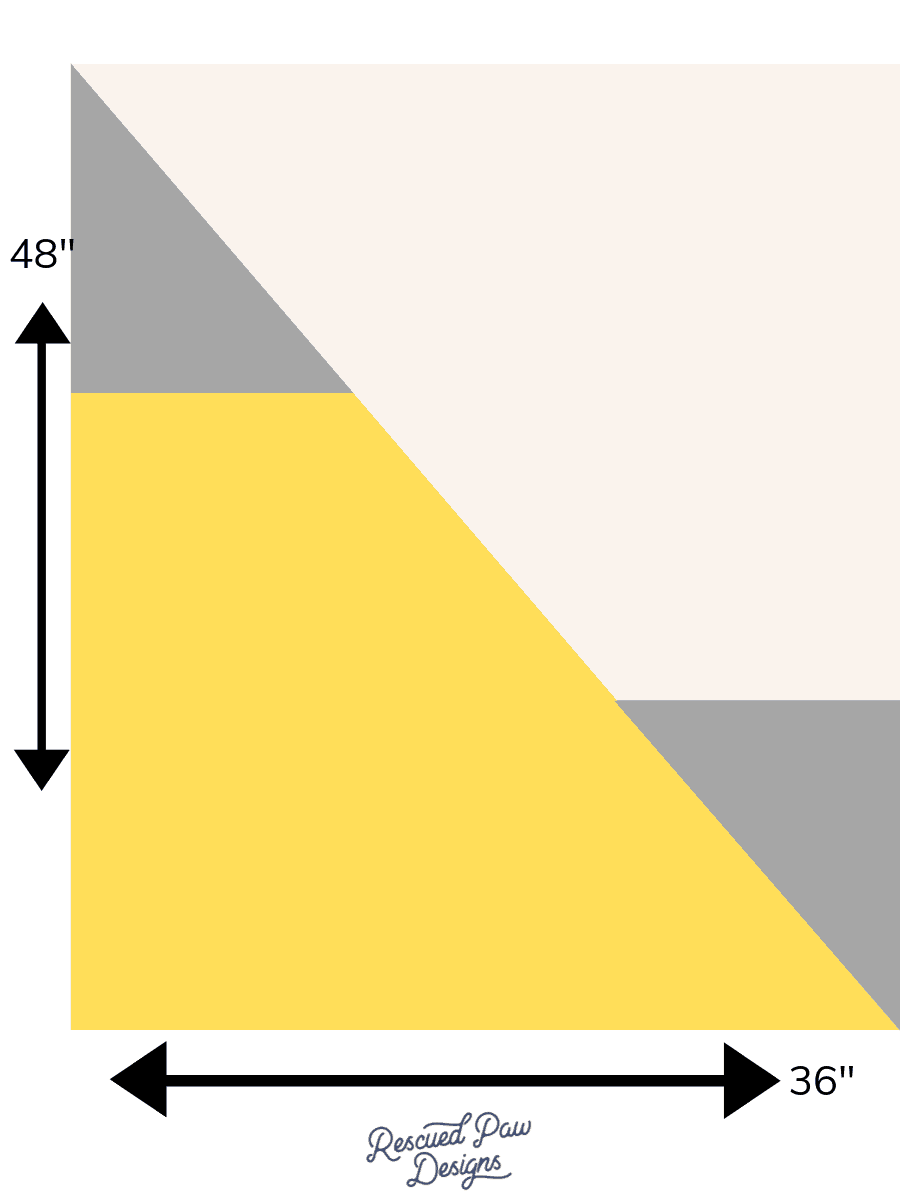 Have a Question About This Pattern?
At this time, I do not have the time to answer individual emails with pattern questions, but do encourage you to join the Easy Crochet community on Facebook to help with your inquiries.

More Free Crochet Blanket Patterns You May Like