Easy Crochet Hat Patterns for Beginners: Basic Beanies
Are you a beginner crocheter that is looking for easy hats or beanies to crochet? If so, this post has four different beginner crochet hats that you can make and learn how to crochet a hat easy with.
Not only that, these easy crochet beanies use basic stitches, which means they work up fast, and it also makes them the perfect hats for new crocheters to make.
I hope you enjoy these free, simple, and easy crochet hat patterns!
Happy Crocheting!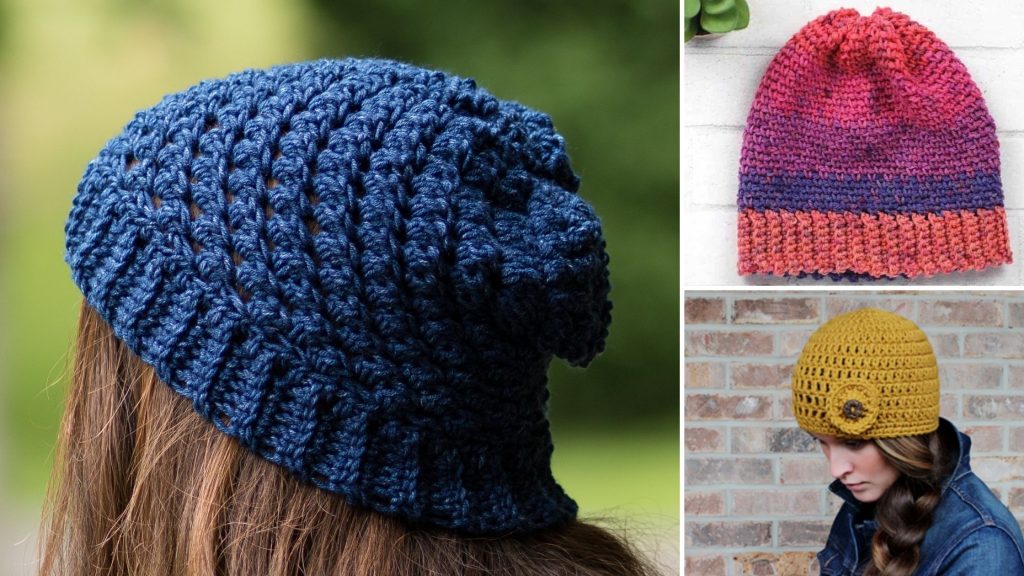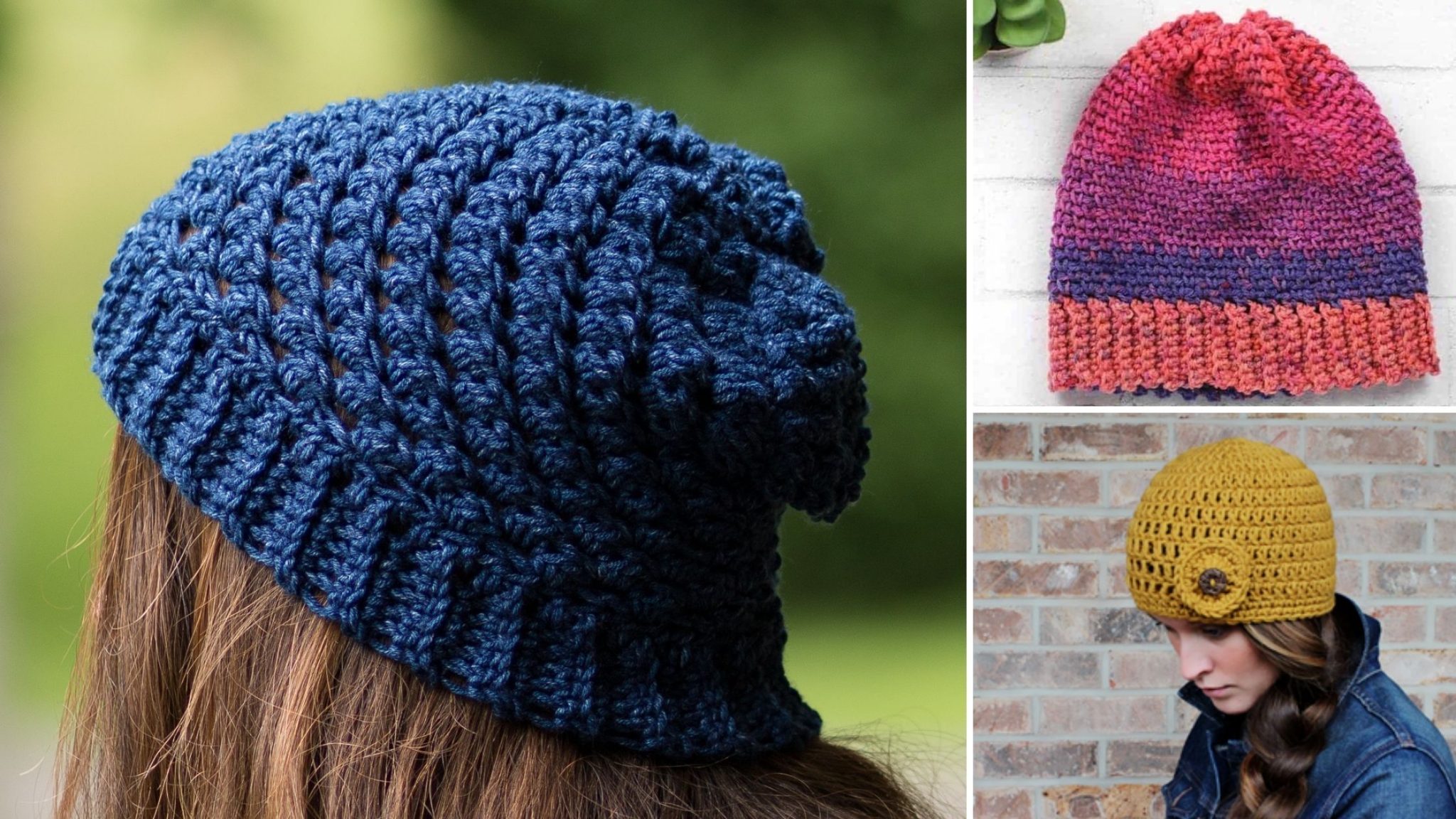 I love crocheting up simple & beginner-friendly hat designs, so I thought you'd like to do the same too. Crocheted hats make great gifts, are perfect for donations and use up very little yarn, which means you can make a lot!
Most of my simple designs are born out of necessity because no fail it is always a day before we need to go somewhere, or I need a gift, so I have to crochet something up quickly. A quick crochet hat always does the trick!
I can promise if an easy crochet hat is what you are looking for then you will find it here! Learn more about the crochet stitches that are great for beginner-friendly hats, as well as some yarn you might like to try on your new hat design, too.
Crochet Stitches for Beginner Crochet Hats
Most of the beanies and hat patterns on the blog use basic beginner-friendly stitches such as the single crochet or half double crochet stitch.
Easy stitches are always a good thing to make sure beginner-friendly hat patterns have. The last thing you want to do is start a pattern and realize you aren't ready for the stitches it calls for.
I do have a beginner stitch tutorials on the blog, which I will list out below if you'd like to become familiar with them.
Beginner-Friendly Stitches for Crochet Hats
I recommend looking over the crochet stitches used in each of the hat patterns below and any hat pattern you find online to make sure you understand the stitches. You can usually find the stitches in a crochet pattern under the section crochet stitches for crochet stitch abbreviations.
Yarns That are Great for Crocheting Hats
I loved using all types of yarns for crochet hats when I started crocheting, so I thought I'd share a few of the favorites that I recommend trying. There are different weights and brands which makes them easily accessible. Thank you, Amazon!
After you take a look at the yarn and the beanie patterns below, please let me know in the comments which yarn you'd like to make your hat with.
Vanna's Choice
Lion Brand Vanna's Choice is a four weight or worsted weight yarn that is a 100% acrylic yarn that is available in a wide array of colors. If you are looking for a new go-to yarn, this is the perfect one for beginners to start with.
Vanna's Choice
This yarn is made by Lion Brand, and is a Weight 4 – Medium yarn.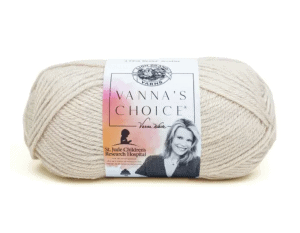 Buy Now
Patterns Using This Yarn →
Wool-Ease Thick + Quick
Lion Brand Wool-Ease Thick & Quick is a great choice for bulky yarn hats that you want to work up quickly. It is a six weight yarn which is 20% wool and 80% acrylic plus very affordable.
Wool-Ease Thick and Quick
This yarn is made by Lion Brand, and is a Weight 6 – Super Bulky yarn.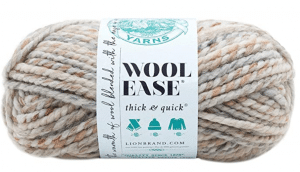 Buy Now
Patterns Using This Yarn →
If you are done exploring all the excellent yarn options, keep on reading down to find the free crochet hat collection list! If you have any suggestions for more hats, feel free to let me know in the comments below.
Read on down to find some free hat patterns that are all perfect for beginners.
Happy Crochet Hat Making!
Easy Crochet Hat Patterns for Beginners
Explore below to find an easy crochet hat pattern that you will hopefully love to crochet. Most of the beanies below are a skill level or basic to easy, so they'll be great for crochet beginners or newer crocheters.
Below in the written patterns, be sure to check the crochet hook size that will be needed as well as the yarn weight for each beanie pattern before beginning.
---
---
---
---
---
---

Common Crochet Hat and Crochet Beanie Questions
Hats come in all different types and sizes. Here are some of the most common questions I get when it comes to making crochet hats.
How do you attach a Pom-Pom to a crochet hat?
You can attach a pom to the top of a hat with a tapestry needle (aka a yarn needle) and by using a pom pom maker. They are inexpensive and fun to use! You can buy pom pom makers in a couple of different sizes, so you can make one for every size of crochet you make. Learn how to make a pom pom with our free tutorial.
I have also used a faux fur pom to attach to hats, like the crochet puff stitch beanie I designed. The fur pom was actually a keychain I found at my local craft store that I removed the rings from to make it a pom pom.
What is my head size and how do I measure hat sizes in crochet?
Measuring a crochet hat is easy. You'll need a soft tape measure and a person to measure, so you can get the circumference of their head. For example, if you are wanting to make a men's crochet hat you would crochet your hat to a width of 22 to 24 inches with a 9 or 9.5 inch height more than likely, but measuring that person's head will give you an exact measurement. The same thing goes any size of crochet hat you want to make from the chart.
It is always good to measure the circumference of the person's head you want to make the hat or beanie for because their size may differ from the standard sizes on the chart, and it's important to get the right size. If it is not possible to measure, then you can go by the standard chart above when crocheting a hat.
Crochet Hat Sizing Tip: I suggest crocheting your hat 1-2 inches less than the actual circumference of the person you are making for to allow for stretch and give.
Crochet Hat Size Chart
If you'd like to become familiar with standard crochet hat sizes, take a look below. Changing the size of a hat can be as simple as changing the width of the hat as well as the height. You can use the crochet hat size chart to help, since it shows the average circumference and height of crochet hats in inches.
| | Preemie | Baby | Toddler | Child | Tween | Woman | Man |
| --- | --- | --- | --- | --- | --- | --- | --- |
| Circumference (in) | 9-12 | 14-16 | 16-18 | 18-20 | 20-22 | 21-23 | 22-24 |
| Height (in) | 4-4.5 | 5-6 | 7-7.5 | 7.5-8 | 8-8.5 | 8.5-9 | 9-9.5 |
More Free Crochet Hats, Ear Warmer & Headband Patterns
These free crochet patterns are free to use here on easycrochet.com, enjoy!
I Hope You Enjoyed This List of Easy Crochet Hats
I hope you enjoyed this pattern list! If you have any suggestions of other hats for example like slouchy hats since I didn't find any of those, please leave a comment below. If you have any questions, please feel free to contact me via email or on any social media channel.
If you have been around the Easy Crochet blog for a while then you will probably know that I love creating simple beanie and hat patterns such as the Leigh hat and Autumn Beanie designs. You can even check out a few more of my latest patterns below that are a good mix of hats, headbands and more.