Free & Easy Crochet Ear Warmer Pattern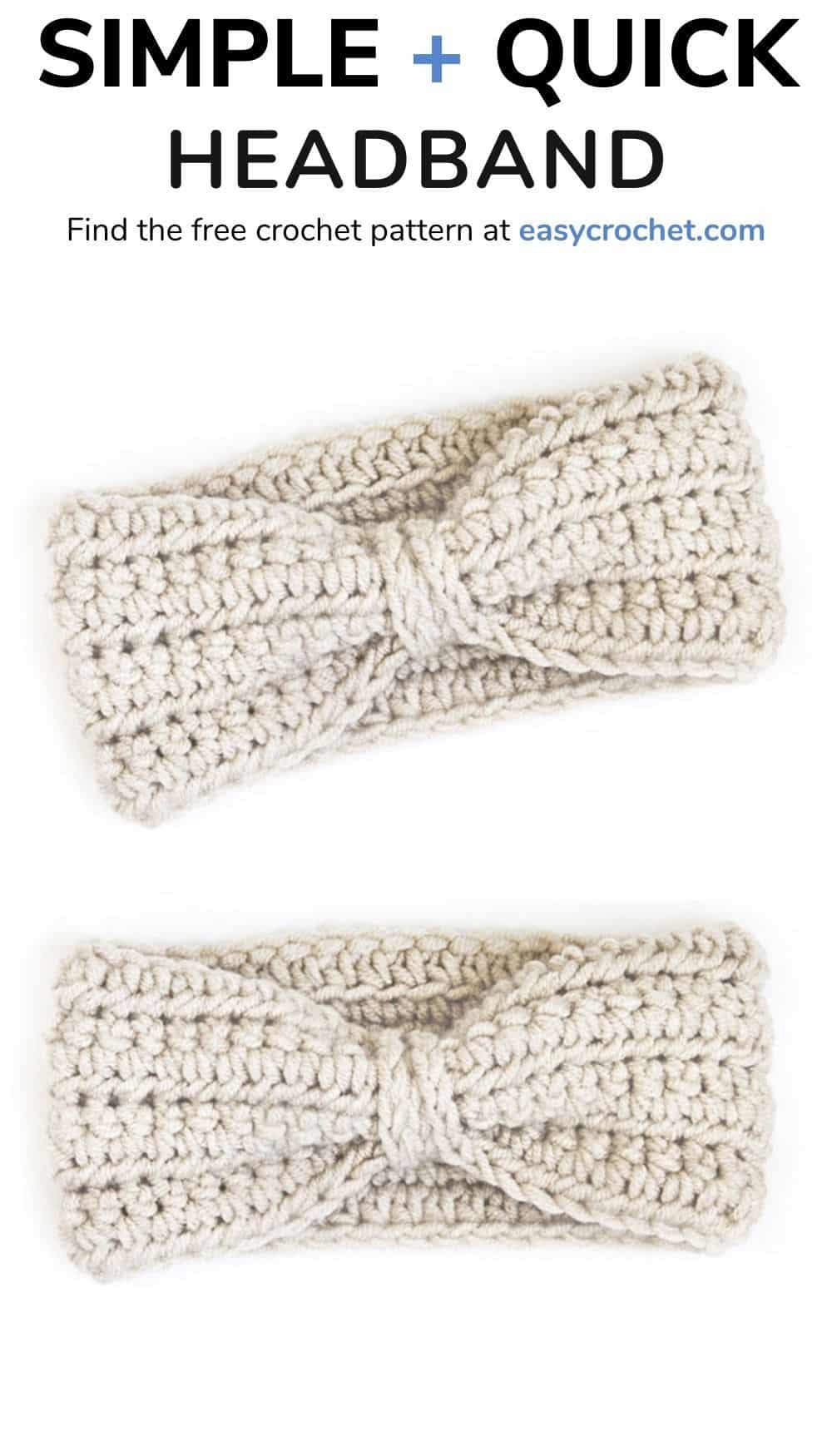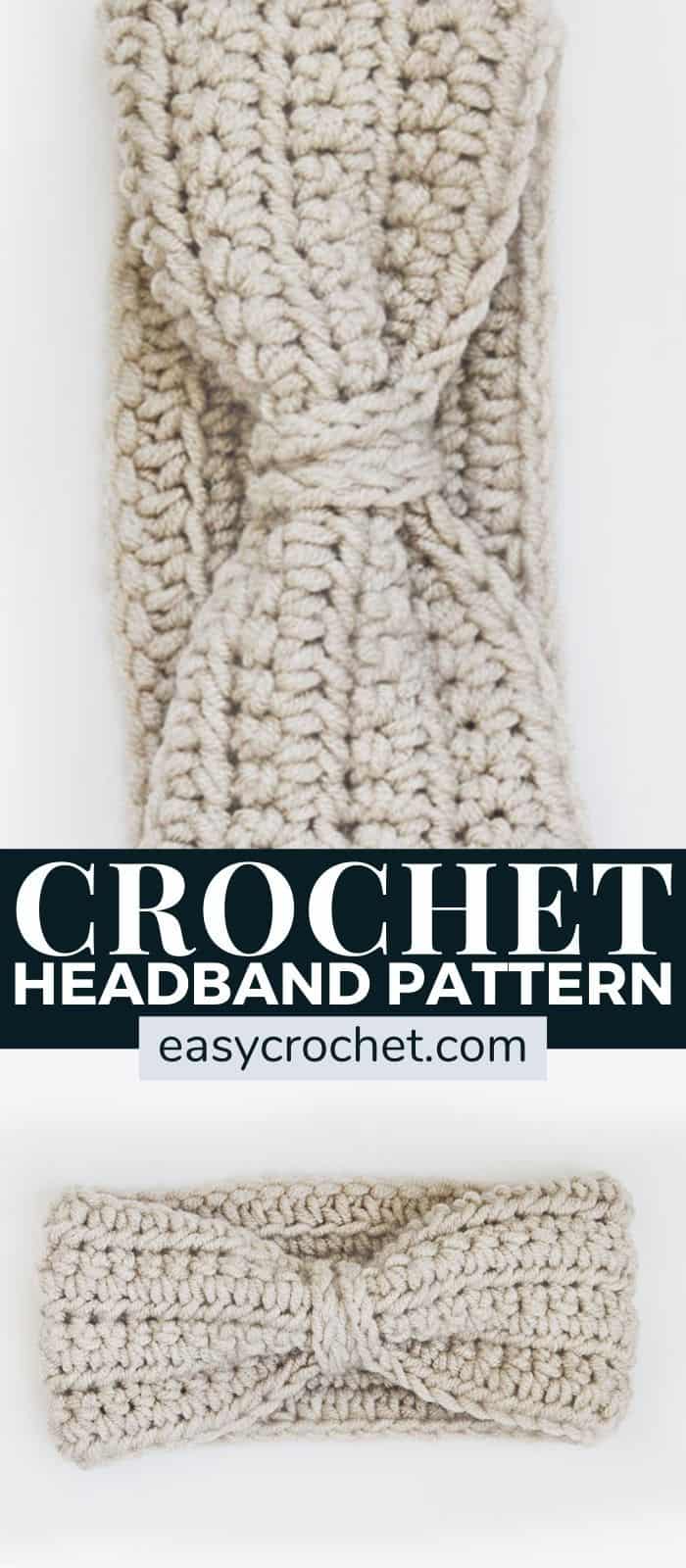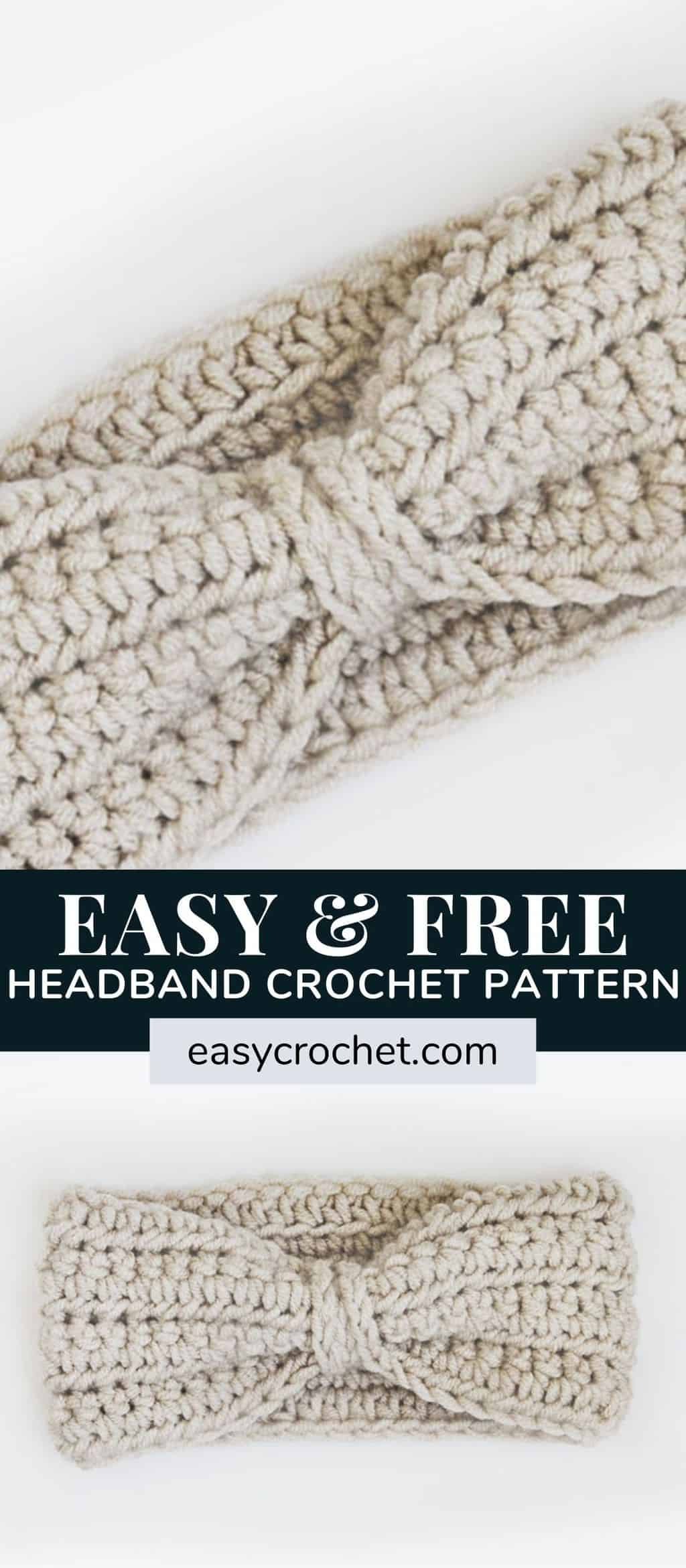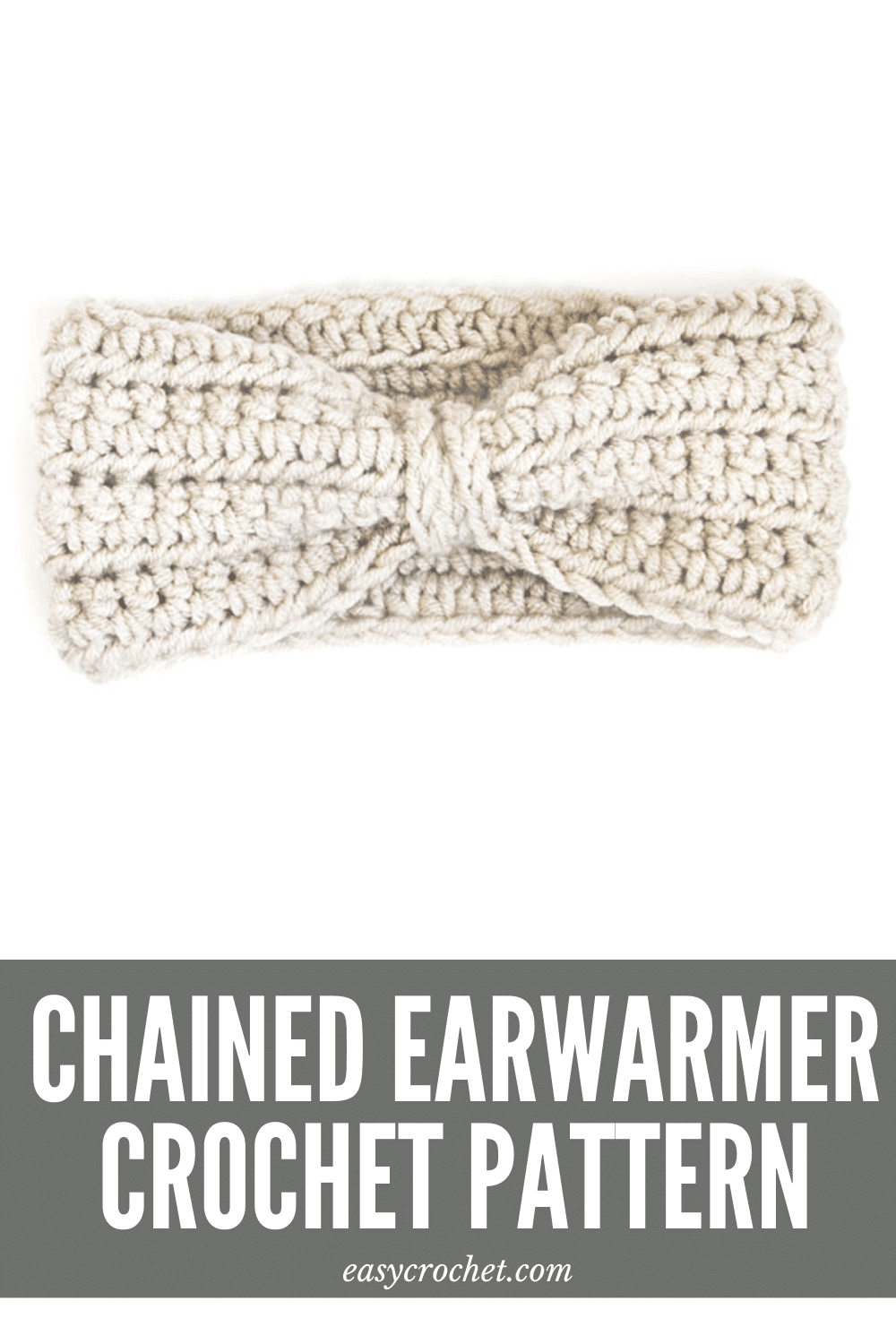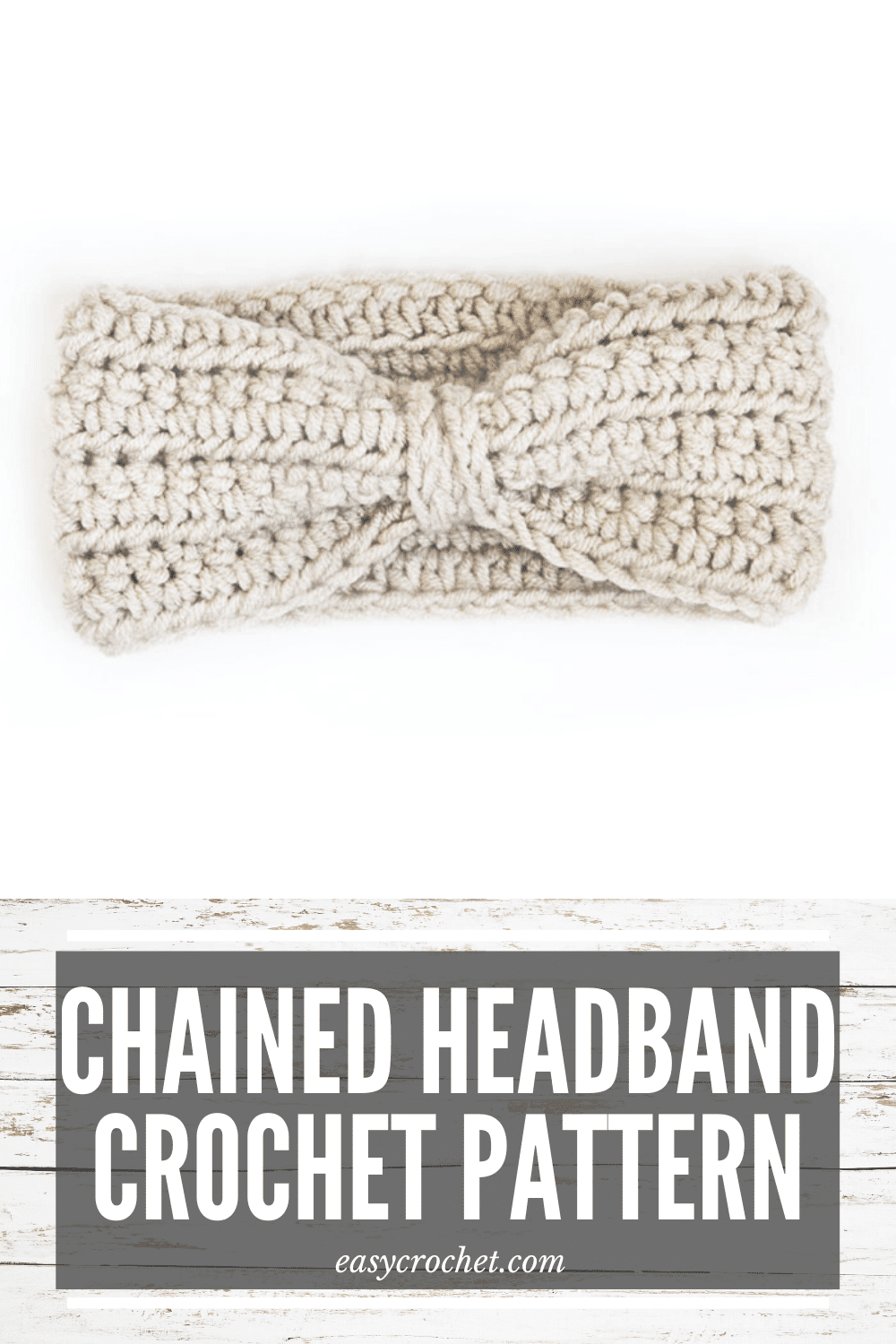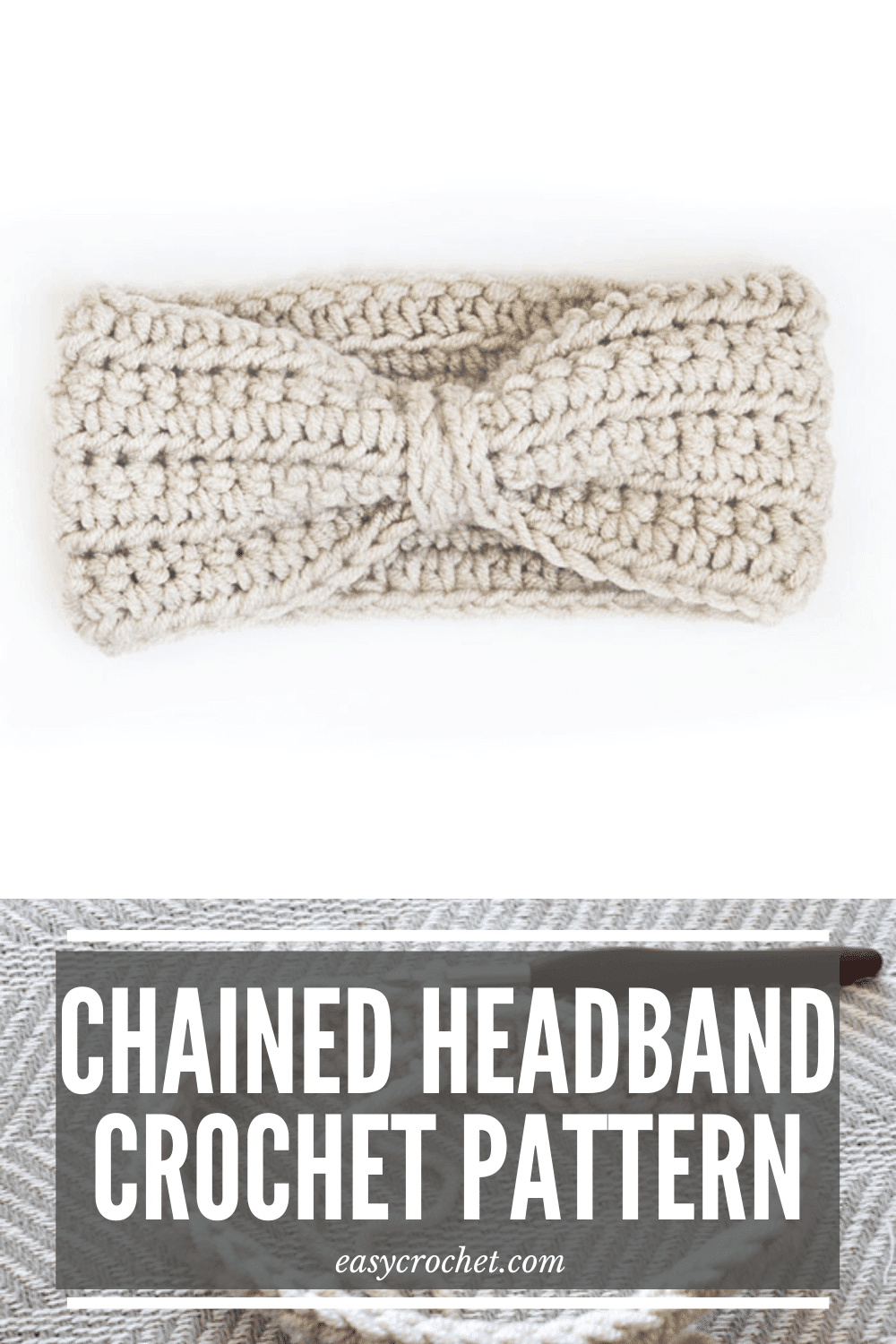 If you have been looking for an ear warmer and headband crochet pattern, then you have come to the right place! I will show you below how to make this free and simple pattern in seven different headband sizes, so you'll be able to crochet a headband for everyone you know.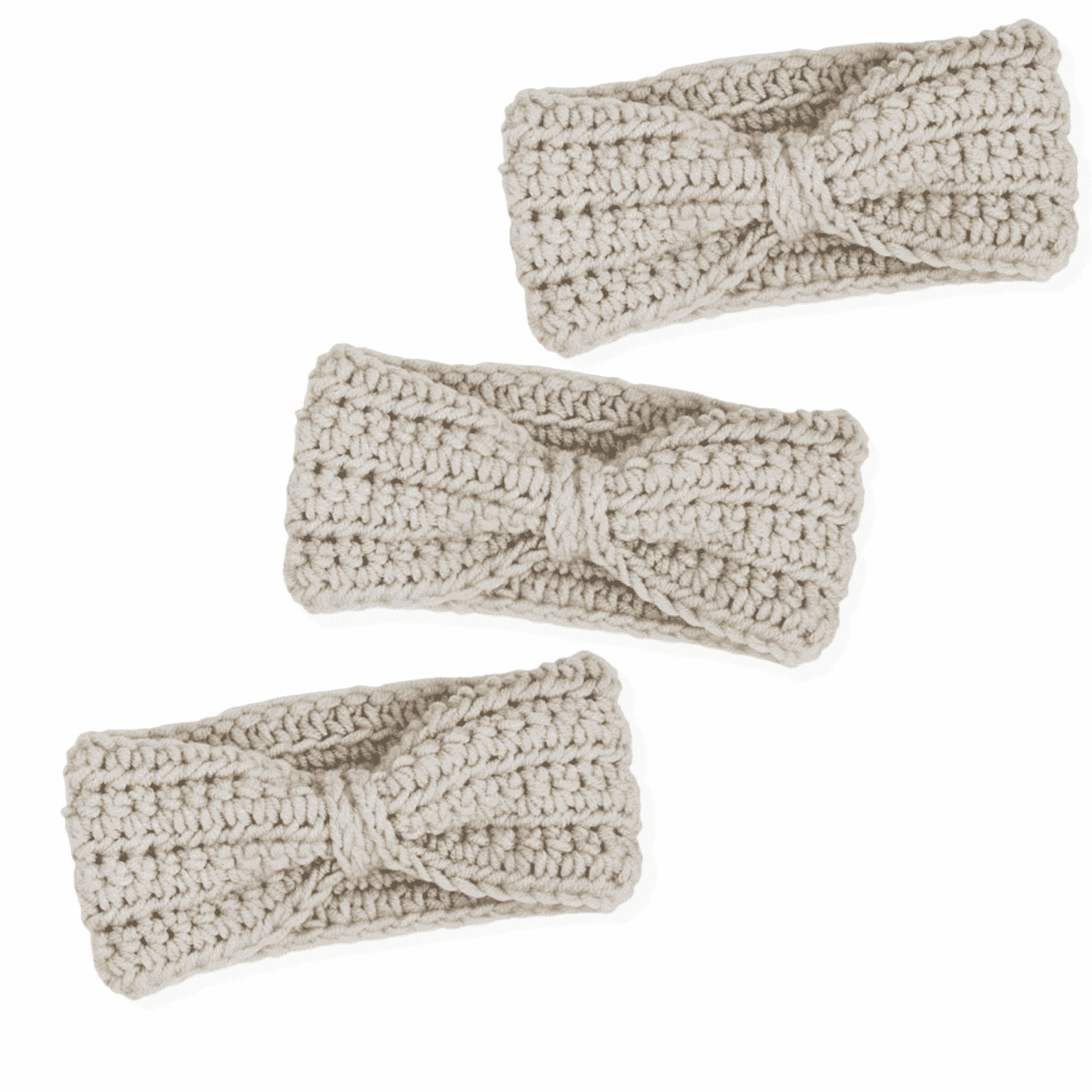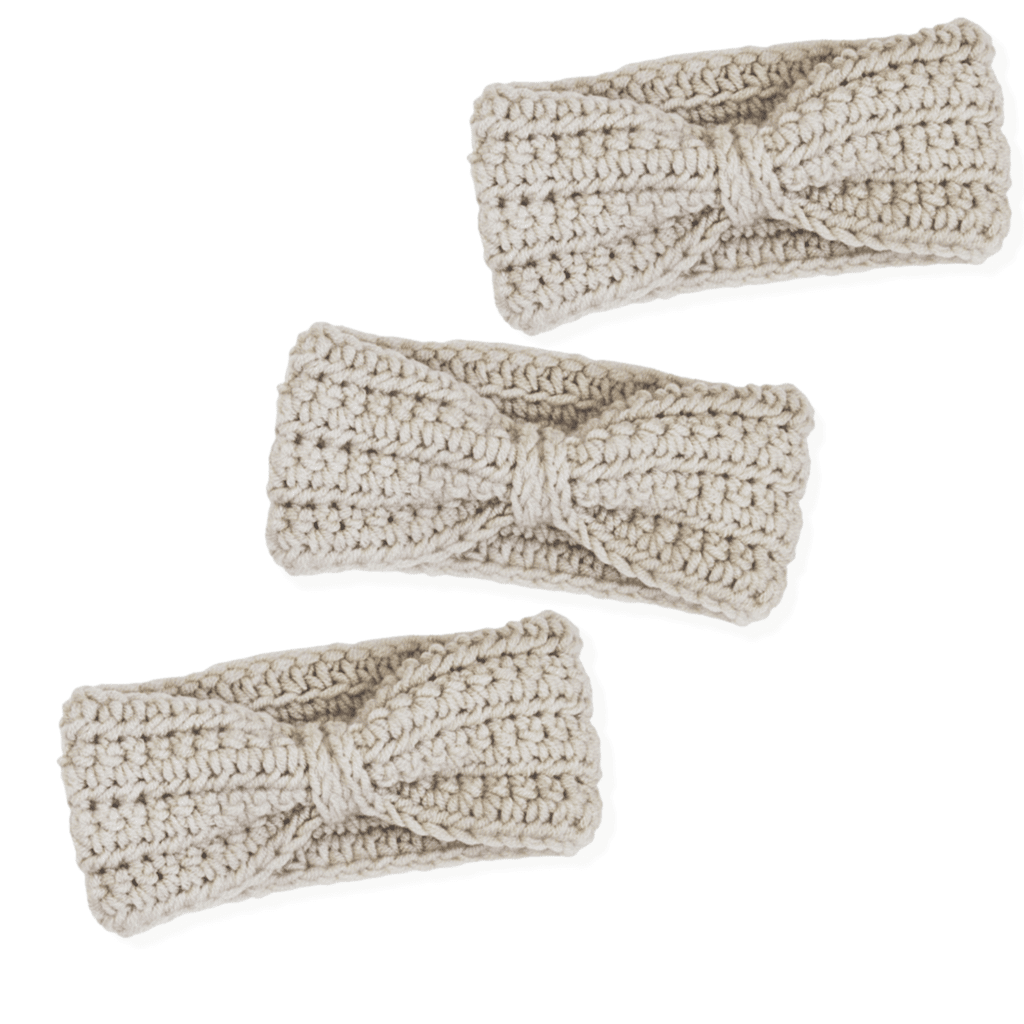 How to Crochet an Ear Warmer
Crocheting an ear warmer is easy since they can be made quickly with easy stitches and bulky yarn. Take a look at a few of the basic steps of this free ear warmer pattern below.
Chain a given number of stitches for the size headband you want to make (see chart)
Connect the chain together to form a circle
To start the first round work the stitch indicated in the pattern
Continue working the pattern until down.
Fasten off and weave in loose ends with a yarn needle.
This simple crochet headband pattern is easy, fun, and sure to please. You can make ear warmers for yourself, your family, or as gifts for friends and loved ones.
These ear warmers not only look great, but are soft and comfortable to wear during the entire cold weather season.
Crochet Headband and Ear Warmer Pattern Size Chart
Learn more about crochet headband and crochet ear warmer pattern sizes below in our ear warmer size chart.
The ear warmer size chart below will help you figure the perfect headband size when crocheting. I recommend making a headband about 2 inches smaller than the actual head circumference to allow for stretch.
You can learn how to measure a head's circumference in our Hat Size Chart article.
| | Head Circumference (inches) | Headband Size (inches) |
| --- | --- | --- |
| Baby | 14 | 12 |
| Toddler | 16 | 14 |
| Child | 18 | 16 |
| Woman | 21 | 19 |
| Man | 23 | 21 |
Common Head Sizes
Headband Crochet Sizing Tips
There are a few important tips you can follow to make sure your headband fits and crochets up perfectly, so you make a great project every time!
Follow Gauge
The crocheted ear warmer is a great first project to try when you are beginning to learn how to work in the round. However, I would recommend using the correct gauge, or stitches per inch, for the proper fit. This is a critical step for this project. If this ear warmer is crocheted too loosely, it will be too big.
Additionally, if the ear warmer it is crocheted too tightly, it will be too small. You can learn more about gauge here, if you would like a refresher or are new to crochet.
Measure, Measure, Measure
As for the width, that can be adjusted by adding or subtracting rows too, so you can get the perfect fit. For example, when you are crocheting a baby headband you will more than likely not want it to be 4 inches wide, so you could subtract rows until you get the width you prefer.
I recommend a width of 2 inches for a baby headband, and these should only be worn for photos and under proper supervision. If you follow these tips, you'll on your way to making cute crochet baby headbands!
If you intend to make crochet headbands for adults or an adult size, you will need to measure the circumference of their head first, since the size can vary so much from person to person. This way, you will ensure the crochet headband size fits the person it is intended for.
Use the Correct Yarn Weight
I also suggest using the suggested five bulky weight yarn to make this fun design. If you attempt to make this headband with a worsted weight yarn (medium #4 weight) then it will turn out different regarding size and coziness. Learn more about the yarn I used for this crochet project below.
The Perfect Yarn for This Crochet Headband
When deciding on which yarn to use, I chose one of my favorites, Lion Brand Wool Spun because I wanted this to be the coziest winter headband! This yarn is soft, comfortable to work with, and comes in a variety of beautiful colors. So, I felt that it was a perfect choice.
Did I mention that it is a warm and cozy yarn? This yarn will keep you warm enough, for example, if you want to use it for a morning run or if you need to stay warm during a football game.
This yarn is really great for a winter headband! I highly suggest using this yarn because it really is the best choice, so you can make a chunky crochet, winter headband pattern.

If you are having trouble finding this yarn, then I suggest trying Hue & Me from Lionbrand, which is a very similar yarn. It has a lot of the same texture and is about the same thickness, so it would work great for this pattern. Plus, it has a variety of different colors available, so you'll be able to get the perfect color for you. Click the yarn image above to check out the yarn! This may help you choose the perfect yarn for your ear warmer.
Plus, as a bonus, there is enough yarn in each skein that you can make at least two ear warmers and maybe more if you are crocheting ear warmers in different sizes. Being able to make more than one headband with a skein of yarn is always a win-win for any crochet project!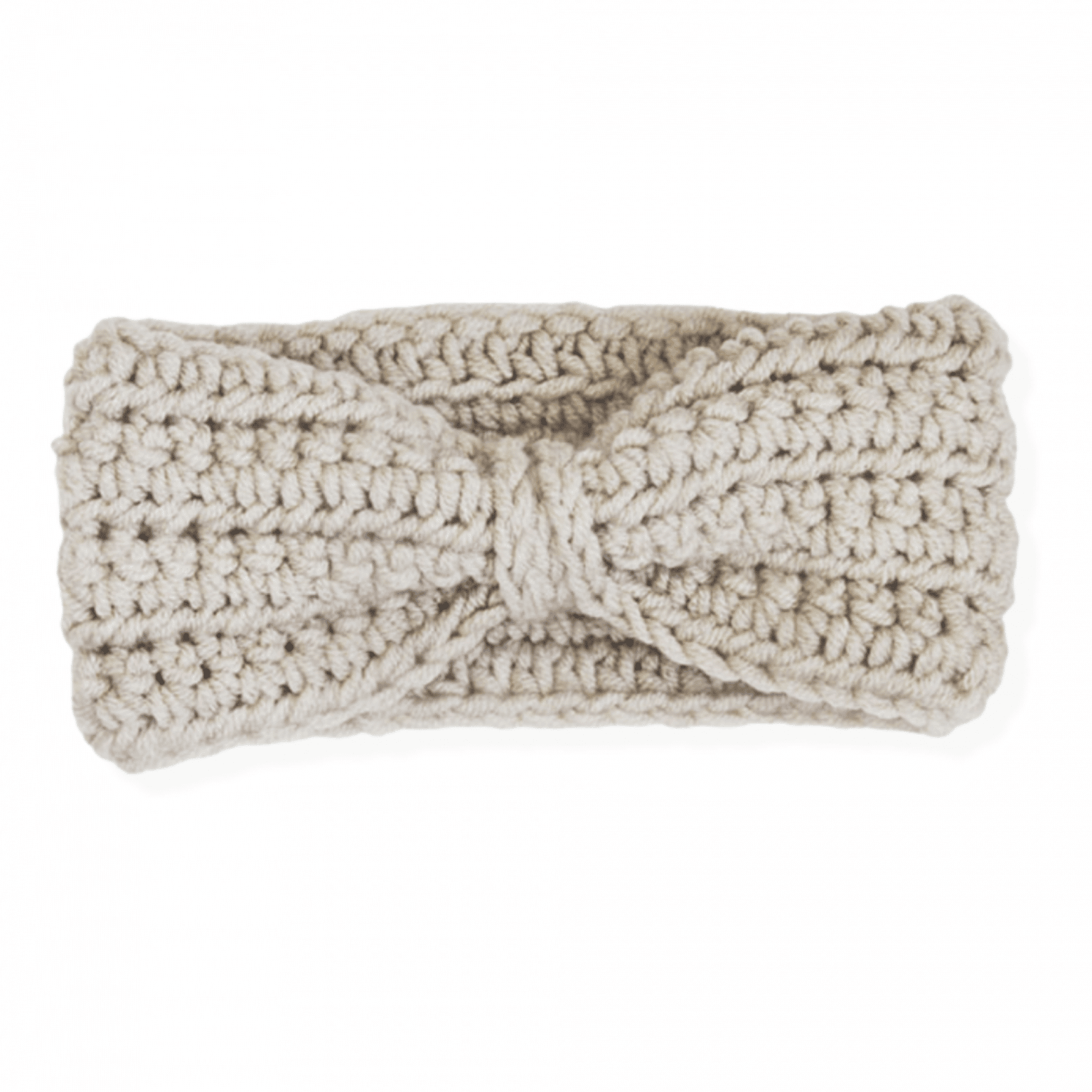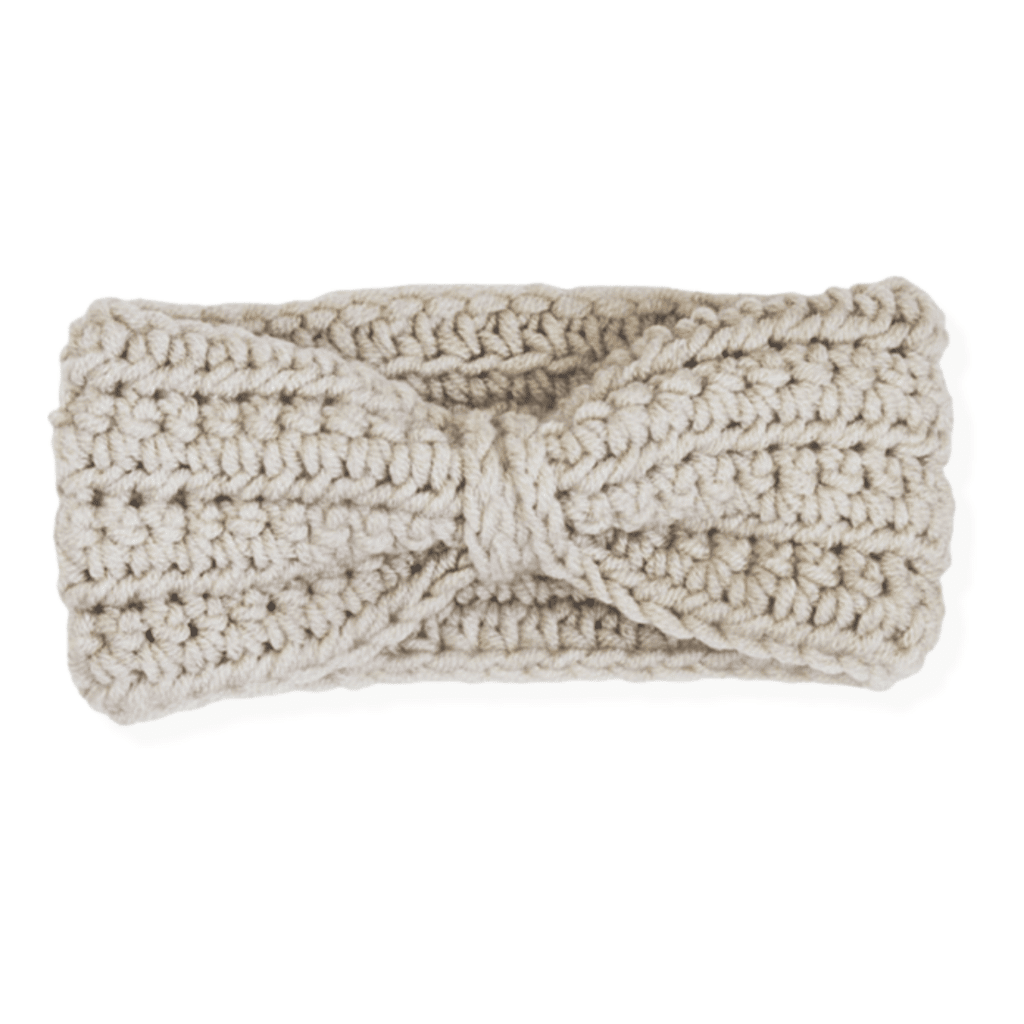 Crochet Stitches for a Headband
The simple stitches in this crocheted headband pattern make it a perfect, beginner-friendly project. I think it would be an ideal pattern to start with for someone who is just learning how to crochet in the round.
No matter your skill level, this pattern will work up quickly for beginners and advanced crocheters alike.
The pattern for this crochet ear warmer is simple to make because I only used the half double crochet stitch and single crochet stitch, which are basic crochet stitches. Essentially, that means this ear warmer will work up pretty fast!
You also get more than one ear warmer from each skein of yarn, so it is a cost-effective project, too. If you'd like a refresher on these stitches before you start your headband, take a look at the stitch tutorials below.
Learn more about each crochet stitch below.
This ear warmer pattern is fast to work up, easy to crochet because it uses simple stitches, and has a basic repeat rows pattern which makes it the perfect gift to make as well as a great last-minute present too!
The simple crochet stitches plus the row repeats in this ear warmer pattern make this project an excellent choice for beginners to try, especially for those who want to make something in the round.
How Do I Get the Ear Warmer Crochet Pattern?
There are a couple of ways to support us.
You can use the ear warmer pattern below on this page that is supplemented with ads.
Or you can purchase a stand-alone chained ear warmer PDF pattern that comes with seven different headband sizes you can make in a convenient printable format below or in my pattern shop.
Are you ready to make a quick project and learn how to crochet a headband ear warmer? Then, scroll down to find the FREE easy pattern and photo tutorial!
Our free crochet ear warmer headband pattern can be found below.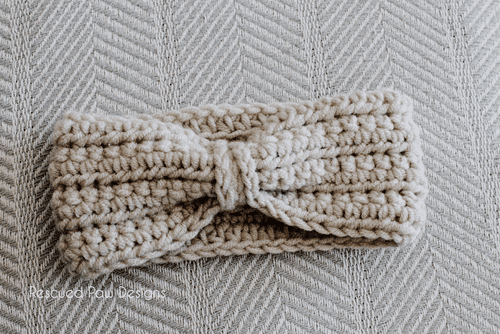 Learn More About This Chained Crochet Ear Warmer Pattern
Before we get started, it is important for me to mention that this free crochet ear warmer pattern is part of a more extensive list of awesome designs. These designs were released this month under Project Crochet. You can find the links to all their projects at the bottom of this post.
My contribution to this collection is the chained crochet headband pattern, ear warmer, or head wrap depending on what you prefer to call it. This is a simple pattern that takes little time to make.
It is a fun headband project to whip up for both beginners and advanced crocheters, which you can find in its entirety below.
Happy Crocheting!
Crochet Chained Ear Warmer Pattern
Skill Level: Easy
Materials
Crochet hook J 6.00 and I 5.5 mm
Lion Brand Wool Spun in Linen, Color Made Easy by Lion Brand, or any bulky yarn (5). See yardage chart below for each size.
Yarn needle (tapestry needle)
Scissors
Measuring tape
Notes
Tip: If you would like a more in-depth look at the stitches used in the pattern, then be sure to check out my tutorial on how-to crochet.
Each size is listed after the end of each round in ().
Written in standard U.S. terms.
Crochet Abbreviations
Sizing
This pattern is written in 7 standard sizes, but it can easily be customized for any size by subtracting or adding any # of stitches.
The ad-free ear warmer PDF has these sizes listed for your convenience.
See headband size chart below for exact sizes to make.
Gauge
Gauge is IMPORTANT!

12 stitches x 9 rows = 4"
You will need to make sure you have 12 stitches for every 4 inches of the headband for the correct fit.
Gauge is very important for proper sizing. Need a refresher on gauge? You can learn more about what gauge is and why it is so important here.

I receive many messages saying this headband is too small or too big. In order to guarantee that the headband fits as it is written, the correct gauge and proper weight of yarn must be used, as listed in the pattern.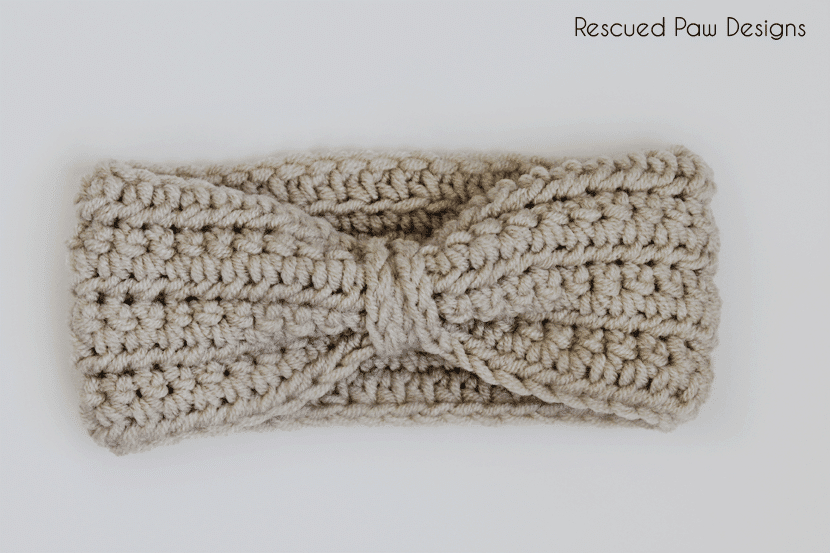 Crochet Headband Size Chart & Yardage
Use the size chart below to make the pattern in a crochet baby headband to a womens ear warmer size.
| | Height | Circ. | Starting Chs | Yardage |
| --- | --- | --- | --- | --- |
| Preemie | 4 | 9 | 36 | 42 |
| Baby | 4 | 14 | 42 | 56 |
| Toddler | 4 | 16 | 48 | 70 |
| Child | 4 | 18 | 54 | 85 |
| Tween | 4 | 20 | 60 | 99 |
| Woman | 4 | 21 | 63 | 106 |
| Man | 4 | 22 | 66 | 113 |
Sizes are listed in inches for height and circumference. Yarn is in yards.
The Crochet Headband Pattern Steps
The headband sizes listed are as follows: preemie, baby, toddler, child, tween, woman, man.
Round 1: With the 6 mm hook ch 36 (42,48,54,60,63,66), sl st to first ch forming a circle, making sure not to twist ch.
Round 2: With the 5.5 mm hook, ch 1, hdc in every st around, sl st to the top of first hdc NOT the ch. 36 (42,48,54,60,63,66)
Round 3: ch 1, sc in every st around in the bl only, sl st to the top of first sc, not the ch 1. 36 (42,48,54,60,63,66)
Round 4: rep round 2.
Round 5: rep round 3.
Round 6: rep round 2.
Round 7: rep round 3.
Round 8: rep round 2.
Round 9: rep round 3. Do not fasten off.
Finishing:
First, without fastening off ch 25 (this is still connected to the ear warmer).
Secondly, wrap the ch 25 around the seam of the ear warmer 3 times, sl st to the top of the first st of last round.
Next, fasten off (secure the yarn, so the stitch will not unravel) by cutting yarn, leaving a few inches of yarn tail.
Then, with your hook, draw the tail through the loop on your hook.
Finally, weave in loose ends throughout the headband with a yarn needle!

I hope you enjoyed making this crochet ear warmer pattern. I feel it is the perfect pattern for any level of crocheter. However, now that you're a pro at headband making… why not whip up some of these quick crochet ear warmers for everyone you know?
Connect with Us!
For any clarifications about this free crochet headband pattern, please feel free to contact me on my Facebook page. If you liked this headband design, then you might also like my other patterns below that are quite similar.
More Crochet Headband Patterns and Crochet Ear Warmer Patterns
Related Pattern: Knotted Crochet Headband
Are you planning on making a few different types of ear warmers? Maybe you have already crocheted an ear warmer but want to try a new pattern?
If so, I would suggest that you try the free knotted headband, the wrapped ear warmer, or explore the Easy Crochet archives for more free patterns.
Other Crochet Favorites
The following list is full of other awesome crochet projects from crochet designers apart from myself. Be sure to check them all out!