14 Free Crochet Beret Patterns
Berets are a round and flat crowned cap. They are usually much looser around the sides and top than a beanie, yet less length than a slouchy hat. Mass production of berets began in 19th century France and Spain for military use, and the beret still widely remains associated with these countries to this day.
Related: View all EasyCrochet's Crochet Hat Patterns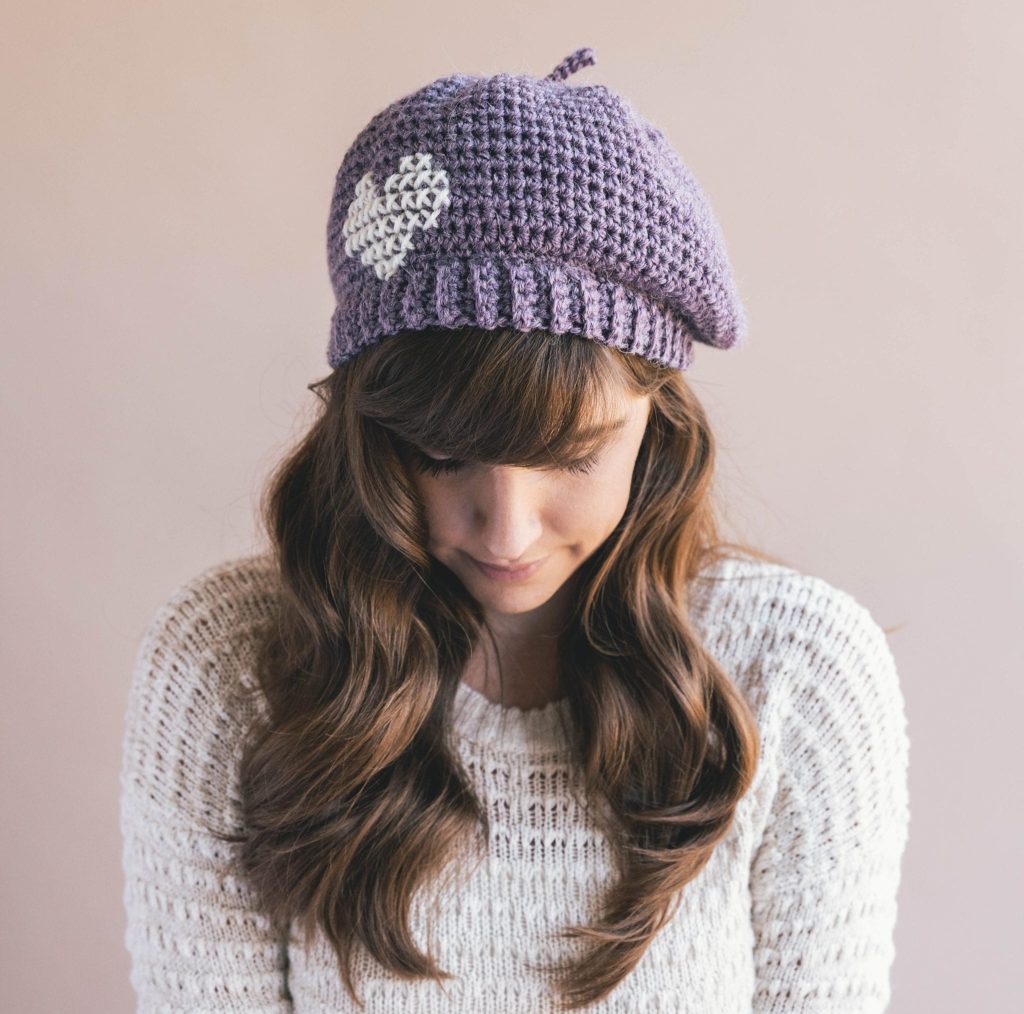 However, the beret-style of hat is unique enough that not everyone has the confidence to pull it off. Options for wearing the beret include set back on the head (such as a halo), flat on the head (like a pancake), pulled down covering the ears (for winter), or dipping diagonally to one side (because, you know, fashion).
The Scottish tam is considered a specific, regional type of beret and is traditionally worn only flat on top of the head.
Sizing a Crochet Beret Hat
In order to crochet a beret (unintentional rhyming), it starts off very much like a regular-old beanie. First, you'll need to decided on the appropriate size to make. If you have to guess, use Extra Small for a child, Small for a teen, Medium for an adult woman, and Large for an adult man. But again, this is just guess work, and is only based on average person sizes.
While many times, you can get away with guessing about the size needed, taking an accurate measurement is much better. To accomplish this, you'll need to take an accurate measurement of the wearer's head circumference.
To get this, take the tape measure and wrap it around the person's head at the forehead level. Find this number on one of the 11 hat sizes in our resizing chart, and that'll be the size you need to make.
Stitches & Yarn Used for Crochet Berets
Stitches
Honestly, any stitch will work here, but it will depend on your preferred style. Some like a tighter knit-like hat, in which you'd use something like a single crochet (sc) stitch.
If you want a looser one, you can move up to a half-double (hdc) or double crochet (dc) stitch. The possibilities really are endless… but luckily for you, all the free beret patterns below specify the exact stitch to use.
Yarns
As for the best yarn to use in crochet beret patterns, it is almost always preferred to use a natural fiber like Wool or Alpaca.
Blended yarns that include a touch of acrylic will also work great. This is because such a yarn allows you to take advantage of both the look and warmth of a natural fiber, but with the ease of care and comfort of a blended one.
Free & Modern Crochet Beret Patterns
Unfortunately, I have not created a beret myself… yet. However, it's easy to admire the style, and to create one is on my near-term bucket list.
I recently went out and looked for some of the most beautiful (and obviously free) beret patterns available today. Some of these are simply beautiful. I hope you enjoy the list I've assembled!
---
---
---
---
---
---
---
---
---
---
---
---
---
More Free Crochet Hat Patterns
If you enjoyed these crocheted berets, you may also like these hats too. Take a look below at some of the best free crochet hat patterns you can make.