Chunky Crochet Ear Warmer Pattern
Are you looking for an easy to crochet chunky ear warmer pattern? If so, this cozy headband pattern is definitely the one you'll want to crochet.
It uses simple stitches and bulky yarn, which jeans it works up quick. Plus, you can make it in seven different sizes, use the ear warmer size chart below!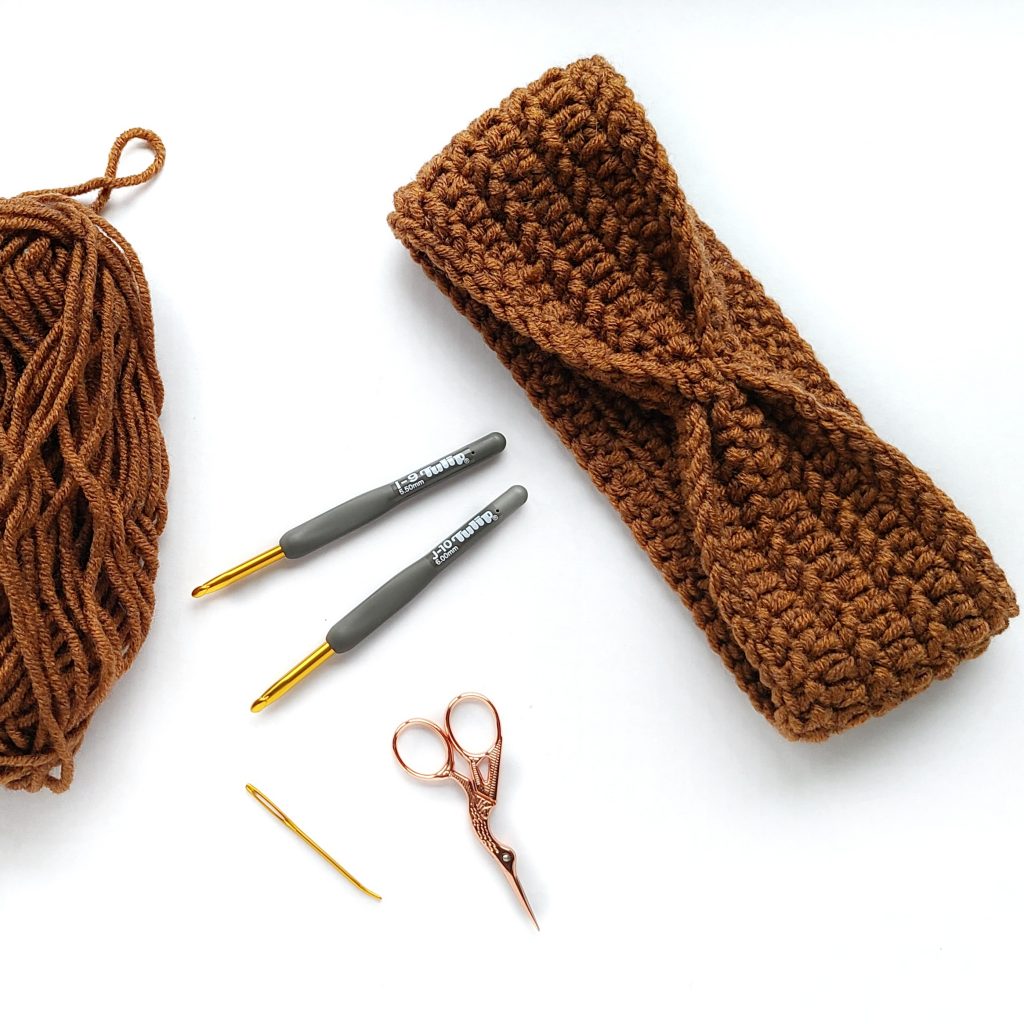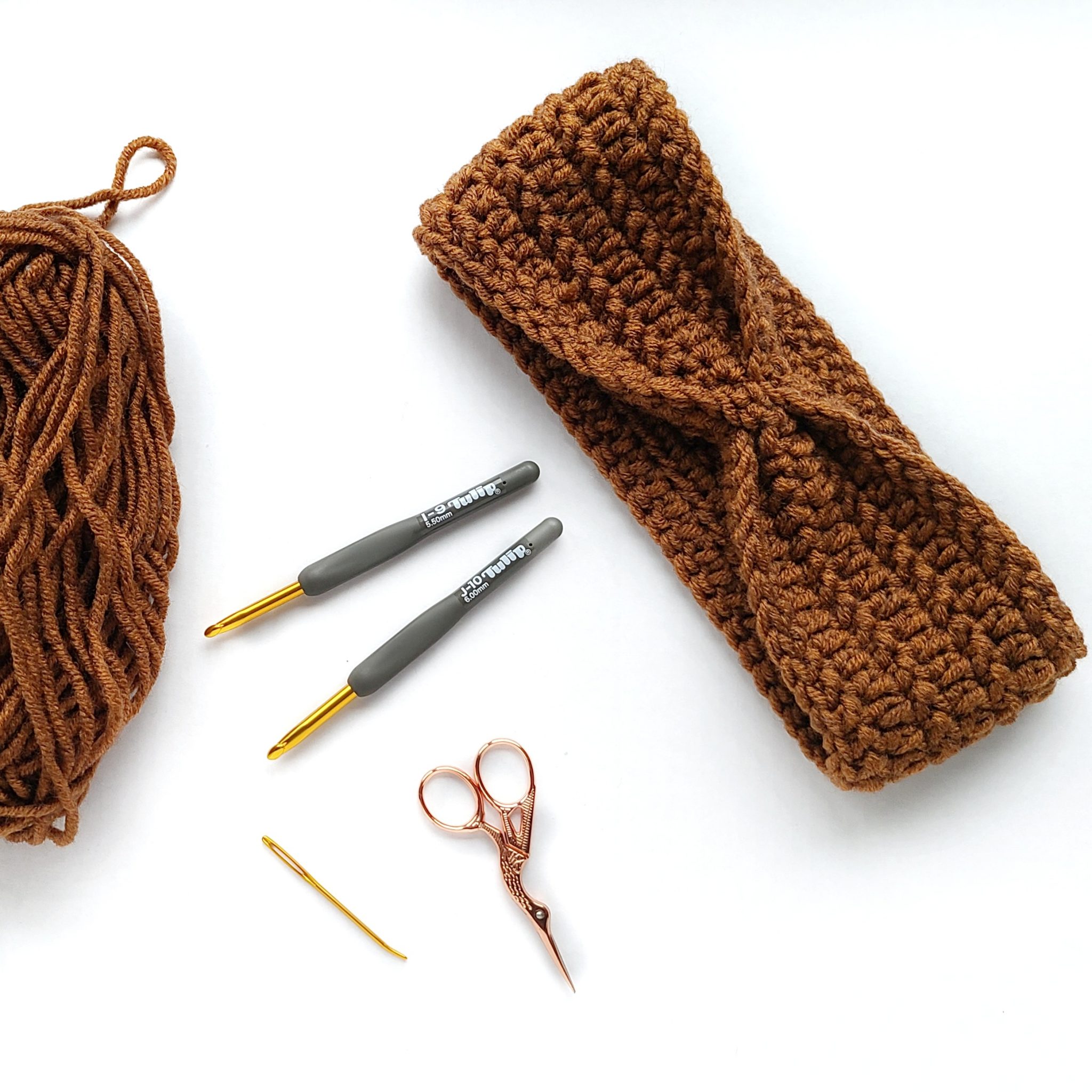 The Yarn
To get the ultimate chunky ear warmer you will want to use Woolspun Yarn from Lionbrand. It is a bulky 5 weight yarn that is 20% wool & 80% acrylic. This bulky yarn has rich colors and is ideal for headbands, sweaters, and more. It truly is the perfect yarn for any array of cozy projects since it is so warm and soft.
Woolspun suggests using a 6.5 mm when using it in patterns. But, for this ear warmer project you'll want to use a 6 mm for the starting chain and then switch to a 5.5 mm for the rest of the headband to get a cozy feel.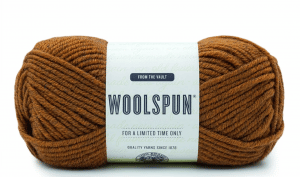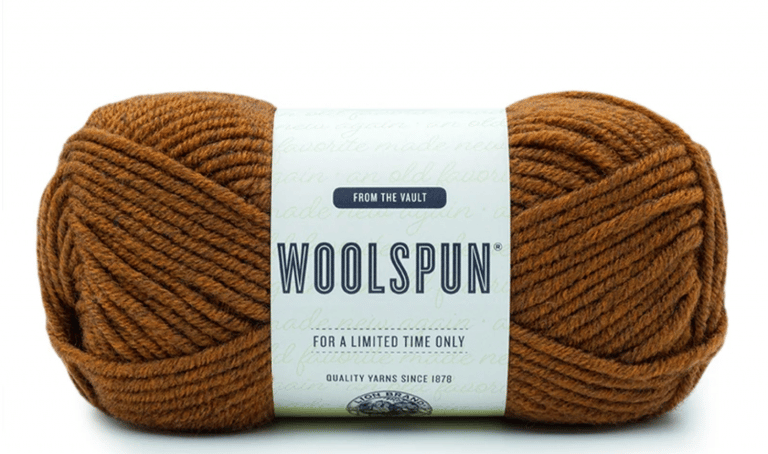 Looking for a substitute yarn? Hue & Me from Lion Brand is a great yarn to swap with Woolspun since it has a similar texture and the exact yarn weight.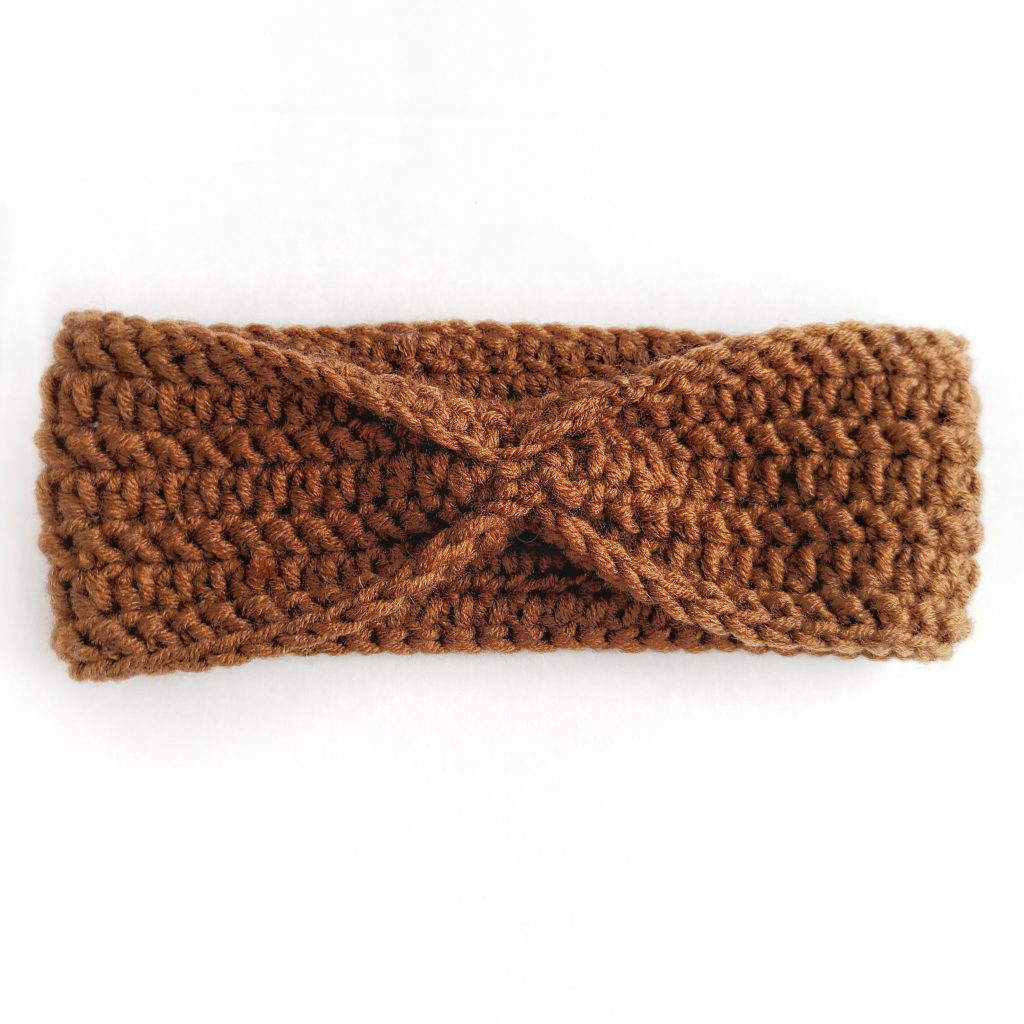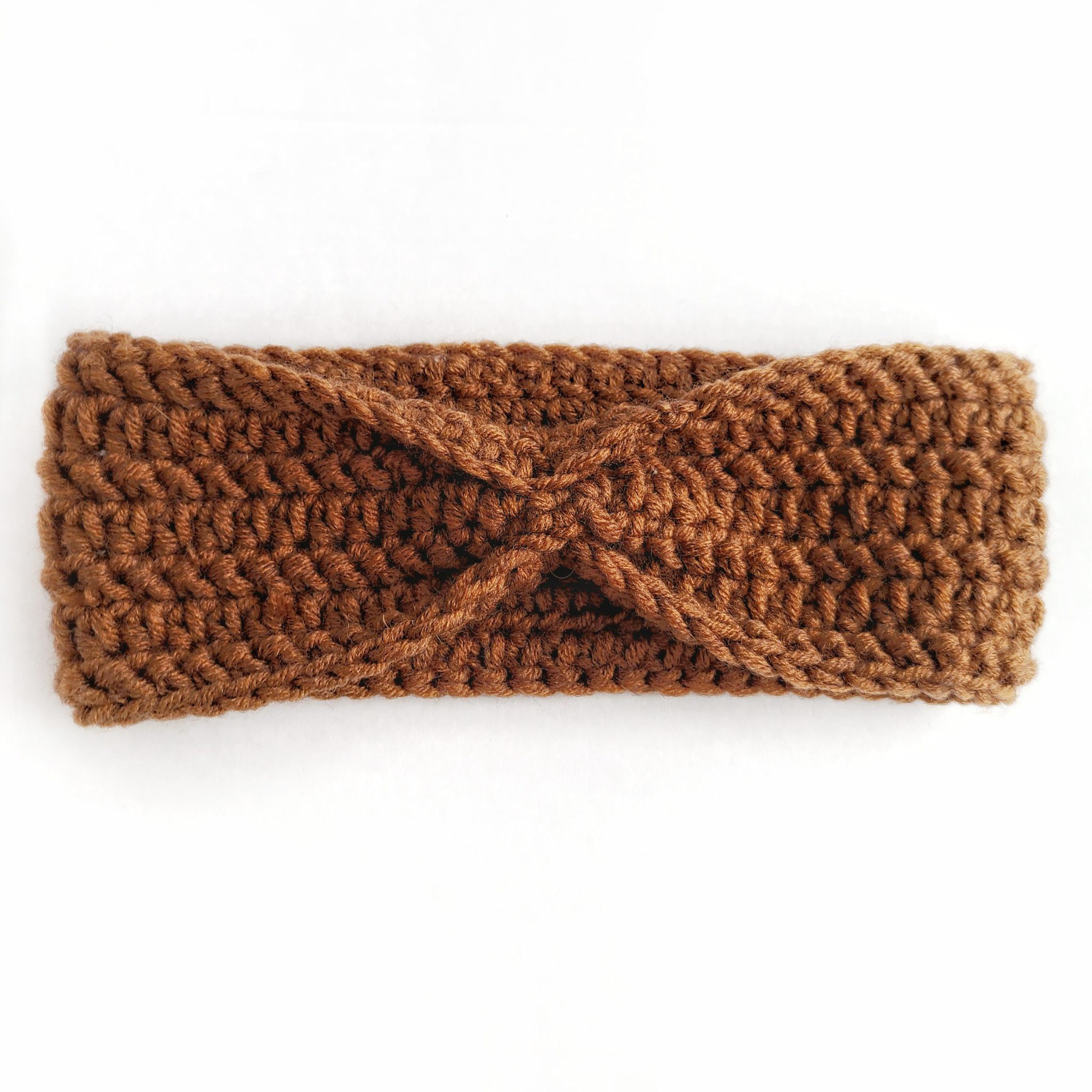 The Stitches
This crocheted headband is simple to make because it uses only two basic crochet stitches. You will need to know how to half double crochet (hdc) and herringbone half double crochet (hhdc) to be able to crochet this headband. It is that easy!
The chunky yarn ear warmer is worked with in a round of hdc followed by a round of hhdc which means it works up in an hour or less. I will explain the stitches below as well as leave some video links if you'd like a refresher before you starting crocheting your ear warmer.
Crochet Stitches for an Ear Warmer
---
Half Double Crochet (hdc):
Yo (yarn over) insert hook from front to back of the designated stitch, yo the hook and pick up a loop.
Yo the hook and pull back through all three loops on the hook.
Half Double Crochet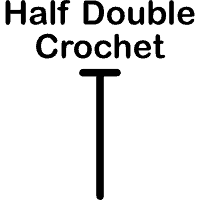 Patterns Using This Stitch →
Herringbone Half Double Crochet (hhdc)
Yo, insert hook into the stitch indicated
Yo (3 loops on hook)
Pull up a loop and pull that loop through the first loop on the hook (2 loops on hook)
Yo, pull through the remaining two loops on the hook
Herringbone Half Double Crochet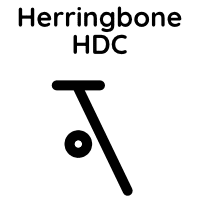 Patterns Using This Stitch →
Crochet Stitch Video Lessons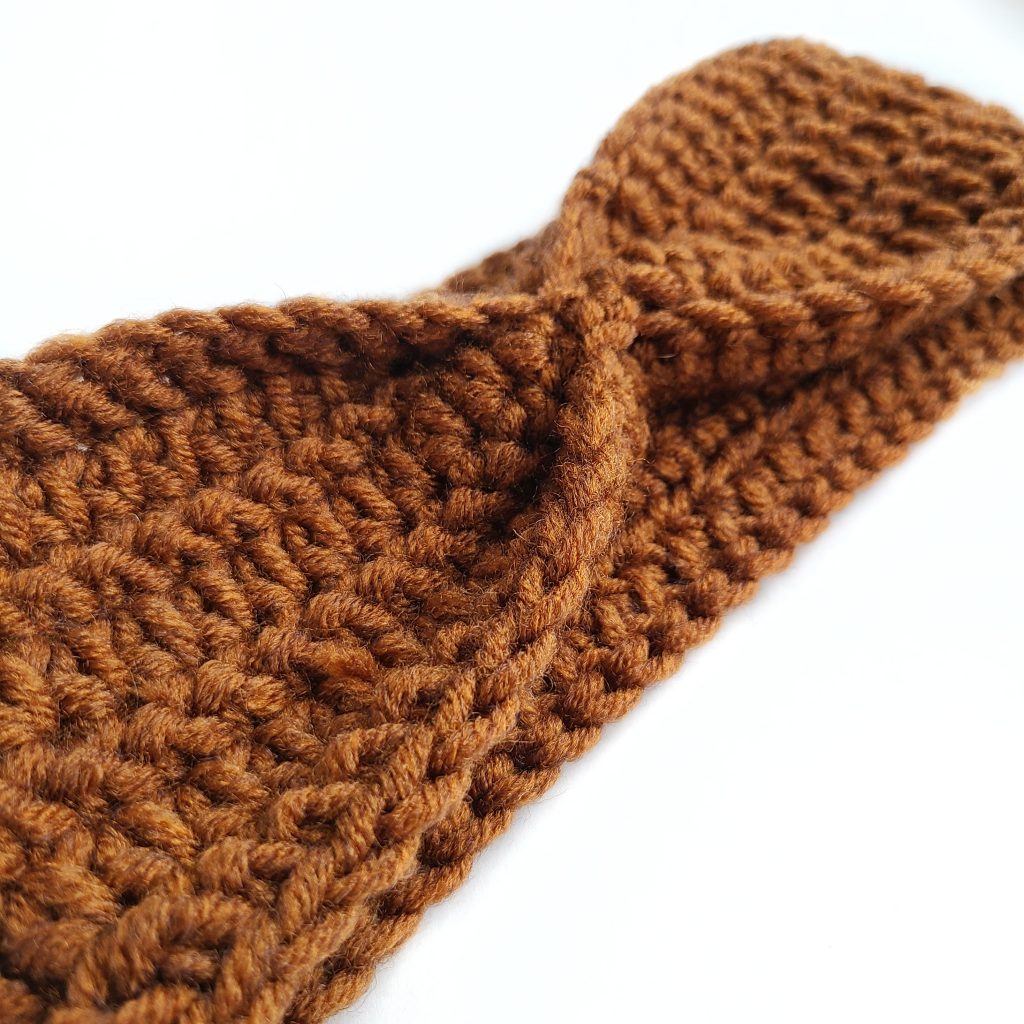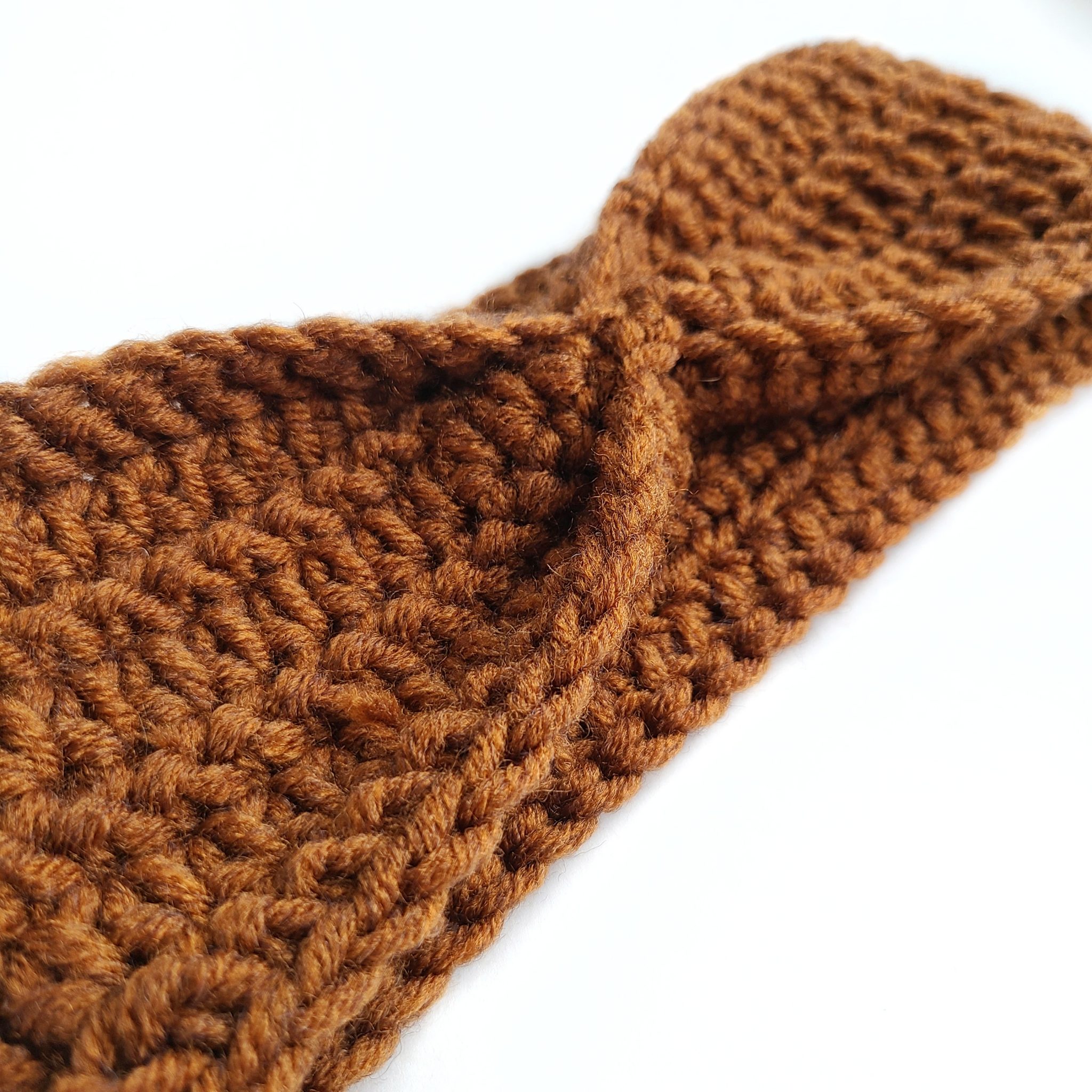 Let's Start Crocheting!
If you are ready to get started on this chunky ear warmer read on down to find the pattern in preemie, baby, child, teen, women and men's sizes as well the material list and everything you'll need to make this headband!
Happy Crocheting.
Chunky Yarn Crochet Ear Warmer Pattern
Skill Level: Easy
Materials
Crochet hook J 6.00 and I 5.5 mm
Lion Brand Wool Spun in Maghoney or any bulky yarn (5). See yardage chart below for each size.
Scissors
Measuring tape
Finished Sizes
This pattern is written in 7 standard sizes, but it can easily be customized for any size by subtracting or adding any # of stitches.
Notes
Each size is listed after the end of each round in ().
Written in standard U.S. terms.
Crochet Abbreviations
Gauge
12 stitches x 9 rows = 4"
You will need to make sure you have 12 stitches for every 4 inches of the headband for the correct fit.
Gauge is essential for proper sizing. Need a refresher on gauge? You can learn more about what gauge is and why it is so important.
To guarantee that the headband fits as it is written, the correct gauge and proper weight of yarn must be used, as listed in the pattern.
Headband Size Chart & Yardage
Yardage & size was calculated using a bulky #5 weight yarn. If you use a different weight yarn the yardage and size will not be the same.
| | Height | Cir. | Starting Chs | Yardage |
| --- | --- | --- | --- | --- |
| Preemie | 4 | 9 | 36 | 50 |
| Baby | 4 | 14 | 42 | 62 |
| Toddler | 4 | 16 | 48 | 76 |
| Child | 4 | 18 | 54 | 94 |
| Tween | 4 | 20 | 60 | 106 |
| Woman | 4 | 21 | 63 | 115 |
| Man | 4 | 22 | 66 | 120 |
Sizes are listed in inches for height and circumference. Yarn is in yards.
The Crochet Headband Pattern Steps
The sizes listed are as follows: preemie, baby, toddler, child, tween, woman, man.
Round 1: With the 6 mm hook ch 36 (42,48,54,60,63,66), sl st to first ch forming a circle, making sure not to twist ch.
Round 2: With the 5.5 mm hook, ch 1, hhdc in every st around, sl st to the top of first hhdc NOT the ch. 36 (42,48,54,60,63,66)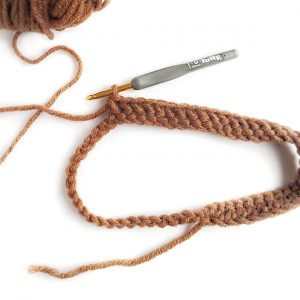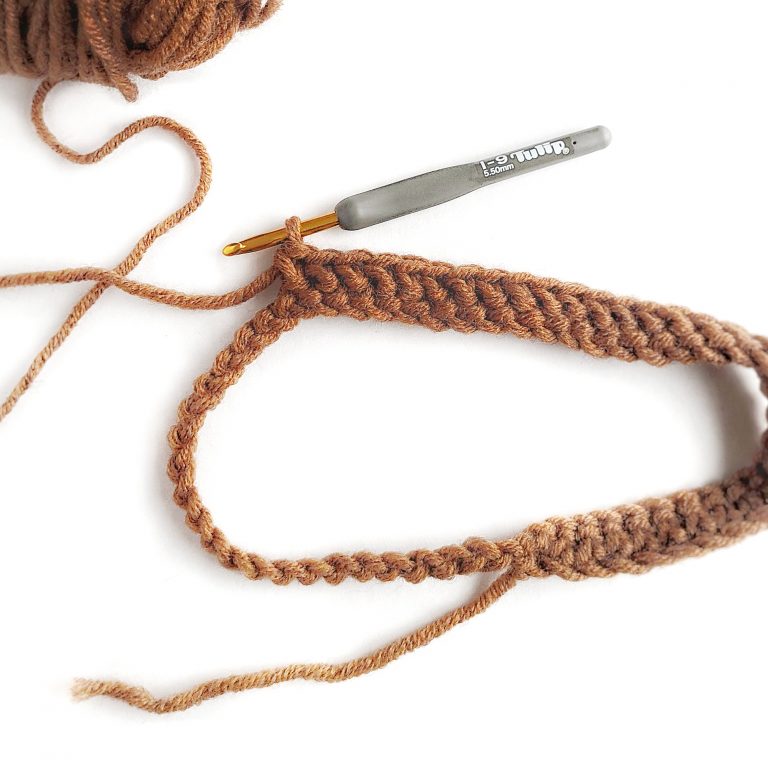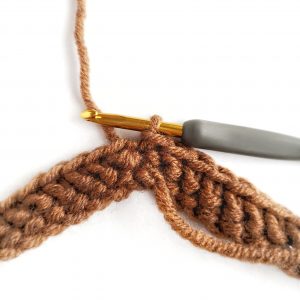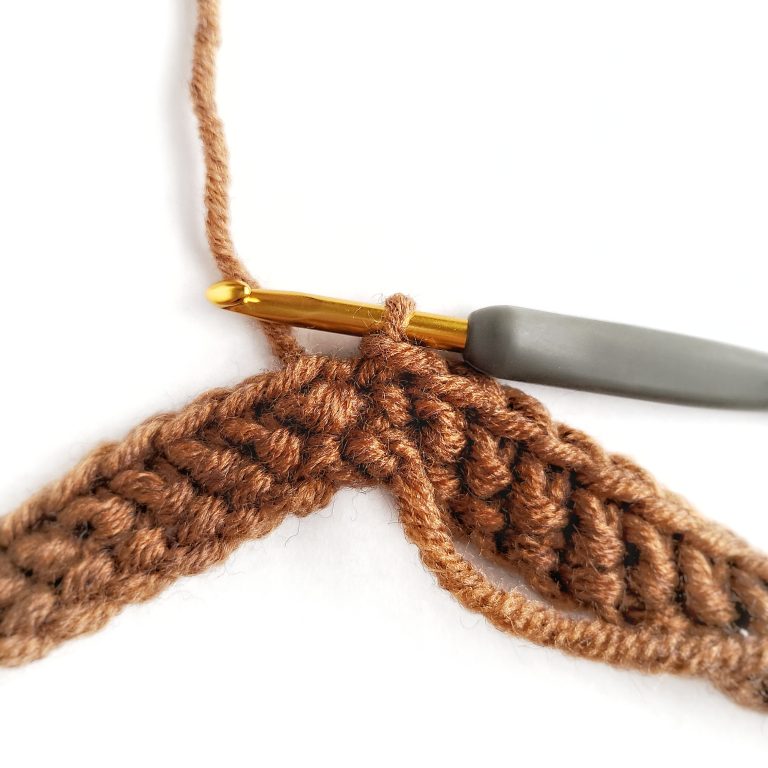 Round 3: ch 1, hdc in every st around, sl st to the top of first hdc, not the ch 1. 36 (42,48,54,60,63,66)
Round 4: rep round 2.
Round 5: rep round 3.
Round 6: rep round 2.
Round 7: rep round 3.
Round 8: rep round 2, fasten off yarn leaving a 6-inch tail.
Finishing: Squeeze the headband together as shown below.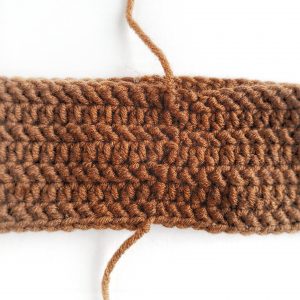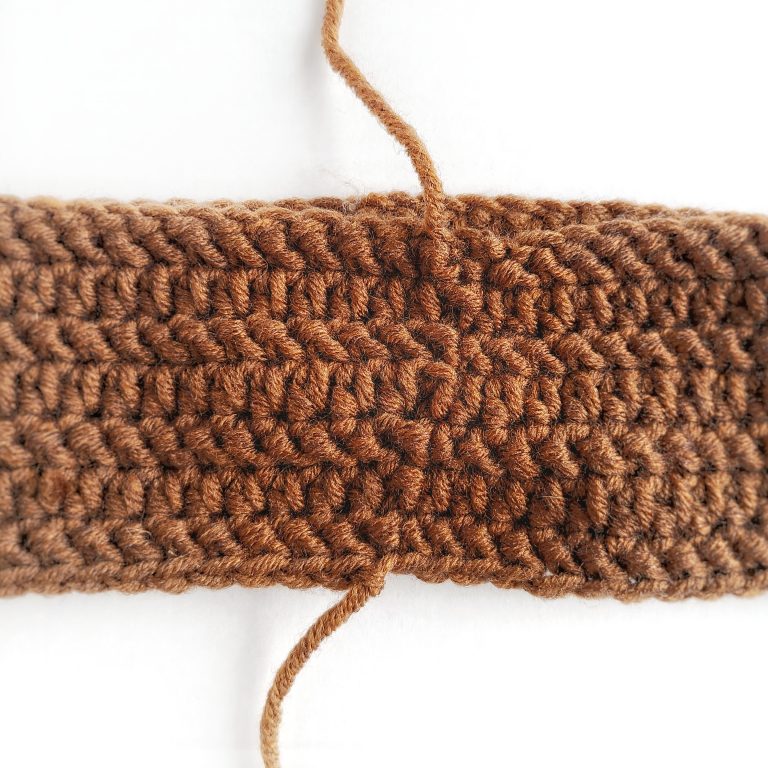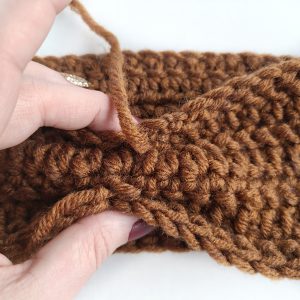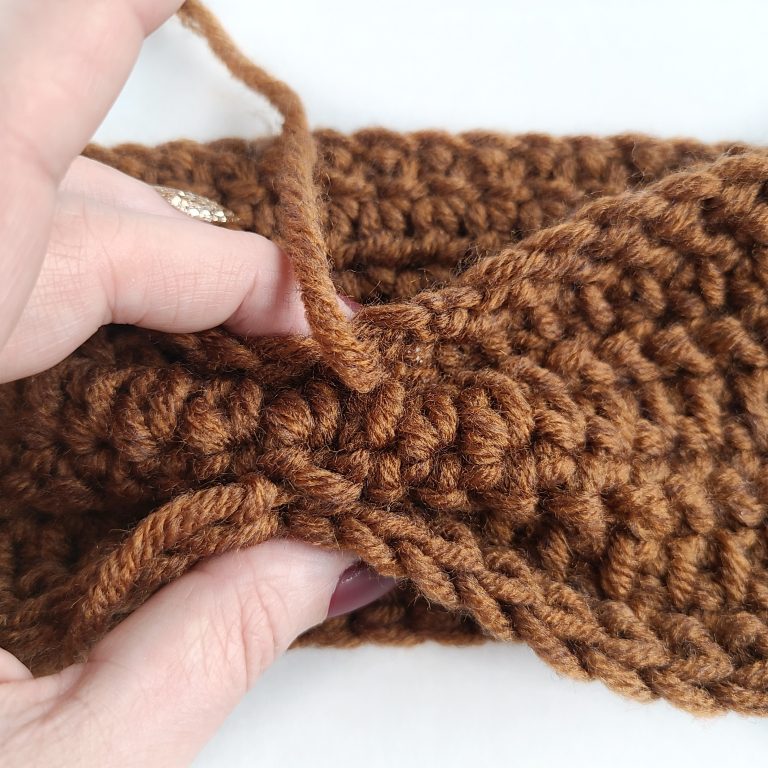 Using a yarn needle and the yarn tail guide the yarn through as shown.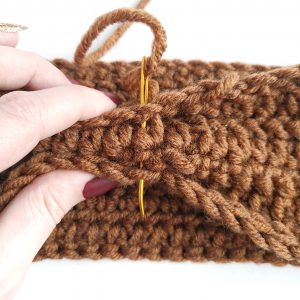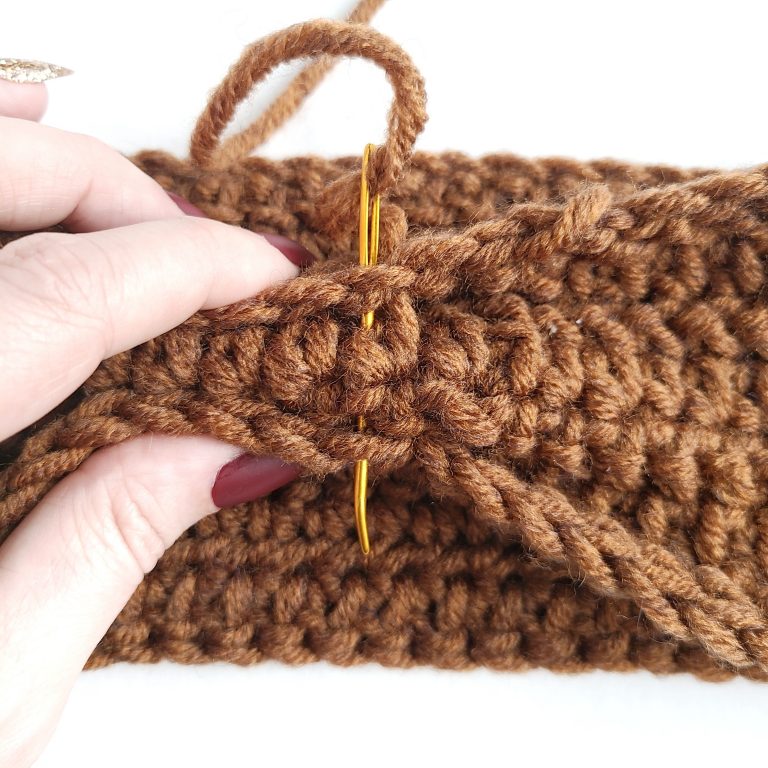 Rep this back and forth as needed to secure. Weave in all other loose ends throughout the headband.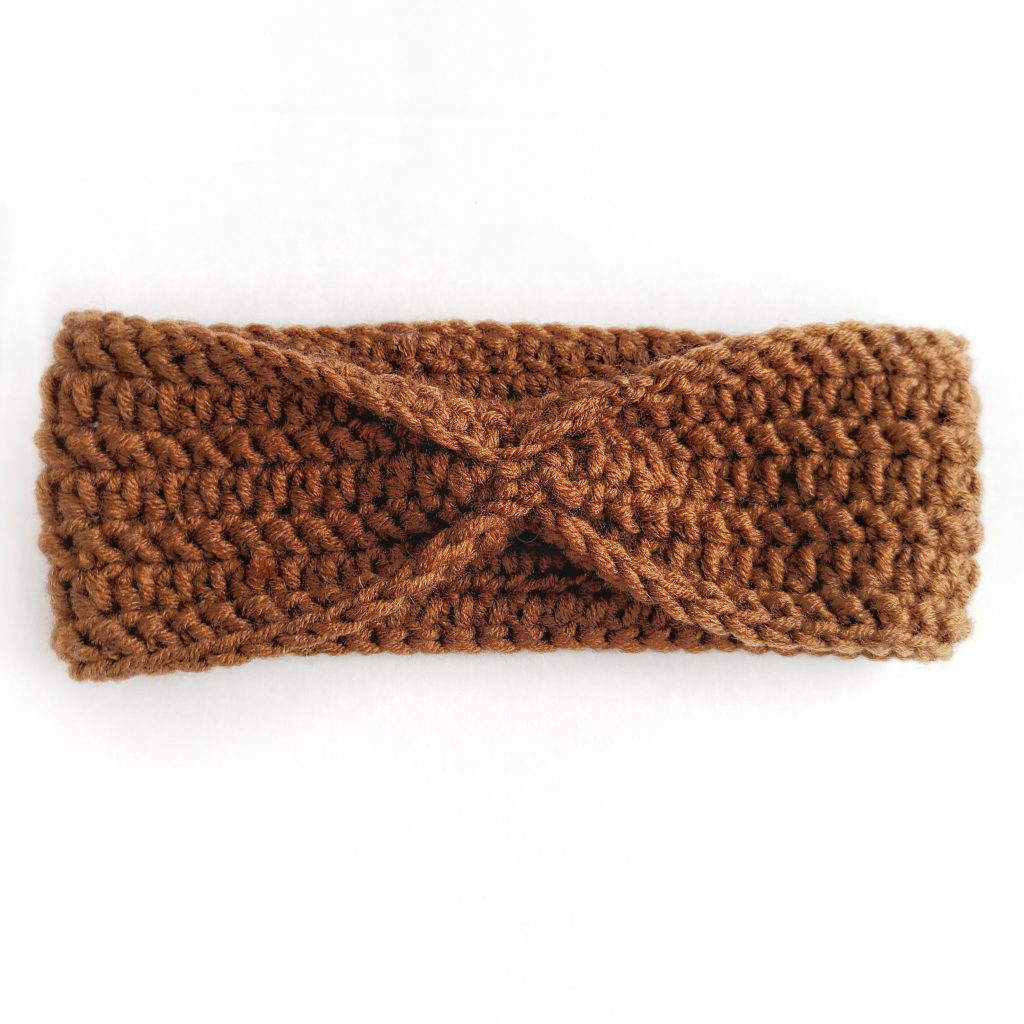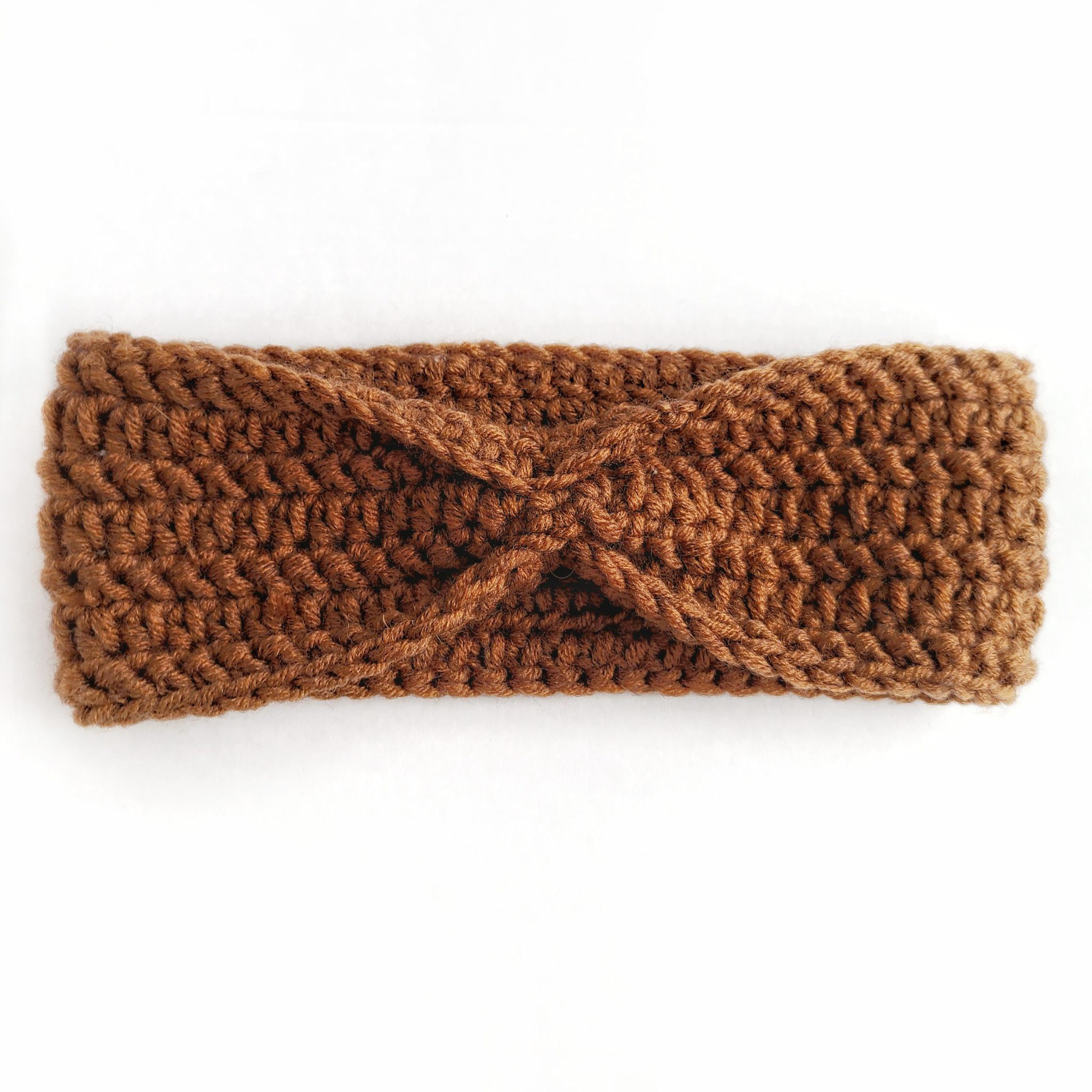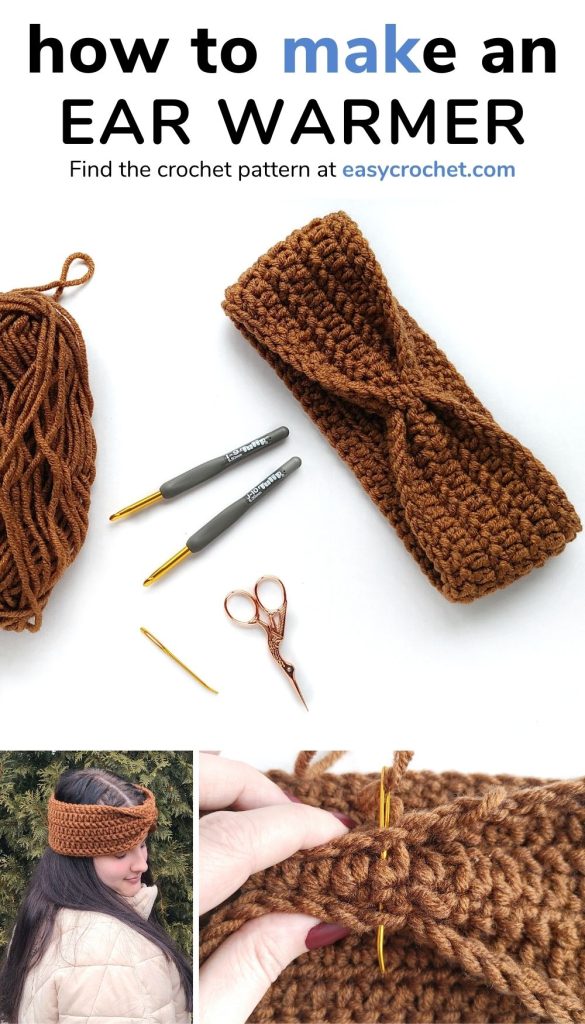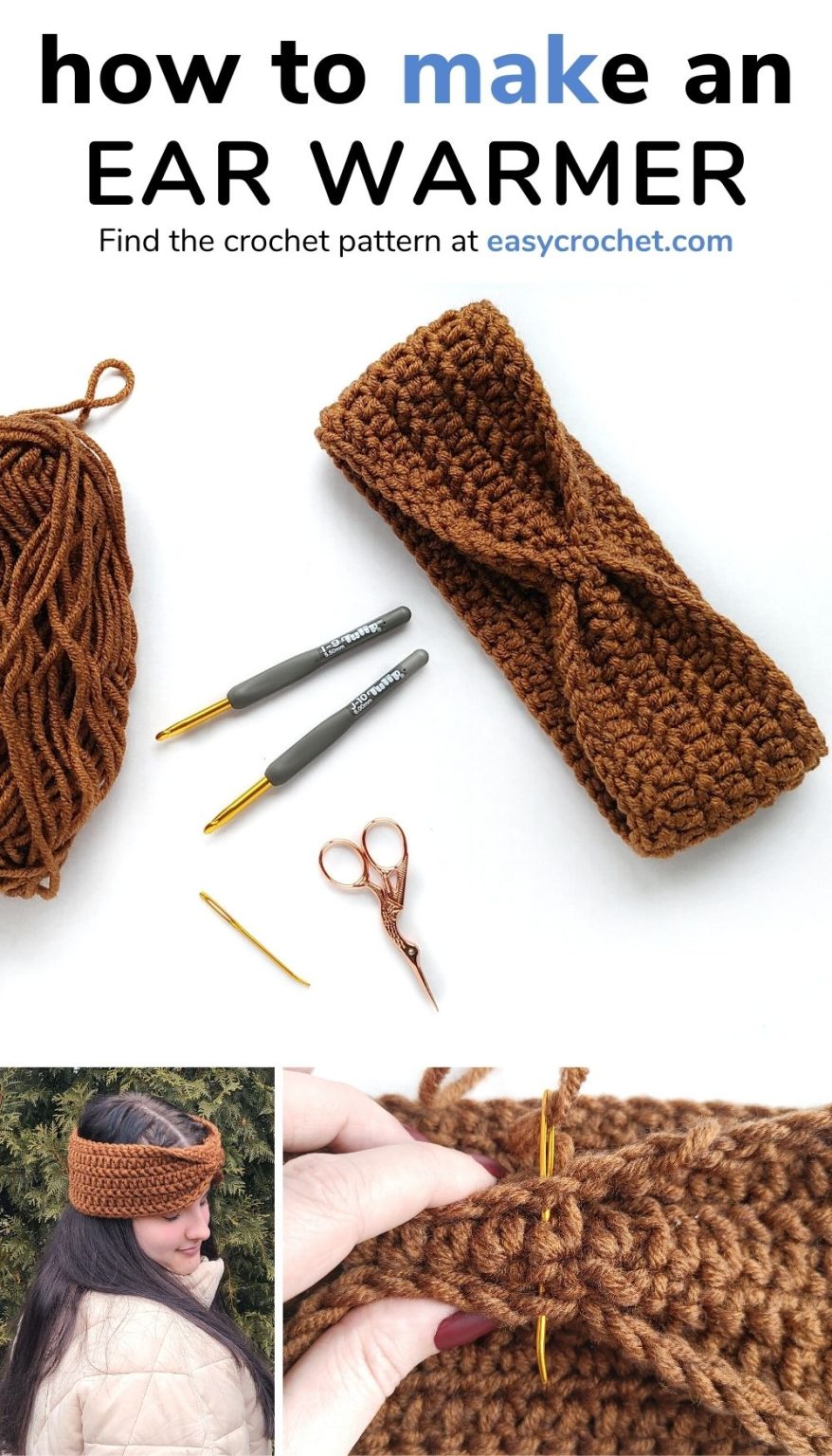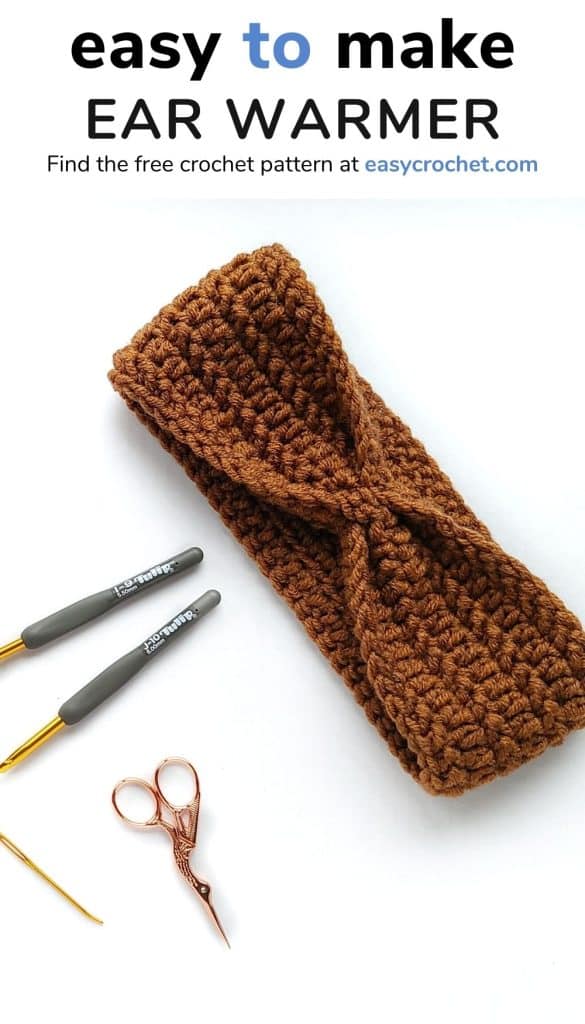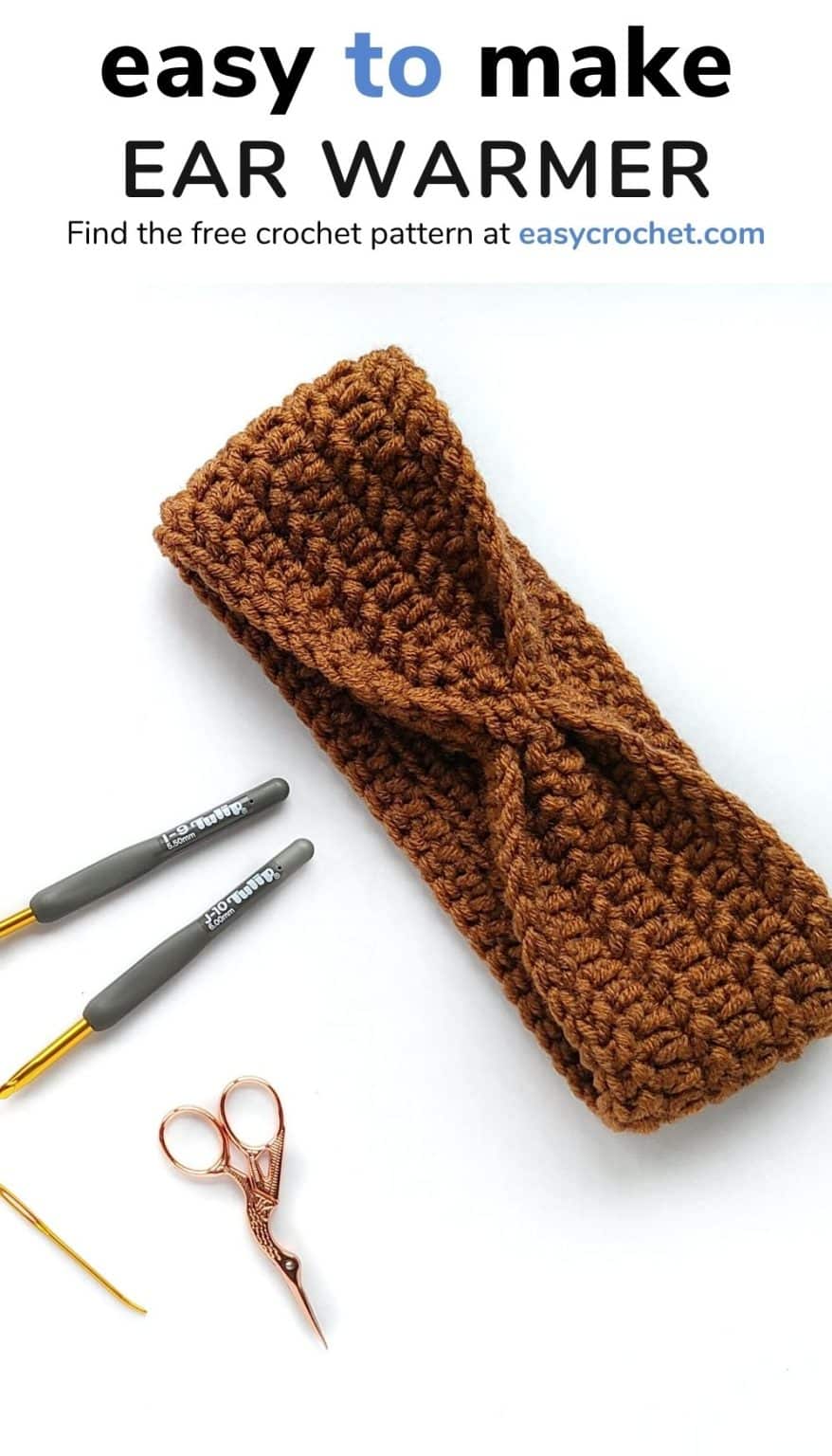 I hope you liked this chunky yarn ear warmer crochet pattern! For any clarifications, please feel free to contact me on my Facebook page. If you liked this crochet headband, then you might also like my other patterns below that is quite similar.
You May Also Like These Free Hat & Headband Patterns
Try These Bulky & Super Bulky Yarn Patterns Too