Neon Rainbow Striped Crochet Hat
Every once in a while a brightly colored crochet hat is just what you need. If you love bright colors and simple crochet patterns, then you are going to LOVE this easy to crochet hat with neon stripes that are built in!
Scroll on down to learn how to crochet a hat that doesn't include changing colors and much more!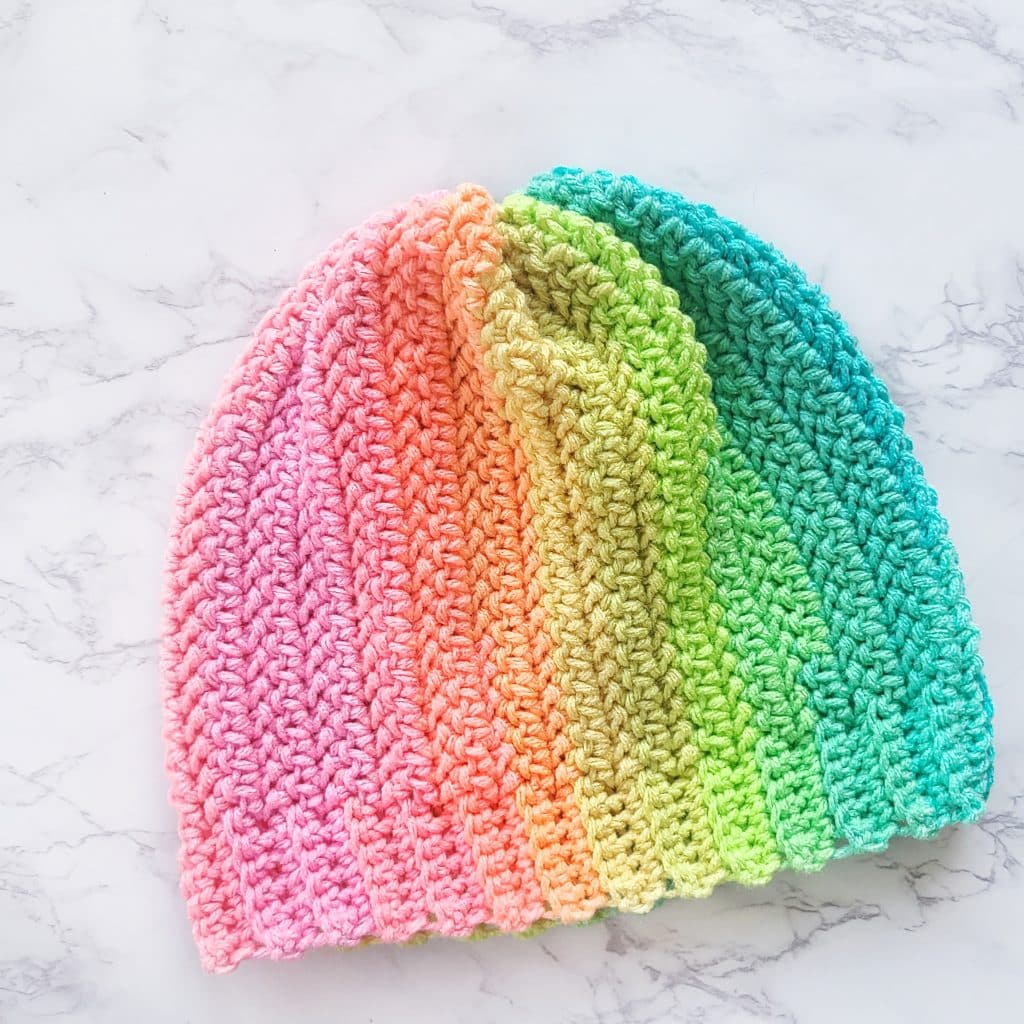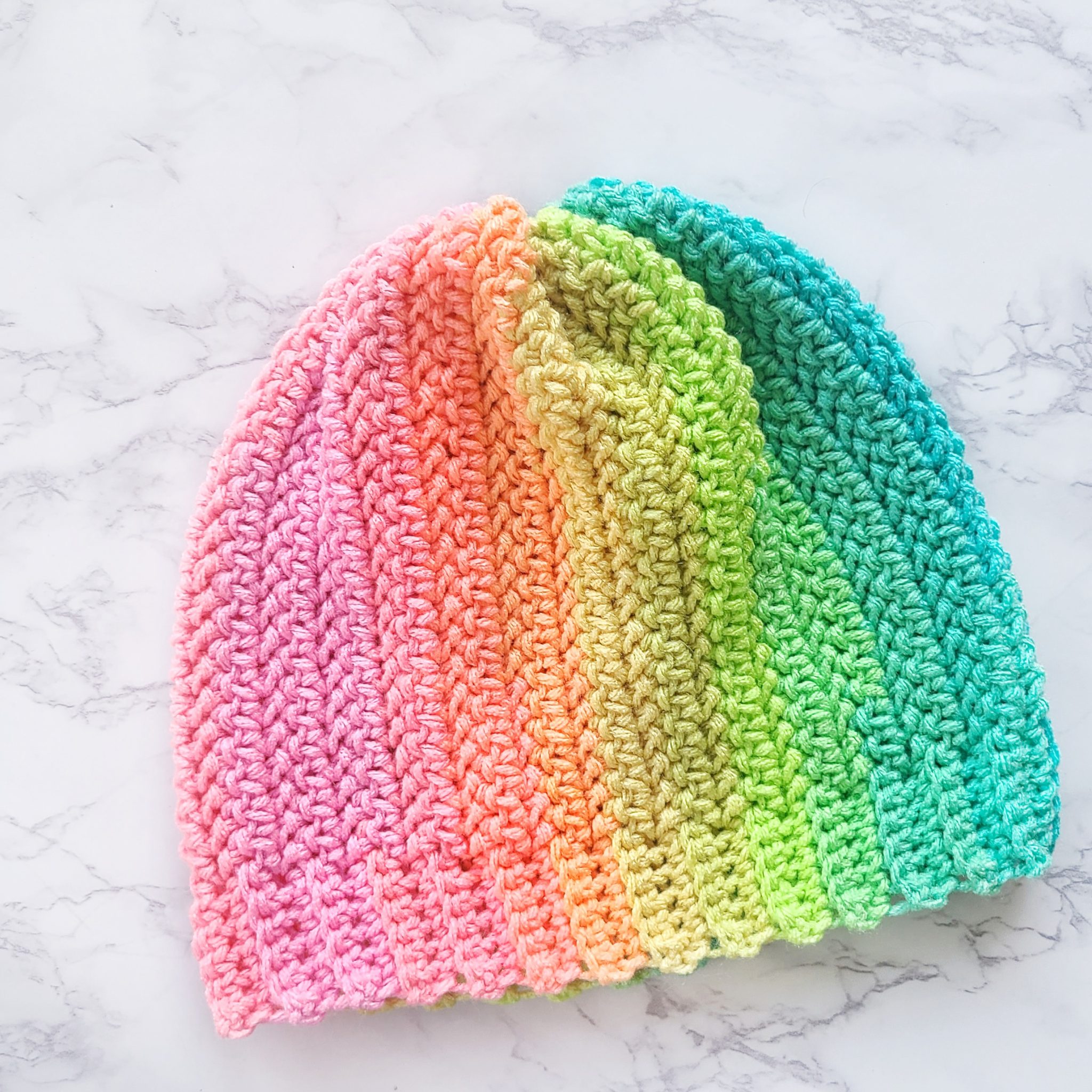 How to Crochet a Rainbow Hat
The brightly colored crochet hat is worked in one panel and sewn together at the end, which makes it easy to crochet for almost any level of crocheter. Plus, the neon rainbow yarn color is all in one skein, which means less ends to weave in when you are done crocheting your hat!
Let's not forget that this hat also uses basic crochet stitches, which means it can be works up in less than a day! Which, in my opinion, is always a win when making any type of crochet project.
The initial chain of this beanie will be the height of the hat pattern, and the rows worked will be the width. You'll be able to use the hat size chart below, so you know exactly the perfect size crochet hat to make.
Learn more about the process of creating this fun (+ bright) crocheted hat by scrolling down to read about the yarn and stitches used to crochet this hat.
The Yarn
To create this hat, I used Red Heart Super Saver Stripes in the color Retro, which is such a standout and bright neon color! If you know someone who is a fan of neon, then this is the yarn you'll want to use for them.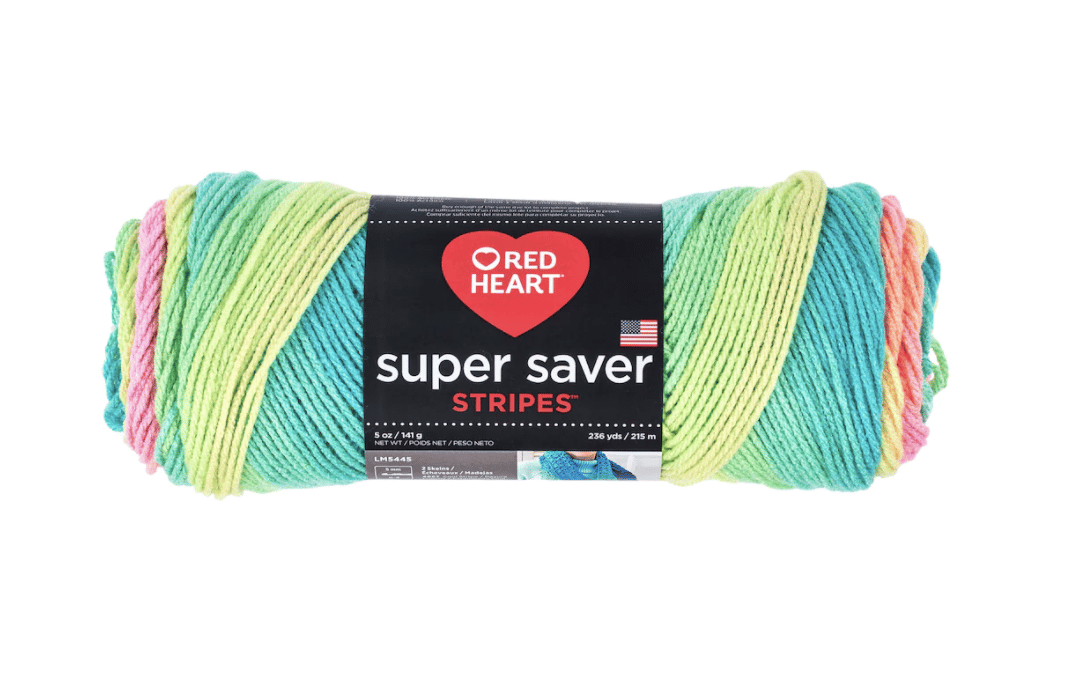 Red Heart Stripes is a 100% acrylic four weight yarn that is so fun to work up because of all the striped color changes it creates.
This yarn is available in nine different striped colors and 40+ solid colors, so you can use whatever color you feel suits you or the person you are crocheting this hat for the best.
The colorway Retro was a bit harder to find than some other striped colors available, so I had to do some searching to find the two skeins I got.
If you are lucky, you may find it online on Amazon, or direct from the manufacturer at Yarnspriations.com. I ended up going into my local Joann Fabrics Craft store and found the last two skeins, which one of was destined to become this funky crochet hat.
Take a look at a few of the other striped yarn colors available below that you can crochet a hat in: Candy Stripe, Parrot and Bright Stripes!

Crochet Stitches for a Hat
This easy crochet hat uses easy crochet stitches, so any level of crocheter could try to make this if they are feeling adventurous.
single crochet
herringbone half double crochet
The best part (in my opinion) about this hat is that it only uses two simple crochet stitches! If you can single crochet (sc) and herringbone half double crochet (hddc), then you are good to go with crocheting this colorful design.
Since this hat is made in one panel you will work the single crochet brim of the hat first followed by the hddc which is the main part of the hat.
Take a look below at the picture to see where the single crochet section and herringbone half double crochet stitches begin and end within the hat. You will also be able to see how the brim of the hat is made.
The brim of the hat is single crochets that are worked in the back loop of the previous row's single crochet stitches, which creates the cuffed brim look.
The Stitches
Learn more about each crochet stitch below, so you will be able to crochet this hat as soon as possible. They are easy stitches! Promise.
Single Crochet (sc):
Insert hook from front to back in the second chain from the hook or designated stitch
Bring the yarn over (YO) the hook and pull the yarn back through the chain (or stitch) from back to front (2 loops on hook).
YO and pull through both loops on the hook.
Herringbone Half Double Crochet (hhdc):
Yarn over (YO)
Insert hook into the stitch indicated
YO (3 loops on hook)
Pull up a loop and pull that loop through the first loop on the hook (2 loops on hook)
YO
Pull through remaining two loops on the hook
Crochet Hat Size Chart
Changing the size of a hat is as simple as changing the width of the hat as well as the height. You can use the crochet hat size chart below that shows the average circumference and height of crochet hats in inches.
| | Preemie | Baby | Toddler | Child | Tween | Woman | Man |
| --- | --- | --- | --- | --- | --- | --- | --- |
| Circumference (in) | 9-12 | 14-16 | 16-18 | 18-20 | 20-22 | 21-23 | 22-24 |
| Height (in) | 4-4.5 | 5-6 | 7-7.5 | 7.5-8 | 8-8.5 | 8.5-9 | 9-9.5 |
How to Measure Hat Size for Crochet
Measuring a crochet hat is easy. You'll need a soft tape measure and a person to measure, so you can get the circumference of their head. For example, if you want to make a men's crochet hat, you would crochet your hat to a width of 22 to 24 inches with a 9 or 9.5 inch height.
Be sure to measure that person's head, so you will get an exact measurement. Use the same method with any size of crochet hat you want to make from the chart.
The best bet is to always measure the circumference of the person's head you want to make the hat or beanie for because their size may differ from the standard sizes on the chart. If it is not possible to measure, then you can go by the standard chart above when crocheting a hat.
Below in the pattern you will be able to see the hat sizes I designed this hat in, so you'll know exactly how many chains and rows to crochet to get the size you need.
Crochet Hat Sizing Tip: I suggest crocheting your hat 1-2 inches less than the actual circumference of the person you are making for to allow for stretch and give.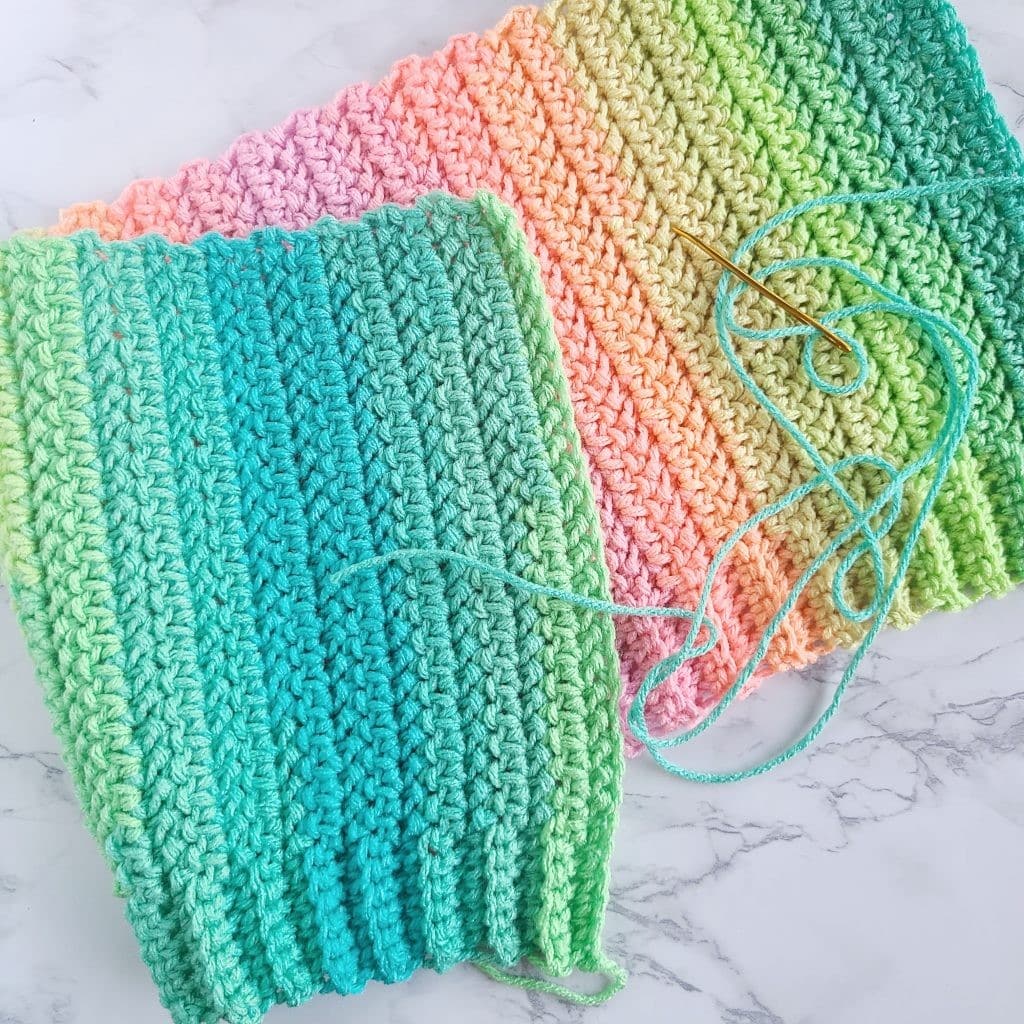 How to Make a Crochet Hat Slouchy
If you'd like to crochet a slouchy hat all you will have to do is add some height to the initial chain. For example, In this pattern to make a women's hat size you are supposed to chain 25 but to make it slouchy you can add any number of chains to that first chain length to give this design a slouch hat look.
To add slouch to crochet hats I like to add between one and two inches in length which for this pattern is about 3 chains per inch. You can work up the pattern and add chains to see what number you'd like to make the style of hat you are going for.
The Retro Stripes Yarn Hat Pattern
Skill Level: Intermediate
Materials
5.5 mm crochet hook (or hook size needed for gauge)
Scissors
Yarn needle
Stitch markers
Finished Hat/Beanie Sizes
Preemie, Baby, Toddler, Child, Tween, Woman + Man
| | Preemie | Baby | Toddler | Child | Tween | Woman | Man |
| --- | --- | --- | --- | --- | --- | --- | --- |
| Circumference (in) | 9 | 14 | 16 | 18 | 20 | 21 | 22 |
| Height (in) | 4.5 | 6 | 7.5 | 7.5 | 8.5 | 9 | 9 |
Gauge
8 sts x 6 rows = 3″ x 3″
Gauge pattern: Ch 8 and work pattern like below.
Gauge is important for a proper sized crochet hat
Crochet Stitch Abbreviations
stitch = st
ch = chain
sc = single crochet
hhdc = herringbone half double crochet
bl = back loop
Notes
Written in standard US terms
Follow along with gauge + hat size chart for a perfectly fitted crochet hat
The initial chain is the height of the hat.
The rows are the width of the hat.
All sizes take less than 1 skein of yarn.
The Hat Pattern
Pattern sizes are as shown Preemie (Baby, Toddler, Child, Tween, Woman, Man)
To Start: Ch 13 (17, 21, 21, 23, 25, 25)
Row 1: In the second chain from the hook sc, sc once into each of the next 5 sts, hhdc once into each of the remaining stitches across, turn. 12(16, 20, 20, 22, 24, 24)
Row 2: Ch 1, hhdc into the first st, hhdc once into each of the next 6,(10,14,14,16,18,18) sts, sc bl into the last st 6 sts, turn.
Row 3: Ch 1, sc bl into each of the next 6 sts, hhdc into the remaining sts across, turn.
Row 4 – (see below): Rep row 2 & 3 as indicated for size below

Preemie: for 18 rows total rows
Baby: for 28 total rows
Toddler: for 32 total rows
Child: for 36 total rows
Tween: for 40 total rows
Woman: for 42 total rows
Man: for 44 total rows
Finishing: Fasten off yarn leaving a 15-20 inch tail (less for the smaller hat sizes).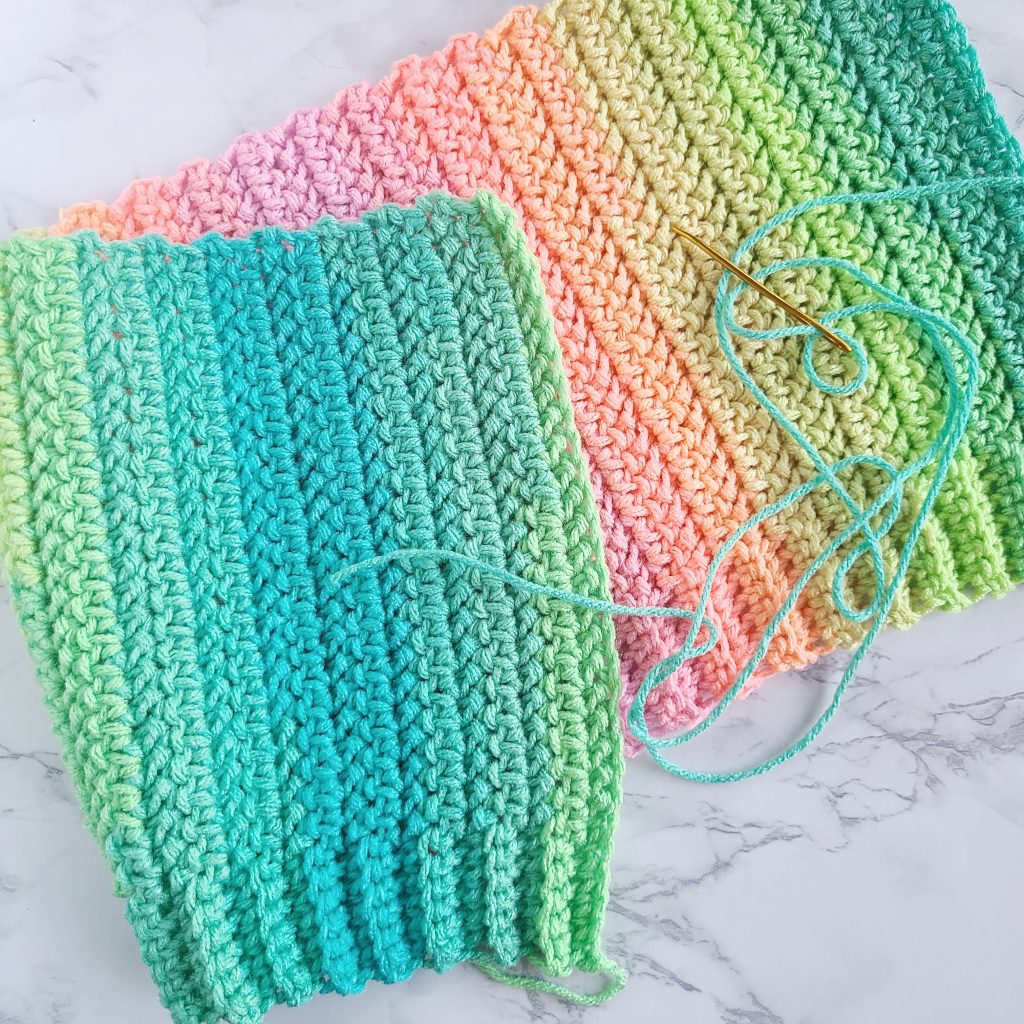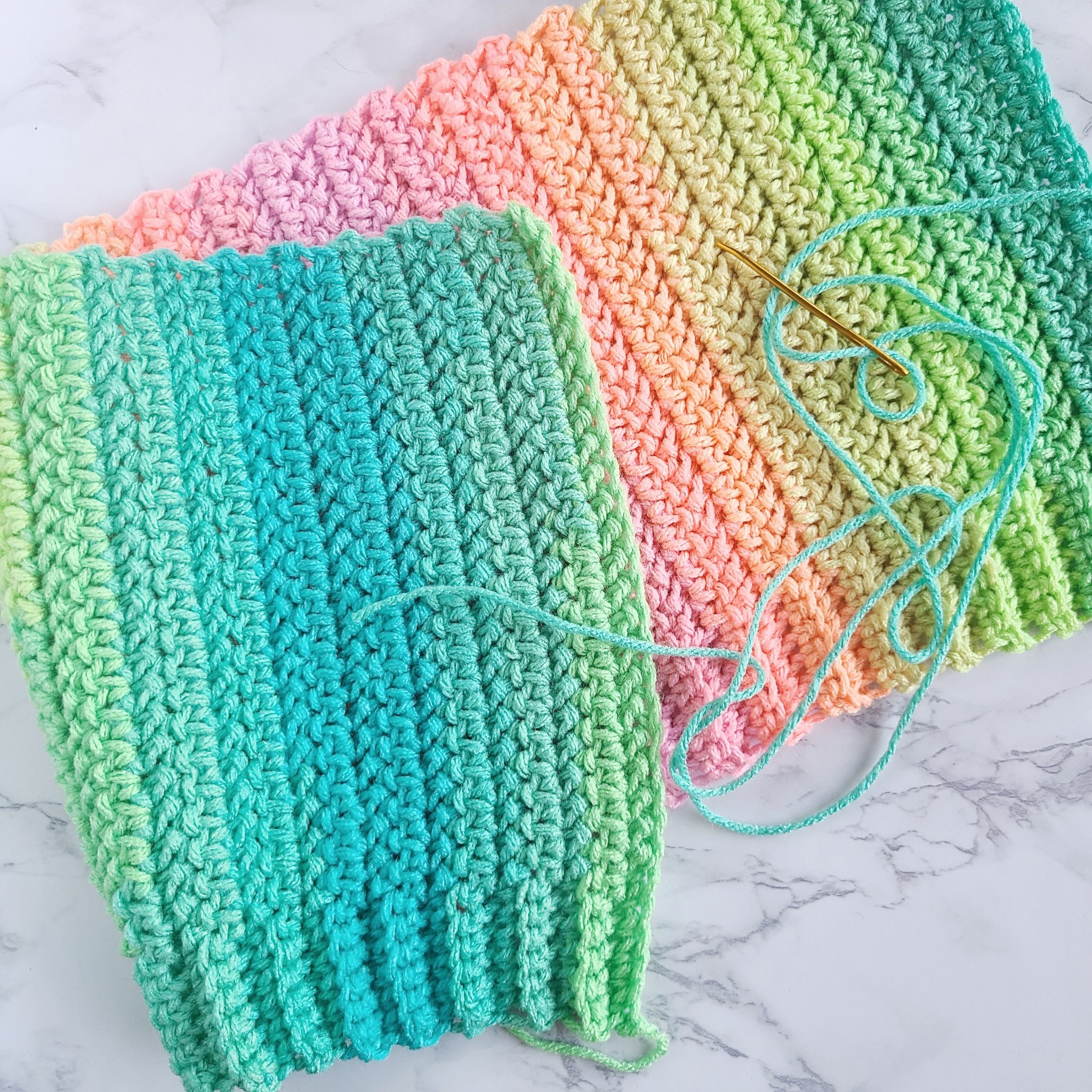 Joining the Hat
To join the panel together to form a hat you will lay it down flat. Join the two short ends together. Attach the yarn needle to the yarn tail. Weave up the side of the hat to join the two short ends of the panel together to form a tube.
You can use the mattress stitch to join also, but it is up to you to use the method you feel more comfortable with when you close up this hat.
I have a great post about seaming crochet pieces together if you'd like to take a look, so you can find your favorite way to seam up a crochet hat.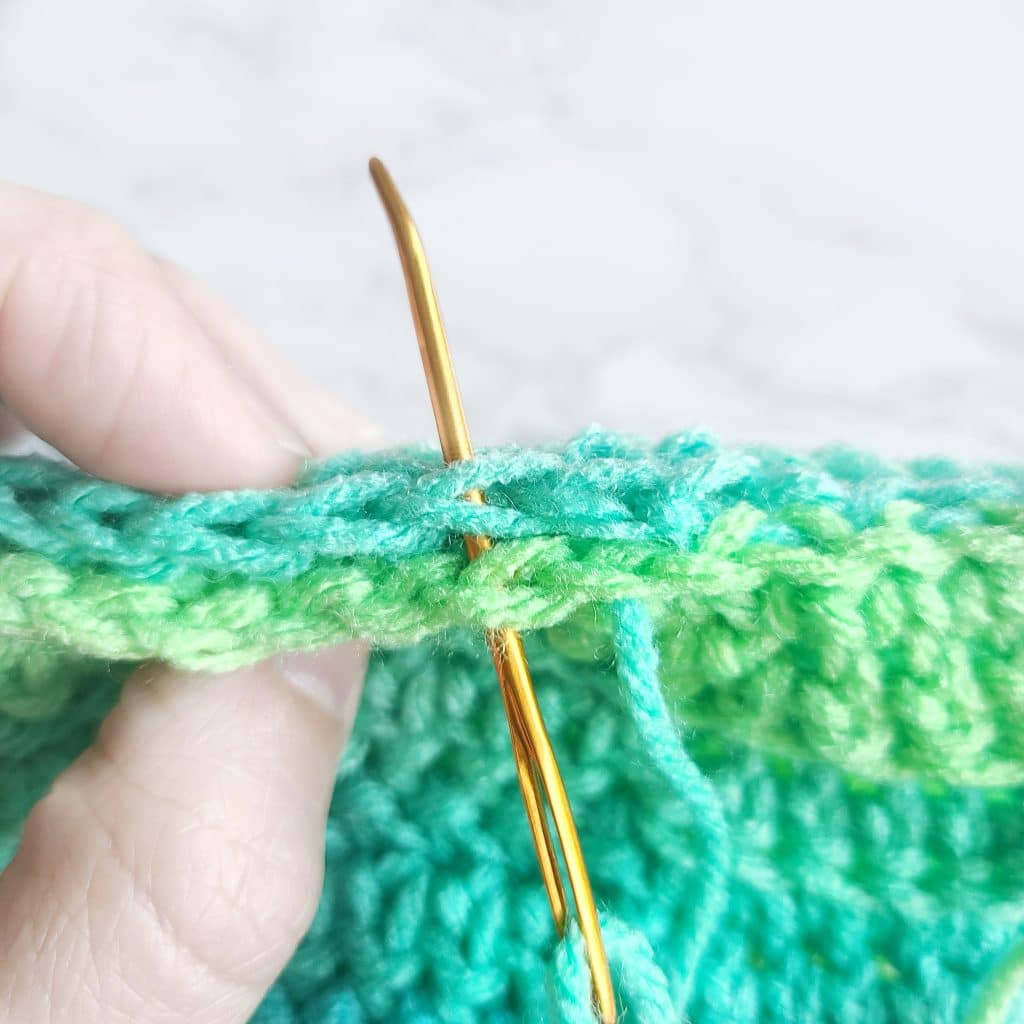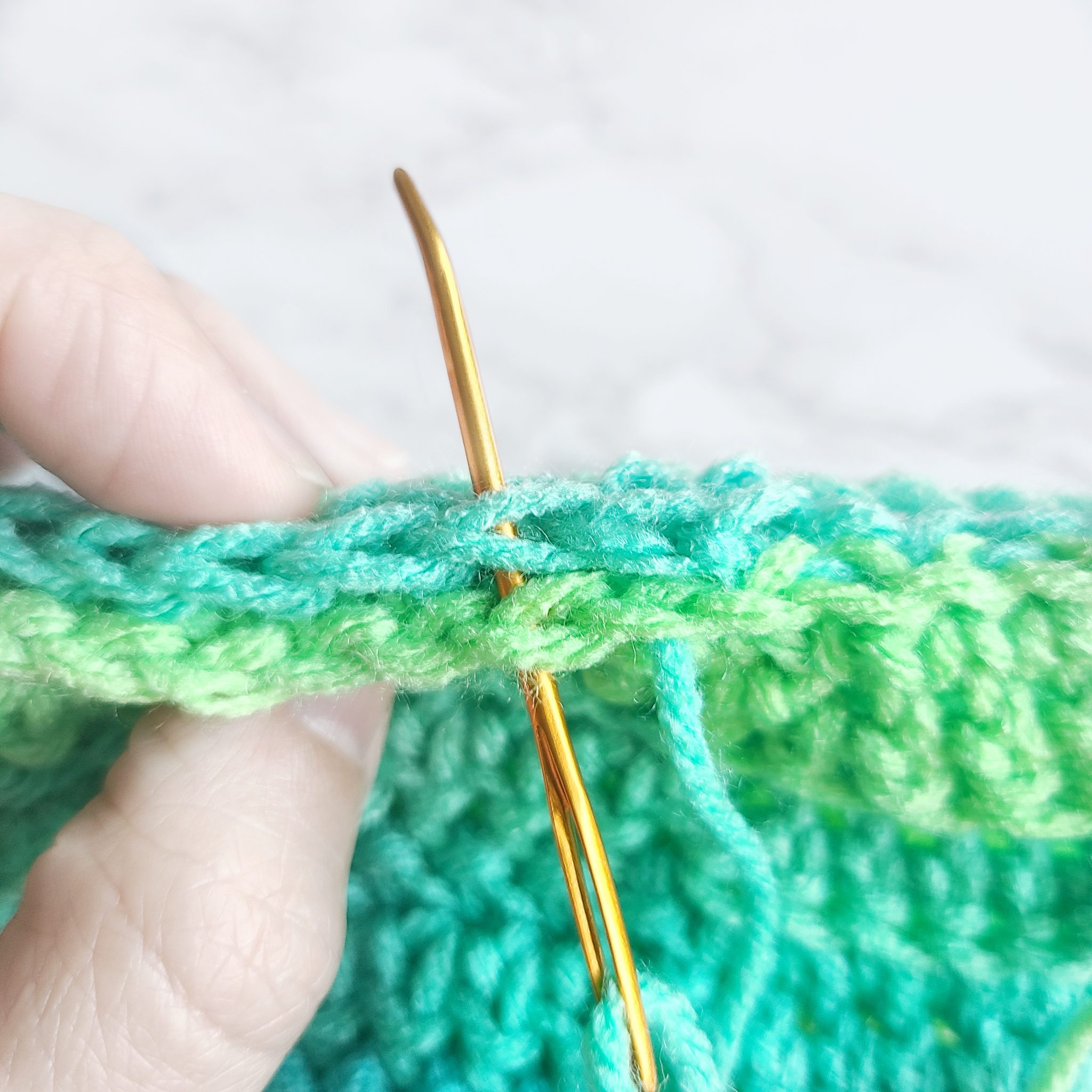 Once you reach the top you will use the yarn needle and weave along the top of the hat in and out pulling in every few stitches to tighten up the top of the hat until you reach the beginning.
I like this video on how to close the top of a hat. This video is a great tool to use and has clear finishing hat instructions.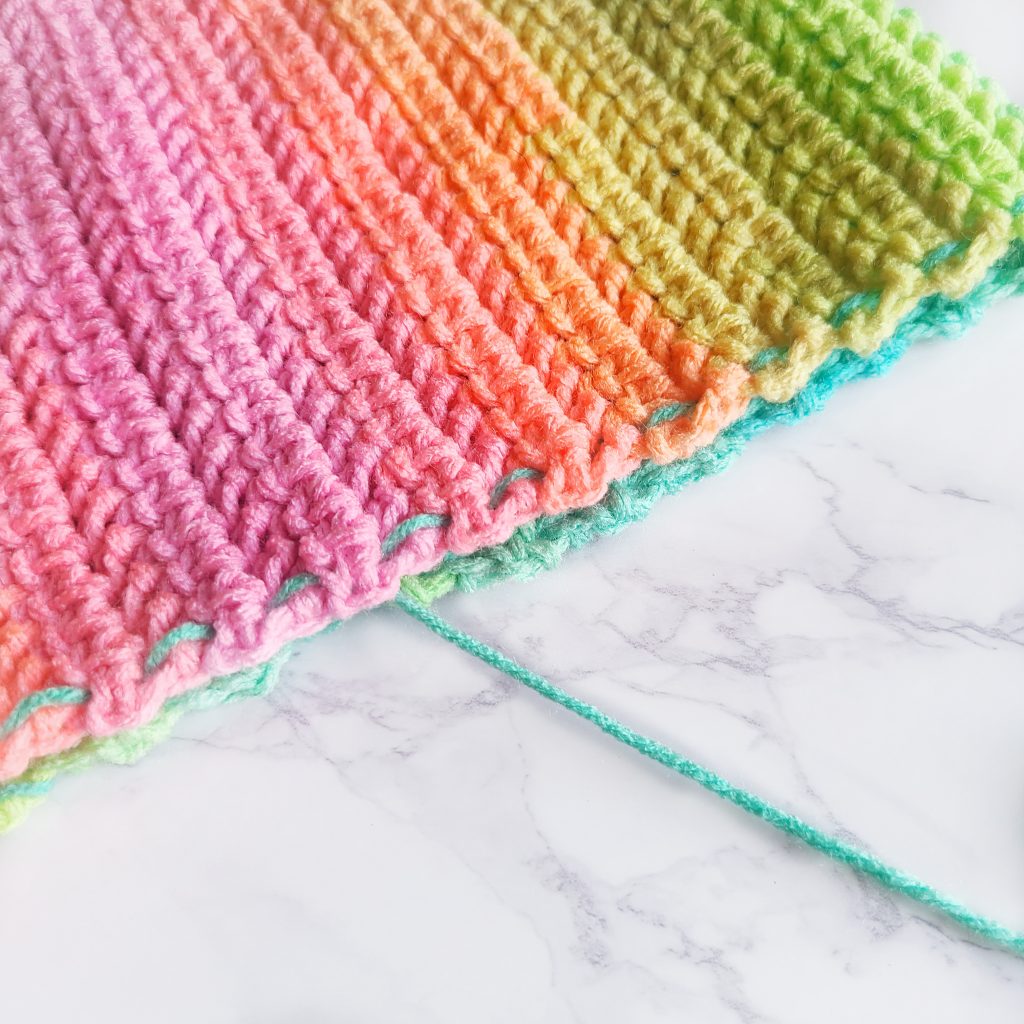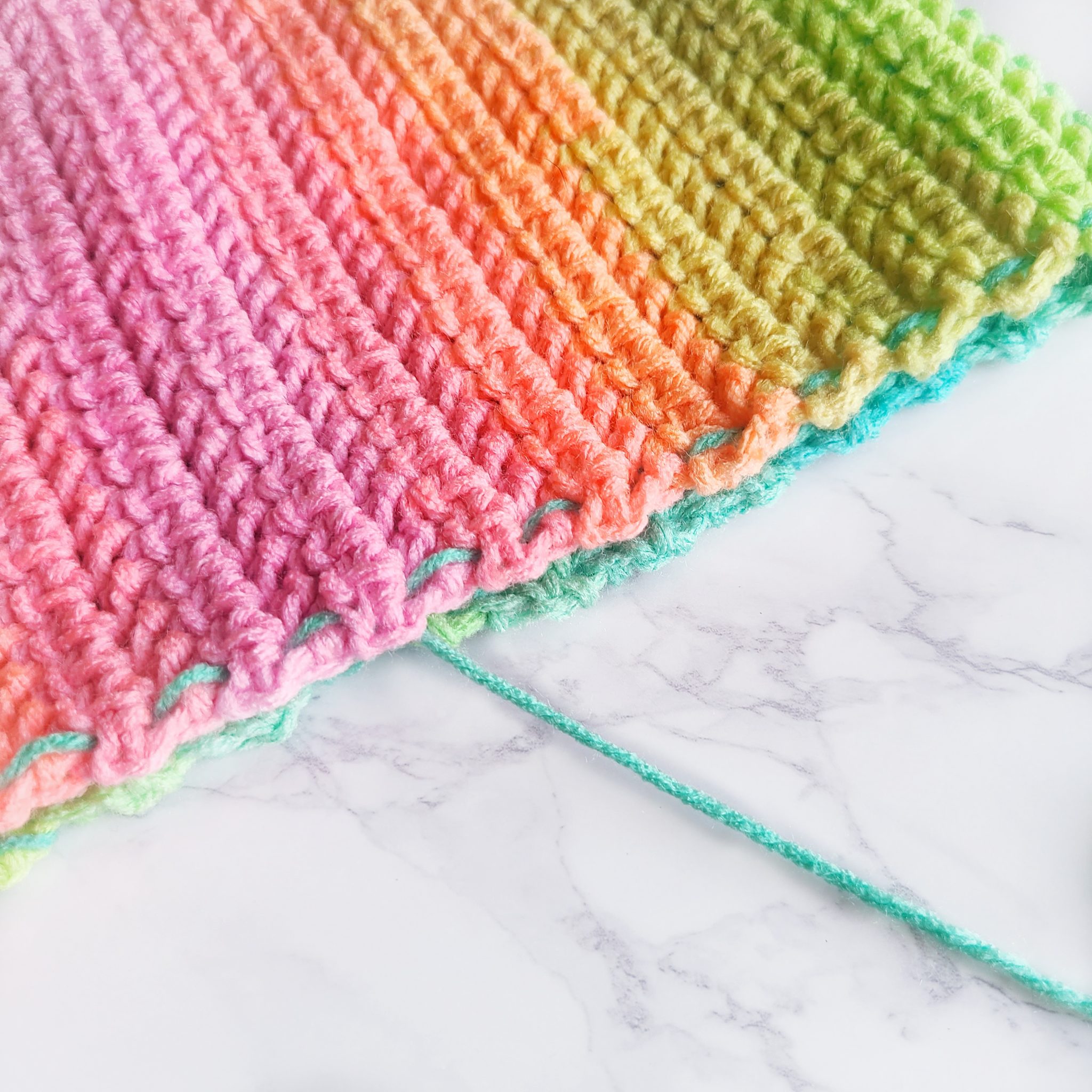 Next, weave in the yarn end back and forth through the top of the hat to secure. Finishing with the yarn tail on the inside of the hat.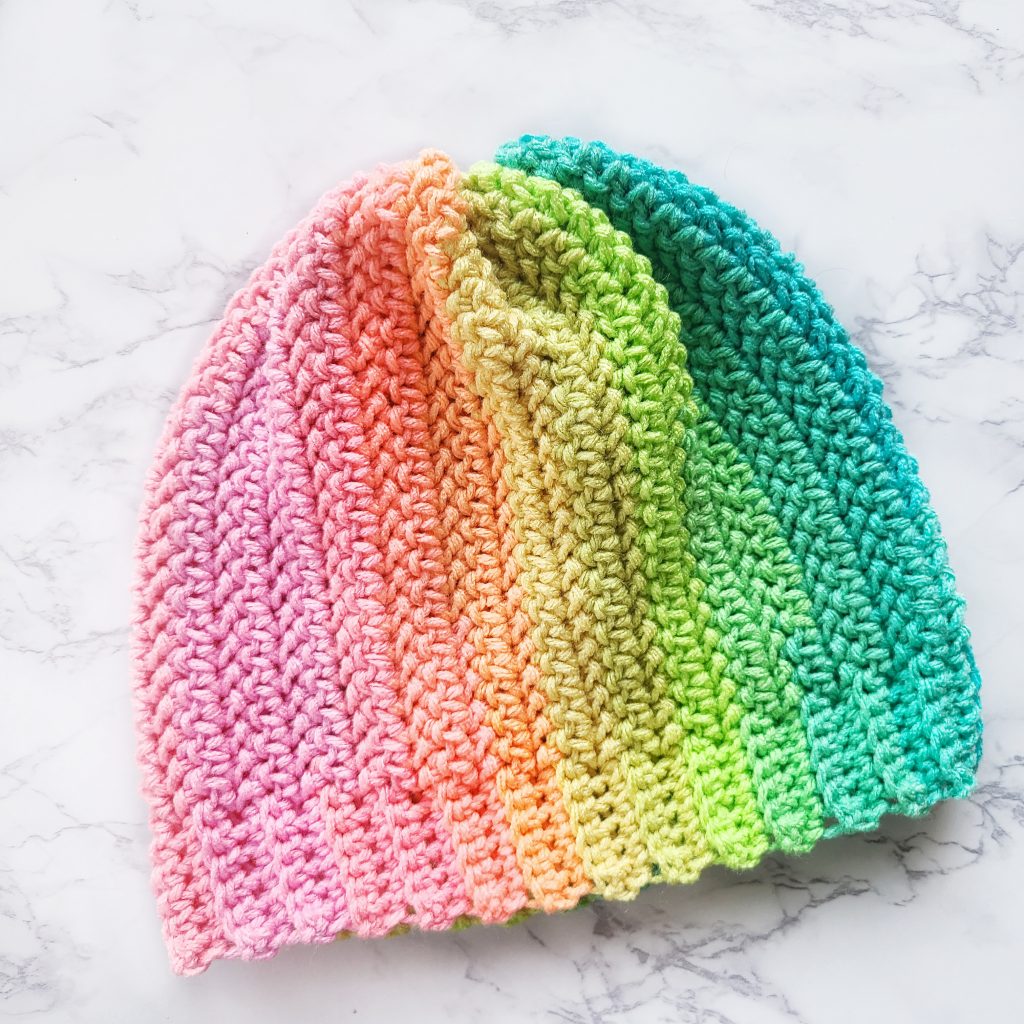 Finishing: Weave in all remaining ends of the hat with the yarn needle! You are done with your new crochet hat!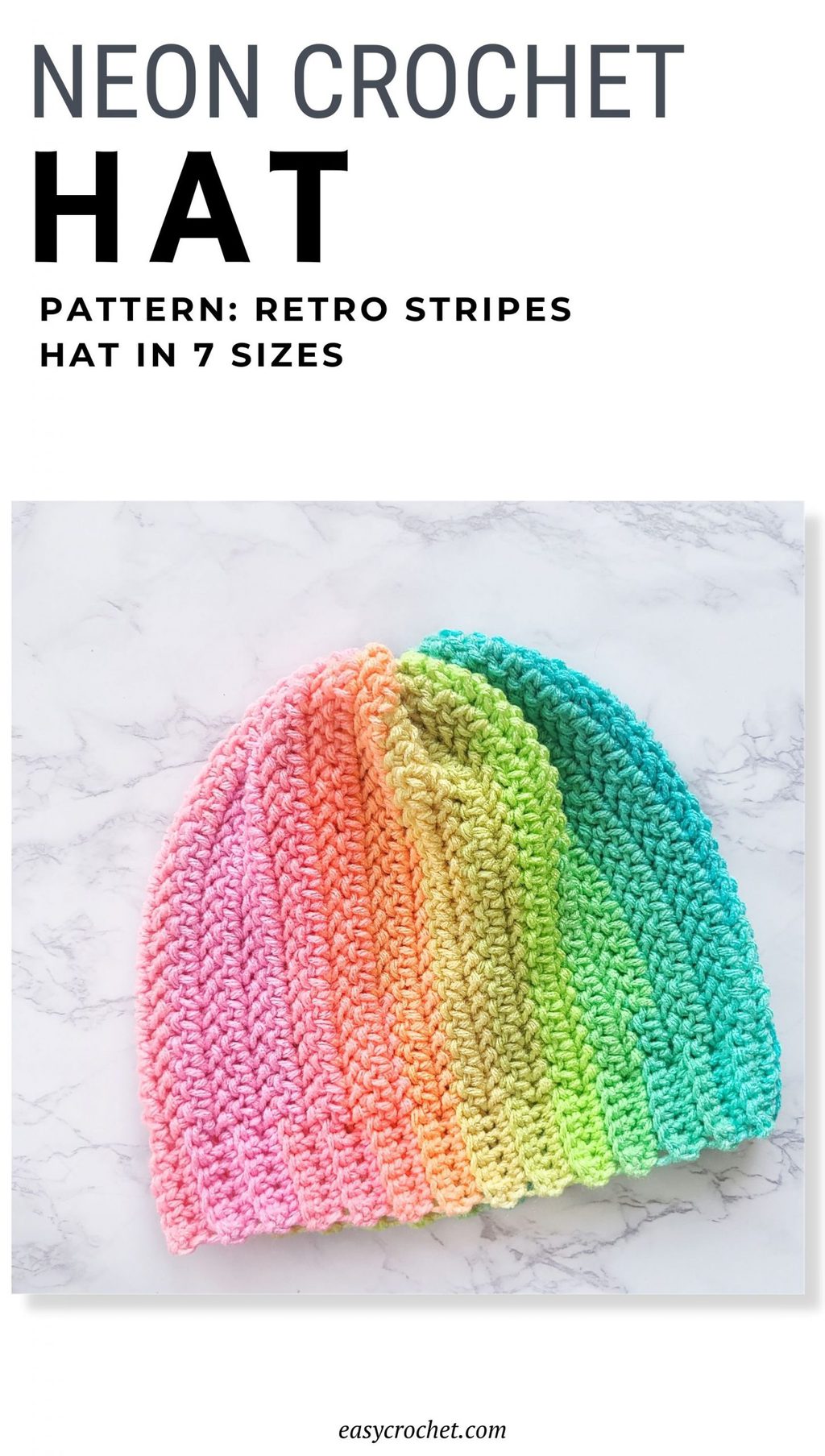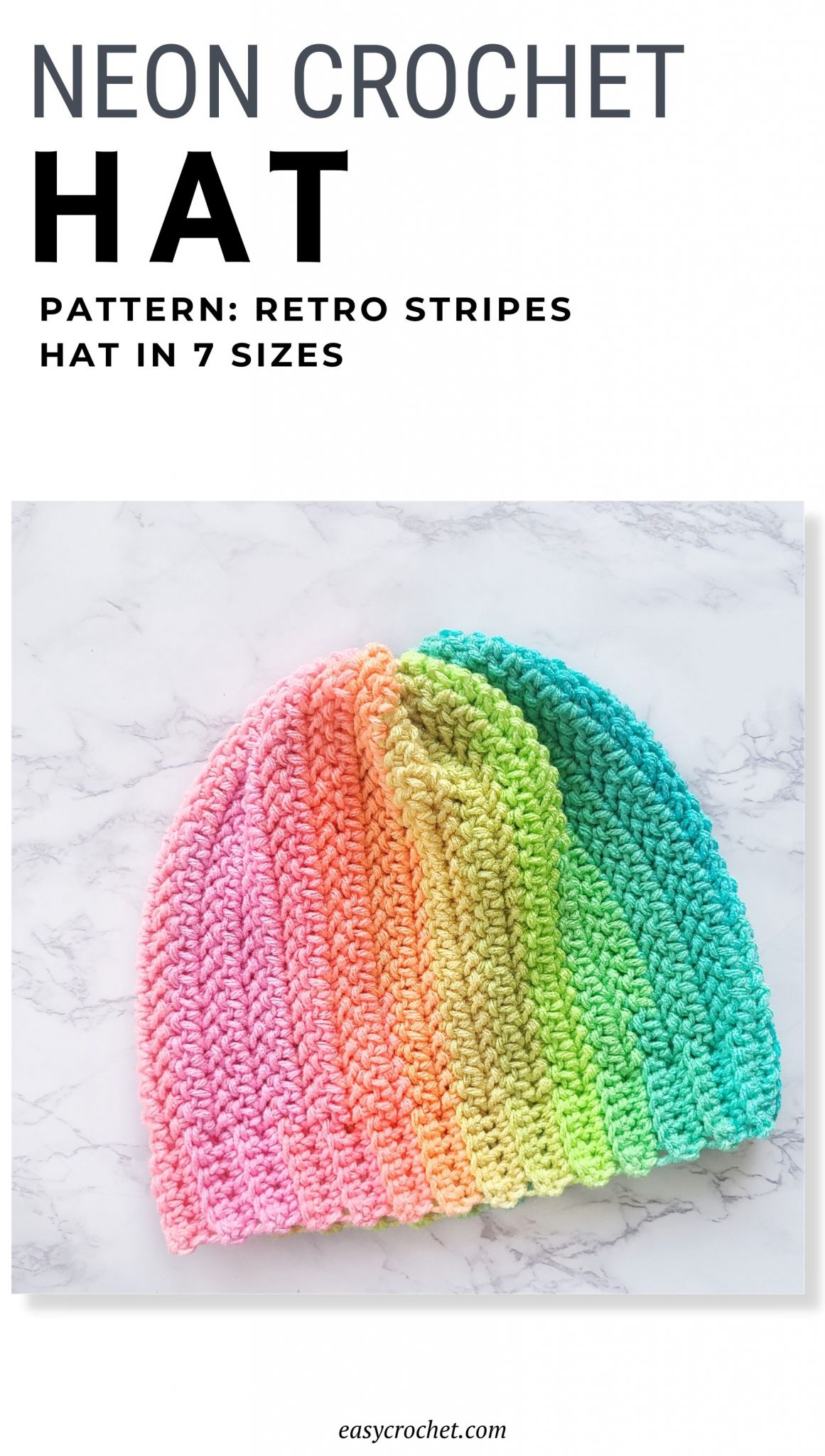 More Free Crochet Hat Patterns