Crochet Twist Headband Pattern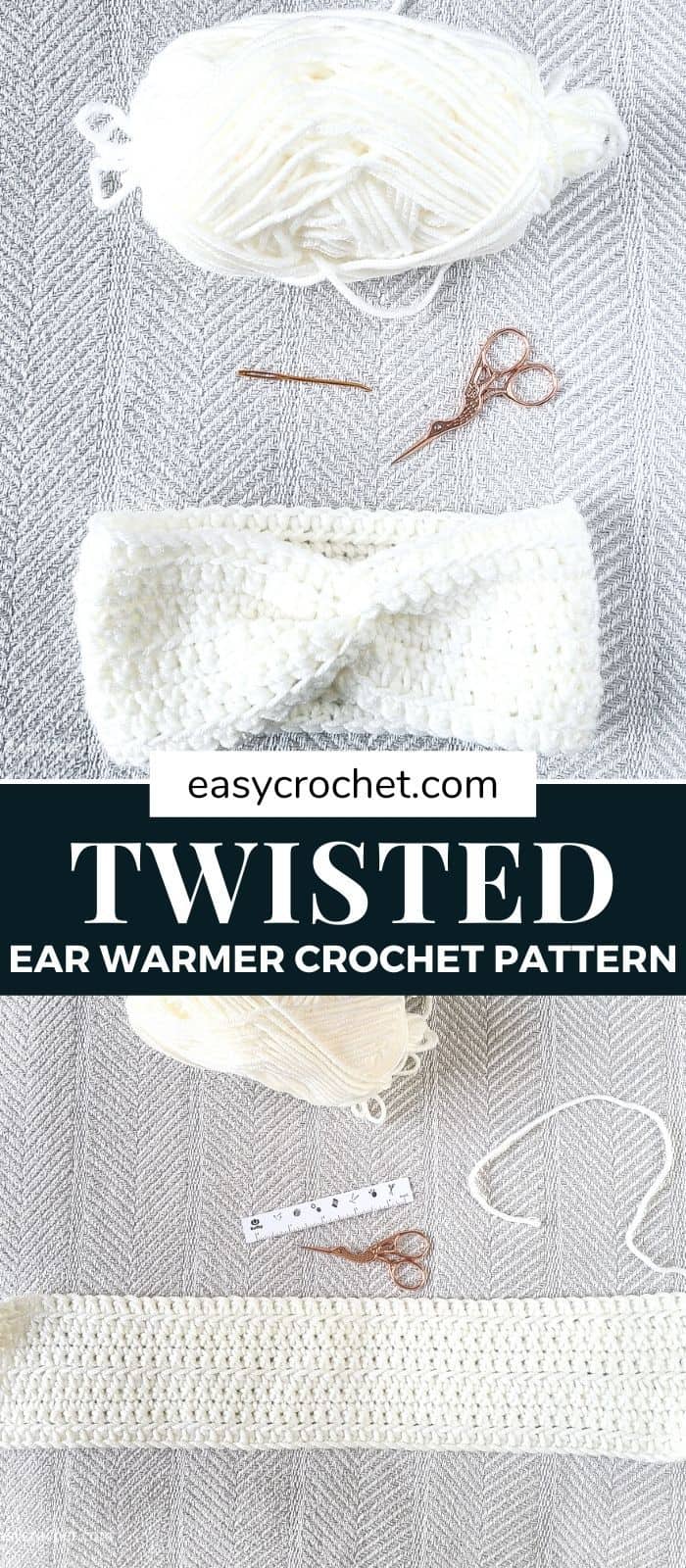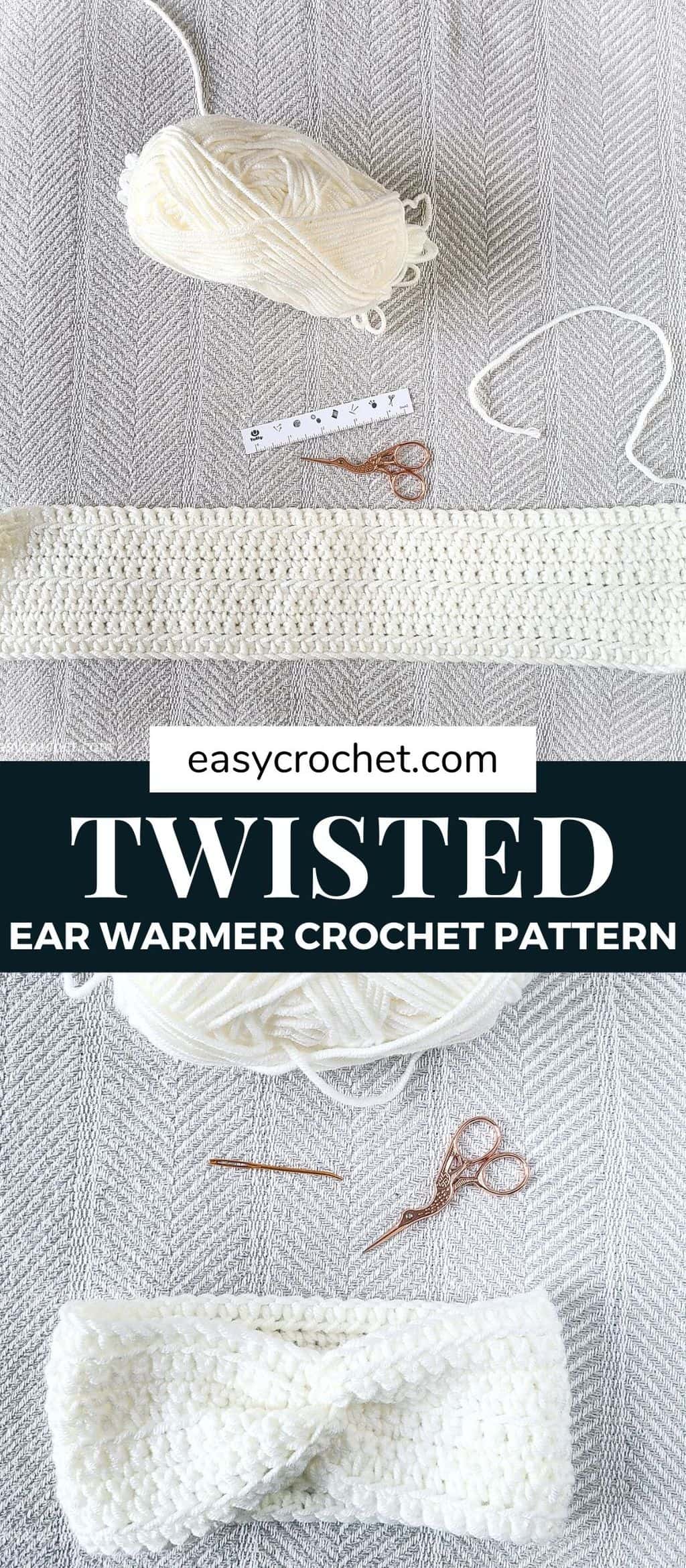 Are you looking for a beginner-friendly and easy to crochet twist headband? If so, this one is it! This crochet twisted headband uses simple stitches and a bulky 5 yarn, which means it works up fast!
Scroll on down to learn about the stitches you'll need to know, the yarn and to find the free crochet pattern for a twisted crochet ear warmer! Let's not forget, you can make this in FOUR different sizes too!
You can check it out on Instagram too if you'd like!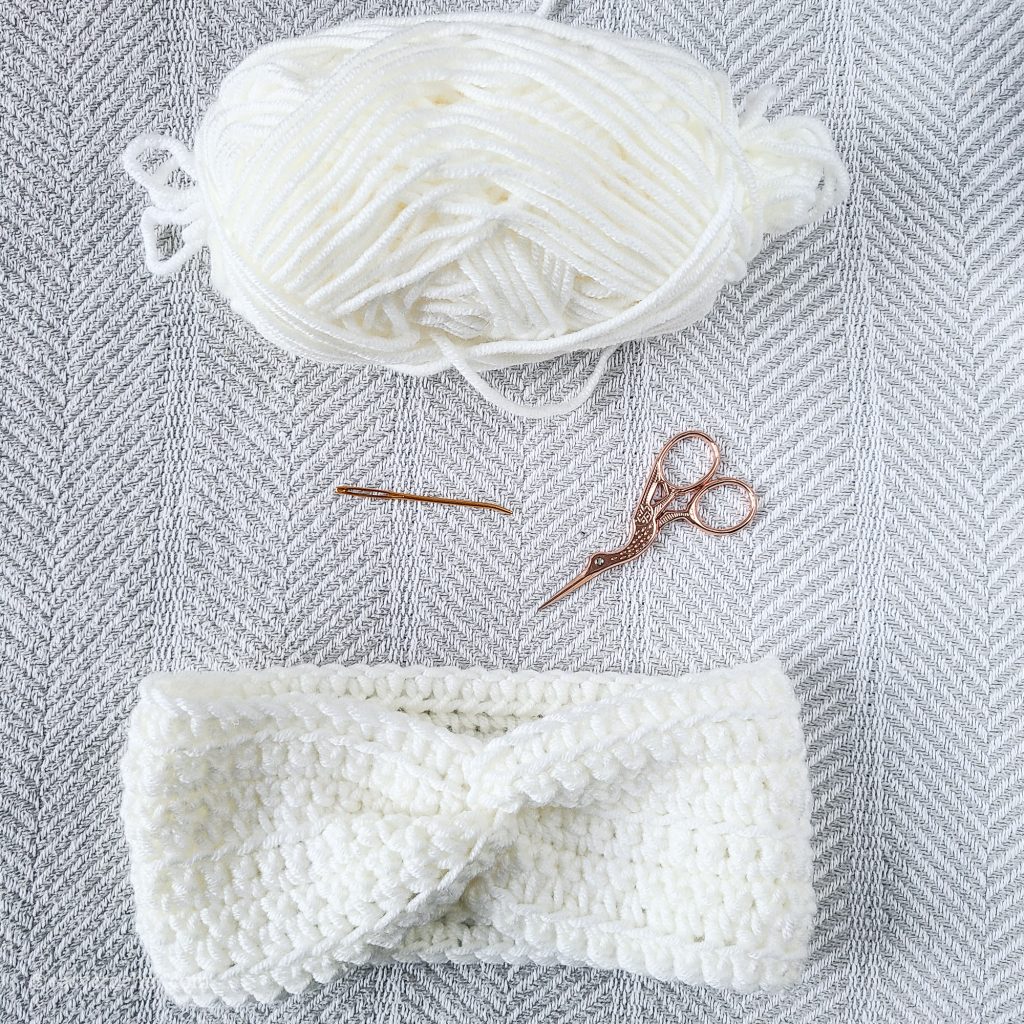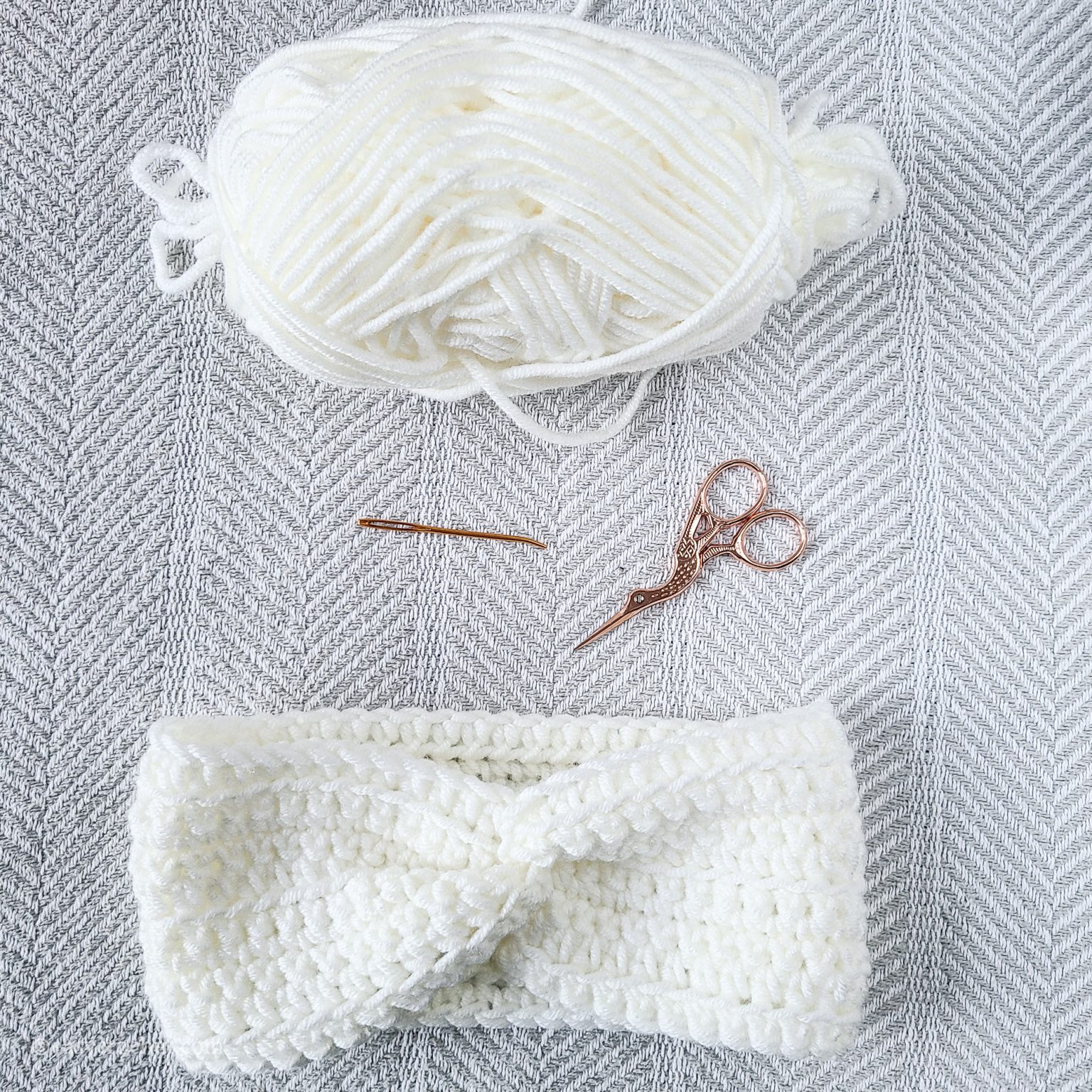 How to Crochet a Twisted Headband
A twisted crochet headband is made by crocheting rows, joining them together by twisting and then sewing the ends. Once the ends are sewn shut, you can turn the headband inside out and a beautiful twisted headband is waiting!
The Yarn
To crochet this headband, you will want to use Color Made Easy by Lion Brand, which is a bulky 5 yarn made up of 100% acrylic. Even though this is all acrylic yarn, I love that it is soft and works up beautifully in projects. I used the color Birch (white) for my headband, but you can pick from a range of twenty-four colors to suite your style.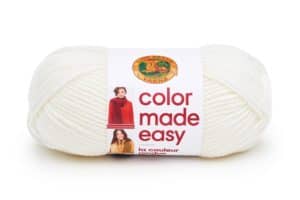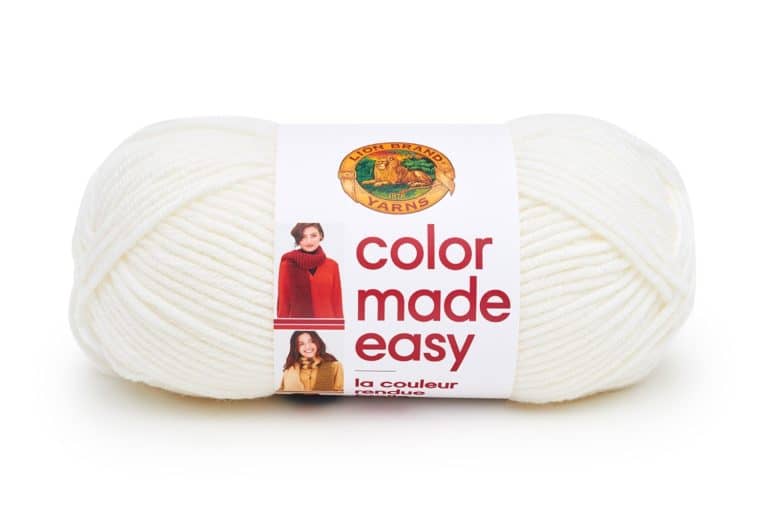 I also love this yarn because it has a similar look and feel to the yarn I was obsessed with when I was first starting to crochet; Wool Spun yarn (now discontinued). If you are familiar with my patterns, I always offer CME has a substitute for any of the Easy Crochet patterns that use Wool Spun. If you decide to give this yarn a try, you'll see why I recommend it frequently.
Need a Substitute Yarn?
When making this twisted headband pattern, if you can't find Color Made Easy to use, I would recommend Brava Bulky from WeCrochet / Knit Picks as a substitute. This yarn crochets up very much the same as CME and is quite inexpensive.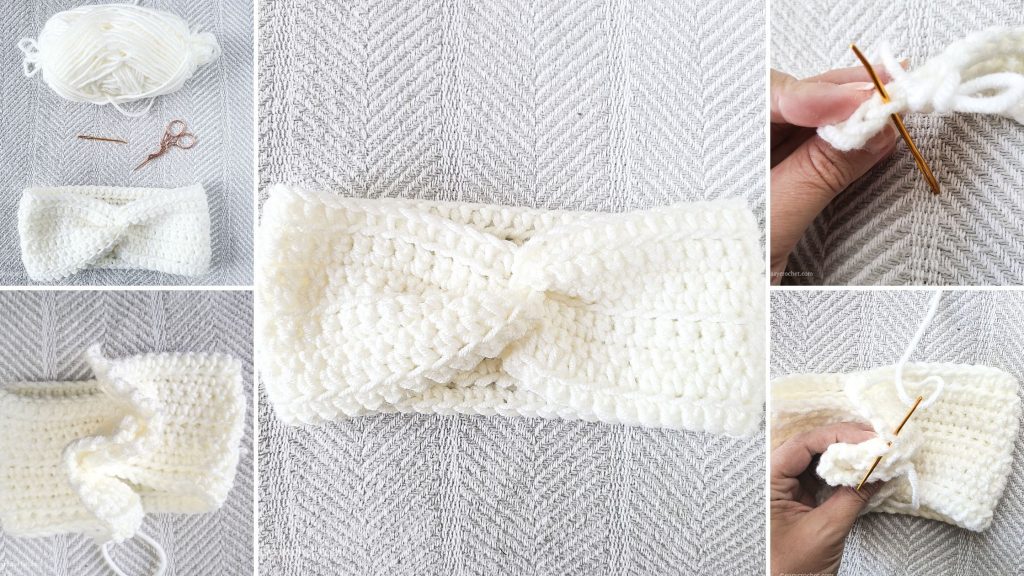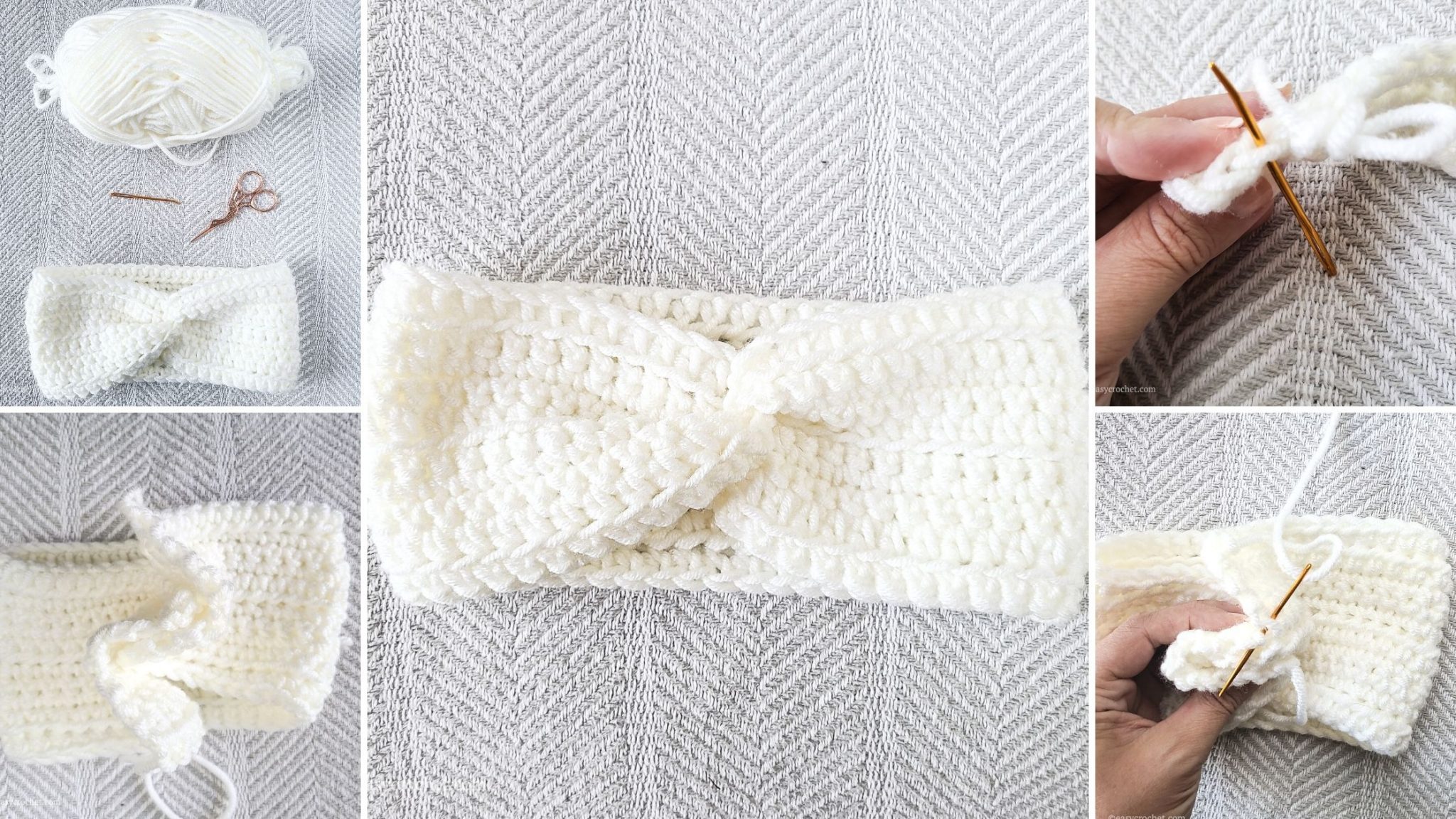 The Stitches
If you love using easy & basic crochet stitches in projects, then you will love the ones used in this crochet headband!
The pattern starts with a row of half double crochets and then is followed by a row of single crochets worked in the front loop. (see picture to find out where the front loop of a stitch is)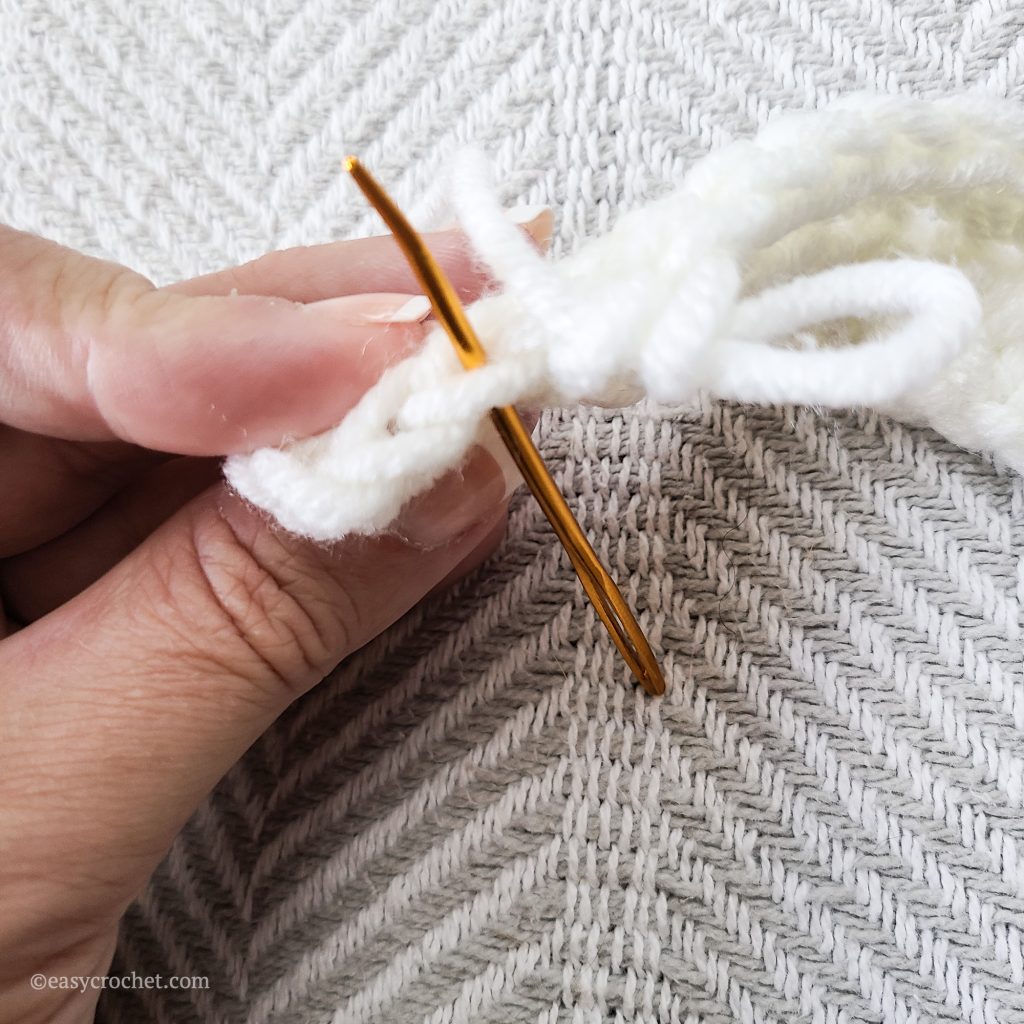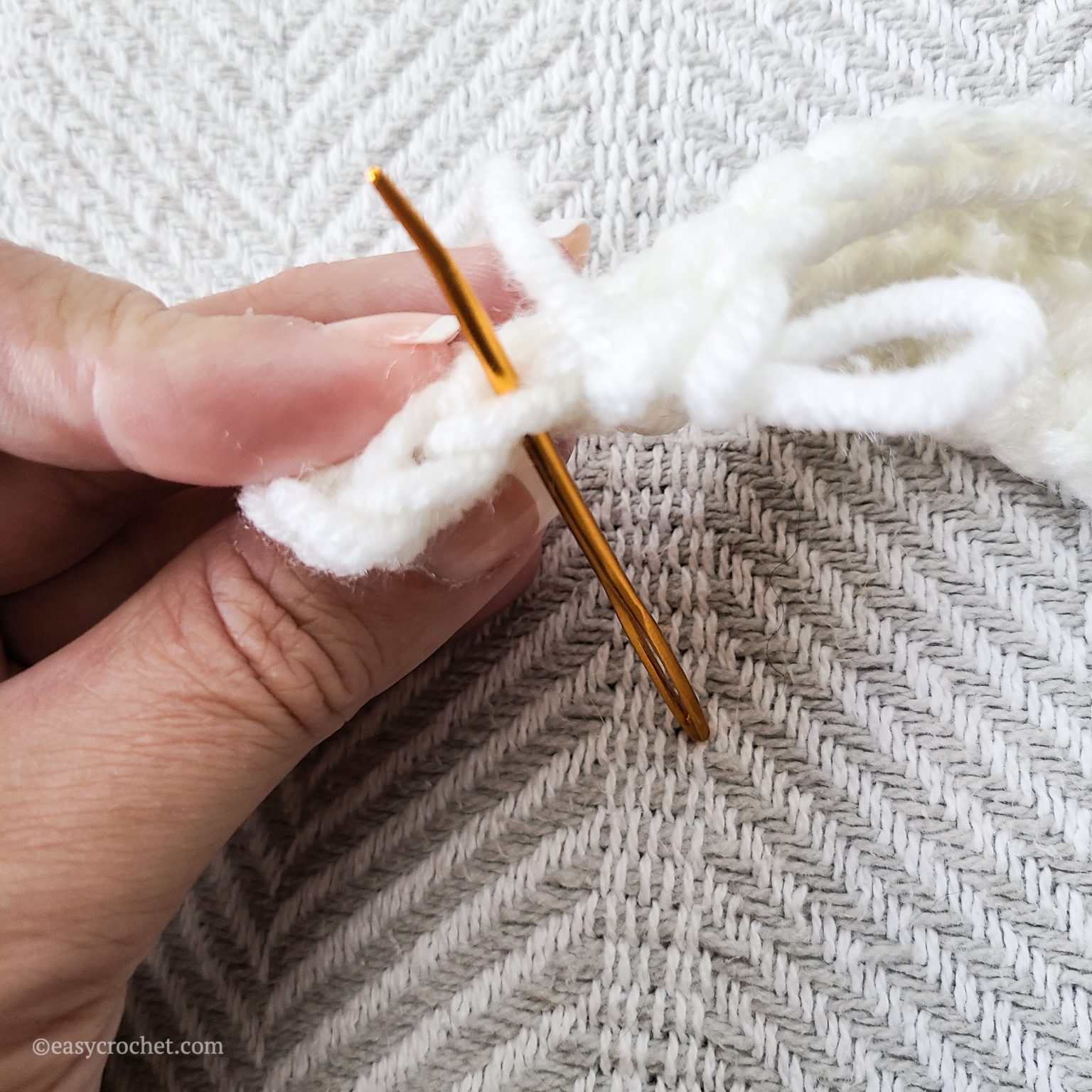 The whole twist headband uses just the half double crochet stitch and single crochet stitch, which means it's easy and fast to crochet! If you'd like a refresher on each stitch I just mentioned, plus the chain stitch, take a look at the links below.
Crochet Stitches for a Twist Headband
After you go over the stitches you'll need to know and have the yarn you'll be using in hand, then you are ready to get started on your new twisted crochet headband!
I hope you enjoy this design! Happy Crocheting!
Crochet Twist Headband Pattern
Skill Level: Easy
Materials
Color Made Easy Yarn (see chart of yardage needed per size) or any Bulky 5 yarn.
J 6 mm crochet hook (or whatever hook size is need to obtain gauge)
Yarn needle
Measuring tape
Scissors
Gauge
12 sts x 10 rows = 4″ x 4″
Try to follow gauge for a proper fitting headband
Notes
Written in standard US terms
St count is shown in (child, tween, woman, man) at the end of each row
Change the size by starting with any st count
ch's are do NOT count as a st
Crochet Abbreviations
ch = chain
sc = single crochet
sc fl = single crochet front loop
hdc = half double crochet
Yardage & Size Chart
| | Starting Ch | Yarn Yardage | Finished Size (in) |
| --- | --- | --- | --- |
| Child | 55 | 80 | 18″ x 4″ |
| Tween | 61 | 88 | 20″ x 4″ |
| Woman | 67 | 98 | 22″ x 4″ |
| Man | 73 | 106 | 24″ x 4″ |
Yarn yardage is calculated
slightly over to allow for slight differences in crocheters gauge.
Headband Pattern
Use starting ch from chart according to the size you are making
Row 1: In the second ch from the hook hdc, hdc into each ch across, turn. (54,60,66,72)
Row 2: Ch 1, sc fl into every st across, turn.
Row 3: Ch 1, sc into each st across, turn.
Row 4: Ch 1, sc into each st across, turn.
Row 5: Ch 2, hdc into each st across, turn.
Row 6: Ch 1, sc fl into each st across, turn.
Row 7: Ch 1, sc into each st across, turn.
Row 8: Ch 1, sc into each st across, turn.
Row 9: Ch 2, hdc into each st across, turn.
Row 10: Ch 1, sc fl into each st across.
Fasten off leaving a 10″ tail
Finishing
Lay flat with right side up. The right side is the side you started your chain on. (see picture!)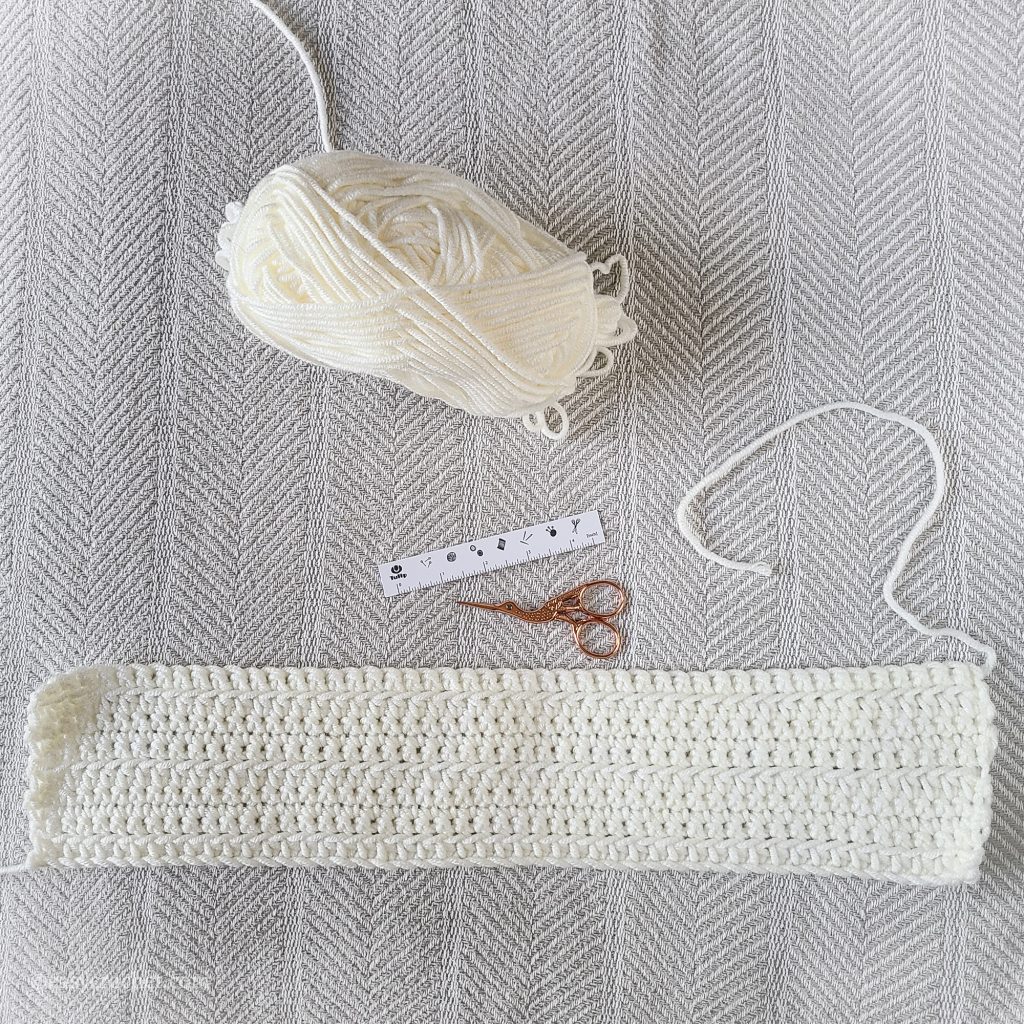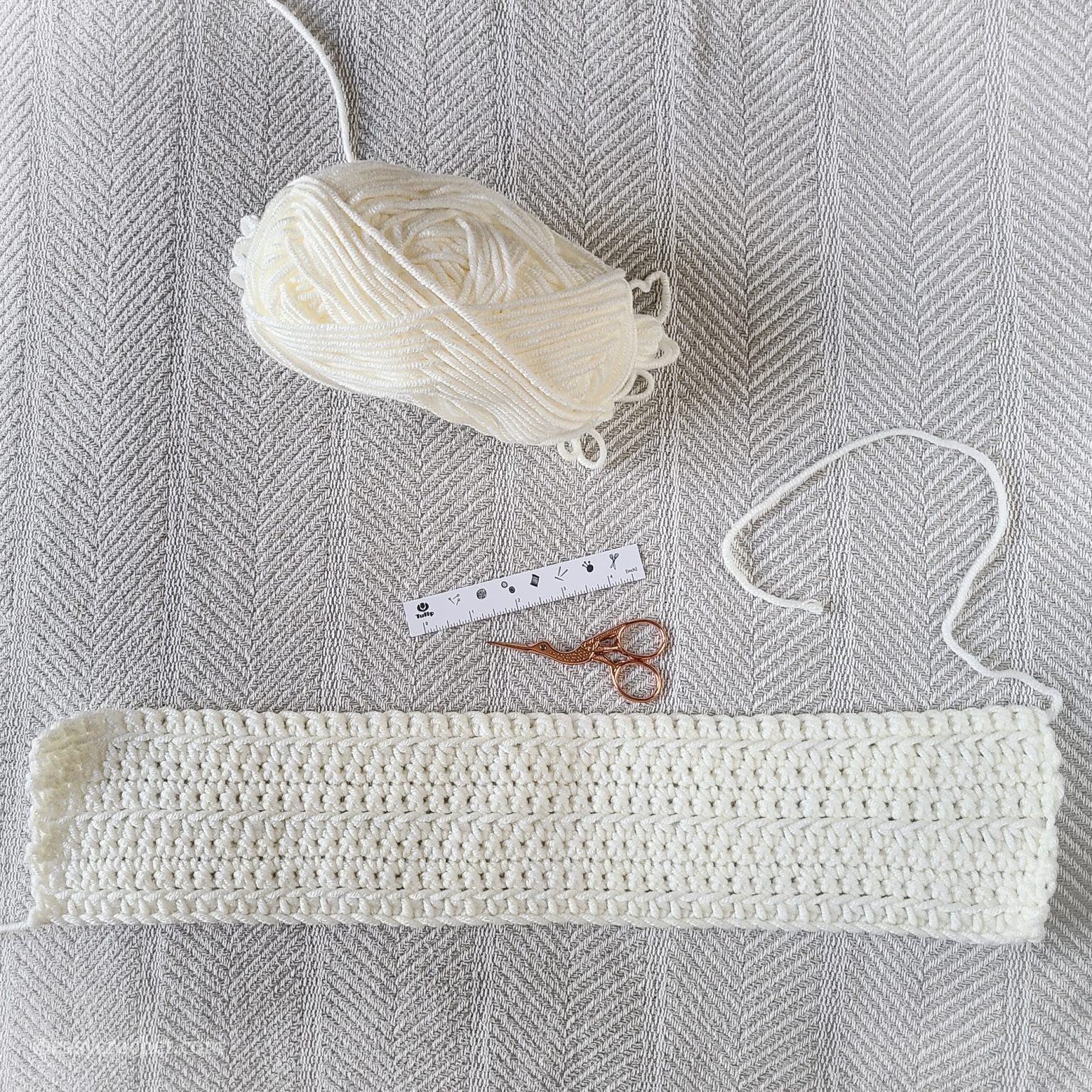 Fold the two short ends together on each side, bring the two folded ends together. (see picture!)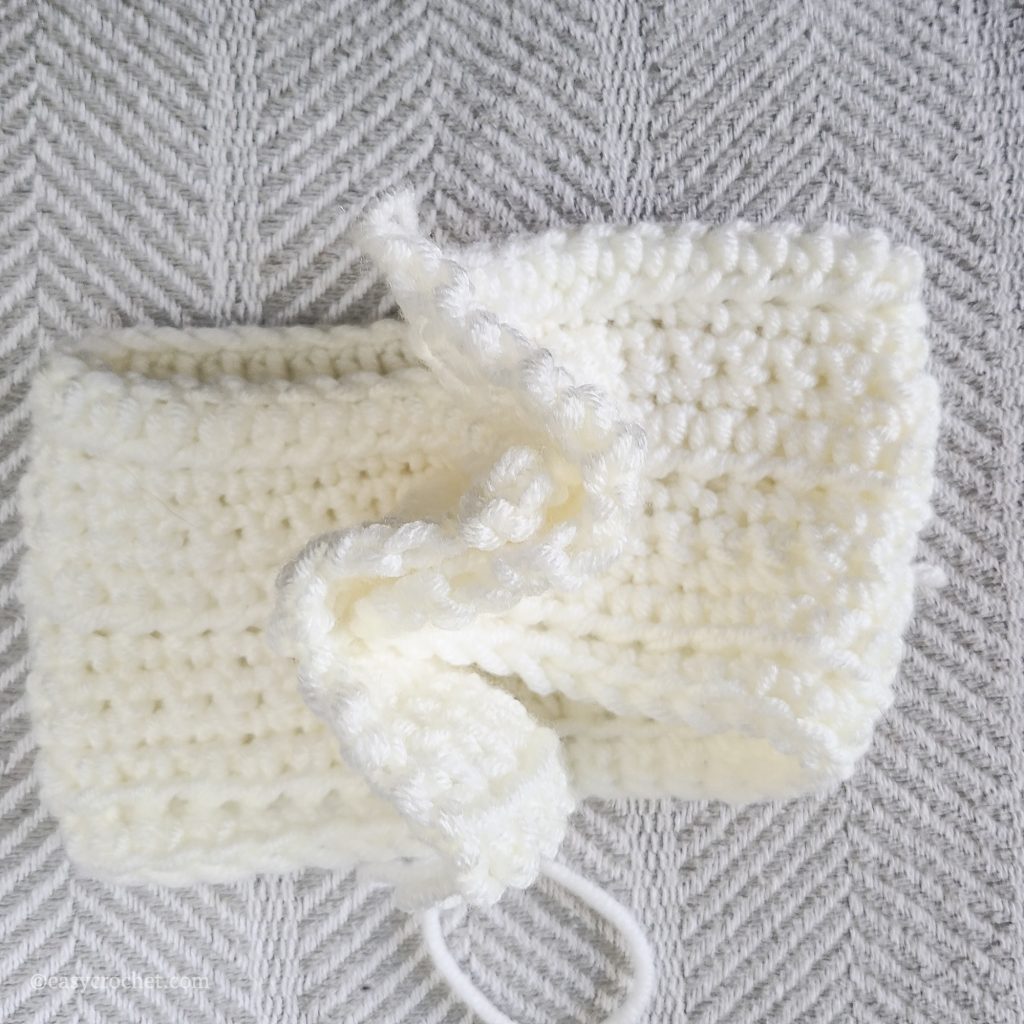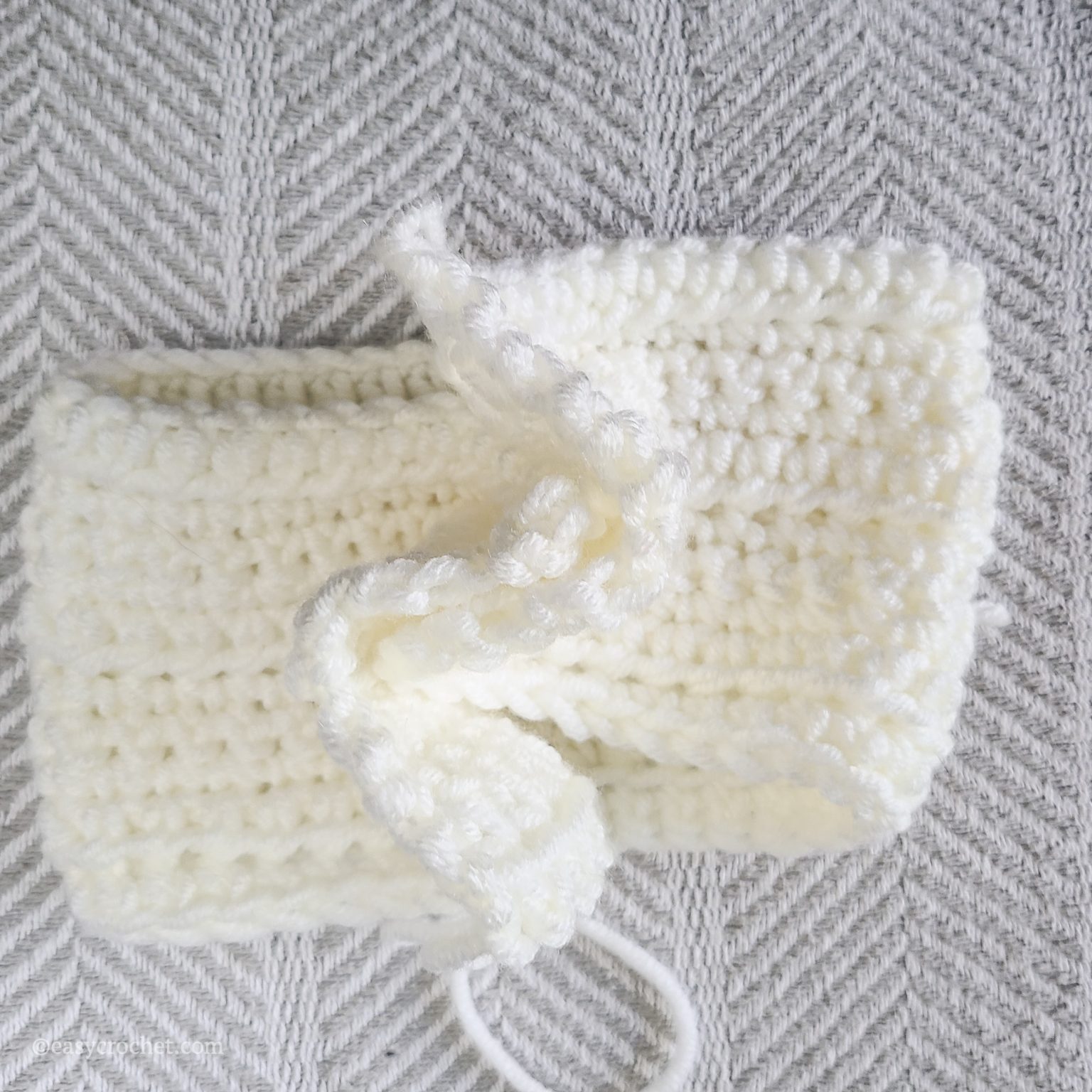 Attach yarn to the yarn needle, sew back and forth 5 times making sure to go through all four ends.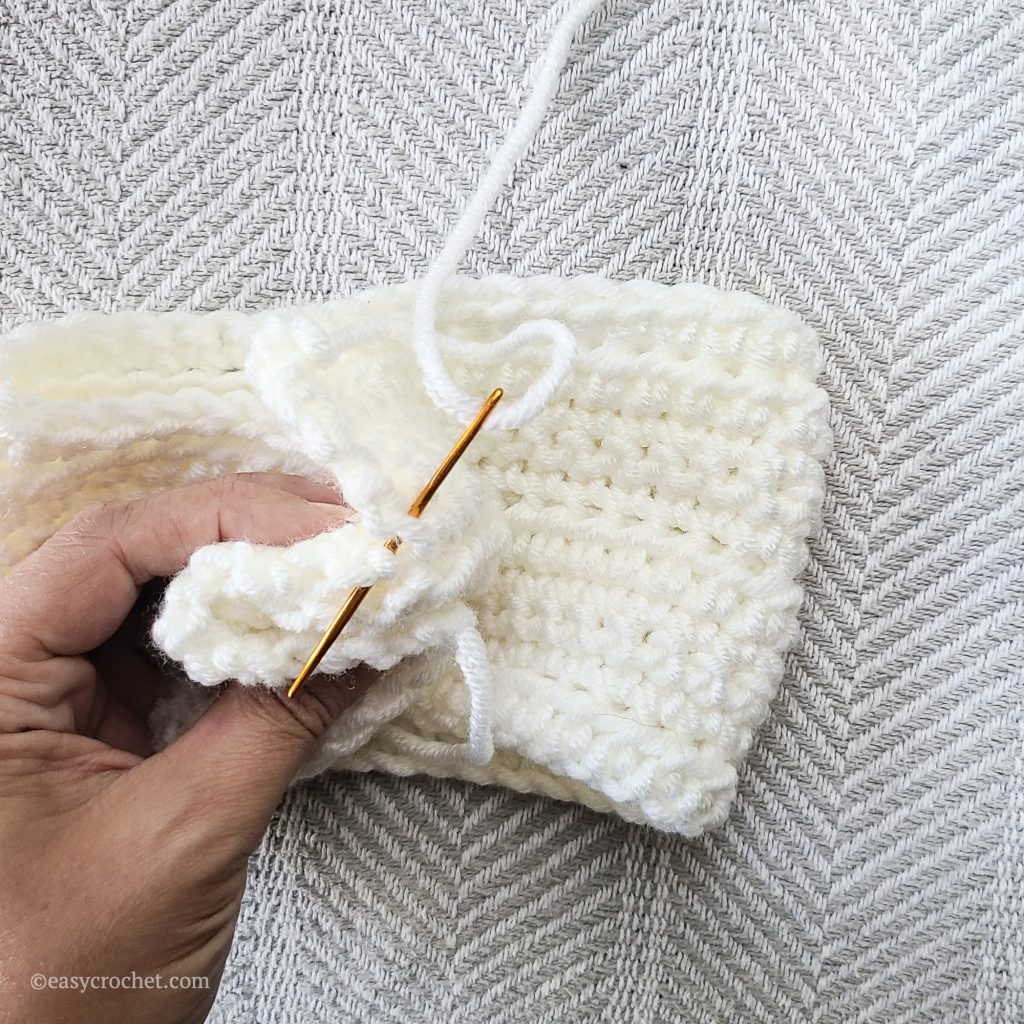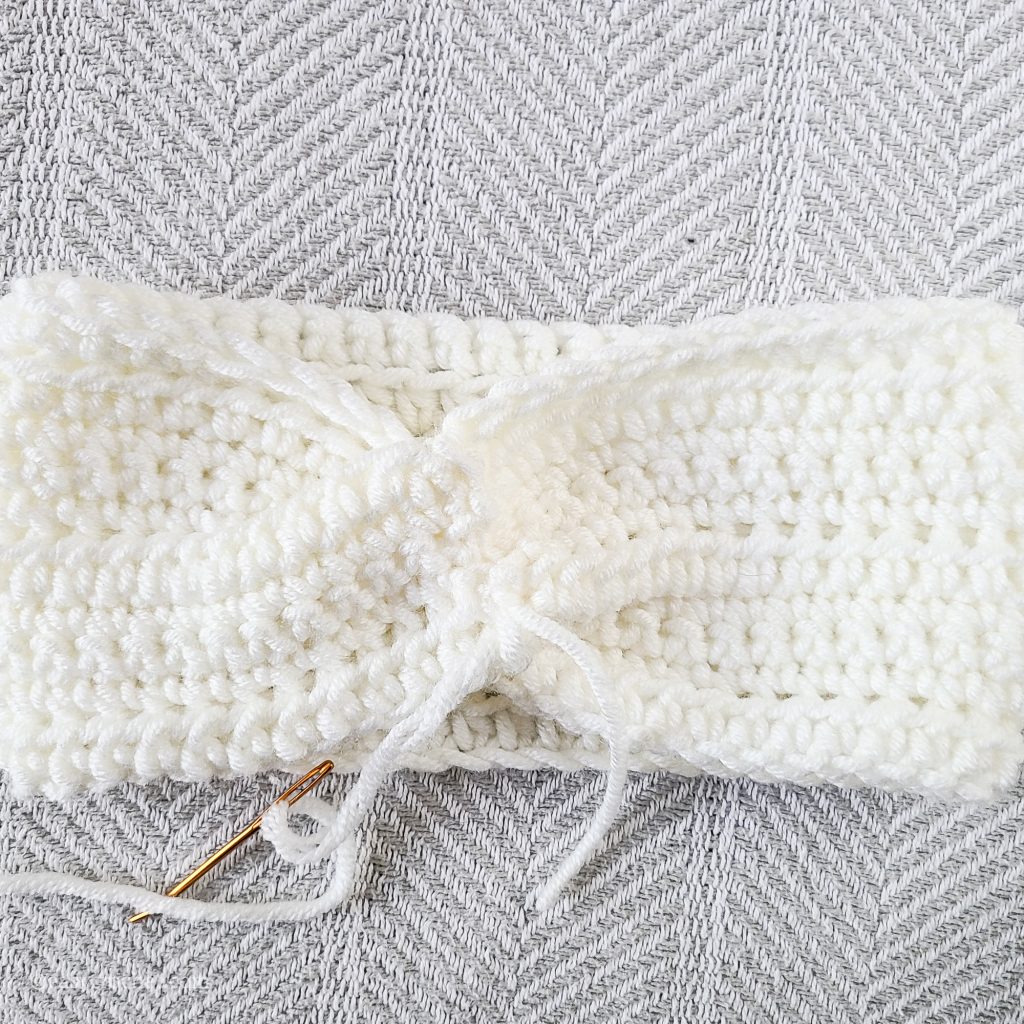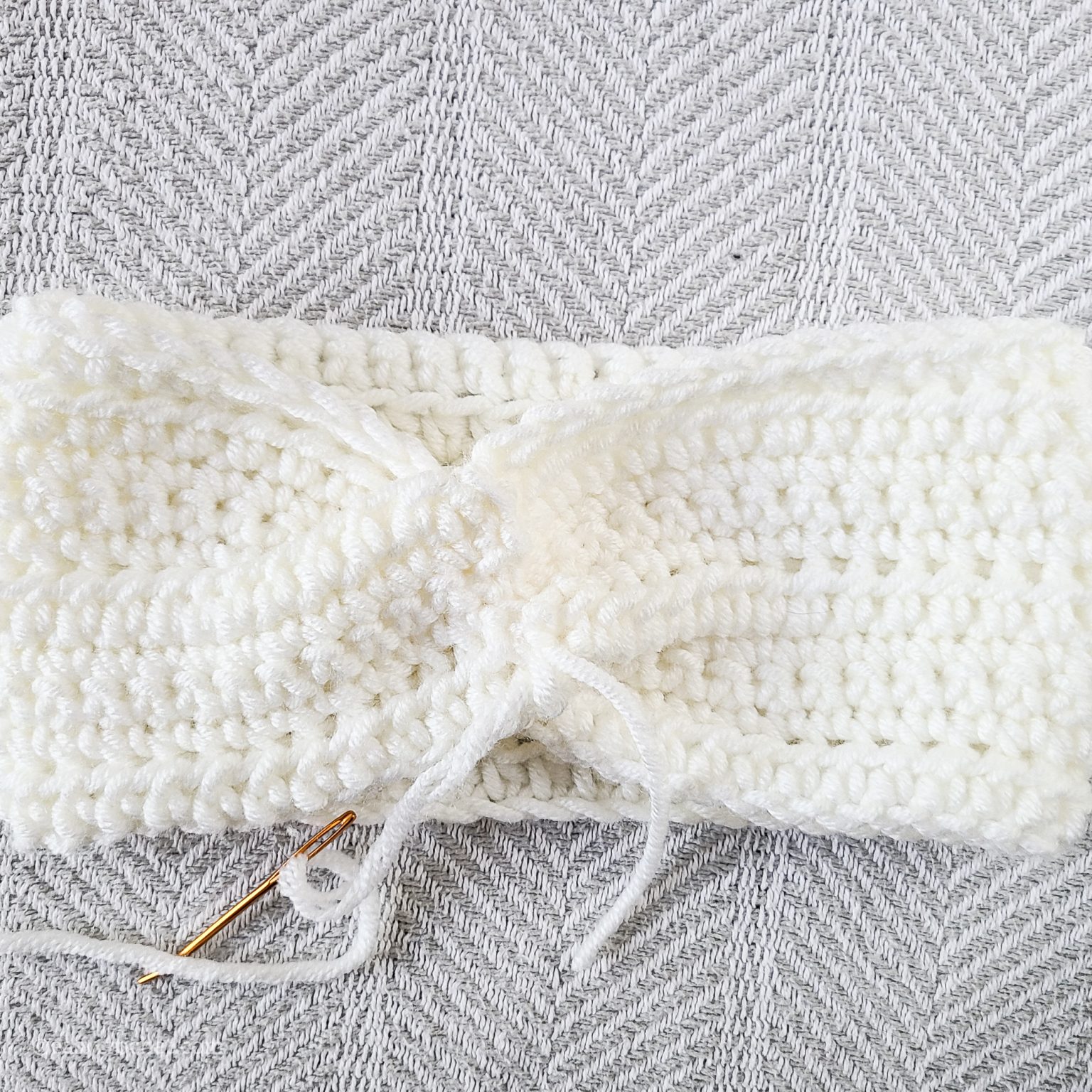 Fasten off yarn and weave in loose ends securely.
Flip the headband inside out so the right side is showing again to see your new headband creation.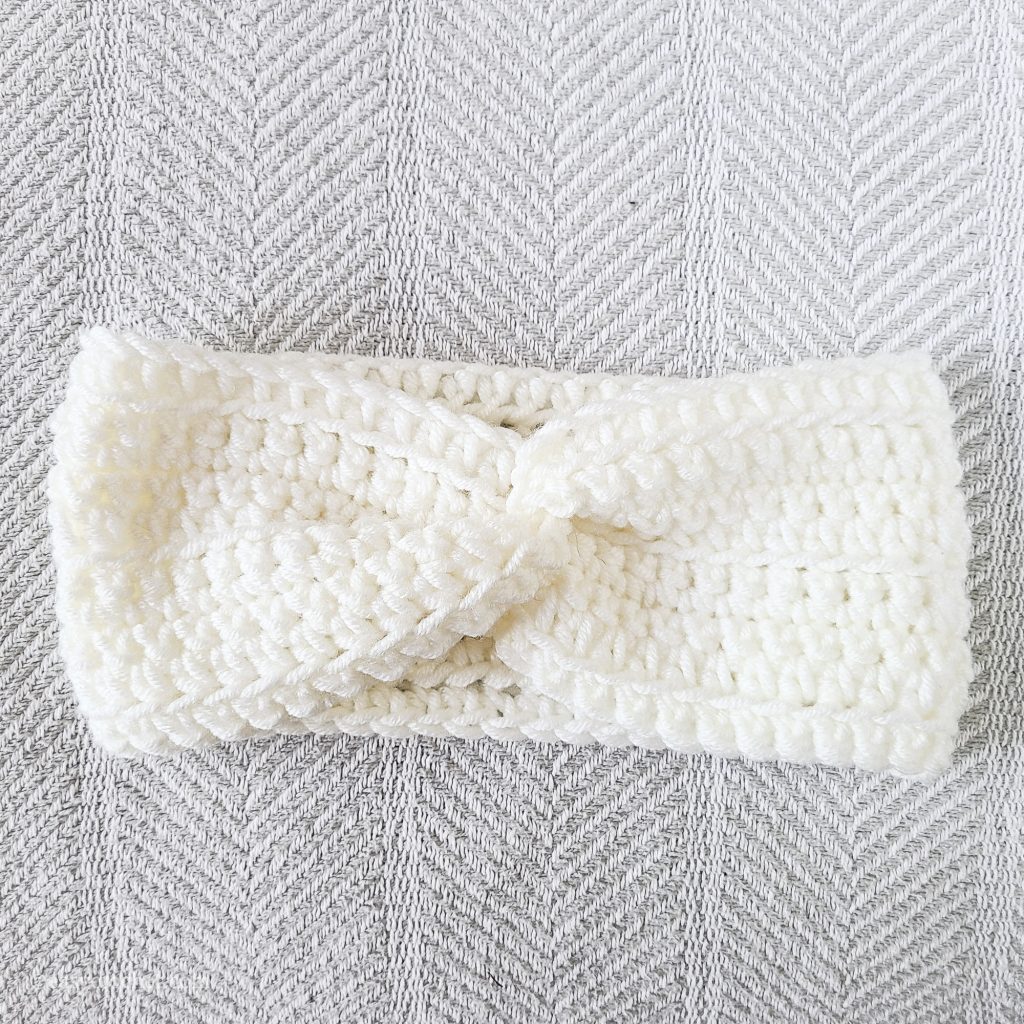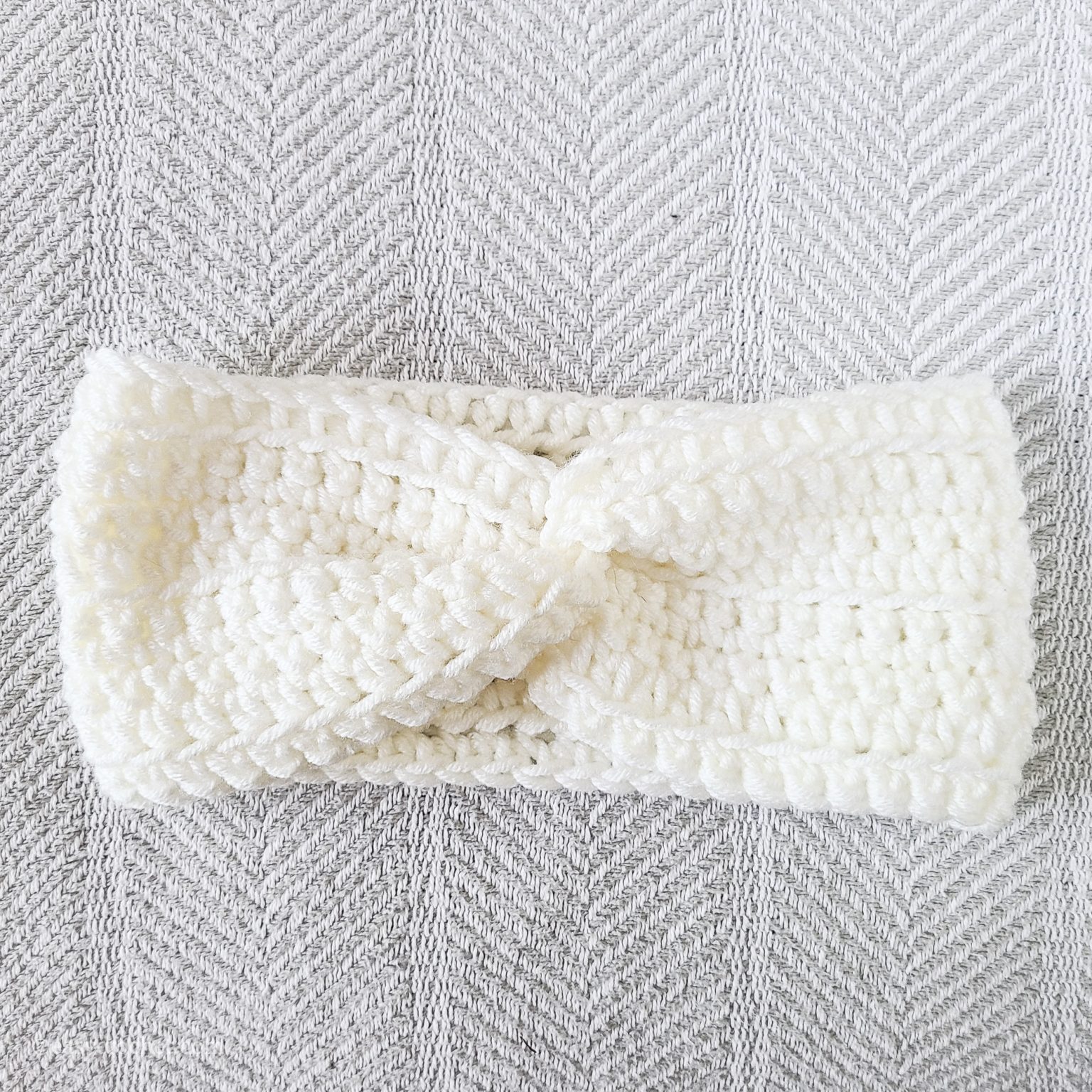 I hope you enjoyed this headband pattern and if you'd like to crochet try another ear warmer be sure to check out the chained crochet headband. It is easy to crochet too and is available to make in SEVEN different headband sizes.
More Free Crochet Headband, Hats, and Ear Warmer Patterns