Easy Crochet Hat Pattern for Beginners
If you're new to crochet, and you're looking to make something useful, you're in the right place. We're going to create a simple crochet hat that's ideal for beginners and is something you can actually wear.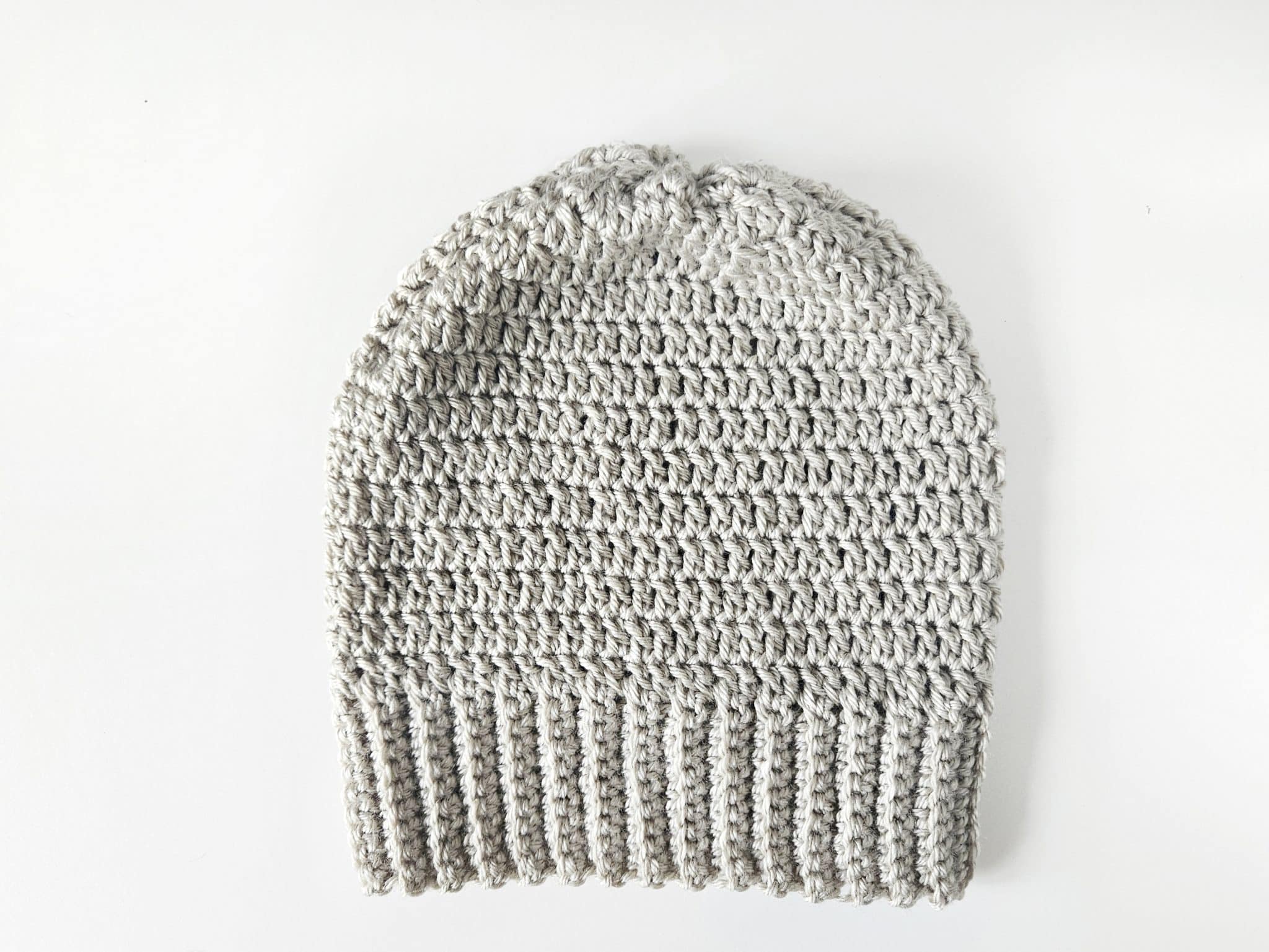 How to Crochet a Hat
To crochet a hat, you will need a few supplies as well knowledge of some basic crochet stitches that are beginner-friendly. Take a look below to learn all you'll need to know about crocheting this easy hat.
Supplies
Below are just a few of the basics that you'll need on hand when you crochet this hat.
Yarn
First, let's talk about yarn. We're using worsted weight yarn called Lion Brand Heartland for this project. It's a great pick for beginners because it's easy to work with and works up quickly.
Heartland
This yarn is made by Lion Brand, and is a Weight 4 – Medium yarn.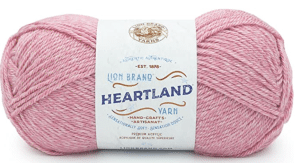 Buy Now
Patterns Using This Yarn →
About 200 yards should be enough for one adult-sized hat, which is about one skein of yarn.
Extra Materials & Tools
Next, don't forget your accessories!
Yarn Needle
Scissors
Measuring Tape
A yarn needle is a must for weaving in those loose ends when you're all done. And of course, you'll need a pair of scissors to cut your yarn. Make sure they're sharp enough to give a clean cut so your work looks neat. Measuring tape will also be useful to make sure your hat turns out to the size it was intended.
Crochet Stitches
Lastly, stitches. Don't sweat it; we're keeping things simple with just three basic stitches. You'll need to know how to chain (ch), single crochet (sc), and double crochet (dc).
You will also need to know how to double crochet decrease (dc2tog) to make the top of the hat not as wide as the bottom.
Even if you're new to crochet, these stitches are easy to master. With these basics in hand, you'll be all set to tackle the pattern.
Let's Get Started
Scroll on down to find one of the easiest crochet hat patterns that you can make yourself this winter! This hat pattern includes a material list, stitches used and the full detailed pattern with a photo tutorial to guide you through each step. Enjoy

Easy Crochet Hat Pattern
Skill Level: Easy
Materials
Worsted weight yarn (about 200 yards)
Size I (5.5 mm) crochet hook
Stitch markers
Yarn needle
Scissors
Stitches Used
Chain (ch)
Single Crochet (sc)
Double Crochet (dc)
Size
Adult (21-23 inch head circumference)
10 inches tall x 21 inch circumference, unstretched
Instructions
Ribbing
Ch 11.
Sc in 2nd ch from hook and across (10 sc). Turn.
Ch 1. Sc in back loops only across (10 sc). Turn.
Repeat row 3 until you have 60 rows. Join ends with sl st.
Hat Body
Ch 2 working the stitches along the edge of the ribbing.
Dc 60 times evenly around the ribbing. Join with sl st to first dc.
Ch 2. Dc in each stitch around. Join.
Repeat row 3 for a total of 10 rounds.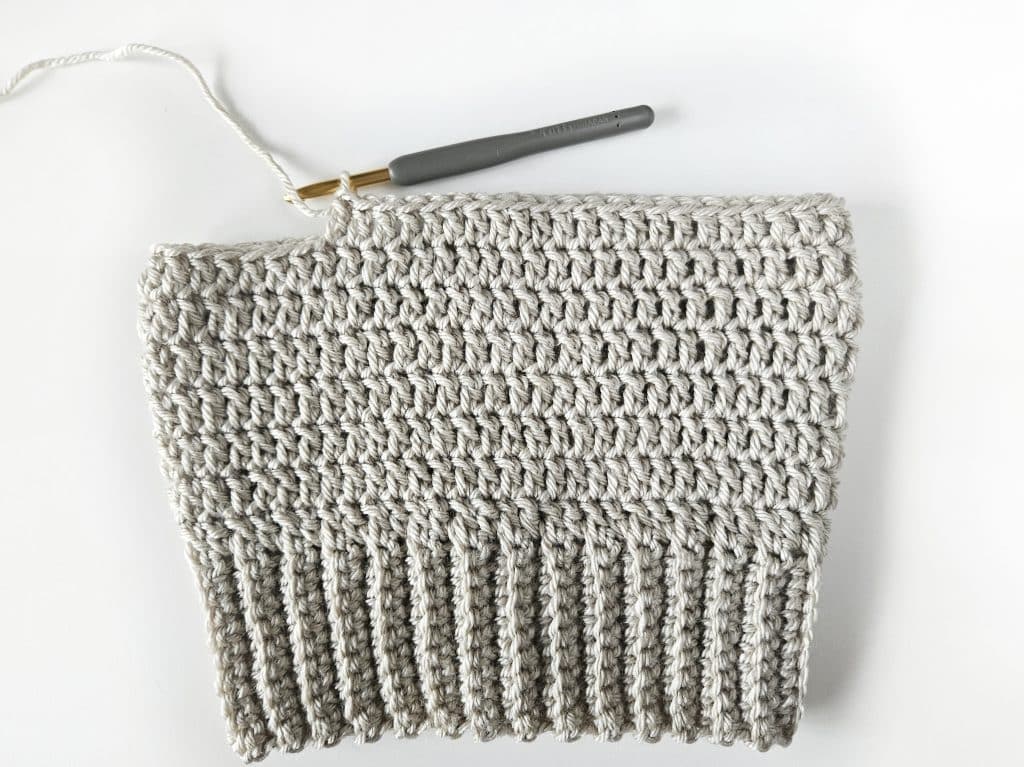 Decrease Rounds
Ch 2. Dc in next 8, dc2tog. Repeat around. Join. (54 dc)
Ch 2. Dc in next 7, dc2tog. Repeat around. Join. (48 dc)
Ch 2. Dc in next 6, dc2tog. Repeat around. Join. (42 dc)
Ch 2. Dc in next 5, dc2tog. Repeat around. Join. (36 dc)
Finish
Cut the yarn, leaving a long tail.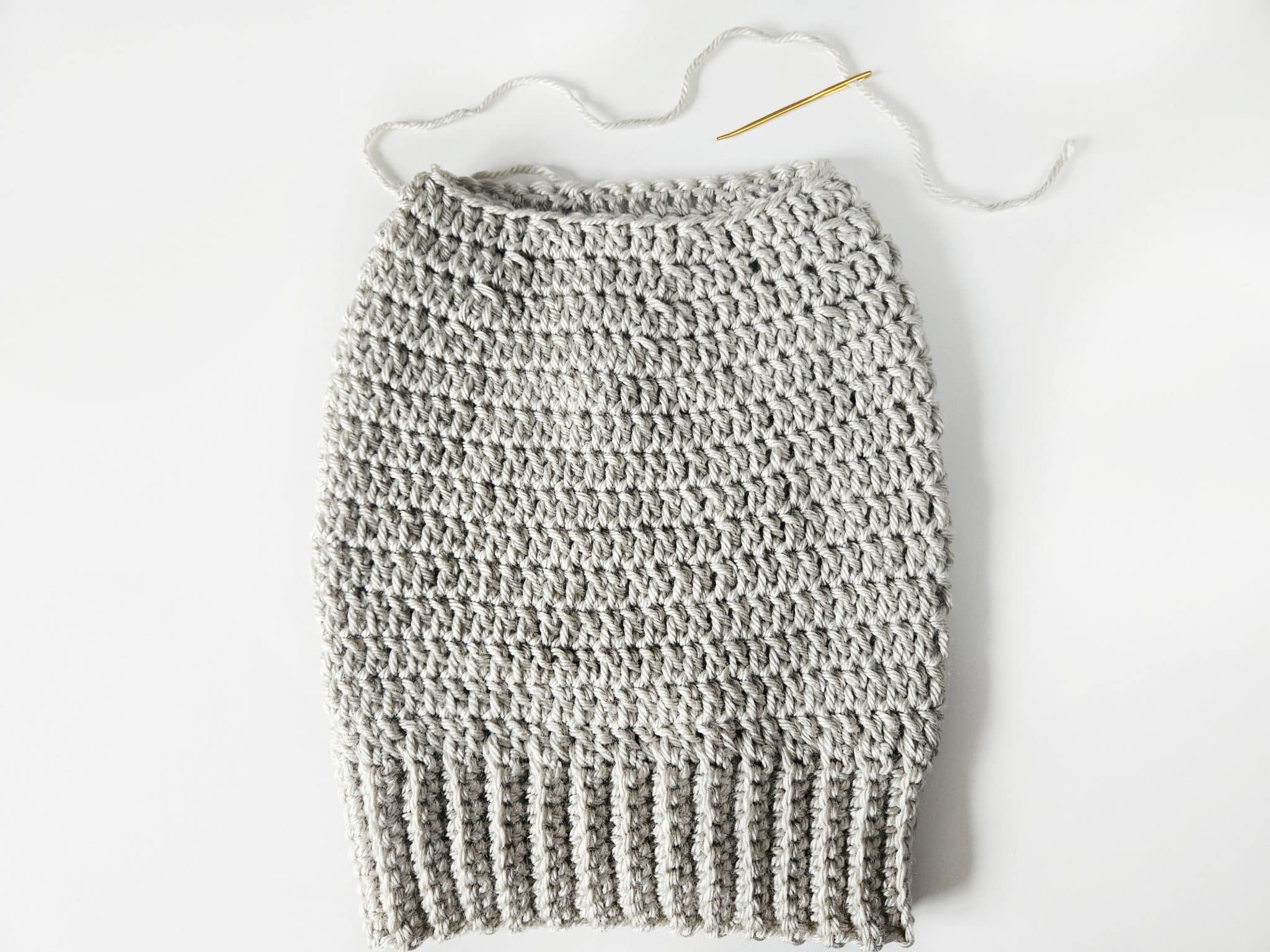 Using a yarn needle, thread through the top stitches in and out. Pull tight to close the top. Secure the top by weaving back and forth over the small opening to close.
Weave in all ends.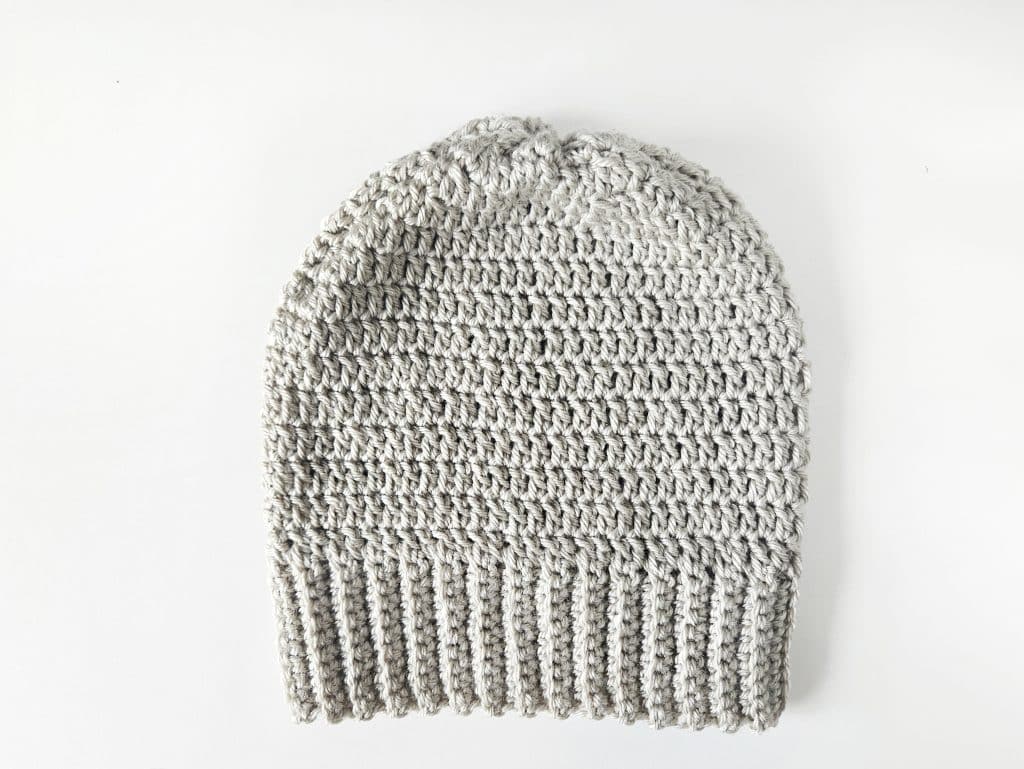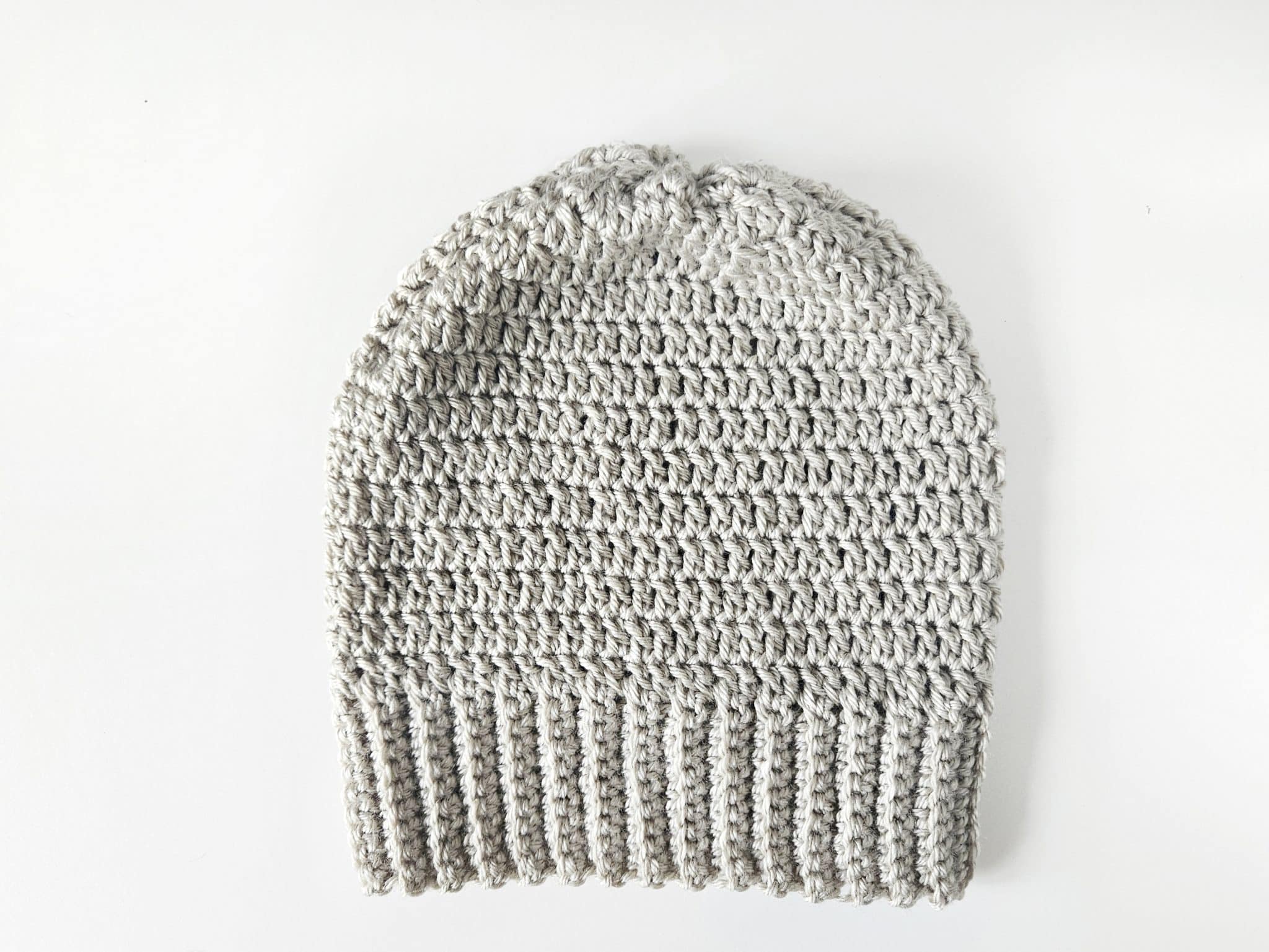 There you go! You've made a simple crochet hat. Enjoy!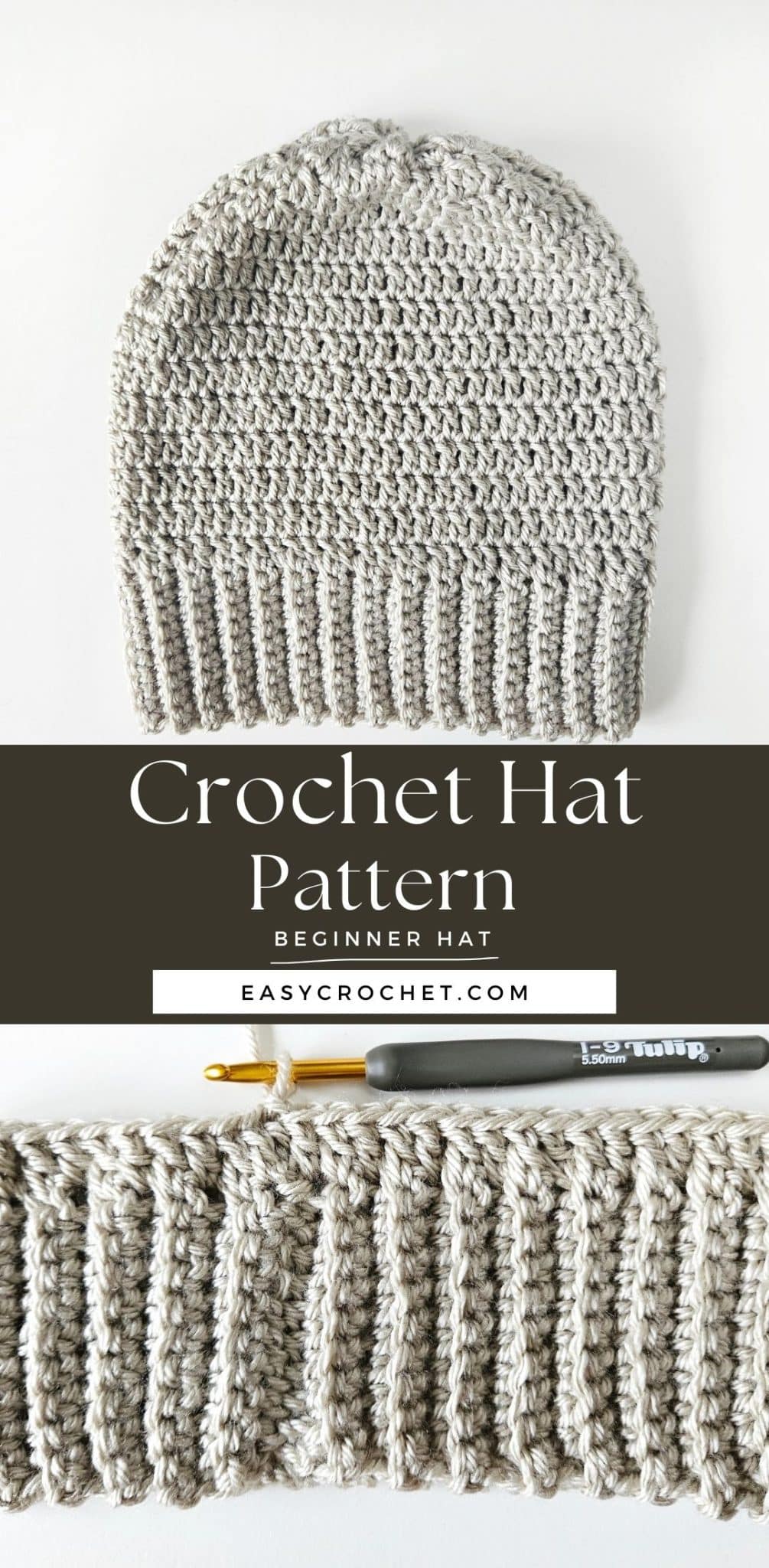 More Free Crochet Hat Patterns
Take a look at some of my other free hat patterns and beanies below that you can crochet as well!