Free Puff Crochet Headband Pattern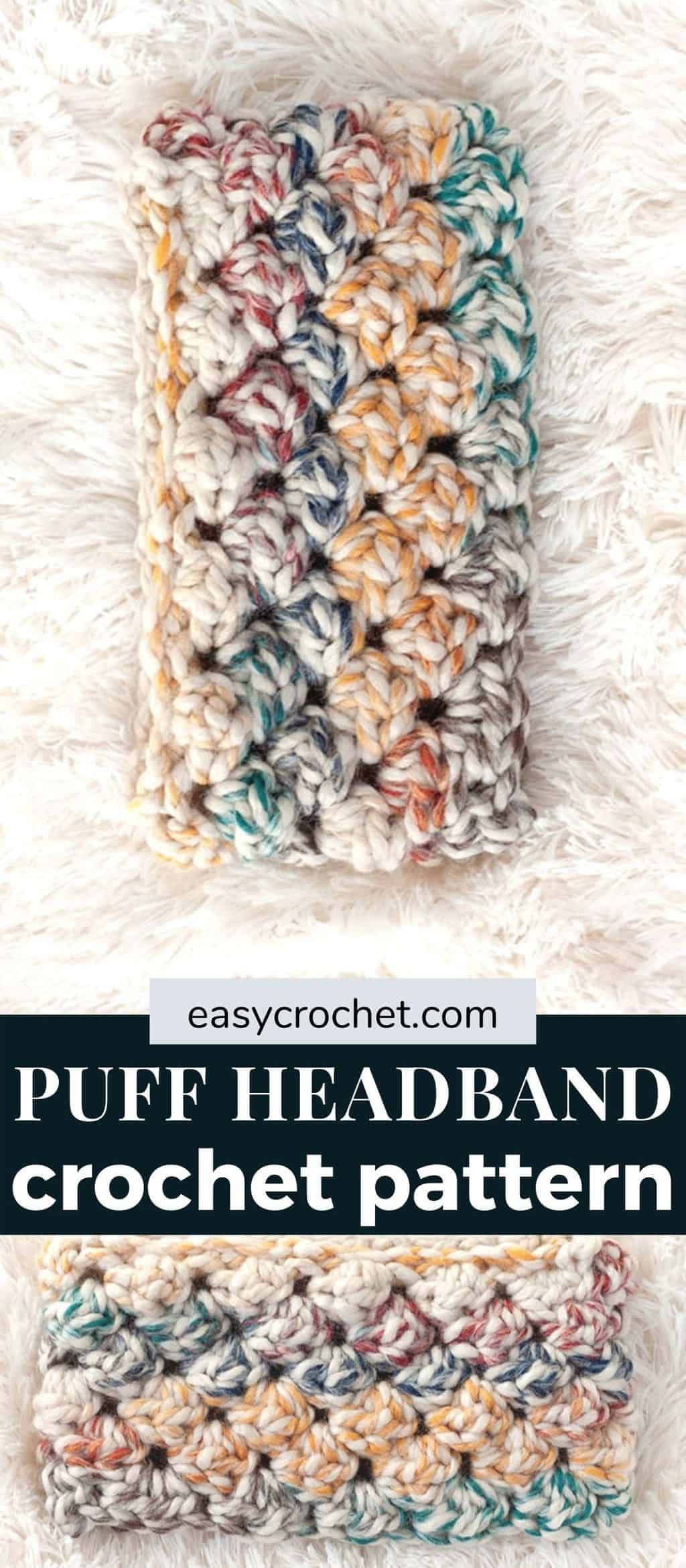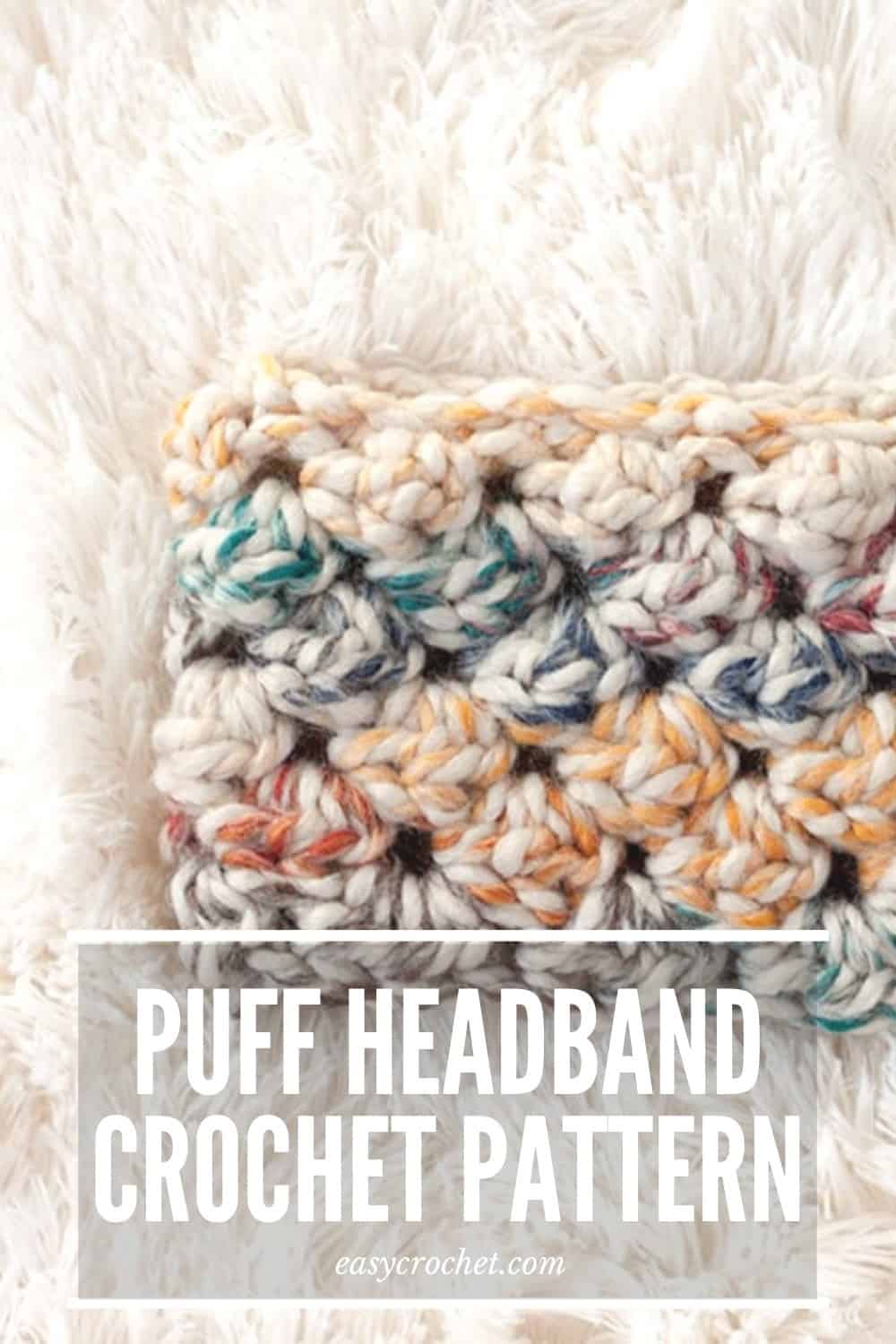 This easy pattern, the puff stitch crochet headband, is simple to crochet and can be worked up in no time at all! If you are looking for a quick go-to project that is easy to make, then this free crochet ear warmer pattern is for you.
Ready to crochet it now? Keep on scrolling down to learn how to crochet an ear warmer with my free crochet pattern!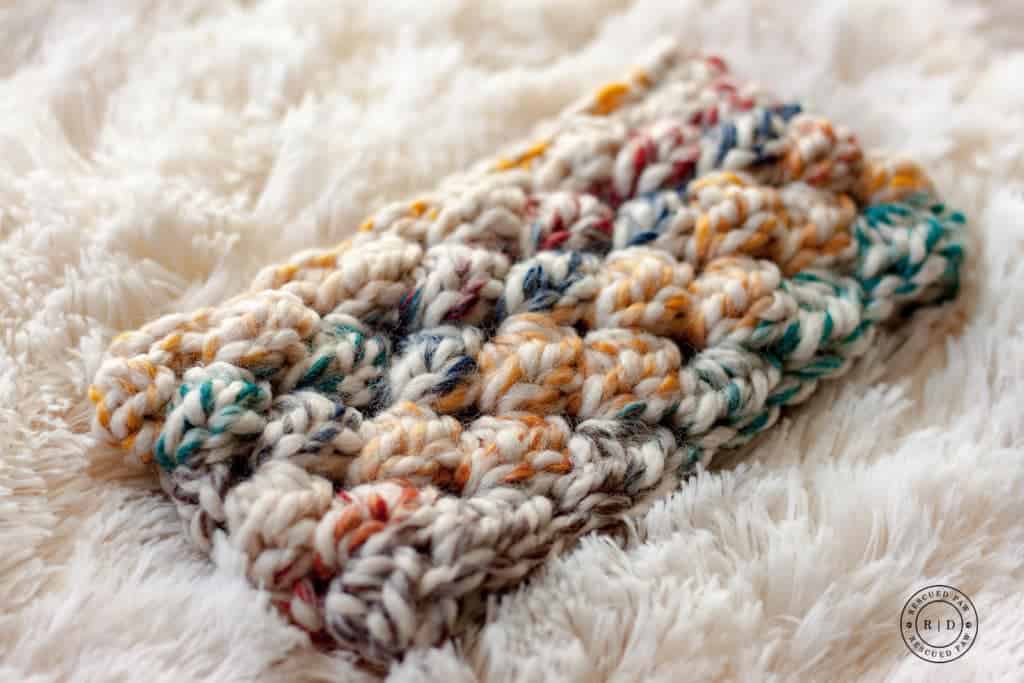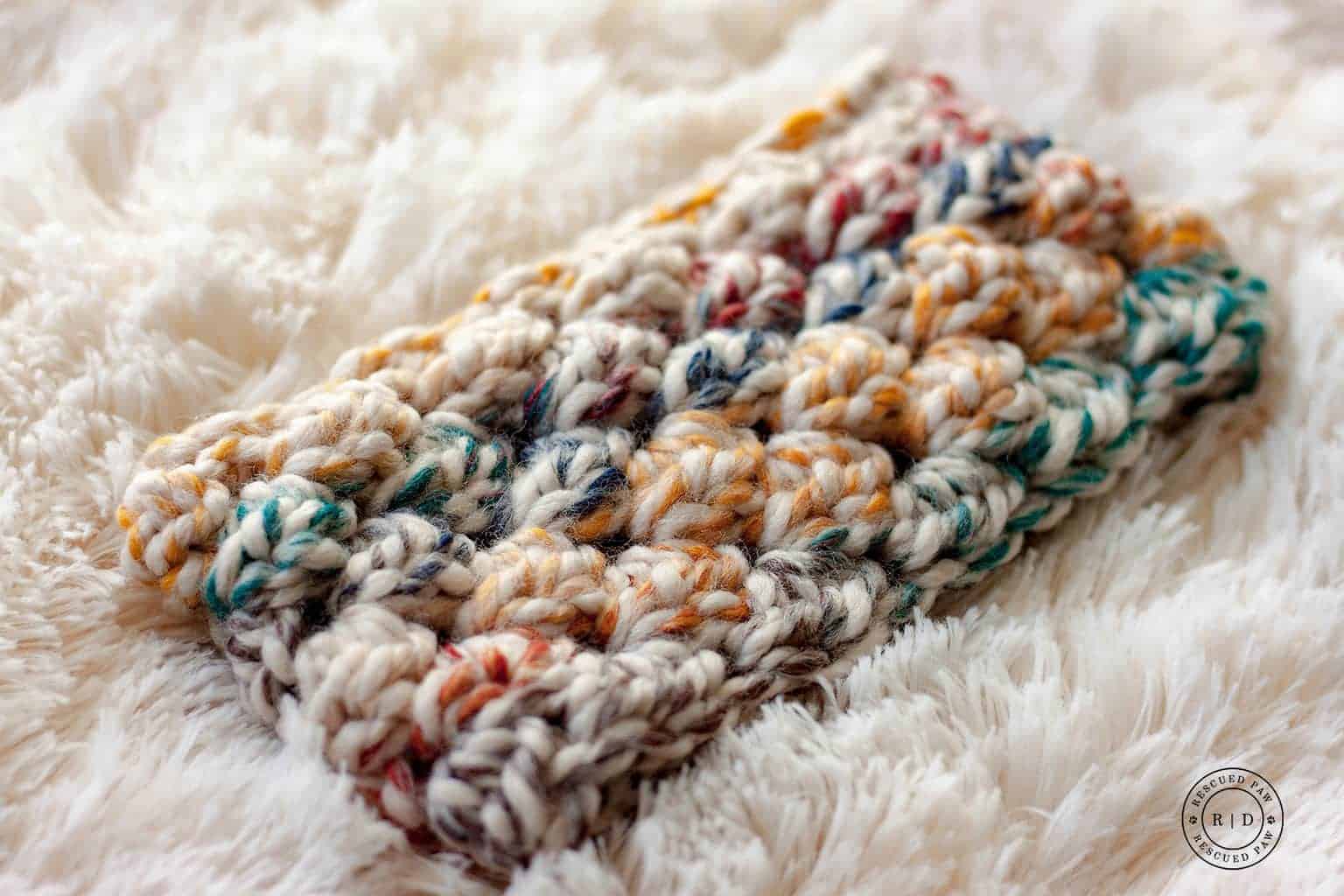 Are you looking for more crochet headband patterns? Try the reader's favorite chained ear warmer, wrapped headband or the knotted head wrap! I hope you enjoy this headband pattern!
Happy Crocheting!
The Perfect Yarn for This Head Band
I used Wool-Ease Thick & Quick from Lion Brand Yarn in the colorway Hudson bay, and this honestly is one of the most beautiful colors I have ever worked with in this line! Thick & Quick is an 80% acrylic and 20% wool blend yarn that is easy to work with.
If you haven't tried this one yet, then you most definitely should since it has a variety of yarn colors sure to please anyone! (Click on the yarn image to explore the different color options!)
You'll love how chunky this yarn is because yarn that is bulky means a project that crochets up fast. Another bonus is that it is available in quite a few different colors, all of which are beautiful!
Need a substitute yarn? You can use Thick & Quick, which is similar to Wool-Ease Thick & Quick, but doesn't have any wool.
The Stitches
It is a great crochet headband for beginners who'd like to try a pattern that is a little more than just one stitch! Just half double crochets and single crochet stitches are used. That's it for the entire headband pattern. If you can crochet those two basic stitches, then you'll be set to make this headband!
If you'd like a refresher on the single and half double crochet, be sure to check out my blog posts about these simple stitches. Or take a look at the stitch explanations of them below.
Single Crochet (sc):
Insert hook from front to back in the second chain from the hook or designated stitch
Bring the yarn over (Yo) the hook and pull the yarn back through the chain (or stitch) from back to front (2 loops on hook).
Yo and pull through both loops on the hook.
Half Double Crochet (hdc):
Yo (yarn over) insert hook from front to back of the designated stitch, yo the hook and pick up a loop.
Yo the hook and pull back through all three loops on the hook.
This puffed crochet headband pattern is designed in almost the same stitch sequence as The Charlotte Blanket, except for this headband we will be using half double crochet's and be working in the round.
If you are a beginner, you can work this pattern fast and have a cozy and warm headband to show off to all your friends. This beginner crochet headband pattern is easy to crochet! Promise.
Quick to Crochet
If you have 20 minutes, then you can make this headband pattern! The chunky yarn along with the easy stitches makes for a fairly quick crochet headband. With how little time, it takes, you could make quite a few of these headbands in a day or a weekend!
If you're ready to make an easy puffed headband, then grab your crochet hook, yarn and let's get started! Scroll on down to find the full, free, and easy crochet pattern!
If you have any questions, please feel free to ask as long as they are kind and respectful. I spend countless hours photographing, charting, and designing patterns because it is what brings me joy, and hopefully, it does the same for you too. I am human, so sometimes mistakes are made. If you find any in my design, please let me know as long as it is with kindness. Thank you in advance.
Puffed Crochet Headband Pattern
Skill Level: Easy
Materials
Crochet Abbreviations
Gauge
Each sc, hdc, hdc cluster is approximately 1.5″
Gauge must be followed for proper fit
Finished Size
When following gauge as written, finished size is approx. 19″ circumference (unstretched / unworn) and 4″ tall.
See below on how to make this headband bigger or smaller
To make this headband larger or smaller use a starting CH in a multiple of 3 (ex 3,6,9,12,15, 18,21,24,27, 30,33,36,39, 42,45,48, etc.) and then follow the pattern as written decreasing or increasing rows as needed.
Notes
I turned my headband inside out (as shown in pictures) because I liked the way the stitch definition looked, but either way would look good. If you'd like it to look exactly like the picture, turn your headband inside out when you are done.
Written in standard US terms
To make this headband larger or smaller use a starting CH in a multiple of 3 (ex 3,6,9,12, 15,18,21,24, 27,30,33,36,39, 42,45,48, etc.) and then follow the pattern as written decreasing or increasing rows as needed.
The skipped stitches/ch 1 do not count as stitches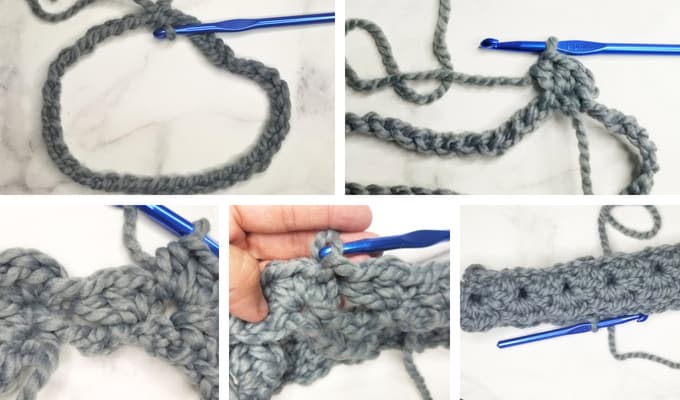 SELLING: You may sell items made from patterns on EasyCrochet unless otherwise stated. If you choose to sell items made from this pattern, please link back to me at www.easycrochet.com for credit. Please do not use my pictures to sell your items.
IMAGES & CONTENT: The images and content of EasyCrochet.com are protected by copyright laws. Do not distribute or copy the content without written permission. Do not edit or remove watermarks from any original image. Thank you for respecting my work.
TRANSLATIONS: Please do not post a translation of my pattern(s) anywhere. For further questions, please email krista@easycrochet.com.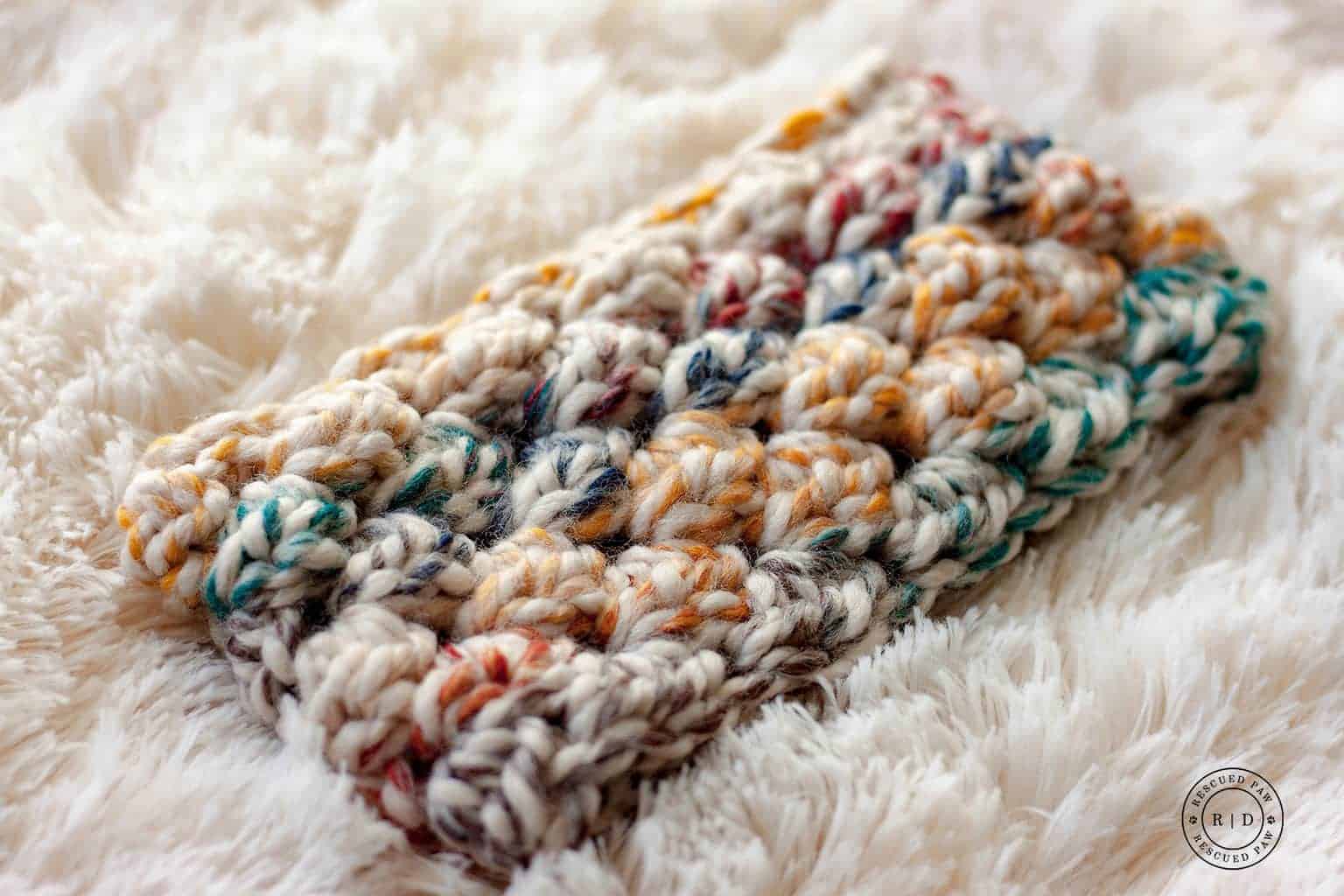 Headband Pattern Steps
TO START: ch 36, join with a sl st into the first ch to form a circle, making sure not to twist. (36)
ROUND 1: ch 1, in second ch from the hook (sc, 2 hdc's) *sk next 2 ch's, sc, hdc, hdc in the next st, repeat from * around ending with 2 sk chs, join with a sl st to top of the first sc in the round. (36)
ROUND 2: Ch 1, in the first st (sc, 2 hdcs), *sk next 2 sts, in next st, make a sc, hdc, hdc, repeat from * around ending with 2 sk sts, join with a sl st to top of the first sc of the round. (36)
ROUND 3 – 6: Repeat round 2 to finish the pattern.
FINISHING: Fasten off ends with scissors and weave all yarn ends into the headband securely with a yarn needle. Picture is shown with starting ch on the top but you can wear yours either way!

You May Also Like These Crochet Headband Patterns Too