7 Easy-to-Follow Slouchy Hat Crochet Patterns You'll Love
Are you looking for some crochet patterns for slouchy beanies or hats?
If so, I've rounded up a collection of crocheted slouch hats that are perfect to wear all year round, sell at craft fairs or to gift to a friend or family member. Slouch beanies typically have a looser fit, are comfortable and have a beautiful drape which makes them extra cozy to wear.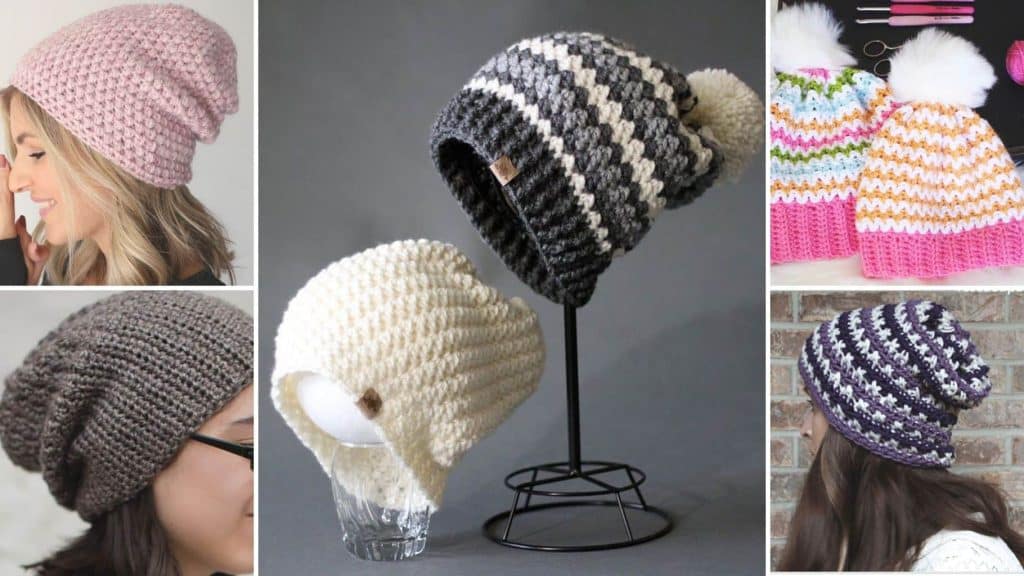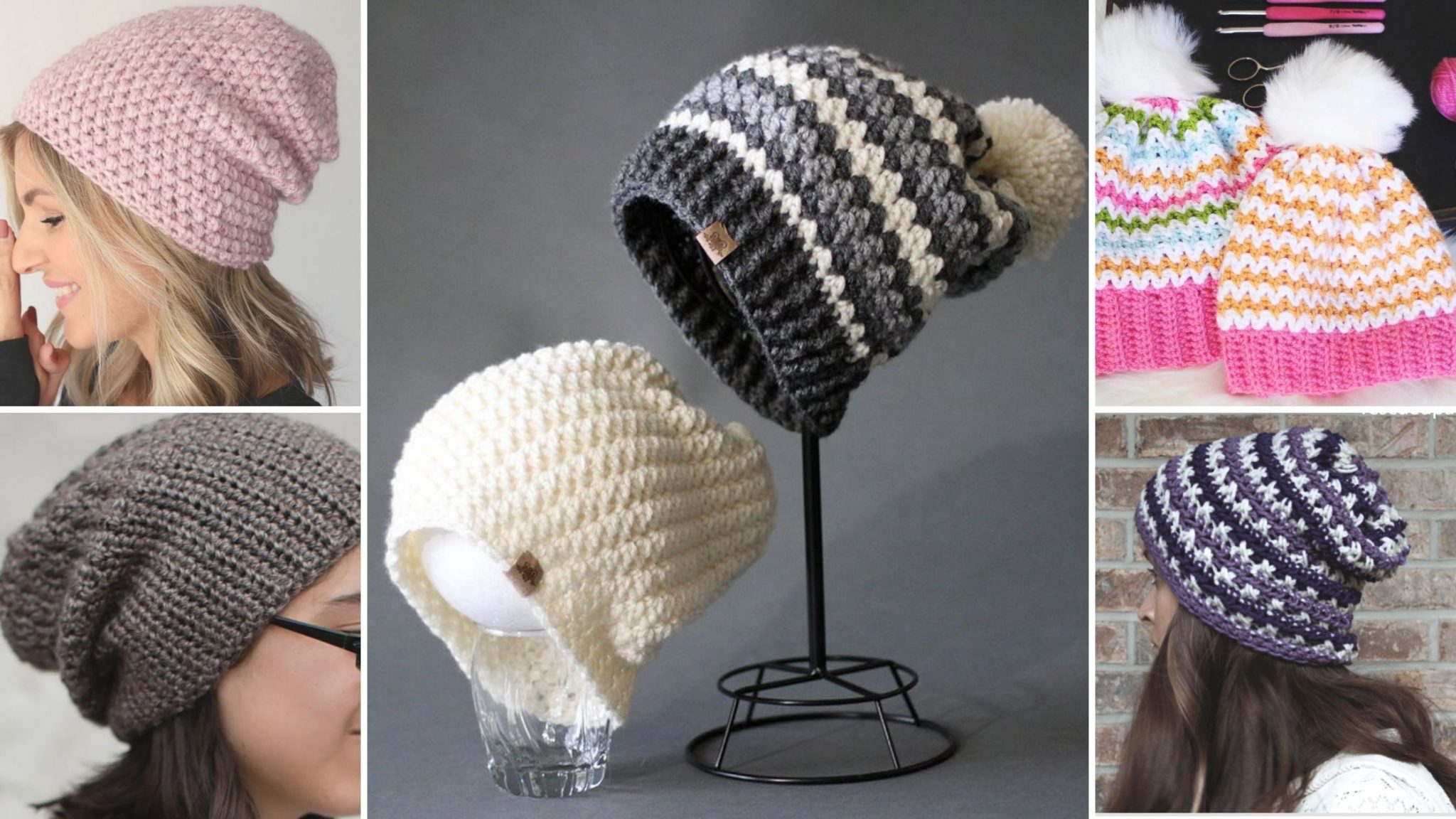 If it were me, I'd probably be opting for wearing these beanies around the house with a cup of coffee and my latest crochet project in hand! Keep on reading down to learn more about these easy crochet slouch hat patterns.
Most of the patterns below use simple beginner-friendly crochet stitches like the single crochet stitch, which means they are all mostly easy to crochet. Some patterns may include some more advanced techniques, but a quick google search will help with any questions you may have.
Tips for Crocheting a Slouch Beanie
I created a couple of my own slouchy beanie pattern tutorials, which you can see below. They are perfect for beginners that are looking to learn how to crochet up their first slouchy hat.
As for the yarn you'll need for these slouch patterns, be sure to check the design you would like to crochet. They use a variety of chunky, cotton and worsted weight yarn, so be sure to read through the pattern to find out what yarn you'll need.
These are just a few of my favorite yarns to crochet beanies above, and I hope you find a couple that you'd like to try as well.
Sizing Your Slouchy Beanie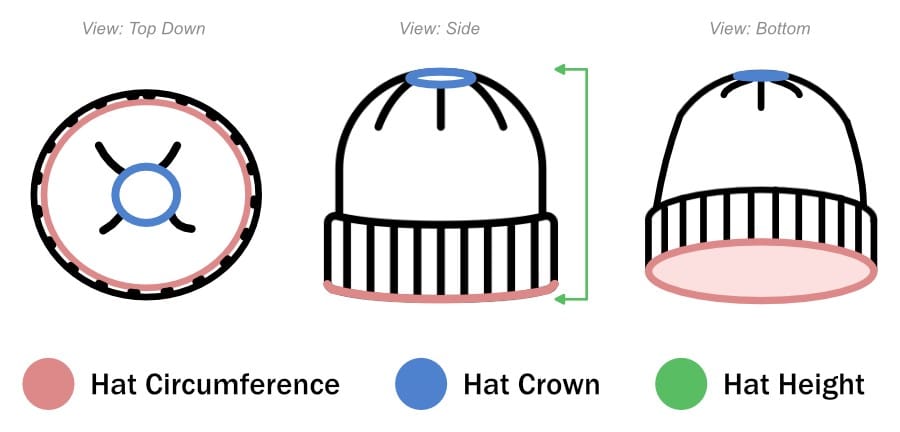 One of the most important aspects of crocheting up a beanie is to get your measurements in order. The most important measurement you need when crocheting a hat is the head circumference. You get this by measuring around the forehead of the person with your tape. The diagram here shows exactly how that should be done.
Now, since this is a slouchy hat, the hat height is measured differently than a normal beanie.
Beautiful Crochet Patterns for Slouchy Beanies
I hope you enjoy this collection of the best slouchy hat crochet patterns you can crochet. These hats are all perfect to crochet for the Fall & Winter as well as to crochet as gifts because they are all so easy to crochet! If you love simple to crochet patterns, then you'll love this roundup of crochet slouch hats.
Keep on reading to explore the collection of crochet slouchy hat patterns (free & paid) and learn how to crochet a super easy slouchy hat pattern today!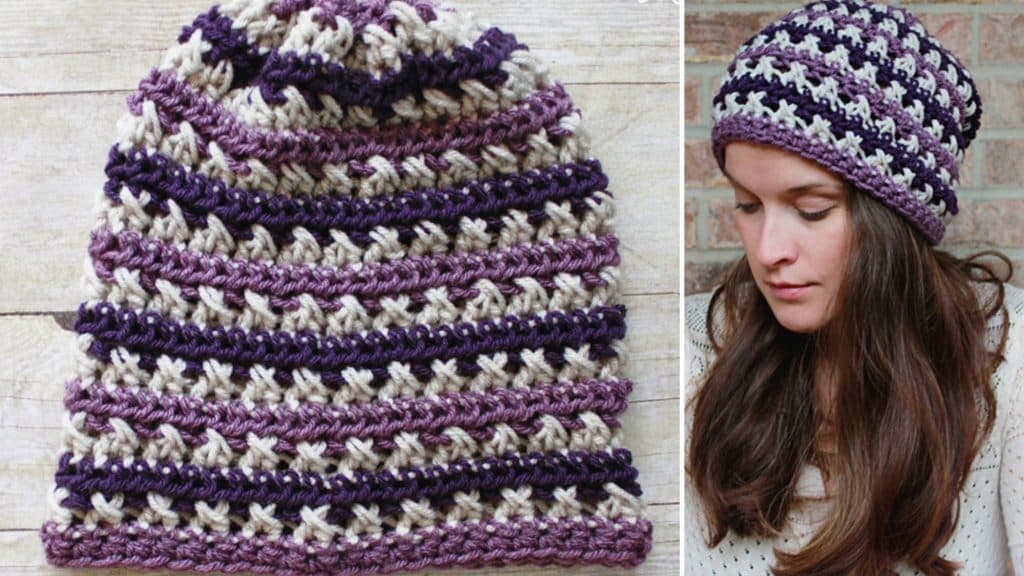 Sugar Plum Slouchy Beanie
Skill Level: Intermediate
Designer: Easy Crochet
Pattern: Free Sugar Plum Slouch Crochet Beanie
This crocheted slouchy hat is a free pattern uses a medium weight yarn (Vanna's Choice) in three colors. This beanie works up fast since it has a step-by-step photo instructions to help. Find the free beanie pattern above in the link.
---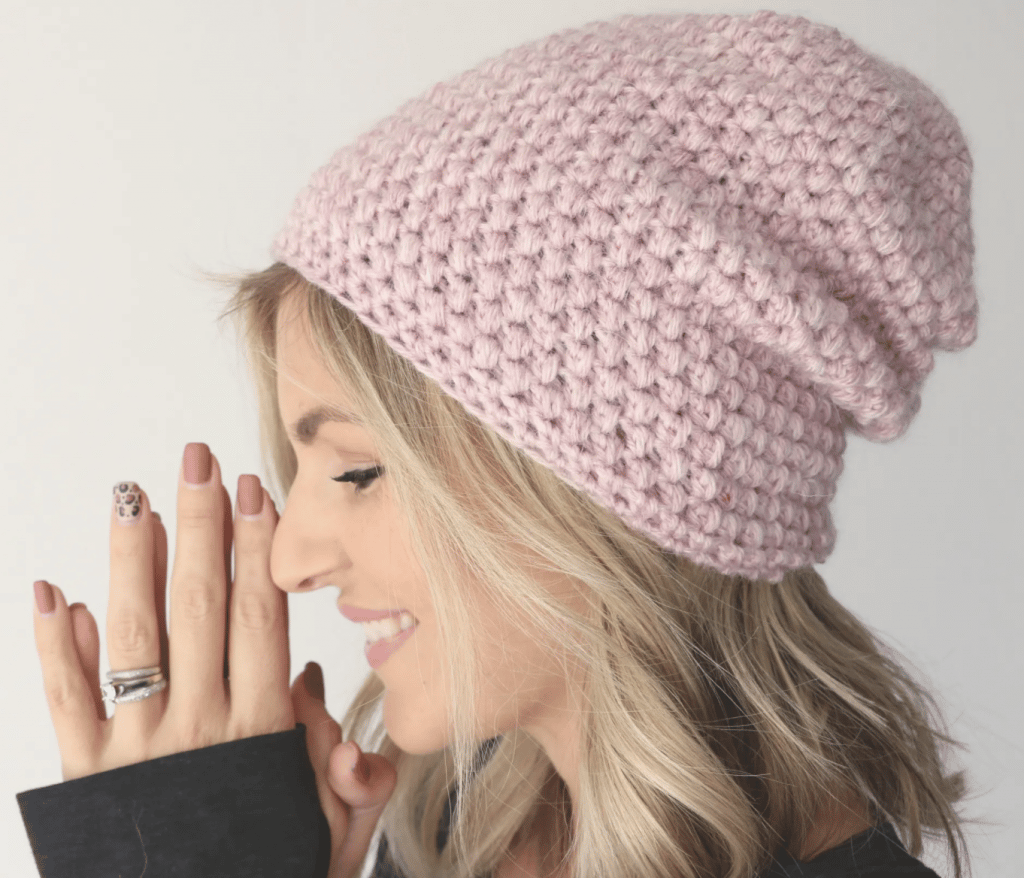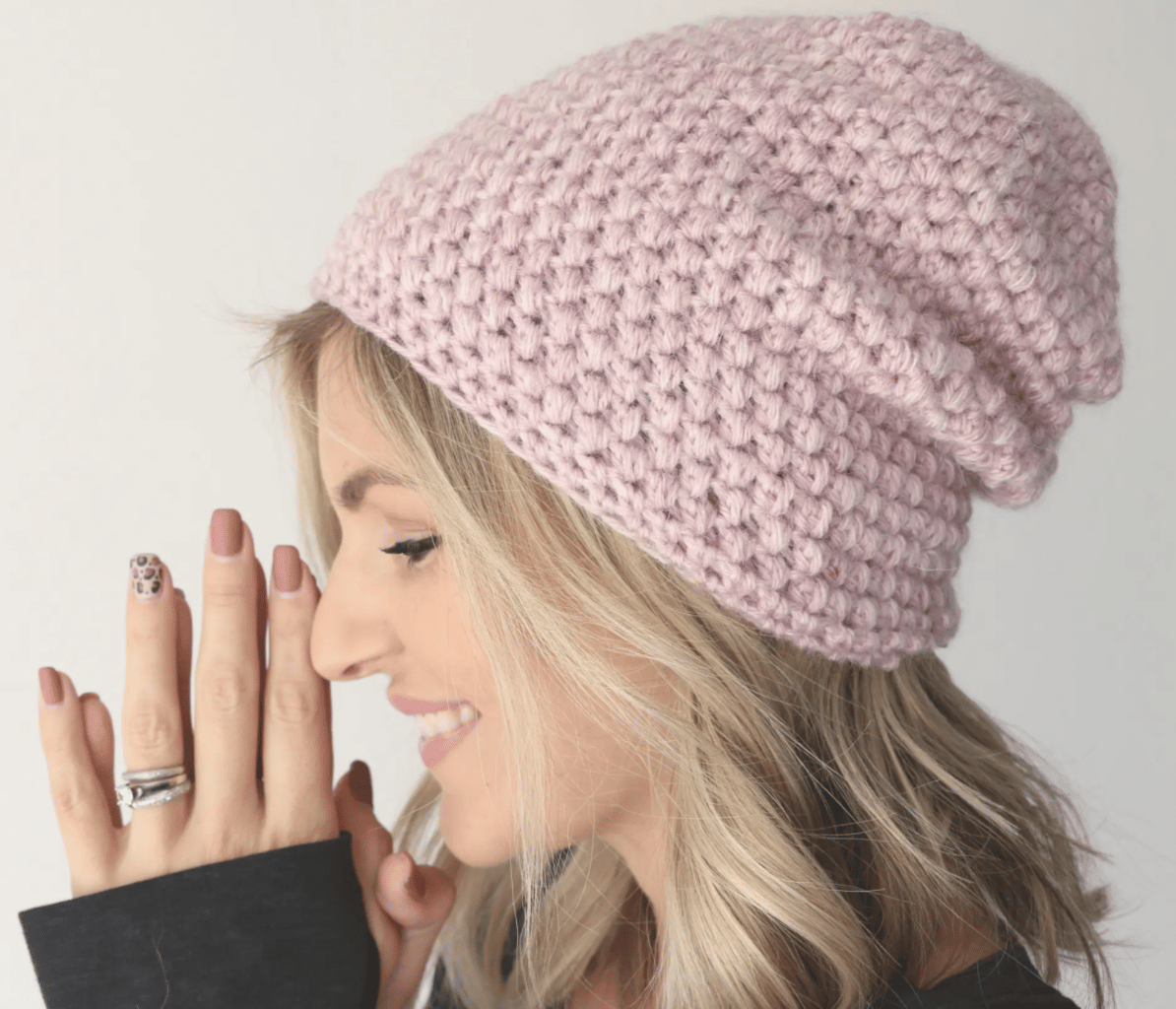 Beginner-Friendly Crochet Slouch Hat
Skill Level: Easy
Designer: Melanie Ham
Pattern: Free Slouchy Beanie Hat Pattern
Learn how to crochet a slightly slouchy and beginner crochet slouch hat. This free slouch hat pattern offers a step-by-step picture tutorial to help. You can also find the full video tutorial for this slouch hat too for those that are visual learners.
---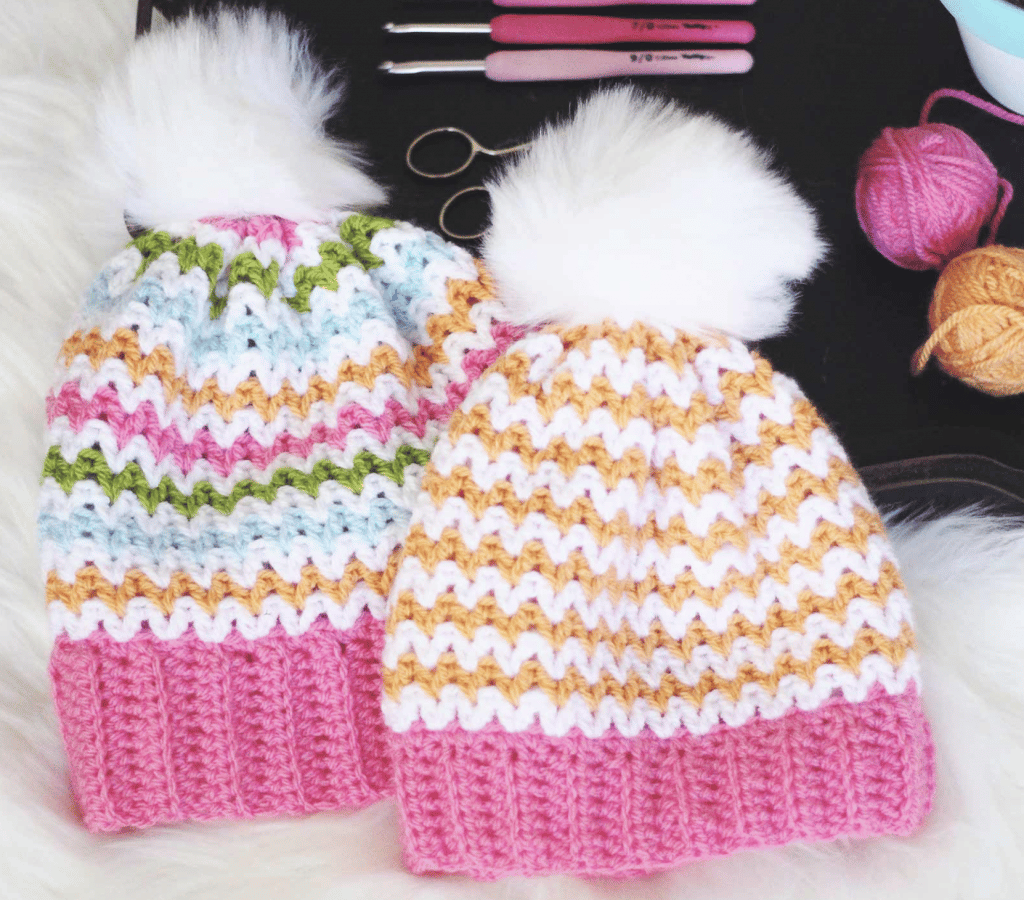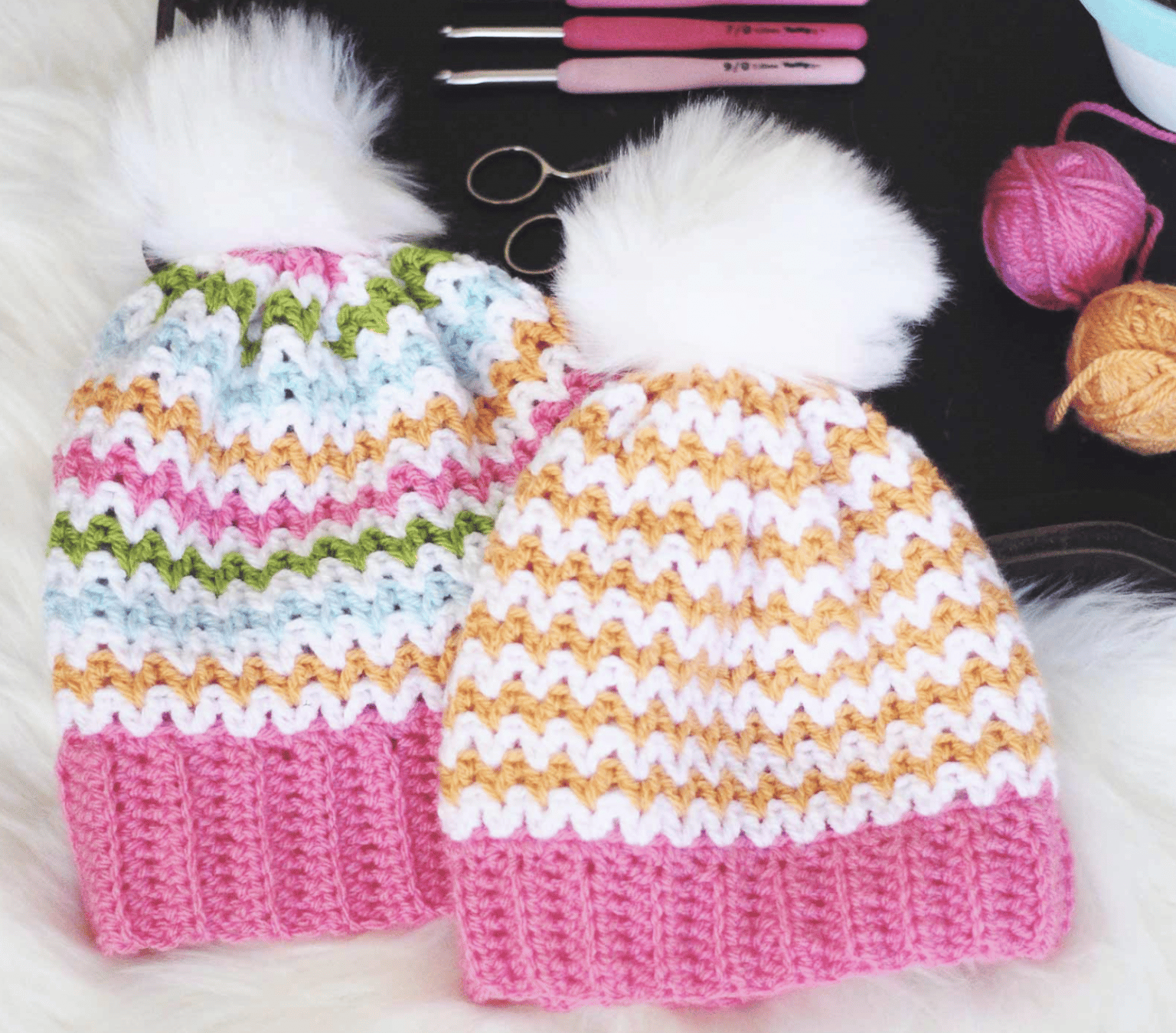 Colorful Crochet Slouchy Hat
Skill Level: Easy
Designer: Daisy Cottage Designs
Pattern: Free Slouchy Beanie in 3 Sizes
Learn how to crochet a slouchy hat pattern for a child as well as two other sizes with this free design. These bubblegum colors are bright and perfect for anyone who loves fun colors on their hats.
---

---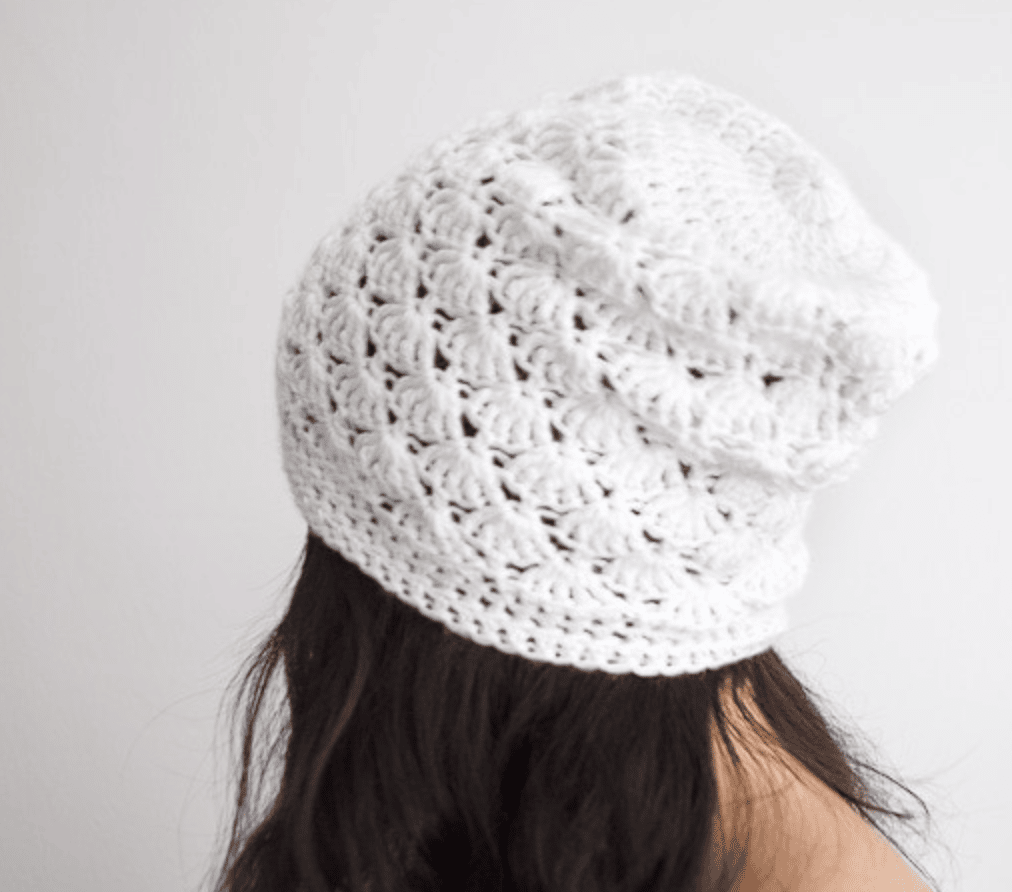 Shell Stitch Slouch Hat
Skill Level: Intermediate
Designer: Salty Pearl Crochet
Pattern: Free Shell Stitch Slouchy Hat
This beautiful shell stitch slouchy hat is a free pattern and can be made in three different beanie sizes. There are no doubts that you'll love this easy crochet slouch hat! Have fun!
---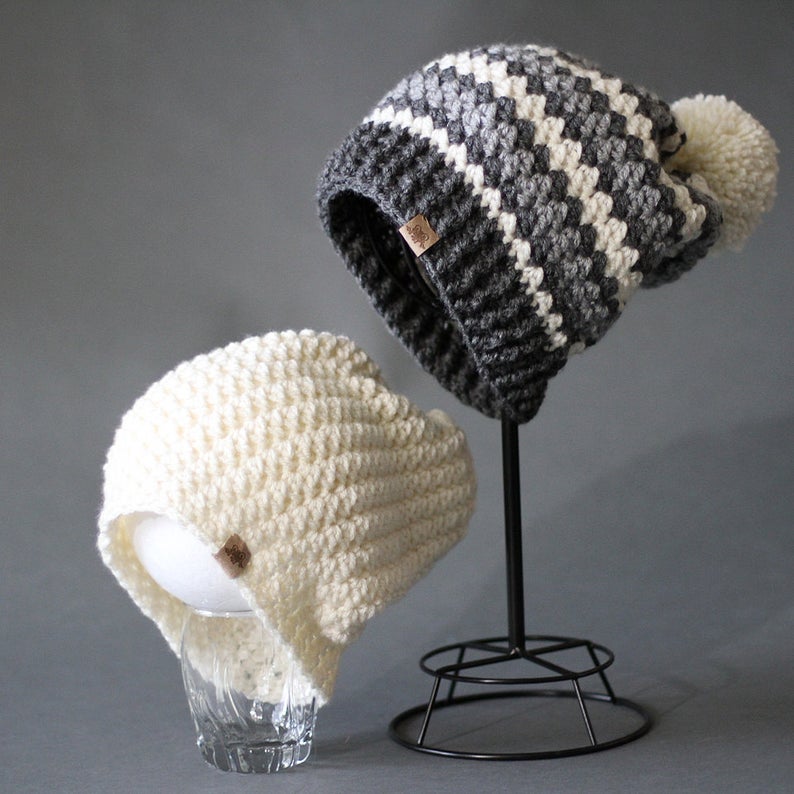 Rainer Crochet Slouchy Hat Pattern
Skill Level: Easy
Designer: Pretty Darn Adorable
Pattern: Rainer Crochet Slouch Pattern
All the hat sizes are written out individually for this pattern to make it easy to follow along with each pattern. This slouchy hat uses basic crochet stitches and is very beginner-friendly. Find the PDF Slouchy Hat Pattern on Etsy.
---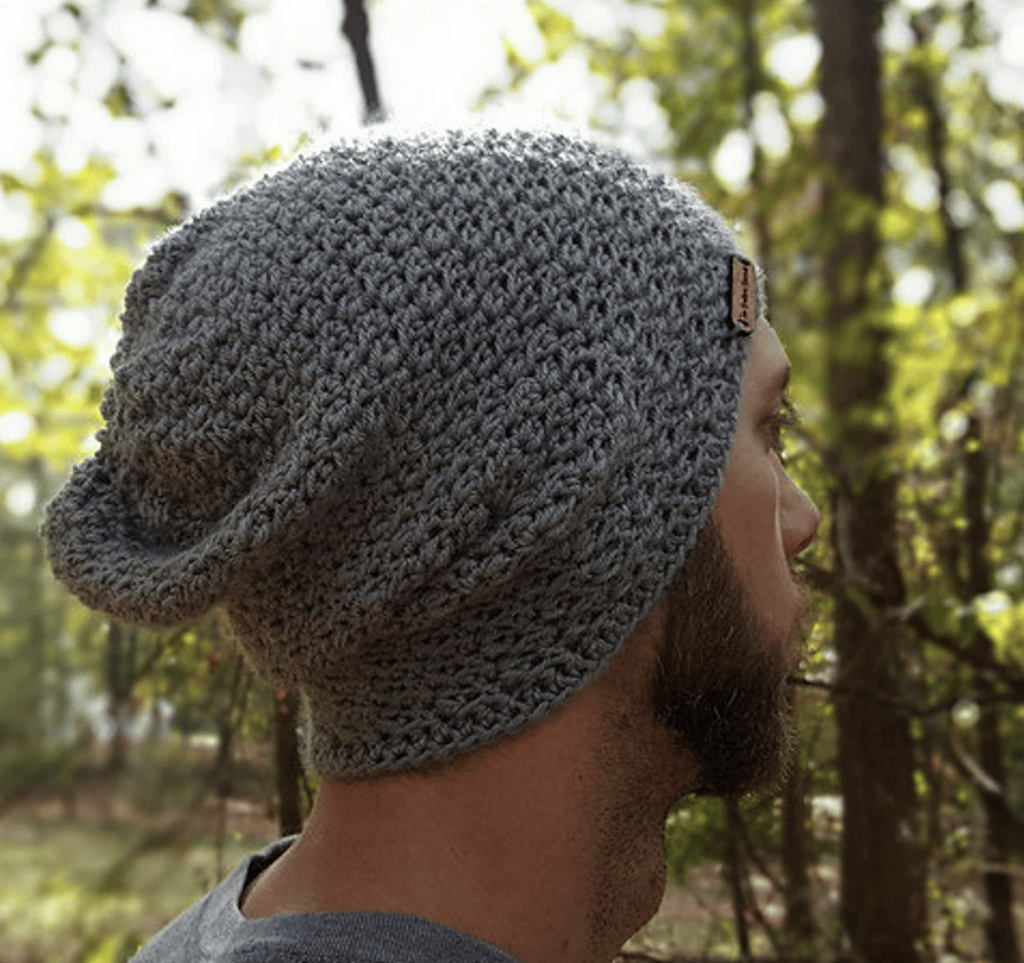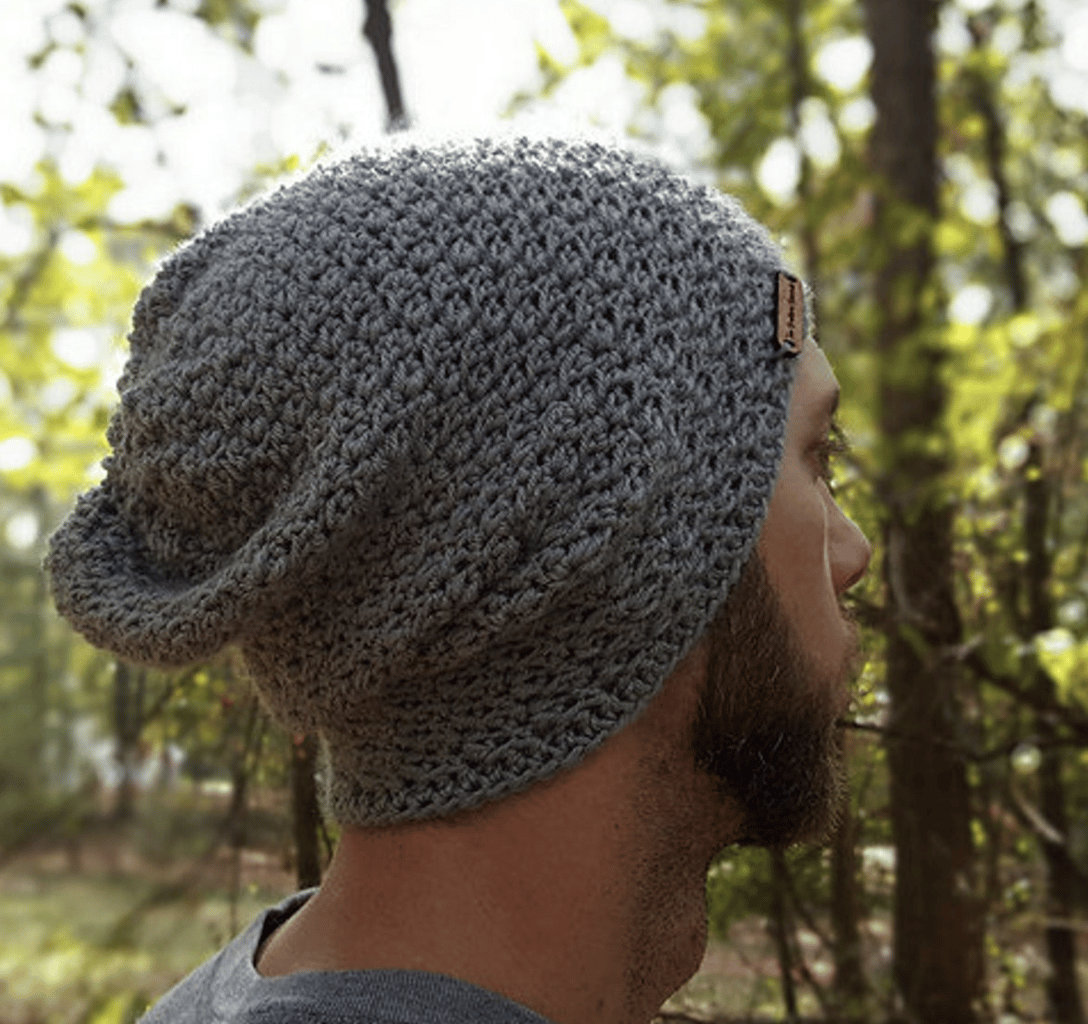 Men's Slouch Hat Crochet Pattern
Skill Level: Easy
Designer: Two Brothers Blankets
Pattern: Boston Slouchy Hat Pattern
This easy skill level slouch at is perfect to make for anytime of the year. It has a slight fitted look with a slouch. This pattern is available as a PDF printable on Etsy and is written in US terms.
---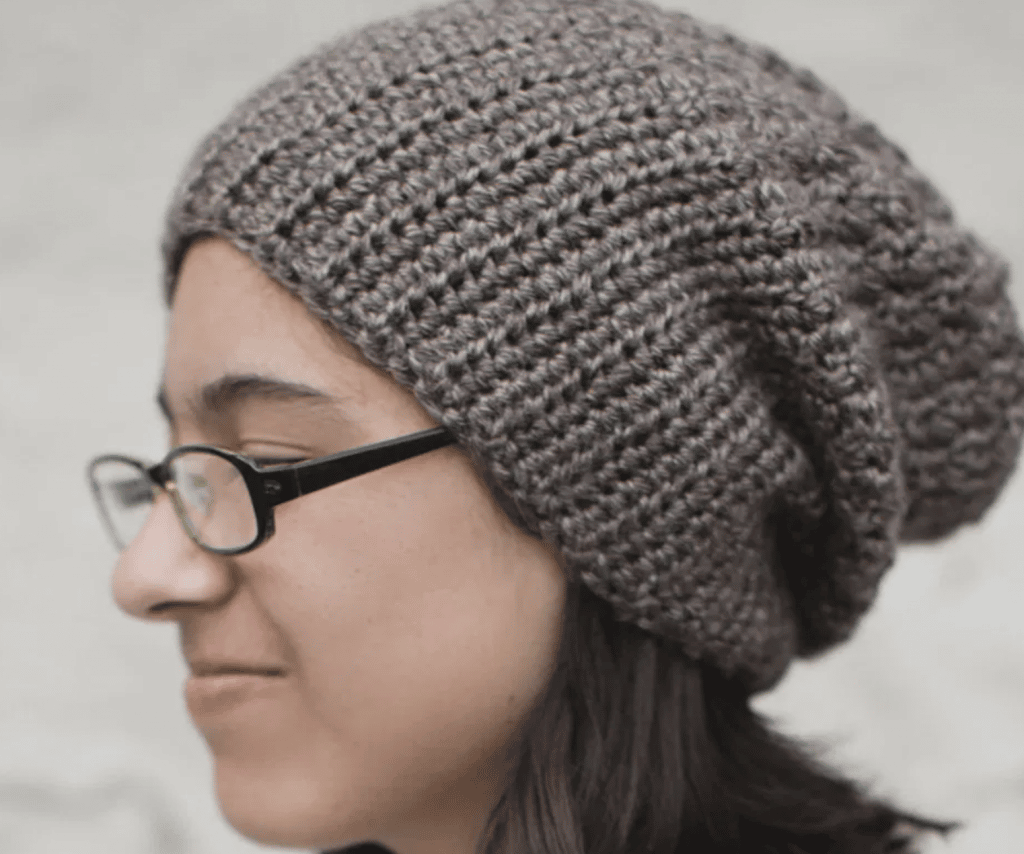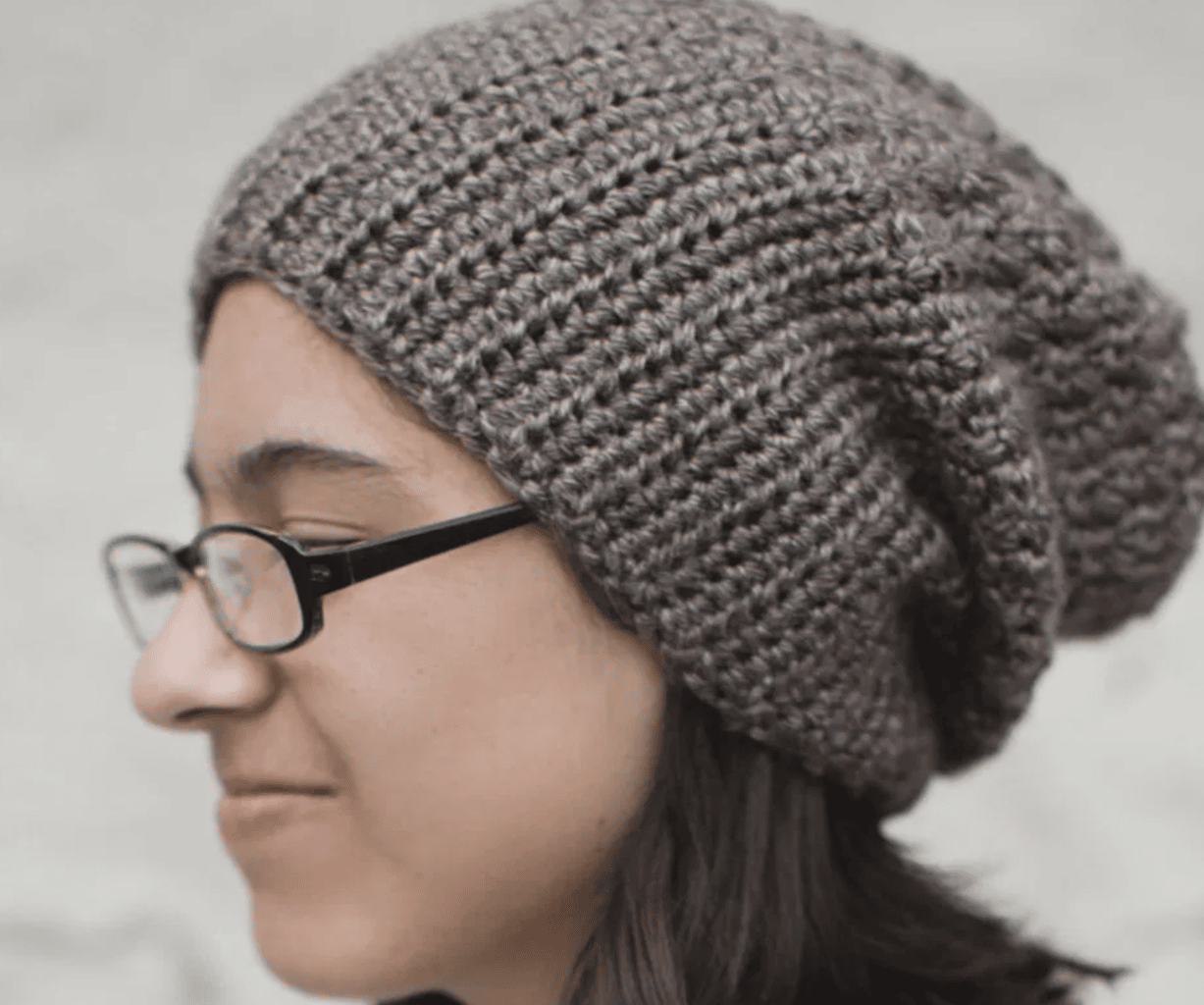 Half & Half Slouch Hat Crochet Pattern
Skill Level: Easy
Designer: Yarn & Chai
Pattern: Free Half & Half Slouch Hat
You'll love this easy slouch pattern that is well written and perfect for new crocheters. This beanie features easy stitches and a simple ribbed bottom design. It also has a matching boot cuff pattern set you can make too!
---
More Free Crochet Patterns
I hope you enjoyed this collection of hats and beanie slouchy crochet patterns! If you'd like to crochet more free patterns, check out the crochet pattern collection below.
Take a look at these crochet hat patterns….