Are you looking for some cozy free chunky hat crochet patterns? If so, I can help! Make these chunky crochet hats with bulky yarn using the free patterns below.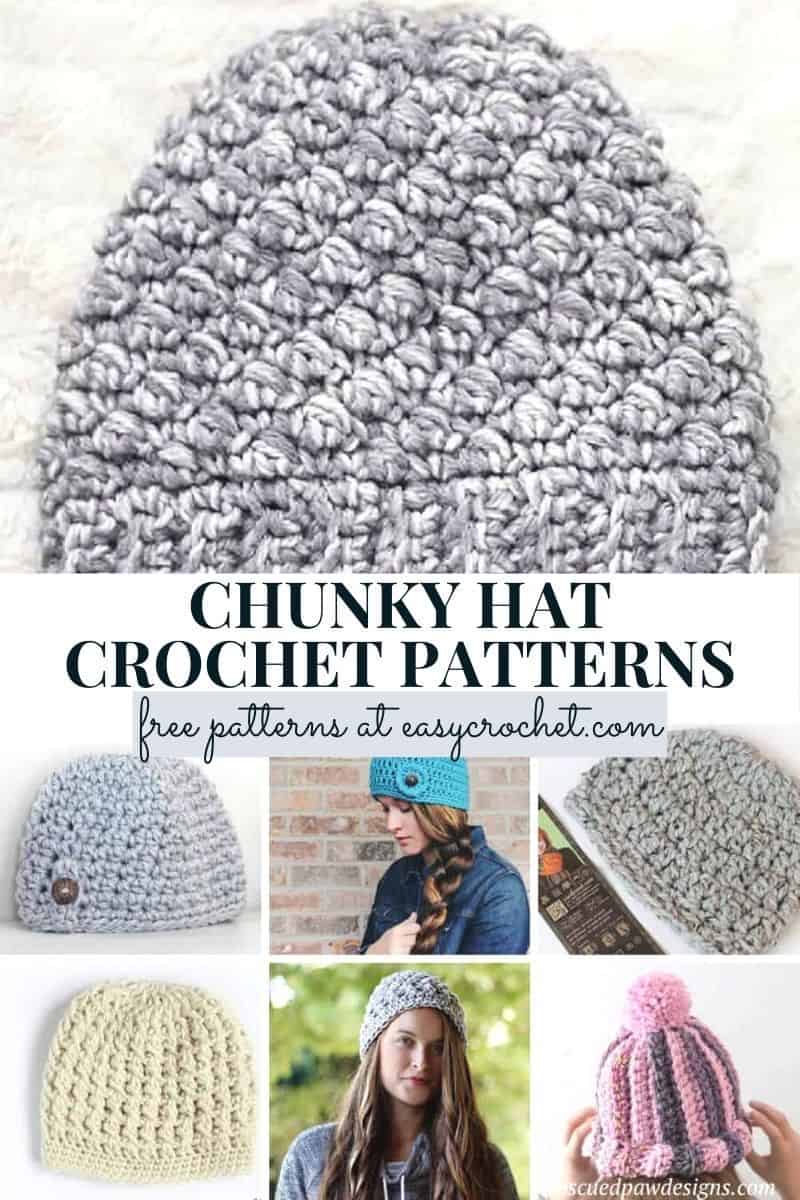 What is a Chunky Crochet Hat?
A chunky crochet hat is a hat that uses either a bulky 5 weight yarn or super bulky 6 weight yarn. These yarn weights are extra thick so you know for sure when you use them you will always have a warm and cozy crochet hat!
The chunky hat designs below are great for Fall and Winter because of how warm the yarn is and how cozy they can keep your noggin during a cold spell. Just try some chunky yarn on your next crocheted hat and you'll know what I mean.
What is a Chunky Yarn?
Technically, chunky yarn is bulky yarn. You can call each one the other, and they are the same thing! Chunky or bulky yarn is considered a weight 5 yarn while super chunky or super bulky yarn is a weight 6.
Next time you see these crochet terms used in patterns you will know what they mean. Below I will have a good mix of chunky and super chunky for you to pick from. You will notice that in most of the suggested patterns they will call for a thicker yarn that's either bulky gauge 5 or super bulky gauge 6 yarn. Take a look at some of my favorite chunk yarns to use to make extra cozy hats!
BULKY #5 WEIGHT YARNS
BULKY #6 WEIGHT YARNS
When designing crochet hats that I want to be extra cozy I will usually go for Lion Brand Thick & Quick, Lion Brand Hometown or a comparable yarn in thickness. As long as you use the correct weight thickness as recommended by the pattern you will be good to go.
With the hat tutorials below you will learn how to crochet a hat using chunky yarn! I love using bulky yarn because of how fast it works up in a pattern and how little time it really does take.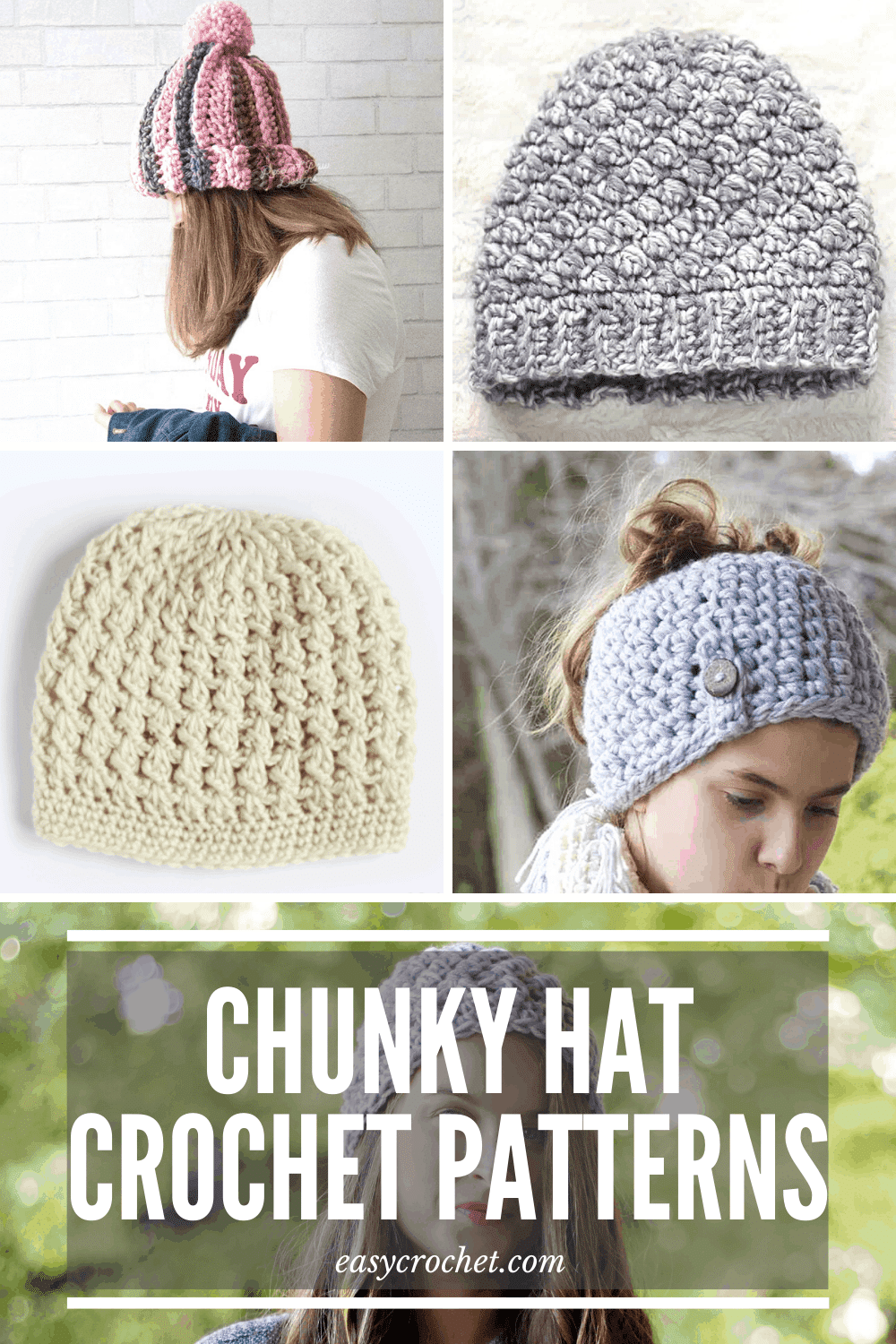 Do you want even more free crochet patterns to explore so you can make even more crochet hats? Explore the crochet hat database for inspiration.
Do you have a lot of extra chunky yarn lying around and want to crochet something? If so, I can help with this collection of free bulky crochet hat patterns! I can't wait for you to start exploring this list of bulky yarn hat patterns!
Happy Crocheting!
Chunky Yarn Hat Crochet Patterns
---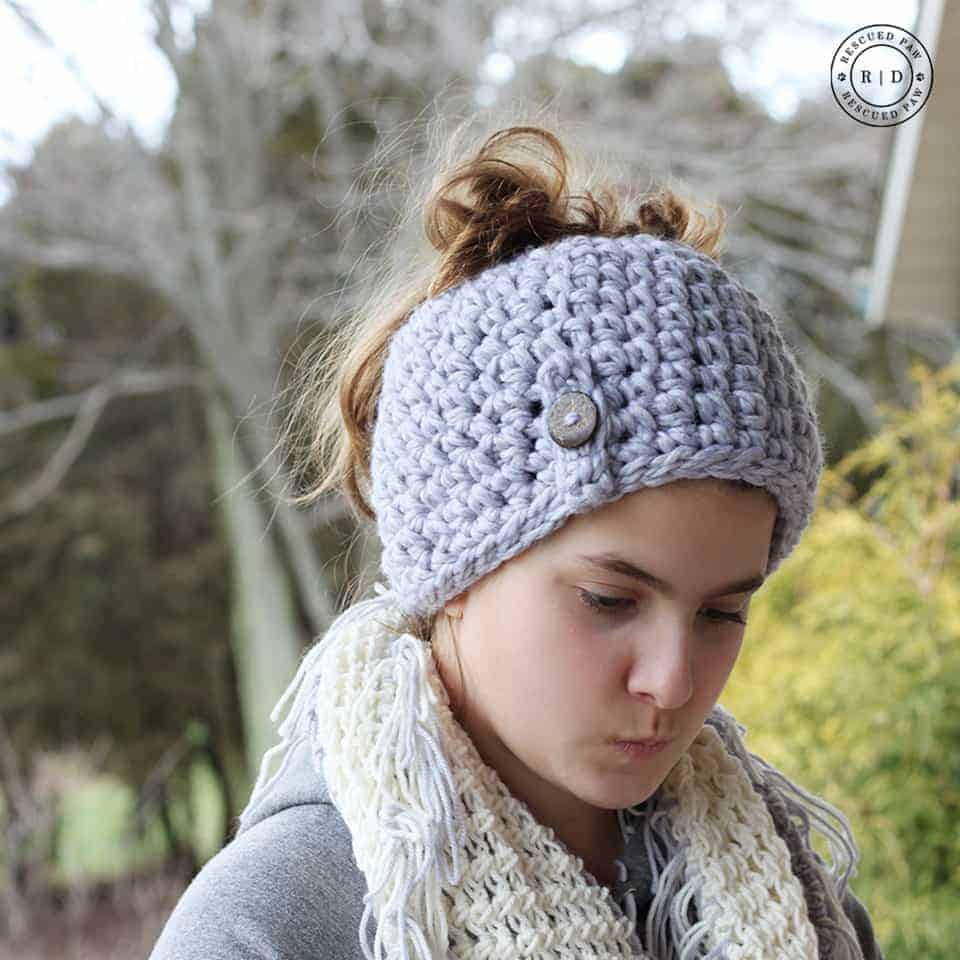 Yarn: Cozy Wool
Weight: Bulky #5
This chunky messy bun beanie hat uses a bulky five yarn weight; Cozy wool and only one crochets stitch! Sounds easy, right? Plus, this bulky yarn comes in a variety of colors so you can make at hat that is perfectly suited for you. If you have an hour you can make this bulky crochet hat in no time at all! Get the free pattern today to make this chunky messy bun beanie.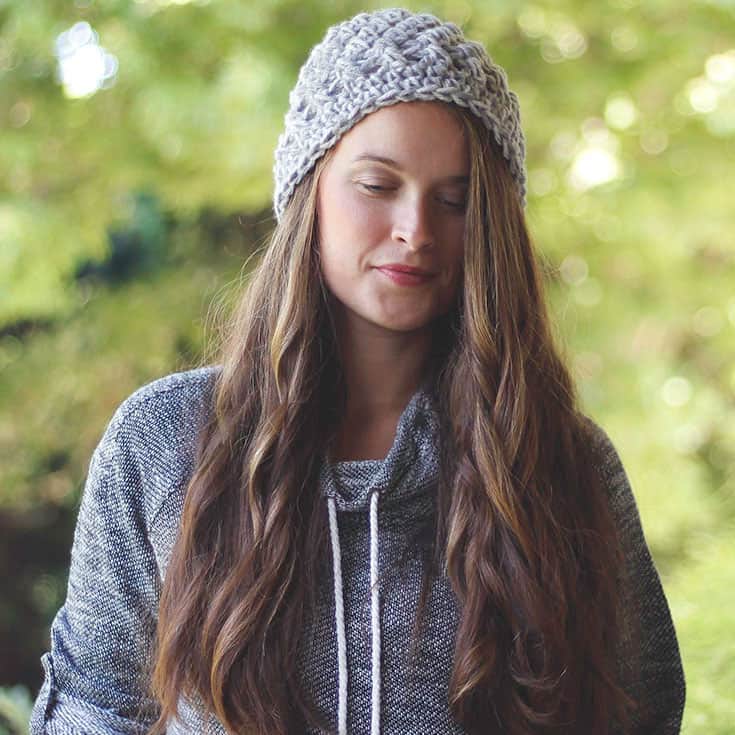 Yarn: Wool-Ease Tonal
Weight: Bulky #5
The Elise beanie uses a two toned bulky 5 yarn and easy crochet stitches. If you can single and half double crochet then you can make this hat! The yarn used to make this hat is discontinued but I recommend Color Made Easy yarn as a substitute. This yarn is just as chunky and works up very similar.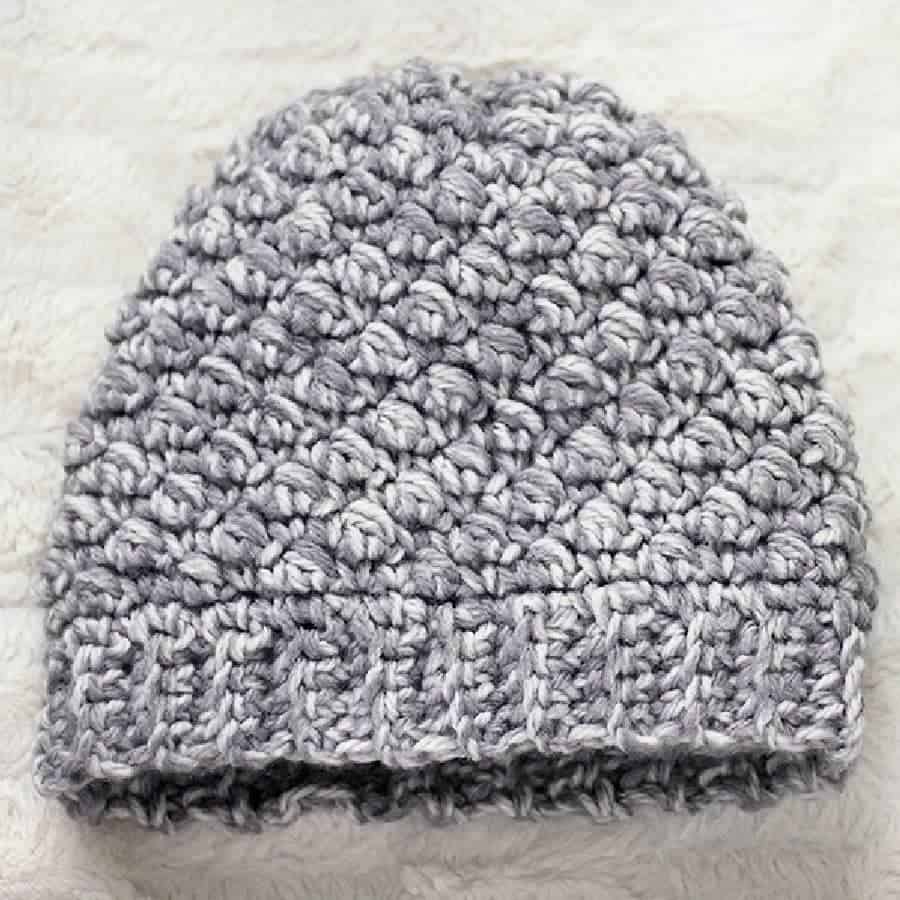 Yarn: Wool-Ease Tonal
Weight: Bulky #5
The Emily beanie is a great hat pattern that uses tonal bulky five yarn which gives it a textured look. If you want a unique hat then this one is for you. Just like the previous hat the yarn used to make this hat is discontinued but I recommend Color Made Easy yarn as a substitute. This yarn is just as chunky and works up very similar.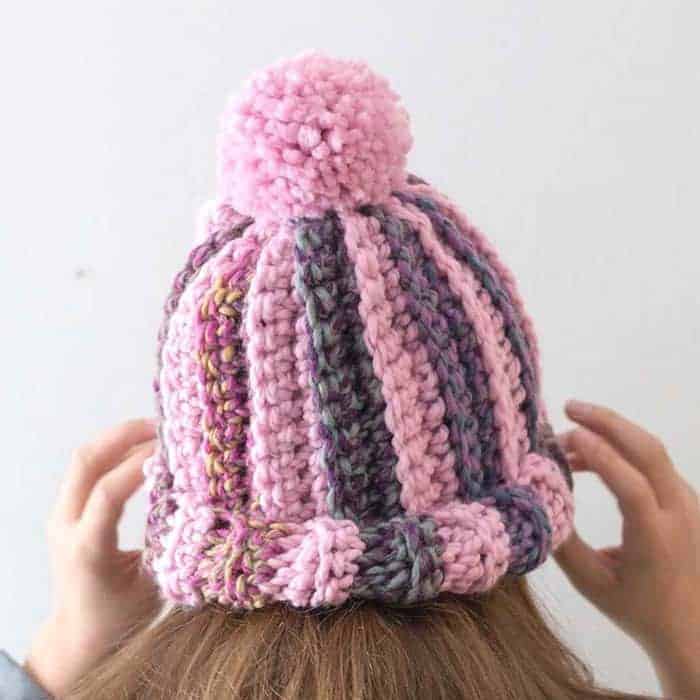 Yarn: Wool-Ease Thick & Quick
Weight: Super Bulky #6
This striped pom hat uses my favorite super bulky yarn Lion Brand Wool-Ease Thick and Quick. This beginner-friendly bulky hat design uses only single crochets which means it's great for all skill levels! There is even directions to make the puffy pom on the top if you'd like that on your hat too! Get the free chunky pom hat pattern and start crocheting one today.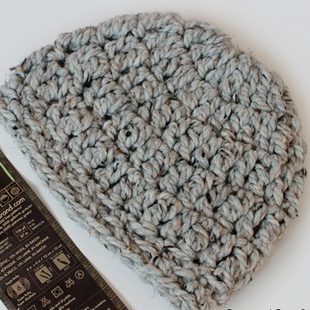 Yarn:Wool-Ease Thick & Quick
Weight:Super Bulky #6
This super bulky hat is another example of a hat using Wool-Ease Thick & Quick yarn which is like I mentioned before one of my go-to yarns for designing. If you'd love to try your hand at an easy beginner-friendly pattern then this chunky hat design is the one! Get the free Fiona hat pattern to start crocheting a hat today.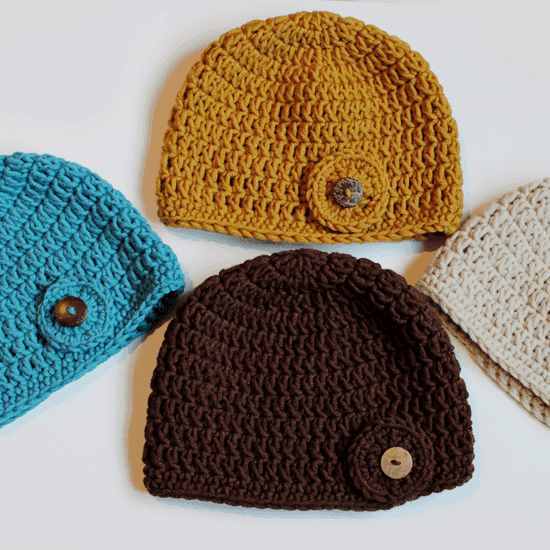 Yarn: Lion's Pride Woolspun
Weight: Bulky #5
These bulky five yarn hats use only double crochets for the main part of the pattern! If you'd like a quick project to crochet then this easy Winter hat is the one for you! The bulky yarn that was used for this hat is no longer available, so I recommend using Color Made Easy by Lionbrand as a substitute yarn.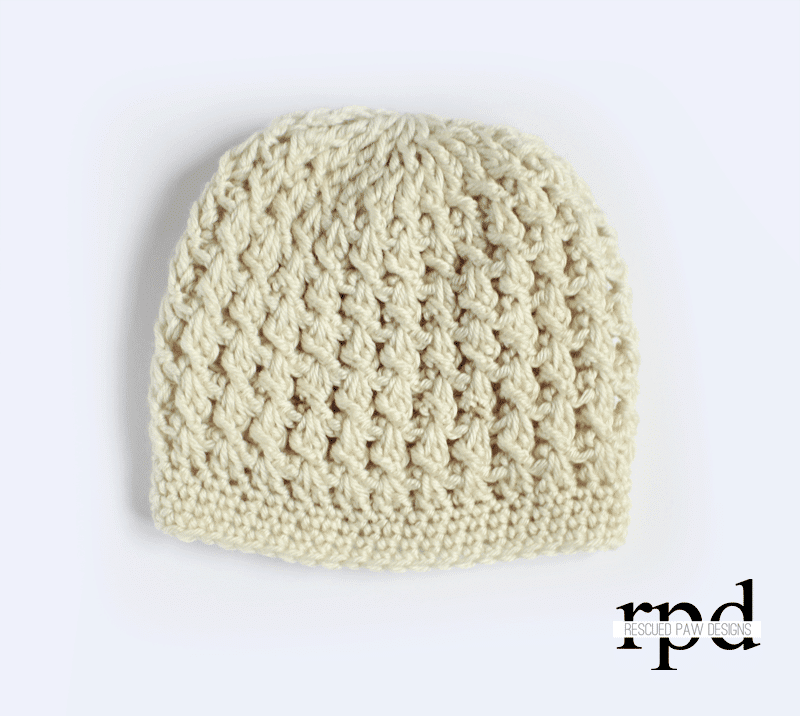 This hat is one that has some advanced crochet stitches but is worth the effort for how beautiful this is! This beanie is designed with a four weight yarn but it can be made with almost any chunky yarn that is available which means it can be made in any style or color you wish. If you do make this chunky crochet Winter hat please be sure to share it with me on social media.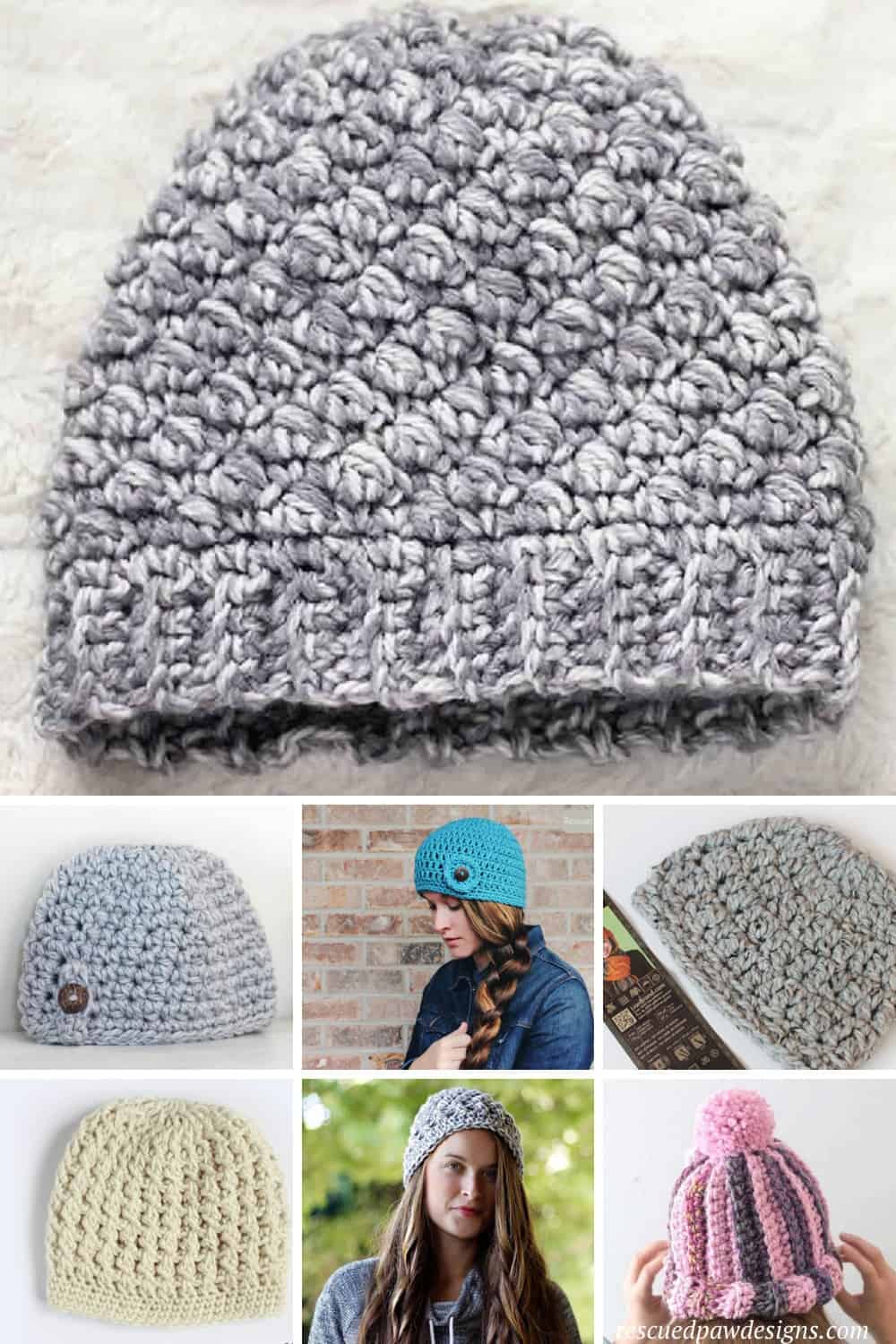 That's It for The Chunky Crochet Beanies!
Tell me… Which one are you going to pick to make? If you'd rather work up a hat using worsted weight yarn I have a couple of good suggestions that you could try too! Like the simple Leigh hat or the easy-to-make fur pom crochet hat pattern.
More Free Crochet Patterns using. Bulky Yarn
7 Crochet Blanket Patterns That Use Bulky Yarn
Chained Crochet Headband Pattern